A "Rare Disconnect" Between Prices And Fundamentals Emerges In Latest Fund Manager Survey
A "Rare Disconnect" Between Prices And Fundamentals Emerges In Latest Fund Manager Survey
Over the past few years, one of our recurring laments…
A "Rare Disconnect" Between Prices And Fundamentals Emerges In Latest Fund Manager Survey
Over the past few years, one of our recurring laments about the Bank of America Fund Manager Survey was the at times irreconcilable intellectual inconsistency of the survey respondents, who on one hand have panned the state of the economy even as the piled into risk assets (or so they said, one wouldn't know it by looking at the chronic underperformance of the active manager cohort), although in retrospect that has served them well in a world where "bad news has consistently been good news for stocks."
Well, in the latest, September, edition of the BofA FMS which polled 258 panelists managing $839 billion in AUM, and which was titled "Fiscal Frenzy Flips to Fiscal Flop", this apparent inconsistency has finally caught up to poll organizer, Chief Investment Strategist Michael Hartnett who notes that a "rare FMS disconnect between asset prices & fundamentals growing" whereby a net 50% long stocks vs 20-year average of 29%; while net 69% short bonds (vs 43% avg) even as global growth expectations have continued to plunge, and in September, economic growth expectations are now just net 13%, the lowest since April 20 and down from the 91% peak in March 21. This is notable because as Hartnett points out, "global growth expectations have historically led FMS investor equity allocation but equity allocation has lagged this cycle." In other words, any last connection between stocks and the underlying economy has now been irrevocably torn.
And alongside this drop in "peak boom" expectations, stagflation concerns are starting to rise again, as below trend growth and above trend inflation was up +5% MoM to now 20%.
Starting with the survey bottom line, Hartnett summarizes the findings as follows: "tanking macro optimism = lower-for-longer rates = everyone "long stocks-short bonds"; And as a result of the inability of the Biden fiscal frenzy to sustain the "boom", portfolios have flipped from long cyclicals to long barbells, even as few Wall Street professionals "are positioned for credit events, recession or stagflation."
Hartnett then takes us down the key categories, starting with macro, where expectations for global growth has plunged to just 13% - the lowest since May'20, and sharply down from 75% in Jun'21 - for rising profit to 12%, down from 89% in Mar'21...
... and for rising inflation to negative, or net -1%, down from the peak in Apr'21 of 93%. This was the first time since May'20 that a net % of FMS investors have expected inflation to fall.
Yet while "peak inflation" is now far in the rearview mirror, short-term rate expectations remain elevated and lag inflation expectations more than historically.
And yet, in another example of just how disconnected the survey is from reality, just 6% of respondents expect recession. Maybe most of them are 25-year-old fund managers who got their financial education on TikTok?
Even more concerning is that in this environment of slowing growth and stock euphoria where nobody expects a recession, margin expectations have plunged to net -22%, meaning the majority now expect profit margins will shrink.
Hartnett then addresses policy, where 84% expect taper by year-end (some 59% say monetary policy "too simulative" the most since May'11); but consensus on the first Fed hike has been pushed out from Dec'22 to Feb'23...
... which as we discussed previously is a mistake since even the WSJ now warned that the taper will begin in November, with Goldman assigning 70% odds to this month being the "start." Asked what could prevent the Fed from tapering, 49% of investors - who clearly are unaware that Delta has now long peaked in the US - think Delta will be the most likely reason that will prevent the Fed from tapering in the next 6 months. 36% think payrolls, followed by inflation (7%).
Touching on fiscal, respondents expect $1.9 trillion in fiscal stimulus...
... and 82% of investors expect China to ease in H2'21.
Continuing to risk appetite, the survey reveals that cash levels are modestly higher to 4.3% from 4.2%, and BofA's Bull & Bear Indicator down slightly to 5.7 from 5.8. "Clearly there is no panic."
... yet it another paradox, the survey finds that equity protection is at the lowest level since Jan'18, a far cry from media reports that everyone is extremely hedged to an upcoming drawdown...
... while "liquidity conditions" are "ominously" viewed as best since Jul'07...
... and for good reason - the Goldman financial conditions index has never been easier. .
Next, Hartnett addresses stock exposure, where he finds higher levels of risk taking (now at a net 9%, up modestly 6% MoM) but down from the peak of 25% in Feb'21 (20 year avg = -15%). And here yet another paradox: since risk levels have historically paralleled equity allocation, growth expectations are saying equity allocations should fall "but risk taking is telling the story that investors are ignoring the macro."
Separately, the FMS found that investor positioning in small cap/value/junk is back to pre-election Oct'20 lows (don't tell JPM which every day is pounding the table on the value/reflation trade).
Instead, investors have a preference for barbell trades: health care/tech (growth) & banks/industrials/EU (value), while defensives are  being shunned with bond proxy utilities as the biggest underweight;
Not surprising with the Nikkei soaring to 30 year highs, the survey found that Japan short-covered 11ppt to a net 1% underweight, the lowest underweight since May'21 (even so, the current allocation is 0.2 stdev below its long-term average.)
... while as a result of China's turmoil, Emerging Markets were cut to 1st underweight since May'20.
Addressing the $64 trillion question, the number of respondents saying that inflation is transitory increased in September, with the number rising to 69% while only 28% say inflation is permanent. As a reminder, on Wall Street the majority is always wrong.
Finally, while this indicator is usually the most useless (and incorrect) of all, the FMS respondents said that the most crowded trades are long tech, ESG, short China stocks.
At least the 25-year-old survey respondents who are confused by the simplest financial concepts, were right to correctly identify the biggest risk facing the market: inflation.
Tyler Durden
Tue, 09/14/2021 - 15:11
inflation
stagflation
monetary
markets
policy
fed
monetary policy
Looking for the Next Big Crypto to Explode in 2021? Try These 5 Coins
Bitcoin (CCC:BTC-USD) launched on January 3, 2009. The oldest and largest cryptocurrency, prices of this coin have swung wildly since its inception. But…
Bitcoin (CCC:BTC-USD) launched on January 3, 2009. The oldest and largest cryptocurrency, prices of this coin have swung wildly since its inception. But last year, Bitcoin experienced explosive institutional and retail interest in the space alongside the broader crypto world. Now thousands of altcoin investors are betting that they can pick the next crypto to explode.
Even though Bitcoin recently underwent a correction, trading volume remains strong between $42,000 and $50,000. Of course, that is very expensive, considering the median household income is $62,843 right now. Yes, you can invest in Bitcoin through PayPal (NASDAQ:PYPL) and Square (NYSE:SQ). But the crypto is still expensive when you compare it to several altcoins out there.
Plus, there are over 7,000 cryptocurrencies you can choose from for your portfolio. When it comes to making big gain, it's easier for a coin to gain 100x if you're starting from a smaller size, rather than chasing after a rocket that's already taken off.
Here are 5 coins that could be the next big crypto to explode:
When investing in any crypto, remember to check if there is an inherent utility to the coin. Even cryptos meme coins need developers to crank out regular updates to stay relevant.
The Next Big Crypto to Explode: Ethereum (ETH-USD)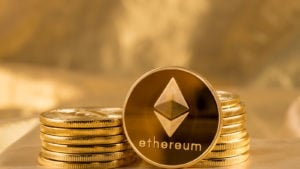 Source: shutterstock
Ethereum is a decentralized, blockchain-based software platform, and its cryptocurrency is called Ether or Ethereum. Ether is the world's second-largest cryptocurrency and has held this position for a long time now. Recently, Ethereum has been in the news for its hard fork "London upgrade," a major revamp for the platform. The hard fork comprises five Ethereum Improvement Proposals (EIPs). The upgrades are important, but the most notable is EIP 1559, which reduced Ether supply with every transaction.
In addition, the upgrade will lead to the Ethereum network handling more transactions per second, improving scalability, and bringing down transaction fees. Another major benefit is expected to decrease the total number of ether coins in circulation, making it a deflationary cryptocurrency. In the run-up to the upgrade, Ethereum did very well. However, considering the next upgrade will occur at the end of 2021, there is an upside here that you can exploit.
Binance Coin (BNB-USD)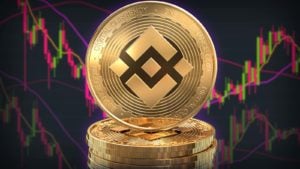 Source: Shutterstock
Binance is one of the most successful crypto exchanges globally when ranked by trading volumes, which is why BNB, its native cryptocurrency, is soaring.
Much like Bitcoin, the thing to like about Binance Coin is the hard limit on the total number of tokens in circulation. It has a strict maximum limit of 200 million BNB tokens. As a result, the token price has risen exponentially for the year thus far.
Binance uses around one-fifth of its profits every quarter to eliminate or "burn" BNB tokens. The reason for destroying or "burning," coins makes sense: it increases the worth of the remaining tokens.
One of the biggest reasons to be optimistic about Binance Coin is its many use cases. Initially, it was developed as a utility token for discounted trading fees in 2017. But now, you can use it to make travel payments, financial services, and entertainment, among others.
The driving force behind any token is its usability and that's why BNB will be the next crypto to explode.
Tether (USDT-USD)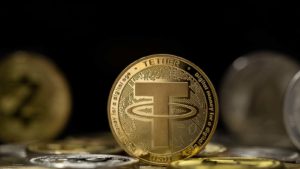 Source: DIAMOND VISUALS / Shutterstock.com
Stablecoins are a new breed of crypto gaining prominence. They are a less volatile alternative to Bitcoin because they are linked to an asset like the U.S. dollar, as is the case with Tether. The cryptocurrency allows you to transact in traditional currencies and avoid the complexities of digital currencies.
Tether is designed to bridge fiat currencies and cryptocurrencies, allowing users to transfer other cryptocurrencies back to U.S. dollars in a less complex, faster manner. Tether has a 1-to-1 ratio with the U.S. dollar for valuation.
Consequently, the altcoin is less speculative than popular cryptocurrencies like Bitcoin and Ethereum. For crypto investors who want to avoid the wild swings that are part and parcel of this space, Tether should be right up your alley as the next crypto to explode.
Monero (XMR)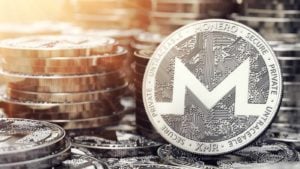 Source: Wit Olszewski / Shutterstock.com
Monero is very popular these days because it has the ability to anonymize users. Ring signatures and stealth addresses help in accomplishing this task. Due to the technology at its disposal, the privacy-focused Monero cab hides the identities of the sender and the receiver.
The only problem some might have with Monero's approach is that privacy isn't really an option. It enforces anonymity at a fundamental level. That may rub certain people the wrong way.
But there are several people out there who love this feature and want to protect their identity online since this was one of the main initial benefits of blockchain technology — to remain completely anonymous.
Algorand (ALGO-USD)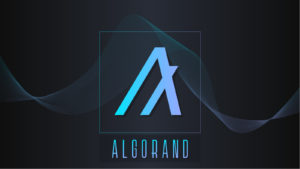 Source: shutterstock.com/Shizume
Algorand investors have enjoyed blockbuster returns following an announcement that El Salvador would establish blockchain infrastructure using Algorand.
Italian computer scientist Silvio Micali is the man behind the platform. ALGO-USD has positioned itself as a competitor to Ethereum. One of the biggest things going for it is the proof-of-stake proofing algorithm, which is less energy-intensive to run. One of the main criticisms against Bitcoin is that it consumers a lot of energy. Through using a proof-of-stake mechanism, ALGO-USD sets itself apart from the rest of the altcoins out there.
On the publication date, Faizan Farooque did not have (either directly or indirectly) any positions in the securities mentioned in this article. The opinions expressed in this article are those of the writer, subject to the InvestorPlace.com Publishing Guidelines.
Faizan Farooque is a contributing author for InvestorPlace.com and numerous other financial sites. Faizan has several years of experience in analyzing the stock market and was a former data journalist at S&P Global Market Intelligence. His passion is to help the average investor make more informed decisions regarding their portfolio.
More From InvestorPlace
The post Looking for the Next Big Crypto to Explode in 2021? Try These 5 Coins appeared first on InvestorPlace.
dollar
deflationary
nyse
nasdaq
diamond
Use Caution As the Pullback Could Continue for Ethereum
After making it back near $4,000 per token, Ethereum (CCC:ETH-USD) prices have pulled back in the past few weeks.
Source: shutterstock
Mainly, the pullback…
After making it back near $4,000 per token, Ethereum (CCC:ETH-USD) prices have pulled back in the past few weeks.
Source: shutterstock
Mainly, the pullback was a result of the crypto flash-crash experienced on Sept. 7. But profit taking by traders who bought the popular altcoin before it surged due to the launch of its London Hard fork may have also played a role as well.
No matter the reason, one thing's for sure. Don't assume this latest pullback will be short-lived. Yes, with its increasing utility and institutional interest, Ethereum's chances of hitting $4,000 again look high. So too, do its prospects of ultimately rallying to five-digit price levels.
Yet such a move may take time to happen. For now, with the concerns with crypto overall I've highlighted previously still on the table, and the likelihood that this rising uncertainty compels more traders to take profit, you can expect Ethereum to remain on its current downward trajectory.
Trading for around $3,100 as of this writing, a move back below $3,000 may be in the cards. For cryptocurrency investors with a long-time horizon, possible short-term volatility may not be a big issue. Buying now may still be worthwhile.
If you're looking for a quick profit, however, you should hold off for now.
It May Be a While Before Ethereum Surges Again
Rival altcoins like Cardano (CCC:ADA-USD) could eventually give Ethereum a run for its money. But for now, ETH remains the main crypto used in DeFi, or decentralized finance, transactions. Recent and upcoming improvements could help it hold onto this dominance. I'm talking about last month's hard-fork upgrades, plus its planned switch from running on proof-of-work (PoW) to running on proof-of-stake (PoS).
This bodes well for prices in the long term, assuming DeFi continues making its way toward getting critical mass, and starts to truly disrupt the traditional fiat-based financial system. What also bodes well for Ethereum is increasing enthusiasm for it by institutional investors.
For instance, growth stock guru and Ark Invest head Cathie Wood has become more vocal in her bullishness on Ethereum. But unlike with Bitcoin (CCC:BTC-USD), which she predicts will hit $500,000 within the next five years, Wood has not provided a definite number as to where this crypto is headed during the same timeframe.
Nevertheless, one crypto market commentator has taken her recent shilling of ETH, along with the large amount of Ethereum leaving exchanges, as a sign it's fast heading to $10,000 as institutional investors dive into it with full force.
So, does this mean it's high time to buy the dip, locking down a position before it makes a quick trip to five-digit prices? Not so fast! While there may be a path for it to ultimately hit such levels, it's likely not happening soon.
Still Plenty in Play to Send It Back Below $3,000
Investors bullish on Ethereum may be on the money about its eventual move to substantially higher prices. Yet in the short term, there's just too much going on to push it lower. First, there's the increasing call for crypto market regulation. Admittedly, this is an existing issue, and one market participants have so far ignored.
Even so, that may not continue to be the case. At first, possible regulation by the U.S. may appear to be a sign that this asset class is ready for prime time, to be followed by a large inflow of institutional money. But what if the point of increased regulation is to prevent crypto/DeFi from growing in popularity?
Take, for example, the efforts by the Securities and Exchange Commission to prevent Coinbase (NASDAQ:COIN) from launching its Coinbase Lend service. It remains to be seen whether increased scrutiny of crypto products will affect usage growth for DeFi. If it does? This may challenge the idea that increased
Along with regulatory risk, there's the risk that, if markets get rocky, speculative assets like cryptocurrencies will fall in price as well. With both uncertainties hanging over it, don't be surprised if traders continue to take profit, sending Ethereum back below $3,000.
Only Buy Today If You're in For The Long Haul
In the long run, ETH-USD may have a road to $10,000 and above. If DeFi takes off and institutional investors allocate more capital to this top altcoin, it may eventually make it to five-digit price levels. Just don't expect to happen in a matter of months. At least until the issues weighing over it today clear up or play out.
As regulatory and market risks remain, traders looking at it as a short-term play should be cautious with Ethereum. Holding it through uncertainty could pay off on the other side.
On the date of publication, Thomas Niel held long positions in Bitcoin and Ethereum. He did not have (either directly or indirectly) any positions in any other securities mentioned in this article. The opinions expressed in this article are those of the writer, subject to the InvestorPlace.com Publishing Guidelines.
Thomas Niel, contributor for InvestorPlace.com, has been writing single-stock analysis for web-based publications since 2016.
More From InvestorPlace
The post Use Caution As the Pullback Could Continue for Ethereum appeared first on InvestorPlace.
markets
crash
The dot plot thickens
All eyes on FOMC meeting FOMC day finally arrives with markets already being buffeted by a variety of inputs. Although I expect the FOMC to not give too…
All eyes on FOMC meeting
FOMC day finally arrives with markets already being buffeted by a variety of inputs. Although I expect the FOMC to not give too much away on the tapering front, the best we can expect I believe is a signal that they will make a firm decision on whether to start at the November meeting, we could in for a surprise on the latest dot plot. The dot plot, which charts FOMC members' timelines for rate hikes or cuts could see more members moving hiking expectations into 2022. We may not get a taper tantrum lite from tapering comments, but we could from a more hawkish dot plot. I've long given up hope that US bond yields will react materially, but we could see a further extension to the US dollar rally and equities and commodities probably won't have a good day at the office.
It is a busy day for central banks anyway with the Bank of Japan announcing its latest policy decision this morning. Like Indonesia yesterday, I expect no change from the BOJ, with a new prime minister to be chosen next week and an election to hold in the next couple of months. They may downgrade growth expectations and hint that more stimulus is ready should the economy slow, which should be supportive of Japan equities. Paraguay sneaked in a 0.50% rate hike this morning Asia time, and Brazil this evening, after the FOMC looks set to hike rates by another 1.0%. With Russia also on a hiking path, parts of the EM world could become attractive carry propositions if Mr Powell keeps the dovish hat firmly on. Turkey should be hiking, but that is a quick path to unemployment if you are the central bank governor.
Mainland China returns to work today although Hong Kong markets are on holiday in a game of tag. China has left its one and five-year Loan Prime Rates unchanged at 3.85% and 4.65% respectively as expected. Another RRR cut, probably early in Q4, is my favoured easing path for the PBOC. With one eye on the Evergrande saga, which has captured the world's attention, the PBOC has injected a chunky liquidity injection today of CNY 120 billion via the 7 and 14-day repos. Whether that is enough to soothe frayed nerves in China remains to be seen.
What has soothed nerves is Reuters reporting that Evergrande's Hengda Real Estate unit will make coupon payments on onshore bonds that was due tomorrow. That saw an immediate jump in the risk-correlated Australian and New Zealand dollars, and some buying coming into early Asian equity markets. However, the Evergrande story will keep on giving with the Financial Times reporting yesterday that Evergrande issued wealth management products sold to Chinese retail investors were used to plug financial holes in various subsidiaries. Concerns also swirl around its stake in a regional Chinese bank and whether it has been borrowing from itself effectively. The coupon payment story is likely only a temporary reprieve with no signals from the Chinese government over what steps, if any, it will take to assist an orderly wind down or restructuring.
US markets are contending with their own challenges in addition to the FOMC. The House of Representatives passed a vote to extend the US debt ceiling until after next year's mid-term elections and will vote on a full bill today. It will likely be dead on arrival in the US Senate though, with Mitch McConnell as much as saying so, forcing the process into reconciliation to pass. The tiresome gamesmanship over the debt ceiling from both sides should be another reason for the Fed to stay on the cautious side of things this evening.
Natural gas prices continue to make headlines with European gas prices having climbed by over 400%. Most of the noise is around the 10-20% of gas that producers keep for the spot market and here it seems Asia is winning the bidding war. Gazprom is reluctant to increase export volumes to Europe above contracted amounts, meaning no spot gas. Bemusingly, signals from Russia suggest that a quick approval and certification of the new NordStream2 pipeline could result in an immediate increase. All Europe and Asia, to a lesser extent, can do, is hope for a mild winter at this stage. Europe is paying the price for its naivety in tying energy security to Russia in the hope that it would be a reliable partner. That's like me turning structurally bullish on cryptocurrencies and starting to call them an investable versus tradeable asset class.
For today, Evergrande has knocked the FOMC meeting into second place in the attention of Asian investors. I expect regional markets to be buffeted by headlines emerging from that situation and the price action after the coupon payment news suggests dip buyers hungrily await in everything if even tenuous positive news arrives.
dollar
commodities
markets
policy
fed
central bank
us dollar