As Markets Brace For Beijing Easing, Chinese State Media Unveils 25bps RRR Cut Before Year-End
As Markets Brace For Beijing Easing, Chinese State Media Unveils 25bps RRR Cut Before Year-End
While some in the market are still obsessing…
As Markets Brace For Beijing Easing, Chinese State Media Unveils 25bps RRR Cut Before Year-End
While some in the market are still obsessing over i) when the Fed will end its taper and ii) when it will commence liftoff, or start the rate hiking process which according to the latest market-implied odds, will begin in June instead of July (spoiler alert – it won't)…
… the real question traders should be asking is how long after the Fed's attempt to tighten financial policy crashes and burns, because with record duration in the corporate bond market – the same bond market that the Fed already bailed out in March 2020 and so it will never let it crash again – it will take just a few rate hikes for everything to collapse.
So in a preview of things to come to the US, over the weekend, China's central bank signaled possible easing measures to aid the economy's recovery after a sharp downturn in recent months fueled by a property slump.
In its latest quarterly monetary policy report published Friday, the People's Bank of China removed from its policy outlook a few key phrases cited in previous reports, including sticking with "normal monetary policy." Additionally, as Goldman's Maggie Wei wrote in her PBOC monpol post-mortem, the bank noticed three changes in the Q3 report compared with Q2:
PBOC added monetary policy should be based on domestic economic situation – "monetary policy would give prominence to domestic economic situation";
PBOC stated monetary policy should "give greater priority to serving the real economy and to enhance the stability of broad credit growth";
instead of "to guide lending rates lower" as mentioned in the Q2 report, Q3 report stated PBOC would work on "lowering financing cost for SMEs".
The report also dropped previous phrases to "control the valve on money supply" and vowing not to "flood the economy with stimulus," signaling more credit support in coming months. These statements and changes, according to banks such as Goldman, Citi and Nomura, suggests a shift in stance toward incrementally more supportive policies, "but mainly through increasing targeted supports to green development and SMEs while policy interest rates would remain unchanged."
Meanwhile, the statement on "giving prominence to domestic economic situation" is an addition compared with the Q2 report, but not a new phrase itself as it was mentioned by PBOC officials recently. This statement is likely a response to market concerns on the divergence of monetary policy between China and major DMs (in particular the US) in the future and, according to Goldman, "leaves the door open for more monetary policy easing despite normalization of monetary policy (tapering and future rate hikes) in the US."
Nomura's Ting Lu echoed Goldman's take, writing that he "expects Beijing to soon significantly step up its monetary easing and fiscal stimulus to counteract the increasing downward pressure."
The PBOC's more dovish outlook follows growing concerns about the economy flagged by several officials recently. After warning that China faces "downward pressure" at the start of the month, Premier Li Keqiang told a seminar on Friday that China still faces "many challenges" in keeping the economy stable, although this year's goals will likely be achieved. He also emphasized policymakers would continue using reforms to increase productivity, streamlining administrative burdens for corporates and pushing for major project construction to maintain labor market stability and ensure economic growth within a reasonable range.
Even more ominously, Liu Shijin, who sits on the central bank's monetary policy committee, echoed a recent downbeat assessment by Citigroup, saying in an online forum Sunday that the economy could enter a period of "quasi-stagflation," which needs close attention if it happens.
"The concern for growth slowdown is clearly rising among technocrats at different government agencies," said Macquarie Group Ltd.'s Larry Hu. "But the key is whether the top leaders share such a view." The Politburo meeting in December and Communist Party's Central Economic Work Conference due in the same month, will provide more clues, he said.
China finds itself in an unfamiliar place with growth by some estimates set to drop below 5% next year, testing authorities' resolve to cut the economy's reliance on the highly-leveraged property sector. In the quarterly report, the PBOC said the economic recovery faces restrictions from "temporary, structural and cyclical factors," and it's become more difficult to maintain a stable economy.
Meanwhile, also overnight, China stood pat on its version of Libor, or the benchmark lending rate known as the loan prime rate (LPR), for the 19th straight month at its November fixing, in line with market expectations. But, as the state-controlled Global Times writes today, confirming the rate cut speculation, "some analysts said that China will likely make another Reserve Requirement Ratio (RRR) cut before the end of this year to cope with an economic slowdown, though the benchmark lending rate is unlikely to change this year."
The Global Times quoted Xi Junyang, a professor at the Shanghai University of Finance and Economics, who said that the central bank will likely cut the RRR, the amount of cash that banks and financial institutions must hold as reserves, by 25 basis points before the end of this year.
"The RRR cut is necessary as the government needs to cope with the economic slowdown fueled by a mixture of factors, including the COVID-19 resurgence and real estate controls. Besides, China's capital supply growth is at a relatively low level, providing space for cutting the RRR," he told the Global Times on Monday.
An RRR cut, while unlocking over $100BN in liquidity, however would not be followed by a cut in the benchmark lending rate this year, the Global Times reported.
"The unchanged LPR in November shows that the PBC agrees with the current interest rate level in the credit market, as financial data show that these figures are within a reasonable range. Besides, banks are not motivated to lower the credit rate, while keeping the LPR unchanged will help stabilize market expectations for the property market," Zhou Maohua, a macroeconomics analyst under the financial market division of Everbright Bank, told the Global Times on Monday.
One reason for China's continue caution: soaring wholesale inflation and painful consumer price inflation. Wu Chaoming, chief analyst of Chasing Securities, told the Global Times that "since inflation is still at a relatively high level, the timing of interest rate cuts will likely be delayed, and structural adjustment will remain the mainstream mode for the time being."
Of course, even "only" an RRR cut would be very much welcome and the local market was delighted by the prospect, sending China's CSI 300 Index higher as much as 0.5% Monday morning on expectations of potential loosening, while the 10-year government bond futures contracts gained as much as 0.3%. As for more cuts? Well, with the Chinese economy continuing to shrink, it is only a matter of time before Beijing – like the Fed – has no choice but to start from easing square one all over again.
Tyler Durden
Mon, 11/22/2021 – 15:33
inflation
stagflation
monetary
markets
reserve
policy
money supply
interest rates
fed
central bank
monetary policy
crash
How Silver Can Conquer $50+ in 2022
Two realistic price movement scenarios can see silver finally ascend through the magnetic $50 level in 2022. A case can be made that either – or perhaps…
Two realistic price movement scenarios can see silver finally ascend through the magnetic $50 level in 2022. A case can be made that either – or perhaps both – have a strong likelihood of taking place.
First Scenario:
In December, silver moves up from a strong multiple-year base, with an impulse leg-driven First Quarter, punching through strong resistance and spiking into the low '$40's before retreating to its breakout just above $30.
It builds a broad $15 sideways HSR (horizontal support-resistance) price box between $43 and $28.
Volume strengthens on up days, and lessens on down days, creating a descending technical triangle.
In April, silver breaks out of its four-month coil and drives into new multiple year highs between $44 and $55 per ounce, creating spikes above $50, but without managing three closes (above a given price, in this case the historic $50) David Morgan looks for to validate a bullish (or bearish) impulse leg breakout.
In mid-June, physical silver gives up the ghost and retreats into a seasonal July-August double bottom.
Many long-term silver bulls lose hope as the "triple top" (1980, 2011, and 2022) they see causes them to conclude that silver prices will "never" rise and stay above $50 during their lifetimes.
Metals and miners wash out into the fall of 2022, as the last weak hands are "worn out or scared out," even as silver consolidates for a fourth – and this time successful assault on $50.
Second Scenario:
In the second scenario, silver, having retreated toward its $30 breakout early in the year, yet unable to leave $50 behind, churns in a frustrating triangular fashion.
Meanwhile, new, subtle, but sustained physical buying comes in late in a session on any breakdown in price.
Large money siphons off increasingly scarce physical inventory like what happened in late October 2021, when a metals' dealer colleague shared with me that he had just taken "a test order" from a new customer… for five million dollars!
The silver price is coiling; the spring is tightening… Those who read this column have heard the litany of supportive factors, but there are two more that may slip beneath people's radar.
A Technical Indictor:
In several decades of following "the restless metal", one powerful "technical tell" – what I call "the fourth time indicator" – stands out. It's when a price challenges either upside resistance or downside support for the fourth time.
A classic example of this took place as what would become a 5-year cyclical bear market built out from the 2011 upside failure and touched $26 silver for the fourth time.
I remember getting a pit in my stomach, thinking, "It's probably gonna' go through… and keep dropping!" Which is exactly what it did.
A Physical Indicator:
The metals' dealers I speak with tell me that virtually no significant quantities of gold and silver are coming back into the market.
Additionally, a tell I watch for is the availability – or lack thereof – of fractional ounce gold coins like the Canadian gold Maple (leaf) or the Australian gold Lunar.
Upon inquiring recently about 1/10th oz Canadian Maples, I was told, "Do not expect anything before late January 2022 at the earliest." (Some American fractionals are available, but internationally less desired by dealers than their more easily resold cousins.
Silver has acted like this before. Jeff Clark's talk at last fall's Silver Symposium envisioning how the next silver bull run might unfold, was titled "From Boring to BOOM."
Clark noted how silver actually declined for two years into 1976, during a time – as now – when inflation and unemployment were high, and there was an ongoing energy crisis. He had a dozen quotes "from the experts" read aloud, several from the venerable New York Times
Said one in the event by a less-than-a prescient observer: "Gold is headed below $100. Who wants to put money in gold and silver now?" Another: "Any argument against putting money into gold goes double for silver. Silver is fools' gold!"
Clark described the current environment succinctly and eloquently. "We have a falling silver price, surrounded by catalysts."
You may be a long-suffering holder whose dreams of a metal moon shot have been dashed too many times to count. (And yet silver in 2000 traded for less than $4.00 the ounce; rocketed to near $50 in 2011; and even today with a $3-$5/ounce bullion premium and $9-$12 for the American Silver Eagle versus the traditional $3, you're still looking at a "30 handle.")
What do you think will happen when one of those "catalysts" or some other unexpected factor collides with a jaded "nothing's gonna' change'" investment cohort, an unsuspecting public, and an asleep at the wheel manufacturing sector?
In conferences and essay columns like this one for Money Metals, I've said it before: Everyone knows the price of silver – look it up on an exchange or call your dealer. But No one on the face of the earth has even a rough idea of the value of silver.
My bet says that as we track the metal's path to $50 in 2022, followed by an epic three-digit stellar shot in 2023-4, we're all going to find out! If such is the case, which side of this bet will you be on?
When Silver makes its move, "the side of the mountain is going to blow out." In March 1980, Mt. St. Helens in WA State blew its…side. Everyone including the geologist monitoring its activity – and who himself died during the explosion – expected that when and if it did activate, it would follow the classic vertical eruptive form. But no.
The NE side of the volcanic cone disintegrated as a 300-mph hell-fire storm of ash, rock, plant matter (and a bird's beak I found in a relative's back yard in Moses Lake 200 miles from the site!) spread out across several states.
This may serve as a fitting analogy for what's to come when silver explodes, making its exponential, beyond-the-comprehension run, shocking even "the experts." Should this take place, will you be standing there empty-handed as a spectator, watching? Or holding physical silver, some gold, and perhaps platinum in hand to ensure your other assets?
ASAN, DOCN, CRWD, PLTR: Why Are Tech Stocks Down Today?
Market news today has largely centered around President Joe Biden's appointment of Jerome Powell to another term as chair of the Federal Reserve. While…
Market news today has largely centered around President Joe Biden's appointment of Jerome Powell to another term as chair of the Federal Reserve. While this development was anticipated by many, it comes at a time when inflation is rising rapidly and economic uncertainty continues to weigh on investors. One thing that can be expected in such a scenario, though, is that markets will likely have mixed reactions to the news. While the S&P 500 has risen nearly 0.7% as of this writing, the tech-focused Nasdaq is down by 0.1%. The obvious question then is, why are tech stocks down today?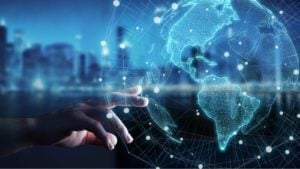 Source: Shutterstock
Tech Stocks Are Down: Which Are the Biggest Losers?
While the Nasdaq is in the red, plenty of high-yield tech stocks are not included in the index have also fallen today. Asana (NYSE:ASAN) is down by more than 19% this afternoon while cloud computing company DigitalOcean (NYSE:DOCN) has fallen by almost that much. CrowdStrike Holdings (NASDAQ:CRWD) is in the red by 8% so far today while Palantir Technologies (NYSE:PLTR) is down by almost 4%. With these tech stocks down, there are plenty of variables to consider.
For the first three aforementioned companies, today's declines represent a clear plunge in share price after a week of only minimal downticks. For Palantir, though, they are the continuation of a downward trajectory that the company has been on since a post-earnings selloff. Experts such as InvestorPlace contributor Muslim Farooque have urged investors to view the declines a buying opportunity. Fellow contributor Faizan Farooque sees commercial growth for the company ahead.
What's Powell Got to Do With It?
Why is Powell's reappointment causing tech stocks to plunge? To start, yields on government bonds have extended overnight gains following the news, as reported by the Wall Street Journal. To be specific, the yield on the U.S. Treasury's 10-year benchmark has risen from 1.581% to 1.594% while the same yield on the two-year note rose from 0.539% to 0.568%. This makes sense when we take into account that while analysts had widely anticipated this news, it had not been "entirely priced in by the bond market." Additional tension within bond markets has likely stemmed from the fact that some on Wall Street were anticipating that Biden would replace Powell with Lael Brainard, a Fed governor who tends to favor more progressive approaches to monetary policy.
It absolutely bears noting that higher interest rates generally mean trouble for high-growth tech companies and as such, can cause stock prices to fall. It's tempting to assume that a fast-growing economy will only spur further growth for companies driving the rapidly expanding tech sector. Rising interest rates can pose constraints for highly valued companies, though, particularly if their values are based on future profits, as is common among tech giants. We saw this type of scenario play out earlier in the fall and today we're seeing it again. A late-September Barron's headline cited Amazon (NASDAQ:AMZN) and Zoom (NASDAQ:ZM) as two companies for which rising interest rates were bad news. As can be expected, both tech giants are down today, both by roughly 2%.
What's Next for Tech Stocks?
With Treasury yields rising today, it stands to reason we're going to continue to see tech stocks down for the time being. That said, these companies are likely to bounce back quickly as uncertainty cools off and things return to normal on Wall Street.
For investors, these declines could be seen as an opportunity to buy the dip on valuable tech companies. The reappointment of Powell means that we likely won't see any dramatic changes to markets as we move into the new year.
On the date of publication, Samuel O'Brient did not have (either directly or indirectly) any positions in the securities mentioned in this article. The opinions expressed in this article are those of the writer, subject to the InvestorPlace.com Publishing Guidelines.
More From InvestorPlace
The post ASAN, DOCN, CRWD, PLTR: Why Are Tech Stocks Down Today? appeared first on InvestorPlace.
inflation
monetary
markets
reserve
policy
interest rates
fed
monetary policy
Real Wages
  I am working on a longer commentary, but in the meanwhile, I wanted to share three quick charts which are incredibly instructive about wage-push inflation,…

I am working on a longer commentary, but in the meanwhile, I wanted to share three quick charts which are incredibly instructive about wage-push inflation, and what it might mean. I separating these from that inflation discussion because I suspect economists are thinking about wage inflation all wrong.
Consider the real wages chart, above. It may be hard to imagine, but for the 35 years from 1979 to 2014, real median wages were flat. Meaning, adjusted for inflation, workers are getting the same buying power they had the year I graduated High School. three and a half decades later, they began ticking higher (2015) when the post-GFC economy saw unemployment really head to cyclical lows; it then accelerated higher in 2020-21.
Even worse, minimum wage, adjusted for inflation, was the same in 2015 as it was in 1949. This is why I have been saying the big uptick in wages is really a lagging giant catch-up: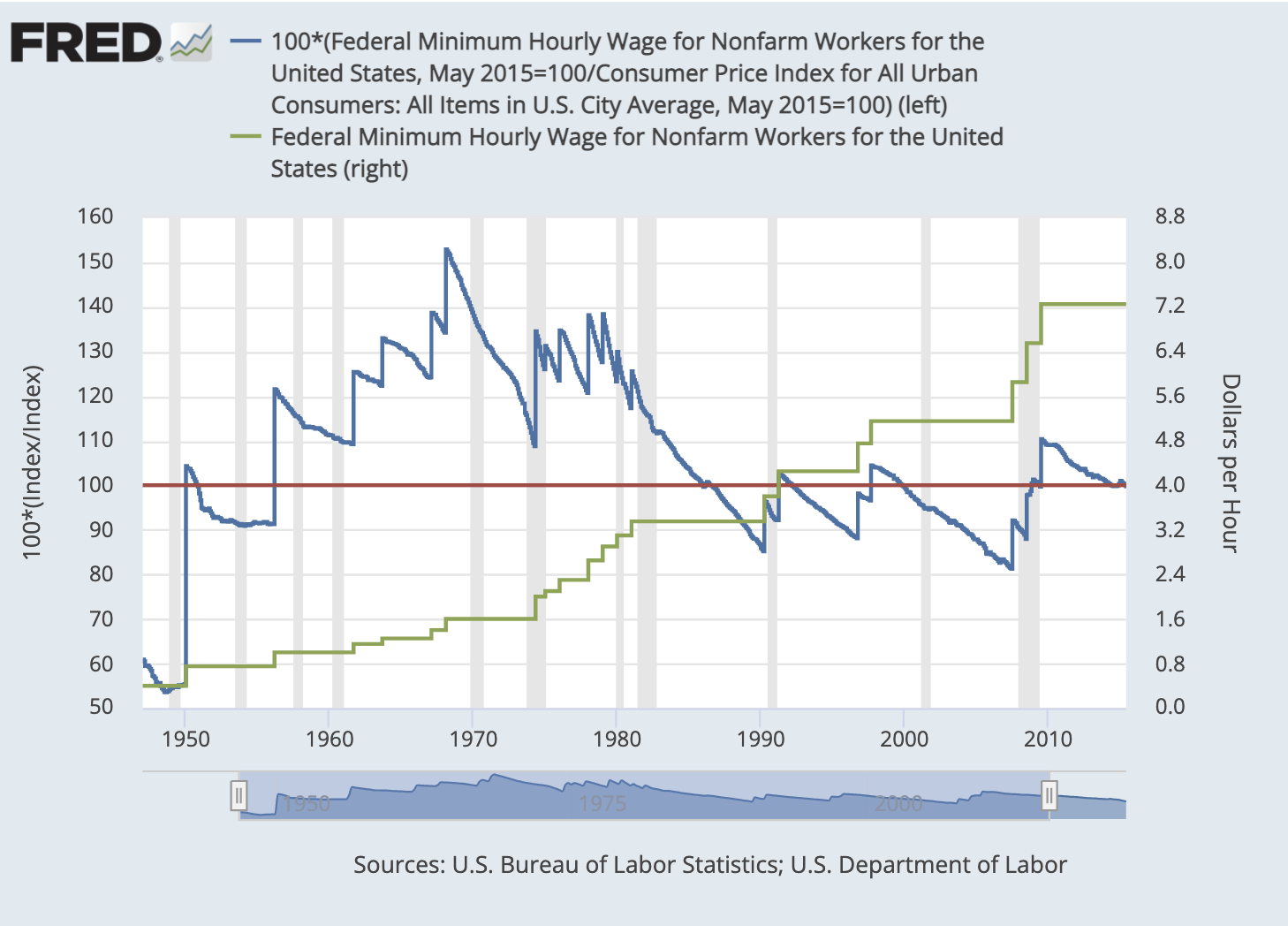 This raises a fascinating question: Are economists approaching wages backward? Should they be asking why low-end wages have been a DEflationary factor over the past 7 decades? Maybe we should wonder why the minimum wage has lagged productivity, profits, C-Suite comp, and inflation? Hence, we might consider these rising wages as less of an inflationary impulse — and more of a "partial unwind of decades of lagging, deflationary, low-end wages."
The second chart I want you to see is below, from Constance Hunter of KPMG. She points out that it is the bottom quartile that is pulling up wages. This is consistent with that pesky wage reset I keep bringing up.
More on this tomorrow . . .
The post Real Wages appeared first on The Big Picture.