Beijing Liberalizes Coal-Fired Power Prices To Combat Energy Crunch   
Beijing Liberalizes Coal-Fired Power Prices To Combat Energy Crunch   
Beijing said on Tuesday it would allow price fluctuations of power…
Beijing Liberalizes Coal-Fired Power Prices To Combat Energy Crunch   
Beijing said on Tuesday it would allow price fluctuations of power derived from coal-fired plants to improve the country's power market as shortfalls in power generation have sparked an energy crisis. 
According to a notice from National Development and Reform Commission (NDRC), electricity prices generated by coal-fired plants will be permitted to rise and fall by 20%. That compares with the prior upside limit of 10% and the lower limit of 15%. The reform would take effect from Oct. 15
NDRC requested provincial governments to require industrial and commercial users to purchase power at market prices. The agency added liberalization of the power market would help prevent price manipulation and monopolistic practices.
Power plants in the country have struggled to meet post-pandemic demand, and record-high coal costs have rendered many power operations uneconomical. NDRC said by allowing market forces to dictate power prices in a range of 20% will increase power generation by making loss-making generators profitable and bring online generators that were once deemed uneconomical. 
NDRC official Peng Shaozong said the reform was "designed to reflect power demand and consumption, and to some extent to ease operation difficulties of power firms and encourage plants to increase power supply."
Frederic Neumann, co-head of Asian Economic Research at HSBC, told Reuters that liberalization of "thermal power pricing is a positive for growth by reducing power outages."
"Still, this comes with a further rise in price pressures, as power companies can now pass on higher input costs to their commercial and industrial customers," Neumann said. 
However, Lara Dong, senior director of IHS Markit, said, "power prices at 20% above coal-fired power benchmark will not be sufficient to help coal plants break even at current fuel prices."
And she warned that energy-intensive sectors would face record-high power prices, which is pushing up the producer price index (PPI). 
Historically, Chinese coal prices - due to their core role as the anchor of China's energy-intensive economy - have been the commodity that most closely has correlated with PPI. And while we wait to get the latest Chinese CPI and PPI print later this week, we can already predict what will happen this winter.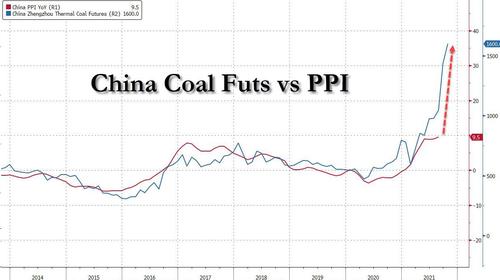 "Higher electricity price in China will add to the worry of rising global inflation," Kevin Xie, senior Asia economist at Commonwealth Bank of Australia, warned.
The reform comes as the Northern Hemisphere's winter fast approaches, and China is facing an energy shortage of fossil fuels, including coal and natural gas. 
Tyler Durden
Wed, 10/13/2021 - 02:45
inflation
commodity
Should You Buy the Big Banks Ahead of Earnings?
We're fast approaching one of my favorite times of the year — the third-quarter earnings announcement season.
Source: Shutterstock
The reason why…
We're fast approaching one of my favorite times of the year — the third-quarter earnings announcement season.
Source: Shutterstock
The reason why I get so excited during earnings season is because this is when the crème de la crème of stocks get their chance to rise to the top. Every company must open its books and show Wall Street how they performed in the quarter and share their longer-term outlook. Companies that reveal strong results and positive earnings and guidance are typically rewarded by investors, while those that post weak results and guidance are punished. In my forty-plus years of investing, I have found earnings have worked 70% of the time.
Now, for the third quarter, FactSet expects the S&P 500 to average 27.6% earnings growth and 14.9% revenue growth.
Yes, that is down from the 91% average earnings growth achieved in the second quarter, but the reality is economic growth is slowing, and year-over-year comparisons are now less favorable.
I should add that fourth-quarter estimates remain solid, with FactSet anticipating 21.5% average earnings growth and 11.4% average revenue growth.
Personally, I anticipate my fundamentally superior Growth Investor stocks will post strong sales and earnings results. My Growth Investor stocks are characterized by 46.9% average annual sales growth and 57.2% average annual earnings growth. The analyst community has also revised their consensus earnings estimates 14.9% higher in the past three months. So, I'm looking forward to wave-after-wave of positive earnings surprises in the coming weeks to dropkick and drive my Growth Investor stocks higher.
In fact, we got a taste of what strong earnings can do with Fastenal Company (NASDAQ:FAST), one of my Growth Investor Elite Dividend Payers, this morning. The company achieved earnings of $243.5 million, or 42 cents per share, on $1.55 billion in sales, which compares to earnings of $221.5 million, or 38 cents per share, and sales of $1.41 billion in the third quarter of 2020. The consensus estimate called for earnings of 42 cents per share on $1.54 billion in sales.
Thanks to continuing demand for manufacturing and construction equipment, Fastenal Company achieved sales of $4.45 billion and earnings of $693.8 million, or $1.20 per share in the first nine months of the year. In comparison, the company reported sales of $4.29 billion and earnings of $663 million, or $1.15 per share, in the first nine months of 2020.
The stock rallied more than 2% in early trading on the heels of its strong results.
Now, the big banks, including JPMorgan Chase & Co. (NYSE:JPM), Citigroup (NYSE:C), Bank of America (NYSE:BAC) and Wells Fargo & Co. (NYSE:WFC), will release their earnings results this week, "officially" kicking off the earnings season.
FactSet expects the banks in the S&P 500 to tally about $31 billion in aggregate profits, up roughly 20% from a year ago but down 20% from the second quarter. Analysts also expect profits to stay flat in the fourth quarter.
Earnings estimates for the financials have risen because of more favorable economic conditions and higher Treasury yields, which benefit banks' bottom lines related to their core lending businesses.
Also helping boost analysts' predictions is the expectation that the big banks will release more in loan loss provisions they'd set aside to prepare for loan losses in the aftermath of the pandemic, though at a lower rate than during the first quarter of the year. That, in turn, will help boost the banks' bottom lines.
On the other hand, loan growth for the big banks has been slow, climbing just 1% since the end of June.
JPMorgan Chase & Co.
First to report will be JPMorgan Chase & Co. on Wednesday morning. Analysts anticipate earnings of $3.00 per share on sales of $29.7 billion. Over the past 90 days, eight analysts revised their estimates upward, while two revised lower. The stock is up over 31% year-to-date, and is up nearly 6% the past month.
Wells Fargo & Co.
Analysts expect Wells Fargo & Co. on Thursday morning to announce earnings of 94 cents per share on revenue of $18.3 billion. Over the past 90 days, eight analysts have revised their forecasts for the bank upward, while six have revised downward. The company's stock has gained over 56% so far this year and is up over 6% in the past month.
Bank of America
Analysts expect Bank of America, which reports on Thursday morning, to announce earnings of 70 cents per share on $21.6 billion in revenue. Over the last 90 days, three analysts have revised their earnings estimates for the company upward, while nine have revised downward. Bank of America shares have soared over 44% year-to-date, and are up nearly 9% in the past month.
Citigroup
Also reporting on Thursday, Citigroup is expected to see earnings of $1.79 per share on sales of $17 billion. Six Wall Street analysts have upped the estimates over the past 90 days, while six have downgraded the company. Citigroup shares are 16% higher year-to-date and have risen 3% in the past month.
Currently, these banks earn a B-rating in Portfolio Grader, making them "Buys" ahead of their earnings results. However, I don't think they represent good high-growth buys and wouldn't recommend them right now.
This is for two reasons…
First, I'm an ex-banking analyst who worked for a division of the government that is now part of the Federal Reserve. During my time there, I saw how they essentially "cook their books" and that scarred me for life.
Second, rising Treasury yields can eventually derail interest rate sensitive value stocks. Instead, I like to focus on high-growth, high-quality stocks that have historically prospered in a rising interest rate environment, and financials simply don't fit that bill.
So, while the steepening yield curve and strong housing markets bode well for bank profitability in the near term, they may get into trouble if inflation runs too hot.
The bottom line: If you want to have a successful high-growth portfolio, these bank stocks should not be on your buy list.
Sincerely,
Louis Navellier
P.S. Right now, successful Americans like us have a bullseye on our back.
We're facing a direct threat to our safety and prosperity.
The values we hold dear, like individual freedom, hard work and fiscal responsibility have been tossed aside.
The U.S. national debt is growing at an unprecedented rate. And more spending is coming.
The cost of essential goods and services seems to get more expensive by the day. Critical materials are on backorder for months. Grocery store shelves are half-empty.
If you have any money in savings, in the stock market, in a 401k or even cash stuffed under the mattress, this should make the hair on your neck stand up.
To help understand the monumental problem we're facing and why both our way of life and financial security are under attack, I put together a special presentation.
So, if you want to protect yourself and grow your wealth, I encourage you to watch this briefing now.
The Editor hereby discloses that as of the date of this email, the Editor, directly or indirectly, owns the following securities that are the subject of the commentary, analysis, opinions, advice, or recommendations in, or which are otherwise mentioned in, the essay set forth below:
JPMorgan Chase & Co. (JPM), Bank of America (BAC), Fastenal Company (FAST)
Louis Navellier, who has been called "one of the most important money managers of our time," has broken the silence in this shocking "tell all" video… exposing one of the most shocking events in our country's history… and the one move every American needs to make today.
More From InvestorPlace
The post Should You Buy the Big Banks Ahead of Earnings? appeared first on InvestorPlace.
inflation
markets
reserve
"Don't Buy The Dip": BofA Explains Why The Fed Has Lowered Its Put Strike
"Don't Buy The Dip": BofA Explains Why The Fed Has Lowered Its Put Strike
One week ago, Bank of America's derivatives team observed that "equity…
"Don't Buy The Dip": BofA Explains Why The Fed Has Lowered Its Put Strike
One week ago, Bank of America's derivatives team observed that "equity investors are losing confidence in Buy The Dip" and warned that after suffering a "meaningful setbacks in recent weeks," the coast appears far from clear. The bank pointed to recent episodes of increasing market fragility, and highlighted the recent market volatility manifesting in the second daily selloff of 3 standard deviations or more in just 7 trading days, only the 24th time since 1928 that the S&P experienced two or more 3-sigma shocks within 10 trading days.
Fast forward a week and BofA's increasingly bearish derivatives team led by Riddhi Prasad and Benjamin Bowler has intensified their warning, and pointing to the market's increasing trouble to rebound from its recent slump - it has now been 27 trading days without a record high, the longest such stretch since September 2020 - they note that momentum has been fading this fall, "and investor confidence in buying the dip may only keep waning the longer this sideways price action persists."
In the absence of proactive buyers - such as retail investors who have recently turned their back on the market, or aggressive stock buybacks which are currently in a blackout period due to the coming earnings season -  the "market may for the first time since the Covid shock, need to test the Fed put in the next selloff," BofA warns.
Then, of course, we have the Fed's tapering. In an amusing interlude, BofA explains that the last time it warned that tapering is bearish, it got the usual "tapering is not tightening" platitudes from clients (spoiler alert: tapering is tightening as even Morgan Stanley now admits), adding that "the main pushback we received was that tapering asset purchases has a smaller economic impact than hiking rates, and is therefore a more minor threat than that of prior hiking cycles."
In response, the strategists counter that investors' should focus "not just on the way tapering and hiking change the underlying economics, but on their impact on investor sentiment in today's environment. For instance, just like the S&P thrived against 3 rate hikes in 2017 but choked on the 2018 hikes, a tapering cycle today could turn out as painful for the equity market as a prior hiking cycle."
Elaborating on that point, BofA starts with the obvious, namely "that unparalleled monetary policy contributed to the historic returns and valuations achieved post-Covid."
But with tapering looming and lacking such explicit Fed support, and with momentum fading this fall, "the market may need a period of bad news to get the Fed back on its side or reach more attractive valuation levels. The longer the recent sideway action persists, the weaker the momentum and confidence that investors require to buy the dip."
To be sure, the Fed will have one key lever to push stocks higher once tapering begins, namely jawboning about the timing of the first rate hike. That's the lever Fed famously used to reverse falling stocks leading up to the first hike post-GFC. In October 14, St. Louis Fed President Bullard stepped in to calm markets fearful of a growth shock. In 2015, on the back of another bout of stock market weakness, Yellen pushed back a largely-expected hike around the Sep FOMC meeting and then delayed the next hike for an entire year.
However, BofA cautions, "the option to delay hiking rates doesn't rule out a period of higher volatility", as:
we still haven't seen how the market will react to the actual taper today,
the change in Fed tune means the Fed put might have to be tested (vs. the dip getting bought in anticipation), and
overshooting inflation might limit the Fed's ability to rescue the equity market as easily as it did during the last taper/tightening cycle (with inflation breakevens today well above anything experienced in the last taper and tightening cycles).
In a potential double-whammy, the fact that fixed income markets are not pushing back against the Fed's taper announcement lowers the Fed put strike, in BofA's view. That's because while traders generally tend to focus on equity market tantrums as the Fed's signal to intervene, major U-turns in Fed stance were often encouraged by the bond market 'disagreeing' with the Fed's plans.
For example, the 2013 taper tantrum was by far most felt in fixed income markets, while both inflation breakevens and expected rate hikes fell sharply as Powell raised rates through the second half of 2018, indicating that well ahead of the infamous Powell pivot they already knew he was on the right path.
Today, on the contrary, Eurodollar futures implied rates and inflation breakevens are rising in line with an uninterrupted hiking cycle ahead (Exhibit 9) - perhaps because investors don't even bother to sell ahead of a market drop they know the Fed will step into and "rescue", while rates vol has remained muted through the latest rise in long-term yields (unlike in the short-lived Treasury selloff of 1Q21; Exhibit 10). This price action - driven by bonds - has raises the Fed's bar to easily change course if the equity weakness continues, and, as BofA warns, it calls into question where the Fed put strike is.
To summarize BofA's argument, between the coming taper and frequent recent warnings about euphoric markets from both FOMC talking heads and even the IMF today cautioning about a risk of sudden and steep declines in global equity prices and home values, the risk is the Fed put strike is (much) lower than the market anticipates, as:
Equity valuations & returns have accelerated to extremes post-Covid,
The bond market is projecting tightening is needed and
Risks of inflation overshooting are increasingly real, with 5yr inflation break-evens well-above any level witnessed during the 2014-2018 taper/tightening cycle.
As a result, Prasad warns that "the Fed may be less willing to so easily deviate from tapering plans and talk the market back up as during the last cycle, further adding to risks." His conclusion - "bad news (delaying the Fed) would be the best news equities can wish for."
Translation: It's almost time for another crisis.
Tyler Durden
Tue, 10/12/2021 - 22:23
inflation
derivatives
monetary
markets
policy
fed
monetary policy
Third Quarter Earnings Season Begins Tomorrow: It Could Be Ugly
Third Quarter Earnings Season Begins Tomorrow: It Could Be Ugly
As the following chart from Bloomberg shows, for six consecutive quarters,…
Third Quarter Earnings Season Begins Tomorrow: It Could Be Ugly
As the following chart from Bloomberg shows, for six consecutive quarters, earnings season provided the antidote to all the stock market ills (if not on fundamentals but because stock stubbornly tracked the relentless growth of the Fed's balance sheet which rose by $120BN every month like clockwork). But that perfect record is about to get its biggest test yet at a time when uncertainty is swirling among equity investors, and not just because a potentially ugly earnings season is on deck but because the Fed's liquidity cannon is about to see its first "tapering" since the covid pandemic unleashed trillions and trillions in liquidity.
Looking back, the large and persistent earnings beats over the last 5 quarters...
... prompted record upgrades to forward earnings estimates.
The market has moved higher in lockstep with these upgrades...
... leaving the forward multiple remarkably flat at very elevated levels since May of last year. And as Deutsche Bank's Binky Chadha warns, "the market is priced for these large beats and upgrades to continue" but can Q3 earnings season deliver?
And so, as jittery investors brace to comb through the corporate tea leaves for clarity on everything from the impact of rising rates and commodity inflation to broken supply chains, setting the stage for a particularly dramatic serving of results, below we take a loot at what Wall Street expects as 3Q earnings kick off tomorrow when JPM reports bright and early.
Following another huge beat in 2Q, 3Q EPS has risen 3% over the past three months to $49.06 (+27% YoY), down from an eye-popping 94% Y/Y surge in Q2; typically this estimate falls by 4% into the quarter. According to BofA, consensus forecasts imply the 2-year growth rate falling sharply to +16% vs. +27% in 2Q amid supply chain issues and the delta variant-driven slowdown (the just released news about Apple slashing its iPhone production due to chip shortages being the latest case in point).
In a conspicuous break from the last 4 quarters which saw upgrades, DB notes that Q3 consensus estimates are being downgraded ahead of the earnings season, marking a return to what has been the historical norm. Downgrades have largely been driven by the pandemic-loser group on delta variant concerns, and by insurers following the impacts of hurricane Ida. But even excluding these lumpy impacts, estimates have stayed flat in contrast to the upgrades of recent quarters.
As is typical, the consensus sees a drop in earnings sequentially (-4.5% qoq excluding loan loss provisions)...
... with nearly all sector groups seeing declines. But that's usually the case and in the end, earnings growth usually comes in positive.
Cutting to the chase, DB notes that amidst a macro backdrop that is a little less supportive than over the last 4 quarters, the bank sees earnings continuing to rise but only modestly so (+1.5% qoq), beating consensus by 6%, far lower than the 14-20% range of the last 5 quarters and closer to the historical average beat of 5%
Expect no beat this quarter
In Q2, S&P500 companies delivered another monstrous beat topping consensus by 17%. With the strong beat, 3Q EPS estimates have risen 3% over the past three months, but BofA sees increased headwinds heading into 3Q, primarily driven by supply chain issues, delta-driven slowdown, and continued inflationary pressure.
That said, while there are reasons to be cautious, earnings misses are extremely rare: since 2009, there have been only two quarters (out of 50) when earnings missed consensus (2Q11 & 1Q20). And with consensus expecting a meaningful moderation in the 2-year growth rate to 16% from 27%, BofA's 3Q EPS estimate is in line with consensus, representing the worst earnings season since COVID and below the historical median beat of 3.5%.
BofA generally agrees with DB, and expects earnings to come in in-line with consensus and revises its 3Q EPS down by $2 (to $49) and 4Q by $1. But, as has been the case for much of the past year, one of the top questions will be around guidance (which started to soften) and 2022 EPS will be revised lower.
Another core question: who is best positioned to weather the surging input costs: "What we are going to be laser-focused on in this earnings season is pricing power," said Giorgio Caputo, senior portfolio manager at J O Hambro Capital Management. "What we're seeing is that getting the machine back up and running -- those who thought it would be an easy quick fix are being disappointed now."
Which leads us to the most important variable of Q3 season: profit margins. As we noted at the time, although margins expanded to record highs in 2Q, companies highlighted increasing difficulties passing through cost inflation. Since then, issues have worsened: supply chain news stories increased 74% and freight rates from China rose 20%...
... with record backlogs at the West Coast Ports. In 3Q, we also saw a near-record number of profit warnings stories (third highest since 2011), only after 4Q15 and 1Q19.
In those quarters, earnings beat consensus by 0.6% and 4.9%, respectively, but subsequent quarter earnings were revised down by 9.3% and 2.2% mostly due to supply issues.Incidentally, we predicted that this would happen.
If MS and BofA are right on slumping consumer demand and margin contraction we should start seeing Q3 earnings warnings in the next 2 weeks.

— zerohedge (@zerohedge) August 30, 2021
To be sure, consumer demand remains robust but soaring inflation poses downside risks. While analysts have baked in margin  contraction this quarter (non-Financials net margins -70bps QoQ), both BofA and Morgan Stanley see big risks to 2022 numbers, where analysts expect record margins, an outcome which is virtually impossible unless all the input cost inflation is passed through to consumers.
It's not just broken supply chains: wages are surging too; indeed as BofA writes, "wage inflation is just as big of a headwind (if not
bigger)" than supply chains. The BEA estimates wages are as much as 40% of total private sector costs. At the same time, slowing China and its property sector issues also pose risks to US multinationals. And while higher oil prices have historically been positive for S&P earnings (every 100bps move up in WTI added 50bps to S&P earnings growth), but Energy companies' capital discipline could translate to a lower earnings multiplier (i.e. less revenue for energy capex beneficiaries). Soaring gas prices also add pressure to Chemicals and Utilities. In other words, higher oil could be a headwind rather than a tailwind this time.
Mentions of "inflation" on 2Q earnings calls topped 1Q levels and jumped to a record high, based on BofA's Predictive Analytics team's analysis. On a YoY basis, inflation mentions rose more than 900% YoY, in line with the increase we saw last quarter.
Notably, supply chain mentions rose the most among inflation categories tracked in 2Q, more than doubling YoY (along with labor mentions). Since then, supply chain issues have worsened: news stories on "supply chain" increased 74% since the 2Q earnings season according to Bloomberg, and freight rates from China also rose 20% (Exhibit 10)
And yet, amid all these rising margin risks, analysts are expecting margins to hit a new peak in 2022!
Consistent with recent developments, consensus does point to a 70bps drop in net margins (ex-Fins) to 12.0% in 3Q, which does reflect some conservatism. However, they then expect the margin compression to stop there – with flattish margins in 4Q21, and expanding margins in 2022 to new record highs (above 2018 peaks).
Analysts expect margins to hit new highs in 4 of 10 sectors, excluding Financials (Exhibit 14). BofA disagrees and expects current headwinds to last well into 2022, and sees risk to consensus numbers.
As the bank cautions, "analysts have consistently underestimated margins over the past five quarters, but given the worsened macro environment for corporate profits (more below), we do not expect those big margin beats to repeat in 3Q."
And with good reason: the early reporters have shared mixed data at best. So far, 21 companies (primarily "early reporters" with August quarter-end) have reported 3Q results. Early reporters are concentrated in Consumer, Tech and Industrials, but can often give a read on the full quarter's results: BofA has found a 71% correlation between the proportion of early reporter beats on EPS and sales and the proportion of full-quarter beats on EPS and sales. So far, 67% have beaten on EPS, 76% on sales and 57% on both. This is weaker than last quarter (67%/94%/67%), but still above the historical average (since 2012) of 70%  EPS beats, 63% sales beats and 49% both beats. The median EPS beat so far has been 4.0%.
More ominously, BofA's 3-month guidance ratio (# of above- vs. below-consensus guidance instances) sharply fell from a record high to 2.6x in September, albeit it remains well above the historical average of 0.8x. The more volatile 1-mo. guidance ratio also fell to 1.2x, representing the lowest level since Jun 2020, as companies warned about rising inflationary pressure. Meanwhile, guidance instances have picked up to the highest level in a decade in September.
But perhaps the most troubling indication of what to expect comes from companies themselves after what BofA notes was peak corporate sentiment. According to BofA's Predictive Analytics team overall, corporate sentiment dipped from a record high, potentially indicating peak corporate sentiment amid inflation concerns and the Delta variant. Consumer sectors had the weakest sentiment compared to their own history, while Materials and Real Estate had the worst sentiment on an absolute basis.
Similarly, companies' mentions of business conditions (ratio of mentions of "better" or "stronger" vs. "worse" or "weaker") indicate slightly weaker business conditions vs. the peak level last quarter. Mentions of optimism also plummeted from record highs in the prior two quarters.
Putting it all together, below is a handy list of what to expect courtesy of Deutsche Bank:
The macro backdrop is a little less supportive. After having been strongly positive for over a year, data surprises turned negative in late-July. Earnings estimate revisions have historically been tied to data surprises. Consensus Q3 GDP estimates have also been revised downwards from over 7% at the end of Jul to 5% now. DB economists also cut their Q3 GDP forecast for growth from 8.9% to 4.7% in early September. The sales-weighted G4 manufacturing PMI, a preferred measure of global growth, rose sharply from its trough of 42.4 in Q2 2020 to 59.3 in Q2 2021. In Q3 so far, it has stayed flat (Jul-Aug average of 59.4). The US dollar is also up slightly in Q3 after 4 quarters of declines.
Secular growers (MCG+ Tech) earnings likely to flatten at an elevated level. Earnings for MCG+ Tech have been boosted well above trend by a broad cyclical lift as well as from being direct beneficiaries given the realities of the pandemic. The cyclical component which is tied to global growth and the US dollar is likely to stay flat. With re-opening having gathered steam through the quarter, the idiosyncratic pandemic-related benefit should arguably start to wane, but even if the full benefit were to remain intact, it would still point to earnings overall staying largely flat (0.4%). With consensus seeing a drop (-4.5%), DB sees a beat of about 5.2%, a sharp slowdown from the 10-17% beats they posted over the last 5 quarters, but in line with the historical average of 6%. Notably, earnings remaining flat would also mean a modest move back towards their historical trend with the gap shrinking from a record +25% in Q2 to +22% in Q3.
Cyclicals earnings almost back to trend. The consensus sees losses for the pandemic losers diminishing in Q3 (-$6.6bn to -$2.4bn) as mobility rose albeit not as quickly as initially expected. Outside of the direct pandemic losers, the rest of the cyclicals in our view should continue to post modest growth (+1.7% qoq sa) as activity levels remain robust at elevated levels. Consensus sees earnings for cyclicals declining modestly (-0.4%), implying a beat of 8%, a sharp slowdown from the 14-38% range seen in the past four quarters, but ahead of the historic average level of 5.2%. If realized, cyclicals earnings would be almost back to their pre-pandemic trend, a strong and fast recovery after being over 70% below in Q2 last year
Defensives earnings likely to move back down towards trend. Earnings for the defensives were significantly above trend in Q2 (+7%), as they continued to benefit from a pandemic boost. We see earnings retrace halfway back to trend in Q3 implying a modest  (-1.5% qoq sa) decline, while the consensus sees a larger -6.3% drop, pointing to a potential 5.1% beat in the quarter. If realized, this would be the weakest aggregate beat since the start of the pandemic, which has seen surprises in the 7-18% range, but at about the average level of pre-pandemic beats (historical average of 4.4%).
Financials to continue posting outsized beats as benign credit costs remain a tailwind. Banks released large amounts from loan loss reserves in the past two quarters ($13.8bn in Q1 and $9.5bn in Q2), boosting earnings, and that is expected to continue given benign credit conditions. However, the consensus sees banks adding to reserves in Q3 ($3.8bn). Moreover, excluding loan-loss provisions the consensus sees earnings fall to the bottom of their 2013-19 trend channel. Together this points to a massive 29% beat again this quarter, in line with the 13-36% range of the last five quarters and way ahead of the typical +4.2% average.
Energy. Oil prices have risen from $69/bbl in Q2 to $73/bbl in Q3 on average. The consensus forecasts Energy sector earnings to grow 22.5% (qoq) in Q3, which is somewhat ahead of what is implied by the increase in oil prices. DB sees lower earnings growth of 12.8% qoq, which could see the sector miss (-8%) in the quarter, in contrast with the solid double digit beats of the past four quarters and a historic average beat of 6.4%. Energy earnings beats historically have tended to be extremely volatile.
Overall beats to remain robust but returning towards the historical norm. DB sees earnings for the S&P 500 rising modestly by +0.8% and EPS coming in at $53.6/share in Q3 2021. This compares with the consensus at $49.2/share, or a beat of 9%, significantly lower than the 14-21% range of the last 5 quarters. Excluding the outsized contribution from lumpy loan-loss reserve changes, DB expects a beat of 6.3%, close to the historical average of 5% and compares to the 10-21% range of the last 5 quarters
In conclusion, and as noted earlier, huge beats and upward revisions kept the forward consensus rising steeply over the last 15 months according to DB's Chadha. Since then, consensus estimates for 2021 have edged slightly lower over the last few weeks (-0.2%), while 2022 estimates have flat-lined. The 4 quarter ahead growth rate of consensus estimates has now fallen to the steady pre-pandemic average (around 14%). In the absence of upgrades, current forecasts point to the growth rate falling well below (11%) over the next 2-3 quarters. As beats and forward earnings look to be returning to historical norms, will forward valuations follow?
Tyler Durden
Tue, 10/12/2021 - 18:55
dollar
inflation
commodity
reserve
fed
correlation
us dollar
inflationary