Berkshire's Munger Warns Market Is "Even Crazier" Now Than During The DotCom Boom
Berkshire's Munger Warns Market Is "Even Crazier" Now Than During The DotCom Boom
Charlie Munger is still alive and still dropping market…
Berkshire's Munger Warns Market Is "Even Crazier" Now Than During The DotCom Boom
Charlie Munger is still alive and still dropping market truth bombs whenever he speaks.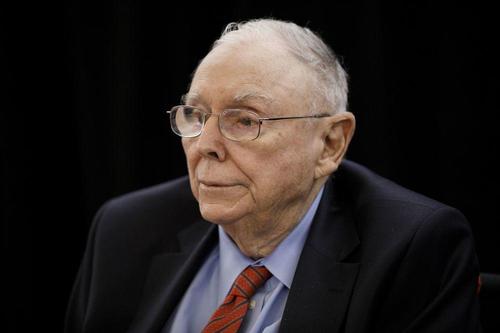 At the Sohn conference in Sydney on Friday, The Australian Financial Review reports that the 97-year-old curmudgeon exclaimed that markets are wildly overvalued in places and that the current environment is "even crazier" than the dotcom boom of the late 1990s that subsequently led to a bust. 
"I consider this era an even crazier era than the dotcom era," he warned.
He is not wrong…
Investor demand for U.S. technology stocks amid the pandemic has taken the Nasdaq 100 to a relative record against the Dow Jones Industrial Average. The ratio between the two gauges has exceeded a peak set during the dot-com bubble.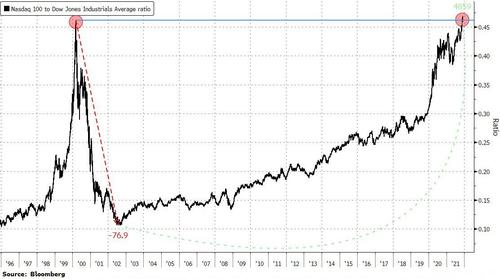 On an absolute basis, US stocks have never been more expensive relative to sales…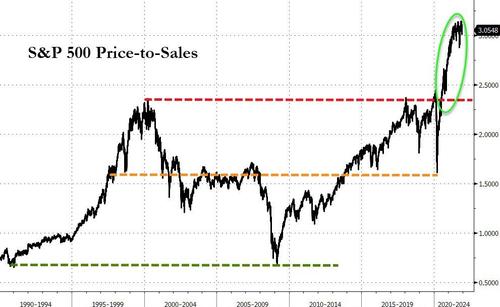 …and never been more expensive relative to the nation's GDP…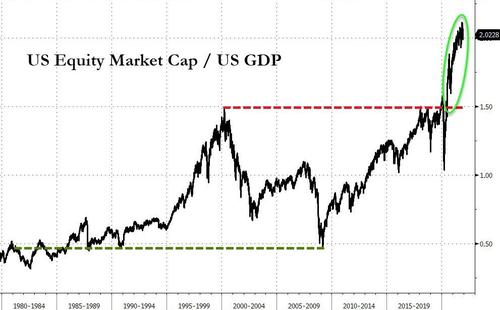 Of course, it would not be Charlie Munger without his now ubiquitous rage against cryptocurrencies wishing they didn't exist, and praised China for taking action to ban their use.
"I wish they'd never been invented," he said.

"And again I admire the Chinese, I think they made the correct decision, which was to simply ban them. In my country, English-speaking civilization has made the wrong decision, I just can't stand participating in these insane booms, one way or another."
As Bloomberg reports, while the S&P has more than doubled since the pandemic lows of March last year, Bitcoin is up over 1000%. But, investors have poured almost $900 billion into equity funds in 2021 – exceeding the combined total from the past 19 years – according to data from Bank of America Corp. and EPFR Global.
Finally, it appears Munger missed the outcome of COP26 as he explained hos bullish he is on renewable energy:
"I love the fact that we're rapidly reducing the burning of coal and the burning of gasoline and diesel," he said.

"I think that's a smart thing for the world to be doing and it would be smart even if there were no global warming."
We will forgive the almost-centenarian for missing the facts on this one.
Tyler Durden
Fri, 12/03/2021 – 10:44
markets
bubble
Kraft-Heinz Again Raises Prices On Dozens Of Products As Inflation Continues To Bite
Kraft-Heinz Again Raises Prices On Dozens Of Products As Inflation Continues To Bite
As some on Wall Street warn that the Fed remains dangerously…
Kraft-Heinz Again Raises Prices On Dozens Of Products As Inflation Continues To Bite
As some on Wall Street warn that the Fed remains dangerously behind the inflation curve (a fear that was given voice yesterday when Fed Chairman Jerome Powell's comments on inflation during the post-FOMC press conference appeared to send stocks spiraling lower), one of America's biggest makers of food and consumer goods has warned that more price hikes are coming.
To wit, Kraft-Heinz (in which Warren Buffett's Berkshire Hathaway owns a big stake) said in a letter to customers that it will raise prices in March on dozens of its most popular products. The hikes will affect brands including Oscar Mayer cold cuts, hot dogs, sausages, bacon, Velveeta cheese, Maxwell House coffee, TGIF frozen chicken wings, Kool-Aid and Capri Sun, CNN reported.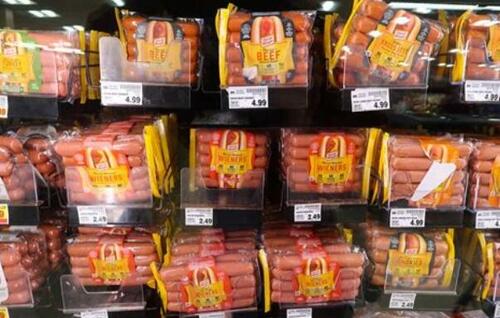 Increases range from 6.6% on 12oz packs of Velveeta to a whopping 30% hike on a package of Oscar-Mayer turkey bacon.
Most cold cuts and beef hot dogs will go up around 10% and coffee around 5%. Some Kool-Aid and Capri Sun drink packs will increase by about 20%.
"As we enter 2022, inflation continues to dramatically impact the economy," Kraft Heinz said in a letter dated January 24 to at least one of its wholesale customers that was viewed by CNN Business. The wholesaler shared the letter on the condition of anonymity to protect the company's relationship with its suppliers.
Kraft Heinz is just the latest consumer manufacturer to announce plans to boost prices early in the year. Last week, P&G said that it would raise prices on Tide and Gain laundry detergents, Downy fabric softener and Bounce dryer sheets by an average of about 8% in February. Conagra, which makes such brands as Slim Jim, Marie Callender's and Birds Eye, has said it plans to raise prices later this year.
The question now is how much of these price hikes will retailers pass on to customers? Given the thin margins that grocery stores operate on, it's likely that most, if not all, of the hike will be incorporated into prices on the shelf.
For Kraft-Heinz, this isn't the first time prices have been raised since the start of the latest "transitory" inflation wave. The brand just announced a 9% price hike on its beef, lean beef, hot dogs and some other products back in November.
Headline consumer prices surged 7% in December according to the most recent CPI data release, which was the strongest level in nearly 40 years. Food prices alone rose 0.5% MoM.
Beyond the US, global food prices have soared to levels unseen in a decade led by surging demand for wheat and dairy products following a year of severe drought and other environmental factors limiting production.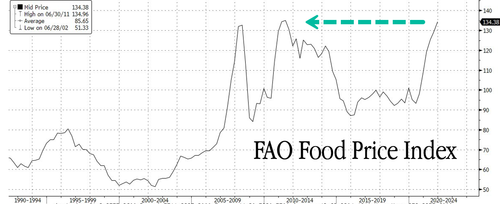 The question now is how many more times will K-H and its competitors hike prices before inflationary pressures finally ease?
Tyler Durden
Thu, 01/27/2022 – 22:00
inflation
fed
inflationary
Heightened Conflict Of Interest (rates): When GDP's Almost All Inventory
Given yesterday's Census Bureau data on retail and wholesale inventory, there was a solid though not necessarily good reason to suspect how today's…
Given yesterday's Census Bureau data on retail and wholesale inventory, there was a solid though not necessarily good reason to suspect how today's BEA report on US real GDP might surprise to the upside. The way GDP is tabulated, inventory contributes to the figured increase; the bigger the inventory build, the higher calculated output goes.
The fourth quarter's increase in total economic output when compared to the third quarter had widely been expected at around 5.5% (q/q, SAAR). That was already anticipated to be a nice rebound from prior quarter, Q3 over Q2 when real GDP had only gained (revised) 2.3%.
That previous and surprising (to some) low rate had been uniformly blamed on delta COVID disrupting the economy late summer, therefore thought to be nothing more than a temporary well-understood soft patch.
These latest estimates show that real GDP outperformed those expectations by a substantial margin, coming in at 6.7% instead rather than 5.5%. But, as I started already, this does not represent a victory over delta, nor a surrender to omicron at the end of Q4.
On the contrary, it was nearly all inventory. A ton of it, in fact so much all at once it ended up being a record positive change in private inventories matching what the Census data had already indicated.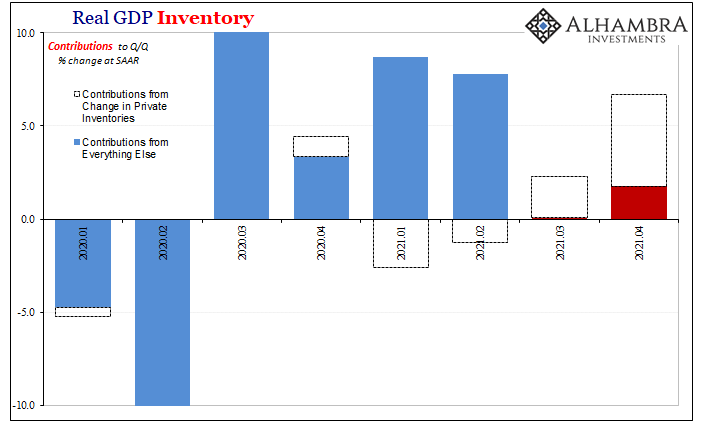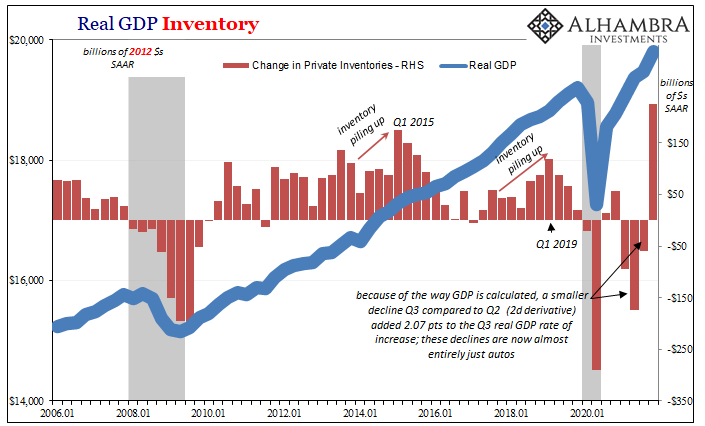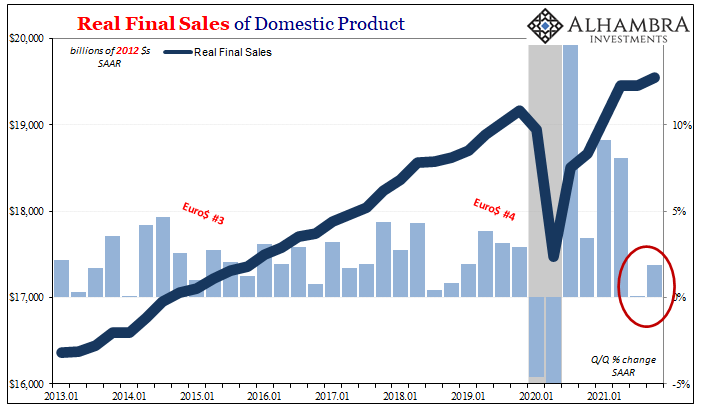 According to these updated estimates, the change in private inventories went from falling by $60.2 billion in Q3 to adding an enormous $224.7 billion in Q4. By the standard accounting, the change from shrinking during Q3 to record addition in Q4 contributed nearly five full points to the fourth quarter's 6.7% overall growth rate.
Without all those goods – belying the mainstream interpretation of empty shelves – GDP expansion would've been less than 2% for the second quarter in a row. This is the persistent theme throughout the data. In fact, Real Final Sales of Domestic Product (above) records just how weakened the last half of last year had really been.
So, while consumer spending has been unusually high on goods, it hasn't accelerated at all since around June or July (recurring global theme). If anything, the rate of goods spending has outright declined even if from a historic high – just as all those goods ordered when supply and shipping issues had been at the worst finally begin to come tumbling out of the logistical mess.
It can't be delta or any variant of corona since the lack of spending, despite all that government cash previously, continued all the way across Q4, too.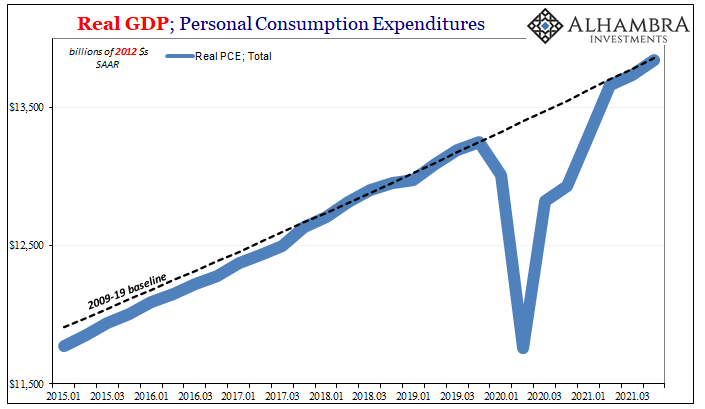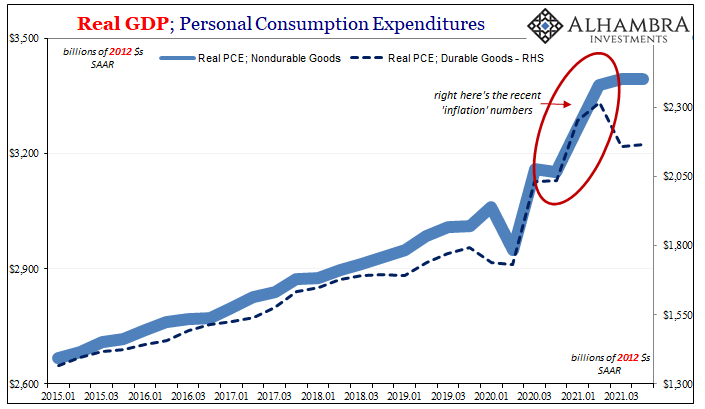 Overall, spending on services is still behind the prior 2020 peak, meaning there seems to be a limit to how much consumers will fork over even now favoring goods rather than services; though all mainstream attention has been laser-focused on only the one end of it. The goods economy was hyped up artificially and even then it still couldn't propel total consumer activity beyond its prior baseline.
That's already a red flag with now two weak quarters in a row.
And those same two weak quarters have extended, importantly, to business investment, as well. Real Private Non-residential Fixed Investment increased only 2.0% Q3 to Q4 (SAAR) after gaining but 1.7% Q2 to Q3. Like the above rates for final sales and those for consumer spending, these are down noticeably from the two quarters to start last year, those specifically filled with federal government stipends.
Without the government at its peak influence, the economy looks quite different.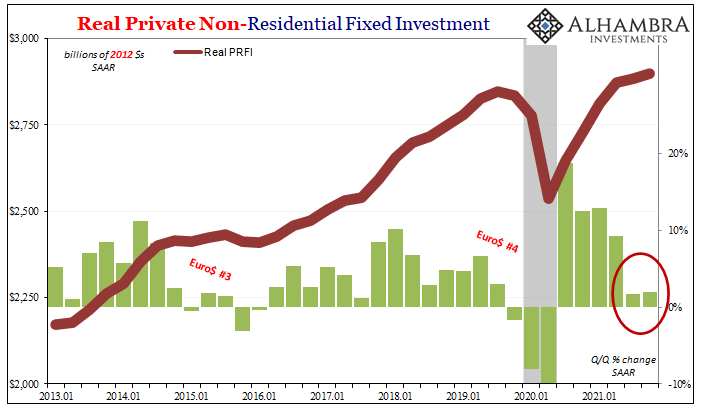 Outside of inventory, most of which was actually imported, too, the US economy in the second half of the year performed exactly in the way the bond market had been inclined. Growth and inflation expectations in longer-term yields have been waning even as CPI rates accelerated leading to the Fed's pressure of upcoming rate hikes distorting the short end.
Just since January 4, the spread between the nominal yield for the 10-year Treasury above the nominal yield of the 5-year has dropped by 14 bps from an already-low 29, reaching a new recent low of just 15 today. The 2s10s spread has collapsed by 26 bps in those same sixteen trading sessions, falling to now 63 after today's close of business.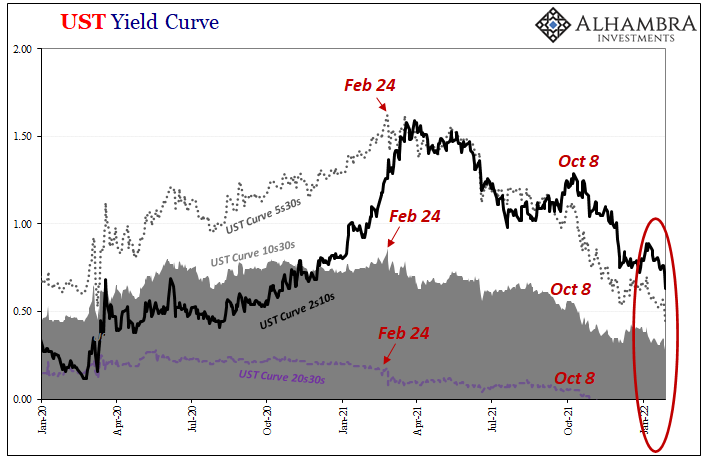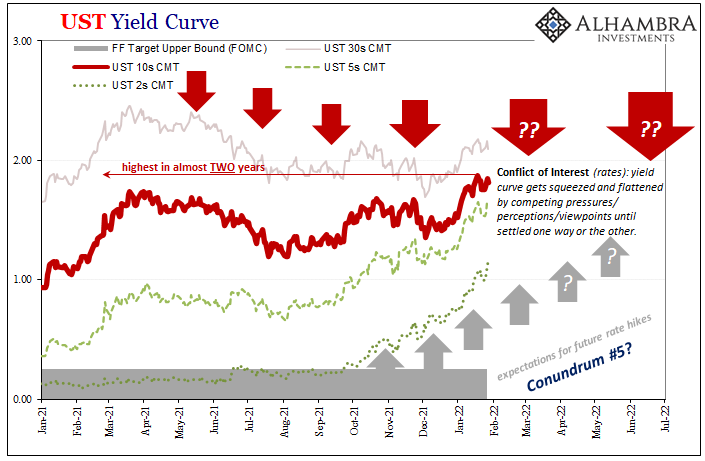 This "growth scare" is all over these GDP numbers, further supported by the one segment which created the upside surprise in Q4's headline rate. Such a large dose of unsold inventory, with more on the way, combined with what sure seems to be a clear slowdown across the entire economic landscape (especially as the noise from the government helicopters fades farther and farther into the background) doesn't bode very well for the near and intermediate terms.
It doesn't mean recession is just around the corner, rather inflation's chances have seriously diminished alongside substantially raised downside risks (to some extent) to the overall and global economy.
No wonder the back end of the yield curve has utterly collapse recently. The Fed is increasingly resolute as to its tapering and rate hikes based on the (already shown to be faulty) unemployment rate while inventory and persistent economic weakness of all kinds only further enflames "growth scare."
A true conflict of interest (rates).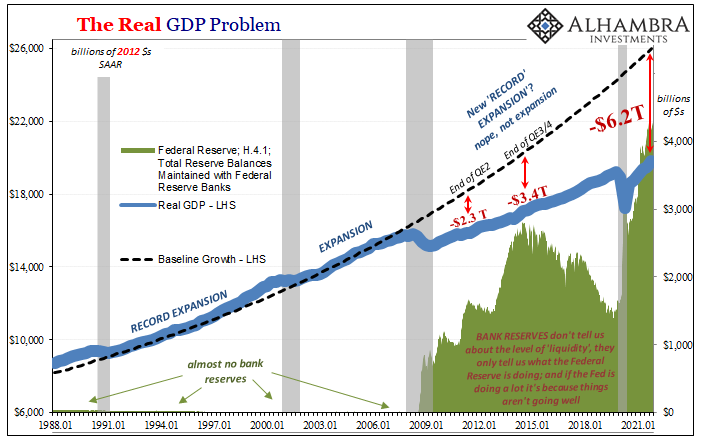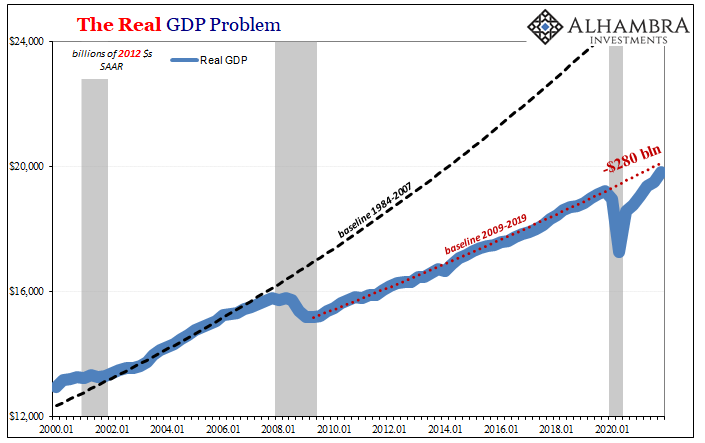 CCP Expands Beijing Lockdown As More Cases Detected Among Olympics Personnel
CCP Expands Beijing Lockdown As More Cases Detected Among Olympics Personnel
The other day, the English-language press picked up on a rumor…
CCP Expands Beijing Lockdown As More Cases Detected Among Olympics Personnel
The other day, the English-language press picked up on a rumor that President Xi of China had implored his ally, Russian President Vladimir Putin, not to invade Ukraine until after the Winter Games. Anonymously-sourced leaks like these are often propaganda, not truth. But as the Games draw near, the Communist government is tightening the screws on the city of Beijing as COVID continues to spread – albeit, more slowly – despite their draconian measures.
Reuters reports that the CCP has expanded its localized lockdowns in Beijing, restricting movement to those who live within a growing number of neighborhoods and housing complexes, and prohibiting outsiders from entering.
For example, Beijing's Fengtai district said late on Wednesday residents in a new swath of areas should not leave their residential compounds for unnecessary reasons and must be tested daily for COVID.
Beijing has some reason to target the district: it has produced more local cases than any others, at least going by what the CCP has admitted publicly.
The area had already locked down some compounds that house tens of thousands of people, while several other city districts have restricted the mobility of their residents.
China's NHC said Beijing saw just five locally transmitted infections confirmed for Wednesday, down from 14 a day earlier.
Locals who spoke with Reuters anonymously indicated that they are all terrified of getting COVID for fear of provoking the government's wrath.
"I'm anxious everyday because the virus situation is still quite serious," said a traveler surnamed Wang at Beijing Railway Station. "I don't want to bring trouble to my hometown. Now I'm tested negative, but what if it changes to positive?"
Beijing has already locked down some compounds that house tens of thousands of people. Several other city districts have imposed mobility restrictions in certain areas. Meanwhile, elsewhere in China, travel has surged during the Lunar New Year holiday. Travel during the first ten days of the holiday season has risen 46% from last year.
Local authorities in charge of the Winter Games said 23 new cases were detected among Games-related personnel on Jan. 26, including eight among those already in the closed-loop Olympics bubble. The rest were discovered upon arrival at the airport.
China isn't alone. Cases are climbing elsewhere in Asia. For example, in Japan, Tokyo is reportedly facing "an explosive infection situation due to an omicron-fueled wave that's driving daily case numbers to record highs. Top Japanese health authority Norio Omagari said newly recorded daily infections in Tokyo could exceed 24K in a week if the current trend continues. The capital city reported 16.5K cases on Thursday.
Tyler Durden
Thu, 01/27/2022 – 20:40
bubble