Billionaire Paul Tudor Jones Warns Inflation "Single Biggest Threat To Society"; Slams "Most Inappropriate Policy" In His Lifetime As He Buys Crypto
Paul Tudor Jones sat down for an interview with the CNBC "Squawk Box" crew…
PTJ Warns Inflation "Single Biggest Threat To Society"; Slams "Most Inappropriate Policy" In His Lifetime As He Buys Crypto
During an otherwise quiet pre-market session, billionaire investor Paul Tudor Jones sat down for an interview with the CNBC "Squawk Box" crew. But anybody who expected this to be a quiet, softball-filled interview about PTJ's philanthropic work (ahead of a major gala by his Robin Hood Foundation being held Wednesday night) was quickly disabused of that notion when PTJ opened with a polemical attack on the Federal Reserve and its entire monetary policy framework, claiming that surging inflation is now "the single biggest threat to certain financial markets and probably I think to society in general."
Inflation could be "much worse" than feared, billionaire hedge fund manager Paul Tudor Jones says. "It's probably the single biggest threat to certainly financial markets and probably I think to society just in general." https://t.co/OoMbhdnsm0 pic.twitter.com/yCP11BVELO

— CNBC (@CNBC) October 20, 2021
Even as the regional Fed banks publish report after report pushing Fed Chairman Jerome Powell's line that rising inflationary pressures are expected to be "transitory," PTJ warned viewers that the Powell-led Fed has unleashed an inflationary plague on society that will likely result in a repeat of 1970s stagflation – a mess that will eventually need to be handled by some later cast of bureaucrats who – hopefully – will have the strength to take drastic actions like former Fed Chairman Paul Volcker, when he hiked rates to break the back of inflation 40 years ago.
"To me the number one issue facing main street investors is inflation. Inflation is not transitory its here to stay and its probably the single biggest threat to certain financial markets and probably I think to society in general."
With this, PTJ has added his name to the growing list of Fed critics – like Stanley Druckenmiller – who have warned that surging inflation is a danger to society and that the inevitable collapse of the massive asset bubble blown by the Fed's policies will hurt working- and middle-class Americans the hardest.
Why does PTJ feel this way? Well, fortunately for viewers, the fund manager and philanthropist managed to carefully and coherently explain his thesis. Right now, "there's a combination of structural and cyclical forces that, right now, are all running in the same direction to say that inflation can be much worse than what we fear."
He added that October's 5.4% YOY CPI number, which matched readings from June and July, was perhaps the most glaring warning yet. And, like a growing number of analysts and forecasters outside of the Eccles Building and its national satellites, PTJ warned that it's likely only going to get worse.
"This 5.4% CPI…it was the highest CPI we had in 30 years and of course it's going to go higher in the next few months as energy feeds through it. So for an investor, in particular most of this audience, it's an absolute death throe for a 60/40 long stock long bond portfolio. So the question is: how do you defend yourself against it, how persistent will this be and what does the outlook hold?"
PTJ neatly summed up his reasoning behind his views on inflation, dividing it up into two factors: cyclical, and structural. On the cyclical side, there's all the money printed by the Fed that's still sitting on the sidelines.
"Let's start with the cyclical forces first. We have the demand side...M2 has grown $5.4 trillion since the pandemic began that's $3.5 trillion greater than it would be…that's $3.5 trillion just sitting in liquid deposits that could go into stocks or real estate or crypto…that's just a huge amount of dry powder thats sitting there just waiting to be usitlized at some point. That's why inflation's not going to be transitory."
Additionally, "we just raised benefits for social security retirees and military…that's just more fuel for the inflationary fire."
The other cyclical factor driving inflation is rising wages, which PTJ expects will also continue. Just look at job offers relative to the unemployed: there are 10.4MM job openings right now, and 7.7MM unemployed.
Which leads PTJ to the "structural" piece of his argument: clearly, there's a growing mismatch between the jobs that are opening, and the workers who are eager/willing/qualified to fill them. Whatever the issue is, it's not going to be fixed by continuing QE, and leaving interest rates at rock-bottom levels.
"It's clear we have a structural issue in our labor force that's not going to be resolved by zero interest rates and quantitative easing."
The second major structural issue is that, as PTJ put it, "we have a Federal Reserve board that are inflation creators, not inflation fighters."
This prompted interviewer Andrew Sorkin to take a step back and ask PTJ who exactly he's speaking to here: CNBC viewers, or Chairman Powell himself. PTJ replied with a wry grin, before clarifying that "first and foremost, I'm concerned about the future of this country….clearly, I think we have maybe the most inappropriate monetary policy that we've seen. We are adding stimulus, we are still quantitative easing when we should be doing the exact opposite, and we're taking for granted treating inflation very very lightly."
But to clearly explain what bothers him the most about the people currently running the Fed, PTJ had to offer examples from the 60s and 70s.
"What most bothers me about this particular set of central bankers…is that they're ignoring the lessons of history." There once was a time when central bankers confronted a joint session of Congress with a warning about the imminent threat posed by inflation. But those days are long past. And clearly, the financial lever-pullers at today's Fed have much more confidence in their ability to continuously impose its will on markets by pushing stocks higher and higher.
All this vitriolic talk led Sorkin to ask the inevitable follow-up: does PTJ think Jay Powell will be renominated? Or is he as "dangerous" as Sen. Elizabeth Warren says?
"I think he probably will be," PTJ replied, although he added that he doesn't think Powell is "necessarily the right person to be dealing with the situation in front of us" and that, more than likely, "the people that solve the problem won't be the ones who created the situation for it to exist."
Why is Powell not right? Well..
"The goal was to get inflation above 2%…well guess what, they wont that game in a blowout. But when you're running the Fed, you don't want a blow out because it creates an expectation that this will continue."

"And the best person who addressed that was Paul Volcker in 2015 when he said if we follow mathematical models, and we ignore the fact that human emotions are often impactful on the way people will continue to believe"…central bankers run the risk of undermining the entire dollar-based global financial system.
But whoever ends up in charge of the Fed, the problem now is that the "inflation genie is out of the bottle…and if we don't shift to attack it…we run the risk of going back to the 1970s, where it was the most important issue for multiple presidents and multiple Fed presidents…"
In response to this, Sorkin's co-anchor, Becky Quick, stepped in with another Fed-related question: if Powell isn't renominated, it's more than likely that "somebody even more dovish than Powell being appointed to lead the Fed.
PTJ replied that an even more dovish Fed President (Lael Brainard, perhaps?) would be "an absolute disaster."
At any rate, looking ahead, PTJ believes the FOMC meeting that will conclude with Powell's Nov. 3 press conference could be "the most crucial meeting for this Fed" because "now they're facing, for the first time, the other side of the dual mandate" – ie, prices have now overshot the central bank's 2% inflation target, and show no signs of the acceleration slowing.
"…forward guidance assumes a linear wall…it assumes the wall is a train as opposed to a rollercoaster. Which is you have inflation and you don't see any end of it in sight so at this meeting, what's the reaction going to be?"
It will be an interesting meeting for a couple of other reasons, including: "For first time Comcast/YouGov Poll released a poll showing Americans see inflation as the biggest issue over unemployment."
But if Powell continues to insist that the shift from accommodative policy will be "slow and gradual", well, PTJ believes that would be a woefully misguided policy response. If this happens, PTJ believes investors should "double down on the inflation trade, double down on long commodities, long TIPS, breakevens…and you don't want to own fixed income…you don't want to own that at all."
The Fed is essentially telling the world that it will be "slow and late" to fight inflation, which means that, someday, somebody down the road will have to come in and "put the hammer down like Paul Volcker did."
Given all the talk about failing Fed policy and the risks of inflation, CNBC's Sorkin couldn't help but ask PTJ about a comment the billionaire investor made back in May, which is that he views crypto as a hedge against central bank money printing.
"Clearly there's a place for crypto, and clearly its winning the race against gold at the moment. Yes, I also think that would be a good inflation hedge, it would be my preferred one at the moment."
As for whether investors should gain exposure through direct buys or the ETF, PTJ has preferred direct ownership. Although he thinks the Bitcoin ETF will be "fine" and the SEC's blessing is reassuring…he's not an expert in the ETF.
But circling back to the question of whether the Fed's policy response is misguided, PTJ offered viewers one last warning about asset prices. If inflation keeps accelerating, and the Fed is forced to hike short-term interest rates, then P/E ratios across the market will likely plunge as higher rates make debt financing more expensive, and fixed income more attractive as an investment (in the aftermath).
If the Fed hikes short-term rates to 4% or 5% (from the zero-bound), for stocks, "you're talking about a P/E of 17 or 18…and the market's down 35%."
In effect, it would be a much more drawn out rerun of the COVID panic that forced the Fed to amp up its accommodative policy last year. But the long-term outlook for equities would be much, much worse.
Tyler Durden Wed, 10/20/2021 – 12:02 dollar gold inflation stagflation commodities monetary markets reserve policy interest rates fed central bank bubble monetary policy money printing inflationary
Goldman Slams Omicron Panic: "This Mutation Is Unlikely To Be More Malicious; No Reason For Portfolio Changes"
Goldman Slams Omicron Panic: "This Mutation Is Unlikely To Be More Malicious; No Reason For Portfolio Changes"
One look at the ridiculous…
Goldman Slams Omicron Panic: "This Mutation Is Unlikely To Be More Malicious; No Reason For Portfolio Changes"
One look at the ridiculous plunge across asset markets on Friday, which sent oil into one of its biggest tailspins in history (which as Goldman calculated would only make sense if the Omicron lockdowns are twice as bad as anything observed so far), and one would think that the Omicron variant – which as Edward Snowden so aptly put it "sounds like the name of an 80s movie's evil Robot King" (of course, the WHO had no choice but to skip the Xi variant, located right before Omicron in the Greek alphabet for obvious propaganda reasons) – is several times more aggressive and far more deadly than the Delta or any other Covid variant to date. Neither is the case, and in fact, as even Tom Peacock, one of the original Imperial College narrative-setters admitted, "it may turn out to be an odd cluster that is not very transmissable."
Alas, that would not help politicians who kill a lot of birds with just one brand new and "horrifying" variant, including getting a carte blanche for trillions in new vote-buying stimmies, enforcing even more ruthless and authoritarian government restrictions a dream come true for all liberal fans of big government, and most importantly forcing another round of mail-in ballot elections one year from today. 
And yet, perhaps the pandemic apocalypse is not just around the corner. On one hand, Angelique Coetzee, the chairwoman of the South African Medical Association said today that "the new Omicron variant of the Coronavirus results in MILD disease, WITHOUT prominent symptoms." On the other, none other than the most important bank on Wall Street – Goldman "Vampire Squid" Sachs – which sets the narrative that all other banks dutifully follow, has decided that it's not worth starting a panic crash over this mutation and in a note published late on Friday writes that "this mutation is unlikely to be more malicious and that the existing vaccines will most likely continue to be effective in preventing hospitalizations and deaths" and as a result, while Goldman "would monitor the situation in Gauteng closely over the next month, we do not think that the new variant is sufficient reason to make major portfolio changes."
Translation: brace for a face-ripping rally come Monday when carbon-based traders finally take over from the idiot algos.
Below are more details from Goldman's London trader Borislav Vladimirov who penned his "Initial thoughts on risks from the B.1.1.529 variant and market implications."
Main points
While we do not have sufficient information to forecast a global B.1.1.529 wave, a high rate of transmission almost inevitably leads to a variant's dominance.
Nevertheless, the South Africa NICD (link to their Q&A here) note that this mutation is unlikely to be more malicious and that the existing vaccines will most likely continue to be effective in preventing hospitalizations and deaths. The current PCR and antigen tests are expected to continue to identify the mutation.
As such, while we would monitor the situation in Gauteng closely over the next month, we do not think that the new variant is sufficient reason to make major portfolio changes.
Having said that, given the time of the year and liquidity as well as policy risks in December, investors could consider short term hedges for growth sensitive risky assets.
We would start from what we know:
The variant has a large number of mutations
It has the P681 H spike protein mutation associated with the higher transmissibility of Delta
Currently no unusual symptoms have been reported following infection with the B.1.1.529 variant and as with other variants some individuals are asymptomatic.
It is easy to identify and hence monitor – The B.1.1.529 lineage has a deletion (△69-70) within the S gene that allowed for rapid identification of this variant in South Africa and will enable continued monitoring of this lineage irrespective of available sequence data.
Most likely current PCR and Antigen test will continue to identify it well.
Potentially high transmissibility has triggered market concern:
It is gaining pace rapidly sequencing  90% of new cases just 2 weeks since emergence. For comparison the Delta needed 3 months to reach that intensity. This is the most concerning data point that has attracted market attention.
One caveat is that the fast acceleration data could be skewed by location. The virus is spreading in Gauteng which is the largest and most densely populated province of SA. (15.2mio people with population density that is 17.3x higher than the country average)
The level of restrictions in SA at the moment (measured by the government stringency index) is low (relative to Israel or Austria for example, see chart below). This can be helping faster spread that isn't necessarily driven exclusively by the virus characteristics
Cases of B.1.1.529 have been identified in Botswana, Israel and Hong Kong. If the variant is highly transmissible, it is most likely that it will eventually spread despite travel restrictions.
What we still do not know…
We have no information on the variant's impact on hospitalizations and mortality. A careful monitoring of the Gauteng data over the next two weeks is essential.
There are reports that two of the cases were fully vaccinated. This is a very small sample to make any conclusions and we do not know for how long the patients were vaccinated. What we know from Delta is that antibody levels wear off between 6 and 9 months after the second vaccine and that while the vaccines are less effective in preventing infection, they are still highly effective in preventing hospitalization and death. For the time being there is no reason to believe that this variant will be different in that respect.
Will the Pfizer pill be effective against the new mutation?
Is the European wave driven by the new variant?
While the new variant could be present in Europe, the rapid rise in cases is driven by the Delta variant (see information below)
The European data comes with about a month delay from sequencing time so we should know more by the third week of December (unless the process accelerates due to the attention on the new variant)
Efforts to limit the current Delta wave in a number of European countries could help preventing the spread of B.1.1.529, if already present.
Is the above a reason to be concerned?
A very broad press focus in the past 24h has received high market attention.
It will take weeks before we get additional official information and scientific evidence about the potential risks.
This comes at a time when investors have been surprised by some of the lockdown measures announced in Europe
And also when real growth is likely to fall meaningfully on higher inflation (even though nominal growth is likely to stay well above average)
At this time of the year positions in risky assets, especially after strong YTD gains, could be vulnerable to short term corrections (ie 2018 template)
Travel restrictions will delay the process of logistics network normalization which would imply that the supply capacity constraints easing anticipated for H2-2022 might take longer to materialize.
Meanwhile, monetary policy has recently shifted gears to signal faster removal of accommodation which could add to a short-term risk aversion into the December FOMC.  
Conclusion: while we do not have sufficient information to forecast a global B.1.1.529 wave, a high rate of transmission almost inevitably leads to a variant dominance. Nevertheless, we can have reasonable degree of confidence that this mutation is unlikely to be more malicious and that the existing vaccines will most likely continue to be effective in preventing hospitalizations and deaths. As such, while we would monitor the situation in Gauteng closely over the next month, we do not think that the new variant is sufficient reason to make major portfolio changes. 
Tyler Durden
Sat, 11/27/2021 – 16:59
inflation
monetary
markets
policy
monetary policy
crash
Peter Schiff: The 'Devil You Know' Is Still A Devil
Peter Schiff: The 'Devil You Know' Is Still A Devil
Via SchiffGold.com,
On Monday, President Joe Biden reappointed Jerome Powell to head…
Peter Schiff: The 'Devil You Know' Is Still A Devil
On Monday, President Joe Biden reappointed Jerome Powell to head up the Federal Reserve and nominated Lael Brainard to serve as the vice-chair. In his podcast, Peter Schiff talked about Biden's decision, the markets' reaction and what the Fed will (or will not) do moving forward. Ultimately, Peter said the devil you know is still a devil.
Peter predicted Biden would stick with Powell. He said there was no political upside for him to do otherwise.
If something happened, something goes wrong, which something is going to go wrong most likely — so, it's going got hit the fan — and if it hit the fan with Brainard at the helm, well, Biden would own it. People could say, 'Oh, the reason the economy went off a cliff, the reason that inflation is running out of control, it's all because you put Brainard in as Fed chairman.' Whereas, if everything falls apart under Powell's watch, well, Biden can simply say, 'It's not my fault. Powell was Trump's guy. I just left him in power because he was already there and there was bipartisan support.'"
If things go well under Powell, Biden can take credit, saying, "Hey, I renominated him."
Peter said the crazy thing about the announcement, which was entirely predictable, was the market reaction. In the two days after the announcement, gold sold off by over $60 dollars and fell back below $1,800 an ounce. Silver took an even bigger hit, down about $1.25. Meanwhile, there was a big rally in the dollar index and bond yields went up. Peter said it makes no sense.
All of a sudden, Powell, the guy who's been there the entire time, almost four years, the architect of this reckless monetary policy, zero percent interest rates, huge quantitative easing, inflation is transitory, there's nothing to worry about — the same guy who brought us to this inflation party — we're going out with the same guy again and everybody now is celebrating that somehow this massive dove has become a hawk. All of a sudden, everybody is excited that Powell is going to fight inflation in his second term."
What makes people think Powell is suddenly going to become an inflation warrior? He hasn't fought it at all up to this point.
He spent his first term lighting inflation fires. Why anybody believes he's going to put out those fires in his second term is beyond me."
The reaction in the gold market was particularly puzzling. Just a couple of days ago, people were buying gold because they were worried about inflation. The yellow metal pushed above $1,850 after October CPI came in much hotter than expected.
One of the main reasons to be worried about inflation was because Powell was chairing the Federal Reserve. And Powell had made clear that the Fed is doing nothing about inflation. They think it's transitory anyway. … If you were worried about inflation and you were buying gold a couple of days ago, why are you suddenly no longer worried about inflation and dumping your gold?"
Sure, Brainard would have likely directed a slightly looser monetary policy than Powell. But she's not that much more dovish than Powell.
Powell's not a hawk. And so, simply because we didn't replace one dove with an even bigger dove doesn't mean the dove that's still there is going to turn into a hawk and suddenly start fighting inflation. He's not."
If anything, the makeup of the FOMC will be even more dovish now than it was before with Brainard serving as vice-chair.
If you were worried about inflation and the current FOMC, you should be even more worried, or slightly more worried as a result of this change than you are right now. Yet the market is acting as if everything has changed and we're going to have this tough on inflation Fed."
After the announcement, Biden, Powell and Brainard spoke to the press. All three talked about fighting inflation. Peter said he thinks the articulation of that commitment got everybody thinking that the central bank is now serious about the inflation problem. None of this makes sense
Politically, they have to say they're against inflation because inflation is all over the news. It's what everybody is complaining about. So, even if they have no intention of doing anything about it, they have to at least create the pretense that that's what they're going to do. So, you wouldn't expect anything less. But even if, as a result of this tough talk on inflation, they actually do taper a little bit quicker and raise rates a little bit sooner, who cares? Because even a quicker pace is meaningless in the face of what's going on."
Even using the government numbers, inflation is running at around 7%. It would likely be double that using real numbers.
In order to rein in this inflation in the 1970s, or by 1980, rates had to go to 20%. All we're talking about is a couple of rate hikes. We won't even raise rates up to 1%. So, why should this make any difference to an inflation rate this high? If you could fight inflation with 1% interest rates, well, why didn't we do that in the 1970s? It's because you can't — especially when inflation is already as bad as it is right now. And by the way, it will be even worse by the middle of 2022 when they finally get around to supposedly raising interest rates — if they actually do it."
Meanwhile, during the taper, the Fed will still be doing quantitative easing. That, by definition, is creating even more inflation.
You can't put out a fire by pouring less gasoline on it. Because any gasoline you pour on the fire is going to make it bigger. That's all the Fed is claiming it's going to do."
To truly fight inflation, the Fed actually needs to tighten. It needs to shrink its balance sheet and shrink the money supply. It's not talking about doing that.
On top of that, Biden needs the Fed to keep inflating and monetizing the deficits in order to pay for all of his massive spending plans.
If the Fed tapers to zero, there's no way the private sector would finance all these deficits without the help of the Fed. I don't know why no one has put two and two together — that what the Fed is promising is impossible."
Tyler Durden
Sat, 11/27/2021 – 15:45
dollar
gold
silver
inflation
monetary
markets
reserve
policy
money supply
interest rates
fed
central bank
monetary policy
Global Fertilizer Shortage Threatens to Send Food Prices Even Higher
A global shortage of nitrogen fertilizer has pushed prices upwards to record-highs, threatening to raise already-elevated food prices even higher.
The…
A global shortage of nitrogen fertilizer has pushed prices upwards to record-highs, threatening to raise already-elevated food prices even higher.
According to Argus Media, nitrogen fertilizer prices have soared to the highest in nearly a decade, with prices already up 80% since the beginning of the year. Farmers apply the chemical ahead of the planting season to boost yields for a variety of crops, including corn, canola, and wheat; however, with the sharp upward trajectory in prices, some crop producers have decided to delay their nitrogen fertilizer purchases, which could result in a cascade of rush-buying come spring,
In that event, demand for the commodity would suddenly skyrocket, leaving some without the fertilizer altogether due to shortages. According the Guardian, which cited US Agricultural Retailers Association CEO Daren Coppock, there is currently still enough fertilizer supplies for an application before winter, but with prices accelerating fast, "there's going to be a lot of people who wait and see." And, in that event, "if everybody's scrambling in the spring to get enough, somebody's corn isn't going to get covered," which could ultimately lead to even higher bread and meat prices next year.
Global food prices hit the highest level in 10 years in October, marking an increase of more than 30% compared to the same period one year ago, according to data compiled by the United Nations Food and Agriculture Organization (FAO). If strong crop yields fail to materialize in 2022, food inflation will accelerate even further, which could lead to widespread famine across some parts of the world.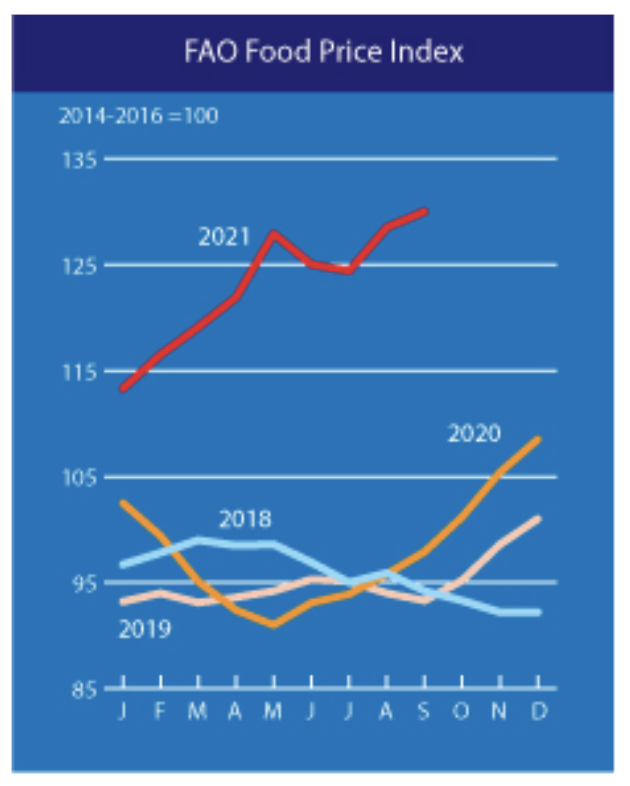 ---
Information for this briefing was found via the companies mentioned. The author has no securities or affiliations related to this organization. Not a recommendation to buy or sell. Always do additional research and consult a professional before purchasing a security. The author holds no licenses.
The post Global Fertilizer Shortage Threatens to Send Food Prices Even Higher appeared first on the deep dive.