Bitcoin, Breakevens, & Big-Tech Breakdown As Inflation Batters Bond Bears
Bitcoin, Breakevens, & Big-Tech Breakdown As Inflation Batters Bond Bears
With a non-stop barrage of hawkish FedSpeak today, following…
Bitcoin, Breakevens, & Big-Tech Breakdown As Inflation Batters Bond Bears
With a non-stop barrage of hawkish FedSpeak today, following record high PPI, no one should be surprised that stonks shit the bed as the realization dawns that any Powell Put is struck considerably lower than this and the game of chicken continues. Nasdaq wasa clubbed like a baby seal today, down over 2.5% (from up almost 0.5% after PPI). The S&P fell 2%, Small Caps -1% and even The Dow was dumped into the close…
This is the biggest Nasdaq drawdown since May 2021…
Big-Tech tumbled today and so did bond-yields. The most risky, longest-duration stocks suffered most…
Source: Bloomberg
Nasdaq's crusade lower continued after a 3-day respite ramp test to its 100DMA and fail and the S&P broke back below its 50DMA…
The Market to The Fed…
Treasury yields were all lower today with the belly of the curve outperforming (5Y -5bps, 2Y and 30Y -3bps). Notably, only 2Y yields are higher on the week, with 30Y -7bps…
Source: Bloomberg
30Y Yields broke below 2.05%, back to one-week lows…
Source: Bloomberg
The yield curve has flattened notably, now flatter on the year…flashing some red 'policy error' flags…
Source: Bloomberg
And Breakevens slipped to 3-week lows…
Source: Bloomberg
Rather more worrisome is the fact that Mortgage Rates are soaring (as the market's biggest buyer steps back) despite TSY yields not chasing…
Source: Bloomberg
The dollar continued to slip further below its 100DMA, its lowest since early November…
Source: Bloomberg
Cryptos took another beating today with bitcoin sliding back from $44k…
Source: Bloomberg
Oil was down today with WTI back below $82…
And gold tumbled early but caught a bid back above $1820…
Finally, in case you really thought you would call The Fed's bluff, QE shrinks by $20BN to $40BN in period Jan. 18-Feb 10…
It will then shrink another $20BN and end by mid-March when the Fed will hike…
Source: Bloomberg
And if we believe the Taylor Rule, The Fed is 1000bps to easy right now…
Source: Bloomberg
But, if STIRs are right, it may stop hiking rates by year-end… but QT will continue?
Tyler Durden
Thu, 01/13/2022 – 16:00
dollar
gold
inflation
policy
fed
War On Cash: The Digital Dollar
War On Cash: The Digital Dollar
Via SchiffGold.com,
Last week, the Federal Reserve released a "discussion paper" examing the pros and…
War On Cash: The Digital Dollar
Last week, the Federal Reserve released a "discussion paper" examing the pros and cons of a potential US central bank digital dollar. According to the Federal Reserve press release, the central bank hopes to get public feedback on the idea.
"We look forward to engaging with the public, elected representatives, and a broad range of stakeholders as we examine the positives and negatives of a central bank digital currency in the United States," Federal Reserve Chair Jerome H. Powell said.
Government-issued digital currencies are sold on their promise of convenience and security. But there is a darker side – the promise of control.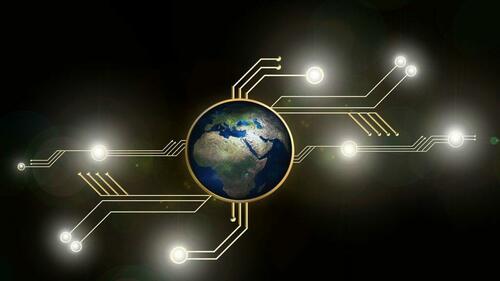 Digital dollars would be similar to bitcoin and other cryptocurrencies. They would exist as virtual banknotes or coins held in a digital wallet on your computer or smartphone. The difference between a government digital currency and bitcoin is the value of the digital currency is backed and controlled by the state, just like traditional fiat currency.
The digital dollar could ultimately replace physical cash. Proponents tout its convenience and security. A Business Insider article gushed over the idea.
A Fed-backed digital dollar would then provide many of the benefits touted by cryptocurrencies without their wild price swings and usage fees. In theory, a CBDC would meld the best aspects of physical and digital currencies for the average American."
Last year, China launched a digital yuan pilot program. The Chinese government-backed digital currency got a boost when the country's biggest online retailer announced the first virtual platform to accept the Chinese digital currency. China isn't the only government exploring the possibility of digital money. Sweden has developed a digital currency of its own. The European Central Bank is pushing for a digital euro. And Russian central bank governor Elvira Nabiullina told CNBC that digital currency is "the future of our financial system."
Ultimately, it would take a congressional act to establish a digital dollar as legal tender.
US officials toyed with the possibility of a digital dollar at the height of the pandemic. A Democratic proposal for stimulus payments in the wake of the coronavirus pandemic featured digital currency deposited into digital wallets.
Government digital currency is sold to the public as a safe and convenient alternative to physical cash. We're also told it will help stop dangerous criminals who like the intractability of cash.
But at the root of the move toward government digital currency is "the war on cash." Fundamentally, it's about control.
The elimination of cash creates the potential for the government to track and even control consumer spending, and it would make it even easier for central banks to engage in manipulative monetary policy such as negative interest rates.
Imagine if there was no cash. It would be impossible to hide even the smallest transaction from government eyes. Something as simple as your morning trip to Starbucks wouldn't be a secret from government officials. As Bloomberg put it in an article published when China launched its digital yuan pilot program, digital currency "offers China's authorities a degree of control never possible with physical money."
The government could even "turn off" an individual's ability to make purchases. Bloomberg describes just how much control a digital currency could give Chinese officials.
The PBOC has also indicated that it could put limits on the sizes of some transactions, or even require an appointment to make large ones. Some observers wonder whether payments could be linked to the emerging social-credit system, wherein citizens with exemplary behavior are 'whitelisted' for privileges, while those with criminal and other infractions find themselves left out. 'China's goal is not to make payments more convenient but to replace cash, so it can keep closer tabs on people than it already does,' argues Aaron Brown, a crypto investor who writes for Bloomberg Opinion."
Economist Thorsten Polleit outlined the potential for Big Brother-like government control with the advent of a digital euro in an article published by the Mises Wire. As he put it, "the path to becoming a surveillance state regime will accelerate considerably" if and when a digital currency is issued.
Governments around the world have quietly waged a war on cash for years. Back in 2017, the IMF published a creepy paper offering governments suggestions on how to move toward a cashless society even in the face of strong public opposition.
As with most things the government does, you should be wary of the digital dollar. It has a dark side you can be sure the mainstream will mostly ignore.
Tyler Durden
Fri, 01/28/2022 – 17:40
dollar
monetary
reserve
policy
interest rates
fed
central bank
mises
negative interest rates
monetary policy
Alamos Gold: Haywood Lowers Target To $12.75 Following 2022 Guidance
Last week, Alamos Gold Inc. (TSX: AGI) reported its fourth quarter and full-year production results, as well as their 2022
The post Alamos Gold: Haywood…
Last week, Alamos Gold Inc. (TSX: AGI) reported its fourth quarter and full-year production results, as well as their 2022 to 2024 production estimates.
For the fourth quarter, Alamos Gold produced 112,500 ounces of gold, bringing the full year 2021 production to 457,200 ounces, which was the lower range of guidance. Costs have not yet been finalized but the company says that it is expected to be consistent with their guidance.
The company also provided 2022 guidance, which included expected gold production of 440,000 to 480,000 ounces. Cash costs are expected to be between $875 to $925 per ounce and all-in sustaining costs are to be between $1,190 to $1,240 per ounce. Total capital expenditures will be between $305 and $345 million, while exploration is expected to cost $27 million for 2022.
For the longer run, the company expects these numbers to grow to 460,000 to 500,000 ounces of gold in 2024, with cash costs of $650 to $750 per ounce and $950 to $1,050 of all-in sustaining costs per ounce.
Currently Alamos Gold currently has 13 analysts covering the stock with an average 12-month price target of C$12.46, or a 36% upside to the current stock price. Out of the 13 analysts, 1 has a strong buy rating, 6 have buy ratings, 5 have holds and 1 analyst has a sell rating. The street high sits at C$17.50 or a 91% upside to the current stock. While the lowest price target sits at C$9.98.
In Haywood Capital Markets' note, they reiterate their buy rating but lower their 12-month price target from C$15 to C$12.75, saying, "lower production and higher costs for 2022," and that inflation is finally starting to impact the production costs.
For the fourth quarter and full-year production numbers, they came in line with Haywood's estimates although they note that the full-year production numbers came in the lower half of guidance.
For the companies three-year guidance, Haywood expected 2022 production to be 485,000 ounces, below their high-end figure. While cash costs were expected to be $785 per ounce, lower than their guided number. This is the same for all-in sustaining costs as Haywood expected it to be $1,055 per ounce. Haywood says that this cost increase in 2022, "is due to industry-wide cost inflation as well as temporary higher costs at Mulatos."
Below you can see Haywood's estimates versus the company's guidance.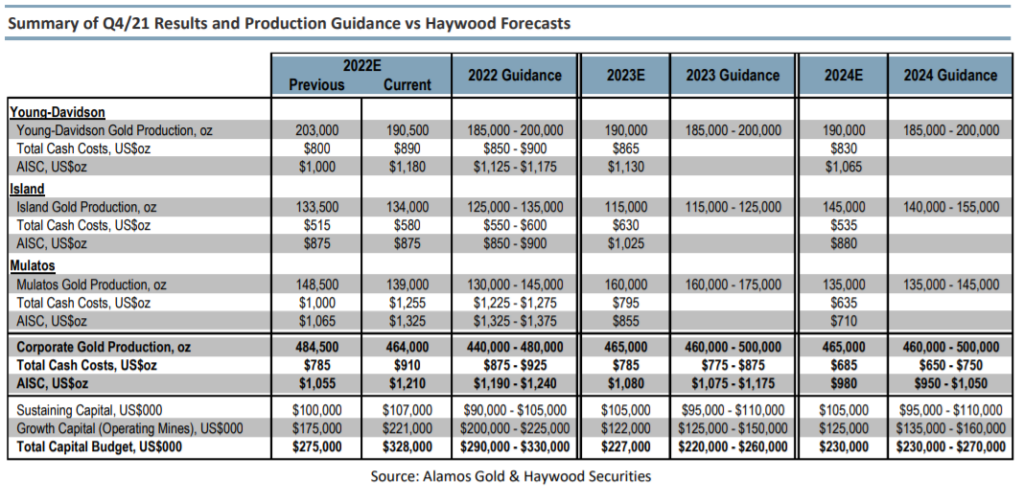 ---
Information for this briefing was found via Sedar and Refinitiv. The author has no securities or affiliations related to this organization. Not a recommendation to buy or sell. Always do additional research and consult a professional before purchasing a security. The author holds no licenses.
The post Alamos Gold: Haywood Lowers Target To $12.75 Following 2022 Guidance appeared first on the deep dive.
gold
inflation
markets
tsx
tsx-agi
alamos-gold-inc
alamos gold inc
S&P Suffers Worst Start To A Year Since 1939 As Yield Curve Yells 'Recession'
S&P Suffers Worst Start To A Year Since 1939 As Yield Curve Yells 'Recession'
Before we start, let's make this clear right from the start…
S&P Suffers Worst Start To A Year Since 1939 As Yield Curve Yells 'Recession'
Before we start, let's make this clear right from the start – despite today's panic-buying, this is the worst start to a year for the S&P 500 since 1939 (and on course for its worst January ever)…
Nasdaq is down 5 straight weeks (16% from its highs) – the longest losing streak since 2012 – while Small Caps are down 22% from their highs (in a bear market)…
Source: Bloomberg
Everything was going so well too… "smooth sailing" they said! "Fed Put" they said! "Transitory inflation" they said…
Today was just a little bit turbo as it seems ugly sentiment data (10 year lows) and plunging growth expectations (Q1 GDP forecasts collapsed), was the 'bad news' the dip-buyers needed to reassure themselves that uber-hawkish Powell wouldn't execte on his plan to crush inflation into a recessionary environment. We have one word for them – stagflation, and it leave Powell in an ugly box.
Atlanta Fed GDP expectations crashed to zero for Q1…
Source: Bloomberg
And as that happened, rate-hike expectations shifted dovishly lower (modestly at the time)…
Source: Bloomberg
Which helped send stocks soaring (particularly hyper-growth, long duration stocks). But that all came to an abrupt end at 1400ET today (for no obvious reason)… which was immediately met with a wall of dip-buyers amid the total lack of liquidity. Then all the majors just went vertical into the last 10 minutes as a significant buy-imbalance appeared (all helped by AAPL's explosive gains today). Nasdaq was up a shocking 3% today (from down 1% pre-open). The S&P was up 2.5% today (from down 1% pre-open). Russell 2000 closed up almost 2% today from down 2% pre-open…
As one veteran trader noted, "today was a shitshow, no liquidity, gamma-driven gappy jumps everywhere… it was all algos and no average joes."
Well that idiotic rampage managed to get the Dow, S&P, and Nasdaq unchanged on the week (which appears to be all that mattered to the machines)…
Just look at the volatility (but Monday's puke lows held… and so did Wednesday's pre-Fed highs).
Growth stocks were flat on the week as Value was bid (mostly benefitting on Thursday)…
Source: Bloomberg
Both Defensive and Cyclical stocks were hammered equally this week (while obviously cyclicals were more volatile)…
Source: Bloomberg
Today's bounce was not really triggered by a short-squeeze as the size of the swing higher is very modest and unsustained…
Source: Bloomberg
The energy sector is the only one up in January while Tech and Consumer Discretionary are down hard MTD…
Source: Bloomberg
Real yields continue to rise (to their highest since June 2020 – but still negative), and have recoupled with gold…
Source: Bloomberg
…but have completely decoupled from stocks (Nasdaq should be significantly lower relative to Russell 2000)…
Source: Bloomberg
Notably, if real yields keep rising, then valuations are going to come under significant pressure…
Credit markets saw very little of the chaotic chop in stocks this week as they just fell with HYG (HY Corporate Bond ETF) at its lowest since Nov 2020…
Source: Bloomberg
Treasury yields were extremely mixed on the week with the short-end exploding higher and long-end actually coming all the way back to unchanged…
Source: Bloomberg
This week saw 2Y yields jump most since Oct 2019 (up for the 6th week in a row to the highest since Feb 2020).
Source: Bloomberg
The yield curve was crushed this week, triggered by The Fed's hawkish tilt…
Source: Bloomberg
…with 7s10s at almost record flats, 20s30s still inverted, and 2s30s at its flattest since March 2020… all screaming The Fed is about to make a big mistake and hinting strongly at recessionary risks rising fast…
Source: Bloomberg
Short-term markets are now fully pricing in 5 rate-hikes by year-end (and a 25% chance of 50bps hike in March)
Source: Bloomberg
Perhaps even more notably, the forward OIS market is pricing in rate-cuts between 2024 and 2025…
Source: Bloomberg
The dollar soared higher for the 5th straight week (best week since June 2021), closing at its highest since July 2020. NOTE, the dollar took out the December USD spike highs and faded…
Source: Bloomberg
Cryptos had a nasty drop on Monday, along with stocks, and another puke after The Fed, but bitcoin ended the week modestly higher, while Ether was down around 5%…
Source: Bloomberg
Commodities were very mixed this week with most lower by hawkish tilts (Silver slammed 8% on the week) while crude rallied on geopolitical tensions…
Source: Bloomberg
Silver dropped back below $23…
WTI came very close to $89 intraday during the week, its highest since Oct 2014 (up for the 6th straight week in a row)…
NatGas went supersonic this week amid chaotic settlement and a new cold front, breaking above the early Jan highs (and up 19%, its best week since Aug 2020)…
Finally, just in case you think the market can handle all this vol, think again – liquidity in the most-liquid global equity futures contract (ES) is at its lowest since the COVID crash in 2020…
Simply put, a moderate-sized order moves ES 10 ticks so how do you think it's going to handle all the fintwit/tiktokkers "paper hands" puking out of their Robinhood accounts?
The good news is that US COVID cases are following the same trajectories at UK and South Africa and tumbling…
Source: Bloomberg
Nevertheless, as we noted above, GDP in Q1 could well print contractionary.
Tyler Durden
Fri, 01/28/2022 – 16:02
dollar
gold
silver
inflation
stagflation
commodities
markets
fed
crash
nasdaq