Bitcoin 'looks pretty awful'; death cross incoming; NEAR breaks $20
Bitcoin's woes aren't over yet, one Aussie market analyst is warning. But another thinks it might rally to US$52,000 in … Read More
The post Bitcoin…
Bitcoin's woes aren't over yet, one Aussie market analyst is warning. But another thinks it might rally to US$52,000 in the next few weeks.
Perth-based Think Markets analyst Carl Capolingua told Ausbiz TV this morning that the trend of BTC "looks pretty awful here" and he wasn't excited at all by the midweek bounce.
At 11.25am AEDT, Bitcoin had given up all of its gains following Wednesday night's US inflation read, dropping 2.9 per cent to US$42,633, around the
"It looks like we're fading now, and I do think there's going to be another leg down. Those buy the dippers, they need to be washed out now."
Capolingua predicted BTC could drop to $37,300. "It could even get to 35 (thousand), you never know, but I don't think the worst is over for Bitcoin. After that, maybe we could head to the upside."
A key resistance level is US$45,553, Capolingua said.
But Sydney-based City Index analyst Tony Sycamore was more sanguine, writing in his morning note that there was evidence BTC had completed a five-way Elliot Wave decline with the early Tuesday dip to $39,558.
"This suggests a recovery back towards the 200-day moving average at $48,000 with scope towards $52,000 can unfold in the coming weeks," he wrote.
But if Bitcoin falls below its support at US$39,500, Sycamore sees it dropping all the way to around US$30,000.
Another death cross looms
Bitcoin is also set to experience another "death cross" within the next day or two, with its 50-day simple moving average moving under its 200-day moving average.
"We have the upcoming death cross on $BTC & with that comes a lot of FUD articles & fear in the markets because most folks don't know that it is a lagging indicator aka a drop has happened," tweeted trader and YouTuber Ryan Rozbiani.
"Last death cross fud caused a 30% drop. I expect us to these the $37.5K support then bounce."
Excited for the death cross news headlines

— icebergy (@icebergy_) January 13, 2022
#Bitcoin is approaching the "Death Cross"
The last time this happened in June the price dropped 20% more over 31 days.

That would take us down to $34K by the 9th of Feb if this repeated. Let's see… pic.twitter.com/Nx2Sw2nArg

— Bitcoin Archive (@BTC_Archive) January 10, 2022
#bitcoin is about to hit the much feared "death cross"… but does it matter?

Well, there have been 8 death crosses in BTC's history. 4 marked the bottom (approximately), and 4 came before sell offs of 30, 60, 61, and 65%.

What will death cross number 9 have in store for us? pic.twitter.com/RHmE3ulEMp

— Lark Davis (@TheCryptoLark) January 13, 2022
(There are different ways to calculate a death cross — using exponential moving averages, instead of simple ones, it occurred on Wednesday).
Crypto market down 2%
Overall, the crypto market was at US$2.15 trillion, down 2.0 per cent from 24 hours ago.
Ethereum was trading for US$3,262, down 2.7 per cent.
All of the top 10 coins, except for the stablecoins Tether and USDC, were in the red.
But Near Protocol had resumed its recent surge, hitting an all-time high of US$20.20 earlier this morning.
Around lunchtime NEAR tokens were changing hands for $19.73, up 14.3 per cent from yesterday.
They were selling for under US$2 as recently as July.
The other double-digit gainers in the top 100 were privacy-preserving coins Secret Network and Monero, up 13.7 and 11.5 per cent, respectively.
THORChain was the biggest loser in the top 100, falling 8.6 per cent to $6.36.
The post Bitcoin 'looks pretty awful'; death cross incoming; NEAR breaks $20 appeared first on Stockhead.
Whither r*?
(Note: This article was delayed because of technical difficulties. I finally found a work around.)Although hand-wringing about Quantitative Easing and the "transitory-ness" of inflation is catching most people's attentions, there is an interesting theo…
(Note: This article was delayed because of technical difficulties. I finally found a work around.)
Although hand-wringing about Quantitative Easing and the "transitory-ness" of inflation is catching most people's attentions, there is an interesting theoretical concern that is about to get quite pressing. That is: what is up with r* (which is the modernised version of the "natural rate of interest," although the word "natural" was finally dropped from the jargon). Although post-Keynesians generally argue that r* does not exist — so this is a non-issue — neoclassicals cannot easily embrace that position.
From what I have seen, various estimation techniques for the not-directly-measurable variables loved by neoclassical theory blew sky high during the pandemic, and I have not paid any attention to whether the techniques have since been patched. My assumption is that this is a major topic of interest for researchers, but I doubt that there will be a consensus fix this quickly.
I wrote about the problems with the Holsten-Laubach-Williams (HLW) estimation technique in this earlier article. The New York Fed website — which previously published the estimate — suspended updates when the pandemic data hit. The chart below what happened to the r* estimate based on the initial data in 2020. I have not updated the chart to include more recent data. As noted in my earlier text, one of the problems with the pandemic data is that it was so extreme that the previous estimates of r* were also mangled, since the fit was much worse than was the case for data ending in 2019.
Even if we do not know what neoclassicals think r* is supposed to be, we can what the real policy rate. Or at least we sort-of can, given that it is unclear what rate of inflation we are supposed to use to get the real rate.
The figure at the top of this article shows what I label as the "historic" real rate: the spot Fed Funds (I use the midpoint of the band) less core CPI. It started off with the same sort of mildly negative values we saw in the past cycle, then went deeply negative in 2021. Since it is hard to see the dates associated with the last plunge, the real policy rate started 2021 at around -1%, then first went below -4% in June (ending at -5.4% in December).
The problem with using the "historic" real rate (although it is common in analysis) is that we are comparing a forward-looking interest rate versus the past year's percentage change in the CPI. In neoclassical models, the variables of interest are the policy rate, and the next period expected inflation rate.
Expectations Matter. Maybe.
The problem with "expectations" is deciding whose expectations matter. In neoclassical models, we just have a small number of representative households (often one) who are the only entities that matter, so you just need to survey them, since the uncountable infinity of other agents will just agree with whatever representative agent represents them. The problem in the real world is that we never seem to be able to pin down who exactly is the representative agent, and so we have an inconsistent mish-mash of inflation survey results.
The figure above shows the Fed Funds rate deflated by the inflation expectations component of the University of Michigan Survey. On that measure, the real rate started 2021 at -2.9% in January, and dropped below -4% in May, ending the year around -4.8%.
What is the problem that I see? If we look back at the (admittedly mangled by the outlier) HLW r* estimate, it was getting close to 0% at the end of 2019. The real rate based on the Michigan Survey started 2021 about 300 basis points below that, and ended up about 500 basis points lower at year end.
(The HLW algorithm uses a smoothed version of inflation — adaptive expectations! — so the inflation rates would presumably be lower in 2021, at the cost of being higher if and when inflation rates moderate.)
Lots of Stimulus
If we are to believe neoclassical theory, deviations of the real policy rate from r* ought to have a somewhat symmetrical effect on the economy. Unless r* magically moved a lot lower in 2021, there should have been a stimulative effect equivalent to hiking rates hundreds of points above r*.
And that is not all. We had a large fiscal stimulus — which is of course ignored in the HLW algorithm, because everyone knows fiscal policy does not matter — and there is whatever stimulative effect provided by the Fed's balance sheet expansion.
If one believes neoclassical macro theory, then one should expect inflation to rip even higher in 2022. (Which does put the Fed's stance into a curious light.) I cannot guarantee that will not happen, so we will need to wait and see. But if it does not, it does raise the question: does r* even exist?
Why Non-Existence Matters
The whole theoretical core of DSGE models are based on the assumption that households trade off future consumption versus the present, and if they do not consume now, they invest in Treasury bills. The ratio of present to future consumption is given by the real interest rate: the Treasury bills have a nominal return, but the future prices of goods should rise by the expected inflation rate.
If the real interest rate does not matter, then that core mechanism of the model is meaningless. Although it was possible to add epicycles to handle things like the financial system, it is harder to replace core dynamics.
Alternatively, we can ask: what is the value of the mathematisation of economic theory, if we cannot answer a basic question like what level of the policy rate is where it starts to slow inflation and/or growth?
Email subscription: Go to https://bondeconomics.substack.com/ 
Invesco: Bitcoin May Plummet to $30K as Crypto Bubble Deflates
The world's largest cryptocurrency may lose its luster in 2022, as the crypto bubble continues to deflate. According to a
The post Invesco: Bitcoin May…
The world's largest cryptocurrency may lose its luster in 2022, as the crypto bubble continues to deflate.
According to a note by Invesco seen by Business Insider, there is a 30% chance that the price of bitcoin could fall below $30,000 this year, because the cryptocurrency is seen as a financial mania that may soon transition into steep loses. "The mass marketing of Bitcoin reminds us of the activity of stockbrokers in the run-up to the 1929 crash," said Invesco's global head of asset allocation Paul Jackson.
"A loss of 45% is experienced in the 12 months after the peak of a typical financial mania," he continued, warning that if the virtual token follows such a pattern, its price could plummet to anywhere between $34,000 and $37,000 before October of this year. At the beginning of 2021, the price of bitcoin jumped from around $33,000 to a record-high of $69,000 by November. Since then, however, the cryptocurrency has fallen to around $41,300 at the time of writing.
Still, Jackson cautioned that such a scenario may not end up materializing. "Last year, we spoke of Bitcoin falling below $10,000, but instead it reached a peak of around $68,000."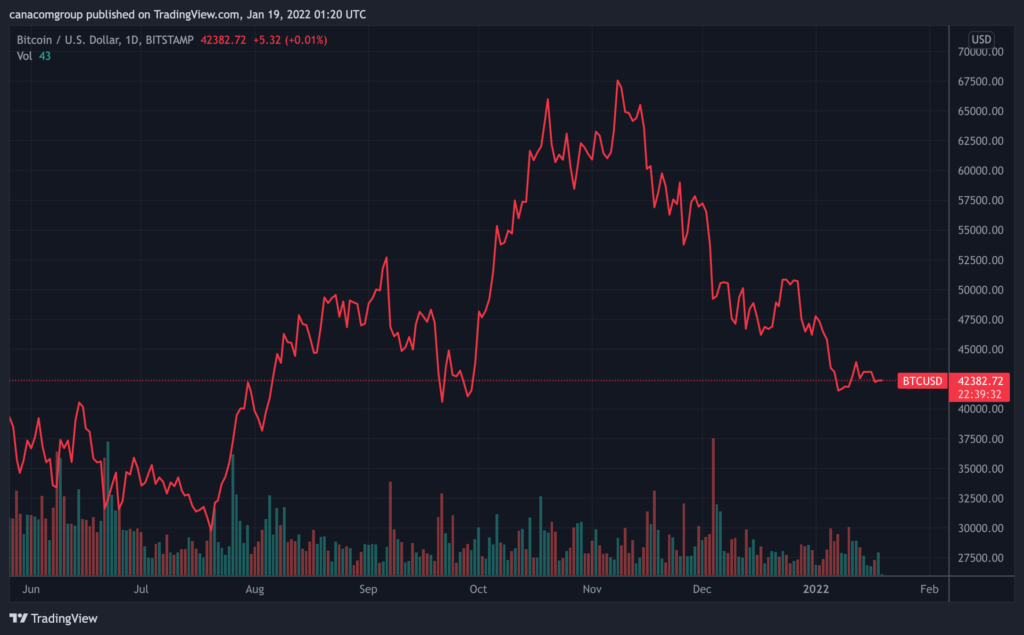 ---
Information for this briefing was found via Business Insider. The author has no securities or affiliations related to this organization. Not a recommendation to buy or sell. Always do additional research and consult a professional before purchasing a security. The author holds no licenses.
The post Invesco: Bitcoin May Plummet to $30K as Crypto Bubble Deflates appeared first on the deep dive.
Peter Schiff: This Bubble Economy Is Going To Burst
Peter Schiff: This Bubble Economy Is Going To Burst
Via SchiffGold.com,
Peter Schiff recently appeared on the Rob Schmidt Show on Newsmax to…
Peter Schiff: This Bubble Economy Is Going To Burst
Peter Schiff recently appeared on the Rob Schmidt Show on Newsmax to talk about the trajectory of the US economy. Peter explains how the Federal Reserve and the US government created a massive bubble, why it is going to ultimately pop, and how to protect your savings and investments when it does.
The First question Rob asked was how is the Federal Reserve going to fix the inflation problem?
Simply put, it's not. The Fed will make it worse.
Peter said in the first place, the Fed is lying about the extent of the problem. The CPI doesn't measure the rise in prices accurately.
If we just use the same CPI that we used during the 70s and 80s, and applied the numbers today, we would get about 15 percent inflation for 2021. So, last year was worse than any year of the 1970s, and it was worse than 1980 when CPI was up 13.5 percent. So, this is the worst inflation we've ever seen."
Peter said, unfortunately, it's going to get even worse.
We have just seen the tip of an inflationary iceberg."
How did we get into this mess to begin with?
The Fed created the problem.
They've been printing all this money. They sent the printing presses into overdrive during the pandemic. But we had an even bigger problem. The government forced people to stop working during the pandemic. So, people weren't on the job. They weren't producing goods. They weren't supplying services. They should have spent less money because they weren't earning money. The government made the mistake of sending everybody stimulus money so they could go out and spend money to buy products that didn't even exist because they weren't created. That's why we have a supply shortage — because everybody is spending money that the Fed printed, not money that they earned producing goods and providing services. So, it's a double-whammy. Prices are going ballistic. And this year is going to be worse than last."
The Fed has said it plans to raise rates, possibly to 2 percent by 2022. Rob said that doesn't seem substantial. Peter likened it to spitting in the ocean.
Inflation is already 7 percent, even if you accept the government's numbers, which are a lie. How do you fight 7 percent inflation with 2 percent interest rates? Remember, the Fed had interest rates at 2.5 percent in 2018 when they had no inflation to fight. CPI was only up 1.9 percent in 2018. Yet, the Fed is not going to raise interest rates now to a level they were back then. So, the whole thing is a lie. The truth is if the Fed actually raised interest rates high enough to fight inflation, it would crush the economy. We'd have a worse financial crisis than 2008. The stock market would crash –bond market, real estate market. Government would have to slash spending because interest rates would skyrocket. And so to prevent that from happening, the Fed is going to not fight inflation and that's why it's going to get so much worse."
But the economy seems healthy. That is until you look beneath the surface. We have record trade deficits. The government is running massive budget deficits.
We're living in a gigantic bubble, and now we're beginning to see that because prices are really starting to rise and there's no way to stop them from going up. And this is when everything comes collapsing down. Because eventually, this stagflationary environment that we're in, which will be much worse than the 1970s – more inflation and a weaker economy – is going to prick that bubble. So, even if the Fed won't prick it, the markets are going to prick it for them."
With inflation so pervasive, Peter said anybody who is retired or who wants to retire needs to get out of dollars.
Inflation is going to wipe you out. It is a gigantic tax and it's going to impoverish an entire generation unless they act quickly to get into real assets. … You have to own real things that can't be printed because if you just own paper, you're going to get wiped out."
Tyler Durden
Wed, 01/19/2022 – 06:30
inflation
markets
reserve
interest rates
fed
bubble
inflationary
crash