BLS' Housing Inflation Measure Is Hypothetical Bull***t
BLS' Housing Inflation Measure Is Hypothetical Bull***t
Authored by Michael Lebowitz via RealInvestmentAdvice.com,
There is a problem with…
BLS' Housing Inflation Measure Is Hypothetical Bull***t
Authored by Michael Lebowitz via RealInvestmentAdvice.com,
There is a problem with the BLS' housing inflation measure; it's hypothetical "Bull****."
The Case, Shiller 20-city House Price Index, is up 19.1% year over year. The only period with a somewhat comparable increase was in 2005 when it rose 14.9%.
Per Apartment List's August update: Since January 2021, the national median rent has increased by a staggering 13.8 percent.
With a 30% contribution to CPI, Shelter prices are prone to boost CPI higher in the months ahead.
It seems like a logical conclusion, but is it?
The answer has tremendous implications for investors. If inflation continues to rise from elevated levels, the Fed will be under increasing internal and external pressure to taper QE and raise interest rates. For a market "all ginned up" on Fed liquidity, that is the last thing investors want to see.
So, let's explore our question and try to answer it.
Consumer Price Index (CPI)- Shelter
The Bureau of Labor Statistics (BLS) category of Shelter, accounting for 30% of the CPI Index, is broken down into Owners' Equivalent Rent (OER) at 23% and Rent of Primary Residency at 7%.
Unbeknownst to most people, the BLS only uses rent and rent proxies to calculate CPI. Such is because they believe the prices of houses and other residential structures are financial assets, not consumption items.
Agree or not, that is how they do it.
To calculate OER, the BLS uses the following survey question:
"If someone were to rent your home today, how much do you think it would rent for monthly, unfurnished and without utilities?"
To calculate rent, they use the following question:
"What is the rental charge to your [household] for this unit including any extra charges for garage and parking facilities? Do not include direct payments by local, state or federal agencies. What period of time does this cover?"
Finally, OER asks homeowners a hypothetical question starting with the word "if."
Do you know what your home is worth? Do you know how much you can rent it for? Most homeowners have a much better idea of what their house is worth than how much they can rent it for.
Given 23% of CPI is based on a guesstimate of homeowners, does OER have much value in estimating rental prices? In all fairness, the BLS uses data checks and adjustments to improve survey results.
Click HERE for the BLS explanation on how they compute OER and Rent.
OER Is Not Forecastable?
Since 2001, the Case Shiller Home Price Index has been volatile. At the same time, OER has been incredibly stable. From a statistical perspective, Case Shiller is over eight times more volatile than OER. Further, the two data sets have a near-zero correlation with each other.
As we wrote earlier, the BLS does not consider home prices in CPI. However, home prices are a vital component of rent. In addition, most homes get rented with the intent of the homeowner turning a profit. In other words, the homeowner aims to earn more than their maintenance, taxes, and mortgage payments.
The following graph shows imputed mortgage payments based on historical mortgage rates and the Case Shiller price index. Imputed mortgage payments should serve as a strong proxy for rental prices despite not including homeowner maintenance and taxes.
Imputed mortgage payments are more volatile than Case Shiller due to constantly changing mortgage rates. However, the critical point is that this simple measure of home rental costs strongly compares with home prices.
Given OER does not correlate with home prices or imputed rental prices, we have zero ability to forecast 23% of CPI accurately. As such, we have no idea if soaring home prices will affect CPI.
CPI Rent
Rental prices, contributing 7% to the CPI Index, should be much easier to forecast.  The rent survey question is not hypothetical like OER. They directly ask renters how much they pay in rent. In theory, this should provide a good measure of rental prices.
Unfortunately, theory and reality are not always the same.
Zillow puts out a rent index called the Zillow Rent Index (ZRI). Their index uses actual rental prices and Zestimates, or estimates of rental prices on properties not for rent.
The graph below compares the BLS Rent index with Zillow's ZRI.
The correlation is not zero, as with OER and Case Shiller, but it is far from statistically significant at .10
Like OER, the BLS measure of rent prices fails to represent the actual state of rental prices. Rent, like OER, is nearly impossible to forecast.
Summary
We started the article by sharing home price and rent data and asking if sharply rising Shelter prices will push CPI higher in the months ahead. We presume most readers answered with a resounding "YES."
Now, understanding how the BLS formulates Shelter prices, we bet most of you are shrugging with confusion.
It appears impossible to calculate the BLS version of OER or rent.
Those, like the Fed betting on transitory inflation, should be careful. If either OER or Rental prices show some correlation to reality, CPI could not only continue to run hot but could rise from elevated levels. That said, looking at historical BLS data, it appears Shelter prices will not change markedly from current levels.
Tyler Durden
Wed, 09/08/2021 - 13:45
inflation
interest rates
fed
correlation
Summarizing China's Short Term Economic Outlook
Wells Fargo Economics analyses the extent of the current slowdown, and contemplates the impact on regional economies. Here's the heat map: Source: McKenna/Guo,…
Wells Fargo Economics analyses the extent of the current slowdown, and contemplates the impact on regional economies. Here's the heat map: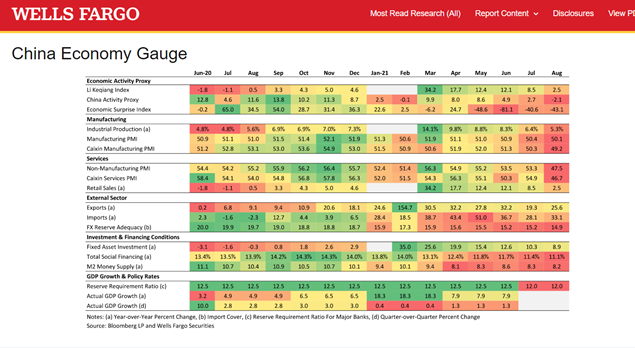 Source: McKenna/Guo, "China Economic Gauge and Sensitivity", Wells Fargo Economics, 20 Sep 2021, Figure 1.
From the report:
Our dashboard (Figure 1) suggests the short-term outlook for China's economy is indeed deteriorating, consistent with the multiple downward revisions we have made to our GDP forecast over the past few months. Given the signals our gauge is showing, we believe easier monetary policy could be the next major policy move from the PBoC, and another RRR reduction could be imminent as authorities look to offset some of the deceleration.
This report is in line with the Goldman Sachs report (discussed here).
Wells Fargo highlights Singapore, South Korea and Chile as most sensitive to growth developments in China (on the basis of exports). Looking more broadly at "beta's" of equity returns and currency values as well as export dependence, the list of at risk countries expands to include South Africa, Brazil and Russia as well.
monetary
policy
monetary policy
Small-Cap Index Reaches a Key Inflection Point
This past week saw a number of potential market headwinds emerge that pressured the major averages lower. Mixed data showing higher inflation at the wholesale…
This past week saw a number of potential market headwinds emerge that pressured the major averages lower.
Mixed data showing higher inflation at the wholesale level, tame inflation at the consumer level, surprisingly strong retail sales, upbeat manufacturing in the New York region and subdued consumer confidence, pushed Treasury yields marginally higher on a net basis. The yield on the 10-year Treasury note is at a key inflection point, where a move above 1.40% will likely trigger further technical selling.
Several articles are circulating from the Wall Street Journal, Forbes, Barron's and about every other news outlet regarding the potential collapse of Chinese mega-developer Evergrande and whether this will be a "Lehman moment" that has a systemic impact on global markets if Beijing allows for what could be a default of over $300 billion in debt payments.
Evergrande's business accounts for about 2% of China's gross domestic product (GDP), and the stock of the company has lost roughly 90% of its value. Hence, at this point, it seems the worst-case scenario of a controlled crash, bankruptcy and breakup of the company by the state looks likely to be absorbed by Western rather than Chinese markets. Evergrande committed two great sins of using way too much leverage and financing a great deal of its development through the shadow banking industry. Yet, the company is probably too big to fail, requiring the intervention of Beijing as soon as this week.
And then there is the Fed meeting this week to determine whether fiscal policy should include a scheduled scaling back of quantitative easing (QE) at a time when the full impact of inflation, the Delta variant of COVID-19 and the various supply chain disruptions are not yet known on business conditions for the current quarter. To this point, the market is trading as if the Fed will continue to jawbone the idea of tapering, but not act on it.
Lastly, Congress has to raise the debt ceiling to avert a default on U.S. federal debt… again. This hot debate and political brinkmanship will occupy Capitol Hill for the next two weeks, putting further delays on the passage of a much-needed infrastructure package. Toss in the recent spike in WTI crude prices to $72/bbl. and one would think the market's best-case scenario is a sideways finish to the year.
Under this set of circumstances, it would seem that the least path of resistance for equities is lower, but markets are forward-looking and have likely priced in most of the pessimism brought about by these noted risks. Assuming there is progress on all these fronts in the next month, it might behoove investors to take a hard look at going long in the Russell 2000 and small-cap stocks, where the majority are domestic companies. This might be the most under-owned sector with the most room to run.
What's good about this investment setup is that the downside risk is very well-defined by looking at the year-to-date chart of the Russell 2000 iShares ETF (IWM), which has been consolidating in a 20-point range for the past eight months. Logic would have it that if the risks outlined above were going to truly undo the primary bull trend, shares of IWM would have already broken down through key support at $216, where its 200-day moving average (MA) sits. Instead, we see a chart pattern where both the 20- and 50-day MAs are converging with the 200-day MA and trying to turn higher.
A break of the $218 level and further violation of the $210 level would be where an appropriate mental or physical stop-loss would be appropriate. This implies downside risk of 1-3.5% and upside of, let's say, 20-30%. The technical maxim of "the longer the base, the higher the space" comes to mind here. Eight months is by definition, a long technical base, and a huge opportunity for profits if this key support level holds.
The Russell 2000 has missed out on this year's rally. As of last Friday, Sept. 17, the Dow is up 13.00%, the S&P jumped 18.02% and the Nasdaq raced ahead by 16.73%. Considering that the small to mid-cap stocks hold the greatest amount of investment risk, to see this tier of the market looking to push higher in the midst of so much hand wringing is not only counterintuitive, it is starting to look very compelling.
One thing market technicians will tell us about the IWM chart is that there is intense technical pressure at this inflection point to where the next move, be it up or down, will be powerful. This setup is one of the great and most interesting things about the stock market: it will behave in ways that defy logic only to be understood well after a big move has occurred. There are circumstances beneath the surface of the market's veneer that are offsetting a weaker NYSE advance/decline line and other negative factors.
What these factors are at present is elusive as far as I can tell, but if shares of IWM trade above $235 on heavy volume, it will be off to the races for the Russell and provide broad confirmation that the bull market has further to go. It is September, and pessimism is elevated due to the unknowns surrounding Fed policy, tax policy, the debt ceiling, rising bond yields, stalemated infrastructure spending, the Delta variant, a meltdown in Evergrande, slowing growth in China, rising oil prices and global supply bottlenecks.
And yet, the Russell 2000 has not rolled over. It actually looks like it is staging for an upside breakout, which would be a most welcome event as it would indicate capital flows are increasing risk-on exposure to the U.S. economy. How this scenario will unfold is still a coin toss, but the one thing the IWM chart fully suggests is that we'll know one way or the other in the near future.
The post Small-Cap Index Reaches a Key Inflection Point appeared first on Stock Investor.
inflation
markets
policy
fed
crash
When The Levee Breaks…
When The Levee Breaks…
Via AdventuresInCapitalism.com,
If it keeps on rainin', levee's goin' to break
If it keeps on rainin',…
When The Levee Breaks...
Via AdventuresInCapitalism.com,
If it keeps on rainin', levee's goin' to break
If it keeps on rainin', levee's goin' to break
When the levee breaks, I'll have no place to stay.

Mean old levee taught me to weep and moan, Lord
Mean old levee taught me to weep and moan
It's got what it takes to make a mountain man leave his home
Oh well, oh well, oh well

Don't it make you feel bad
When you're tryin' to find your way home
You don't know which way to go?
If you're goin' down south
They got no work to do
If you're going down to Chicago.

A-ah, a-ah, a-ah.

Cryin' won't help you, prayin' won't do you no good
No, cryin' won't help you, prayin' won't do you no good
When the levee breaks, mama, you got to move, ooh.

Led Zeppelin
To a man with a hammer, every problem looks like a nail. To the Federal Reserve, every problem is met with more liquidity. Unfortunately, the Fed has very little control of where this liquidity goes. First, it went into equity markets, fueling an outright equity bubble. Then it overflowed into PE and VC, creating bubblicious demons there as well. Then it overflowed into meme stonks and shit-coins. Not content with the damage they wrought on the financial economy, the liquidity began overflowing into the real economy. There's currently an epic housing bubble, leading to increasing wealth inequality and polarization.
Now, this liquidity is overflowing into the everyday economy - assuming you can even find the item you seek. In the past, only hard money weirdos complained about the gradual creep of inflation - now everyone feels it and has their own story. Everyone is painfully aware that inflation is present and is likely to stay.
Coincidentally, this is all happening at a time when the government is actively destroying the normal supply response to higher pricing. You want more labor? Nope, there's stimmies. You want to keep your existing employees? Nope, anyone un-vaxed must quit. You want to add a facility? Nope, permits take years. You want to finance growth? Nope, they only finance ESG projects. The free market is an interplay of supply and demand. If you restrict supply and stimulate demand, eventually pricing responds.
For the past few months, I've been joking that the Fed will keep going until something breaks. Of course, in the Fed's jaded minds, they're worrying about the left tail (downside equity risk) and they're continuing to flood the market with liquidity. What if the Fed is now the cause of the left tail risk? What if the right tail (parabolic upside commodity action) caused by this liquidity is what actually breaks the market? What if the Fed has finally added too much liquidity? Maybe the levee is going to break.
Back in June, I wrote about how ESG = Energy Stops Growing. It's already starting to play out. Look at what European electricity prices are doing. Now assume this happens to gasoline and diesel. Consider what happens if it is a cold winter. Could natural gas go crazy? Propane. Ethane. Heating Oil. They're all waking up. These are the feedstocks for everything in our lives. The whole periodic table is going mental. There's even food inflation—the sort of inflation that gets very political. The inflation is everywhere that the government gets in the way of supply while increasing demand.
After decades of irrelevance, inflation is about to matter again. Energy is the big dog, but wage growth is also here to stay—it will impact margins and eventually get imputed into earnings multiples. There will be plenty of other areas with inflation as the government continues to meddle in the supply response. Equity multiples do not do well when inflation roars, particularly if the starting point is as extremely overvalued as it is today.
I'm the "Project Zimbabwe" guy, but I also believe in Kevin Muir's "Rolling Bubbles." The history of financial markets is that once a bubble peaks, it rarely reflates. Could the bubble in duration assets (like high-multiple tech and Ponzi) finally be over? Could the bubble in inflation assets just be starting? Could the unwind of both historic extremes be unusually violent, as so much of the world's capital is leaning the wrong direction? I know where I have my bets. I expect inflation assets to surprise to the upside, even as the bubble in duration bursts.
I expect energy to be the proximate cause. Watch it closely. Demand is still recovering from Covid, yet energy prices are already at multi-year highs.
There are air pockets where supply doesn't exist at any price.
These are the warning signs. Something wild is brewing.
My friends at Capitalist Exploits had this chart in their most recent weekly (if you're not a subscriber, I highly recommend it). Look's overdue to mean revert.
This isn't a call to get out of the markets tomorrow. This certainly isn't a call to short anything. Rather, this is a call to re-evaluate your book. There's a massive rotation underfoot here. As it gathers speed—I think it will surprise people.
A month ago, I reminded everyone that the Fed is a political animal. If inflation becomes a political issue, the Fed will be forced to act. Is anyone prepared for that?  What if they cannot fix the inflation? What if the politicians demand that they get aggressive as inflation overshoots? Will the Fed be forced into more extreme actions? This is the scenario that no one is contemplating—what if we should all be thinking about it??
Watch energy. It's the lynchpin of everything else inflation related. As that roars, I expect duration to get mauled…
*  *  *
If you enjoyed this post, subscribe for more at http://www.adventuresincapitalism.com
Tyler Durden
Mon, 09/20/2021 - 13:45
inflation
commodity
markets
reserve
fed
bubble