Bonds: Hold 'Em, Fold' Em, Walk Away, or Run?
Bonds: Hold 'Em, Fold' Em, Walk Away, or Run?
"You got to know when to hold 'emKnow when to fold 'emKnow when to walk awayAnd know when to run"  
Kenny…
Bonds: Hold 'Em, Fold' Em, Walk Away, or Run?
"You got to know when to hold 'em
Know when to fold 'em
Know when to walk away
And know when to run"  

Kenny Rogers- The Gambler
So how do we know when to hold or fold 'em bonds?
If you ask bond traders, you are likely to get many different answers. Some will say it depends on future inflation rates. Over the last ten years, the Fed has become a popular response. Economic growth rates, demographics, and the dollar are also likely replies.
According to our Twitter followers, over half think the Fed is the most significant determinant of bond yields.
In this article, we explore a few essential factors that tend to dictate bond yields. We aim to assess whether the recent increase in yields is a buying opportunity or foreshadows even higher rates.
This article is not just for bond investors. Given the importance of low yields to justify extreme equity valuations, rising yields will not only dampen earnings multiples but weigh on earnings.
Federal Reserve Monetary Policy
The Fed is the runaway winner in our Twitter Poll. It is not surprising, given it purchases $120 billion per month of U.S. Treasuries (UST) and MBS (mortgage-backed securities). These outsized purchases directly impact treasury and mortgage yields. Other assets also benefit from the excess liquidity and lower rates, such as equities, crypto, and some commodities.
The Fed now owns nearly 25% of all public U.S. Treasury debt outstanding, as shown below. Since 2020, the Fed has bought more than half of the debt issued by the Treasury. Further, the Fed owns another $3.25 trillion of mortgages and other assets that also influence yields.
The Fed is the dominant "investor" and marginal price setter of Treasury yields. Their role is even more prominent considering a good percentage of Treasury debt is "put away." These are bonds held to maturity that will likely never be sold. Foreign nations, pension funds, insurance companies, and other investors are such holders. As a result, the float, or amount of bonds available for purchase, is well less than the total supply.
Given the Fed's enormous footprint, how does QE influence bond yields? In Taper Is Coming Got Bonds? we compare bond yield changes to the size of the Fed's balance sheet.
The article's results are not intuitive. One would think yields would fall as the Fed buys bonds and vice versa. Quite the opposite occurs. To wit: "Ten-year yields tend to rise about 1% from the start of QE to peak yield levels during QE. Equally important, yields tend to fall toward the end of QE."
As shown in the graph and table below, yields rise during QE. Equally important, yields decline after periods of QE.
With the Fed set to taper in November and finish in the second quarter, this metric argues for lower yields.
Economic Activity and Inflation
Bond traders, old enough to remember a time before 2008 when the Fed was not the dominant price setter of U.S. obligations, may claim economic activity and inflation matter most for bond yields.
Economic Activity
The chart below compares quarterly instances of real ten-year trailing economic growth rates versus the yield on the 10-year UST. The correlation is statistically significant at .71. 
Given the strong correlation, we can confidently form a reliable forecast for ten-year yields if we can reasonably forecast future economic growth.
The graph below helps us. Following each of the last three recessions, the trend real growth rate declines. This is a consequence of increasingly larger amounts of unproductive government spending during and after each recession. Given the massive amount of unproductive debt issued over the last year and a half, we suspect another step down in the growth rate is coming.   
We forecast real economic growth to average between 1.50% and 2.50% over the next ten years. The Fed's "longer run" projection of 1.90% falls right in the middle of this range. The table below uses the scatter plot to determine where 10-year UST yields should be in three growth scenarios. Based on the current yield of 1.50, yields seem fair given growth forecasts.
Inflation and Inflation Expectations
In theory, investors should demand a yield greater to or equal to the expected inflation rate and credit losses. Such a sufficient yield ensures purchasing power is, at a minimum, preserved by the investment. Treasuries are supposedly risk-free; therefore, UST yields should equal or exceed expected inflation.
Theory and reality are often two different things, as is the case today. The expected rate of five-year inflation is approximately 2.50%. The current 10-year bond yield is almost half of that. There are many reasons for such inefficiency. Chief among them is the Fed's large footprint and strong demand for high-grade collateral to back derivatives. The Fed's now trillion dollars plus reverse repurchase program is evidence of collateral needs. More on that in another article.
The two plots below show the relationship between yields and inflation, and inflation expectations.
While not as strong as the relationship between prior GDP and yields, there is a decent correlation between inflation and yields. If inflation rates and inflation expectations revert to pre-pandemic norms of 1.50-2.00%, we should expect yields in a range of 2.00 to 4.00%. It's a wide range but consider the low end of the forecast is a good amount higher than current yields. Given the profile of expected future debt issuance, we suspect the Fed will do everything in its power to prevent a yield north of 2.50% or even less.
Other Forecasts
The graph below, courtesy of Ed Yardeni, shows the strong correlation between the Citi Economic Surprise Index and ten-year UST yield changes. The Citi index measures economists' consensus economic data estimates versus actual readings.
Over time the index oscillates as economists tend to overestimate economic activity then underestimate it. As shown below in red, economists are now overly optimistic as their forecasts are recently better than actual data. The index is likely reaching a point where economists start under-forecasting economic data. If true and the correlation in the graph holds, yields are likely to rise over the coming months.
The Institute for Supply Management (ISM) publishes a closely followed survey of manufacturing conditions. The survey has a strong relationship with economic growth and, therefore, yields. Like the graph above, the survey results tend to oscillate up and down, albeit much less frequently.
The ISM Index is currently just below 35-year highs. Due to the nature of the survey questions and the range of possible answers, it is difficult for the index to rise or even stay at current levels. Even if the index defies gravity and remains near multidecade highs over the next few months, the index's year-over change will fall to near zero. Normalization to pre-pandemic levels will result in a 5-to-15-point year-over-year decline. A similar move in yields could result in yields at or near 0.00%.
The Citi Index argues for higher yields in the next few months. Conversely, the ISM survey points to lower yields.
Summary
What would Kenny Rogers do?
As investors, we must read the table and figure out our odds of success. With yields so low, and as a result, the cushion for error minimal, this has never been so important.
Short-term traders are dealing with a period of indecision in the bond market. Some investors are nervous as inflation is running hot, and they wonder who will shoulder the heavy supply of Treasuries if the Fed tapers. Conversely, as we have seen, when the Fed steps away from bond purchases, yields tend to fall.
We believe economic growth will continue to slow, and long-standing deflationary pressures will re-exert themselves. Purely based on economic growth, bonds are reasonably priced.
Recent inflation rates and current inflation expectations argue for higher yields. The Citi Surprise Index points to a bump in yields in the coming months, while the ISM Index favors lower yields.
So, what to do? We think the answer goes beyond history and statistics. The economic threshold for higher yields is minimal. An outbreak higher is likely to result in weaker economic growth and deflation ultimately.
The Fed understands the debt trap our economy is in and will do everything in its power to avoid yields high enough to break the economy.
As our Twitter followers, we think the Fed matters most for bond yields. If they can manage inflation, we must assume they can control yields.
Our advice- hold 'em.
The post Bonds: Hold 'Em, Fold' Em, Walk Away, or Run? appeared first on RIA.
dollar inflation deflation derivatives commodities monetary reserve policy fed correlation monetary policy real economic growth deflationary
Tesla Won't Be the Only Trillion-Dollar EV Stock
Two days ago, Tesla (NASDAQ:TSLA) did something unthinkable – something that only four tech stocks in the history of capitalism have ever accomplished.
It…
Two days ago, Tesla (NASDAQ:TSLA) did something unthinkable – something that only four tech stocks in the history of capitalism have ever accomplished.
It became a trillion-dollar company.
It joined Alphabet (NASDAQ:GOOG), Apple (NASDAQ:AAPL), Amazon (NASDAQ:AMZN), and Microsoft (NASDAQ:MSFT) as the only U.S. companies to currently hold that distinction. Not only that, but Tesla cleared the trillion-dollar mark faster than any other company.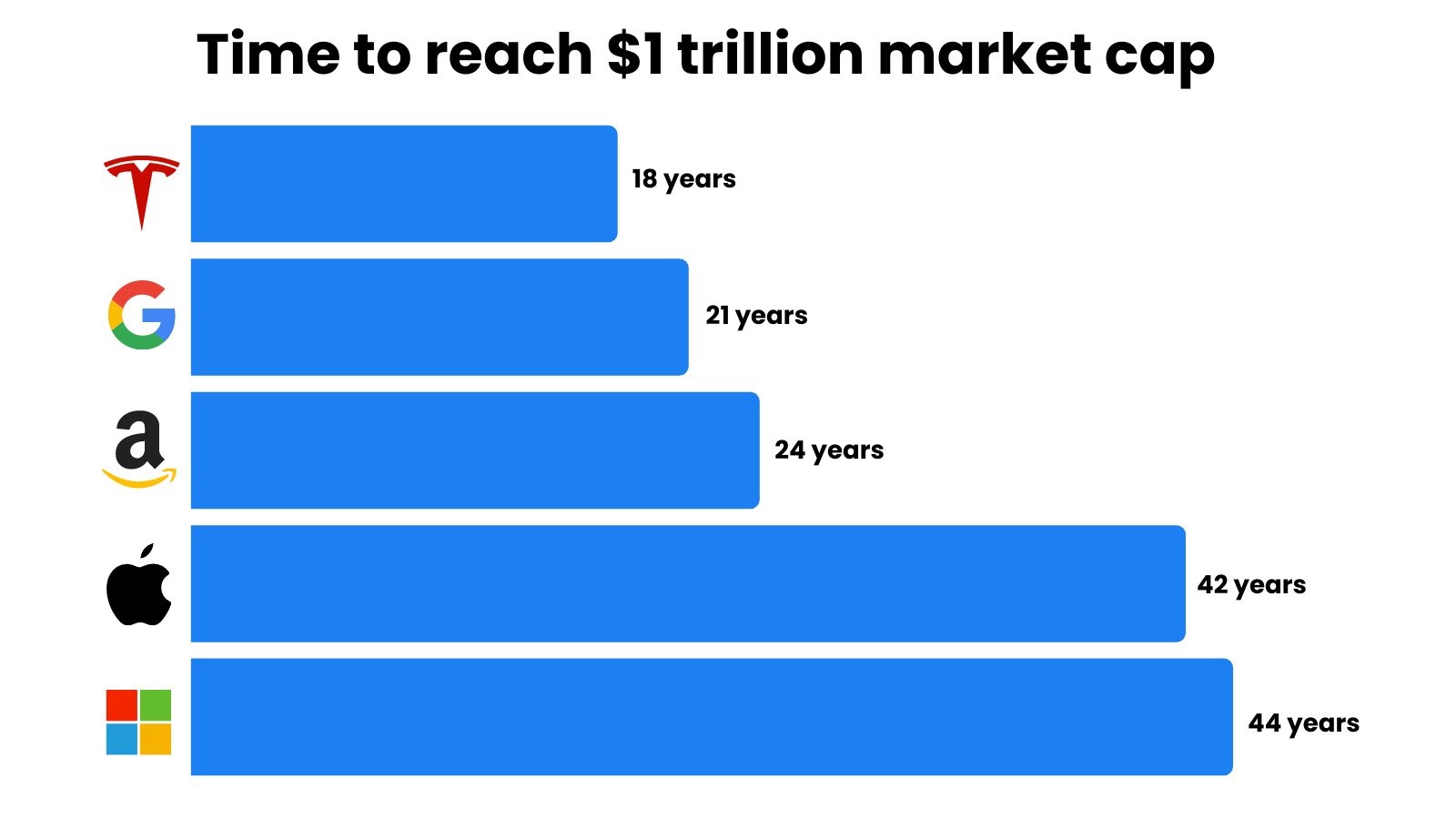 Source: Morning Brew
Source: Morning Brew
To a lot of folks, all of this just sounds silly.
That's because, at a $1 trillion valuation, Tesla is now worth more than Toyota, Volkswagen, Daimler, General Motors, BMW, Ford, Stellantis, Volvo, Ferrari, Honda, and Hyundai combined – and most of those companies sold way more cars and recorded way bigger revenues than Tesla did last year.
So… Tesla at a trillion bucks… that has to be a bubble, right?
Wrong.
Because, last I checked, companies aren't valued on how many cars they sell or how much revenue they rake in – they're valued on profits. After all, to shareholders, how valuable is the sale of a $40,000 car if the automaker spent $40,000 to make, advertise, and sell the car?
It's not valuable at all.
That's the piece that Tesla bears are missing. Profits – not sales – matter, and Tesla is structurally and significantly more profitable than legacy automakers.
Why?
Let's zoom out here. The reality is that, at scale, making an electric vehicle (EV) will be significantly cheaper than making a gas-powered car.
I know. That's contrary to everything you've ever been told. And before you go pull up statistics showing me that EVs are more expensive to make than gas-powered cars today, let me tell you that the current EV production premium is exclusively because of the battery.
The battery comprises about 25% of an EV's production costs. Strip out the battery and it's way cheaper to make an EV than a gas-powered car, because there are way less parts.
With EVs, there's no oxygen sensors, no spark plugs, no motor oil, no timing belts, etc.
The fewer parts you have, the cheaper it is to make.
So, the only thing keeping EV production costs higher than gas-car production costs is the battery – and those costs are plummeting. Between 2007 and 2020, the cost of EV battery packs has registered an average decline of 16% per year.
The more time goes on, the more battery costs go down, and the cheaper and cheaper it gets to make an EV.
Soon enough, battery costs won't be a hurdle anymore. By that point – likely within the next decade – EVs will be significantly cheaper to make than gas-powered cars.
Not to mention, consumer demand is shifting toward EVs, so today's prospective car buyers are willing to pay a premium for an electric car. That should result in higher sales prices for EVs, and reduce marketing costs for EV makers. Notice how Tesla hasn't had to materially discount its cars, or how the company never runs any ads yet everyone still wants one?
In financial terms, the implications here are obvious. Tesla should sell its cars at higher prices than traditional automakers, and operate at significantly higher gross margins, with lower marketing spend, resulting in significantly higher profits per car.
Let's put some numbers to this…
The average car sells for about $40,000. Tesla's average sales price last quarter was $50,000. Higher sales price? Check.
Automakers typically run at 15% gross margins. Tesla clocked in at 30% gross margins last quarter. Higher gross margins? Check.
Your average automaker spends about 7% of revenues on sales and marketing, and another 5% on research and development. Tesla's marketing spend rate is currently about 7%, and rapidly falling with an opportunity to hit 5% or lower at scale, while the R&D rate is already closing in on 4%. Lower operating expense (opex) rates? Check.
Add it all up, and the average automaker is netting about $1,200 in operating profits per new car sold, while Tesla is making about $10,500 in operating profits per new car sold – a near 9X increase.
So… significantly higher profits per car? Double check.
And that, in a nutshell, is why Tesla deserves its trillion-dollar valuation.
Elon Musk & Co. make about 9X more per car than other automakers, so TSLA deserves to be valued at about 9X your biggest legacy automaker, assuming Tesla can one day sell as many cars as that automaker (which we think is doable).
The biggest legacy automaker? Toyota. Its market capitalization? $240 billion. A 9X multiple on that is a $2-plus TRILLION potential valuation for Tesla one day.
This run isn't over…
More importantly, though, the above "back-of-the-napkin math" is why Tesla won't be the only trillion-dollar electric vehicle company.
Because Tesla won't be the only company in the EV universe to benefit from economies of scale, lower production costs, and lower marketing costs. In fact, almost all pure EV makers will benefit from those dynamics, which means they will make about 9X as much profit per car sold as their legacy automakers at scale.
Therefore, while the auto industry titans of today are worth anywhere between $50 billion and $250 billion, we think the EV industry titans of tomorrow will be worth 9X that – anywhere between $450 billion and $2 trillion.
So what does that mean for you as an investor today?
Well, most EV stocks not named Tesla are worth less than $20 billion today.
That's why – while we're still bullish on Tesla – we're much more bullish on other EV stocks whose best days are still ahead of them… stocks that we feel have 10X, 20X, even 30X upside potential.
The million-dollar – er, trillion-dollar – question is: What are the names of those stocks?
That's what we aim to uncover in our most exclusive investment research service, Early Stage Investor.
For readers who are unaware, Early Stage Investor is our small-cap investment advisory where we focus on investing in the world's most innovative companies and game-changing technologies… while they're still in their early stages… before they soar thousands of percent like Tesla.
Very recently, we just launched a brand-new portfolio in Early Stage Investor called the "4 EV Stocks for Financial Freedom" portfolio – and in that portfolio are the names of four EV stocks that we feel are best positioned to follow in Tesla's footsteps, turn into giants of the future EV industry, and ultimately score shareholders enormous profits.
The best part? All four of those stocks are tiny and off the radar of most investors, so getting in now is like getting in on Tesla back in 2015… before Elon Musk was a household name, and before TSLA stock turned early shareholders into "Teslanaires."
These stocks could do the same.
The only question that remains: Will you be one of them?
On the date of publication, Luke Lango did not have (either directly or indirectly) any positions in the securities mentioned in this article.
The post Tesla Won't Be the Only Trillion-Dollar EV Stock appeared first on InvestorPlace.
Energy Continues To Lead US Equity Sectors By Wide Margin In 2021
The reboot of energy stocks rolls on in the year-to-date sector horse race, based on a set of ETFs through Tuesday's close (Oct. 26). The rebound in…
The reboot of energy stocks rolls on in the year-to-date sector horse race, based on a set of ETFs through Tuesday's close (Oct. 26).
The rebound in the previously faltering energy sector began a month ago. In late-September, CapitalSpectator.com reported that Energy Select Sector SPDR Fund (XLE) regained the lead for the major equity sectors in 2021. That lead has subsequently strengthened through October.
XLE is up an astonishing 61.3% so far this year, or roughly twice the year-to-date gain in our previous report from a month ago. Lifting the fund is a combination of surging oil and gas prices, which in turn is driving bullish earnings expectations amid mounting evidence that higher inflation may persist for longer than previously expected.
Not surprisingly, current conditions have triggered a bullish attitude adjustment for the sector's outlook, reports Barron's:
About 80% of all analysts' profit forecasts for this year and next have been increased, higher than the 74% seen in September, according to Citigroup. That means more profit projections have been increased than reduced in the past month.
The strength of energy's year-to-date rally is no less conspicuous when you consider that the second-best sector performer this year is far behind. Financial Select Sector SPDR (XLF) is up 39.5% — a strong gain in absolute terms, but nowhere near XLE's surge.
The US stock market overall is posting an impressive rise this year via SPDR S&P 500 (SPY). But the ETF's 23.2% increase so far this year pales next to XLE's advance.
The weakest sector performer this year: Consumer Staples SPDR (XLP), which is higher by a relatively moderate 7.9% year to date. The sector, traditionally considered one of the more resilient, defensive corners of the market, is struggling to keep pace with equities overall (SPY), as this chart of relative performance history shows:
When the line is rising, the broad US equity market (SPY) is outperforming XLP. ON that basis, XLP's defensive features have remained out of favor for much of the time since the market began recovering from the coronavirus crash in the spring of 2020.
---
Learn To Use R For Portfolio Analysis
Quantitative Investment Portfolio Analytics In R:
An Introduction To R For Modeling Portfolio Risk and Return

By James Picerno
---
inflation
crash
Investors Brace Themselves for a Flood of Earnings & Fed
Volatility is picking up as investors brace themselves for a flood of earnings announcements this week and the Fed meeting next week. The VIX volatility…
Volatility is picking up as investors brace themselves for a flood of earnings announcements this week and the Fed meeting next week. The VIX volatility index closed up 5.60% on Tuesday even though the S&P was up 0.15%.
Facebook (FB) fell 5% on Tuesday despite better than expected earnings. Dragging on the stock is weaker than expected revenues and reduced expectations for Q4 revenues. The political scrutiny on FB is also not doing shareholders any favors.
FB is down over 20% since September and is close is flirting with the 200-dma. It is currently repeating its price action from March, where it found support and rallied to all-time highs. However, investors may want to be more cautious about the stock for now until price action improves.
What To Watch Today
Economy
7:00 a.m. ET: MBA Mortgage Applications, week ended Oct. 22 (-6.3% during prior week) 
8:30 a.m. ET: Advance Goods Trade Balance, September (-$88.3 billion expected, -$87.6 billion in August)
8:30 a.m. ET: Wholesale Inventories, month-over-month, September preliminary (1.0% expected, 1.2% in August)
8:30 a.m. ET: Durable Goods Orders, September preliminary (-1.1% expected, 1.8% in August)
8:30 a.m. ET: Durable Goods Orders, excluding transportation, September preliminary (0.4% expected, 0.3% in August)
8:30 a.m. ET: Non-defense Capital Goods Orders, excluding aircraft, September preliminary (0.5% expected, 0.6% in August)
8:30 a.m. ET: Non-defense Capital Goods Orders, excluding aircraft, September preliminary (0.5% expected, 0.8% in August)
Earnings
Pre-market
Post-market
Courtesy of Yahoo
Waste Management (WM) Earnings
WM third-quarter GAAP EPS is short of the consensus at $1.28 versus an expected $1.33. Revenue of $4.7B (+21% YoY) topped expectations of $4.55B, driven by volume growth and increased yield. Management raised guidance for FY21 revenue growth to 17%-17.5% from 15.5%-16% previously. The new guidance is above the consensus of 16% YoY. Accelerating cost inflation was mentioned as a headwind, but the company remains on track to meet its full-year targets according to the CEO. The stock was down .86% yesterday following the release. We hold a 1% position in the Equity Model.
Below is the technical overview from RIAPRO.NET
Raytheon Technologies (RTX) Earnings
RTX third-quarter GAAP EPS of $0.93, is just above the consensus of $0.91. Revenue of $16.2B (+8.1% YoY) came in short of expectations of $16.36B. Guidance for FY21 revenue is now $64.5B from a prior range of $64.4B-$65.4B. This is slightly below the consensus of $65.2B. Guidance for FY21 adjusted EPS is now $4.10-$4.20 from $3.85-$4.00 previously; the consensus is $4.06. Management commented that a rebound in air travel was the impetus for raising earnings guidance. Despite the upbeat guidance, the stock traded 2.15% lower yesterday due to gloomy forecasts from its competitor, Lockheed Martin (LMT). We hold a 1.5% position in the Equity Model.
Seasonality Still In Play
Seasonality is still playing as stocks continue their upward advance. As we noted previously, with the Fed announcing "taper" next week, inflation running hotter than expected, and stocks back to more extreme overbought conditions, the upside is likely limited near term. Some risk management is likely wise.
More Tesla
Yesterday we noted that Tesla's market cap increased by approximately $100 billion. To put the gain in context, consider yesterday's increase in market cap is worth about 1.5x the total value of Ford and about half of the entire domestic auto industry. Also interesting, Elon Musk added nearly $30 billion of personal wealth yesterday. He is now supposedly worth more than Exxon.
The graph below shows Tesla is valued at 42% of the entire auto industry despite having a very small fraction of total sales/revenue. Ford and GM recently reported annual sales of $137 and $139 billion respectively. Tesla's latest report shows $46 billion in sales. Simply, the market is betting heavily that TSLA will be the dominant leader in auto sales over the next five to ten years. Anything short of 50% market share will likely be a disappointment for shareholders. If you do not buy into the prospects we offer caution. Tesla is one of the hottest stocks in the market, so selling or shorting the company may be painful in the short run.
Consumers Are Fretting
The Langer Consumer Comfort Index is a high-frequency confidence index. While lesser followed than the University of Michigan survey or the Conference Board's consumer survey, it provides another data set to assess consumer attitudes. Given personal consumption traditionally accounts for two-thirds of economic growth, this measure is essential to follow.
In its most recent October 21st report, Langer notes: "Consumer sentiment continued down this week, dropping to nearly a seven-month low as Americans' assessments of their personal finances and the buying climate extended their largest declines since early in the coronavirus pandemic."
At 49.7, the Index is well above its March 2020 lows of 35 but a ways off its pre-pandemic highs near 70. For context, the Langer Index looks similar to the Conference Board Survey, sitting between post-pandemic highs and lows. On the other hand, the University of Michigan Sentiment Index is now at its lowest level since the pandemic and the lowest level in ten years. The importance of consumer confidence is not just economic. As their graph below shows, there is a strong correlation between the changes in stocks prices and consumers' sentiment. Recently, stocks have soared despite weakening confidence.
The post Investors Brace Themselves for a Flood of Earnings & Fed appeared first on RIA.