CAD treading lightly ahead of BOC
The Canadian dollar has traded quietly so far this week as the economic calendar has been light. The remainder of the week is busy, with the Bank of Canada…
The Canadian dollar has traded quietly so far this week as the economic calendar has been light. The remainder of the week is busy, with the Bank of Canada policy meeting later today and the September GDP report on Friday. USD/CAD is currently trading at 1.2419, up 0.24% on the day.
Will Bank of Canada taper?
The BoC has shown the markets that it is serious about tightening policy as the economic recovery finds its footing. The BoC was the first major central bank to trim bond purchases and is widely expected to trim again, reducing bond purchases from CAD 2 billion to CAD 1 billion.
The Canadian dollar has soared in October, with several drivers for the upswing. Domestic data, such as the falling unemployment rate, a rise in retail sales and high inflation. Investor risk appetite has been moving higher, and the jump in oil prices has been boosted the loonie, as Canada is a major oil producer.
The BoC could end its bond purchase scheme before the end of the year, but it remains unclear what bank policy makers plan to do about rate policy. No change is expected to the current rate of 0.25%, but will today's meeting hint at a rate hike sometime next year? If so, USD/CAD could test some multi-month lows. Conversely, if the BoC is silent about rates, that could generate some disappointment and send USD/CAD higher. Investors will also be interested in what the bank has to say about the surge in inflation. September CPI hit 4.4% (YoY), much higher than the bank's inflation target of 2%. Like the Federal Reserve, the BoC continues to insist that inflation, which is running way above the bank's target of 2%, is transitory, but that stance is increasingly being questioned, with no signs that inflation will ease up anytime soon.
.
 USD/CAD Technical
USD/CAD is testing resistance at 1.2422. Above, there is support at 1.2475
There is support at 1.2302, followed by 1.2235
Nearly 3/4 Of The World's Dictators Receive US Weapons & Military Assistance
Nearly 3/4 Of The World's Dictators Receive US Weapons & Military Assistance
Authored by Matthew Hoh via AntiWar.com,
The US supports…
Nearly 3/4 Of The World's Dictators Receive US Weapons & Military Assistance
Authored by Matthew Hoh via AntiWar.com,
The US supports nearly 75% of the world's dictators, autocracies, monarchies, military regimes, etc., with weapons, military training and money. Please remember this the next time someone tells you the US should do X or Y because such and such a nation is bad…
Comparing Freedom House's list of Not Free nations* to FY 2020 US overseas weapons sales, military training and financial assistance**, we find that of the 57 nations considered undemocratic, 42 receive weapons, training and/or money for their military and security services. This means 74% of the non-democratic nations of the world are supported militarily by the US. Interestingly, the remaining 15 nations are nearly all sanctioned.
The world's countries can be divided into two parts: those who buy/receive weapons from the US and those sanctioned. It seems like it's a pretty simple arrangement.
74% is a slight increase from four years ago when Rich Whitney at Truthout utilized the Freedom House list and compared it to FY 2015 military assistance data. It is likely no surprise to anyone that US support for non-democratic governments increased under President Trump, but, to be fair, it was a minor increase. The hypocrisy and dissonance between stated US support for democracy, liberty and freedom, and how the US government conducts itself exists whether a Democrat or Republican is in the White House.
The list of nations is below. I have listed occupied territories with the nations that are occupying them; so, Gaza and West Bank are under Israel, Western Sahara is under Morocco, Tibet is under China, and Donbas and Crimea are under Russia. Also, please note, this list only includes nations not considered democracies. Nations that are listed as partly free or free by Freedom House, but are clear and gross violators of human rights, and that are recipients of US weapons, military training and military assistance funding, like Columbia, Honduras, India, Pakistan, Philippines, and Ukraine are not included.
Y denotes received weapons, military training or military funding assistance, or a combination.
Afghanistan Y
Algeria Y
Angola Y
Azerbaijan Y
Bahrain Y
Belarus N
Brunei N
Burundi Y
Cambodia Y
Cameroon Y
Central African Republic Y
Chad Y
China (includes Tibet) N
Cuba N
Democratic Republic of the Congo Y
Djibouti Y
Egypt Y
Equatorial Guinea N
Eritrea N
Eswatini N
Ethiopia Y
Israel Y
Jordan Y
Gabon Y
Iran N
Iraq Y
Kazakhstan Y
Kyrgyzstan Y
Laos Y
Libya Y
Mali Y
Morocco (Western Sahara) Y
Myanmar Y
Nicaragua N
North Korea N
Oman Y
Qatar N
Republic of the Congo Y
Russia (includes Crimea and Donbass) N
Rwanda Y
Saudi Arabia Y
Somalia Y
South Sudan Y
Sudan N
Syria N
Tajikistan Y
Tanzania Y
Thailand Y
Turkey Y
Turkmenistan Y
Uganda Y
United Arab Emirates Y
Uzbekistan Y
Venezuela N
Vietnam Y
Yemen Y
Zimbabwe Y
*This is not an endorsement of Freedom House or its methodology. However, Freedom House is an excellent source for this purpose as no one will accuse Freedom House of being anti-American, pacifist or isolationist in their ideology, leftist or libertarian in their political leanings, non-believers in American Exceptionalism, etc.
**Information on FY 2020 US weapons sales, training and military assistance provided by Center for International Policy's Security Assistance Monitor Program.
Tyler Durden
Thu, 11/25/2021 – 20:30
policy
libertarian
Peeling The Economic Onion Will Bring On The Tears
Peeling The Economic Onion Will Bring On The Tears
Authored by Bruce Wilds via Advancing Time blog,
Unless you have the fortitude of a Greek…
Peeling The Economic Onion Will Bring On The Tears
Authored by Bruce Wilds via Advancing Time blog,
Unless you have the fortitude of a Greek God, peeling back the layers of our current "economic onion" will very likely bring you to tears. Looking back over the last several years could make a person argue that massive stupidity has been a huge factor in keeping the economy afloat. In short, those pulling the strings have constructed a false economy that is unsustainable and will at some point implode.
In most situations that I research it seems that as the investigation takes me deeper and deeper into the numbers I come upon some rather ugly realities that are difficult to face. In the metaphoric sense, the term peeling peel back the onion is an act someone undertakes in order to understand what lurks below. To expose the various layers of something investigators often find they have to peel away falsehoods and misconceptions to discover just how corrupt the message we are told truly is.
The area where most people seldom venture is protected by myths and half-truths. An example of this can be seen in America's relationship with China. For decades China exported deflation as it gladly traded cheap goods for jobs. That has come to an end, no longer is China's labor market the cheapest in the world. This is now beginning to show up in the cost China charges those buying its products.
The illusion of a robust economy has been propelled forward by the sheer "quantity" of financial growth and deficit spending rather than anything resembling quality. Poorly crafted and shockingly large spending bills have created a situation encouraging government agencies to spend like drunken sailors. It seems that again Federal agencies as well as state and local governments are flush with cash as the result of another stimulus package. 
While most politicians would shy away from describing the infrastructure bill as stimulus spending that is exactly what it is. The bill is designed more as a way to create jobs and push the economy forward than improve the country's infrastructure. Now, state and local governments must rapidly appropriate and assign that money as they find they are now facing a "use it or lose it" situation. Such rapid spending generally does not utilize or allocate money in a way that maximizes results.
The Above Chart From Northmantrader.com Indicates, This Is Not "Normal"
A lot of things or issues are contained in the layers of our "economic onion." Things such as, How a huge amount of our so-called economic growth or GDP during the last decade has been in the healthcare sector. All the expensive new hospitals and buildings that line America's interstates sporting names such as UnitedHealthOne, Aetna, Humana, and Anthem stand as monuments to Obamacare. To be clear, that is not a good thing, all this has not drastically improved healthcare, it has simply driven the cost through the roof. 
Then we have inflation which recently reached a 31 year high and appears to be heading higher. It is difficult to argue that wage inflation is on a rampage, at least in some sectors of the economy. When you see someone just out of high school with little or no training being offered north of $15 to take a low-level job that two years ago paid around $8 it is clear. Soaring food and energy prices are also adding to the mix.
Both of these issues dovetail with a massive growth in online retailing driven by companies being forced to compete with Amazon. America has yet to deal with the negative ramifications Amazon is showering upon it as it destroys small businesses in our communities. Yes, these are the same businesses that provide jobs for your neighbors, support local sports teams, and pay property taxes. Of course, Jeff Bezos did not do this alone, he had the help of politicians, our government, and the United States postal service, all of which joined in throwing brick and mortar retailers under the bus.
Another thing I wish to address here is how miss-leading claims of growing retail sales have squashed concerns the economy is in real trouble. Why would they not be higher, the recession caused by Covid-19 was the first in our history where even while millions of people were not working incomes rose. It should be noted much of the meager 1.7% rise in retail sales was due to inflation people, Yes, we are paying more for less, in some cases, a lot more. 
Only Over Many Years Do We Gain True Perspective
Throw in the soaring national debt, the soaring trade deficit, soaring inequality, underfunded pensions, and a few other ugly issues, and tears should be streaming down the faces of all who want to leave the world better off for future generations. The distorted nature of our current market becomes apparent when you look closer at the society we are becoming as people walk along with their eyes glued to their cell phones.
In our rapidly changing world, decades of economic perspective are badly needed to understand today's financial markets. As a person who cares about and is concerned about the economy, I find it very disturbing that so many people have forgotten or never taken the time to learn recent financial history. By recent, I'm referring to the last fifty to one hundred years.
The further we look back in history, it could be argued that the relevance and lessons we have learned weaken because the economy and financial landscape of today is considerably different from that of our predecessors. Still, those without a long-term view or outlook of the economy wander about with what might be called "blind spots." This means, they may be unable to imagine or may miss possible scenarios as to how the world might react to unfolding events. I always marvel when I hear some young expert telling people how to invest by cranking out the wisdom they picked up in school only last year. Remember, if you decide they have all the answers, you may find yourself generating a fresh batch of tears.
Tyler Durden
Thu, 11/25/2021 – 15:35
inflation
deflation
markets
Transitory Is Dead: Goldman Now Expects Fed To Double Pace Of Tapering In December, Hike Three Times In 2022
Transitory Is Dead: Goldman Now Expects Fed To Double Pace Of Tapering In December, Hike Three Times In 2022
Less than a month after Goldman…
Transitory Is Dead: Goldman Now Expects Fed To Double Pace Of Tapering In December, Hike Three Times In 2022
Less than a month after Goldman capitulated and finally admitted it was dead wrong about its "transitory" inflation thesis – a laughably fragile argument, as just one look at the bank's linearly rising monthly inflation forecasts would immediately reveal…

… and the bank pulled forward its first rate hike forecast from by one year mid 2023 to July 2022, this morning Goldman has fully thrown in the towel on any pretense that inflation will drop in the next few months (or year).
As a result, after noting that not only the latest FOMC Minutes released yesterday hinted at faster than expected inflation if not outright stagflation, but that Several FOMC participants have signaled over the last couple of weeks that they are open to accelerating the pace of tapering – including Vice Chair Clarida and most recently San Francisco Fed President Daly …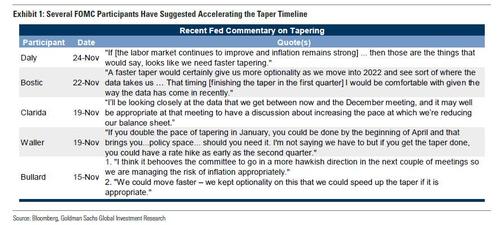 … the bank concludes that "the increased openness to accelerating the taper pace likely reflects both somewhat higher-than-expected inflation over the last two months and greater comfort among Fed officials that a faster pace would not shock financial markets" – something Goldman's highly paid economists clearly were unable to express until just weeks ago.
The increased openness to accelerating the taper pace likely reflects both somewhat higher-than-expected inflation over the last two months and greater comfort among Fed officials that a faster pace would not shock financial markets. Some Fed officials might be persuaded to accelerate the taper by the upside inflation surprises over the last two months, especially on the shelter component. Other Fed officials, especially in the leadership, might have already expected inflation prints to remain high through the winter, but—with market pricing of rate hikes in the first half of 2022 rising—might now feel more confident that accelerating the pace, which is already more than twice as fast as the pace last cycle, will not produce the sort of unexpected market turmoil that reductions in balance sheet accommodation have sometimes caused in the past.
So with the Fed now also conceding that a faster taper is in the works, Goldman which was dismally wrong in its Fed forecasts until last month, now expects the Fed to announce at its December meeting that it is doubling the pace of tapering to $30bn per month starting in January. 
In that scenario, "the FOMC would announce the final two tapers at its January meeting and implement the final taper in mid-March, several days before the March FOMC meeting"
And since the taper will now end in March, it also means that more hikes are coming: according to Goldman, while this faster pace of tapering would allow the FOMC to consider a rate hike as early as March, the bank's best guess is that it will wait until June. By that point, a few additional employment reports will be available and will – perhaps – show a labor market that Fed officials feel more comfortable characterizing as having reached maximum employment. According to Goldman "The FOMC might say at its March meeting that it is evaluating the impact of tapering and will begin the discussion of rate hikes soon, then hint at its May meeting that a hike is coming soon, before ultimately hiking in June."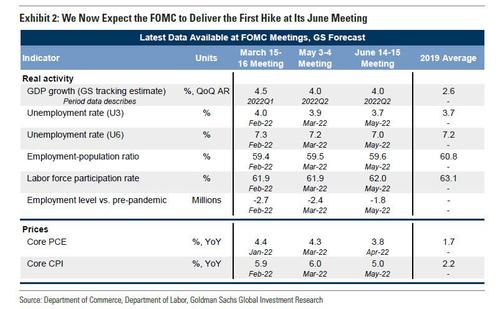 In other words, Goldman now expects hikes in June, September, and December, for a total of three in 2022 (vs. two in July and November previously), followed by two hikes per year starting in 2023 (this is completely laughable as the market will crash long before then but let's pretend Goldman knows what it is talking about for once).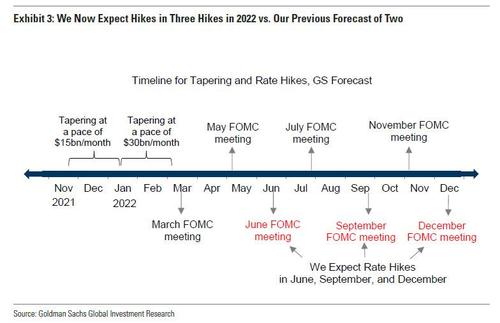 It gets even funnier, because according to Goldman's chief economist Jan Jatzius, there is also an alternative path of hikes at the May, July, and November meetings as a realistic possibility too.
Such an aggressive hawkish view from Goldman – which has been highly bullish on the state of the US economy in 2022 – is understandable, if odd especially when one considers that Morgan Stanley, which has a far more bearish outlook on the US economy in 2022 sees no rate hikes next year whatsoever.
In other words, 2022 is shaping up as a giant clash between the two most notable economist teams on Wall Street – Goldman, which sees three rate hikes, and Morgan Stanley, which sees zero. That's also why as Hatzius concedes, the "largest risk to our expectation of an early liftoff is that some participants might find it hard to square a still-large employment gap relative to the pre-pandemic level with the guidance that the FOMC will not hike until the labor market reaches maximum employment… But we expect the unemployment rate to have fallen to 3.7% by June 2022, and we think that most participants, even many of the doves, will conclude that after a prolonged period in which job opportunities have been plentiful, any decline in the participation rate that remains by the middle of next year is likely to be mostly voluntary or structural."
Actually there is an even larger risk: a recession next year as the economy collapses under its own weight since no more stimmies are propping up the US consumer. The largest risk, however, is a "catastrophic" 10%+ drop in the market which would put an immediate end to any tightening plans the Fed may have and lead to QE and potentially NIRP over the next 12 months. We will be sure to follow up on this post in 12 months to see who was right.
Tyler Durden Thu, 11/25/2021 – 15:10 inflation stagflation markets fed crash