Canadian dollar hits 4-week high
The Canadian dollar has posted slight gains on Friday. Currently, USD/CAD is trading at 1.2646, down 0.24% on the day. Canadian dollar closes in on 1.26 line The Canadian dollar has been creeping higher since mid-week. Earlier in the day, USD/CAD dropped.
The Canadian dollar has posted slight gains on Friday. Currently, USD/CAD is trading at 1.2646, down 0.24% on the day.
Canadian dollar closes in on 1.26 line
The Canadian dollar has been creeping higher since mid-week. Earlier in the day, USD/CAD dropped to a low of 1.2609, its lowest level in four weeks. The US dollar eased overnight, and the dollar index has dropped on Friday 0.38%, to 90.24. There is support at 90.00, and a daily close below this level would signal a downtrend for the US currency.
Investors brace for soft retail sales
Canada releases retail sales reports for December later in the day (13:30 GMT). The release follows US retail sales earlier this week, but the numbers are expected to be much worse. US retail sales sizzled in January, with a gain of 5.3%, good enough for a seven-month high. The street consensus call for declines of -2.5% for headline retail sales and -2.4% for core retail sales, respectively. This would point to a sharp contraction in consumer spending, and if the forecasts prove accurate, we can expect the Canadian dollar to fall in the North American session.
Investors shrug as Canada ADP nonfarm payrolls sinks
Canada's ADP nonfarm payrolls report has managed just one gain over the past five months, pointing to weakness in the labor market. After a small decline in December of -28.8 thousand, January was a disaster, with the economy shedding some 231.2 thousand jobs. The ADP report comes after the official Stats Canada release two weeks ago (Employment Change), which came in at -212.8 thousand, its worst reading since April 2020, when the economy was largely shut down due to Covid-19. Still, investors did not pay all that much attention to the ADP report, and the Canadian dollar registered small gains on Thursday.
.
USD/CAD Technical
There is resistance at 1.2764. Above, we find resistance at 1.2834
USD/CAD is testing support at 1.2642, followed by support at 1.2590
The 50-day moving average is at 1.2742
For a look at all of today's economic events, check out our economic calendar. www.marketpulse.com/economic-events/
us dollar
Use Caution As the Pullback Could Continue for Ethereum
After making it back near $4,000 per token, Ethereum (CCC:ETH-USD) prices have pulled back in the past few weeks.
Source: shutterstock
Mainly, the pullback…
After making it back near $4,000 per token, Ethereum (CCC:ETH-USD) prices have pulled back in the past few weeks.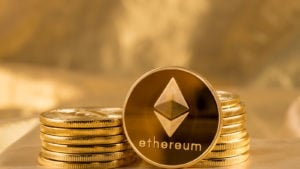 Source: shutterstock
Mainly, the pullback was a result of the crypto flash-crash experienced on Sept. 7. But profit taking by traders who bought the popular altcoin before it surged due to the launch of its London Hard fork may have also played a role as well.
No matter the reason, one thing's for sure. Don't assume this latest pullback will be short-lived. Yes, with its increasing utility and institutional interest, Ethereum's chances of hitting $4,000 again look high. So too, do its prospects of ultimately rallying to five-digit price levels.
Yet such a move may take time to happen. For now, with the concerns with crypto overall I've highlighted previously still on the table, and the likelihood that this rising uncertainty compels more traders to take profit, you can expect Ethereum to remain on its current downward trajectory.
Trading for around $3,100 as of this writing, a move back below $3,000 may be in the cards. For cryptocurrency investors with a long-time horizon, possible short-term volatility may not be a big issue. Buying now may still be worthwhile.
If you're looking for a quick profit, however, you should hold off for now.
It May Be a While Before Ethereum Surges Again
Rival altcoins like Cardano (CCC:ADA-USD) could eventually give Ethereum a run for its money. But for now, ETH remains the main crypto used in DeFi, or decentralized finance, transactions. Recent and upcoming improvements could help it hold onto this dominance. I'm talking about last month's hard-fork upgrades, plus its planned switch from running on proof-of-work (PoW) to running on proof-of-stake (PoS).
This bodes well for prices in the long term, assuming DeFi continues making its way toward getting critical mass, and starts to truly disrupt the traditional fiat-based financial system. What also bodes well for Ethereum is increasing enthusiasm for it by institutional investors.
For instance, growth stock guru and Ark Invest head Cathie Wood has become more vocal in her bullishness on Ethereum. But unlike with Bitcoin (CCC:BTC-USD), which she predicts will hit $500,000 within the next five years, Wood has not provided a definite number as to where this crypto is headed during the same timeframe.
Nevertheless, one crypto market commentator has taken her recent shilling of ETH, along with the large amount of Ethereum leaving exchanges, as a sign it's fast heading to $10,000 as institutional investors dive into it with full force.
So, does this mean it's high time to buy the dip, locking down a position before it makes a quick trip to five-digit prices? Not so fast! While there may be a path for it to ultimately hit such levels, it's likely not happening soon.
Still Plenty in Play to Send It Back Below $3,000
Investors bullish on Ethereum may be on the money about its eventual move to substantially higher prices. Yet in the short term, there's just too much going on to push it lower. First, there's the increasing call for crypto market regulation. Admittedly, this is an existing issue, and one market participants have so far ignored.
Even so, that may not continue to be the case. At first, possible regulation by the U.S. may appear to be a sign that this asset class is ready for prime time, to be followed by a large inflow of institutional money. But what if the point of increased regulation is to prevent crypto/DeFi from growing in popularity?
Take, for example, the efforts by the Securities and Exchange Commission to prevent Coinbase (NASDAQ:COIN) from launching its Coinbase Lend service. It remains to be seen whether increased scrutiny of crypto products will affect usage growth for DeFi. If it does? This may challenge the idea that increased
Along with regulatory risk, there's the risk that, if markets get rocky, speculative assets like cryptocurrencies will fall in price as well. With both uncertainties hanging over it, don't be surprised if traders continue to take profit, sending Ethereum back below $3,000.
Only Buy Today If You're in For The Long Haul
In the long run, ETH-USD may have a road to $10,000 and above. If DeFi takes off and institutional investors allocate more capital to this top altcoin, it may eventually make it to five-digit price levels. Just don't expect to happen in a matter of months. At least until the issues weighing over it today clear up or play out.
As regulatory and market risks remain, traders looking at it as a short-term play should be cautious with Ethereum. Holding it through uncertainty could pay off on the other side.
On the date of publication, Thomas Niel held long positions in Bitcoin and Ethereum. He did not have (either directly or indirectly) any positions in any other securities mentioned in this article. The opinions expressed in this article are those of the writer, subject to the InvestorPlace.com Publishing Guidelines.
Thomas Niel, contributor for InvestorPlace.com, has been writing single-stock analysis for web-based publications since 2016.
More From InvestorPlace
The post Use Caution As the Pullback Could Continue for Ethereum appeared first on InvestorPlace.
markets
crash
The dot plot thickens
All eyes on FOMC meeting FOMC day finally arrives with markets already being buffeted by a variety of inputs. Although I expect the FOMC to not give too…
All eyes on FOMC meeting
FOMC day finally arrives with markets already being buffeted by a variety of inputs. Although I expect the FOMC to not give too much away on the tapering front, the best we can expect I believe is a signal that they will make a firm decision on whether to start at the November meeting, we could in for a surprise on the latest dot plot. The dot plot, which charts FOMC members' timelines for rate hikes or cuts could see more members moving hiking expectations into 2022. We may not get a taper tantrum lite from tapering comments, but we could from a more hawkish dot plot. I've long given up hope that US bond yields will react materially, but we could see a further extension to the US dollar rally and equities and commodities probably won't have a good day at the office.
It is a busy day for central banks anyway with the Bank of Japan announcing its latest policy decision this morning. Like Indonesia yesterday, I expect no change from the BOJ, with a new prime minister to be chosen next week and an election to hold in the next couple of months. They may downgrade growth expectations and hint that more stimulus is ready should the economy slow, which should be supportive of Japan equities. Paraguay sneaked in a 0.50% rate hike this morning Asia time, and Brazil this evening, after the FOMC looks set to hike rates by another 1.0%. With Russia also on a hiking path, parts of the EM world could become attractive carry propositions if Mr Powell keeps the dovish hat firmly on. Turkey should be hiking, but that is a quick path to unemployment if you are the central bank governor.
Mainland China returns to work today although Hong Kong markets are on holiday in a game of tag. China has left its one and five-year Loan Prime Rates unchanged at 3.85% and 4.65% respectively as expected. Another RRR cut, probably early in Q4, is my favoured easing path for the PBOC. With one eye on the Evergrande saga, which has captured the world's attention, the PBOC has injected a chunky liquidity injection today of CNY 120 billion via the 7 and 14-day repos. Whether that is enough to soothe frayed nerves in China remains to be seen.
What has soothed nerves is Reuters reporting that Evergrande's Hengda Real Estate unit will make coupon payments on onshore bonds that was due tomorrow. That saw an immediate jump in the risk-correlated Australian and New Zealand dollars, and some buying coming into early Asian equity markets. However, the Evergrande story will keep on giving with the Financial Times reporting yesterday that Evergrande issued wealth management products sold to Chinese retail investors were used to plug financial holes in various subsidiaries. Concerns also swirl around its stake in a regional Chinese bank and whether it has been borrowing from itself effectively. The coupon payment story is likely only a temporary reprieve with no signals from the Chinese government over what steps, if any, it will take to assist an orderly wind down or restructuring.
US markets are contending with their own challenges in addition to the FOMC. The House of Representatives passed a vote to extend the US debt ceiling until after next year's mid-term elections and will vote on a full bill today. It will likely be dead on arrival in the US Senate though, with Mitch McConnell as much as saying so, forcing the process into reconciliation to pass. The tiresome gamesmanship over the debt ceiling from both sides should be another reason for the Fed to stay on the cautious side of things this evening.
Natural gas prices continue to make headlines with European gas prices having climbed by over 400%. Most of the noise is around the 10-20% of gas that producers keep for the spot market and here it seems Asia is winning the bidding war. Gazprom is reluctant to increase export volumes to Europe above contracted amounts, meaning no spot gas. Bemusingly, signals from Russia suggest that a quick approval and certification of the new NordStream2 pipeline could result in an immediate increase. All Europe and Asia, to a lesser extent, can do, is hope for a mild winter at this stage. Europe is paying the price for its naivety in tying energy security to Russia in the hope that it would be a reliable partner. That's like me turning structurally bullish on cryptocurrencies and starting to call them an investable versus tradeable asset class.
For today, Evergrande has knocked the FOMC meeting into second place in the attention of Asian investors. I expect regional markets to be buffeted by headlines emerging from that situation and the price action after the coupon payment news suggests dip buyers hungrily await in everything if even tenuous positive news arrives.
dollar
commodities
markets
policy
fed
central bank
us dollar
When Will "Transitory Inflation" Overstay Its Welcome?
There has been much talk of "transitory inflation", but the evidence is starting to suggest the term may overstay its welcome.
The Fed chose the word…
There has been much talk of "transitory inflation", but the evidence is starting to suggest the term may overstay its welcome.
The Fed chose the word "transitory" to describe this instance of rising prices because of its imprecision. Transitory can denote hours, months, or decades. Using transitory versus a specific period provides the Fed freedom to be wrong but be grammatically correct.
While the Fed uses ambiguous words, Mr. Market may have more defined expectations. If investors grow impatient with the Fed's transitory, bond markets may react. In such a case, how will the Fed respond to "enduring" or "lasting" inflation coupled with higher yields? If they are already tapering, will such conditions push them to speed up their pace?
Conversely, recent data shows inflation may be stabilizing. Maybe the Fed is correct, and inflation rates will normalize in the coming months. If so, will they hold off on tapering or reduce the rate of tapering?
In July, we wrote Just How Transitory is Inflation?  The article is a deep dive analysis of CPI. At the time, we sought a better understanding of what was causing inflation to rise. With two more months of inflationary data, an update is essential.  
Understanding inflation beyond the headlines helps us answer the all-important question: Just how transitory is transitory? From there, we can begin to assess potential Fed and market reactions.
Headline CPI Summary
In the latest CPI report, covering August, the monthly CPI figure rose by 0.3% or 3.6% annualized. The year-over-year rate is +5.30%. In comparison, June's monthly CPI rose by 0.90% or nearly 11% annualized. Despite the big difference in monthly rates, June's year-over-year change of +5.40% is only 0.10% higher than August.
As shown, the monthly CPI and core (excluding food and energy) are turning lower. While not as pronounced, the annual data is following suit. Two months does not make a trend, but it appears to be fulfilling the transitory definition. Core CPI, at +0.10% last month, is 0.10% below the average for 2017-2019. Headline CPI is only 0.10% above the average.
The headline data is supportive of the transitory narrative; however, it does not tell the whole story.
The Breadth of CPI
Digging deeper into CPI and looking beyond the headline averages may not support the word transitory. The graph below shows the CPI Index based on the median price of the goods and services in the index. Unlike the headline CPI Index, median CPI is still rising and at the highest level since 2008.
The distribution graph below compares June to August regarding how the prices of all the underlying goods and services within CPI are changing on an annual basis. We separate the data into 2% price buckets.
The blue (August) and orange (June) bars comparing the two months may look somewhat similar, but there are differences worth discussing.
In June, 75% of the CPI components were rising at a rate slower than the 5.4% inflation rate. In August, 71% were rising at a slower rate than the 5.3% rate of inflation.
The number of goods whose prices rose between 2% and 10% increased from 66 to 77. The number of goods whose prices rose by 2% or less fell from 72 to 55. While subtle in the graph, the number of goods shifting to the right (more inflation) is noteworthy.
52 of the goods and services have price declines from June to August. Six were unchanged, and 95 had price increases. Again, more goods are rising in price than falling.
The breadth of the market is not supportive of the transitory theme. A wide swath of prices are broadly rising, albeit not at an alarming pace.
Outliers
In the original article, four goods had year-over-year price changes of greater than 20%, as shown below.
Used Cars 45.2%
Gasoline 45.1%
Fuel Oil 44.5%
Other Motor Fuels 32.1%
In the August report, six goods had greater than 20% increases. The four goods from June maintain annual 20% rates of inflation. Added to the list are propane and utility services.
The inflationary outliers continue to be energy and auto-based. Both are rising in large part due to the reopening of the economy and supply disruptions. We expect both will moderate in the coming months. As this occurs, they will put less upward pressure on the CPI Index.
Employee and school cafeteria food prices are down well below 20%. Over time these should moderate as schools and offices come online. Such will result in inflationary pressures.   
Big Contributors
In June, 92% of CPI was due to the price changes of the ten largest index weightings, as shown below. Those ten goods played slightly less of a role in August, contributing 82% to the change in the index. Below is a comparison of the same ten contributors for June versus August.
The prices of Used Cars and Transportations rose at a lesser rate than June, but every other category was little changed.
In the original article, we warn Shelter prices are the most considerable risk to more inflation. Driving our concern is Shelter's 30%+ contribution to CPI and rapidly rising home and rent prices.  As we show above, higher home and rental prices are barely making their way into CPI.  
What gives?
In our article BLS' Housing Inflation Measure is Hypothetical Bull****, we stated: "It appears impossible to calculate the BLS version of OER or rent."
We remain concerned that a double-digit increase in rent and home prices (OER) will push Shelter prices higher in the months ahead. However, history proves reality, and the BLS Shelter measure has a near-zero correlation.
Flexible Prices
As we wrote in June, CPI tends to be heavily correlated with goods and services that have flexible prices. These are goods like gasoline, whose prices tend to fluctuate both up and down. The Atlanta Fed publishes data on flexible and sticky prices, as shown below.
The graph shows sharp increases in both flexible and sticky-price goods are leveling off over the last two months. Given the Atlanta Fed measure of flexible prices has a 96% correlation with CPI, we are hopeful the upsurge is halting.
Expectations
The graph below shows a glaring divergence between Wall Street inflation expectations and those of Mom and Pop. Five and ten-year market-implied inflation expectations have been stable since January. All the while, the University of Michigan survey of consumers sees steadily rising inflation expectations.
While Wall Street buys into the transitory theme, consumers are not. This divergence matters as personal consumption drives about two-thirds of economic activity.
The New York Fed, via their latest Consumer Expectations Survey, highlights why confidence is weak. Per their survey, expected inflation is now over 5% and rising. At the same time, expected wage growth is 2.5% and stable/falling. As a result, consumers expect to lose 2.64% (red line) in purchasing power over the next year. Would you be confident taking a 2.64% pay cut?  
Summary
We are witnessing unprecedented pressures on the supply and demand side of pricing equations. Forecasting, with such uncertainty, is challenging. As such, we maintain a humble approach to inflation forecasting.
The latest round of data provides some evidence inflationary pressures are abating. However, the breadth of the data tells us there are still many goods and services still rising in price. This difference may help explain why consumer inflation expectations are higher than the market's and confidence is falling.
Just How Transitory is Transitory? We suspect the market will have its answer in the next few months. Prolonged rising or high inflation beyond December will likely get many to question if inflation is truly transitory. Until then, pay attention to headline inflation, the breadth of the data, and especially any effects from rising Shelter prices on CPI.
The post When Will "Transitory Inflation" Overstay Its Welcome? appeared first on RIA.
inflation
markets
fed
correlation
inflationary