Commodity and Cryptos: Oil rallies, gold pares weekly gain, Musk pumps up Dogecoin
Oil Crude prices continue to rally on optimism that the oil market will remain tight as COVID pandemic starts to move into the endemic phase.  Money managers…
Oil
Crude prices continue to rally on optimism that the oil market will remain tight as COVID pandemic starts to move into the endemic phase.  Money managers are turning very bullish with Brent crude, sending bullish bets to an 11-week high.  Today's oil price rally is very impressive given how strong the dollar is today.
WTI crude prices pared some gains after the weekly Baker Hughes rig count data showed oil rig counts increased by 11 to 492.  WTI crude is not too far from the October 25th high of $85.41, which means if that level is surpassed, prices may not have much resistance until just ahead of the psychological $90 level.
Gold
Gold finished on a down note as the dollar surged after bank earnings painted a picture that most companies will face higher-than-expected expenses. The first taste of big earnings has everyone on Wall Street worrying about wage inflation and that might force the Fed to be more aggressive in removing accommodation.
Gold may be in for a choppy period until the January 26th FOMC meeting.  Gold traders want more clarity on how aggressive the Fed may be in reducing the balance sheet as that will dictate how high rates on the back-end of the curve can go.
Cryptos
Elon Musk's tweet that Tesla merchandise can now be bought with Dogecoin sent the meme-based cryptocurrency surging higher.  Dogecoin rallied over 20% to $0.20 before settling around $0.1869.  Last month, Musk hinted this would happen as a pilot was done for accepting Dogecoin on a test basis.
Despite Dogecoin's big move, this Tesla story isn't a gamechanger and probably won't be a catalyst for it to recapture the highs seen last summer.
US Close: Wage inflation worries send stocks lower, US data
US stocks struggled after the big banks had a rough start to earnings season.  JPMorgan shares dropped sharply over fears that surging expenses and wage…
US stocks struggled after the big banks had a rough start to earnings season.  JPMorgan shares dropped sharply over fears that surging expenses and wage inflation may lead to a greater profit miss over the next couple of years. Risk appetite did not get any favors from a wrath of US economic data that missed expectations, raising fears that the underlying recovery is vulnerable. The great cyclical rotation was reversed today and even though Treasury yields soared higher, tech stocks caught a bid.
US data
US retail spending decreased by 1.9% in December, much worse than the expected 0.1% decline.  Online sales fell by 8.7%, but that should not be the beginning of a trend.  Americans most likely got their holiday shopping done early and the spread of omicron dampened some in-store shopping. Retail sales will continue to decline in January.
The preliminary January consumer sentiment dropped sharply to the second lowest level in a decade. This weakness was mostly omicron related but that should hopefully be in March.  Inflation expectations also rose and that will likely remain the case until CPI peaks over the next couple of months.
Manufacturing production weakened, even ex-autos, while Industrial production came in a little soft. The manufacturing and industrial production recovery will improve if this omicron wave passes in February.
7 Earnings Reports to Watch the Week of January 17
Fourth quarter earnings season is underway and expectations are running high. Data from FactSet shows that companies listed on the S&P 500 index are…
Fourth quarter earnings season is underway and expectations are running high. Data from FactSet shows that companies listed on the S&P 500 index are forecast to generate an average 21.7% year-over-year increase in earnings per share for the fourth quarter of 2021. If accurate, the growth would represent the fourth consecutive quarter where corporate earnings have grown by more than 20%. A healthy amount of positive earnings reports will help to keep the stock market buoyant even in the face of looming interest rate hikes.
Earnings season kicked off today (Jan. 14) with four major U.S. financial institutions releasing earnings reports. Over the coming week, the remaining U.S. banks will announce their Q4 numbers before ending the week with the start of big tech and airline earnings.
Here are seven influential, widely held stocks with quarterly earnings reports the week of Jan. 17.
7 Earnings Reports to Watch the Week of January 17: Charles Schwab (SCHW)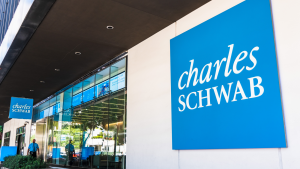 Source: Sundry Photography / Shutterstock.com
The week kicks off with Q4 numbers from financial services giant Charles Schwab, whose share price has been on fire lately.
SCHW stock has risen nearly 20% in the past month to $94 a share and has now gained 31% over the last six months. The rally has been sparked by a general rise in bank and financial stocks as higher interest rates approach, and also the company's strong earnings throughout 2021. For the third quarter, Charles Schwab announced $4.6 billion in revenue and a record $1.5 billion in net income, which was a 119% increase from a year earlier. Those kinds of numbers attract attention.
Through the first nine months of 2021, Charles Schwab's revenue totaled $13.8 billion, up 84% over the previous year, along with $4.3 billion in net income, up 98% from the same period of 2020. At last count, Charles Schwab was managing $7.6 trillion of client assets, up from $6.7 trillion at the start of last year. Can the Westlake, Texas-based company finish off an already exceptional year strong?
Analysts think so. Wall Street is calling for the financial company to report earnings per share (EPS) of $0.87 on revenues of $4.77 billion for the fourth quarter. Anything better than that and the momentum in SCHW stock could accelerate.
Goldman Sachs (GS)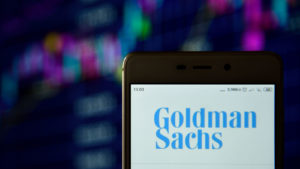 Source: Volodymyr Plysiuk / Shutterstock.com
Leading investment bank Goldman Sachs is coming off a record year for deals with the value of mergers and acquisitions (M&A) and initial public offerings (IPOs) at an all-time high.
IPOs around the world last year raised a record $594 billion, according to the Reuters. And Goldman Sachs once again topped the global league tables of deal advisors. However, Goldman Sachs' success has not been reflected in its share price, which has not kept pace with its peers. In the last six months, GS stock gained only 5%, including a 2% advance over the past month. And it just to lost all those measly gains early in today's trading.
The prominent Wall Street bank's stock now trades at just under $376 a share, 12% below its 52-week high.
A strong Q4 showing could be the catalyst needed to again move GS stock above $400 a share, a level it has struggled to stay above since early November.
Analysts are forecasting Q4 EPS of $11.77 and revenue of $12 billion, which would be 2.6% higher than a year earlier. Any beat to the upside will be viewed favorably by investors. However, it is worth noting that Goldman Sachs stock looks cheap right now with a price-to-earnings (P/E) ratio of 6.21, which is low when compared to the average P/E ratio for stocks listed on the S&P 500 index of 15.96. The median price target on the stock is currently $462.50, which implies an 23% gain from current levels.
7 Earnings Reports to Watch the Week of January 17: Bank of America (BAC)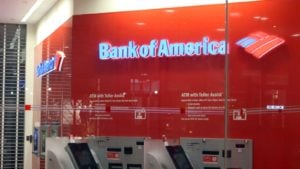 Source: PL Gould / Shutterstock.com
Bank of America reports Q4 earnings on Jan. 19 and investors will be looking for evidence that the second largest financial institution in the U.S. is emerging from the global pandemic in a strong position.
So far, all indications are that Bank of America is in a better spot today than before the Covid-19 pandemic. The average checking account balance at the lender is 40% higher than it was in 2019 before Covid-19; its digital sales such as online loans are 33% greater than pre-pandemic levels; and its investment banking market share has grown to 6.9%, which is larger than before the pandemic.
While its growth has been impressive, Bank of America is positioned to perform even better as the Federal Reserve raises interest rates over the course of this year to cool down inflation that reached 7% in December, a 40-year high. The lender has estimated that a 100-basis-point rise in the interest rate yield curve will provide it with $7.2 billion in additional net interest income annually. Higher rates and continued growth could help to propel BAC stock higher. The share price has gained 9% in the last month as the Fed has made clear that rates are going up. For its fourth-quarter results, Wall Street expects Bank of America to report EPS of $0.76 on revenue of $22.31 billion.
Morgan Stanley (MS)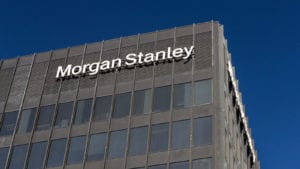 Source: Ken Wolter / Shutterstock.com
Another prominent investment bank, Morgan Stanley, reports earnings next week and, like Goldman Sachs, it is coming off a strong year of global deals. And the firm is rewarding its staff handsomely for the 2021 results with media reports saying that Morgan Stanley plans to raise its annual bonuses by 20%, setting a tone across Wall Street.
MS stock has been a relatively strong performer over the last six months, having climbed 5% higher to its current price of $98 per share. For the fourth quarter, analysts have forecast that Morgan Stanley will announce EPS of $39.33 on revenues of $2.99 billion.
In the previous third quarter, Morgan Stanley beat Wall Street estimates across the board on strong stock trading and investment banking performances. The firm continues to operate the world's biggest equities trading desk. However, there has been some concern about Morgan Stanley's bond trading unit, which underperformed in the third quarter, with revenue coming in at $1.68 billion, below the $2 billion that had been expected. Analysts will be parsing the fourth quarter results for signs of how Morgan Stanley's wealth management business is doing. A key priority of Chief Executive James Gorman, Morgan Stanley has built its wealth management offering into one of the world's largest through a series of acquisitions over the past two years.
7 Earnings Reports to Watch the Week of January 17: U.S. Bancorp (USB)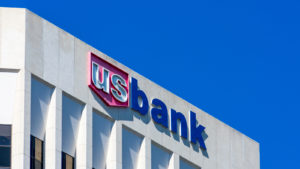 Source: Michael Vi / Shutterstock.com
Minneapolis-based U.S. Bancorp is the fifth largest banking institution in America with more than $550 billion in assets. Like other banks, USB stock has been on an upswing lately having risen 12% in the last 30 days to $63.43 a share. Over the past 12-months, USB stock has gained 27%.
The bank's earnings over the past year have been a tale of two sides of the business. In the third quarter, U.S. Bancorp's payments service grew 3% as consumers spend more as we emerge from the pandemic, while the corporate banking side of the ledger decreased 13% compared to the same quarter a year earlier.
This year, U.S. Bancorp should also be a beneficiary of higher interest rates.
Also this year, U.S. Bancorp is making it a priority to integrate its payments and commercial banking businesses as 70% of the bank's business banking customers don't currently have one of its payments products. Plus, U.S. Bancorp is in the process of acquiring the U.S. banking division of Mitsubishi UFJ Financial Group (NYSE:MUFG), a deal that gives U.S. Bancorp an additional 190,000 business banking customers and a greater presence in California, the most populous state in the union. As far as analysts are concerned, they are looking for U.S. Bancorp to report EPS of $1.1 on revenues of $5.75 billion when it announces earnings on Jan. 19.
Netflix (NFLX)
Where does streaming giant Netflix go from here?
That's the question a number of analysts are asking ahead of the company reporting its latest numbers on Jan. 20. Many are fretting about slowing growth coming out of the pandemic and as Netflix faces an onslaught of competition that is only intensifying. Indeed, subscriber numbers tend to be what moves NFLX stock more than any other metric.
Research firm MoffettNathanson recently lowered its price target on Netflix by $5 to $460 per share and maintained a "neutral" rating on the stock. The concerns seem to be impacting sentiment around Netflix, whose stock has fallen 15% in the last month to $516.55 a share.
For its part, Netflix will no doubt be looking to show that popular movies such as "Don't Look Up" and international hits such as the series "Squid Game" attracted more subscribers in the fourth quarter.
Any signs of a slowdown in the company's subscriptions will likely push the share price lower. And, to be fair, Netflix faces some tough comparables after it added 4.4 million new subscribers in the third quarter of 2021 for a total of 214 million paid global subscriptions, which beat the 3.5 million Q3 goal the company had set for itself.
Wall Street is looking for Netflix to announce EPS of $0.82 on revenues of $7.71 billion when it reports next week.
7 Earnings Reports to Watch the Week of January 17: American Airlines (AAL)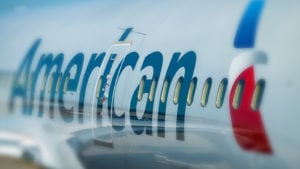 Source: GagliardiPhotography / Shutterstock.com
Shares of the largest airline in the world are popping ahead of its earnings on Jan. 20.
On the day of this writing, AAL stock is up 5% in one trading session to just under $20 a share.
News that rival airline Delta (NYSE:DAL) reported better than expected earnings (the first airline to report Q4 numbers) lifted the entire sector. Delta reported that it earned $0.22 per share in the fourth quarter on revenues of $9.47 billion. That was much better than the consensus estimate of $0.14 EPS on sales of $9.2 billion. Delta attributed the better-than-expected results to strong bookings during the November and December holiday period. 
Expectations are that American Airlines can also produce a strong Q4 print, especially given its international exposure (it travels to more foreign destinations than any other carrier) and as travel demand continues to strengthen. Of course, the omicron variant of Covid-19 could put a damper on American Airlines earnings but investors appear ready to look beyond the pandemic when it comes to the aviation sector. In the last month, AAL stock has climbed 9% higher. Analysts are forecasting that American Airlines will report EPS loss of -$1.58 on revenues of $9.33 billion for Q4.
On the date of publication, Joel Baglole held a long position in MS. The opinions expressed in this article are those of the writer, subject to the InvestorPlace.com Publishing Guidelines.
Joel Baglole has been a business journalist for 20 years. He spent five years as a staff reporter at The Wall Street Journal, and has also written for The Washington Post and Toronto Star newspapers, as well as financial websites such as The Motley Fool and Investopedia. 
More From InvestorPlace
The post 7 Earnings Reports to Watch the Week of January 17 appeared first on InvestorPlace.
One Bank Predicts $3 Trillion In Quantitative Tightening Coming
One Bank Predicts $3 Trillion In Quantitative Tightening Coming
Wall Street has officially jumped the shark: with the economy set to slow…
One Bank Predicts $3 Trillion In Quantitative Tightening Coming
Wall Street has officially jumped the shark: with the economy set to slow this year – even as supply-driven inflation refuses to relent – consensus now expects 3-4 rate hikes this year (with Jamie Dimon predicting as many as "6 or 7") – some are going so far as to predict how much shrinkage the Fed's balance sheet will see in the coming years once it begins any time between March and June.
Enter Deutsche Bank, which forecasts that once QT begins, the Fed's balance sheet will shrink from $9 trillion currently to $6 trillion.
As DB's Jim Reid notes overnight, citing the bank's economist Matt Luzzetti and rate strategist Steven Zeng, project that the Fed balance sheet would peak just under $9tn after QE completes in March, before falling back to eventually approach 20% of GDP from over 35% today, and around a third smaller than this peak, at which point it will be around $6 trillion.
That, according to Kostin, is a level more consistent with the pre-covid experience and a potential target highlighted by Governor Waller. Under this projection, the balance sheet would reduce by $560bn this year and $1tn in 2023, and the balance in outer years.
As an aside, there zero chance of that happening as by then the US will be in a recession and the Fed will be scrambling to ease as even the market now expects, projecting the next rate cut will take place between 2 and 3 years from today.
There is another reason why this will never happen: the market will implode long before the $3 trillion in QT is completed.
For context, Reid notes that between October 2017 and August 2019, QT reduced the balance sheet by around $700bn from c.$4.47tn to $3.76tn, at which point banks realized they dont have nearly enough reserves and we had the infamous repo crisis which ushered in "NOT QE."
The DB report approximates that a $650-700bn drawdown equates to around a 25bps hike so out to end 2023 they think the reduction will be equal to c.2.5 hikes.
Of course, this is all purely theoretical, and as even Reid notes, his personal view is that "the balance sheet will have to grow substantially again in the years ahead as the authorities are forced to use financial repression in order to make the growing public debt burden sustainable." We agree with this 100%. The only question is what crisis will catalyze the next explosion of the Fed's balance sheet.
Even so, the Fed is increasingly trapped because while it may have no choice but to pivot dovish soon, in 2018 the Fed had the luxury of a dovish pivot as inflation trended back down towards and below 2%. Or as Reid concludes, "will they have the option to be as flexible this time?"
Well, of course: all the Fed needs to do is inspire another global crash a la Lehman and reset the inflationary score. And this time a global pandemic won't cut it.
Tyler Durden
Fri, 01/14/2022 – 14:10
inflation
fed
inflationary
crash