CPI Comes 'Home' To The Other Side of Inverted TIPS
January 2021 was, it may have seemed, only the start of something big. Huge. Colossal. Coronavirus vaccines had been discovered, publicized, and rolled…
January 2021 was, it may have seemed, only the start of something big. Huge. Colossal. Coronavirus vaccines had been discovered, publicized, and rolled out, meaning for the first time a real shot at ending the pandemic. The world could quickly get back to normal, the economy recovering its footing, and between January and that bright future Uncle Sam was going to flood not just the US but much of the rest of the world (starting with US imports) with Treasury's cash.

Everything appeared to be going just right, if not in danger of being "too much." This latter was the phrenzy, a second bout of inflation hysteria which extrapolated (in a straight line) what would never be anything more than a minor bond sell-off into the biggest thing since the Great Inflation; if not Weimar Germany.




Yet, while the hysteria was just ramping up, everyone casually dismissed and ignored the dollar which had been "crashing" yet suddenly stopped and began what eight months later has been a multi-month process of bottoming out while moving higher. Something was up besides its exchange value, a shadowy caution that maybe not much had actually changed in any meaningful sense beyond the short run being filled to the brim with the federal government's digital checks.

It is a pattern we'd seen before, and not all that long ago. The eurodollar already back on its nose even at that early time:
There weren't nearly the same obvious issues in January 2021 like there had been four Septembers ago. On the contrary, after early January it seemed as if for the first time in forever all the good things had been lined up just perfectly for the world to finally right itself. Vaccines, stimulus, you remember all the unchallenged positives.

Funny thing, though, just like September 2017 the dollar curiously stopped "crashing." Defying all the certitude with which this latest dollar downtrend had been called its demise, seemingly out of nowhere it stopped right in its tracks.
Not just Return of the King Dollar (where "king" means the same for the rest of us as it always had with whichever Kong), there were other contrary indications which appeared "out of nowhere" at the same time as the dollar's inflection. A big one showed up in TIPS.

Only a few days apart.

When the dollar bottomed out (according to several broad exchange trade-weighted indices) on January 6, TIPS inflation expectations inverted a mere two days after. That is, the 5-year inflation breakeven (the difference between the disgustingly low real nominal yield and the same maturity nominal UST) on January 8 was a bip more than the inflation breakeven at the 10-year maturity. These are supposed to be the other way around (upward sloping).




This was the first time inflation expectations in TIPS were upside down since…the summer of 2008.

Such inflation "inversion" didn't propose how the world might be poised to repeat everything terrible about that earlier period, instead that when it came to consumer prices represented by the US CPI the market was more and more thinking any possible rise and increase just wouldn't last very long.

Summer '08, you might remember, was desperately weird in this same sense; underneath the last time there were 5% CPI's was a still smoldering dollar shortage which remained poised to wreck things. It only took a few months before that inversion – the inflation expectations market – proved accurate; the Great "Recession" bout of "inflation" soon disappeared as no inflation at all.

Transitory. The eurodollar ruled.

This ongoing January 2021 TIPS inversion has always indicated something similar; generally speaking, temporary. Though the conditions are quite different (still dollar shortage, as represented by the dollar itself), the market suspected that even though producer and consumer prices were about to receive a major boost, like 2008 it wouldn't last, either.

It couldn't last.
Though inflation breakevens continued higher for a time, they did so at these diverging speeds leading very quickly to a record level of TIPS inversion by the middle of February. At the same time "everyone" was getting more confident, hysterically so, about inflation breaking loose, the bond market's inflation-focused section was itself becoming much more confident this would never happen.

I wrote at that point, the day before Fedwire:
Going back to the commodity surge around early January 2021, the TIPS curve has shifted (inverted) toward pricing future scenarios that incorporate the commodity-based influence more exclusively in the shorter end before becoming (far) more modest even downbeat expectations further down it. In other words, yeah, that big jump in oil and copper will have an impact on prices in the near-term, but it's not as large as is being claimed nor is being priced to produce a lasting one.
Why not a lasting one?

As captured by the dollar's sudden "strength", there were already developing negatives deep inside the world's vast monetary shadows. Balance of probabilities, over time "something" about them would spoil the inflation show before it ever truly got going.

Once Fedwire struck, it was all the reminder anyone in the shadows would need.

What that would mean is the same as we'd seen four times prior to 2020; nothing ever better than insufficient reflation because by context of a growing dollar shortage (like late 2017/early 2018) it would sap more and more reflationary economy to the point that eventually it would sink all over again. In terms of prices, demand would inevitably disappoint and they would have to turn back around.

Rising deflationary, not inflationary, potential

Back in '18, globally synchronized "growth" quickly evolved into a globally synchronized downturn "no one" saw coming. Certainly not Powell. Not Kuroda. None of them.

In 2021, such potential for demand disappointment was only heightened by what was really boosting it the most at the time: the feds (not the Fed; never the Fed or its counterparts). Inflation had actually stood a better chance in 2018 because at least then its potential, though slim to near none, was based on real economic progress (a minor upswell) rather than being almost wholly artificial like this year.


When reality slammed into the whole market, mid-March pursuant to the initial rumble at the Fed's reverse repo window (RRP), inflation expectations also followed the entire shift into a deflationary trend. In other words, breakevens stopped rising altogether from then onward even as they've maintained their inverted relationship.

It didn't hit the front pages, of course, inflation potential was already breaking down before the huge CPI's were even published several months later. Hysteria built anyways because, like always, these warnings are dismissed, ignored, rationalized as something else other than a very clear and very powerful sign the mainstream has it all wrong. People want inflation for various reasons, so they block out everything else and commit the same error time and again.

Yet, as the market (not stocks, obviously) had told you since January, even the US CPI's up in the stratosphere would eventually disappoint rather than continue farther up toward Weimar. This began to happen around the edges of the BLS data a few months ago, and today with the estimates for August 2021 consumer prices, the situation has become even clearer.

Not just predictable but literally predicted, not inflation.


The headline CPI was up 5.25% year-over-year during August, but that's the third straight month of deceleration (though only a small bit). This despite continued huge contributions from the energy sector; the energy bucket was up 24.2% year-over-year and accelerated slightly in August, mostly based on motor fuel which was 40.2% higher also faster in August.

What that means is the further you get away from that very narrow if important slice of the economy, the more the other side of transitory hasn't just begun to set in, it is here.

Demand, quite simply, is breaking down across more and more of the (global) economy. As those government helicopter drops fade, the condition what's left underneath isn't the one envisioned during the hysteria ("stimulus" just doesn't stimulate). On the contrary, we're seeing far more sustained weakness which is only a surprise if you think low bond yields are due to QE rather than reflecting shockingly low growth and inflation expectations beyond the influence of Treasury depositing.

Nothing has really changed, including the mainstream's collective ability to misconstrue what's meaningful. Yes, Uncle Sam was huge – but ultimately, like always, futile in the sense of "stimulus." Instead of focusing on that, the markets told you the economy wasn't really recovering in large part because deflationary money potential never went away. In truth, despite Jay Powell's "flood", it really didn't diminish all that much even at reflation's best point late February/early March.

Exactly as the other side of TIPS, the continuously awful real yields, have been pricing the entire time.
dollar
inflation
commodity
monetary
markets
fed
inflationary
deflationary
TSX gains on Trudeau's re-election, loonie up
Canada s broader TSX Index on Tuesday September 21 lifted post the re-election of Prime Minister Justin Trudeau as investors see it as largely a continuation…
Canada's broader TSX Index on Tuesday, September 21, lifted post the re-election of Prime Minister Justin Trudeau as investors see it as largely a continuation of the present economy although few jitters might be witnessed due to the bankruptcy of Chinese property developer, Evergrande. Thus, the TSX Composite Index closed with a gain of 89.75 points or 0.45% to settle at 20,244.29.

The one-year price chart (as on September 21).
Volume active
Canadian Natural Resources was the most actively traded stock where 16.46 million exchanged hands, followed Cenovus Energy Inc. where 10.30 million exchanged hands, and the National Bank of Canada with 6.31 million shares exchanging hands.
Movers and laggards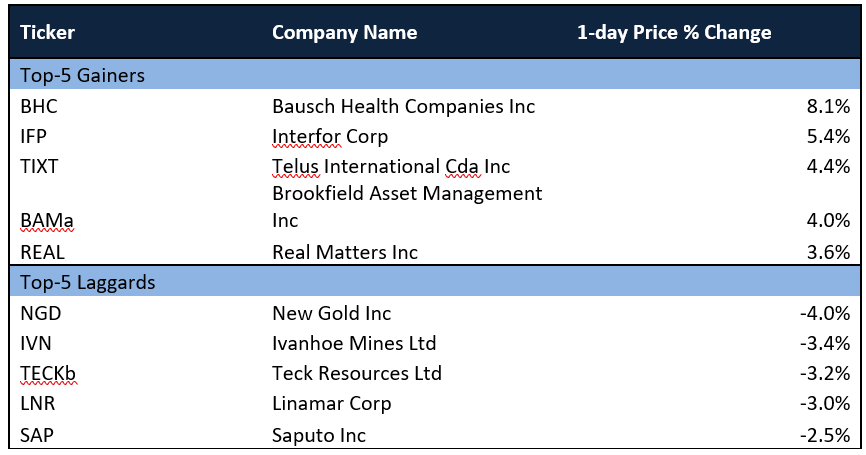 Wall Street update
Wall Street was turbulent as traders awaited the Federal Reserve's monetary policy statement on Wednesday. Following the sell-off observed during trading on Monday, stocks exhibited a lack of direction throughout Tuesday's trading session.
The Dow Jones Industrial Average was down 50.63 points or 0.2% to 33,919.84, while the S&P 500 fell 3.54 points or 0.1% to 4,354.19, while the Nasdaq climbed 32.50 points or 0.2% to 14,746.40.
Commodity update
As Evergrande concerns continued, gold climbed 0.82% to $1,778.20. Brent oil rose 0.60% to US$ 74.36/bbl as the aftermath of the US hurricane Ida squeezed supplies, while Crude oil rose 0.38% to US$ 70.56/bbl.
Currency news
The loonie stood higher against the U.S. dollar on Tuesday, while USD/CAD closed at 1.2815, a slide of 0.08%.
The U.S. Dollar Index was down against the basket of major currencies on September 21, and ended in the red at 93.22, falling 0.06%.
Money market:
The U.S. 10-year bond yield traded higher on September 21, and ended in the green at 1.328, up 1.17%.
The Canada 10-year bond yield also gained on Tuesday's trade and closed at 1.229, up 0.49%.
dollar
gold
commodity
monetary
reserve
policy
monetary policy
The Market is Deeply Oversold And Looking For A "Dovish" Fed
As we will discuss, the market is deeply oversold and looking for a "dovish" Fed to spark buying. Traders and investors will be laser-focused on the Fed…
As we will discuss, the market is deeply oversold and looking for a "dovish" Fed to spark buying. Traders and investors will be laser-focused on the Fed meeting adjourning at 2 pm ET. Of importance, the decision on taper and their characterization of the economic recovery and inflation. If they do elect to announce a taper schedule, the pace of tapering and any caveats that may delay tapering will be of utmost importance.
Like yesterday markets are opening up a half to one percent higher. Will they hold onto the gains, unlike yesterday? The answer likely lies with the Fed at 2 pm.
What To Watch Today
Economy
7:00 a.m. ET: MBA Mortgage Applications, week ended September 17 (0.3% during prior week)
10:00 a.m. ET: Existing home sales, month-over-month, August (-1.7% expected, 2.0% in July)
2:00 p.m. ET: FOMC policy decision
Earnings
Pre-market
7:00 a.m. ET: General Mills (GIS) is expected to report adjusted earnings of 89 cents per share on revenue of $4.30 billion
Post-market
 4:10 p.m. ET: KB Home (KBH) is expected to report adjusted earnings of $1.62 per share on revenue of $1.57 billion
5:05 p.m. ET: BlackBerry (BB) is expected to report adjusted losses of 7 cents per share on revenue of $166.80 million
Politics
Market Deeply Oversold – Looking For Some "Dovish" Tones
The rolling correction over the last 3-weeks has pushed the market into deeply oversold conditions on a short-term basis. Such provides plenty of "fuel" for a decent rally over the next month or two given some news to spark buying. Today, the Fed could do the trick with Jerome Powell delivering his post-FOMC press conference with a "dovish" tone. With Congress battling over the debt ceiling, the Treasury running out of money, and the risk of a Government "Shutdown" looming, the Fed has all it needs to provide plenty of "caveats" to its "taper" plans.
Fear Greed Index Near Lows
Another reason for near-term bullish optimism, is that both the AAII bullish allocation and the "Fear/Greed" index are near their respective lows. Combined with the oversold market conditions, such typically provides a buying catalyst as traders reposition themselves in equity risk.
Trading Game Plan for the S&P 500
The markets are trading well in overnight trading following yesterday's flat-trading day. The bounce provides us with another set of levels, in addition to the 50, 100, and 200-dmas, to guide our trading. The graph below shows the Fibonacci retracements from the recent high to low. If this rally proves to be a bull trap, it is likely to give up between the 38% retracement (4395) and the 62% retracement (4451). There is also a gap between 4400 and 4430.
It is common for such gaps to fill and then reverse direction. If the market surges higher through the gap and retracement levels, the outlook becomes more bullish. A rally above the 4451 retracement level and well through the 50dma (4436) will likely lead to new highs. Conversely, the 50 dma (4436) may prove to be resistance. The first line of support is yesterday's lows and the 100dma (4328). A break of the recent low leaves a target of 4106, the 200dma.
Easy Lending Standards
Employment and inflation tend to get the headlines as far as rationales for the Fed to take action. As we consider what the Fed may do tomorrow, we should also consider lending standards. The graph below shows the lending standards for large banks' credit card customers are as easy as they have been in 20 years. On its own, very easy lending standards, as we have, push the Fed toward a more hawkish stance. Easy borrowing conditions incentivize personal consumption. More consumer activity, especially given current supply line problems, is likely to further agitate inflationary conditions.
Chinas & Evergrande. Will They or Won't They?
In addition to concerns with China, Evergrande, and possible contagion, the markets are also grappling with Wednesday's Fed meeting. In what was likely a purposeful leak last week, the WSJ laid the groundwork for a taper announcement Wednesday and the reduction in asset purchases in November. With the U.S. and foreign markets skidding yesterday some are asking how the Fed might react. In a Bloomberg interview, ex-New York Fed President, Bill Dudley, warns "They're not going to react to small market moves and defer the tapering on that basis. They have to change their economic forecast," he said Monday during an interview on Bloomberg Television with Lisa Abramowicz, Tom Keene and Jonathan Ferro. "At this point, it's really premature to reach that conclusion."
The post The Market is Deeply Oversold And Looking For A "Dovish" Fed appeared first on RIA.
inflation
markets
policy
fed
inflationary
Looking for the Next Big Crypto to Explode in 2021? Try These 5 Coins
Bitcoin (CCC:BTC-USD) launched on January 3, 2009. The oldest and largest cryptocurrency, prices of this coin have swung wildly since its inception. But…
Bitcoin (CCC:BTC-USD) launched on January 3, 2009. The oldest and largest cryptocurrency, prices of this coin have swung wildly since its inception. But last year, Bitcoin experienced explosive institutional and retail interest in the space alongside the broader crypto world. Now thousands of altcoin investors are betting that they can pick the next crypto to explode.
Even though Bitcoin recently underwent a correction, trading volume remains strong between $42,000 and $50,000. Of course, that is very expensive, considering the median household income is $62,843 right now. Yes, you can invest in Bitcoin through PayPal (NASDAQ:PYPL) and Square (NYSE:SQ). But the crypto is still expensive when you compare it to several altcoins out there.
Plus, there are over 7,000 cryptocurrencies you can choose from for your portfolio. When it comes to making big gain, it's easier for a coin to gain 100x if you're starting from a smaller size, rather than chasing after a rocket that's already taken off.
Here are 5 coins that could be the next big crypto to explode:
When investing in any crypto, remember to check if there is an inherent utility to the coin. Even cryptos meme coins need developers to crank out regular updates to stay relevant.
The Next Big Crypto to Explode: Ethereum (ETH-USD)
Source: shutterstock
Ethereum is a decentralized, blockchain-based software platform, and its cryptocurrency is called Ether or Ethereum. Ether is the world's second-largest cryptocurrency and has held this position for a long time now. Recently, Ethereum has been in the news for its hard fork "London upgrade," a major revamp for the platform. The hard fork comprises five Ethereum Improvement Proposals (EIPs). The upgrades are important, but the most notable is EIP 1559, which reduced Ether supply with every transaction.
In addition, the upgrade will lead to the Ethereum network handling more transactions per second, improving scalability, and bringing down transaction fees. Another major benefit is expected to decrease the total number of ether coins in circulation, making it a deflationary cryptocurrency. In the run-up to the upgrade, Ethereum did very well. However, considering the next upgrade will occur at the end of 2021, there is an upside here that you can exploit.
Binance Coin (BNB-USD)
Source: Shutterstock
Binance is one of the most successful crypto exchanges globally when ranked by trading volumes, which is why BNB, its native cryptocurrency, is soaring.
Much like Bitcoin, the thing to like about Binance Coin is the hard limit on the total number of tokens in circulation. It has a strict maximum limit of 200 million BNB tokens. As a result, the token price has risen exponentially for the year thus far.
Binance uses around one-fifth of its profits every quarter to eliminate or "burn" BNB tokens. The reason for destroying or "burning," coins makes sense: it increases the worth of the remaining tokens.
One of the biggest reasons to be optimistic about Binance Coin is its many use cases. Initially, it was developed as a utility token for discounted trading fees in 2017. But now, you can use it to make travel payments, financial services, and entertainment, among others.
The driving force behind any token is its usability and that's why BNB will be the next crypto to explode.
Tether (USDT-USD)
Source: DIAMOND VISUALS / Shutterstock.com
Stablecoins are a new breed of crypto gaining prominence. They are a less volatile alternative to Bitcoin because they are linked to an asset like the U.S. dollar, as is the case with Tether. The cryptocurrency allows you to transact in traditional currencies and avoid the complexities of digital currencies.
Tether is designed to bridge fiat currencies and cryptocurrencies, allowing users to transfer other cryptocurrencies back to U.S. dollars in a less complex, faster manner. Tether has a 1-to-1 ratio with the U.S. dollar for valuation.
Consequently, the altcoin is less speculative than popular cryptocurrencies like Bitcoin and Ethereum. For crypto investors who want to avoid the wild swings that are part and parcel of this space, Tether should be right up your alley as the next crypto to explode.
Monero (XMR)
Source: Wit Olszewski / Shutterstock.com
Monero is very popular these days because it has the ability to anonymize users. Ring signatures and stealth addresses help in accomplishing this task. Due to the technology at its disposal, the privacy-focused Monero cab hides the identities of the sender and the receiver.
The only problem some might have with Monero's approach is that privacy isn't really an option. It enforces anonymity at a fundamental level. That may rub certain people the wrong way.
But there are several people out there who love this feature and want to protect their identity online since this was one of the main initial benefits of blockchain technology — to remain completely anonymous.
Algorand (ALGO-USD)
Source: shutterstock.com/Shizume
Algorand investors have enjoyed blockbuster returns following an announcement that El Salvador would establish blockchain infrastructure using Algorand.
Italian computer scientist Silvio Micali is the man behind the platform. ALGO-USD has positioned itself as a competitor to Ethereum. One of the biggest things going for it is the proof-of-stake proofing algorithm, which is less energy-intensive to run. One of the main criticisms against Bitcoin is that it consumers a lot of energy. Through using a proof-of-stake mechanism, ALGO-USD sets itself apart from the rest of the altcoins out there.
On the publication date, Faizan Farooque did not have (either directly or indirectly) any positions in the securities mentioned in this article. The opinions expressed in this article are those of the writer, subject to the InvestorPlace.com Publishing Guidelines.
Faizan Farooque is a contributing author for InvestorPlace.com and numerous other financial sites. Faizan has several years of experience in analyzing the stock market and was a former data journalist at S&P Global Market Intelligence. His passion is to help the average investor make more informed decisions regarding their portfolio.
More From InvestorPlace
The post Looking for the Next Big Crypto to Explode in 2021? Try These 5 Coins appeared first on InvestorPlace.
dollar
deflationary
nyse
nasdaq
diamond