Dollar-25-Tree? Discount Retailer Forced To Hike Prices Amid Persistent Inflation
Dollar-25-Tree? Discount Retailer Forced To Hike Prices Amid Persistent Inflation
Dollar Tree Inc. has built an entire brand on every item…
Dollar-25-Tree? Discount Retailer Forced To Hike Prices Amid Persistent Inflation
Dollar Tree Inc. has built an entire brand on every item priced under a buck across 16,000 US retail stores in 48 states and five Canadian provinces. But with logistical costs soaring, persistent labor shortages, and the cost of everything rising, the company announced Tuesday that its new price point would be $1.25. 
"Our Dollar Tree pricing tests have demonstrated broad consumer acceptance of the new price point and excitement about the additional offerings and extreme value we will be able to provide. Accordingly, we have begun rolling out the $1.25 price point at all Dollar Tree stores nationwide," Dollar Tree President and CEO Michael Witynski stated in a corporate press release. 
Here's more on the $1.25 plan:
The Virginia-based discount retailer announced earnings Tuesday. It earned 96 cents per share in 3Q on sales of about $6.42 billion, missing the FactSet consensus estimate by 1 cent. Last year, the company earned $1.39 a share on sales of $6.18 billion. In other words, margin compression is crushing the company due to soaring inflation. Third-quarter same-store sales increased 1.6%. Shares are up more than 4% around 1000 ET on the price hike, meaning the company could soon restore its margins in the coming quarters.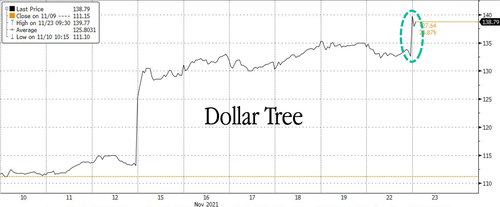 Dollar Tree acknowledged the inflationary environment and said the price hike would help alleviate high freight and distribution costs, as well as wage increases. It said, "freight and supply chain disruptions continue to be the Company's biggest challenge in the near term." 
The company recently announced select stores would carry higher price items as a pilot test to observe "consumer acceptance of the new price point," Witynski said.
Lifting prices over a buck is the clearest signal that purchasing power of consumers is waning amid a persistent inflationary environment. It comes as real wages have turned negative on the year, and there's growing discontent among consumers. 
None of this sounds "transitory" to us but permanent. Time for Dollar Tree to change its name to reflect higher prices. What about "Dollar Plus Store"? 
Tyler Durden
Tue, 11/23/2021 – 13:48
dollar
inflation
inflationary
UK "Delivery Chaos" Could Spark Alcohol Shortage Ahead Of Christmas
UK "Delivery Chaos" Could Spark Alcohol Shortage Ahead Of Christmas
Prime Minister Boris Johnson has taken several steps to address the shortage…
UK "Delivery Chaos" Could Spark Alcohol Shortage Ahead Of Christmas
Prime Minister Boris Johnson has taken several steps to address the shortage of truck drivers after the fuel crisis in September. Months later, and with thousands of new truck drivers, there are still fears that food, fuel, and other items might be in short supply in the run-up to Christmas. 
The latest scare, due to a lack of heavy goods vehicle (HGV) drivers, is the United Kingdom could face a shortage of alcohol, according to UK Wine and Spirit Trade Association (WTSA). 
WTSA sent a letter to UK Transport Secretary Grant Shapps, requesting the government take immediate action to boost HGV drivers. The letter was signed by 49 industry association members, including champagne and cognac makers Moet and Hennessy. 
"There is mounting concern amongst our membership that unless urgent action is taken, we will fall deeper into delivery chaos. 49 member companies have put their name to our letter calling on the Transport Secretary to extend the temporary visa scheme and improve transport routes.

"We are already seeing major delays on wine and spirit delivery times which is pushing up costs and limiting the range of products available to UK consumers. Government needs to be doing all it can to ensure British business is not operating with one hand tied behind its back over the festive season and beyond," the letter stated. 
WTSA urged the government to extend temporary visas to one year for HGV drivers. 
However, the UK government told CNN in a statement that it doesn't expect any alcohol shipment disruptions this holiday season. 
"The government acted quickly to tackle the challenges to our supply chains, which were brought on by global pressures including the pandemic and the international shortage of HGV drivers," a government spokesperson told CNN. 
The shortage of drivers caused a massive fuel crisis in September, with many gas stations running out of petrol for at least a week. The government deployed the army to transport fuel from distribution centers to fuel stations. 
Even if an alcohol shortage doesn't materialize, congested supply chains and persistent inflation has led to price increases.
Tyler Durden
Tue, 11/30/2021 – 02:45
inflation
The Most Crowded Hedge Fund Stocks Just Had Their Worst Month In History: Here's How To Make Money From Their Misery
The Most Crowded Hedge Fund Stocks Just Had Their Worst Month In History: Here's How To Make Money From Their Misery
It was almost exactly…
The Most Crowded Hedge Fund Stocks Just Had Their Worst Month In History: Here's How To Make Money From Their Misery
It was almost exactly a year ago when just weeks before the first of many epic short squeezes observed in a handful of meme stocks such as GME, AMC and so on, which would eventually consume the retail public with a daytrading, short-squeezing frenzy, that we reminded our readers that the single best alpha-generating strategy in this irreparably broken market is to go long the most shorted stocks (as this tweet from Nov 30, 2020 clearly states)…
Once again, the best strategy for a broken, incoherent market is to go long the most shorted stocks: double digit alpha 6 of the past 7 yearshttps://t.co/GlV2aUYXlG pic.twitter.com/kOlXzxiCvH

— zerohedge (@zerohedge) December 1, 2020
… a strategy that had worked like clockwork virtually every year in the past decade (with just one exception), and which we summarized as follows: "Do the opposite of Wall Street consensus and retire in a few years."
Most shorted YTD = 3x S&P500

Do the opposite of Wall Street consensus and retire in a few years pic.twitter.com/ouQ8Jc9NwI

— zerohedge (@zerohedge) December 4, 2020
Of course, while most of the US daytrading class is now in a furore over the "discovery" that most shorted stocks tend to outperform – to put it mildly – when a bunch of Gen-Z apes rams illiquid, heavily shorted names up the collective behind of hedge funds which "legally" collude during idea dinners to put on a basket of shorts, hence why stocks like GME can end up with a synthetic short that is higher than the entire float, none of this should be news to regular readers, as the theme of going long the most shorted names is one we first presented and discussed as far back as 2013:
We then reiterated this strategy in 2014…
… 2015…
… 2016…
… 2017
… 2019
… 2020
And so on.
It took banks about 6 years after our first post on this matter to admit we were right and that going long "the most shorteds" is not only the most profitable strategy but also the most successful one in the past decade; in Aug 2019 Bank of America showed that "buying the 10 most underweight stocks and selling the 10 most overweight stocks by active funds has generated alpha in the past years with the exception of 2017″...
… as we laid out in Going Against The Wall Street Crowd Has Been The Most Profitable Strategy.
What is the point of all this?
Well, the point is that almost ten years after we first pointed out this phenomenal trade which almost literally prints money with the same regularity as the Fed, only this one actually requires some effort, nobody has learned a thing.
As we first observed last week in "Most Popular Hedge Fund Stocks Suffer Record Stretch Of Underperformance" the hedge fund hotel that is Goldman's hedge fund VIP basket of 50 most widely held HF stocks, has suffered the biggest 6 month drop on record at a time when nothing could go right for hedge funds.
Then over the weekend, we observed that even before last week's historic Black Red Friday collapse. which saw the biggest post-Thanksgiving drop on record, hedge funds had a terrible week because according to Goldman prime, the GS Equity Fundamental L/S Performance Estimate fell -1.57% between 11/19 and 11/25, driven by alpha of -1.12% which was "the worst alpha drawdown in nearly six months" and beta of -0.45% (from market exposure and market sensitivity combined).
And then, the cherry on top was Friday's meltup in a handful of pharma stocks like Moderna and Pfizer, which exploded higher as everything else was crashing, steamrolling hedge funds even more for one simple reason: Moderna was the third largest short in the hedge fund world according to Goldman.
Which brings us to the punchline: according to Morgan Stanley's Quantitative Derivatives Strategy team, "The MS Crowded Long basket MSXXCRWD is down 13% vs. the S&P 500 over the last month — the worst rolling one-month relative performance on record (just edging out March 2020)."
As QDS puts it "Think about that: WORSE than March 2020…. and again, this doesn't even embed Friday's move."
There are several ways to interpret this stunning observation – none of them flattering for a hedge fund community which long ago forgot how to actually hedge – but perhaps the simple and most robust explanation is to keep doing what we said back in 2013 remains the most profitable strategy –  buy the most shorted names and go short the most popular names, a strategy which will keep on giving as long as the market remains as broken as it is today.
And just to help readers off on their mission to profit from a terminally broken market – because after all, everyone else does it – here again is a list of the 50 most popular hedge funds longs…
… and the 50 biggest hedge fund shorts.
And as an added bonus stepping aside from the hedge fund universe, here are the 50 most shorted names, i.e., those companies with a $1BN+ market cap that have the highest short interest outstanding as a percentage of market cap. Going long an equal-weighted basket of these names has historically generated returns of over 20% every single year.
The full reports from both Morgan Stanley and Goldman are available to pro subscribers in the usual place.
Tyler Durden
Mon, 11/29/2021 – 22:00
derivatives
fed
crash
FTC Demands Wal-Mart, Amazon & Others Participate In Supply-Chain Probe
FTC Demands Wal-Mart, Amazon & Others Participate In Supply-Chain Probe
Shortly after President Biden sat down with top executives from…
FTC Demands Wal-Mart, Amazon & Others Participate In Supply-Chain Probe
Shortly after President Biden sat down with top executives from Wal-Mart, a handful of regional grocers and others to hold a "round table" to discuss "supply chain" issues, the FTC announced Monday afternoon that it would launch an investigation into the factors contributing to these types of disruptions, which have been blamed for contributing to inflation by helping to drive up prices.
Just as reports claimed the supply chain crunch appears to finally be waning, President Biden sicced the FTC on the issue. Once again, it's bureaucracy to the rescue; and anybody who doesn't go along with the Biden Administration's preferred narrative (ie that this is part of a global phenomenon, and that the US isn't unique) better hope the administration doesn't accidentally make things worse.
At any rate, it's bureaucracy to the rescue.
And we don't say that because we think America's ports need assistance (they clearly do). The problem is that the supply chain crunch goes far beyond the ships and the ports and the truckers. It's what an economist might call a "complex"" issue.
While President Biden met with a senior Wal-Mart executive in person, and in front of the cameras, as part of Monday's "supply chain round table" at the White House, Bloomberg says it is ordering large retailers, wholesalers and consumer good suppliers including Amazon and Walmart to provide the White House with "detailed information" that might aid in a newly launched inquiry into the ongoing supply chain disruptions that are contributing to President Biden's inflation (or should we say, reflation?) fears.
In addition to Wal-Mart and Amazon, the investigation will target Kroger, Associated Wholesale Grocers, McLane, Procter & Gamble, Tyson Foods, Kraft Heinz and others who are expected to receive their orders from the FTC on Monday. Firms have 45 days to respond.
It's believed the administration intended this is a message to companies everywhere: don't raise your prices unless you absolutely need to, because the White House will be checking the receipts, waiting to bust anybody who can even be remotely construed engaging in price gouging.
According to BBG, information being sought by FTC includes primary factors disrupting their ability to obtain, transport and distribute products, impact of those disruptions on delayed or canceled orders, increased costs and prices, what firms are doing to curb disruptions.
The study will focus on determining whether supply chain problems have led to bottlenecks, anti-competitive practices or higher prices, the agency said in a statement.
FTC Chair Lina Khan said in a statement she was hopeful that the study would "shed light on market conditions and business practices that may have worsened these disruptions or led to asymmetric effects."
The FTC is also asking firms to return the information it's requesting as soon as possible. Firms will have 45 days from the date they receive the order to respond.
"Supply chain disruptions are upending the provision and delivery of a wide array of goods, ranging from computer chips and medicines to meat and lumber," FTC Chair Lina Khan said in a statement announcing the investigation.
President Biden and his team clearly intended Monday's "round table" with "supply chain" executives like the leaders of Wal-Mart, Food Lion and others as a distraction. Readers can watch the "round table", held at the White House Monday afternoon, at their convenience.
But allow us to save you some time, because, at the end of the day, Biden doesn't need their help.
But he may need them to pay higher taxes, on top of rising costs and expenses for their businesses, to help offset the costs of his social spending package which is expected to further stoke inflation.
Tyler Durden
Mon, 11/29/2021 – 18:00
inflation