Don't Expect Amazon Stock to Have a Great Q4, Either
I like Amazon (NASDAQ:AMZN) stock.
I don't think a week goes by when there's not an Amazon delivery coming to my house, and I know my neighbors seem…
I like Amazon (NASDAQ:AMZN) stock.
I don't think a week goes by when there's not an Amazon delivery coming to my house, and I know my neighbors seem to be just as eager to shop on Amazon than I do. The delivery drivers know our street like the back of their hands at this point.
Source: Sundry Photography / Shutterstock.com
But AMZN stock has some problems at this point, and I don't think they're going to be cleared up any time soon. Third-quarter earnings weren't great. And there are plenty of red flags surrounding the critical Q4 shopping period already.
I'm not saying that you should sell AMZN stock. But if you're looking for a quick profit, Amazon won't likely outperform the market for the next couple of quarters.
On the other hand, a 5% dip in Amazon in the coming weeks would be a really tempting signal to snatch up some discounted shares.
Here's a closer look at the third quarter results and why I think Q4 may be problematic for this dominate e-commerce and cloud company.
AMZN Stock at Glance
First, the stock itself. Amazon trades at nearly $3,500 per share, but its chart looks more like a hospital EKG than a blue-chip stock. The peaks and valleys in 2021 are stomach-churning.
For 2021, AMZN stock is up 14%, which is solid until you look at the Nasdaq composite, which is up 22% in the same period.
Competitors eBay (NASDAQ:EBAY, up 31%), and Shopify (NYSE:SHOP, up 45%) are also doing much better than Amazon.
Part of the problem for Amazon is that it's being compared to 2020 numbers. And with the Covid-19 pandemic, there was nothing normal about 2020.
Amazon and other online retailers had huge years last year as brick-and-mortar businesses shut down during the pandemic. Shopping online for groceries, cleaning supplies, toilet paper and basic household necessities consumed us all.
Now stores have reopened, kids are back in school, and many offices have returned to face-to-face environments. People are more willing today to shop in physical stores and Amazon is dealing with the fallout from that.
In late October, Amazon reported third-quarter earnings that disappointed investors.
Revenue came in at $110.81 billion, versus analysts' expectations of $111.6 billion. Earnings per share was also a miss, as Amazon posted $6.12 per share versus analysts' expectations of $8.92 per share.
In an interesting side note, the third quarter was the first time in Amazon's history that its fast-growing Amazon services division posted greater revenue that its retail division. The retail side made $54.9 billion. But revenue from Amazon Prime subscriptions, advertising and its cloud component Amazon Web Services made $55.9 billion.
CNBC reported that if it hadn't been for Amazon Web Services' $4.88 billion in revenue for the quarter, the company would have lost money. AWS revenue rose 39% in the quarter.
Problems Ahead
The fourth quarter doesn't look good for Amazon, and the biggest issue is the problem with the supply chain. I don't know about you, but more often than not my two-day Amazon Prime deliveries are coming in three or four days.
It's not Amazon's fault. If they can't get the products, they can't ship them to me. But it's also made me more willing to shop other outlets or actually visit stores to buy something.
Either way, the problem is going to get worse for Amazon before it gets better. Amazon CFO Brian Olsavsky says the company will take a $4 billion charge in the fourth quarter from increased labor costs, productivity losses and inflation.
Operating profit in the fourth quarter will also take a big hit. Amazon is expecting a range of zero to $3 billion. A year ago, Amazon posted a profit of $6.9 billion in Q4.
Citi analyst Jason Bazinet kept his buy rating on AMZN shares, but he lowered his price target from $4,175 to $4,100.
The Bottom Line
With the busy holiday shopping season, you can usually expect strong fourth quarters from Amazon stock. And as long as Amazon hits analysts expectations in those quarterly report, and AWS continues to grow, Amazon stock is a reliable winner.
I've got a of confidence that AWS will be strong again during the fourth quarter. But Amazon's heavy spending in pushing goods to customers, as well as the continued supply chain issues in the fourth quarter, are troubling.
And remember, Amazon (as well as other companies) are always evaluated on a year-over-year basis. For Amazon, that means being compared to pandemic-inflated numbers in Q4.
Amazon stock may manage to produce a modest gain over the next few weeks. That would be a pleasant surprise. But don't buy AMZN stock now expecting a booming Q4 report.
It's more likely that Amazon will continue its up-and-down ride, at least until the supply chain issues improve and the pandemic effects fade away.
On the date of publication, Patrick Sanders did not have (either directly or indirectly) any positions in the securities mentioned in this article. The opinions expressed in this article are those of the writer, subject to the InvestorPlace.com Publishing Guidelines.
Patrick Sanders is a freelance writer and editor in Maryland, and from 2015 to 2019 was head of the investment advice section at U.S. News & World Report. Follow him on Twitter at @1patricksanders.
More From InvestorPlace
The post Don't Expect Amazon Stock to Have a Great Q4, Either appeared first on InvestorPlace.
Bullish Island Reversal
You can blame Omicron or elevated valuations or call it a
Fed taper tantrum. Bottom line, the market was overbought entering the
seasonally weak beginning…
You can blame Omicron or elevated valuations or call it a
Fed taper tantrum. Bottom line, the market was overbought entering the
seasonally weak beginning of December. In a year with big gains early December
tax-loss selling, some profit taking and yearend portfolio restructuring is not
surprising.
All of the above and some geopolitical worries likely
conspired collectively to cause the recent selloff. But today's action in DJIA
(the oldest reliable benchmark we know) as shown in the chart above created a
bullish island reversal. DJIA also bounced off the uptrend line from the June
and September lows right near the 200-day moving average and above support at 33700.
Today's rally also closed the island gap near 35600, which is also around support/resistance
at the August high. And to top it off there was a new MACD Buy crossover and
histogram confirmation.
So, technically speaking the market likely found some solid
support here and is poised to rally to continuing new highs into yearend on the
still super accommodative monetary policy and rather robust economic and
corporate readings.
Our outlook remains bullish for the remainder of 2021 and as
long as the proverbial stuff doesn't hit the fan, new highs are likely before
yearend and we would not be surprised to see the S&P 500 encroach upon the
big round number of 5000. 2022 will likely be a different case and we will
address that thoroughly in our 2022 Annual Forecast to subscribers next week.
When Idiocy Becomes Hardwired
When Idiocy Becomes Hardwired
Authored by Jeff Thomas via InternationalMan.com,
At this point, virtually all of us over the age of forty…
When Idiocy Becomes Hardwired
Authored by Jeff Thomas via InternationalMan.com,
At this point, virtually all of us over the age of forty have encountered enough "snowflakes" (those Millennials who have a meltdown if anything they say or believe is challenged) to understand that, increasingly, young people are being systemically coddled to the point that they cannot cope with their "reality" being questioned.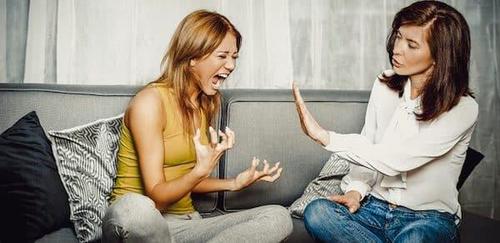 The post-war baby boomers were the first "spoiled" generation, with tens of millions of children raised under the concept that, "I don't want my children to have to experience the hardships that I faced growing up."
Those jurisdictions that prospered most (the EU, US, Canada, etc.) were, not coincidentally, the ones where this form of childrearing became most prevalent.
The net result was the '60s generation – young adults who could be praised for their idealism in pursuing the peace movement, the civil rights movement, and equal rights for women. But those same young adults were spoiled to the degree that many felt that it made perfect sense that they should attend expensive colleges but spend much of their study time pursuing sex, drugs, and rock and roll.
Flunking out or dropping out was not seen as a major issue and very few of them felt any particular guilt about having squandered their parents' life savings in the process.
The boomer generation then became the yuppies as they hit middle age, and not surprisingly, many coddled their own children even more than they themselves had been coddled.
As a result of ever-greater indulgence with each new generation of children, tens of millions of Millennials now display the result of parents doing all they can to remove every possible hardship from their children's experience, no matter how small.
Many in their generation never had to do chores, have a paper route, or get good grades in order to be given an exceptional reward, such as a cell phone. They grew to adulthood without any understanding of cause and effect, effort and reward.
Theoretically, the outcome was to be a generation that was free from troubles, free from stress, who would have only happy thoughts. The trouble with this ideal was that, by the time they reached adulthood, many of the critical life's lessons had been missing from their upbringing.
In the years during which their brains were biologically expanding and developing, they had been hardwired to expect continued indulgence throughout their lives. Any thought that they had was treated as valid, even if it was insupportable in logic.
And, today, we're witnessing the fruits of this upbringing. Tens of millions of Millennials have never learned the concept of humility. They're often unable to cope with their thoughts and perceptions being questioned and, in fact, often cannot think outside of themselves to understand the thoughts and perceptions of others.
They tend to be offended extremely easily and, worse, don't know what to do when this occurs. They have such a high perception of their own self-importance that they can't cope with being confronted, regardless of the validity of the other person's reasoning. How they feel is far more important than logic or fact.
Hypersensitive vulnerability is a major consequence, but a greater casualty is Truth. Truth has gone from being fundamental to being something "optional" – subjective or relative and of lesser importance than someone being offended or hurt.
Of course, it would be easy to simply fob these young adults off as emotional mutants – spiteful narcissists – who cannot survive school without the school's provision of safe spaces, cookies, puppies, and hug sessions.
Previous generations of students (my own included) were often intimidated when presented with course books that had titles like Elements of Calculus and Analytic Geometry. But such books had their purpose. They were part of what had to be dealt with in order to be prepared for the adult world of ever-expanding technology.
In addition, it was expected that any student be prepared to learn (at university, if he had not already done so at home), to consider all points of view, including those less palatable. In debating classes, he'd be expected to take any side of any argument and argue it as best he could.
In large measure, these requirements have disappeared from institutions of higher learning, and in their place, colleges provide colouring books, Play-Doh, and cry closets.
At the same time as a generation of "snowflakes" is being created, the same jurisdictions that are most prominently creating them (the above-mentioned EU, US, Canada, etc.) are facing, not just a generation of young adults who have a meltdown when challenged in some small way. They're facing an international economic and political meltdown of epic proportions.
Several generations of business and political leaders have created the greatest "kick the can" bubble that the world has ever witnessed.
We can't pinpoint the day on which this bubble will pop, but it would appear that we may now be quite close, as those who have been kicking the can have been running out of the means to continue.
The approach of a crisis is doubly concerning, as, historically, whenever generations of older people destroy their economy from within, it invariably falls to the younger generation to dig the country out of the resultant rubble.
Never in history has a crisis of such great proportions loomed and yet, never in history has the unfortunate generation that will inherit the damage been so unequivocally incapable of coping with that damage.
As unpleasant as it may be to accept, there's no solution for idiocy. Any society that has hardwired a generation of its children to be unable to cope will find that that generation will be a lost one.
It will, in fact, be the following generation – the one that has grown up during the aftermath of the collapse – that will, of necessity, develop the skills needed to cope with an actual recovery.
So, does that mean that the world will be in chaos for more than a generation before the next batch of people can be raised to cope?
Well, no. Actually, that's already happening. In Europe, where the Millennial trend exists, western Europeans have been growing up coddled and incapable, whilst eastern Europeans, who have experienced war and hardship, are growing up to be quite capable of handling whatever hardships come their way. Likewise, in Asia, the percentage of young people who are being raised to understand that they must soon shoulder the responsibility of the future is quite high.
And elsewhere in the world – outside the sphere of the EU, US, Canada, etc. – the same is largely true.
As has been forever true throughout history, civilisation does not come to a halt. It's a "movable feast" that merely changes geographic locations from one era to another.
Always, as one star burns out, another takes its place. What's of paramount importance is to read the tea leaves – to see the future coming and adjust for it.
*  *  *
Polls suggest that a majority of Millennials now favor socialism. And a growing number favor outright communism. Sometime this year, Millennials are expected to surpass Baby Boomers as the nation's largest living adult generation. This is one of the reasons Bernie Sanders and other socialists are soaring in popularity. And when the next crisis hits, the situation will likely reach a tipping point. That's exactly why Doug Casey and his team just released this urgent video outlining exactly what's going to happen… and how you can protect yourself and even profit from the situation. Click here to watch it now.
Tyler Durden
Tue, 12/07/2021 – 17:25
bubble
Omicron Study Scare Stuns 'Face-Ripping' FOMO Short-Squeeze
Omicron Study Scare Stuns 'Face-Ripping' FOMO Short-Squeeze
Everything was awesome today…
UNTIL…
Headlines from a South African…
Omicron Study Scare Stuns 'Face-Ripping' FOMO Short-Squeeze
Everything was awesome today…
UNTIL…
Headlines from a South African study hit, suggesting a 40-fold reduction in neutralization capacity of the Pfizer vaccine vs Omicron... which suggest hospitals will get overwhelmed (due to its hyper-transmissibility) but it is notably less severe (especially for healthy people)…
Omicron's ability to evade vaccine and infection-induced immunity is "robust but not complete," said the research head of a laboratory at the Africa Health Research Institute in South Africa.
…and that sent stocks lower late in the day (although still a good day overall)…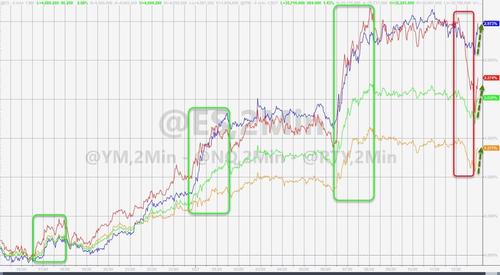 And slammed 'recovery' stocks relative to 'stay at home' stocks…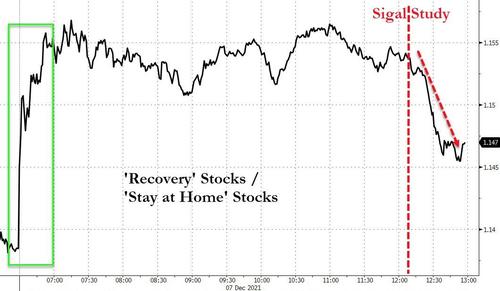 But then again… it wouldn't be the US equity market if a last minute total buying-panic didn't send the Nasdaq up 100 points in 4 minutes…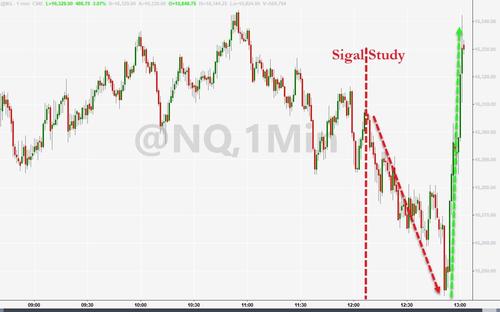 *  *  *
As we detailed earlier…A China RRR cut? Omicron anxiety easing? Whatever it was, bubble markets exploded higher today…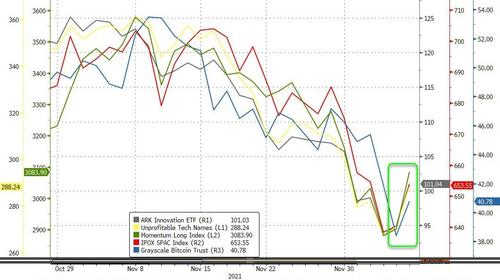 Source: Bloomberg
But before we all get excited about "what the market is saying", let's bear in mind that today also saw the USA, USA, USA suffer its biggest decline in worker productivity since Q2 1960 (yeah 61 years ago!!!)…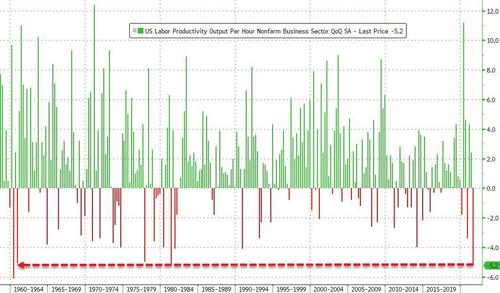 Source: Bloomberg
Which is perfect because today saw unprofitable tech company's best 2-day swing since April 2020 (+13.5%)…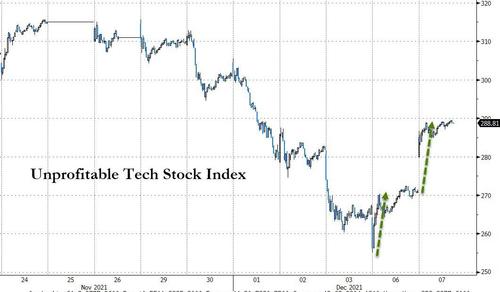 Source: Bloomberg
Today's melt-up from the moment the US cash markets opened (until around the European close) was impressive to say the least but also note that stonks were bid as China opened… and as Europe opened…
This is The Dow's best 2 days since Nov 2020! Nasdaq surged 3% today – its biggest daily gain since March. Bear in mind that roughly 66% of the Nasdaq is in a bear market with losses of over 20%, while 35% of the Nasdaq is down over 50%!
The surge in the majors pushed The Dow (and only The Dow) up to unchanged, very briefly, from the Omicron emergence cliff after Thanksgiving. However, everything seemed to run out of momentum at that point…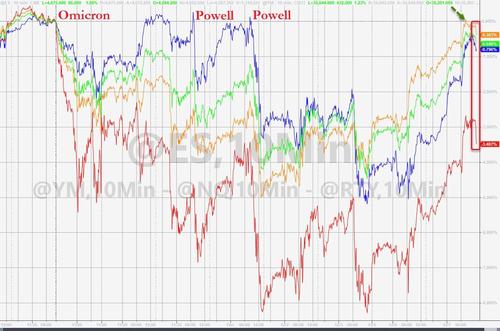 Nasdaq and The Dow exploded above their 50DMAs, the S&P extended its gains well above its 50DMA. The Dow ripped up to its 100-/200-DMA but couldn't extend the gains…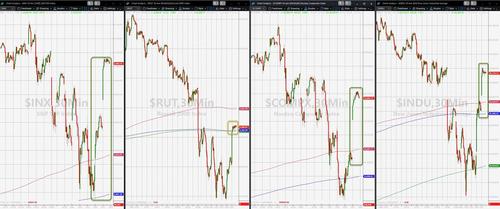 The 2-day 'face-ripping' short-squeeze off yesterday's opening lows is the largest swing since March…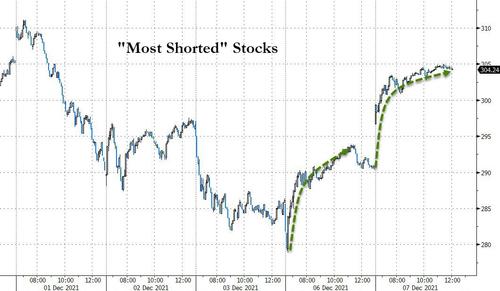 Source: Bloomberg
'Recovery' stocks notably outperformed today relative to 'Stay at Home' stocks as Omicron anxiety fades. They are now well above Omicron emergence levels and starting to erase the European lockdown anxiety losses…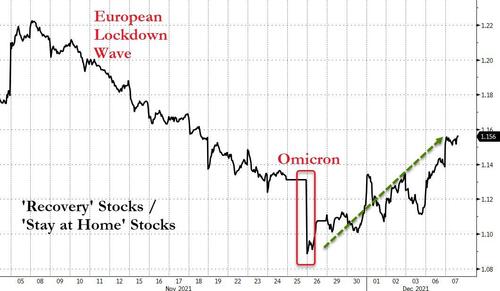 Source: Bloomberg
'Retail Favorites' had their biggest day since Jan 2021…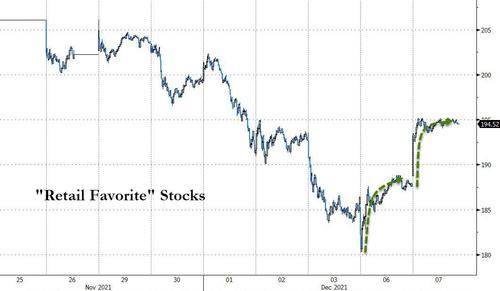 Source: Bloomberg
Treasury yields were higher on the day with the short-end underperforming (2Y +6bps, 30Y +3bps), but as the chart below shows, the selling was all in the US session again…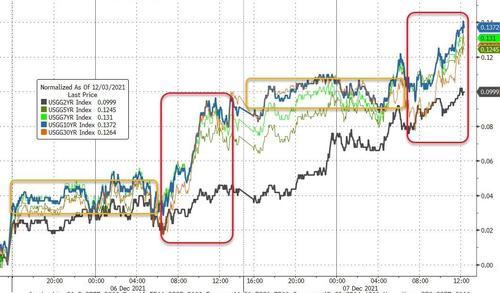 Source: Bloomberg
The 10Y Yield was higher again but did not breach 1.50%, retracing the move post-Powell hawkish hearing…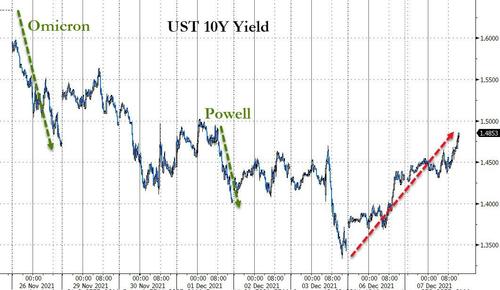 Source: Bloomberg
The yield curve flattened notably today (2s30s) as the short-end priced in rate-hikes and long-end priced in policy mistakes…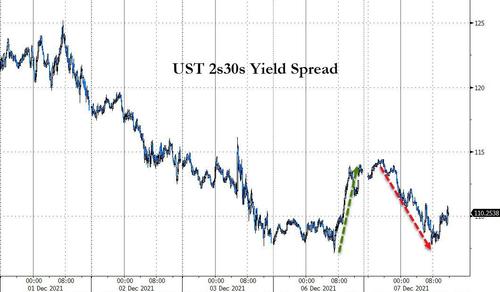 Source: Bloomberg
The dollar ended lower on the day but again traded in a narrow range…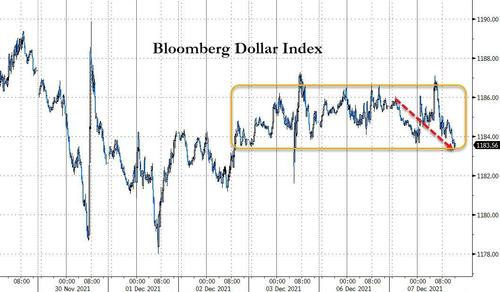 Source: Bloomberg
WTI topped $73 today, extending the gains from the last couple of days. However, oil prices remain well down from pre-Omicron levels…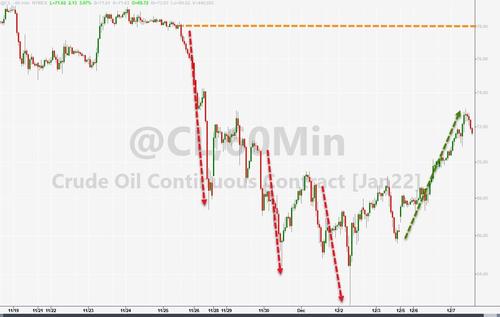 And as oil prices ripped higher, so did US Breakeven inflation rates, but remain well down from pre-Omicron anxiety levels…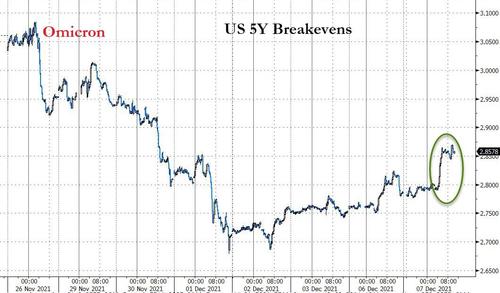 Source: Bloomberg
Crypto was mixed today with Bitcoin higher (tagging $52k) and Ethereum lower (after topping $4400)…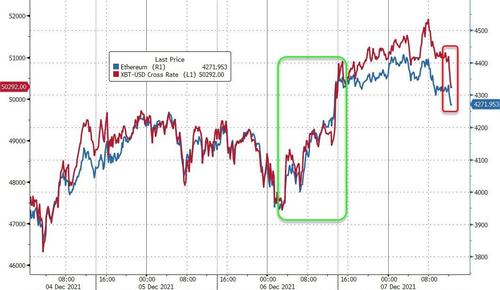 Source: Bloomberg
Gold ended modestly higher today but still below $1800 and well below pre-Omicron levels….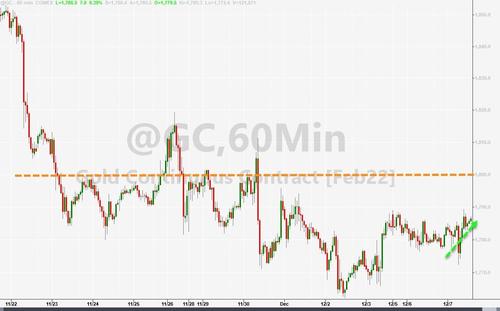 Finally, despite the equity market soaring unrelentlessly the last couple of days, STIRs have shifted considerably more hawkishly now pricing in 2 rate-hikes by September and a 75% chance of a rate-hike by May 2022 – there is no way the stock market is ready for that…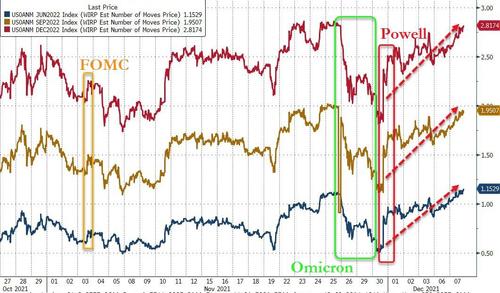 Source: Bloomberg
And Powell is not about to jawbone that back down.
Tyler Durden
Tue, 12/07/2021 – 16:01
dollar
gold
inflation
markets
policy
bubble