Erdogan Meets With Central Bank Chief As Lira Craters Almost 20% In Hours
Erdogan Meets With Central Bank Chief As Lira Craters Almost 20% In Hours
Turkish lira shorts – such as this website – knew that making money…
Erdogan Meets With Central Bank Chief As Lira Craters Almost 20% In Hours
Turkish lira shorts – such as this website – knew that making money by betting on the implosion of Erdogan's authoritarian caliphate was just a matter of time. They just didn't know the implosion would take place this quick, because after tumbling for 10 straight day, the currency's 11-day losing streak – which is the longest in 20 years – saw Erdocoin (f/k/a lira) collapse almost 20% IN ONE DAY – crashing all the way to 13.4539 after opening at 11.3853…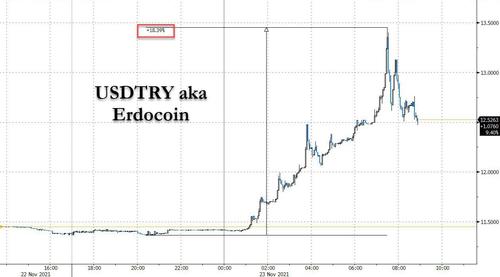 … hitting a fresh all-time low and bringing the currency's YTD losses to over 40%, blowing out the Argentine peso in the process.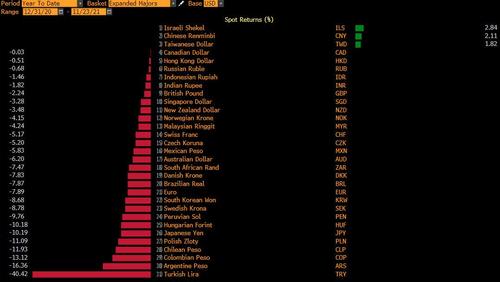 The collapse, which has been going on for the past 4 years really, accelerated yesterday after Erdogan used a televised speech late Monday to defend his support for lower interest rates to boost economic growth and job creation (see "Erdogan Tells Lira To Drop Dead As Currency Collapse Threatens Financial System, Bank Runs, Hyperinflation").
The selloff then really kicked into high gear when Erdogan's government ally and MHP leader Devlet Bahceli spoke at party's parliamentary group meeting in Ankara, said that Central bank independence should be debated and "independent institutions cannot be above the will of the nation" hinting that the Turkish Central Bank is likely about to be nationalized formally as opposed to just informally.
Bahceli said that he supports the government's policy on the economy, saying "Turkey should be free of interest rate burden" adding – to the horror of any remaining lira longs – that "tight monetary policy would hurt economy" more than the impact of lower rates and lira weakness. Meanwhile, the Turkish central bank – anything but "independent" – has been egged on by Erdogan to make combined cuts of 4 percentage points to the one-week repo rate since September, even as inflation soared to almost 20% last month.
Which brings us to the latest development in this soap opera, when Bloomberg reported that Erdogan met his own central bank Governor puppet Sahap Kavcioglu in Ankara, amid the historic collapse in the lira. 
It wasn't immediately clear what was discussed as the central bank and presidency declined to comment when asked if a meeting took place, although we doubt that Erdogan will backtrack so fast on his vows to keep pressing rates lower, and the most likely topic of conversation was how to crush evil lira shorts, while continuing to cut rates. Good luck with that.
Tyler Durden
Tue, 11/23/2021 – 09:12
inflation
monetary
policy
interest rates
central bank
currency collapse
monetary policy
A Fake Story Tanks Eric Fry's Stock
There's been major drama going on with one of Eric Fry's recommendations in recent weeks.
In short, a vicious attack by a short-seller resulted in…
There's been major drama going on with one of Eric Fry's recommendations in recent weeks.
In short, a vicious attack by a short-seller resulted in a massive selloff. Eric's pick was down 35% seemingly overnight.
But that's not the whole story…
In today's Digest, Eric pulls back the curtain on what actually happened, how the situation has played out since, and what we can learn from it.
It's a cautionary tale that illustrates two things…
One, it's incredibly important to do your due diligence before investing your hard-earned money into a stock. And two, you have to be careful whom you trust for accurate information.
I'll let Eric take it from here.
Have a good weekend,
Jeff Remsburg
Beware Fake News
By Eric Fry
Soren Kierkegaard, the Danish existentialist philosopher once remarked, "Geniuses are like thunderstorms. They go against the wind, terrify people, clean the air."
Short-sellers often perform a similar function. Although they certainly are not all geniuses, their incisive analyses can swirl through the financial markets and terrify investors for a spell, while cleansing the air of misinformation and/or fraudulent behavior.
Because these financial thunderstorms can strike an individual stock like a thunderbolt, they usually singe every investor who happens to be in the vicinity.
Not surprisingly, therefore, short-sellers are about as welcome on Wall Street as a thunderstorm at a garden wedding. To put it bluntly, most folks hate short-sellers.
I don't. I hate the misinformation and/or deception that causes investors to make ill-informed decisions…
Steel Yourself Against the Misinformation
Generally speaking, short-sellers are a fringy community of forensic analysts and truth-seekers. As a group, they expose the sort of misinformation that deceives investors. That's a public service to all of us investors.
But sometimes, short-sellers themselves, are a source of misinformation — fonts of fake news.
In other words, not all short-sellers are created equal… neither are any other sources of investment information and "analysis" equally reliable.
This fact has never been timelier and more relevant than it is today, when social media sites funnel most of the minute-by-minute investment narrative that we consume.
Because of social media's scope and dominance, deceptions can magnify quickly and "go viral," often with mind-numbing speed and destructive power.
In such circumstances, getting to the truth can be challenging.
But a couple of simple steps can facilitate the process of fact-finding. Both of these steps are so ancient (and timeless) that they predate the internet itself:
Consider the source. Whenever you encounter a story that seems implausible or that conflicts with widespread opinion, check the source. Find the source of that story from the original source documents, if possible. Once you locate that source, check its history for honesty and accuracy. For example, a scientific observation from a Johns Hopkins University study is probably more reliable than one from National Enquirer.
Look for signs of intellectual honesty. Does the source of the story thoughtfully consider the "other side"? For example, does the source solicit information from third parties to corroborate its findings? Does the source present its findings matter-of-factly, while acknowledging portions that may be inconclusive or incomplete?
These two simple steps, by themselves, can usually help investors navigate deception and/or discover truth… like they did during the last two weeks when a short-selling firm attacked Standard Lithium (NYSEAMERICAN:SLI), a stock I have recommended in my investment services.
On November 18, a short-selling outfit called Blue Orca Capital issued a negative report about the company.
The report's most damaging assertion was that Standard Lithium's direct extraction technology could recover only 13% of the lithium that is contained in the brines it is processing — not the 90% recovery rate the company had been reporting.
The stock plummeted 35% after Blue Orca's report crossed the wires.
But I issued an alert to my subscribers that stated the following:
"If that assertion is true, it would be a truly damaging data point, perhaps even fatal to Standard Lithium. However, as recently as November 12, Standard Lithium submitted a detailed filing with the SEC that stated the following:
"The final product lithium recovery is about 90%.
"In other words, six days ago, the company informed a federal agency that its lithium extraction process recovers 90% of the lithium contained in the Arkansas brine it is processing.
"Not 13%.
"If the actual number is 13%, as Blue Orca Capital asserts, then the entire management team of Standard Lithium and its Board of Directors has committed a large-scale fraud…
"A conspiracy and fraud of this scale and complexity seems unlikely…
"More likely is that an ill-intentioned, or ill-informed, short seller has conspired to hammer the share price of a stock its firm has sold short."
In other words, I considered the source of the surprising story and deemed it to be untrustworthy. Furthermore, previous reports by Blue Orca about other companies revealed a consistent pattern of unreliable, one-sided analysis.
Hours later, Standard Lithium issued a rebuttal to Blue Orca that confirmed my assumptions. You can view the entire release here: Standard Lithium Response.
But the most important detail from the company's response was that its direct extraction technology does, in fact, recover about 90% of the lithium that's contained in the brine it is processing.
The company stated flatly:
"Blue Orca Capital's interpretation of lithium recovery rates is incorrect and underestimates lithium extraction efficiencies."
Despite this comprehensive rebuttal, Blue Orca did not issue a mea culpa or concede defeat in any way. Instead, it simply doubled down on the identical claims Standard Lithium had debunked.
The new attack from Blue Orca triggered another wave of selling that pushed the stock lower again on Nov. 22. But the selling pressure abruptly reversed on the day before Thanksgiving.
That's when the company announced a $100 million investment by Koch Strategic Platforms (KSP), a subsidiary of Koch Investments Group.
Importantly, the press release that announced this investment included the following line:
"[KSP's] Direct Investment follows extensive due diligence into Standard Lithium's LiSTR DLE technology, Demonstration Plant and project objectives…"
Presumably, therefore, KSP possesses a more intimate and sophisticated understanding of Standard Lithium's extraction technology than do the short-sellers at Blue Orca.
The stock has been rallying ever since.
An Early Warning
To be sure, the short-seller's attack on Standard Lithium was a frightening event. But ultimately, misinformation lost this battle.
Furthermore, the company has emerged from that attack with its credibility intact and its investment potential greatly enhanced by a major new investment from what could become a major strategic partner.
The stock remains what it was when I first recommended it to my subscribers: a speculative, unproven play on a "home-grown" battery-metals supply chain. But the stock has become somewhat less speculative in the wake of KSP's $100 million buy-in.
Now, before I let you go…
2022 is on our heels, and we're perhaps facing more apprehension than ever.
With the new Omicron variant of the Covid-19 virus potentially bringing about city-, state- and country-wide restrictions, economic uncertainty, inflation and more, the end of 2021 is starting to feel quite a bit like the end of 2020.
As such, it is critical that you hear what my colleagues, Louis Navellier and Luke Lango, and I see for the next year.
And on Tuesday, December 7, at 7:00 p.m. EST, the three of us will give you our investing game plan for 2022.
Click here now to reserve your spot — I'll tell you more about it this week.
Regards,
Eric Fry
The post A Fake Story Tanks Eric Fry's Stock appeared first on InvestorPlace.
Formulating some thoughts about 2022
Light yellow line is the 10-year Government of Canada bond yield, orange line is the 2-year bond yield: Over the past week, Omicron fears have triggered…
Light yellow line is the 10-year Government of Canada bond yield, orange line is the 2-year bond yield:
Over the past week, Omicron fears have triggered a huge demand for long-dated government debt, while central bank talks of tapering have pushed the front end of the yield up.
Indeed, when looking at the BAX futures, we have the following curve (for those that are unfamiliar, these are 3-month bankers' acceptance futures, of which you derive the rate by going 100 minus the anticipated yield percentage, so a 98 would be equal to 2.00%):
BAX – Three-Month Canadian Bankers' Acceptance Futures
Last update: December 5, 2021
Month
Bid price
Ask price
Settl. price
Net change
Open int.
Vol.

Open interest: 1,173,941

Volume: 145,981

December 2021
99.455
99.460
99.460
-0.005
136,604
34,223
January 2022
0
0
99.380
0
0
0
February 2022
0
0
99.220
0
0
0
March 2022
99.080
99.095
99.105
-0.015
242,041
25,545
June 2022
98.660
98.665
98.690
-0.030
185,438
16,971
September 2022
98.335
98.340
98.360
-0.025
167,920
15,778
December 2022
98.125
98.140
98.150
-0.015
144,759
17,816
March 2023
97.985
97.995
98.010
-0.020
107,855
13,145
June 2023
97.865
0
97.890
-0.020
62,554
10,228
September 2023
97.795
97.840
97.820
-0.025
69,061
6,586
December 2023
97.510
97.820
97.805
-0.020
38,357
4,960
March 2024
0
0
97.780
-0.005
12,729
386
June 2024
0
0
97.775
-0.010
4,613
181
September 2024
0
0
97.790
-0.005
2,010
162
The spot price is at 0.54%, while the December 2022 future is at 1.85%, which implies that in the next 12 months we will have a rate increase of about 125bps the way things are going.
The 2-year government bond is yielding 0.95% as of last Friday.  Using expectations theory, this is roughly in-line, but functionally speaking, the inversion of the yield curve is going to signal some ominous signs going forward.
Central banks are engaging in the tightening direction because of fairly obvious circumstances – there are leading indicator signs of inflation everywhere (labour market tightness AND the inability to find quality labour both count; the first is easily quantified, while the second one is not, and is a very relevant factor for many businesses), input costs rising or even being completely unavailable, energy costs spiking, etc.  With governments flooding the economy with deficit-financed stimulus, it is creating an environment where no realistic amount of money thrown at a problem can stimulate productive output.
My guess at present is that tapering and rate increases will go until the economy blows up once again – the evaporation of demand will be mammoth – when these supply chain issues are resolved, the drop-off in demand will commence very quickly.  It will likely happen far sooner than what happened in the 4th quarter of 2018 (the US Federal Reserve started shrinking its balance sheet of treasuries at the end of 2017 and the vomit started occurring around October 2018).  Indeed, you even saw hints of this economic dislocation occur in late 2019 – there was likely going to be an economic recession in 2020 even if Covid-19 did not occur.  Covid instead just masked the underlying conditions, and stimulative monetary policy coupled with shutdowns of global logistics and labour disruptions was the subsequent excuse when fundamentally things were already in awful shape to begin with.
This means that portfolio concentration (other than not being leveraged up the hilt) should be focused on non-discretionary elements of demand.
These are not serious suggestions, but Beer (TAP), Smokes (MO) and Popcorn (AMC…  just kidding!) will probably be the last industries standing among the carnage.  Even McDonalds (MCD) will not be spared as less and less will be able to afford the $10 "extra value" meals as central banks continue to drain the excess, but Dollarama (TSE: DOL) will thrive.
The conventional playbook would suggest that commodities would fare poorly with a precipitous decline in demand, but this is one of those strange interactions between the financial economy and real economy where hard assets will initially lose value in the face of interest rate increases (this has already happened), but the moment the central banks have stretched the rubber band too hard and it snaps, commodities likewise will be receiving a huge tailwind.
2022 is surely to be a worse year for most broad market investors and the public in general.  Returns are going to be very constrained and P/E expansion will be non-existent (other than by reduced earnings expectations!).  Watch out, and hold onto your wallets.  There will be few that will be spared.
inflation
commodities
monetary
reserve
policy
central bank
monetary policy
Will The Fed Break The Economy (Again)?
Will The Fed Break The Economy (Again)?
Authored by Steven Van Metre via The Epoch Times,
Last week, the Fed was handed an unexpected gift…
Will The Fed Break The Economy (Again)?
Authored by Steven Van Metre via The Epoch Times,
Last week, the Fed was handed an unexpected gift as first-time jobless claims fell to the lowest level since 1969, which gives the Federal Reserve the green light to continue tapering its $120 billion monthly purchases of U.S. Treasury and mortgage-backed securities. Given the Fed's dual mandate of maximum employment and stable prices, low unemployment claims along with a low unemployment rate allow the Fed to focus on combating inflation.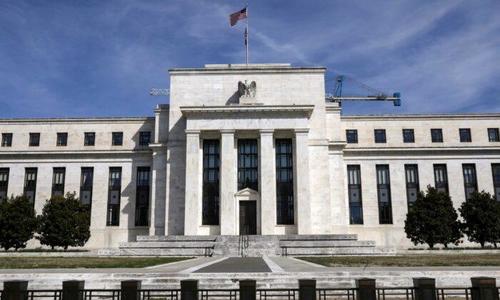 To fight inflation, the Fed only has two policy tools. The Fed can raise the federal funds rate, which is currently at 0 percent, and it can taper or reduce the size of its balance sheet. While those two tools are good at fighting monetary inflation, or rising prices associated with money printing, neither are useful for fighting supply-chain inflation.
The Fed isn't concerned about how inflation manifests itself but only its ability to fight inflation. At the Federal Open Market Committee's Nov. 3 press conference, Fed Chair Jerome Powell announced the committee has decided it was appropriate to reduce its asset purchases.
Starting in mid-November, the Fed would reduce its purchases of U.S. Treasury and mortgage-backed securities from $120 billion per month to $105 billion per month. In mid-December, the Fed will further reduce its asset purchases to $90 billion per month. Many pundits believe the Fed will increase the pace of its reductions at its Dec. 15 press conference, which will mark the last Federal Open Market Committee meeting for 2021.
For the Fed, the need to slow the rate of inflation is a matter of maintaining credibility. Congress has assigned the role of maintaining stable prices to the Fed, which has determined that 2 percent annualized inflation is a reasonable target. With the Consumer Price Index rising at a rate of 6.2 percent on a seasonally adjusted rate in October, there are serious political ramifications for Congress should the Fed be unable to control inflation.
Politicians are nervous about the upcoming November 2022 midterm elections as voters tend to have a negative reaction to inflation—particularly when wages are running below the rate of inflation, which they currently are. As of October, total private average hourly earnings of all employees rose at an annualized rate of 4.9 percent, falling well short of the annualized increase in consumer prices.
The problem for politicians is that voters tend to place the blame on those in power by voting them out of office. With President Joe Biden's renomination of Powell to chair the Fed for another term, he's placing his party's future on Powell's ability to control inflation. While Powell will slow the rate of inflation, the outcome isn't one either political party wants.
Quantitative easing has been largely responsible for the growth rate of the money supply by forcing commercial banks to purchase U.S. Treasury and mortgage-backed securities with customer deposits. While there's little evidence to support that an increase in money supply has a direct correlation to an increase in consumer prices, reducing the growth rate of the money supply will slow the rate of consumer price inflation.
Historically, the M2 Money Supply, which includes cash, checking deposits, and easily convertible short-term money, grows at an annualized rate of approximately 6 percent per year. At its height during the pandemic, the M2 money supply rose more than 27 percent annualized and as of October has slowed to 13 percent annualized.
As the Fed reduces its asset purchases, which require an increase in commercial bank deposits, the growth rate of the money supply will fall below its trend rate of 6 percent per year. With less money being created by the financial system, consumers will be unable to afford higher prices. By rejecting higher prices through lower consumption, consumer prices will fall.
In the short term, due to continued supply-chain disruptions, consumer prices are likely to stay elevated. Food, energy, and rents remain high, which will have a direct impact on cash-strapped consumer budgets. Consumers will be forced to reduce their discretionary spending as a larger percentage of their budgets gets allocated to food, energy, and rents.
This is a similar story to that which led up to the Great Financial Crisis, where consumer price inflation outpaced wage growth and the growth rate of the money supply slowed. Consumers then were unable to afford higher prices, which in turn led to a reduction in consumption along with the inability to keep the red-hot real estate market rising. What followed was a financial crisis that nearly destroyed the global financial markets.
While the Fed will be focused on fighting inflation by reducing its asset purchases in the months to come, Powell and his committee seem unaware of how they're keeping the economy afloat. As the Fed reduces its asset purchases, the growth rate of the money supply will fall below trend, and the economy will likely find itself mired in another financial crisis.
[ZH: Do not forget that the market is already expecting a major policy mistake (or flip-flop), pricing-in a rate-cut between 2023 and 2025…]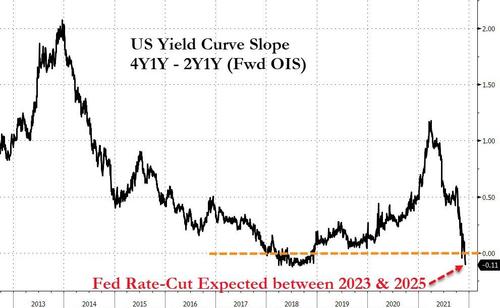 Just like the Great Financial Crisis triggered a deflationary crash, the next financial crisis will do the same. While many politicians and the Fed are worried about inflation, as long as the Fed continues to reduce its asset purchases, inflation will be the least of its concerns.
In the meantime, the Fed has the green light to proceed, and you can expect it to until something breaks.
Tyler Durden
Sun, 12/05/2021 – 13:29
inflation
monetary
markets
reserve
policy
money supply
fed
correlation
money printing
deflationary
crash