Erdogan Tells Lira To Drop Dead As Currency Collapse Threatens Financial System, Bank Runs, Hyperinflation
Erdogan Tells Lira To Drop Dead As Currency Collapse Threatens Financial System, Bank Runs, Hyperinflation
In what should not be confused…
Erdogan Tells Lira To Drop Dead As Currency Collapse Threatens Financial System, Bank Runs, Hyperinflation
In what should not be confused for a masterclass in FX trading, on Monday Turkey's President Recep Tayyip Erdogan defended his pursuit of lower interest rates to boost economic growth and job creation, sending the lira cratering to a new record low against the dollar and plummeting to an unprecedented 35% down on the year, surpassing such banana republic currencies as the Argentina, Colombia and Chili Peso.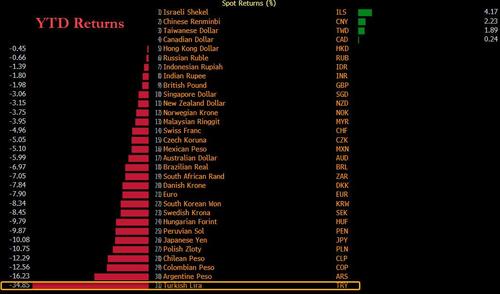 In his latest validation of the bizarre economic school known as "Erdoganomic" which confuses cause and effect as follows…
ERDOGAN: INTEREST RATE IS THE REASON, INFLATION IS THE RESULT
… Erdogan said that Turkey has abandoned old policies based on high borrowing costs and a strong currency in the name of slowing inflation, and instead shifted to a new set-up that prioritizes greater investments, exports and strong job creation, while allowing the currency to collapse and no longer engaging in any lira defense.
"We were either going to give up on investments, manufacturing, growth and jobs, or take on a historic challenge to meet our own priorities," he said after a cabinet meeting in capital Ankara.
While most central banks are talking of tightening policy as the global recovery fuels a surge in prices, Turkey's decision to slash 4 percentage points off borrowing rates since September even as inflation has soared above 20%, has stunned markets and frustrated investors who complain its monetary policy is becoming increasingly erratic and unpredictable.
Some, such as Swedbank AB strategist Hans Gustafson used the dreaded "H" word: "It is very hard to have a view on a fair value for the lira as long as economic policy is out of sync with fundamentals. The lira will continue to fall until economic policy tighten. Current path will lead to hyperinflation and a balance of payments crisis."
As everyone knows, Erdogan is a proponent of the insane mantra that high borrowing costs cause inflation rather than curbing it, and he has demanded a so far receptive central bank cut rates even while price gains race along at near 20%.
Erdogan's pledge to double down on his most recent push for cheaper funding by the nation's central bank sent the lira tumbling after Turkish markets closed. The currency dropped as much as 2.1% to 11.4767 per dollar and was trading 1.4% lower at 11.450 at last check.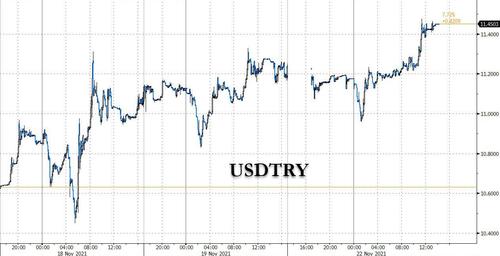 Below are some of the highlights from Erdogan's bizarre, paranoid, at time schizophrenic speech, which reveals that Turkey truly is on the verge of a hyperinflationary collapse:
There is a "game" being played against Turkey by those using interest rates, the currency's exchange rate and inflation
"We're pleased to see that the central bank's policy rate is being kept low"
Turkey will crack down on "unfair, inexplicable price increases" by those using a weak lira as an excuse
"We know quite well what we're doing with the current policy, why we're doing it, and the kind of risks it entails and what we'll achieve at the end"
The belief that inflation can only slow if the economy contracts has no basis
Erdogan's ruling AK Party has for decades based its electoral success on rapid levels of economic growth, often driven by reducing borrowing costs to encourage credit expansion. When the economy sank during the pandemic, support for Erdogan and his party also fell to all-time lows, prompting him to redouble efforts to propel growth though rising prices are hurting his traditional working class base the most.
However, in recent months, perhaps having realized that trying to defend the collapsing lira is futile, Erodgan shifted his tone and questioned why business people did not take out loans and instead of investing in the economy, don't invest in risk assets (i.e., buy stonks) as rates were lowered in the last few months.
"Then they get together (and) talk about high interest rates," he said last week. "What type of people are you? If you are a businessman you are on the side of investment, so here are you go: loans with low interest," Erdogan said.
While it remains to be seen if Erdogan's pivot is accepted by the population, one thing is undpistable: Turkey's currency crisis is driving up the cost of food, medicine and other essentials for average Turks, and poses a threat to the country's banks and large companies if the lira's slide isn't arrested, economists quoted by the WSJ said.
The steep drop in the lira – which as noted above has lost more than a third of its value to the dollar in eight months – is shaking a Turkish society that had long prided itself as an ascendant economy that rivaled its European neighbors. Ordinary people are now struggling with a decline in their living conditions, with rampant inflation putting pressure on wages and eating into savings.
"My life is completely changed," said Kemal Ince, an Istanbul shopkeeper who hails from Rize, the conservative Black Sea stronghold of President Recep Tayyip Erdogan. Ince says that he is ashamed to have to increase the prices of coffee, olives and cheese, and that even as he charges his customers more, he still feels squeezed.
"I don't have the luxury of spending money on anything," he said.
Turkey's current crisis is the worst the country has faced since 2018, when the lira also dropped precipitously amid a crisis in relations with the U.S. Worries over potential loan defaults and stress on banks were so high in 2018, the country's banking regulator allowed lenders to extend loan maturities and facilitate debt restructuring.
Turkey's major banks and companies—many crippled by big foreign-currency loans—now face longer-term risks of instability if Erdogan continues down the path of cutting interest rates further, economists and businesspeople here said.
"These kind of imbalances might end up with a run on banks," said Omer Gencal, a former executive at several Turkish and international banks and now an official with an opposition party. "The current situation isn't sustainable."
According to the Turkish central bank, nonfinancial companies had about $160 billion in foreign-exchange assets and $280 billion in liabilities as of August. The gap has narrowed since 2018, though it is still wide. Banks' lending in foreign currency ranged from 24% to 45% of their total loans in the first half of the year, according to Fitch Ratings.
While banks have kept their nonperforming loans in check, including through the pandemic, Fitch warned in a report last month that "risks remain high given exposure to the volatile Turkish operating environment, risky segments and sectors, significant foreign-currency lending and the high lira interest-rate environment."
Jason Tuvey, senior emerging-markets economist at Capital Economics, however, told the WSJ that the greatest threat for Turkish banks is their ability to rollover their external debts if investors get increasingly spooked.
Short-term external debt of banks stood at $84 billion, or close to 10% of the country's gross domestic product. Mr. Tuvey said April next year will be a key month for banks, given some of that debt will be due then. Tuvey said that back in 2018 banks were able to draw down their foreign-exchange assets held at the central bank to meet external debt repayments.
"The upshot is that banks would be able to muddle through for a short period as in 2018, but they may struggle to cope if access to international capital markets were to be restricted for a considerable amount of time," Tuvey said.
Turkey's large companies may be able to cope with the crisis for the moment because of foreign-currency reserves that he said might be even larger than official figures show, an ability to pass costs onto consumers, and government assistance including loans, according to Hakan Kara, a former chief economist at the central bank.
But as with every case of soaring inflation, the crisis has fallen hardest on ordinary Turks, many of whom are swapping their earnings into foreign currency and cryptos, or looking for ways to flee the country.
"I have no confidence left in the Turkish lira because we cannot see what lies ahead for us in this country anymore," said a woman in her 60s who walked into an exchange office in Istanbul to change 50,000 lira into dollars. The woman, who owns a pharmacy, asked to have her name withheld because of fear of government reprisal.
The government imposed a new rule this week requiring customers to present identification cards any time they exchange more than $100 worth of currency.
Alas, as noted above, Erdogan doesn't appear likely to change course, despite the political risks of soaring inflation. He has intensified his calls for low interest rates and the central bank this week used language that suggested it would cut rates again in December.
Having ruled Turkey for nearly two decades as both prime minister and president, winning elections in part by vastly expanding the country's economy, Erdogan's time in power is at risk of coming to an end as the plummeting lira erodes the standard of living for millions of Turks, driving away potential voters.
"Erdogan runs everything. He doesn't allow either the finance minister, or the central bank governor, or anyone else to do their jobs," said the owner of an exchange office in Istanbul.
Tyler Durden
Mon, 11/22/2021 – 14:07
dollar
inflation
monetary
markets
policy
interest rates
central bank
currency collapse
monetary policy
"Black Friday" Plunge As Market Rattled By Covid Variant
In this 11-26-21 issue of "Black Friday" Plunge As Market Rattled By Covid Variant
"Black Friday" As Market Plunges
Time To Buy Oil
Yes, Interest Rates…
In this 11-26-21 issue of "Black Friday" Plunge As Market Rattled By Covid Variant
"Black Friday" As Market Plunges
Time To Buy Oil
Yes, Interest Rates Will Matter
Portfolio Positioning
Sector & Market Analysis
401k Plan Manager
Follow Us On: Twitter, Facebook, Linked-In, Sound Cloud, Seeking Alpha
---
Is It Time To Get Help With Your Investing Strategy?
Whether it is complete financial, insurance, and estate planning, to a risk-managed portfolio management strategy to grow and protect your savings, whatever your needs are, we are here to help.
Schedule your "FREE" portfolio review today.
---
"Black Friday" As Market Plunges
Last week, we discussed the weakness of the underlying market as "FOMO" had returned to the market.
"The only concern we have is the lack of breadth as of late. As shown, the number of stocks above the 50-dma turned sharply lower this week. Furthermore, they are well below levels when markets typically make new highs. The same goes for the number of stocks trading above their 200-dma's."
Chart updated through Friday.
Over the last couple of weeks, the market has been warning to the risk of a downturn, all that was needed was a catalyst to change sentiment.
That occurred as news of a new "Covid" variant broke, stocks marked "Black Friday" by plunging firmly through the 20-dma and support at recent lows. Notably, that downside break broke the consolidation pattern (blue box in the chart below) that began in early November. While there is some minor support around 4550, critical support lies at the 50-dma at 4527. That support level also corresponds to the September peak.
With mutual fund distributions running through the first two weeks of December, there is additional downside pressure on stocks near term. However, our "money flow sell" signal is firmly intact and confirmed by the MACD signal. Such suggests we continue to maintain slightly higher levels of cash.
Notably, the market is getting oversold near-term, with the money-flow signal depressed. Such suggests that any further weakness will provide a short-term trading opportunity. As discussed last week, the statistical odds are high that we will see a "Santa Rally" as most professional managers will position for year-end reporting.
Just remember, nothing is guaranteed. We can only make educated guesses.
Will The Fed Slow Their Roll
While "Black Friday" usually marks the beginning of the retail shopping season, the question is whether the new "variant," which is flaring concerns of additional lock-downs, will reverse the current economic recovery. As Barron's notes, it will be worth watching the Fed closely.
"Fixed-income markets are signaling that the Federal Reserve will have to increase interest rates sooner than expected, which could put a dent in the stock market.

The yield on the 2-year Treasury note has gone from 0.5% in early November to 0.64% as of Wednesday. The move suggests that investors expect the Fed to raise interest rates to combat inflation that remains higher than expected because of soaring consumer demand and supply chains that are struggling to match demand.

Indeed, minutes released Wednesday from the Fed's meeting earlier this month show that members of the central bank are prepared to increase rates sooner than previously anticipated if inflation remains high."
Of course, this was before "Black Friday" sent yields plunging 10% lower in a single day. Suddenly, the bond market is starting to question the sanity of hiking rates in the face of an ongoing pandemic.
While many pundits have suggested higher interest rates won't matter to stocks, as we will discuss momentarily, they do matter and often matter a lot.
The surge in the new variant gives the Fed an excuse to hold off tightening monetary policy even though inflationary pressures continue to mount. But, what is most important to the Fed is the illusion of "market stability."
What "Black Friday's" plunge showed was that despite the Fed's best efforts, "instability" is the most significant risk to the market and you.
More on this in a moment.
---
---
Time To Buy Oil?
Once a quarter, I review the Commitment Of Traders report to see where speculators place their bets on bonds, the dollar, volatility, the Euro, and oil. In October's update, I looked at oil prices that were then pushing higher as speculators were sharply increasing their net-long positioning on crude oil.
We suggested then that "the current extreme overbought, extended, and deviated positioning in crude will likely lead to a rather sharp correction. (The boxes denote previous periods of exceptional deviations from long-term trends.)
The dollar rally was the most crucial key to a view of potentially weaker oil prices. Given that commodities are globally priced in U.S. dollars, the strengthening of the dollar would reduce oil demand. To wit:
"The one thing that always trips the market is what no one is paying attention to. For me, that risk lies with the US Dollar. As noted previously, everyone expects the dollar to continue to decline, and the falling dollar has been the tailwind for the emerging market, commodity, and equity 'risk-on trade." – June 2021
Since then, as expected, the dollar rally is beginning to weigh on commodity prices, and oil in particular.
While the dollar could certainly rally further heading into year-end, oil prices are becoming much more attractive from a trading perspective. The recent correction did violate the 50-dma, which will act as short-term resistance. However, prices are beginning to reach more attractive oversold levels.
There are also reasons to believe higher oil prices are coming.
---
---
Higher Oil Prices Coming
The Biden administration released oil from the "Strategic Petroleum Reserve," attempting to lower oil prices. He also tasked the DOJ to "investigate oil companies for potential price gouging." These actions are thinly veiled attempts to regain favor with voters but will not lower oil prices.
Oil prices are NOT SET by producers. Instead, speculators and hedgers set oil prices on the NYMEX. Think about it this way:
If oil companies are setting prices to "reap profits," why did oil prices go below ZERO in 2020?
Furthermore, would producers need to "hedge" current production against future delivery?
There are two drivers reflecting positioning by speculators and hedgers:
The expected supply and demand for oil; and,
The value of the dollar.
The more critical problem comes from the Administrations' attack on production over "climate change" policies. As noted in Crude Investing: Energy Stocks & ESG (kailashconcepts.com):
"This isn't rocket science.  Look at the sharply lagging rig response to the rise in energy prices post the Covid crash. This is an anomaly. 

According to history, there should be ~1,300 rigs in operation today based on current oil prices. With only ~480 rigs running today, oil's prospects may be bright over the long haul."
With output at such low levels, OPEC+ refusing to increase production, and "inefficient clean energy" increasing demand on "dirty energy," higher future prices are likely.
If the economy falls into a tailspin, oil prices will fall along with demand, so nothing is assured. However, the ongoing decline in CapEx in the industry suggests production will continue to contract, leaving it well short of future demand.
That is the perfect environment for higher prices.
---
In Case You Missed It
---
Higher Interest Rates Will Lead To Market Volatility
Did "Black Friday's" plunge send a warning about rates? Last week, we discussed that it isn't a question of if, but only one of when.
I showed the correlation between interest rates and the markets. With the sharp drop in rates, it is worth reminding you of the analysis. It is all about "instability."
The chart below is the monthly "real," inflation-adjusted return of the S&P 500 index compared to interest rates. The data is from Dr. Robert Shiller, and I noted corresponding peaks and troughs in prices and rates.
To try and understand the relationship between stock and bond returns over time, I took the data from the chart and broke it down into 46 periods over the last 121-years. What jumps is the high degree of non-correlation between 1900 and 2000. As one would expect, in most instances, if rates fell, stock prices rose. However, the opposite also was true.
Rates Matter
Notably, since 2000, rates and stocks rose and fell together. So bonds remain a "haven" against market volatility.
As such, In the short term, the markets (due to the current momentum) can DEFY the laws of financial gravity as interest rates rise. However, as interest rates increase, they act as a "brake" on economic activity. Such is because higher rates NEGATIVELY impact a highly levered economy:
Rates increases debt servicing requirements reducing future productive investment.
Housing slows. People buy payments, not houses.
Higher borrowing costs lead to lower profit margins.
The massive derivatives and credit markets get negatively impacted.
Variable rate interest payments on credit cards and home equity lines of credit increase, reducing consumption.
Rising defaults on debt service will negatively impact banks which are still not as well capitalized as most believe.
Many corporate share buyback plans and dividend payments are done through the use of cheap debt.
Corporate capital expenditures are dependent on low borrowing costs.
The deficit/GDP ratio will soar as borrowing costs rise sharply.
Critically, for investors, one of the main drivers of assets prices over the last few years was the rationalization that "low rates justified high valuations."
Either low-interest rates are bullish, or high rates are bullish. Unfortunately, they can't be both.
What "Black Friday's" plunge showed was the correlation between rates and equity prices remains. Such is due to market participants' "risk-on" psychology. However, that correlation cuts both ways. When something changes investor sentiment, the "risk-off" trade (bonds) is where money flows.
The correlation between interest rates and equities suggests that bonds will remain a haven against risk if something breaks given exceptionally high market valuations. The market's plunge on "Black Friday" was likely a "shot across the bow."
It might just be worth evaluating your bond allocation heading into 2022.
---
---
Portfolio Update
We made no substantive changes to portfolio allocations this past week given due to the holidays. Generally, the week of Thanksgiving is a poor indicator of market sentiment given the "inmates are running the asylum."
Therefore, despite the market swinging around a good bit this past week, we will re-evaluate our positioning and holdings when institutional traders return to their desks next week.
However, as a reminder:
"Over the last two weeks, we took profits in overbought and extended equities. We also shortened our bond duration by trimming our longer-duration holdings. Such actions rebalanced portfolio risk short-term. In addition, we run a 60/40 allocation model for our clients; such left us slightly underweight equities and bonds and overweight cash."
Despite the sell-off on Friday, the bullish bias remains strong. We also remain in the "seasonally strong" period of the year, and the seemingly endless supply of money continues to flood into equities.
However, as discussed most of this week, mutual fund distributions will begin in earnest and continue through the second week of December. Such suggests we could see some additional volatility and potential weakness in the market as those distributions get made.
Critically, any correction will provide a decent entry point for the year-end "Santa Claus" rally and the first week of January, which tend to be strong. Therefore, we will try and take advantage of that.
While Friday's plunge likely shocked you out of your "tryptophan-induced" coma, I hope you had a Happy Thanksgiving.
See you next week.
By Lance Roberts, CIO
---
Market & Sector Analysis
Analysis & Stock Screens Exclusively For RIAPro Members
---
S&P 500 Tear Sheet
---
Performance Analysis
---
Technical Composite
The technical overbought/sold gauge comprises several price indicators (RSI, Williams %R, etc.), measured using "weekly" closing price data. Readings above "80" are considered overbought, and below "20" are oversold. The current reading is 65.83 out of a possible 100.
---
Portfolio Positioning "Fear / Greed" Gauge
Our "Fear/Greed" gauge is how individual and professional investors are "positioning" themselves in the market based on their equity exposure. From a contrarian position, the higher the allocation to equities, to more likely the market is closer to a correction than not. The gauge uses weekly closing data.
NOTE: The Fear/Greed Index measures risk from 0-100. It is a rarity that it reaches levels above 90. The current reading is 80.55 out of a possible 100.
---
Sector Model Analysis & Risk Ranges
How To Read This Table
The table compares each sector and market to the S&P 500 index on relative performance.
"MA XVER" is determined by whether the short-term weekly moving average crosses positively or negatively with the long-term weekly moving average.
The risk range is a function of the month-end closing price and the "beta" of the sector or market. (Ranges reset on the 1st of each month)
Table shows the price deviation above and below the weekly moving averages.
---
Weekly Stock Screens
Currently, there are four different stock screens for you to review. The first is S&P 500 based companies with a "Growth" focus, the second is a "Value" screen on the entire universe of stocks, and the last are stocks that are "Technically" strong and breaking above their respective 50-dma.
We have provided the yield of each security and a Piotroski Score ranking to help you find fundamentally strong companies on each screen. (For more on the Piotroski Score – read this report.)
S&P 500 Growth Screen
Low P/B, High-Value Score, High Dividend Screen
Fundamental Growth Screen
Aggressive Growth Strategy
---
Portfolio / Client Update
This past week, we took no substantive actions in portfolios. Such is because Thanksgiving week usually trades on very light volume.
"Given the more exceeding levels of FOMO in the market currently, we remain weighted towards equity risk. Therefore, from a portfolio management standpoint, we must continue to press for portfolio returns for clients. However, don't mistake that as a disregard for the underlying risk.

Over the last two weeks, we took profits in overbought and extended equities (F, NVDA, AMD). We also shortened our bond duration by trimming our longer-duration holdings. Such actions rebalanced portfolio risk short-term. In addition, we run a 60/40 allocation model for our clients; such left us slightly underweight equities and bonds and overweight cash.
The best opportunity to increase equity would come from a correction in early December as mutual funds distribute their annual gains. Such would provide a better entry point for the year-end "Santa Claus Rally."
As we move closer to the end of the year, I will review our annual performance in both primary models and discuss what we expect as we head into 2022. With the Fed on course to taper their balance sheet, and the market forecasting 3-rate hikes, next year will likely be an entirely different "ball game."
Portfolio Changes
There were no changes this past week.
As always, our short-term concern remains the protection of your portfolio. Accordingly, we remain focused on the differentials between underlying fundamentals and market over-valuations.
Lance Roberts, CIO
Have a great week!
The post "Black Friday" Plunge As Market Rattled By Covid Variant appeared first on RIA.
dollar
inflation
derivatives
commodities
commodity
monetary
markets
reserve
policy
interest rates
fed
central bank
correlation
us dollar
monetary policy
inflationary
crash
The Only Road to Riches
Here is the latest issue of The Journal of Investing Wisdom, where I share insightful stuff on investing I am reading and thinking about. Let's get started….
Here is the latest issue of The Journal of Investing Wisdom, where I share insightful stuff on investing I am reading and thinking about. Let's get started.
A Thought
You or me are not the market. Earning the long-term returns of the market, of the past or the future, is not in our control. Managing our risks and avoiding ruin, mostly is.
"Rationality is avoidance of systemic ruin," Nassim Taleb writes.
Peter Bernstein writes in his brilliant book Against the Gods –
Survival is the only road to riches. Let me say that again: Survival is the only road to riches. You should try to maximize return only if losses would not threaten your survival and if you have a compelling future need for the extra gains you might earn.
Trying to avoid the ruin the stock market system enforces upon people who disregard its workings is rational.
Believing that you can beat the system at it, by playing the game mindlessly, isn't.
---
A Super Text
Value investing requires a great deal of hard work, unusually strict discipline, and a long-term investment horizon. Few are willing and able to devote sufficient time and effort to become value investors, and only a fraction of those have the proper mindset to succeed.

Like most eighth- grade algebra students, some investors memorize a few formulas or rules and superficially appear competent but do not really understand what they are doing. To achieve long-term success over many financial market and economic cycles, observing a few rules is not enough.

Too many things change too quickly in the investment world for that approach to succeed. It is necessary instead to understand the rationale behind the rules in order to appreciate why they work when they do and don't when they don't. Value investing is not a concept that can be learned and applied gradually over time. It is either absorbed and adopted at once, or it is never truly learned.

Value investing is simple to understand but difficult to implement. Value investors are not super-sophisticated analytical wizards who create and apply intricate computer models to find attractive opportunities or assess underlying value.

The hard part is discipline, patience, and judgment. Investors need discipline to avoid the many unattractive pitches that are thrown, patience to wait for the right pitch, and judgment to know when it is time to swing.
~ Seth Klarman, Margin of Safety
---
An Article
The Winds of Change – Howard Marks
The latest memo from Howard Marks is a must read. He discusses the current investment environment, changing nature of business, inflation and the outlook for the traditional workplace, among other topics. Here's a passage –
Today, unlike in the 1950s and '60s, everything seems to change every day. It's particularly hard to think of a company or industry that won't either be a disrupter or be disrupted (or both) in the years ahead. Anyone who believes all the firms on today's list of leading growth companies will still be there in five or ten years has a good chance of being proved wrong.

For investors, this means there's a new world order. Words like "stable," "defensive" and "moat" will be less relevant in the future. Much of investing will require more technological expertise than it did in the past. And investments made on the assumptions that tomorrow will look like yesterday must be subject to vastly increased scrutiny.
---
An Illustration
---
A Quote
After spending many years in Wall Street and after making and losing millions of dollars, I want to tell you this: It never was my thinking that made the big money for me. It always was my sitting. Got that? My sitting tight!
~ Jesse Lauriston Livermore
A Question
Look at your investment portfolio. Is there a part of it that gives you sleepless nights? If yes, what are you doing with it? Why haven't you cut it off?
---
That's about it from me for today.
If you liked this post, please share with others on WhatsApp, Twitter, LinkedIn. Or just email them the link to this post.
If you are seeing this newsletter for the first time, you may subscribe here.
Stay safe.
Regards, Vishal
The post The Only Road to Riches appeared first on Safal Niveshak.
Fed's Exuberance Index Shows Canada's Real Estate To Be A "Bubble On A Bubble"
The U.S. Federal Reserve's latest Exuberance Index (Q2), considered a "smoking gun" for bubbles, shows Canada is well into a real estate bubble – a…
The U.S. Federal Reserve's latest Exuberance Index (Q2), considered a "smoking gun" for bubbles, shows Canada is well into a real estate bubble – a bubble on a bubble.
This article by Lorimer Wilson, Managing Editor of munKNEE.com, is an edited ([ ]) and abridged (…) version of an article by Daniel Wong of betterdwelling.com
The U.S. Federal Reserve Exuberance Index, considered a "smoking gun" for bubbles, seeks to identify…persistent growth in prices in excess of fundamentals to help policymakers act on bubbles early so countries can minimize the damage. Such exuberant price growth is considered irrational and based on emotion and prone to rapid corrections which can become a threat to more than just one buyer.
How do we use this tool? The index makes understanding market exuberance straightforward for analysts. They provide two sets of numbers, a country's index and a 95% critical value threshold. If the quarter rises above the threshold it's an exuberant quarter. After five consecutive quarters of exuberance, you have an exuberant market. That's a bubble and the Canadian real estate just logged its sixth consecutive quarter as an exuberant market, rising to 3.08 and is now more than double the threshold value of 1.37 needed to be considered as such but it might be a lot worse than that just six quarters.
Starting in Q2 2015, housing saw 14 consecutive quarters of exuberance and then 4 out of 5 following quarters marginally below the threshold but that isn't enough time for a period to be considered non-exuberant. Canadian real estate is either one longer bubble or a bubble on a bubble since it didn't correct between. In either case, the gap between fundamentals and prices has expanded this whole time.
Conclusion
A  large correction is needed although the Fed can't tell you when as policy interventions to extend a bubble can delay a correction and any such action is essentially passing on a deficit of market inefficiency, meaning it has to be paid back later – with interest.