Fixed income outlook – The effects of not-so-temporary inflation
It has become clear that the current inflation pressures are not simply transitory. Supply-side disruptions have proven more persistent given the drawdown…
It has become clear that the current inflation pressures are not simply transitory. Supply-side disruptions have proven more persistent given the drawdown in goods inventories, while labour shortages could take months to decline. 'Transitory' inflation looks likely to last 12 to 24 months. This could be long enough to dislodge inflation expectations.
---
This is an abridged version of our latest fixed income outlook
---
US growth, inflation and the Fed
In the US, the fiscal response to the pandemic may well have been excessive. Indeed, easy policy has triggered an asset price boom and financial stability concerns. This has prompted the start of policy normalisation, beginning with a reduction of large-scale asset purchases by the Federal Reserve.
We believe that US economic growth will pick up in Q4 2021 and 2022 as the Covid Delta variant fades, businesses reopen, hiring reaccelerates, and consumers resume spending. The economy should re-attain full employment in H2 2022.
Inflation is likely to be persistent. This should convince the Fed that from September 2022, policy rate rises are warranted at a pace of 25bp per policy meeting.
Looking at longer maturities, the Fed's intolerance of persistent inflation overshoots means the argument for pricing any inflation or real yield risk premia is weak. A swing from a net negative Treasury bond supply in 2021 to a surplus of in 2022 should cap the room for any further widening in breakevens, and improve the prospects of a rise in real yields. We believe it will be monetary policy, rather than Treasury supply, that will be the primary driver of the yield curve.
Our 2021 year-end target for the 10-year US Treasury yield is 1.75%, and 1.90% by the end of Q1 2022. We are underweight duration in 5-year Treasuries to position for a repricing of the path of policy rates.
On inflation, we believe the new longer-run fair value for 10-year BEIs (breakeven inflation) is likely at around 2.30%, but current inflation concerns are motivating steady inflows that will keep 10-year BEIs between 2.50% and 2.75%. We are positioned flat BEIs.
On the yield curve, a more hawkish Fed will eventually reduce inflation and real yield term premia on longer maturities. That raises the odds of earlier, but more limited rate rises – hence we have a curve flattening bias.
Eurozone
Investors seem to be sceptical of the ECB's inflation assessment and its new forward guidance. The lack of guidance on what would replace PEPP asset purchases at the end of March 2022 has frustrated the market, and price movements in 'peripheral' bond markets have highlighted their vulnerability to the eventual withdrawal of ECB bond buying support.
It is likely that shorter-dated real yields and BEI rates will remain well supported in Q4. Our view is that slack in the labour market will likely weigh on wage growth, and longer-term inflation expectations will be contained. As such, we have a yield curve steepener and a small short position in BEI at the longer end of the curve.
Increase in HICP inflation not limited to energy costs
The headline harmonised index of consumer prices (HICP) for the euro area reached 4.1% YoY in October, up meaningfully from the roughly 2% level seen between May and July. While energy was the main driver of inflation, prices also accelerated in other categories including logistics costs and prices of   services. Headline HICP is expected to have hit around 4% YoY in November.
Inflation is likely to stay at above 2% in the first half of 2022 until base effects set in and push it down. It is too early to assess whether second-order effects from the persistent supply-side disruptions and surging energy prices have started to feed into – wage – inflation.
ECB monetary policy
The ECB faces difficult decisions in December about what to do after Pandemic Emergency Purchase Programme (PEPP) asset purchases end. Given the continued price pressures, some council members worry about inflation proving more sustained. Others consider the inflation forecasts (1.7% in 2022 and 1.5% in 2023) to be too low. What seems clear is that the size of the asset purchases will be scaled back meaningfully once PEPP is out of the way.
In terms of duration risks, central banks moving towards stimulus withdrawal should put upward pressure on yields. In the eurozone, investment flows from the Next Generation EU funds and individual countries' recovery plans will likely keep growth at above the long-term trend for the coming quarters. This suggests that the sell-off in yields will likely continue.
However, rising inflation expectations and higher input costs might cut into corporate profits and consumers' disposable incomes, creating significant downside risks to growth.
Corporate credit still in favour
Developed market corporate bond spreads have remained low in absolute terms. Given that the macroeconomic environment remains positive and that monetary policy is supportive, even as the degree of support lessens, we do not expect spreads to widen meaningfully in the months ahead.
Fund flows have continued steadily as investors greatly favour corporate credit over sovereign bonds. Challenging valuations, on the other hand, leave little room for further tightening. The outlook for credit quality has if anything improved given the latest company results.
We are neutral to negative on duration for both Europe and US given the outlook for interest rates. We prefer cyclicals to non-cyclicals as the economic growth outlook remains positive in Europe and the US for both investment-grade and high-yield.
In view of the persistent recovery, we expect company managers to shift their focus to spending and growth. While this benefits shareholders, the outcome may not be as positive for credit spreads. We will focus on security selection and on tactical valuations amid a greater dispersion of returns.
Emerging market debt offers value
The upward pressure on inflation has forced some central banks to raise rates and most of the others are now at the end of their cutting cycle. While this is a headwind for EM rates, we believe there are selective opportunities in high yielders.
We believe EM bonds still offer more value versus US peers given their current valuations. While US IG and HY bonds trade at historically narrow spreads, there is room for spreads to compress further for EM IG and HY bonds. EM HY looks the most attractive, especially after the recent sell-off.
Asia high-yield in particular has become appealing. The risks related to property developers in China and a hawkish Fed has led to flight-to-quality spread widening. While defaults are likely to rise in China, spread widening has made the region attractive on a relative value basis compared to other EM regions and global HY.
The recent sell-off in emerging market currencies has left many starting to look attractive again.
---
Any views expressed here are those of the author as of the date of publication, are based on available information, and are subject to change without notice. Individual portfolio management teams may hold different views and may take different investment decisions for different clients. The views expressed in this podcast do not in any way constitute investment advice.
The value of investments and the income they generate may go down as well as up and it is possible that investors will not recover their initial outlay. Past performance is no guarantee for future returns.
Investing in emerging markets, or specialised or restricted sectors is likely to be subject to a higher-than-average volatility due to a high degree of concentration, greater uncertainty because less information is available, there is less liquidity or due to greater sensitivity to changes in market conditions (social, political and economic conditions).
Some emerging markets offer less security than the majority of international developed markets. For this reason, services for portfolio transactions, liquidation and conservation on behalf of funds invested in emerging markets may carry greater risk. 
Writen by magdalena rogala. The post Fixed income outlook – The effects of not-so-temporary inflation appeared first on Investors' Corner – The official blog of BNP Paribas Asset Management, the sustainable investor for a changing world.
inflation
monetary
markets
reserve
policy
interest rates
fed
monetary policy
Goldman Slams Omicron Panic: "This Mutation Is Unlikely To Be More Malicious; No Reason For Portfolio Changes"
Goldman Slams Omicron Panic: "This Mutation Is Unlikely To Be More Malicious; No Reason For Portfolio Changes"
One look at the ridiculous…
Goldman Slams Omicron Panic: "This Mutation Is Unlikely To Be More Malicious; No Reason For Portfolio Changes"
One look at the ridiculous plunge across asset markets on Friday, which sent oil into one of its biggest tailspins in history (which as Goldman calculated would only make sense if the Omicron lockdowns are twice as bad as anything observed so far), and one would think that the Omicron variant – which as Edward Snowden so aptly put it "sounds like the name of an 80s movie's evil Robot King" (of course, the WHO had no choice but to skip the Xi variant, located right before Omicron in the Greek alphabet for obvious propaganda reasons) – is several times more aggressive and far more deadly than the Delta or any other Covid variant to date. Neither is the case, and in fact, as even Tom Peacock, one of the original Imperial College narrative-setters admitted, "it may turn out to be an odd cluster that is not very transmissable."
Alas, that would not help politicians who kill a lot of birds with just one brand new and "horrifying" variant, including getting a carte blanche for trillions in new vote-buying stimmies, enforcing even more ruthless and authoritarian government restrictions a dream come true for all liberal fans of big government, and most importantly forcing another round of mail-in ballot elections one year from today. 
And yet, perhaps the pandemic apocalypse is not just around the corner. On one hand, Angelique Coetzee, the chairwoman of the South African Medical Association said today that "the new Omicron variant of the Coronavirus results in MILD disease, WITHOUT prominent symptoms." On the other, none other than the most important bank on Wall Street – Goldman "Vampire Squid" Sachs – which sets the narrative that all other banks dutifully follow, has decided that it's not worth starting a panic crash over this mutation and in a note published late on Friday writes that "this mutation is unlikely to be more malicious and that the existing vaccines will most likely continue to be effective in preventing hospitalizations and deaths" and as a result, while Goldman "would monitor the situation in Gauteng closely over the next month, we do not think that the new variant is sufficient reason to make major portfolio changes."
Translation: brace for a face-ripping rally come Monday when carbon-based traders finally take over from the idiot algos.
Below are more details from Goldman's London trader Borislav Vladimirov who penned his "Initial thoughts on risks from the B.1.1.529 variant and market implications."
Main points
While we do not have sufficient information to forecast a global B.1.1.529 wave, a high rate of transmission almost inevitably leads to a variant's dominance.
Nevertheless, the South Africa NICD (link to their Q&A here) note that this mutation is unlikely to be more malicious and that the existing vaccines will most likely continue to be effective in preventing hospitalizations and deaths. The current PCR and antigen tests are expected to continue to identify the mutation.
As such, while we would monitor the situation in Gauteng closely over the next month, we do not think that the new variant is sufficient reason to make major portfolio changes.
Having said that, given the time of the year and liquidity as well as policy risks in December, investors could consider short term hedges for growth sensitive risky assets.
We would start from what we know:
The variant has a large number of mutations
It has the P681 H spike protein mutation associated with the higher transmissibility of Delta
Currently no unusual symptoms have been reported following infection with the B.1.1.529 variant and as with other variants some individuals are asymptomatic.
It is easy to identify and hence monitor – The B.1.1.529 lineage has a deletion (△69-70) within the S gene that allowed for rapid identification of this variant in South Africa and will enable continued monitoring of this lineage irrespective of available sequence data.
Most likely current PCR and Antigen test will continue to identify it well.
Potentially high transmissibility has triggered market concern:
It is gaining pace rapidly sequencing  90% of new cases just 2 weeks since emergence. For comparison the Delta needed 3 months to reach that intensity. This is the most concerning data point that has attracted market attention.
One caveat is that the fast acceleration data could be skewed by location. The virus is spreading in Gauteng which is the largest and most densely populated province of SA. (15.2mio people with population density that is 17.3x higher than the country average)
The level of restrictions in SA at the moment (measured by the government stringency index) is low (relative to Israel or Austria for example, see chart below). This can be helping faster spread that isn't necessarily driven exclusively by the virus characteristics
Cases of B.1.1.529 have been identified in Botswana, Israel and Hong Kong. If the variant is highly transmissible, it is most likely that it will eventually spread despite travel restrictions.
What we still do not know…
We have no information on the variant's impact on hospitalizations and mortality. A careful monitoring of the Gauteng data over the next two weeks is essential.
There are reports that two of the cases were fully vaccinated. This is a very small sample to make any conclusions and we do not know for how long the patients were vaccinated. What we know from Delta is that antibody levels wear off between 6 and 9 months after the second vaccine and that while the vaccines are less effective in preventing infection, they are still highly effective in preventing hospitalization and death. For the time being there is no reason to believe that this variant will be different in that respect.
Will the Pfizer pill be effective against the new mutation?
Is the European wave driven by the new variant?
While the new variant could be present in Europe, the rapid rise in cases is driven by the Delta variant (see information below)
The European data comes with about a month delay from sequencing time so we should know more by the third week of December (unless the process accelerates due to the attention on the new variant)
Efforts to limit the current Delta wave in a number of European countries could help preventing the spread of B.1.1.529, if already present.
Is the above a reason to be concerned?
A very broad press focus in the past 24h has received high market attention.
It will take weeks before we get additional official information and scientific evidence about the potential risks.
This comes at a time when investors have been surprised by some of the lockdown measures announced in Europe
And also when real growth is likely to fall meaningfully on higher inflation (even though nominal growth is likely to stay well above average)
At this time of the year positions in risky assets, especially after strong YTD gains, could be vulnerable to short term corrections (ie 2018 template)
Travel restrictions will delay the process of logistics network normalization which would imply that the supply capacity constraints easing anticipated for H2-2022 might take longer to materialize.
Meanwhile, monetary policy has recently shifted gears to signal faster removal of accommodation which could add to a short-term risk aversion into the December FOMC.  
Conclusion: while we do not have sufficient information to forecast a global B.1.1.529 wave, a high rate of transmission almost inevitably leads to a variant dominance. Nevertheless, we can have reasonable degree of confidence that this mutation is unlikely to be more malicious and that the existing vaccines will most likely continue to be effective in preventing hospitalizations and deaths. As such, while we would monitor the situation in Gauteng closely over the next month, we do not think that the new variant is sufficient reason to make major portfolio changes. 
Tyler Durden
Sat, 11/27/2021 – 16:59
inflation
monetary
markets
policy
monetary policy
crash
Peter Schiff: The 'Devil You Know' Is Still A Devil
Peter Schiff: The 'Devil You Know' Is Still A Devil
Via SchiffGold.com,
On Monday, President Joe Biden reappointed Jerome Powell to head…
Peter Schiff: The 'Devil You Know' Is Still A Devil
On Monday, President Joe Biden reappointed Jerome Powell to head up the Federal Reserve and nominated Lael Brainard to serve as the vice-chair. In his podcast, Peter Schiff talked about Biden's decision, the markets' reaction and what the Fed will (or will not) do moving forward. Ultimately, Peter said the devil you know is still a devil.
Peter predicted Biden would stick with Powell. He said there was no political upside for him to do otherwise.
If something happened, something goes wrong, which something is going to go wrong most likely — so, it's going got hit the fan — and if it hit the fan with Brainard at the helm, well, Biden would own it. People could say, 'Oh, the reason the economy went off a cliff, the reason that inflation is running out of control, it's all because you put Brainard in as Fed chairman.' Whereas, if everything falls apart under Powell's watch, well, Biden can simply say, 'It's not my fault. Powell was Trump's guy. I just left him in power because he was already there and there was bipartisan support.'"
If things go well under Powell, Biden can take credit, saying, "Hey, I renominated him."
Peter said the crazy thing about the announcement, which was entirely predictable, was the market reaction. In the two days after the announcement, gold sold off by over $60 dollars and fell back below $1,800 an ounce. Silver took an even bigger hit, down about $1.25. Meanwhile, there was a big rally in the dollar index and bond yields went up. Peter said it makes no sense.
All of a sudden, Powell, the guy who's been there the entire time, almost four years, the architect of this reckless monetary policy, zero percent interest rates, huge quantitative easing, inflation is transitory, there's nothing to worry about — the same guy who brought us to this inflation party — we're going out with the same guy again and everybody now is celebrating that somehow this massive dove has become a hawk. All of a sudden, everybody is excited that Powell is going to fight inflation in his second term."
What makes people think Powell is suddenly going to become an inflation warrior? He hasn't fought it at all up to this point.
He spent his first term lighting inflation fires. Why anybody believes he's going to put out those fires in his second term is beyond me."
The reaction in the gold market was particularly puzzling. Just a couple of days ago, people were buying gold because they were worried about inflation. The yellow metal pushed above $1,850 after October CPI came in much hotter than expected.
One of the main reasons to be worried about inflation was because Powell was chairing the Federal Reserve. And Powell had made clear that the Fed is doing nothing about inflation. They think it's transitory anyway. … If you were worried about inflation and you were buying gold a couple of days ago, why are you suddenly no longer worried about inflation and dumping your gold?"
Sure, Brainard would have likely directed a slightly looser monetary policy than Powell. But she's not that much more dovish than Powell.
Powell's not a hawk. And so, simply because we didn't replace one dove with an even bigger dove doesn't mean the dove that's still there is going to turn into a hawk and suddenly start fighting inflation. He's not."
If anything, the makeup of the FOMC will be even more dovish now than it was before with Brainard serving as vice-chair.
If you were worried about inflation and the current FOMC, you should be even more worried, or slightly more worried as a result of this change than you are right now. Yet the market is acting as if everything has changed and we're going to have this tough on inflation Fed."
After the announcement, Biden, Powell and Brainard spoke to the press. All three talked about fighting inflation. Peter said he thinks the articulation of that commitment got everybody thinking that the central bank is now serious about the inflation problem. None of this makes sense
Politically, they have to say they're against inflation because inflation is all over the news. It's what everybody is complaining about. So, even if they have no intention of doing anything about it, they have to at least create the pretense that that's what they're going to do. So, you wouldn't expect anything less. But even if, as a result of this tough talk on inflation, they actually do taper a little bit quicker and raise rates a little bit sooner, who cares? Because even a quicker pace is meaningless in the face of what's going on."
Even using the government numbers, inflation is running at around 7%. It would likely be double that using real numbers.
In order to rein in this inflation in the 1970s, or by 1980, rates had to go to 20%. All we're talking about is a couple of rate hikes. We won't even raise rates up to 1%. So, why should this make any difference to an inflation rate this high? If you could fight inflation with 1% interest rates, well, why didn't we do that in the 1970s? It's because you can't — especially when inflation is already as bad as it is right now. And by the way, it will be even worse by the middle of 2022 when they finally get around to supposedly raising interest rates — if they actually do it."
Meanwhile, during the taper, the Fed will still be doing quantitative easing. That, by definition, is creating even more inflation.
You can't put out a fire by pouring less gasoline on it. Because any gasoline you pour on the fire is going to make it bigger. That's all the Fed is claiming it's going to do."
To truly fight inflation, the Fed actually needs to tighten. It needs to shrink its balance sheet and shrink the money supply. It's not talking about doing that.
On top of that, Biden needs the Fed to keep inflating and monetizing the deficits in order to pay for all of his massive spending plans.
If the Fed tapers to zero, there's no way the private sector would finance all these deficits without the help of the Fed. I don't know why no one has put two and two together — that what the Fed is promising is impossible."
Tyler Durden
Sat, 11/27/2021 – 15:45
dollar
gold
silver
inflation
monetary
markets
reserve
policy
money supply
interest rates
fed
central bank
monetary policy
Global Fertilizer Shortage Threatens to Send Food Prices Even Higher
A global shortage of nitrogen fertilizer has pushed prices upwards to record-highs, threatening to raise already-elevated food prices even higher.
The…
A global shortage of nitrogen fertilizer has pushed prices upwards to record-highs, threatening to raise already-elevated food prices even higher.
According to Argus Media, nitrogen fertilizer prices have soared to the highest in nearly a decade, with prices already up 80% since the beginning of the year. Farmers apply the chemical ahead of the planting season to boost yields for a variety of crops, including corn, canola, and wheat; however, with the sharp upward trajectory in prices, some crop producers have decided to delay their nitrogen fertilizer purchases, which could result in a cascade of rush-buying come spring,
In that event, demand for the commodity would suddenly skyrocket, leaving some without the fertilizer altogether due to shortages. According the Guardian, which cited US Agricultural Retailers Association CEO Daren Coppock, there is currently still enough fertilizer supplies for an application before winter, but with prices accelerating fast, "there's going to be a lot of people who wait and see." And, in that event, "if everybody's scrambling in the spring to get enough, somebody's corn isn't going to get covered," which could ultimately lead to even higher bread and meat prices next year.
Global food prices hit the highest level in 10 years in October, marking an increase of more than 30% compared to the same period one year ago, according to data compiled by the United Nations Food and Agriculture Organization (FAO). If strong crop yields fail to materialize in 2022, food inflation will accelerate even further, which could lead to widespread famine across some parts of the world.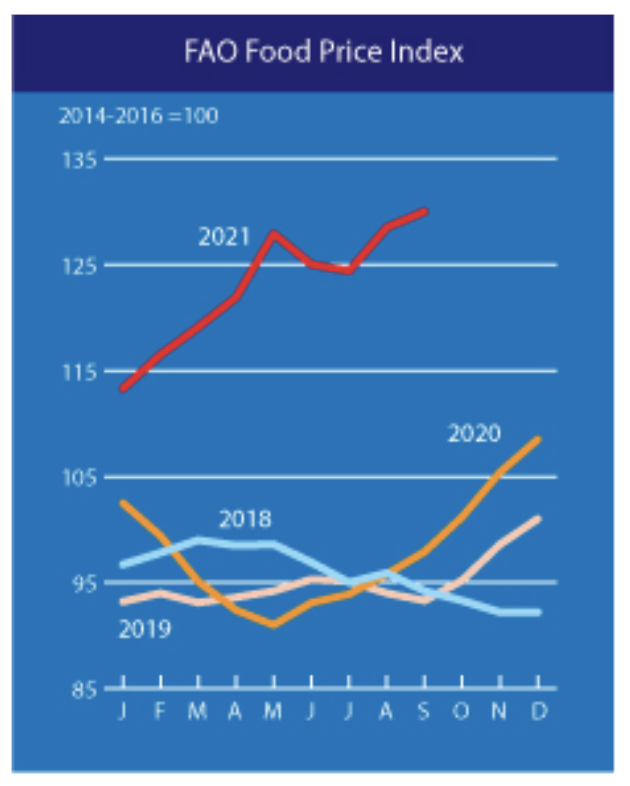 ---
Information for this briefing was found via the companies mentioned. The author has no securities or affiliations related to this organization. Not a recommendation to buy or sell. Always do additional research and consult a professional before purchasing a security. The author holds no licenses.
The post Global Fertilizer Shortage Threatens to Send Food Prices Even Higher appeared first on the deep dive.