FOMC Minutes Confirm Tapering Begins Mid-Nov or Dec At $15BN Monthly, Several Preferred "More Rapid" Bond-Buying Cuts
FOMC Minutes Confirm Tapering Begins Mid-Nov or Dec At $15BN Monthly, Several Preferred "More Rapid" Bond-Buying Cuts
Since the last FOMC…
FOMC Minutes Confirm Tapering Begins Mid-Nov or Dec At $15BN Monthly, Several Preferred "More Rapid" Bond-Buying Cuts
Since the last FOMC meeting (September 22nd) - when Chair Powell began to detail the taper and rate-hike traajectory to come - bonds are down (yields higher) but stocks, gold, and the dollar are all up around 1%...
Source: Bloomberg
And even more notably, the trajectory (and initial timing) or rate-hikes has soared...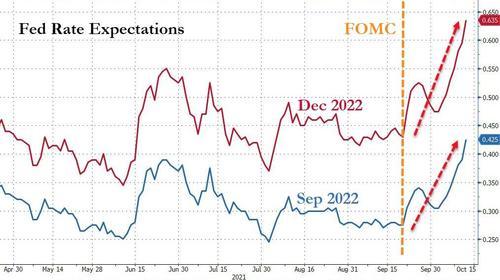 Source: Bloomberg
But the long-end of the yield curve is signaling that The Fed will once again commit a faux-pass...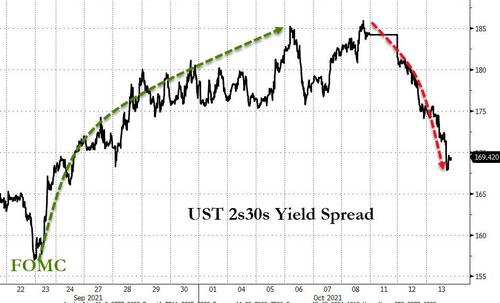 Source: Bloomberg
So the big question the market is trying to glean from today's Minutes is - just how 'consensus' is the imminent taper talk... and potentially a sooner than expected rate-hike? Especially after today showed that consumer price readings have come in at 5% or higher on a year-over-year basis for five straight months, undermining the "transitory" theme put forward by central bankers.
As a reminder, The Fed confirmed plans to begin reducing their bond-buying stimulus program in November and to possibly end the asset purchases entirely by the middle of next year - this was confirmed in the Minutes...
Participants also expressed their views on how slowing in the pace of purchases might proceed.

In particular, participants commented on an illustrative path, developed by the staff and reflecting participants' discussions at the Committee's July meeting, that gave the speed and composition associated with a tapering of asset purchases. The illustrative tapering path was designed to be simple to communicate and entailed a gradual reduction in the pace of net asset purchases that, if begun later this year, would lead the Federal Reserve to end purchases around the middle of next year.

The path featured monthly reductions in the pace of asset purchases, by $10 billion in the case of Treasury securities and $5 billion in the case of agency mortgage-backed securities (MBS). Participants generally commented that the illustrative path provided a straightforward and appropriate template that policymakers might follow, and a couple of participants observed that giving advance notice to the general public of a plan along these lines may reduce the risk of an adverse market reaction to a moderation in asset purchases. Participants noted that, in keeping with the outcome-based standard for initiating a tapering of asset purchases, the Committee could adjust the pace of the moderation of its purchases if economic developments were to differ substantially from what they expected. Several participants indicated that they preferred to proceed with a more rapid moderation of purchases than described in the illustrative examples.

No decision to proceed with a moderation of asset purchases was made at the meeting, but participants generally assessed that, provided that the economic recovery remained broadly on track, a gradual tapering process that concluded around the middle of next year would likely be appropriate.

Participants noted that if a decision to begin tapering purchases occurred at the next meeting, the process of tapering could commence with the monthly purchase calendars beginning in either mid-November or mid-December.

Several participants indicated that they preferred to proceed with a more rapid moderation of purchases than described in the illustrative examples.
This is what that looks like...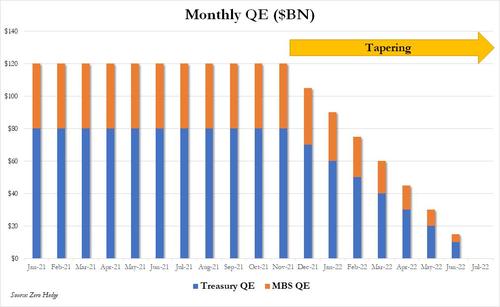 "Many" thought the progress test would be met "soon"
A number of participants assessed that the standard of substantial further progress toward the goal of maximum employment had not yet been attained but that, if the economy proceeded roughly as they anticipated, it may soon be reached."
On rate-hikes:
"Various participants stressed that economic conditions were likely to justify keeping the rate at or near its lower bound over the next couple of years."
On Inflation:
Some participants expressed concerns that elevated rates of inflation could feed through into longer-term inflation expectations of households and businesses or saw recent inflation data as suggestive of broader inflation pressures. Several other participants pointed out that the largest contributors to the recent elevated measures of inflation were a handful of COVID-related, pandemic-sensitive categories in which specific, identifiable bottlenecks were at play. This observation suggested that the upward pressure on prices would abate as the COVID-related demand and supply imbalances subsided. These participants noted that prices in some of those categories showed signs of stabilizing or even turned down of late. Many participants pointed out that the owners' equivalent rent component of price indexes should be monitored carefully, as rising home prices could lead to upward pressure on rents. A few participants noted that there was not yet evidence that robust wage growth was exerting upward pressure on prices to a significant degree, but also that the possibility merited close monitoring.
On "Transitory" Inflation:
Participants noted that their contacts generally did not expect bottlenecks to be fully resolved until sometime next year or even later.
On Evergrande contagion:
Concerns over the period about the effects of COVID-19 developments on economic performance and, late in the period, about a heavily indebted Chinese property developer appeared to have only marginal net effects on financial asset prices.

...

On September 20, stock market prices fell notably and speculative-grade yield spreads widened amid rising concerns about the creditworthiness of a Chinese property developer, but these moves were mostly reversed during the following day, particularly in the stock market.
On the economy:
In discussing the uncertainty and risks associated with the economic outlook, participants noted that uncertainty remained high.

A number of participants judged that the uncertain course of the virus, supply chain disruptions, and labor shortages complicated the task of interpreting incoming economic data and assessing progress toward the Committee's goals. Participants generally saw the risks to the outlook for economic activity as broadly balanced. Uncertainty around the course of the virus, the resolution of supply constraints, and fiscal measures were cited as presenting both upside and downside risks. In addition, some participants mentioned the risks associated with high asset valuations in the United States and abroad, and a number of participants commented on the importance of resolving the issues involving the federal government budget and debt ceiling in a timely manner. Most participants saw inflation risks as weighted to the upside because of concerns that supply disruptions and labor shortages might last longer and might have larger or more persistent effects on prices and wages than they currently assumed.

A few participants commented that there were also some downside risks for inflation, as the factors that had held inflation down over the previous long expansion were likely still in place.
There was complete unanimity in the decision to taper:
All participants agreed that it would be appropriate for the current meeting's postmeeting statement to relay the Committee's judgment that, if progress continued broadly as expected, a moderation in the pace of asset purchases may soon be warranted
Finally, there were 18 mentions of COVID in Sept Minutes, up from 3 in August.
*  *  *
Read the full FOMC Minutes below:
Tyler Durden
Wed, 10/13/2021 - 14:08
dollar
gold
inflation
reserve
fed
One Bank Spots A "Major Development" In Today's Inflation Report
One Bank Spots A "Major Development" In Today's Inflation Report
The latest CPI report came in hotter than expected, with Core CPI rising…
One Bank Spots A "Major Development" In Today's Inflation Report
The latest CPI report came in hotter than expected, with Core CPI rising 0.24% mom in September, bouncing back from the 0.1% rise in August, and keeping the Y/Y rate steady at 4.0% (4.03% unrounded) yoy. Headline inflation rose 0.41% mom, above the 0.3% consensus estimate, which bumped up Y/Y to 5.4% from 5.3%. Energy prices soared 1.3% mom and food spiked to 0.9% mom.
Taking a closer look at the report, BofA's Alex Lin writes that "a major development in this report was a notable acceleration in OER to 0.43% mom and rent of primary residence to 0.45% from its prior 0.2-0.3% mom trend." To be sure, this is hardly a surprise, with this website warning last month that the surge in rents meant an OER spike was just a matter of time.
Lin echos this today and writes that "given strength in the high frequency rent data, we believed it was only a matter of time before the CPI rent components broke out higher. While one month does not make a trend, this is an early signal of stronger persistent inflation pressures materializing, ultimately supporting continued above-target inflation over the medium term."
All we can add to this is that if OER simply follows already realized rental price increases, OER is set for an orbital liftoff similar to that enjoyed by William Shatner just now.
Going down the list, BofA notes that medical care was an underwhelming -0.1% mom as health insurance remained a drag of -1.0% mom; to BofA, this indicates the BLS did not begin to incorporate the 2020 data just yet, but instead delayed it to October which means even more pent up official price increases on deck. Outside of health insurance, hospitals cooled to a 0.1% clip and professional services declined by -0.2% mom.
Surprisingly, core commodities were mixed this month suggesting muted transitory inflation from supply shortages. On one hand, both new cars and household furnishings & supplies rose 1.3% mom, education & communication commodities increased 0.6%, and medical commodities were up 0.3%. On the other hand, used cars fell -0.7% mom, apparel tanked -1.1% mom amid unfavorable seasonals, and recreation goods decreased -0.2% mom.
As we discussed earlier, used cars will turn higher in coming months as Manheim wholesale prices rebounded, ending a 3-mo streak of declines and modestly surpassing the prior high.
Meanwhile, reopening pressures were a drag as lodging declined -0.6% mom, airfares slid -6.4% mom, and rental prices fell -2.9% mom (looks like nobody at the BLS tried to book a flight last month). Broader transportation services were down - 0.5% mom, with motor vehicle insurance of +2.1% a positive offset.
As BofA summarizes, "overall the positive surprise in persistent inflation suggests we remain in a hot economy, which could prompt the Fed to move sooner." Meanwhile higher energy and food prices but mixed core commodities may ease some recent concerns about "slowflation."
Adding to price pressures, transitory prices can turn higher going forward, however, both from supply-shortages and reopening as high frequency data point to an inflection in activity especially with covid fears fading from consciousness.
In short, the print reflected that while transitory factors continue to roll-off, stickier more persistent factors are becoming more prevalent, which the Fed is more likely to respond to.
This helps explain the market reaction - the market reaction was as expected: nominal rates in the front-end to belly of the curve rose as much as 6bps, though the move has partially retraced, while longer dated tenors were little-changed; the sharp bear flattening as short-term yields rose but the 10Y tumbled as the market braced for another rate hike into a stagflation/recession.
The move was concentrated in inflation breakevens though real rates also initially moved higher on the back ofthe print. Market-implied longer term inflation expectations measured by five-year, five-year inflation breakevens were less than 1bp lower following the print. Policy-sensitive rates rose 4 to 5 bps across 2023 expiries, with the market pricing a modestly steeper near-term trajectory of rate hikes.
Finally, here is the M/M heatmap...
... and the YoY.
Tyler Durden
Wed, 10/13/2021 - 12:30
inflation
stagflation
commodities
policy
fed
Continuing accelerated consumer inflation points to sharp slowdown, but no recession imminent
  – by New Deal democratInflation, along with the expiration of the emergency pandemic payments, is one of the two big threats to this expansion. This…
 - by New Deal democrat
Inflation, along with the expiration of the emergency pandemic payments, is one of the two big threats to this expansion. This morning's report on consumer inflation for September, at 0.4%, was certainly elevated compared with its typical pre-pandemic reading of 0.2%/month, but on the other hand was the third month in a row of sharp deceleration from springtime, during which inflation averaged 0.8%/month. 
Typically inflation has not been a concern unless inflation ex-gas (red) has been in excess of 3.0%. YoY it is now 4.1%, as it has been for 2 of the 3 prior months. Meanwhile YoY total inflation (blue) is 5.4%, slightly higher than the last 3 months: 
Just as importantly, one of the traditional "real" harbingers of a recession has been wages (more broadly, household income) failing to keep pace with inflation: 
Since April, on a YoY basis wages had failed to keep pace with inflation. In September, they eked out a 0.1% gain.
In Absolute terms real wages have been more or less flat for over a year:
This does not necessarily portend a recession, but it is certainly consistent with a sharp slowdown.
Taking a somewhat more granular look at inflation, housing (shelter) is over 1/3 of the entire index, and reflects households' biggest monthly expense. The bad news is that on a monthly basis both inflation in shelter (blue in the graph below) and rent increases (red), which had been within their normal ranges in August, are now both running hot (particularly with the expiration of the eviction moratorium):
This has caused the YoY indexes to also turn up:
This will bleed over into the general shelter inflation index, which has already been telegraphed for many months by price increases as measured by the FHFA and Case-Shiller Indexes.
Turning to motor vehicles, new car prices (red) continued to increase at an elevated pace in September, while used car prices (blue) hit a wall in July and have decreased for two month is a row since then:
On a YoY basis, used car prices, which had been up over 40%, are now up "only" 24%, while new car prices are now up nearly 10%:
Finally, although I won't bother with a graph, there have been renewed gas price pressures in the past several weeks, with prices up about $.10/gallon in that time.
What is the conclusion from all of this? 
First of all, price pressures in these very important sectors of the consumer economy - housing, vehicles, and gas - are constraints going forward into 2022. As I wrote in connection with last month's report, heightened inflation has gone on long enough now that I expect some damage to show up in consumer spending. It hasn't yet, probably because in the aggregate personal savings is up over 20% since just before the pandemic began. That's quite a cushion! Additionally, "real" wage earnings have generally kept pace with inflation, as opposed to declining, so that suggests that consumers can maintain at least a steady level of "real" spending - and it is spending that drives production and jobs.
Secondly, there has been a real deceleration in inflation between the second quarter, during which consumer prices increased at an 8.4% annualized pace (red, monthly right scale vs. YoY, blue, left scale), and the third quarter, during which they increased at a 6.6% annualized pace:
 I expect inflation in both wages and consumer prices to decelerate further from here, with a very important caveat that inflation in rents is a wild card. 
To me this adds up to a sharp slowdown in the economy, but not enough evidence at this point - certainly not in the long or short leading indicators - to suggest a recession in the immediate future.
inflation
Despite Partnership News, Hold off on QuantumScape Stock
News of another collaboration deal with a top 10 automaker gave a boost to QuantumScape (NYSE:QS) stock last month. Between Sept. 20 and Sept. 24, shares…
News of another collaboration deal with a top 10 automaker gave a boost to QuantumScape (NYSE:QS) stock last month. Between Sept. 20 and Sept. 24, shares spiked from $21 to $27 per share.
Source: Michael Vi/Shutterstock.com
But since then? This electric vehicle battery play has given back most of these recent gains.
Yes, much of this was due to the market's overall pullback since Sept 27. Yet even if stocks avoid a true correction, don't take to mean this "green wave" play has a shot of bouncing back in a big way.
Instead, even with the headline-making partnership news, the story's largely the same here. Still years away from turning its technology into a moneymaker, QS stock will likely tank again before it makes its way out of its current trading range. That is, back toward the prices it traded for months back, before the EV bubble began to deflate.
That doesn't mean, however, that this is a stock to avoid, no matter the price. Once less hope and hype gets priced into it, and as the timeline before startup stage and commercialization stage narrows? It may reach a point that it's a screaming buy. For now, though, sitting on the sidelines is still the best move.
QuantumScape Locks Down of Another Big Customer
If you've followed QS stock, you are aware of the company's existing partnership with Volkswagen (OTCMKTS:VWAGY). So, who is this other major automaker that's signing on to help develop/utilize the company's solid-state battery (SSB) technology? The 8-K filing with the Securities and Exchange Commission doesn't name the company. It simply states the other party in its agreement is a large original equipment manufacturer in the automotive space.
On Sept. 27, my InvestorPlace colleague Will Ashworth speculated in an article on QS stock that the unnamed big customer may be Stellantis (NYSE:STLA). Stellantis was formed earlier this year, when Fiat Chrysler and PSA Group merged to form the world's fourth-largest automaker. But whether it's Stellantis or another major automaker may be irrelevant.
What matters is that the company is still moving in the right direction when it comes to commercializing its technology. Once its SSBs are ready for prime time, it now has not one, but two major automakers interested in them. The problem? It isn't happening next month, next quarter, or even next year.
Instead, it's not going to be until at least three years from now that it goes from zero to 60 in terms of generating revenue. In the meantime, the stock, pulling back from its recent spike, still stands to drift to lower prices.
A Solid Entry Point Has Yet to Emerge
QS stock may look cheap today at nearly $25 compared to the triple-digit prices it changed hands for late last year. Yet still valued 100% on its future potential, and not on its current results, shares remain at high risk of moving lower in the near term.
Before, I've talked about this being mostly due to the risk of the overall stock market experiencing a full-on correction. Such an outcome is going to hurt speculative growth plays the most. But even if the market overcomes its latest challenges, or simply sees only a modest pullback from a variety of uncertainties, QuantumScape could still continue to trend lower.
Again, due to the long timeline between now, and when it starts generating revenue from its SSBs. Worse yet, if the company starts failing to hit technical milestones? Investors willing to hold it now may decide to make their exit. How low do I think this stock could go?
As commentators like Al Root from Barron's have noted, it's tough to assess a price for QuantumScape. Nevertheless, assuming that the company doesn't face a "game over" moment (for instance, its SSB technology is a dud on arrival), investor impatience could result in further gradual moves lower. The silver lining? If it sees another double-digit decline, a solid entry point could emerge.
The Bottom Line on QS Stock
Ultimately, safer, more efficient SSBs could become the preferred battery type in EVs. However, that time remains years away. Still trading at levels that price in its possibilities as near-certainties? It's too early to buy QuantumScape. As I've put it in my past articles on this stock, chances are you'll be able to enter a long-term position at a better price.
Yes, its recent deal with another major automaker is a positive. But given this news likely won't prevent QS stock from sliding further in price, "wait and see" remains your best move.
On the date of publication, Thomas Niel did not have (either directly or indirectly) any positions in the securities mentioned in this article. The opinions expressed in this article are those of the writer, subject to the InvestorPlace.com Publishing Guidelines.
Thomas Niel, contributor for InvestorPlace.com, has been writing single-stock analysis for web-based publications since 2016.
More From InvestorPlace
The post Despite Partnership News, Hold off on QuantumScape Stock appeared first on InvestorPlace.
silver
bubble