France's EDF Crashes Most On Record After Macron Demands Price Caps
France's EDF Crashes Most On Record After Macron Demands Price Caps
Electricite de France SA, also known as EDF, is a state-owned electric…
France's EDF Crashes Most On Record After Macron Demands Price Caps
Electricite de France SA, also known as EDF, is a state-owned electric utility company that the French government has instructed to sell power at a steep discount versus market prices to shield households from soaring electricity prices. 
The unprecedented decision could cost EDF $8.8 billion. Shares in the utility crashed as much as 25% (most on record) on the news and were trading -16% around 8.70 euros (as of 0640 ET). 
Francois Breton, a fund manager at Edmond de Rothschild Asset Management, told Bloomberg that EDF is "the first victim" of the country's upcoming presidential elections in April. French President Emmanuel Macron is relatively unpopular, and the move to counter energy inflation by capping power bills is his attempt to win the support of households.
JPMorgan said the utility might have to raise capital on secondary markets to mitigate losses of selling discounted power. 
It's "from heaven to hell" for EDF, with a tariff intervention, outages, and imminent capital increase, JPM commodity analysts wrote in a Friday note. The analysts said to avoid dip buying in the utility until the smoke settles. 
In other developments, EDF announced Thursday that several of its nuclear power plants would remain offline for longer than expected due to repairs. The shutdown will slash electricity output from reactors by 8%. Last month, multiple nuclear power plants went offline due to cracks in one reactor. 
Like many other European countries, France has been grappling with an energy crunch. The cap will only allow electricity bills for households to rise about 4% this year. The government is also slashing taxes on electricity worth around 8 billion euros to lower prices. 
Macron's attempt to curb household inflation is a political move at the expense of a state company to improve his prospects for the presidential elections in April. 
We see a longer-term headwind for European utilities as the energy crunch on the fuel-starved continent shows no signs of abating as politicians are eager to do anything in their power to protect households from soaring electricity prices. 
Tyler Durden
Fri, 01/14/2022 – 08:00
inflation
commodity
markets
Supermarkets Report Food Shortages After Canada Imposes Trucker Vax Mandate
Supermarkets Report Food Shortages After Canada Imposes Trucker Vax Mandate
Overwhelmed supply chains and truck driver shortages worsened…
Supermarkets Report Food Shortages After Canada Imposes Trucker Vax Mandate
Overwhelmed supply chains and truck driver shortages worsened when Canada imposed new border mandates prohibiting unvaccinated American truckers. With low vaccination rates among US drivers, Canadian supermarkets are already reporting rising food inflation and shortages of certain products, according to Bloomberg. 
Canada's vaccine mandate for truckers came into effect on Saturday. The new rule requires US truckers to be vaccinated to cross the border. We warned earlier this week such a mandate would have "consequences."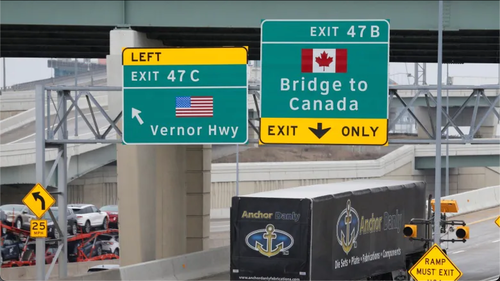 The vaccine mandate has exacerbated the shortage of truck drivers and made wait times at border crossings even longer. Eighty percent of trade between the US and Canada is transited by truck. America exports about 90% of Canada's fruits and vegetables during the winter season. As shipments decline because only about half of US truck drivers are vaccinated, grocery stores report shortages.
"We're seeing shortages," said Gary Sands, senior vice president of the Canadian Federation of Independent Grocers. "We're hearing from members they're going into some stores where there's no oranges or bananas.'"
The main concern is the mandate could create a domino effect and ripple through the already stressed supply chain. Logistical disruptions have been a significant source of soaring inflation. According to North American Produce Buyers, the cost of sending a truckload of fresh produce from Southern California to Canada is now $9,500, up from $7,000. That means companies are paying more for freight and will pass on costs to consumers. 
Given the drop in eligible truckers, products bound for Canada will build in US warehouses with no place to go until new drivers are seen.
The situation will only worsen on Jan. 22 when the US begins imposing its vaccine mandate on Canadian truckers. The Canadian Trucking Association warned the mandate would sideline up to 16,000 truckers. 
Canadian truck drivers are furious with the US decision and have blocked the highway near the US-Manitoba international border to protest the new mandates. Videos posted on social media show the chaos playing out on the other side of the border. 
Truckers Stage Protest Against Mandates At The U.S.-Canada Border at Emerson Manitoba pic.twitter.com/iBwZHHlTJC

— BasedUK (@Based__UK) January 18, 2022
Here is another. pic.twitter.com/HEzKK0V8SF

— Amy (@Amy41294821) January 18, 2022
Cross-border vaccine mandates will only make the supply chain more stressed to the point where it might break.
Tyler Durden
Wed, 01/19/2022 – 21:05
inflation
Chinese Homebuilders Soar As Beijing Prompts Prisoner's Dilemma in Rescue Plan
Chinese Homebuilders Soar As Beijing Prompts Prisoner's Dilemma in Rescue Plan
Just as we predicted last week, bonds and stocks of China's…
Chinese Homebuilders Soar As Beijing Prompts Prisoner's Dilemma in Rescue Plan
Just as we predicted last week, bonds and stocks of China's beleaguered homebuilders surged Wednesday on reports that regulators are considering lifting restrictions on the companies' access to cash from pre-sold properties tied up in escrow accounts. If implemented successfully, it could ease developers' cash crunch.
But, as Bloomberg Markets Live analyst Ye Xie writes, it won't be all smooth sailing, and what needs to be addressed is the "prisoner's dilemma" confronted by local governments. Those who were first to ease their grip on the local escrow accounts may face the risk that developers divert cash away and leave local projects unfinished. "Such concern may limit the incentives for local regulators to carry out the order from Beijing", according to Xie.
Bloomberg reported that releasing funds from the escrow accounts is part of a policy package regulators are contemplating to prevent the real-estate crisis from worsening. Reuters first reported the news, spurring a rally in struggling developers. Dollar bonds of Sunac China jumped 50% Wednesday.
The discussion marks another step by Beijing toward stabilizing the housing market and keeping cash-strapped developers from failing. Meanwhile, as we noted yesterday, the PBOC's dovish briefing Tuesday fueled speculation that mortgage rates could be lowered.
As Xie explains, in China, when real-estate companies sell residential properties before construction is completed, they're required to deposit the proceeds in supervised bank accounts. Proceeds from pre-sales generally make up more than half of developers' cash inflows. Relaxation, therefore, opens up a channel for developers to raise funds, just when they have a mountain of bills and debt to pay in coming months.
But Nomura's economists Lu Ting, Jing Wang and Harrington Zhang are skeptical about how effective the new plan will be. The reason is simple: While the central government can provide the guidance, it's the local governments that have the actual regulatory control over those escrow accounts. Developers' financial challenges mean that local governments will be "quite cautious" about loosening their grip on the accounts.
"We believe local governments do not have an incentive to be the first to ease their grip on their local escrow accounts," wrote Lu in a note. "This is because developers in need of cash will move funds out of the first batch of eased escrow accounts, and those local government officials will have to take responsibility for failed construction projects in their regions as a result."
Last year, Lu attracted wide attention when he published a report drawing parallel between Beijing's commitments to reining in the housing market and Paul Volcker's epic but economically painful campaign to break the back of inflation in the U.S. in the 1970s. The report has so far been correct, and explained quite clearly why Beijing had no choice but to capitulate and ease to avoid an all out collapse of the housing sector.
Tyler Durden
Wed, 01/19/2022 – 20:45
dollar
inflation
markets
policy
Here Are The Highlights From Biden's "Longer-Than-Expected" Press Conference
Here Are The Highlights From Biden's "Longer-Than-Expected" Press Conference
Update (1800EET): In what seemed like an attempt to make up for…
Here Are The Highlights From Biden's "Longer-Than-Expected" Press Conference
Update (1800EET): In what seemed like an attempt to make up for the fact that this was only the second solo presser of his presidency, America's geriatric Democrat-in-chief stretched his Q&A out for nearly two hours. In that time, he blamed a gallery of villains for the woes plaguing contemporary American society. They included: the virus (but – and this is important  – not the Communist-controlled one-party state that unleashed it), meat processors (for driving up prices on meat), Vladimir Putin and, of course, his predecessor, President Trump (but not Dr. Fauci, who helped finance the gain-of-function research that may have helped Chinese scientists create SARS-CoV-2).
First of all, Biden admitted that he suspects Russia will attempt to invade Ukraine. But if they do, Biden promised that the economic costs will be extremely "heavy". He has "never seen sanctions like the ones I've promised will be imposed" Biden said, referring to his rival, President Vladimir Putin.
On the geopolitical front, Biden also said that the US isn't yet ready to remove President Trump's tariffs on China. Does he have a timeline for possible removal? "The answer is uncertain," Biden said. His top trade official is working on it.
And as oil prices continue their climb, Biden said he is doing everything he can to increase available supplies (everything except another release from the US SPR).
Later, he said that it's not too late for talks with Iran to yield another deal. "There is some progress being made," but "it remains to be seen" if Tehran will make a deal, Biden said in a news conference Wednesday marking his first year in office.
He also confirmed that VP Kamala Harris will be his running mate in 2024.
Early in his opening statement, Biden said he wouldn't simply accept the status quo as a "new normal".
"I'm not going to give up and accept things as they are now…some people call it a new normal. I call it a job not yet finished," Biden said.
He also acknowledged that it's become "clear" to him that Democrats in Congress will need to break up the president's tax and spending plans.
While he claims to support the Fed's political independence, Biden said that it's probably appropriate for the central bank to "recalibrate" policy so as to effectively combat inflation. He also said his nominees to serve in senior roles at the central bank (including re-nominating Powell to serve as its chairman for another term) should be approved by the Senate right away.
The No. 1 takeaway from the MSM is that Biden's press conference was "longer than expected". Many of his supporters celebrated this as evidence that the president can still 'turn it on' when he needs to.
On length of Biden's press conference: you cannot answer the question "are you competent?" you can only demonstrate it. That is what Biden did today, and did it in a slam dunk. Anyone who has ever dealt with a hostile reporter, it is a task, draining, takes mental acuity.

— David Doak (@SouthPoint1000) January 19, 2022
Others gleefully mocked them for grasping for a positive.
A hilarious number of people on here attempting to prop up Joe Biden's press conference by complementing its length.

"It may have been rambling and incoherent at times but boy was it long"

— Kevin Dalton (@NextLAMayor) January 20, 2022
Now, we imagine Biden is rewarding himself with a glass of warm milk and a nap.
* * *
President Joe Biden is about to cap his first full 12 months in office by holding what has been described by the NY Post as only the second solo press briefing since the former VP returned to the White House.
Readers can watch live below. The briefing is slated to begin at 1600ET:
Biden is expected to discuss COVID, his dismal approval rating and a range of other topics.
Biden has largely remained out of public view this week – stopping briefly to speak with reporters outside of the White House on Monday.
On Tuesday, members of the White House attended an economic briefing and also called Finland's President Sauli Niinistö to discuss tensions between Ukraine and Russia.
Will Biden's handling of the pandemic elicit tough questions from the press now that the omicron variant has sent cases and hospitalization rates to all-time highs this month? We think you probably know the answer…
More than 855K US residents tested positive for COVID Monday, according to CDC data, nearly 3x last winter's peak of just 294K cases on Jan. 8, 2021. And about 150K US hospital patients have COVID, besting the pre-omicron record of 133K "variant" cases recorded last January.
To put this all in context: 352K Americans died of (or from) COVID in 2020 under Trump, while 474,000 Americans died of/from COVID in 2021 under Biden.
Murderer! Right, Salon?
Now, President Biden is running around trying to "take credit" for the dynamic drop in COVID cases.
The impression that Biden has been asleep at the wheel has helped to drive Biden's job approval rating lower; one recent Quinnipiac Poll tagged Biden's approval rating at just 33%.
President Biden's overall approval rating in the last seven Quinnipiac polls: 49%, 46%, 42%, 38%, 37%, 36%, 33%.

— Ryan Struyk (@ryanstruyk) January 12, 2022
If QPac's numbers are that low, imagine what the "real" numbers might look like.
If even the left-wing pollsters have numbers this bad for Biden, the real numbers must be even more horrific. https://t.co/LiV8S7f7O4

— Mollie (@MZHemingway) January 12, 2022
Either way, Biden is cratering.
The President only agreed to participate in Wednesday's briefing after his top media advisors desperately implored him to get out there and speak directly to the American people.
As Matt Taibbi writes via TK News:
Joe Biden's Awesome First Year
To win an exhausted nation's admiration, all Joe Biden had to do was nothing. Instead, he's burning future votes like kindling…
The Gallup agency released a picture of the comet that is the Joe Biden presidency on its first anniversary. This is what a one-year, 14-point party affiliation swing looks like:
The pollsters put the numbers in context:
Both the nine-point Democratic advantage in the first quarter and the five-point Republican edge in the fourth quarter are among the largest Gallup has measured for each party in any quarter since it began regularly measuring party identification and leaning in 1991.
How great was life for Joe Biden a year ago? MSNBC's John Heilemann compared him to Lincoln; PBS White House correspondent Yamiche Alcindor said the return of the Democrats "felt like we are being rescued from the craziness and now here are the superheroes to come and save us all"; Rachel Maddow went through "half a box of Kleenex" in joy; even Chris Wallace on Fox said Biden's half-coherent inauguration speech was "the best inaugural address I ever heard," JFK's iconic "Ask Not" included.
Biden looks bad. During the campaign, when he was challenging strangers to pushup contests and doing sternum-pokes in crowds while nervous aides bit their lips, you could make the argument he was merely in steep with his mental decline, which was okay. Against Trump the standard of "technically alive" worked for a lot of voters. Biden now looks like a man deep into the peeing-on-houseplants stage, and every appearance is an adventure.
He might say, "Even Dr. King's assassination did not have the worldwide impact that George Floyd's death did," or repeat his evolving fantasy about getting arrested with Nelson Mandela (who according to the president also later came to Washington to say, "You got arrested trying to see me!"), or let it slip that aides are shielding him from all news (a logical takeaway from his "Let's Go Brandon, I agree" Christmas moment). Or, he might just collapse into syllable-piles before casting around in fright, like this gut-wrenching "Where's Tim?" scene:
It's reached the point where MSNBC is permitting guests like Donny Deutsch to say things like, "He seems old." In a panic, Party spokestool Paul Begala went on the network this week to deliver a real-life version of the old Mel Brooks "the peasants are revolting" joke, saying "the problem for the Democrats… is not that they have bad leaders. They have bad followers."
As Paul Begala said, "the problem with the Democrats…FF
Biden has always been an easy punchline. A tumescent yeller with hair plugs is a magnet for comics.
TK News subscribers can continue reading here.
FInally, here are some questions that Biden might face during Wednesday's briefing, courtesy of the Hill:
Is Build Back Better dead? Are you willing to urge Democrats to pass pieces of it rather than the whole proposal?
You have warned for several months that Republican laws like the one in Georgia represent an attack on democracy. Why then did you wait until last week to make a forceful push to alter the filibuster? And would you support reforming the Electoral Count Act if other efforts fail?
What preventative measures is your administration looking at in order to prevent another test shortage and other pandemic-related measures should another variant arise? What do you say to criticism that your administration is reacting instead of being more proactive two years into the pandemic?
Have you been satisfied with the messaging coming from the Centers for Disease Control and Prevention? Can your administration improve the way it communicates about the pandemic to the American public?
You and your advisers have predicted that inflation will be transitory, but with the costs of food, housing and other essential goods rising, how can you assure Americans that your administration is focused on addressing surging inflation?
Last week, the Supreme Court struck down your sweeping vaccine-or-test mandate for large private businesses. Will that be the end of your efforts to mandate vaccines or are more actions on the table?
You recently called the Jan. 6 attack on the Capitol an "insurrection" and an attempted "coup." Do you believe the Justice Department should prosecute former President Trump for his role in the Jan. 6 riot?
Can you commit unequivocally to running for reelection? Will Vice President Harris be your running mate? If you can't commit unequivocally, who do you think should be the nominee if circumstances ultimately cause you to decide against running?
Your press secretary, Jen Psaki, said Tuesday that Russia could launch an attack on Ukraine "at any point." What is your administration going to do to punish Russia if it does so? Are you doing everything you can to try to force Russia to pull troops back from the border with Ukraine?
Tyler Durden
Wed, 01/19/2022 – 20:01
inflation
policy
fed
central bank