Furious Europeans Protest Electricity Hyperinflation: Lagarde Are You Watching?
Furious Europeans Protest Electricity Hyperinflation: Lagarde Are You Watching?
While a faint glimpse of reality did sneak through into the…
Furious Europeans Protest Electricity Hyperinflation: Lagarde Are You Watching?
While a faint glimpse of reality did sneak through into the ECB's latest set of economic projections, with the central bank now projecting that for the first time in over a decade, Europe's 2021 inflation will surpass the ECB's stated target of 2.0%, rising to 2.2% from the June projection of 1.9%, the balance of the outlook remained troubling, with the ECB now predicting inflation drops to 1.7% in 2022 and then again to 1.5% in 2023.
As Bloomberg's Ven Ram put it, "the key number in all of ECB President Christine Lagarde's projections is the HICP inflation number of 1.5%, which shows a modest revision that was expected by the markets. In other words, there's still no sight of 2% inflation over the medium term.   So after all these years of negative rates, APP and PEPP, there will be no end to yet-more accommodation and the ECB is saying its inflation target is still very much work-in-progress. And that against a backdrop where the ECB's own estimates show growth this year and next will be better than it has been in a long, long time. Little wonder that BTPs and bunds are bid."
Meanwhile, as Lagarde stakes the ECB's reputation on the current burst of inflation once again being merely "transitory", the reality on the ground is far uglier, and as the NYT writes overnight, soaring natural gas prices threaten to become a drag on the economies of Europe and elsewhere. Wholesale prices for the fuel are at their highest in years — nearly five times where they were at this time in 2019, before people started falling ill with the virus.
"The high costs feed into electric power prices and have begun showing up in utility bills, weighing on consumers whose personal finances have already been strained by the pandemic. The price jumps are unusual because demand is typically relatively low in the warmer summer months, raising alarms about the prospects for further increases when demand jumps in the winter."
The explosive move - which has pushed European gas prices to fresh all-time highs today, also dragging electricity prices to fresh records highs in some countries - is shown below. Take Spain, with one-day ahead power prices at €152.32 per MWh.
Or Germany, where prices also hit a record...
... and in the Netherlands too.
Meanwhile, one-day ahead electricity prices in the UK just going hyperbolic:
Needless to say, in the "green" continent, all of these explosive moves are the direct result of nat gas prices which have similarly hit all time highs.
Putting the recent price surge in context, Spanish households are paying roughly 40% more than what they paid for electricity a year ago as the wholesale price has more than doubled, prompting angry protests against utility companies. Indeed, as Bloomberg's Javier Blas writes, Spanish day-ahead electricity prices have hit a fresh record high of €141.71 per MWh, which means that "power prices are now front-page story in Spain. A huge political problem."
And because it's my home country, and minister @Teresaribera started to follow me this week on Twitter, here we go with Spanish day-ahead electricity prices, hitting a fresh record high of €141.71 per MWh. Power prices are now front-page story in Spain. A huge political problem. pic.twitter.com/OmdDLk44FW

— Javier Blas (@JavierBlas) September 8, 2021
"The electricity price hike has created a lot of indignation, and this is of course moving onto the streets," said María Campuzano, spokeswoman for the Alliance against Energy Poverty, a Spanish association that helps people struggling to pay energy bills.
The pain is being felt across Europe, where gas is used for home heating and cooking as well as electric power generation. Citing record natural gas prices, Britain's energy regulatory agency, Ofgem, recently gave utilities a green light to increase the ceiling on energy bills for millions of households paying standard rates by about 12 percent, to 1,277 pounds, or $1,763, a year.
Several trends are to blame for soaring prices, including a resurgence of global demand after pandemic lockdowns, led by China, and a European cold snap in the latter part of winter this year that drained storage levels. The higher-than-expected demand and crimped supply are "a perfect storm," said Marco Alverà, chief executive of Snam, the large gas company in Milan.
The worry is that if Europe has a cold winter, prices could climb further, possibly forcing some factories to temporarily shut down.
"If it is cold, then we're in trouble," Mr. Alverà said.
It also means that Europe will be begging Putin's Russia to accelerate the launch of its controversial Nord Stream pipeline; clearly without it European gas prices will go even more parabolic.
Amusingly, the jump has prompted some to call for an acceleration of the shift from fossil fuels to clean domestic energy sources like wind and solar power to free consumers from being at the mercy of global commodity markets. This, of course, is dead wrong because with the ongoing "green" shift across the developed world, existing utilities are mothballing capacity expansions in baseload facilities, meaning that prices will soar much higher until the new "green" regime is established. That could take place in 5 years... or 50.
Even the NYT admits as much noting that "the turbulence in prices may also be a harbinger of volatility if energy companies begin to give up on fossil fuel production before renewable sources are ready to pick up the slack, analysts say. In addition, the closure of coal-fired generating plants in Britain and other countries has reduced flexibility in the system, Mr. Alverà said."
Meanwhile, in the US gas prices have also risen as well, and while Henry Hub briefly rose above $5/mBtu on Wednesday, the highest since 2014...
... US prices are only around a quarter of those being paid in Europe. The United States has a big price advantage over Europe because of its large domestic supply of relatively cheap gas from shale drilling and other activities, while Europe must import most of its gas.
The immediate worry for markets in Europe is that suppliers failed to follow their usual practice and used the summer months to fill storage chambers with cheap gas that will be used during the winter, when cold weather more than doubles the consumption of gas in countries like Britain and Germany. A sharp drop in Russian gas supplies via the Yama-Europe pipeline did not help.
Instead, suppliers responded to the cold weather late last winter by draining gas storage facilities. Subsequently, they have been reluctant to top them up with high-priced gas. As a result, and as we warned one month ago, European storage facilities are at the depleted levels usual in winter rather than the peaks of fall.
"The market is very nervous as we move into the winter season," said Laura Page, an analyst at Kpler, a research firm. "We have very low storage levels for the time of year."
Europe imports around 60 percent of its gas, with supplies coming by pipeline from Russia and to a lesser extent Algeria and Libya. In other words, how much more Europeans will spend on gas this winter, literally depends on Vladimir Putin.
And while liquefied natural gas, arriving by ship from the United States, Qatar and elsewhere, usually helps balance the market, this year, L.N.G. carriers have been drawn to higher prices in China, South Korea and Brazil, where a drought has caused a drop in power generated by dams. As a result, Italy, Spain and northwest Europe have seen a sharp decline in liquefied natural gas infusions, according to data from Wood Mackenzie, a market research firm.
Adding to the tight situation in Europe, Groningen, the giant gas field in the Netherlands that long served as a safety valve for both its home country and western Germany, is being gradually shut down because of earthquakes and environmental concerns. Over the last year European gas prices have risen from around $4 per million British thermal units to about $18.
Russia, the largest gas supplier to Europe, and Algeria have substantially increased their exports but not enough to ease market concerns. Some analysts question whether Gazprom, Russia's gas company, is pursuing a high-price strategy or trying to persuade the West to allow the completion of its Nord Stream 2 pipeline project, which will deliver gas from Russia to Germany.
"On the face of it, it looks as though some sort of game is being played here," said Graham Freedman, an analyst at Wood Mackenzie. On the other hand, Mr. Freedman said, it could be that Gazprom doesn't have any more gas to export. A spokeswoman for Gazprom said: "Our mission is to fulfill contractual obligations to our clients, not to 'reduce the concerns' of an abstract market." She added that Gazprom had increased supplies to near-record levels this year.
Construction of the 746-mile pipeline, which runs under the Baltic Sea, was halted last year just short of completion off Germany's shores by the threat of sanctions from the United States. But in a deal with Germany in July, the Biden administration agreed to drop its threat to stop the pipeline. On Monday, the management company for the project said it aimed to have the pipeline operating this year.
In any case, whatever the reason behind the electricity hyperinflation, we suggest that the ECB and Christine Lagarde pay close attention to staple electricity prices which - more than anything - threaten to send inflation expectations sharply higher at a time when the ECB is also injecting roughly €100BN in liquidity into the market, and if protests accelerate - and/or turn ugly especially if they reach Frankfurt - the ECB will suddenly find itself in a very unpleasant situation.
Tyler Durden
Thu, 09/09/2021 - 10:25
inflation
commodity
markets
central bank
Commodities and Cryptos: Oil slumps, Gold rebounds, Bitcoin plunges
Oil Crude prices are sharply lower after Evergrande debt default fears triggered a flight-to-safety that sent the dollar higher.  Evergrande's woes…
Oil
Crude prices are sharply lower after Evergrande debt default fears triggered a flight-to-safety that sent the dollar higher.  Evergrande's woes are threatening the outlook for the world's second largest economy and making some investors question China's growth outlook and whether it is safe to invest there.  In addition to risk aversion flows pumping up the dollar, some investors are anticipating further hawkish signals that the Fed will set up a formal November taper announcement on Wednesday. 
Complicating the move in crude prices is the surge to record highs for UK gas futures.  Europe does not have enough gas and the energy problem could intensify if the early weeks of winter are cold. 
The US Gulf of Mexico production continues to recover from hurricane season, with now only 18.3% of offshore production being shut-in.  The oil market will still be heavily in deficit early in winter and if more demand comes that way, energy traders will buy any dip they get with crude prices. 
Gold
Gold's rout is taking a break as investors run to safety over concerns Evergrande's debt default concerns could spillover.  Gold got a boost as Treasury yields plunged, with the 10-year yield falling 5.4 basis points to 1.307%. 
Gold's rally could have been much higher if not for the reports that Senator Manchin may be thinking of suggesting Congress take a "strategic pause" until 2022 before voting on the $3.5 trillion social-spending package.  Considering stocks are about to have their worst day since October, it is very disappointing that gold prices are only up around $10.  Gold may continue to stabilize leading up to the FOMC decision, with the next move likely being further downside.  Gold could struggle until the Fed finally starts tapering asset purchase.  It is then that it may start acting more like an inflation hedge.    
Bitcoin
A retest of the September low came far too easily for Bitcoin.  The fallout from the Evergrande is putting a tremendous dent in risk appetite that is sending everything lower. Cryptocurrencies, despite all the volatility, have been the best performing asset of the year, so it should not surprise Wall Street they are the first asset sold in the beginning of China-driven market selloff.    
Retail traders remain bullish, albeit many have capitulated in locking in some profit.  Some traders are anticipating a short pullback, while some lunatics are readying to buy more after tomorrow's full moon.    
In El Salvador, President Bukele tweeted "We just bought the dip. 150 new coins!"  El Salvador's total is now 700 coins and that enthusiasm has yet to be matched by other countries.   
If Bitcoin breaks below the $40,000 level, it could see momentum selling have it eventually return to the $30,000 to $40,000 range that it was in earlier this summer.  
dollar
gold
inflation
commodities
fed
Asia's Largest Insurer Hammered As Investors Sell First, Don't Bother To Ask Questions
Asia's Largest Insurer Hammered As Investors Sell First, Don't Bother To Ask Questions
Few were surprised to see that the crash in Evergrande…
Asia's Largest Insurer Hammered As Investors Sell First, Don't Bother To Ask Questions
Few were surprised to see that the crash in Evergrande dragged down property names (one among then, Sinic Holdings, crashed 87% in minutes and was halted), banks exposed to the property developer (according to report there are over 120), with the contagion spreading to commodities directly linked to China's property sector (such as Iron Ore which plunged 10%), as well as FX of commodity-heavy countries, one ominous decline was that of Asia Pacific's largest insurer, Ping An (whose name literally and unironically means "safe and well"), which dropped 3%, following a 5% drop on Friday, and hitting a four year low on concerns about its property exposure.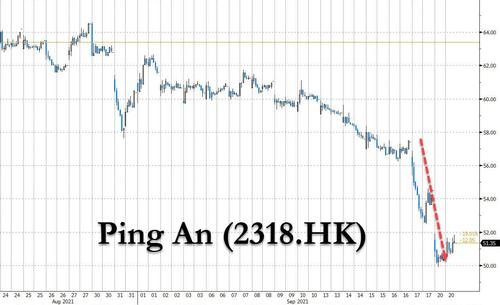 The selling took place even though the company issued a statement Friday saying that its insurance funds have "zero exposure" to Evergrande and other real estate companies "that the market has been paying attention to." Real estate accounts for about 4.9% of Ping An Insurance's investments, versus an average 3.2% for peers, according to Bloomberg Intelligence.
"For real estate enterprises that the market has been paying attention to, PA insurance funds have zero exposure, neither equity or debt, including China Evergrande," Ping An said in a statement as it rushed to reassure investors.
While it may have no exposure, Ping An does have RMB63.1bn or $9.8bn in exposure to Chinese real estate stocks across its RMB3.8TN ($590BN) of insurance funds, and took a $3.2BN hit in the first half of the year after the default of another developer, China Fortune Land Development. The insurer is also head of the creditor committee for China Fortune Land, which specialises in industrial parks in Hebei province and suffered from delayed local government payments. One of its restructuring advisers, Admiralty Harbour Capital, was hired by Evergrande this week.
At a time when any Evergrande counterparties or even rumored counterparties are immediately deemed radioactive, Ping An's plight demonstrates how acute and widespread the selloff could become in China if Beijing fails to intervene.
"I expect a lot of financial institutions could be hit by the worries" about Evergrande, said Zhou Chuanyi, a Singapore-based analyst at Lucror Analytics. "As long as a financial institution has exposure to developers, Evergrande should take quite a significant share of that."
Yet as the market waits for some response official response, hopeful that Beijing will step in, we discussed earlier that China's policymakers have instead sought to crack down on excessive leverage across its vast real estate sector over the past years, which makes up more than a quarter of the economy, imposing a firm threshold known as the "3 Red lines" which developers must adhere to, and which has meant most developers are limit to % or 5% debt growth at best.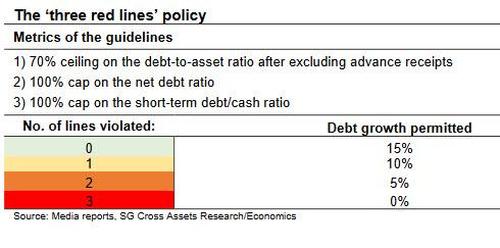 For now it remains unclear how far the contagion will spread, although if Beijing stubbornly refuses to intervene, expect much more pain as capital markets seek to force Beijing's hand by make it unpalatable for the CCP to suffer even more selling which could spark social unrest.
"The price action across several asset classes in Asia today is horrendous due to rising fears over Evergrande and a few other issues, but it could be an overreaction due to all of the market closures," said Brian Quartarolo, portfolio manager at Pilgrim Partners Asia.
As discussed earlier, Xi faces a tricky balancing act as he tries to reduce property-sector leverage and make housing more affordable without doing too much short-term damage to the financial system and economy. Mounting concerns that he'll miscalculate are spreading ever-further beyond China-focused property developers and their suppliers.
"It's what the Chinese would describe as trying to get off a tiger," said United First Partners research Justin Tang, best summarizing Beijing's lose-lose dilemma.
Tyler Durden
Mon, 09/20/2021 - 15:28
commodities
commodity
markets
crash
iron
Summarizing China's Short Term Economic Outlook
Wells Fargo Economics analyses the extent of the current slowdown, and contemplates the impact on regional economies. Here's the heat map: Source: McKenna/Guo,…
Wells Fargo Economics analyses the extent of the current slowdown, and contemplates the impact on regional economies. Here's the heat map:
Source: McKenna/Guo, "China Economic Gauge and Sensitivity", Wells Fargo Economics, 20 Sep 2021, Figure 1.
From the report:
Our dashboard (Figure 1) suggests the short-term outlook for China's economy is indeed deteriorating, consistent with the multiple downward revisions we have made to our GDP forecast over the past few months. Given the signals our gauge is showing, we believe easier monetary policy could be the next major policy move from the PBoC, and another RRR reduction could be imminent as authorities look to offset some of the deceleration.
This report is in line with the Goldman Sachs report (discussed here).
Wells Fargo highlights Singapore, South Korea and Chile as most sensitive to growth developments in China (on the basis of exports). Looking more broadly at "beta's" of equity returns and currency values as well as export dependence, the list of at risk countries expands to include South Africa, Brazil and Russia as well.
monetary
policy
monetary policy