Goldfinch Protocol Token: Is GFI Crypto Poised to Soar to New Heights?
The Goldfinch protocol token is brand new. And GFI crypto has already made a splash on some big exchanges. But can it keep up the momentum?
The post Goldfinch…
The Goldfinch protocol token (GFI) just recently went live. And already it's trading on the popular exchange Coinbase. News of this fresh token listing prompted investors to make a beeline for their accounts to add it to their wallets. Trading volume quickly surged. In a matter of hours, there were already several thousand Coinbase holders of GFI crypto. Despite this, its price quickly trended downward. Depending on your thoughts about microloans being introduced to the crypto-sphere, this either means it's trading for a discount, or the Goldfinch Protocol token is headed for obscurity.
In order to help you decided whether this is a sound investment or not, we'll be taking a closer look at GFI crypto and the protocol it acts as a governance token for.
While the token is brand new, the protocol it will help power is less so. As is its senior pool liquidity token, FIDU. Goldfinch launched in the beginning of last year. In doing so, its development team sought to introduce what it calls a missing piece to the world of crypto: loans without collateral. And it started by directing its efforts to those who could benefit most in emerging markets.
To date, the three countries with the most active loans through Goldfinch are Kenya, Nigeria and Uganda. But it has also found early success in Central and South America and Southeast Asia. In a matter of a year, Goldfinch has generated more than $38 million in active loans with more than 232,000 recipients. That averages out to around $163 per recipient. While that might not sound like a whole lot, it can make a world of difference to those in some developing countries. And that's also an impressive amount of penetration for an innovative project this new.
How Goldfinch Protocol Is Looking to Make a Difference
The volume of crypto loans surged last year. It ballooned more than 1,900% year-over-year by some estimates. And that figure is expected to continue to increase. The problem here though is the collateral needed to take advantage of these types of programs. For every dollar-equivalent borrowed, roughly $1.50 of another asset needs to be collateralized. In many cases, this makes the crypto borrowing process unable to reach those who actually need it. But that's exactly what the Goldfinch protocol is looking to fix.
Collateral requirements have stifled many aspects of what's possible. Because after all, the reason many want to borrow is because they don't have the money they need. Eliminating collateral requirements could be just the thing to help crypto's foray into global debt markets. And the Goldfinch protocol may be the catalyst to make this happen.
Anyone that's tried to take out a personal or business loan with a traditional bank know how expensive and difficult it can be. Furthermore, it's expensive for banks to underwrite many of these loans. And this limits the viability of how lenders operate. In the process, those in emerging markets can have a difficult time securing loans for working capital, startup funding or paying for the equipment needed to expand. Because quite frankly, it isn't worth a traditional bank's time.
However, by removing banks' overhead costs it's possible to offer lending opportunities to people around the world. By offering lending opportunities based on the collective judgment of potential lenders around the world through the Goldfinch protocol, it's now possible to recognize and evaluate new sources of credit opportunities. All of this leads us to how GFI crypto will play a role going forward.
GFI Crypto: How it Will Act as a Governance Token
Going forward, those who hold GFI crypto will be able to participate in governance and help decide the future direction of the Goldfinch protocol. Furthermore, holders can stake their GFI crypto on backers of their choice. This process will act as a signal of support for participating in borrower pools.
Additionally, GFI crypto holders will have a vote when deciding whether an individual or organization should be granted permission to borrow. This just requires holders to stake their tokens in order to be selected to participate in votes. While these aspects have already been incorporated into GFI crypto, additional functions are expected to be added in the coming months based on the direction the community wishes to take them.
As it stands, the current circulating supply of GFI crypto is just over 5 million tokens. And the max supply is 114,285,714. As it stands, this is not an inflationary token. However, modest inflation may be incorporated in the coming years if incentivization is needed to bring in more participation. But ultimately, that will be up to the community to decide.
The Bottom Line on the Goldfinch Protocol and the GFI Crypto Governance Token
While cryptocurrencies have made headway into the nonprofit world, altruistic projects like the Goldfinch protocol have yet to make a big splash. But that could change. And GFI crypto could be a way for investors to make a big difference in the lives of others around the world.
Centralized exchanges like Coinbase, Gate.io, MEXC and ZT have quickly added GFI to their platforms. In some ways this validates the mission behind the Goldfinch protocol. But whether it can keep up the momentum in interest and trading volume is a big question mark. Furthermore, based on the early successes of Goldfinch and its governance token, we're likely to see copycat projects. And as we know, the first to market with a new innovation doesn't always win.
However, we're cautiously optimistic about the Goldfinch protocol and in turn, GFI crypto. The opportunities it has the potential to afford could be huge. And for that reason, we hope it does gain more traction in the crypto community.
Traditional microfinance operations provided more than $120 billion in lending opportunities to those in need. These small loans were used to provide working capital in nearly every corner of the globe. They helped stimulate the operations of more than 70 million minority- and women-owned business around the world. That in of itself is an amazing feel-good story. And it's nice to see the world of DeFi has begun to add its voice to this important conversation.
The post Goldfinch Protocol Token: Is GFI Crypto Poised to Soar to New Heights? appeared first on Investment U.
Trading with Focus – Is Woolies going to bounce?
I hate retail shares. It's such a hard thing to judge. You have to have a view on global demand … Read More
The post Trading with Focus – Is Woolies…
I hate retail shares. It's such a hard thing to judge.
You have to have a view on global demand shifts, input costs, margins, product lines and competition.
They can also go through long periods of decline, as the stores and the brand can go a bit stale.
But one thing's for sure. Retail has been smacked. Especially discretionary retail.
It seems that pretty much everyone has a new TV and a new phone and a new coffee machine, a whole new wardrobe and the latest car. And that means they are less likely to need more in the immediate future.
Inflation is also starting to bite. Interest rates might be going up sooner than expected. There are also supplier problems, because you can't get workers to pick veggies or load trucks from home.
With all of this negativity around the sector it's not surprising there's a lot of pain in retail stocks. And where there's pain there is also opportunity!
Kogan's down from an all-time high of $25, to $8.50.
Harvey Norman was over $6, now it's under $5.
JB Hi-fi, $55, down to $45.
But I understand why these guys are down, and they still carry a lot of risk for mine. Interest rate cycles are long, and we are only just starting to talk about it turning back up.
But old man Woolworths. One of the bluest of the blue. If I was to make up a 5-stock portfolio, they'd be in it every time. Great management, great brand, and a virtual duopoly.
(I finally went to an Aldi the other day for the first time. It was OK, but it's unlikely I'll drive the extra 500m to go there regularly… And I have a Woolies credit card, so…).
But Woolies are down. They peaked at $42.66 on the 20 August, and now they are down to $36. So that's a 15% sell-off.
Maybe Xmas sales were off a bit. Maybe we aren't seeing the same panic sales in toilet paper. Maybe they have a few empty shelves.
It's probably all Covid-related somehow…
But from what I'm told, Omicron will blast its way through, kill a bunch of people, and leave a whole lot of people behind who will still need bread and milk, and those soft delicious chocolate chip cookies that they make.
So maybe this is just a chance to buy a few on the cheap for a trade, or for the super fund.
Buy the dip?
First off, here they are, still, since the dawn of time.
And a bit of oversimplified back-story.
Woolies had a free run at being the best supermarket chain in Australia, right up until Wesfarmers bought Coles in 2007. Coles had been public, and were bought out by some VCs and had various management trying to compete and continually failing for no particularly obvious reason (including one CEO who famously hadn't even been in a shop for several decades).
But then they gave up and sold it to Wesfarmers.
As with pretty much everything Wesfarmers do, they took their time and then fixed the damn thing. Got it running on all cylinders at the same time that Woollies needed a refresh. So there was a bigger dip in 2015 to 2017 than usual, but history would dictate that every single dip was a buy.
So, if history is a guide in the markets at all, and it sometimes is and sometimes isn't, then somewhere here Woolies must be good value.
Buy this dip?
Well, it certainly has bounced after every dip of this magnitude since 2016. Things have obviously changed, sure, but this sell-off was sparked by a trading update in December, and one to which people should not have been too surprised.
Basically, if you skim it, it says "Covid covid covid covid covid covid covid". Like I thought.
So let's have a look at a few more indicators.
The RSI is certainly showing as oversold.
The stochastics are not as oversold this time around, and this feels a little more like a second and less motivated wave of selling, maybe from the 'failed bounce shortselling brigade', but we did also have a massive wave of Covid since then, and another run of empty shelves. So I can't solely blame traders.
If I was going to put my toe in the water, I would do this.
First, whack on a 'sensitive news alert'.  I don't want to get caught unawares in case there's more bad news.
Then, I'd probably buy a few, with the view of averaging down if they keep going down. This isn't a speculative company, if you end up with a few too many Woolies shares you'll still be smarter than 98% of people in this market…
Then, so I don't get caught up watching the least speculative thing in my portfolio, I would put in some price alerts, above and below, and it'll just ping my mobile.
Some would put in stop-loss orders, but this is Woolies. I'd probably just keep averaging down.
So to finish, I dunno about this article. I was hoping to give you some more insight, but apart from pointing out that Woolies is a blue-chip that's probably only going through a rough patch…
To me, the worst that can go wrong here in my limited opinion is that I get bored to death.
At Marketech our platform is about technology, providing you the tools and technology to trade.  We encourage our high-function trading platform to get you live pricing, live charts, live market depth to ensure you have the tools and trading capability at your fingertips, and on your mobile phone or PC.
You trade your own stock on your individual HIN. It is your cash in your own Macquarie account where you keep the competitive interest you earn.
Our subscribers get access to brokerage starting at $5, and then 0.02 per cent for trades over $25k.  If you want to trade the market, you need immediate access wherever you are and the seamless Marketech mobile app means you are live anywhere anytime.
Marketech Focus subscribers also get 2-months free access to the 'Marcus Today' newsletter to help you with your investing and trading goals.
Go to www.marketech.com.au to set up a free trial – you will be astounded by the simplicity and tools that this technology gives you.  No spin, just low-cost trading and the tools that give you advantage over hype.
This article was developed in collaboration with Marketech Online Trading Pty Ltd (ACN 654 674 432), an Authorised Representative (1293528) of Sanlam Private Wealth Pty Ltd (AFSL 337927), and a Stockhead advertiser at the time of publishing.
All information and material contained herein is general in nature and does not consider your financial situation, investment needs or objectives. The information does not constitute personal financial advice, nor a recommendation or opinion that a security or service is appropriate for you. You should seek independent and professional tax and financial advice before making any decision based on this information.
The post Trading with Focus – Is Woolies going to bounce? appeared first on Stockhead.
Let's Talk TIPS
Real yields have moved higher, surging, actually, to start this year (up until more recently, that is). The 5-year TIPS rate has gone from ungodly ugly…
Real yields have moved higher, surging, actually, to start this year (up until more recently, that is). The 5-year TIPS rate has gone from ungodly ugly mid-November, sunk down to -191 bps, to a still-awful but much less so -130 bps as of today. That's a 61 bps move in less than two months, thirty of those coming since the end of December.
Good news? Something else?
No sense in dragging this out, spoiler alert, the answer is quite clearly something else. Unless you take the Fed's rate hikes for good news. Given recent history, as I'll go through briefly, there's simply no reason to.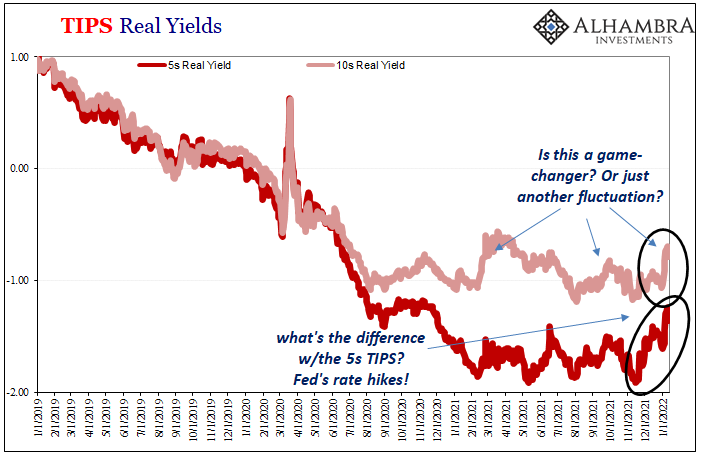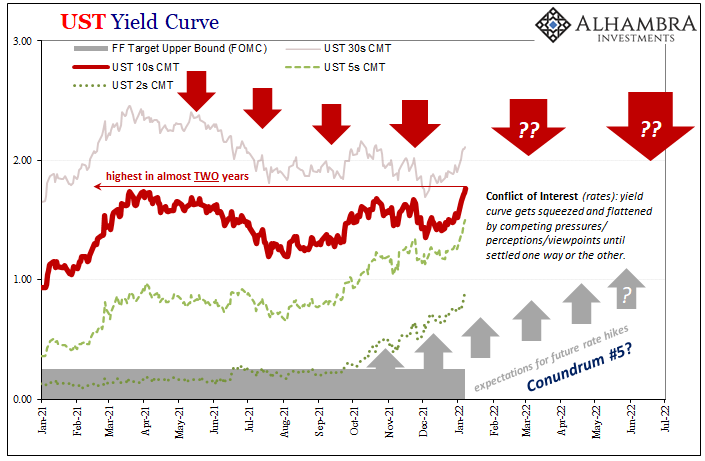 The FOMC's rate hikes – both in action as well as perceived upcoming action – influences curve dynamics nominally, as noted previously, but also TIPS, too. This non-economic interference is sharpest at the front, because of all the reasons I spelled out for the nominal yield curve.
Over the same recent timeframe as the 5s TIPS, the 10s have added significantly less while the 30s even less still; far more buoyant only up front. Just like flattening on the nominal curve, the FOMC is pushing down the prices of inflation-protected securities for reasons that have nothing to do with inflation protection; or real growth prospects.
Real yields certainly weren't rising at the same time as omicron fears were reaching their peak. Hawkishness from November on, however.
Again, quick review of history shows this is the established pattern and what anyone should come to expect. Back during "globally synchronized growth" of 2017, the 5s real yields moved much more than either the 10s or 30s, eventually colliding in 2018. Was that the market really saying growth expectations were materially improving…in 2018?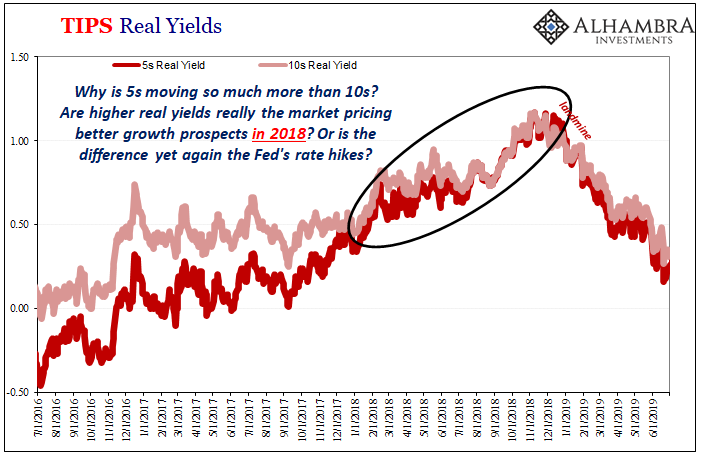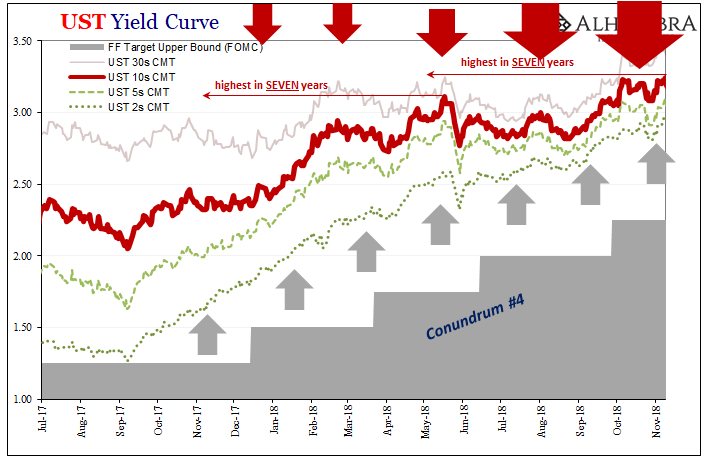 Obviously not, this was instead the bottom-up influence of rate hikes – until even those were overcome during that year's landmine.
What about the previous rate hike cycle? No surprise, it worked out in exactly the same style.
The 5s TIPS go up more than the 10s (or 30s), eventually they collide and both rise but not because of rising growth prospects only non-economic policy interference. Had the TIPS market been pricing a far better forward real economic growth picture…in 2006? The answer like in 2018 was a solid, "no."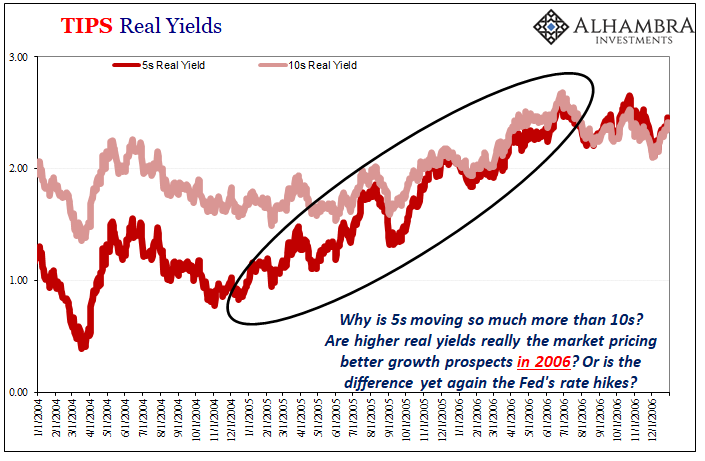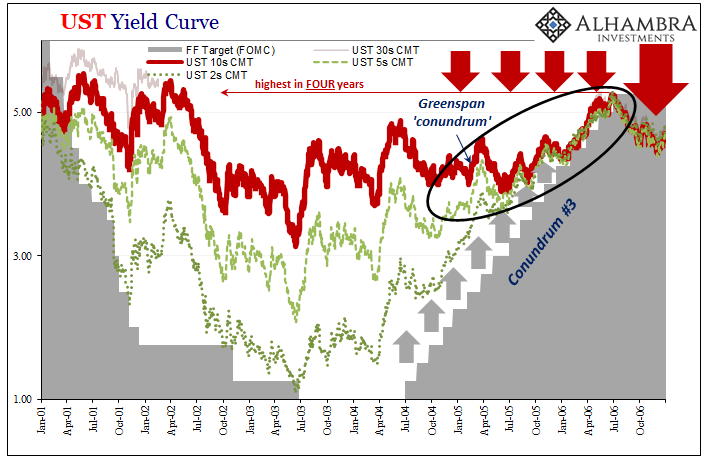 It should be repeatedly pointed out how in both of those cases the nominal yield curve had relentlessly flattened in the same way as TIPS.
Honestly, the most powerful big picture message delivered by the less-influenced 10-year real yield is this one: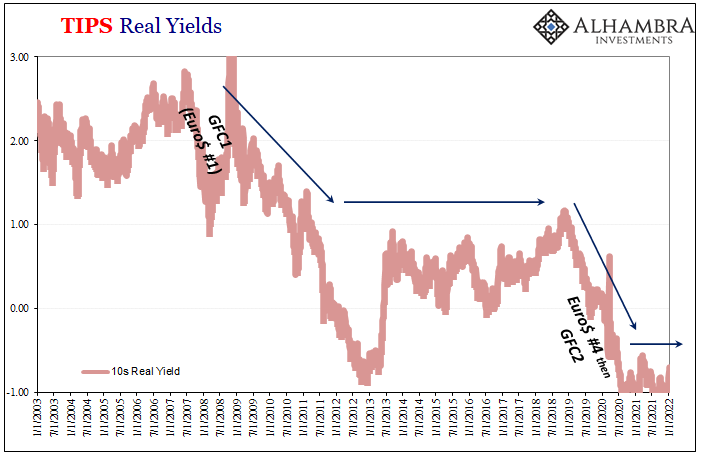 Profound change in real yields? Oh yes, just not anything recent.
What we're seeing in all facets of the Treasury markets is just commonplace to rate hike cycles. I write about the deep history (dating back to the American Revolution!) behind inflation-indexed securities in more detail elsewhere, but arrive at this same conclusion anyway:
Was real growth potential that much better during the middle 2000's, the very mania of the housing bubble? No. What had changed was Alan Greenspan's and then Ben Bernanke's series of seventeen 25-bps rate hikes. These had altered the nominal frame of reference for the short end of the whole Treasury curve which anchors the choices made by TIPS buyers and holders.
Jay Powell's Fed is about to do the same thing, and for him for a second time. He just doesn't learn. The fact that neither inflation breakevens have budged (see: below) along with similar facts of how the TIPS real yields behave leave us with a useful process of elimination which is the same for each of these previous times in history.
Are real yields signaling some profound change? Only if you consider rate hikes profound; merely a non-economic frame of reference (and, to be perfectly clear, what I mean here is all about interpreting these prices, rates, and signals in the context of macro; obviously, there are vastly different considerations when it comes to investing and investments). As far as the real economy, either inflation or growth, not at all.
Neither growth nor inflation, the Fed's gonna Fed. What's changed at the start of 2022 is as omicron fears fade fast the path forward for rate hikes has cleared. Chairman Powell himself has said multiple times the pandemic is the only thing which would change his and the FOMC's collective mind. At least until the real pressures on the real economy reasserts themselves yet again.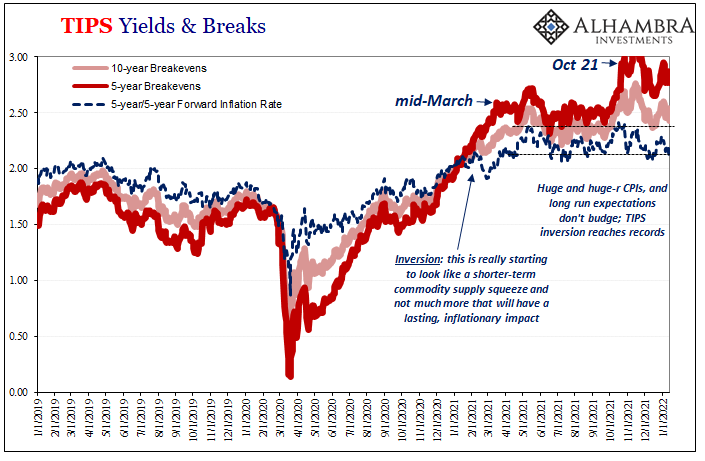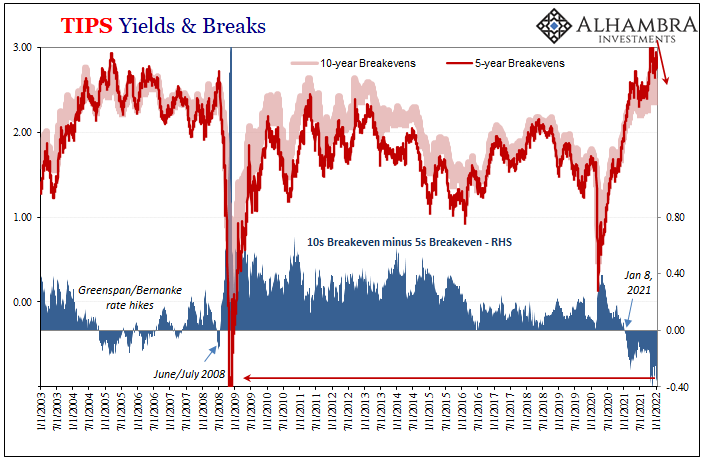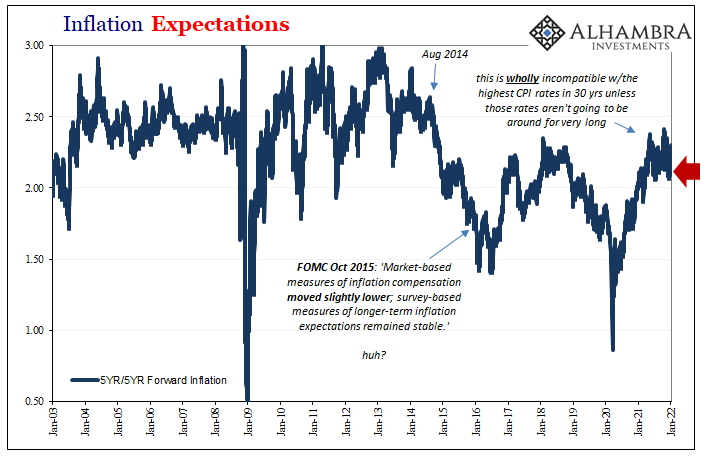 Retail Sales Preview: A Drop To End The Year, And It's All Downhill From Here
Retail Sales Preview: A Drop To End The Year, And It's All Downhill From Here
Now that even Blackrock is echoing our warning that central…
Retail Sales Preview: A Drop To End The Year, And It's All Downhill From Here
Now that even Blackrock is echoing our warning that central banks – powerless to fight supply-driven inflation – could hike right into a recession and beyond, the next question is what is the best leading or coincident indicator showing the state of the US economy. A good place to start is spending of the US consumer, responsible for 70% of US GDP, and a good indicator of that is retail sales, the same retail sales that have been running some 22% above trend from pre-covid levels even as payrolls remain dismally lower.
Conveniently we get the next retail sales report tomorrow morning, where consensus expects to see sequential growth if modestly slowing, with the December print up just 0.1% down from a 0.3% increase in the previous month , and a 0.3% increase in core retail sales.
Unfortunately for the Fed, and all those expecting the current burst of artificial, stimmy-driven growth to continue, the latest credit and debit card spending data from Bank of America suggest a far bigger slowdown in December retail sales: as summarized in the chart below, actual data shows a -1.3% drop in retail sales, a -1.6% drop in retail sales ex autos, and a -2.0% drop in retail sales ex-autos and gas.
Another way of visualizing BofA card spending data overlaid with the Census Bureau's retail sales.
Here is how BofA economist Anna Zhou described the latest retail sales dynamics: December sales were weighed down by the pulled forward holiday shopping, which was then negatively impacted in the SA process due to the large seasonal factors. Indeed, as shown in the chart below, December has the highest seasonal adjustment factor, meaning that while unadjusted data is likely to show a big drop, the final number will be all about what adjustment factor is used by the Census Bureau.
Taking a step back, BofA writes that total card spending, measured by aggregated BAC credit and debit cards, increased an average of 19.5% on a 2-yr basis over the 8-weeks ending Jan 1st, in keeping with the top chart.
Naturally, rising omicron cases continue to weigh on services spending. On a 2-yr basis, airlines spending dropped to -32%, the lowest since mid-Sep 2021. This was driven by a steep slowdown in spending at US carriers. Entertainment services spending also slipped further although restaurants spending rebounded slightly on a 2-yr basis.
Meanwhile, although the pulled forward holiday shopping lowered the 2-yr %change of total card spending toward year end (15.0% for the 7-days ending Jan 1), the BofA economist notes that consumers likely "remained robust during the season finale of a strong year of spending."
And indeed, while spending on goods remains solid, consumers are pulling back on services spending due to the surge in COVID cases. To wit, total airline spending contracted by 23% on a 2-yr basis for the 7-days ending Jan 1, the lowest reading since Oct 5 '21. BofA also saw a big pick up in refunds from US carriers during the last week of Dec, which likely reflects significant flight cancellations due to COVID-related staff shortages and severe weather.
Broken down by major category on a sequential basis, we find the biggest increase in gas and lodging spending, offset by a sharp drop in spending on furniture, clothing and airlines. On a 2-year basis, big increases were observed in furniture spending (which however has tempered in recent months), gas and general merchandise, while declines in airlines and department store spending persist.
A regional snapshot shows a relatively uniform distribution of spending across the US.
Total spending broken down by major MSA also shows generally consistent patterns with the exception of Seattle where spending appears to have hit a brick wall into the new year.
Interestingly, international spending seems to be less impacted as the share of brick and mortar retail spending done abroad surged to 1.3% during the last week of Dec, just shy of the 1.5% in 2019.
Lastly, the BAC Holiday Sales Measure showed that holiday sales grew 11.7% yoy for the month of Nov and Dec combined, a far more muted pace of spending compared to mid and late-November
In other words, while December spending will likely see a sequential slowdown largely due to Omicron, outsized seasonal adjustment factors may mitigate the decline. The bigger question is when will we start seeing a secular decline in spending, especially among the lower-income group. And indeed, this may already be the case: as the next chart shows, spending by the low income group (
And, as we observed last week, while spending on debit is declining at a modest pace, spending funded with credit cards has collapsed, perhaps as a result of the record surge in credit card usage in November…
… which means that US consumers now have far less dry powder to fund future spending.
Tyler Durden
Thu, 01/13/2022 – 22:00
inflation
fed