Governments' net-zero pledges 'far from satisfactory' says IEA director Birol
The IEA's new World Energy Outlook 2021 report explores the world's new energy economy at a time when energy markets are extremely volatile.
The post…
"The world's hugely encouraging clean energy momentum is running up against the stubborn incumbency of fossil fuels in our energy systems," said Fatih Birol, the IEA Executive Director.
"Governments need to resolve this at COP26 by giving a clear and unmistakable signal that they are committed to rapidly scaling up the clean and resilient technologies of the future."
Birol was speaking at the launch of the IEA's new World Energy Outlook 2021 report that explores in detail the world's new energy economy at a time when energy markets are extremely volatile.
Have you read?
Governments must up their policy game to unlock green hydrogen – IEA
New Council of Engineers to guide UN net-zero efforts
The report, designed as a policy guide for governments ahead of COP26, makes it clear that this clean energy progress is still far too slow to put global emissions into sustained decline towards net zero.
Birol explained that high coal, gas, and oil prices are not good news for the global economy and inflation or emissions and that three main factors are causing the situation:
Huge economic growth – a rebound of 6% mainly fueled by fossil fuels. The recovery is causing the second largest emissions increase in history and is therefore not sustainable.
Several extreme weather events at the same time, including doughts, floods and extreme winters.
Planned and unplanned disruptions in supply caused by maintenance works that were postponed due to COVID.
Birol made it very clear that current market volatility is not caused by too much clean energy and even though governments are making pledges, there is still work to do. "More and more governments are making pledges – we are thankful, but, there is a big but, today's climate pledges would result in only 20% of the emissions reduction by 2030 that are necessary to put the world on a path towards net zero by 2050. The pledges are far from satisfactory."
The WEO-2021 report shows that even as deployments of solar and wind go from strength to strength, coal consumption is still growing strongly this year.
The analysis spells out what the government emissions pledges mean for the energy sector and the climate and sets out what needs to be done to move from mere pledges to a net-zero trajectory consistent with limiting global warming to 1.5 °C.
The report makes recommendations based on two scenarios; the Stated Policies Scenario and the Announced Pledges Scenario. The differences between the outcomes in the Announced Pledges Scenario and the Net Zero Emissions by 2050 Scenario are stark, highlighting the need for more ambitious commitments and greater investment if the world is to reach net zero by mid-century.
Insufficient investment is contributing to uncertainty over the future and spending on clean energy transitions is far below what would be required to meet future needs in a sustainable way.
"Reaching that path requires investment in clean energy projects and infrastructure to more than triple over the next decade. Some 70% of that additional spending needs to happen in emerging and developing economies, where financing is scarce and capital remains up to seven times more expensive than in advanced economies," stated Birol.
"There is a looming risk of more turbulence for global energy markets," Dr Birol said. "We are not investing enough to meet future energy needs, and the uncertainties are setting the stage for a volatile period ahead. The way to address this mismatch is clear – a major boost in clean energy investment, across all technologies and all markets. But this needs to happen quickly."
The briefing did however present some good news.
The report stresses that the extra investment to reach net zero by 2050 is less burdensome than it might appear.
Also, pursuing net zero would create a market for wind turbines, solar panels, lithium-ion batteries, electrolysers and fuel cells of well over $1 trillion a year by 2050, comparable in size to the current oil market.
Laura Cozzi, Chief Energy Modeler, IEA applauded China's announcement to cease funding new coal projects and added that emissions can be quickly reduced by using cost-effective technologies that are currently available.
These include wind and solar, nuclear expansion, methane abatement, energy efficiency and electrification. Said Cozzi: "We are entering the decade of the turning point, for emissions and energy markets. For the first time, the world is ensuring economic growth, while reducing emissions."
Download the report.
The post Governments' net-zero pledges 'far from satisfactory' says IEA director Birol appeared first on Power Engineering International.
S&P, Dow Jones climb to fresh highs ahead of big tech earnings
The S P 500 Index and Dow Jones closed at record highs on Monday October 25 ahead of quarterly earnings of big technology companies like Apple Amazon…
The S&P 500 Index and Dow Jones closed at record highs on Monday, October 25, ahead of quarterly earnings of big technology companies like Apple, Amazon, and Alphabet this week.
The S&P was up 0.47% to 4,566.48. The Dow Jones rose 0.18% to 35,741.15. The NASDAQ Composite rose 0.90% to 15,226.71, and the small-cap Russell 2000 rose 0.93% to 2,312.64.
Market participants are in high spirits as the third-quarter earnings season is in full swing. Several major financial and retail companies have reported robust growth in the quarter.
The earnings come in the backdrop of inflation, supply disruptions, and labor shortages. Hence, some analysts were initially worried over quarterly performance amid these factors.
Traders will now eagerly wait for the earnings of mega-cap technology companies that have around 30% weightage on the S&P 500 index by market capitalization.
According to Refinitiv data, some 165 S&P 500 companies are expected to report this week. Analysts expect the index to grow by 34.8% in the quarter YoY.
In addition, of the 119 companies reported so far, 83.2% beat Wall Street estimates.
On Monday, consumer discretionary and energy stocks led gains on S&P. Utilities and financial stocks were the bottom movers. Nine of the 11 stock segments of the index stayed in the green.
Shares of Tesla, Inc. (TSLA) jumped 12.66% at the market close on Monday, taking its market cap to more than US$1 trillion for the first time, as the car rental company Hertz said it placed an order for 100,000 Tesla vehicles. Morgan Stanley also raised its price target to US$1,200 from US$900.
PayPal Holdings, Inc. (PYPL) stock was up 2.70% after it said it had no plan to buy Pinterest Inc. (PINS). Media reports had earlier claimed that it was in talks to acquire the social media firm for US$45 billion in a stock-and-cash deal. The PINS stock fell 12.71% after PayPal's clarification.
Facebook, Inc. (FB) shares jumped 3.78% in after-market trading after missing analysts' expectations in the third quarter. Its revenue surged 35% YoY to US$29.01 billion in Q3, FY21, and its net income rose 17% to US$9.19 billion, or US$3.22 per diluted share. Analysts had predicted diluted EPS of US$3.19 on revenue of US$29.57 billion, Refinitiv data showed.
In the consumer discretionary sector, Home Depot, Inc. (HD) rose 1.44%, LOWE's Companies, Inc. (LOW) rose 1.33%, and Target Corporation (TGT) gained 1.73%. TJX Companies, Inc. (TJX) and Aptiv PLC (APTV) advanced 1.71% and 1.13%, respectively.
In energy stocks, Exxon Mobil Corporation (XOM) increased by 1.95%, ConocoPhillips (COP) rose 1.06%, and EOG Resources, Inc. (EOG) gained 2.22%. Schlumberger N.V. (SLB) and Kinder Morgan, Inc. (KMI) ticked up 1.33% and 1.02%, respectively.
In the utility sector, Duke Energy Corporation (DUK) declined 0.91%, Dominion Energy, Inc. (D) fell 1.02%, and American Electric Power Company, Inc. (AEP) fell 1.06%. Xcel Energy Inc. (XEL) and WEC Energy Group, Inc. (WEC) plummeted 1.36% and 1.40%, respectively.
Also Read: Top companies to watch for quarterly earnings this week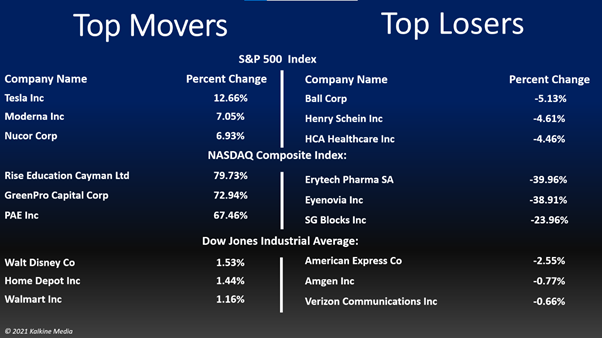 Also Read: Seven most anticipated IPOs this week
Also Read: Kimberly-Clark revenue up 7%, OTIS raises 2021 outlook
Futures & Commodities
Gold futures were up 0.71% to US$1,809.05 per ounce. Silver increased by 0.83% to US$24.652 per ounce, while copper rose 0.70% to US$4.5293.
Brent oil futures increased by 0.58% to US$85.13 per barrel and WTI crude was down 0.08% to US$83.69.
Also Read: Top artificial intelligence stocks to explore amid AI boom
Bond Market
The 30-year Treasury bond yields was down 0.37% to 2.083, while the 10-year bond yields fell 1.36% to 1.633.
US Dollar Futures Index increased by 0.21% to US$93.817.
3 Things The Fed Must Do To Normalize Bond Markets
3 Things The Fed Must Do To Normalize Bond Markets
Authored by Brendan Brown via The Mises Institute,
By late in the second decade of the…
3 Things The Fed Must Do To Normalize Bond Markets
Authored by Brendan Brown via The Mises Institute,
By late in the second decade of the twenty-first century, we could say that the long-term US interest rate market had been dysfunctional for a long time. We could identify the starting point as being the immediate aftermath of the Nasdaq bust and recession of 2000/01. In signalling that the rise in the Fed funds rate would be slow and gradual over a prolonged period (described by central bank watchers as a pre-commitment to a given rate path), the Greenspan Fed put an unusual dampener on long-term interest rates at the time—in hindsight the start of manipulation under the 2% inflation standard and a powerful impetus to the asset price inflation which started to form during that period. Many contemporary market critics, including senior monetary officials, attributed the "artificially low" long-term rates not to their own manipulations in the short-term rate markets but to such factors as the "Asian savings surplus". Indeed, Federal Reserve speakers stimulated that particular speculative narrative followed widely by carry traders (including prominently the "Asian savings surplus"!) in search of term risk premium to bolster the meagre returns available in the money markets. (It is also possible that the only contained rise of long-term rates at this time reflected widespread concern that present asset inflation would end with a bust and that indeed the long series of Fed rate rises could end in speculative over-kill).
Even so the corruption of signalling in the long-maturity interest rate markets in the early 2000s paled in comparison to what was to occur under the use of the non-conventional tool box in the second decade. And the central bankers added to the corruption by citing the low long-maturity interest rates as evidence that the so-called neutral level of interest rates had indeed fallen. Yes it was a puzzle why ostensibly low long-term rates were not sparking strong growth of capital spending. Central bankers, however, were not ready to embrace the obvious explanation that their monetary manipulations had created such huge uncertainty which discouraged long-run investment spending. In particular, if almost everyone and their dog realized that a wide range of asset prices—including, crucially, equities—had become hot due to the monetary manipulations and that they were likely to crash within a few years, this would surely restrain capital spending especially for long-gestation projects to well below levels which would pertain if the hot prices were for real.
And so the prevailing central bank doctrine became long-term rates were not very different if at all from neutral. Yes, it made sense for central banks to gradually shed their huge portfolios of long-maturity debt built up during the active years of [quantitative easing] QE, but they should be ultra-cautious not to set off a snowball process of rising long-term rates and falling asset prices. Gradual should be the order of the day—or, better yet, glacial. And to match, the rise in short-term rates strictly under the control of the authorities should proceed very cautiously.
There was an alternative to the phoney normalization programme, which in any case could readily implode along the way. This would have been to turn the clock back on interest payments on reserves (permanently zero again as before 2008) accompanied by immediate action to restore the monetary base to a normal proportion of the broader money supply. Yes, long-term rates could well jump under this programme, and there could be some decline in asset prices (from the sugar highs of peak asset price inflation). But the return of reliable signalling could also have gone along with a new robustness in spending, especially capital spending, given no longer the malaise of "artificial" capital prices which could break at any point.
Policy normalization – defined as closing down the non-conventional tool box and restoring a well-functioning price signalling mechanism to the bond market – is in fact multi-dimensional.
At the most fundamental level, it requires abandoning the 2% inflation standard – in particular its ignoring of the natural rhythm of prices over time.

The second dimension is to get the monetary base back to the pivot of the monetary system. This means no payment of interest on reserves and the supply of monetary base in line with demand as consistent with a non-inflationary path forward.

The third dimension is getting the share of long-maturity government debt in the total liabilities of the government sector (including the central bank) back to normal proportion. That can be accomplished over a period of many years.
Action in the second dimension can take place very quickly. The central bankers take their portfolio of long-maturity bonds to the Treasury and exchange them for short-maturity Treasury bills (T-bills). The central bank conducts open market operations in Treasury bills (short maturity) to shrink the monetary base to "normal". Of course there is much ambiguity about where is normal, and so the process of normalization on this dimension could go along with some considerable monetary turbulence for some time. That is an inevitable consequence of the huge experiment.
The normalization in the third dimension starts from the situation where the Treasury department, looking at the consolidated balance sheet of the Treasury and central bank, admits that years of QE mean in effect that an abnormally large share of government bonds outstanding are in the form of floating rate short maturities. Traditionally such a high proportion of floating rate is seen as exposing the central bank to large political pressure not to raise the short-term rates under their control (because of direct funding cost implications in terms of budget deficit)—even when it suspects that monetary inflation has got under way.
If the central bank buckles under such pressure, then it becomes indeed an important source of tax collections for the government – in the form of inflation tax. One form is the suppression of interest rate income (to below what would be the case under sound money) on Treasury paper – the other is the capital tax (in real terms) on government bonds and monetary base enacted by inflation erosion.
*  *  *
This article is a selection from The Case Against 2 Per Cent Inflation: The Negative Rates to a 21st Century Gold Standard (Palgrave Macmillan, 2018).
Tyler Durden
Mon, 10/25/2021 – 15:40
gold
inflation
monetary
markets
reserve
policy
money supply
interest rates
fed
central bank
mises
inflationary
crash
3 Top Stock Trades for the Week
Editor's Note: This article is updated weekly to bring you fresh trade ideas.
The risk-on rally is continuing in earnest on Monday. Headlines will…
Editor's Note: This article is updated weekly to bring you fresh trade ideas.
The risk-on rally is continuing in earnest on Monday. Headlines will point to the S&P 500 pushing to a new record high, but what traders should find most impressive is the breadth of participation. Buyers aren't just coming after stocks. They're scooping up commodities and crypto too. Given the tailwind, this week's update to the top stock trades gallery features three bullish ideas.
In scouting for the best opportunities, I found a diversified list to give you plenty of options.
First up is a red-hot retailer that has made bank of the post-pandemic economic recovery. Next comes an exchange-traded fund (ETF) offering a path to play a potential year-end breakout in small caps. Finally, we'll break down a steel company that's ramping after passing a recent earnings test.
That said, here are the tickers:
As always, we'll do a quick rundown of each chart, followed by an options trade.
Top Stock Trades: Dick's Sporting Goods (DKS)
Source: The thinkorswim® platform from TD Ameritrade
Earnings growth for Dick's Sportings Goods has been explosive over the past 18 months. Its best quarter EPS in the year before the pandemic was $1.26. It just reported $5.08. Its share price has reflected the incredible recovery by rising more than 10-fold from last March's low. Spectators loath to chase will be happy to learn that DKS stock just pulled back 23% from its highs, providing a compelling chance to get in at lower prices.
The daily chart just completed an inverted head and shoulders pattern, confirming buyers are returning. Additionally, today's 1.5% rally is pushing prices back above the 50-day moving average and suggests now is a smart time to enter.
Implied volatility is high enough to make spreads a better choice than buying calls outright.
Top Stock Trades: Buy the December $130/$150 bull call spread for $5.50.
You're risking $5.50 for the chance to make $14.50 if DKS stock rises to $150 by expiration.
iShares Russell 2000 ETF (IWM)

Source: The thinkorswim® platform from TD Ameritrade
If you're hesitant to chase the S&P 500 at all-time highs, then consider shopping small-caps. The Russell 2000 Index has done nothing for the last 10 months. As a result, we have a long-term trading range that could lead to some serious upside once resistance gets breached. The silver lining of price pausing is it has allowed earnings to play catch-up and stretched valuations to become less so.
Although IWM has been unsuccessful in breaking out of its range, I think it's just a matter of time. And, with the bullish seasonality of November and December looming, a year-end run could finally deliver what bulls have been waiting for.
Over the past two weeks, small caps have pushed toward the upper end of the range, placing us within striking distance of another resistance test.
I like using bull call spreads to profit from the expected move higher.
Top Stock Trades: Buy the December $230/$240 bull call spread for $4.
You're risking $4 to make $6 if IWM rises above $240 by expiration.
Top Stock Trades: Steel Dynamics (STLD)
Source: The thinkorswim® platform from TD Ameritrade
The basic materials sector benefits when inflation heats up. Nowhere has this been more apparent than in the steel industry. Consider the past four EPS quarterly numbers for Steel Dynamics: 97 cents, $2.10, $3.40, $4.96. Talk about an eye-popping profit surge! It's no wonder STLD has doubled in price this year.
Though the stock didn't move much after the latest report, prices are now breaking through resistance. We're also back above all major moving averages, which clears out a lot of potential supply. Volume patterns have been heavily favoring bulls in the wake of last week's report as well.
To capitalize on the follow-through from Monday's breakout, consider the following idea.
Top Stock Trades: Buy the December $70/$75 bull call spread for$1.35.
You're risking $1.35 to make $3.65 if STLD rises to $75 by expiration.
On the date of publication, Tyler Craig was long IWM. The opinions expressed in this article are those of the writer, subject to the InvestorPlace.com Publishing Guidelines.
For a free trial to the best trading community on the planet and Tyler's current home, click here!
More From InvestorPlace
The post 3 Top Stock Trades for the Week appeared first on InvestorPlace.