Hawkish Powell Hits Stocks; Bitcoin Flat As Breakevens, Bond Yields & Bullion Bounce
Hawkish Powell Hits Stocks; Bitcoin Flat As Breakevens, Bond Yields & Bullion Bounce
A very mixed week across the asset-classes.
Hawkish…
Hawkish Powell Hits Stocks; Bitcoin Flat As Breakevens, Bond Yields & Bullion Bounce
A very mixed week across the asset-classes.
Hawkish Powell: rate-hike expectations surged higher but stocks gained, crude rallied but copper tumbled. Growth and Value stocks basically ended the week up around the same amount (while Cyclicals modestly outperformed Defensives). Perhaps most notably, rates vol and stock vol expectations are dramatically decoupled from one another.
Inflation: Breakevens soared to record highs… globally, bullion bounced but bitcoin ended the week unchanged and bonds only modestly higher in yield.
Source: Bloomberg
We do not that the long-end of the curve notably outperformed today (flattening the curve significantly) after Powell's comments, in a clear signal from the market that it's expecting a Policy error…
Source: Bloomberg
Arguably, as Goldman details below, the market could be morphing back from a 'stagflation' narrative to a 'reflation' narrative…
Heading into the week, the 'stagflation' narrative was continuing despite the fact that the S&P 500 had already bounced off of its late-September bottom and was heading back towards an all-time high.  And as we exit the week, the inflation debate seems to be evolving into a 'the Fed will hike earlier' narrative, with yields on 2-year Notes spiking to 0.50% — a level last seen in the first days of the pandemic way back on March 18, 2020.  Praveen Korapaty writes in last Friday's note, "Front-end pressures mount," that markets appear to have returned to a paradigm of simultaneously bringing forward and/or accelerating hike pricing and taking down terminal rate assumptions. Bond investors appear to be increasingly thinking that the rise in inflation that we have been observing will translate into an earlier Fed funds rate hike.

And yields on 10-year Treasuries also briefly touched 1.70% this week, suggesting that bond investors are actually also feeling fine about longer-term growth.  And this better feeling is also being reflected in stock prices with the S&P 500 breaking up above 4500 and hitting a new all-time high this week.  So, the 'stagflation' narrative seems to be morphing back into a 'reflation' narrative — something similar to what we were experiencing when the economy first 'reopened' last spring.
Digging into each asset class, stocks ended the week higher overall (despite today's Powell-driven dip that sent Nasdaq down around 1% today)…
The S&P and Dow closed at record weekly closing highs…
In Canada, the S&P/TSX Composite is up 13 straight days to a new record high – the longest winning streak since 1985…
Source: Bloomberg
Rather interestingly, this week saw "get out and party" recovery stocks underperform the "stay at home and sulk" stocks…
Source: Bloomberg
Cyclicals modestly outperformed Defensives on the week…
Source: Bloomberg
Growth barely outperformed Value on the week…
Source: Bloomberg
TSLA topped FB in terms of market cap again today (to become the 5th biggest company in the S&P) as Musk's carmaker surged to new record highs above $900…
Source: Bloomberg
But the week's biggest gainer was Trump's "TRUTH" SPAC which ended up over 800% (though at one point it was up over 1600%)…
Source: Bloomberg
VIX traded down to a 14 handle this morning – the lowest since before the pandemic lockdowns began…
Treasury yields ended the week higher, but the long-end notably outperformed…
Source: Bloomberg
The yield curve ended the week notably flatter (after a wild ride midweek back to last week's highs)…
Source: Bloomberg
Policy Error? The flattening started with the June taper chatter…
Source: Bloomberg
Inflation Breakevens soared to record highs today (US 5Y topped 3.0%) across the globe today…
Source: Bloomberg
The dollar ended the week lower, chopping around at one-month-lows…
Source: Bloomberg
Cryptos had a wild ride for the week with Bitcoin reaching new record highs after BITO's launch before fading back to unchanged on the week today (Ethereum modestly outperformed on the week)…
Source: Bloomberg
Bitcoin ended the week just above $60k, well off the $67k record high…
Source: Bloomberg
The newly launched Bitcoin (futures) ETF (BITO) ended below its opening level…
Bitcoin Futures were well bid as BITO launched but the premium over spot has faded since…
Source: Bloomberg
Commodities were very mixed with copper clubbed and silver soaring (gold and crude also rallied)…
Source: Bloomberg
Rather interestingly, the huge divergence between copper and silver occurred at a key resistance level (around 20 ounces of silver to buy copper)
Source: Bloomberg
Finally, we note Mizuho's warning of the impact of today's more hawkish speech from Fed chair Powell. Our view that the divergence of equity implied vol (at pre-pandemic lows) from rates implied vol (rising to the highs of the year in most markets) is unsustainable, is showing tentative signs of turning.
Source: Bloomberg
The sharp move lower in Nasdaq futures and widening of CDS indices is a warning shot, we feel, of how risk assets would break down if the Fed was to try to stamp out inflation at such an early point in the cycle as mid 2022.
Commodities relative to stocks are starting to flash some red alerts…
Regime Change

The recent commodity outperformance vs. the Nasdaq (9% in 8 days) is one of the most significant stretches in twelve years. On par with readings in 2008 and the dot-com bubble. pic.twitter.com/nNm1rUsuNT

— The Bear Traps Report (@BearTrapsReport) October 5, 2021
And if one needed an excuse to buy some protection against that whiplash reality check for stocks, VIX is at a critically cheap level relative to VXV…
Source: Bloomberg
That has not tended to end well for stocks.
Tyler Durden
Fri, 10/22/2021 – 16:01
tsx
nasdaq
silver
copper
Financial Markets and Omicron and Powell
Five year inflation breakeven (unadjusted) down, 10yr-3mo term spread down, VIX and EPU up, and S&P 500 down. Figure 1: Five year inflation breakeven…
Five year inflation breakeven (unadjusted) down, 10yr-3mo term spread down, VIX and EPU up, and S&P 500 down.
Figure 1: Five year inflation breakeven (blue), ten year – three month Treasury spread (red), both %. Source: Treasury via FRED, and author's calculations.
Ignoring adjustments for inflation risk term and liquidity premia, implied expected 5 year inflation is down to 2.8%, while growth prospects also revert back to September levels.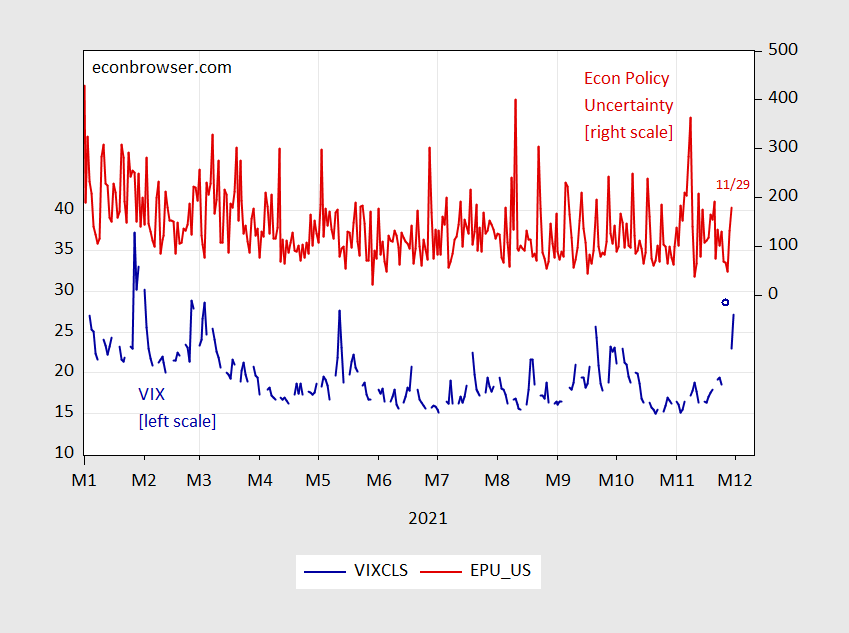 Figure 2: VIX (blue, left scale), and Economic Policy Uncertainty index (red, right scale).  Source: CBOE via FRED, policyuncertainty.com.
Risk and policy uncertainty are also at recent highs, but still are dwarfed by Trump era highs (83 for VIX at 27.2; 862 for EPU at 180 on 11/29).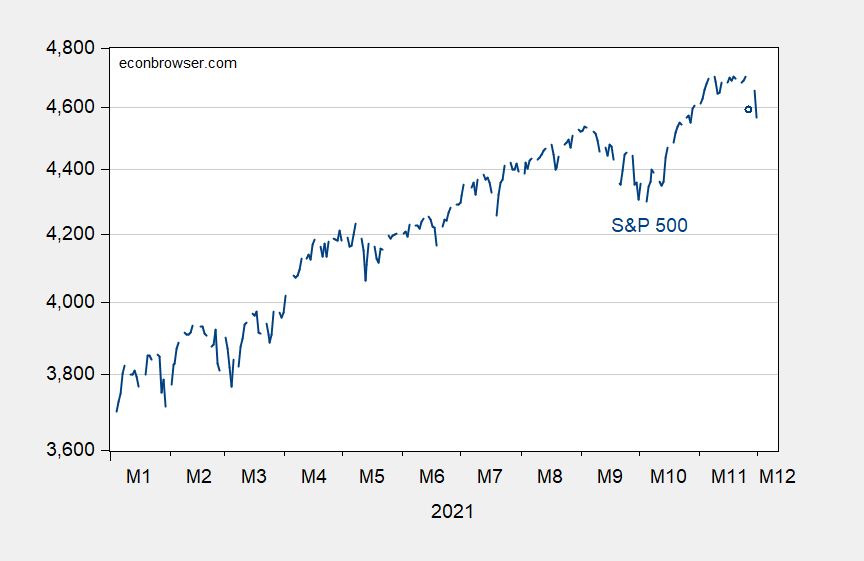 Figure 3: S&P 500 index (blue, log scale). Source: S&P via FRED. 
Given this backdrop (lower expectations for growth and presumably profits, due to Omicron, and higher interest rates from Powell's statement re: inflation persistence), it's not surprising to see a drop in stock indices.
Retailers Open Pop-Up Container Yards To Bypass Savannah Port Jams
Retailers Open Pop-Up Container Yards To Bypass Savannah Port Jams
By Eric Kulisch of American Shipper,
Overflow lots set up by large retailers…
Retailers Open Pop-Up Container Yards To Bypass Savannah Port Jams
By Eric Kulisch of American Shipper,
Overflow lots set up by large retailers this month as temporary staging areas for imported containers have helped bring down congestion levels at the Port of Savannah, and Georgia officials expect further efficiency gains with this week's opening of two more port-sponsored pop-up sites.
The Georgia Ports Authority, in partnership with the Norfolk Southern, will start accepting loaded containers on Monday at the freight railroad's nearby Dillon Yard and later this week will begin routing shipping units to a general aviation airport in Statesboro, located about 60 miles west of Savannah, Chief Operating Officer Ed McCarthy told FreightWaves.
Moving containers to off-port properties is part of the recently announced South Atlantic Supply Chain Relief Program designed to reclaim space at the Garden City Terminal, where container crowding is making it difficult for vessels to unload and for stacking equipment and trucks to maneuver. In October, Savannah handled an all-time record of 504,350 twenty-foot equivalent units for a single month, an increase of 8.7% over October 2020. The volume surpassed the GPA's previous record of 498,000 TEUs set in March.
Port officials began testing the Dillon Yard and Statesboro locations last week after renting top loaders for stacking and truck transfers, installing computer lines in order to track containers entering the gate with radio frequency identification, and laying extra pavement at the rail facility, McCarthy said. 
Four or five more pop-up container facilities are scheduled to open around Georgia by mid-December and the port authority is talking with freight railroad CSX about an auxiliary storage site in Rocky Mount, North Carolina, the COO said in an interview. 
The sites are mini-versions of inland ports where containers are brought to strategically located sites by intermodal rail, shortening the distance trucks have to travel to collect imports or drop off exports and reducing traffic in and around busy seaports. The concept essentially brings the seaport closer to manufacturing, agriculture and population centers. 
The GPA currently operates a large inland intermodal rail terminal in Murray County, Georgia, as well as an inland dry bulk facility. Construction on a second inland rail link for containerized cargo in northeast Georgia is scheduled to begin in April and be completed by mid- to late 2024, spokesman Robert Morris said. South Carolina also operates two inland ports, Virginia has one in the northwestern part of the state and the Port of Long Beach in California recently launched an effort to quickly flow cargo to Utah for distribution by converting truck traffic to rail.
Several users of the Port of Savannah this month have opened pop-up yards of their own where they can directly flow import containers to avoid waiting for longshoremen to sort through shipping units for their cargo and then retrieve them when space opens at one of their distribution centers. Each of the private spillover yards can accommodate 2,000 to 3,000 containers. 
"We're starting to see some of our customer base do their own pop-ups. They're contracting with some folks who have capabilities in the Savannah region and … taking their long-term destiny in their own hands," McCarthy said in an interview.
The Rocky Mount intermodal facility being discussed with CSX will probably be used as an alternative storage location for empty containers. It could be running by early December, the COO said. Whether containers are diverted from other locations or whether empties are loaded up in Savannah and sent there remains to be determined. 
The Biden administration, which is focused on alleviating a nationwide supply chain crisis that is creating product shortages and contributing to inflation, helped fund the GPA's emergency storage yards by reallocating $8 million in federal funds. Additional flexibility recently granted by the Department of Transportation allows port authorities to redirect cost savings from previous projects funded by port infrastructure grants toward mitigating truck, rail and terminal delays that are preventing the swift evacuation of containers from ports.
White House port envoy John Porcari, the liaison between industry and the White House Supply Chain Disruptions Task Force, said the government is looking to create more inland ports. 
"We're encouraging other ports to do the same [thing as Savannah.] I think you'll see a generation of projects in the short term around the country that will help maximize the existing on-dock capacity through interior pop-up sites," Porcari said on Bloomberg's "Odd Lots" podcast last week. 
"The fundamental issue is that the docks themselves are such valuable pieces of real estate that you don't want the containers dwelling there a second longer than you have to. You want to get them to the interior or back on ships to their target markets overseas," he said.
Better Fluidity
Improvements in rail handling, a dip in import volumes in line with seasonal patterns and the customer pop-up yards have combined to improve cargo flow and reduce the number of ships waiting for a berth at the Port of Savannah, McCarthy said. 
The port authority released an operations update last week showing the average dwell time for a container moving by rail after vessel unloading is two days, and that the average resting time within the terminal for import and export containers is about eight days, down from 11 and 10 days, respectively. The backlog of empty containers remains a problem, with boxes lingering an average of 17.8 days.
The improved performance is helping personnel work vessels faster and reduce Savannah's cargo backlog. The number of ships at anchor in the Atlantic Ocean declined to 15 as of Monday morning from 22 two weeks ago, Morris said. There were 24 container vessels at anchor in mid-October. Total containers on the terminal also declined 13% and are down 16% from the peak of 85,000, according to the update.
McCarthy said there are about 225,000 TEUs currently on the water, a 10% to 12% reduction from early November that indicates "we are over the hump of the peak season."
Last week, ocean carrier CMA CGM said its Liberty Bridge service from northern Europe to the U.S. East Coast would temporarily skip Savannah due to the congestion. According to the revised schedule, seven stops between late December and early February will be omitted. Shippers can send Savannah cargo to the Port of Charleston, South Carolina, until then, it said.
The GPA also noted that providers have increased the supply of chassis, the wheeled frames on which containers rest when pulled by truck, and are increasingly able to repair more chassis to help meet demand for cargo deliveries.
The Port of Savannah increased its near-dock rail capacity by 30% with the commissioning two weeks ago of a second set of nine tracks at the Mason Mega Rail Terminal. The port moved 550,000 containers by rail last year and now has more than 2 million TEUs of capacity with an eye toward future growth. The ability to discharge cargo from a vessel and ship it out by train in less than two days is best in class for the U.S., McCarthy noted.
A huge new container yard will come online in phases starting in December and culminate with about 820,000 TEUs of additional capacity by March. The project includes rubber-tired gantry cranes for sorting, stacking and transferring containers.
Construction of another berth is underway and scheduled to be complete in 2023.
Meanwhile, the federal dredging project to deepen the Savannah River to 47 feet (54 feet at high tide) is expected to be completed in the first quarter of 2022. It has already allowed vessels with deeper drafts to enter the port, McCarthy said. The deepening translates to about 200 extra loaded containers per foot and a total of 1,000 per vessel when the project is finished.
Tyler Durden
Tue, 11/30/2021 – 19:45
inflation
markets
If Not 'Flow', Then Has 'Stock' 'Rigged' The Flattening Curve In QE's Favor?
Flatter. The yield curve continues to shrink in the important middle calendar spaces where growth and inflation expectations run the place. Treasuries…
Flatter. The yield curve continues to shrink in the important middle calendar spaces where growth and inflation expectations run the place. Treasuries have been doing this since around March, a peculiar (given monolithic mainstream reporting otherwise) eight-month reign of growing pessimism rather than inflationary confidence.
Did the market foresee omicron more than half a year ago?
No. That's not really what this has been all about. As noted yesterday, the unnervingly steady flattening (deflation potential) in the curve wasn't so specific – and it needn't have been. What the "bond market" has been trading is this growing suspicion that, given how the actual situation was never better than weak and artificial, the chances of something, anything going wrong were rising.
If not delta or omicron, then almost certainly another even modest shock.
And whatever the something might end up being, it would be enough to upend the set of global circumstances. Like 2018, globally synchronized growth didn't unexpectedly transform into a globally synchronized downturn and pre-COVID recession, the transition was made plain and available to everyone in real-time.
Yet, to this day there are those who adamantly oppose this. Through the monumental power of the "central bank's" balance sheet and all the Treasury (and other) assets invited onto it, the might of QE, the yield curve has been tainted to the point of trash, they say. After all, central bankers have repeatedly and plainly stated how they want interest rates to be low.
Lo and behold, low they are.
Like so many other monetary fairy tales, it sounds plausible upon first hearing the scheme. We've already thoroughly debunked part of this "rigging" of the bond market; I say "part" because there is another means – in theory – for where or how the Fed's power might remain unchallenged.
What we detailed a couple weeks ago was what is called the "flow" argument. This other is the "stock" version.
The case for flow rested upon the notion of central banks constantly "being in the market" buying up Treasuries (or other), thereby causing their price to rise concurrent to the flow of central bank purchases.
Sounds nice in theory; not a single bit of evidence from practice:
What about the so-called stock effect? If QE doesn't influence bond prices as purchases happen, and it sure doesn't, then perhaps there is some cumulative impact from all the purchasing done from beginning to end; fewer bonds overall for the market to have had to absorb.
To try to make the case on this side of the QE argument, you'll often see this chart employed:
On the surface, it does seem as if the more bonds central banks buy, the more "valuable" those bonds have become. But is this explanatory, or is it committing the first sin of statistics?
Correlation does not imply causation.
In fact, during a period of tight money we would expect that the prices of safe and liquid instruments would rise at nearly the same time central banks respond in their predictable way to the same tight money condition. In a world of exogenous money, like the eurodollar system, the one does not cause the other, rather both are reactions to the same thing – the exogenous money.
The fact that central banks reply in the same way as the market to tight money/deflation by buying bonds is merely the byproduct of having only one tangible tool in the kit: bank reserves.
When real, effective money (exogenous eurodollar) tightens, quite naturally there will be rising, heavy private demand for safe, liquid instruments like Treasuries and global sovereign bonds first. Central banks (eventually) then react to the deflationary symptoms of that tight money by employing their one tool, bank reserves, which requires the purchase of these same assets in order to create them.
The bond buying merely an accidental fluke, an uninteresting artifact of officials being incompetent. Thus, bond prices rise because of market action, yields drop, and then officials pile on while the media claims – absent every bit of evidence – it must be the piling on which "tainted" the bond market's already deflationary signal.
Even Dallas Fed's Richard Fisher (FISHER!, for god's sake) understood at its most basic level what the Fed was doing as it wasn't money printing or even the holding down of bond yields:
MR. FISHER. In summary, I want to mention that, as I said earlier, most of these variations that have been suggested are very un-Bagehot-like. And what I mean by that is, twisting [or QE and yield caps] entails purchasing assets that investors are fleeing toward, not assets that they are fleeing from. [emphasis added]
Correlation, not causation.
As I have often written, the Fed's balance sheet is actually the same things, the same sort of indication as falling yields (yes, you read that right), both adding up to negative, deflationary connotations. When the central bank's balance sheet goes up, not only is this not the cause of rising bond prices, the QE's, again, are a reaction to the same problem which further corroborates why and how bond yields have already sunk.
If that wasn't enough debunking (and I haven't even touched on the deflationary effects of QE in terms of its effects on collateral availability), the final bucket of nails in the "stock" idea gets hammered home repeatedly by what my brashly astute co-host Emil Kalinowski lustily points out time and again, this being the whole rest of the "bond market" – things like eurodollar futures, swap spreads, or just the dollar's exchange value – which is neither stock-ed nor flow-ed by central bank purchases one way or another.
In other words, it's not just Treasury yields or sovereign bonds which very strongly display rising deflationary potential during these specific times, with the Fed's balance sheet joining in, it is an entire array of dependable and tested financial indicators which uniformly corroborate the same notion from every important monetary, financial, and economic angle.
Like flow, stock is merely an attempt to work around what is more than an inconvenience to those wishing to (repeatedly) sell you an inflationary story without evidence. A flattening yield curve – indeed this flattening yield curve happening as it has during the highest CPIs in decades – is trying to tell you something important, the same undiluted message as has been repeatedly and properly sent time and time again.
The problem is simply QE, meaning how these messages are interpreted and perceived (distorted and twisted). I mean that in a very different way than with what this article began. Central bank bond purchases or LSAP's (whatever anyone calls them) have been the most tested, empirically-established policy programs in perhaps economic history. It's just that no one knows, because it is in "central banks'" best interest for you not to know, what all those tests have uniformly showed.
Flow? No. Stock. Nah. None of it does what everyone says it does. It sure doesn't "rig" the bond market in any way.
While a flat curve may not be able to tell you what will sour the situation, it does give you a reasonable, reliable approximation for how something is highly likely to at some not-distant time.
dollar
inflation
deflation
monetary
policy
interest rates
fed
central bank
correlation
money printing
inflationary
deflationary