Hedge Funds Are Liquidating At A Furious Pace…. And Retail Investors Are Buying It All
Hedge Funds Are Liquidating At A Furious Pace…. And Retail Investors Are Buying It All
Over the weekend, and then again on Monday we reported…
Hedge Funds Are Liquidating At A Furious Pace…. And Retail Investors Are Buying It All
Over the weekend, and then again on Monday we reported that It had been a catastrophic week for hedge funds: heading into Black Red Friday, losses were staggering with Goldman Prime reporting that many hedge funds were caught off-guard by news of the Omicron variant as they had bought Reopen stocks and sold Stay-at Home names in the past week. As a result, in the week ending Nov 25, GS Equity Fundamental L/S Performance Estimate fell -1.57% between 11/19 and 11/25, driven by alpha of -1.12% which was "the worst alpha drawdown in nearly six months" and beta of -0.45% (from market exposure and market sensitivity combined).
It only got worse on Friday and then again Monday, when Moderna – the 3rd most popular short in the hedge fund universe with some $4.5BN of the stock held short by the 2 and 20 crowd…
… exploded higher, resulting in massive double-digits losses for funds who were aggressively short the name… and just in general as the following P&L charts from Goldman Prime show.
So having been hammered one too many times in just a few days, perhaps the "smart money" finally learned its lesson, and as the S&P 500 suffered its biggest two-day rout since October 2020, hedge funds went risk off big time, because according to the latest update from Goldman Prime, net leverage fell to a one-year low this week.
A similar analysts from BofA also confirmed the deleveraging trend of deleveraging – the firm's hedge-fund clients dumped more than $2 billion of stocks last week, exiting the market at the fastest pace since April.
While it doesn't take a rocket surgeon to figure out why hedge funds were rapidly derisking, among the reasons for the mass exodus were both tax-loss harvesting ahead of the end of the year, as well as locking in profits that despite the recent turmoil remain more than 20% for 2021.
But the most proximal catalyst remains the sharp change in tone from the Fed where Powell now appears hell bent to consummate the worst policy mistake since Jean-Claude Trichet's ECB hiked right into a recession: "We've seen inflation be more persistent. We've seen the factors that are causing higher inflation to be more persistent,"  Powell told lawmakers Wednesday after decommissioning the term transitory to describe higher prices a day earlier. This has led to a rush to reprice assets with the prospect of higher interest rates sooner than investors had been anticipating.
Confirming our recent observations, Dennis DeBusschere, founder of 22V Research, told Bloomberg that "many have mentioned hedge fund pain leading to weird internal moves" among speculative tech stocks. "This latest negative omicron news leads to just closing the books up and moving on."
Yet while hedge funds puked stocks, aggressively deleveraging into Wednesday's rout, retail investors did just the opposite and bought what HFs had to sell like there is no tomorrow: as we noted earlier, retail stock purchases rose to a new record on Tuesday of $2.2 billion, after reaching $2.1 billion during Friday's rout, according to Vanda Research.
The firm flagged big retail buying in cyclical stocks like airlines and energy on Friday, versus Tuesday's tech-heavy flows, and noted that institutional investors did the opposite, selling cyclicals on Friday and then tech on Tuesday.
In other words, retail investors were busy bidding up everything hedge funds had to sell.
Professional managers are often quicker to sell because of pressure to deliver returns, said Mark Freeman, CIO at Socorro Asset Management LP. After their concentrated bets on expensive technology shares backfired last week, hedge funds now face a fast-closing window to bolster a year of spotty performance.
That aversion to risk probably underlined the latest rout in unprofitable tech shares, a group that usually sells off when long-end Treasury  yields spike. On Wednesday, however, 10-year yields slipped and a Goldman basket of extremely expensive software stocks plunged 7.1%.
Yet while Vanda sees strong retail demand persisting, and limiting the downside to equities in December, Nomura advises caution when buying this dip.
As Bloomberg reports, strategists Chetan Seth and Amit Phillips wrote in a note that investors need to carefully assess if "buy the dip" will prove to be a good strategy, because elevated inflation implies the bar is higher for central banks to suppress volatility by providing policy support, if omicron does become a major threat. A combination of a hawkish Fed and virus uncertainty implies that stocks are likely to be volatile until at least the FOMC's December meeting.
But hey, as former Dallas Fed head Richard Fisher warned previously, retail BTFD investors are "getting ahead of itself, because the market is dependent on Fed largesse… and we made it that way…but we have to consider, through a statement rather than an action, that we must wean the market off its dependency on a Fed put."
Fisher went on…
"The Fed has created this dependency and there's an entire generation of money-managers who weren't around in '74, '87, the end of the '90s, anbd even 2007-2009.. and have only seen a one-way street… of course they're nervous."

"The question is – do you want to feed that hunger? Keep applying that opioid of cheap and abundant money?"
Blasphemy? Or perhaps just once, Jay Powell has got religion.
And while we would have once upon a time said that hedge funds will have the last laugh, performance from the last decade has made it clear that when it comes to dumb money, there is nobody dumber than those getting paid millions to underperform the market year after year. Or maybe this time will be different: as the last chart shows, have dramatically outperformed hedge funds for much of 2021, the retail favorite stocks are suddenly in danger of wiping out most if not all of their YTD gains…
Tyler Durden
Thu, 12/02/2021 – 08:25
inflation
policy
interest rates
fed
JPMorgan Models War Between Russia And Ukraine: Sees Oil Soaring To $150, Global Growth Crashing
JPMorgan Models War Between Russia And Ukraine: Sees Oil Soaring To $150, Global Growth Crashing
With Morgan Stanley joining Goldman and calling…
JPMorgan Models War Between Russia And Ukraine: Sees Oil Soaring To $150, Global Growth Crashing
With Morgan Stanley joining Goldman and calling for $100 oil, and Bank of America's commodity strategist Francisco Blanch one-upping both, and today laying out the case for $120 oil…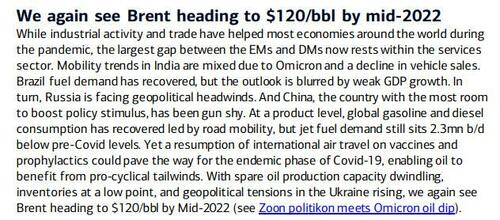 … on Friday afternoon JPMorgan trumped all of its banking peers with a report that is especially troubling if not so much for the implications from its "theoretical" modeling, but for the fact that Wall Street is now actively assessing what may be the start of World War 3.
In a note from the bank's economists Joseph Lupton and Bruce Kasman (available to pro subs) which picks up where our article "Shades Of 2008 As Oil Decouples From Everything" left off, JPM writes that oil shocks have a long history of driving cyclical downturns, with US recessions often associated with oil price spikes…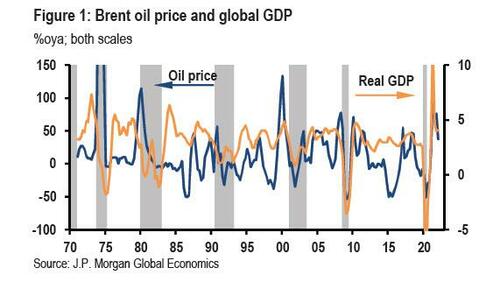 … most recently of course the surge in oil to all time highs in 2008, which some say sealed the fate of the global financial crisis.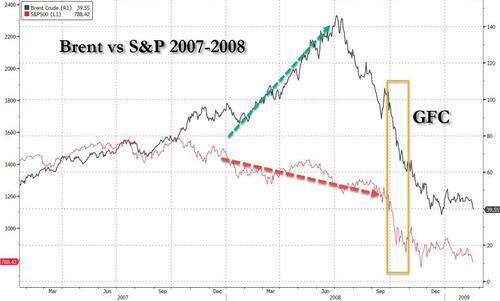 So looking at the latest geopolitical tensions between Russia and Ukraine, JPM warns that "these raise the risk of a material spike this quarter." That this comes on the back of already elevated inflation and a global economy that is being buffeted by yet another wave of the COVID-19 pandemic, JPMorgan sees the risk of a kinetic war breaking out as adding "to the near-term fragility of what is otherwise a fundamentally strong recovery."
Drilling down, JPM considers a scenario in which an adverse geopolitical event between Russia and Ukraine materially disrupts the oil supply. This scenario envisions a sharp 2.3 million b/d contraction in oil output that boosts the oil price quickly to $150/bbl—a 100% rise from the average price in 4Q21.
Given that this would be solely a negative supply shock, the impact on output is to reduce global GDP by 1.6% the bank calculates based on its general equilibrium model. And with global GDP projected to expand at a robust 4.1%ar in 1H22, the economist due project that "this shock would damp annualized growth to 0.9% assuming the adjustment takes place over two quarters. Inflation would also spike
to 7.2%ar, an upward revision of 4%-pts annualized."
It gets worse: in addition to the drag from a sharp contraction in oil supply our models estimate, there are two other channels through which this shock could damage global growth.
The first relates to the repercussions of a Russian intervention in Ukraine. The US, coordinating with allies, would likely impose sanctions on Russia. While the possibilities vary widely in scope, they will likely impact negatively on sentiment and global financial conditions.
Second, JPM estimates incorporate the realized behavior of major central banks over the past two decades whereby oil price shocks associated with geopolitical turmoil have been perceived to pose a greater threat to growth than inflation.
Against the backdrop of a year of already elevated inflation and extremely accommodative policies, JPM warns that central banks may display less patience than normal—particularly in the EM, where rising global risk aversion may also place downward pressure on currency values.
To be sure, as with any Wall Street analysis that models war, JPM is quick to caveat its findings, noting that "it is important to recognize that the scenario of a jump in the oil price to $150/bbl is premised on a sharp and substantial shock to the oil supply. History has proven that such large and adverse shocks do material damage to the macroeconomy. In this regard, the results reported here should not be a surprise but seen as useful for quantifying the damage based on a carefully specified general equilibrium model using generally accepted elasticities."
Boilerplate language aside, what is notable is that for months we have been wondering what "latest and greatest" crisis will replace covid as the Greenlight that central banks and governments need to perpetuate not only QE and NIRP, but also the all important helicopter money. Now we know.
Tyler Durden
Fri, 01/21/2022 – 15:27
inflation
commodity
Rent Prices Skyrocketed 14% Over the Past Year, Far Outpacing Inflation
As would-be buyers abandon their homeownership dreams, renting gets more expensive.
With inflation hovering around 7%, just about everything costs more than it used to, from groceries to heating oil to cars. Even worse, one of the biggest monthly expenses for millions of people — rent — has seen price increases that far outpace regular inflation.
According to new data from Redfin, the average monthly rent in the United States climbed 14.1% last month compared to a year earlier — the biggest jump in two years. The increase brings the average monthly rent payment in the United States to $1,877 as of December 2021, compared to $1,645 at the end of 2020.
East Coast cities including New York, Miami and Jacksonville have seen especially big spikes (up 30% or more year over year), while Austin, Texas, has been hit the hardest with rent price growth of nearly 40%.
Unfortunately, owning a home doesn't protect you from the soaring cost of housing: Mortgage payments are rising even faster than rent prices. The median national mortgage payment for homebuyers with a 5% down payment surged 21.6% on a yearly basis in December to $1,553, according to Redfin.
"The growth in mortgage payments has been driven by both climbing prices and climbing mortgage rates," Redfin Chief Economist Daryl Fairweather said in a statement. "And those rising mortgage costs push more potential homebuyers into renting instead, which pushes up demand and prices for rentals."
That's especially true for millennials, many of whom are entering their peak homebuying years but are choosing to rent instead thanks to an extremely competitive housing market. A recent study from RentCafe, a rental listing and research company, found that the share of millennial rental applications earning more than $50,000 per year rose to 43% in 2021 — a huge jump from 28% in 2017.
Which cities have the highest rent increases?
While rent prices are rising nationwide, some cities have seen especially big spikes. Here are the 10 cities where rent is rising the fastest, according to Redfin.
Austin, Texas: 40%
Nassau County, New York: 35%
New York, New York: 35%
Newark, New Jersey: 35%
New Brunswick, New Jersey: 35%
Miami, Florida: 34%
West Palm Beach, Florida: 34%
Fort Lauderdale, Florida: 34%
Jacksonville, Florida: 31%
Portland, Oregon: 29%
The average rent payment in Austin, which tops the list, is $2,290. Austin has one of the hottest housing markets in the country. The median home price in Austin rose nearly 19% on a yearly basis to $567,000 last month, according to Redfin. Mortgage payments in Austin rose 37.5% over the course of the last year, according to the new report. (Round Rock, Texas — located just outside of Austin — was featured on Money's 2021 list of the Best Places to Live thanks in part to its booming job market.)
Only one city included in the Redfin study saw rent prices come down in December compared to the year before: Kansas City, Missouri, where rent fell 0.8%.
---
Money Moves
Every Saturday, Money real estate editor Sam Sharf dives deep into the world of real estate, offering a fresh take on the latest housing news for homeowners, buyers and daydreamers alike.
---
More from Money:
Frustrated House Hunters Are Giving up on Buying Only to Face an Expensive Rental Market
The Math Is Changing on Whether It's Better to Buy or Rent a Home
8 Signs It's Time to Stop Renting and Buy
5 Reasons 'Cathie Wood Stocks' Could Double in 2022
Many of you are familiar with Cathie Wood, the famed stock-picker and founder of ARK Invest who focuses on investing in disruptive tech stocks with enormous…
Many of you are familiar with Cathie Wood, the famed stock-picker and founder of ARK Invest who focuses on investing in disruptive tech stocks with enormous upside potential. Indeed, she's so famous that the stocks she buys in her funds are often labeled as "Cathie Wood stocks" — stocks like Tesla (NASDAQ:TSLA), Coinbase (NASDAQ:COIN), Teladoc (NYSE:TDOC), Square (NYSE:SQ) and Roku (NASDAQ:ROKU).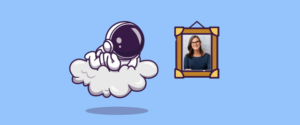 Source: Catalyst Labs / Shutterstock
You might also be familiar with how those Cathie Wood stocks have gone from Wall Street's biggest winners to its biggest losers over the past few years.
During the pandemic, her stocks absolutely soared on the backs of consumers embracing disruptive new technologies and the Fed providing a wall of liquidity to incentivize risk-taking behavior in markets. Cathie's signature fund, the ARK Innovation ETF (NYSEARCA:ARKK), skyrocketed an amazing 157% higher in 2020.
It was an absolutely jaw-dropping performance.
But stocks don't go up forever. And, in 2021, Cathie Wood stocks stopped going up as consumers decreased usage of new technology platforms last year and red-hot inflation threatened valuations. By the end of the year, the ARK Innovation exchange-traded fund (ETF) — the same ETF that rose 157% in 2020 — dropped 24% in 2021.
It was an enormous reversal.
And now my team and I think that so-called Cathie Wood stocks are due for another, even-bigger reversal in 2022 because the thing about stocks is that while they don't go up forever, they also don't go down forever — and Cathie Wood stocks have fallen too far, too fast to oversold and undervalued levels with some major turnaround catalysts on the horizon.
2022 Rebound
Our thinking here breaks down into five components:
The economy will slow in 2022. Driven by plunging consumer confidence, a sharp drop in the household savings rate, rising interest rates driving up borrowing costs and the end of stimulus payments, consumer spending will fall flat in 2022. Consumer spending drives 70% of the U.S. economy. A consumer spending slowdown will naturally produce an economic slowdown, the likes of which will make healthy corporate earnings growth relatively scarce in the market. Investors will re-concentrate their investment dollars into companies that can continue to produce strong growth — i.e. Cathie Wood stocks. Growth stocks will rise. Value stocks will struggle.
Inflation is going to meaningfully decelerate this year. Inflation was the bane of Cathie Wood stocks in 2021. But inflation rates will dramatically cool in 2022 as consumer spending slows, supply chain bottlenecks improve and the year-over-year comps get much harder. Throughout the year, inflation rates will fall from 7% to 5% to 3% and will likely end 2022 around 2%. Accelerating inflation killed Cathie Wood stocks in 2021. Decelerating inflation will boost Cathie Wood stocks in 2022.
The Fed will be forced to take a dovish pivot by the summer. This is a data-driven Fed that has a history of only being hawkish when it is absolutely required. A hawkish policy stance will not be required by the summer. Inflation will be decelerating rapidly. Economic expansion will be slowing. And the labor market will likely continue to struggle with shortage concerns. In the face of that data, the Fed will revert to a dovish policy stance — which, of course, will be a bullish development for growth stocks.
Consumer usage of technology platforms will reaccelerate throughout the year. Consumers didn't stop using tech platforms in abundance in 2021 because those platforms weren't useful. They were just sick and tired of using nothing but those platforms for a full year in 2020. But we are now about a year into the economic reopening, and all those pent-up consumer demands have been exhausted. We fully expect consumer behavior to normalize in 2022. And in this day and age, "normal" means accelerated adoption of tech platforms. Such accelerated adoption will help tech companies re-accelerate their growth trajectories in 2022, especially as the year-over-year comps get easier.
Hypergrowth tech stocks are very cheap relative to long-term estimates. And many Cathie Wood stocks get a bad rap for being very expensive. But they're only expensive if you look at 2022 estimates. If you look at 2025-plus estimates, the story becomes much different. Square is trading at just 1.6X its 2025 sales estimates, while Spotify (NYSE:SPOT) is trading at 2X its 2025 sales estimates. Roku is at 3.4X 2025 sales estimates. Zoom (NYSE:ZM) and DocuSign (NYSE:DOCU) are both around 6X. For comparison, McDonald's (NYSE:MCD) is trading at 6.6X its 2025 sales estimates, and Coca-Cola (NYSE:KO) is trading at 5.4X 2025 sales estimates. So in other words, hypergrowth tech stocks have corrected low enough that, based on 2025 estimates, many feature equivalent valuations as blue-chip, zero-growth stocks. That makes no sense — and provides compelling rationale for a move higher in tech stocks.
Overall then, we believe that while Cathie Wood stocks were crushed in 2021 and have continued to sell off in 2022, they're going to rebound enormously over the next 12 months.
We're not alone in that thinking…
Take a look at the consensus 12-month-forward analyst price targets for some of the top Cathie Wood stocks. Coinbase — 91% upside potential. Square — 105% upside potential. Roku — 107% upside potential. Zoom — 78% upside potential. Teladoc — 98% upside potential. UiPath (NYSE:PATH) — 82% upside potential.
The folks who run the numbers on these stocks think they're way undervalued. We've run the numbers on them too — and we agree.
Mark our words. 2022 will be a huge rebound year for hypergrowth tech stocks.
To find out which stocks you should be buying right now for triple-digit returns over the next 12 months, click here.
On the date of publication, Luke Lango did not have (either directly or indirectly) any positions in the securities mentioned in this article.
The post 5 Reasons 'Cathie Wood Stocks' Could Double in 2022 appeared first on InvestorPlace.