High flying growth companies will badly damage new shareholders
The problem with having a huge amount of anticipated growth baked into your stock price is that the expectations become incredibly difficult to achieve….
The problem with having a huge amount of anticipated growth baked into your stock price is that the expectations become incredibly difficult to achieve.
High expectations result in high stock prices.
I'll post the charts of two of these companies which are household names – Zoom (Nasdaq: ZM) and Docusign (Nasdaq: DOCU):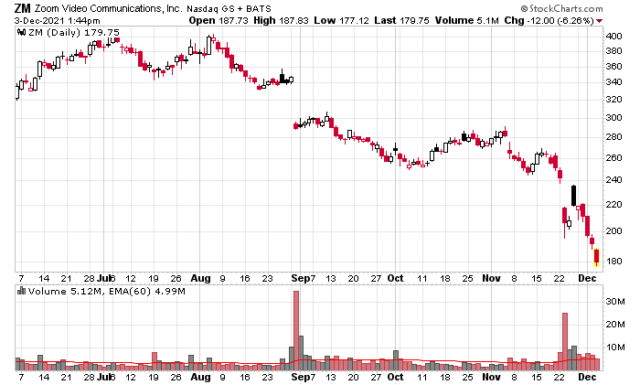 We will look at Zoom first.
At its peak of $450/share, Zoom was valued at around $134 billion. Keeping the math incredibly simple, in order to flat-line at a terminal P/E of 15 (this appears to be the median P/E ratio of the S&P 500 at the moment), Zoom needs to make $9 billion a year in net income, or about $30/share.
After Covid-mania, Zoom's income trajectory did very well: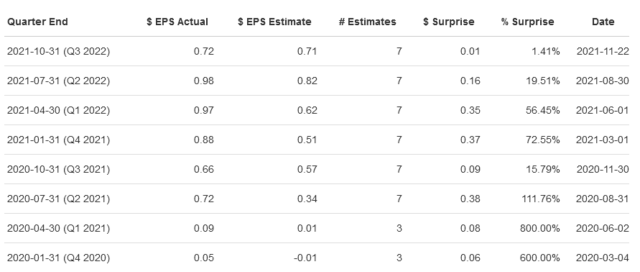 However, the last quarter made it pretty evident that their growth trajectory has flat-lined. Annualized, they are at $3.55/share, quite a distance away from the $30/share required!
Even at a market price of $180/share today, they are sitting at an anticipated expectation of $12/share at sometime in the future.
Despite the fact that Zoom offers a quality software product (any subscribers to "Late Night Finance" will have Zoom to thank for this), there are natural competitive limitations (such as the fact that Microsoft, Google and the others are going to slowly suck away any notion of margins out of their software product) which will prevent them from getting there.
The point here – even though the stock has gone down 60% from peak-to-trough, there's still plenty to go, at least on my books. They are still expensive and bake in a lot of anticipated growth which they will be lucky to achieve – let alone eclipse.
The second example was Docusign. Their great feature was to enable digital signing of documents for real estate agents, lawyers, etc., and fared very well during Covid-19. It's an excellent product and intuitive.
They peaked out at $315/share recently, or a US$62 billion valuation. Using the P/E 15 metric, the anticipated terminal earnings is about $21/share.
The issue here is two-fold.
One is that there is a natural ceiling to how much you can charge for this service. Competing software solutions (e.g. "Just sign this Adobe secure PDF and email it back") and old fashioned solutions (come to my office to scribble some ink on a piece of paper) are natural barriers to significant price increases.
Two is that the existing company doesn't make that much money: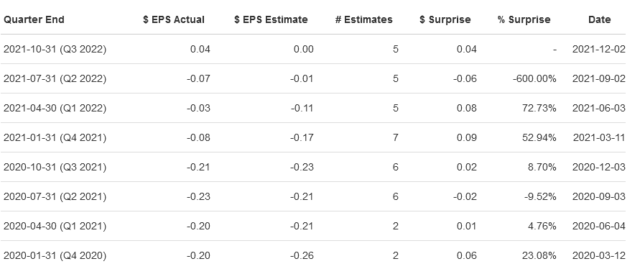 Now that they are reporting some earnings, investors at this moment suddenly realized "Hey! It's a long way to get to $21!" and are bailing out.
Now they are trading down to US$27 billion, but this is still very high.
There are all sorts of $10 billion+ market capitalization companies which have featured in this manner (e.g. Peleton, Zillow, Panantir, etc.) which the new investors (virtually anybody buying stock in 2021) are getting taken out and shot.
This is not to say the underlying companies are not any good – indeed, for example, Zoom offers a great product. There are many other instances of this, and I just look at other corporations that I give money to. Costco, for example – they trade at 2023 anticipated earnings of 40 times. Massively expensive, I would never buy their stock, but they have proven to be the most reliable retailer especially during these crazy Covid-19 times.
As the US Fed and the Bank of Canada try to pull back on what is obviously having huge negative economic consequences (QE has finally reached some sort of ceiling before really bad stuff happens), growth anticipation is going to get further scaled back.
As long as the monetary policy winds are turning into headwinds (instead of the huge tailwinds we have been receiving since March 2020), going forward, positive returns are going to be generated by the companies that can actually generate them, as opposed to those that give promises of them. The party times of speculative excess, while they will continue to exist in pockets here and there, are slowly coming to a close.
The super premium companies (e.g. Apple and Microsoft) will continue to give bond-like returns, simply because they are franchise companies that are entrenched and continue to remain dominant and no reason exists why they will not continue to be that way in the immediate future. Apple equity trades at a FY 2023 (09/2023) estimate of 3.8% earnings yield, and Microsoft is slightly richer at 3.2%. Just like how the capital value of long-term bonds trade wildly with changes of yield, if Apple and Microsoft investors suddenly decide that 4.8% and 4.2% are more appropriate risk premiums (an entirely plausible scenario for a whole variety of foreseeable reasons), your investment will be taking a 20% and 25% hit, respectively (rounding to the nearest 5% here).
That's not a margin of error that I would want to take, but consider for a moment that there are hundreds of billions of dollars of passive capital that are tracking these very expensive equities. You are likely to receive better returns elsewhere.
Take a careful look at your portfolios – if you see anything trading at a very high anticipated price to cash flow expectation, you may wish to consider your overall risk and position accordingly. Companies warranting premium valuations not only need to justify it, but they need to be delivering on the growth trajectory baked into their valuations – just to retain the existing equity value.
If You Want a 30% Return This Year, Look to Amazon
If you found a stock with a strong growth history that is expected to gain 30% this year, you'd be interested, right? Then maybe you should check out…
If you found a stock with a strong growth history that is expected to gain 30% this year, you'd be interested, right? Then maybe you should check out Amazon (NASDAQ:AMZN) stock.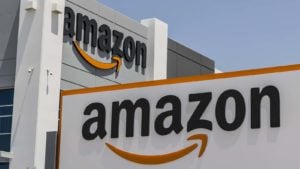 Source: Jonathan Weiss / Shutterstock.com
Amazon has been through the ringer as of late. It's down 23% since July and 14% over the last month. After reaching $3,700 per share just six months ago, you can buy AMZN stock for just south of $2,900 now.
The biggest problems facing Amazon last year was that it was going up against huge comparable quarters from 2020. Amazon had a huge 2020 as the Covid-19 pandemic shut down brick-and-mortar retailers. Shoppers turned to e-commerce in record numbers to spend those government stimulus payment checks.
Amazon was a huge disappointment. AMZN stock only returned 2% for all of 2021 while the S&P 500 gained 29.6%. The Dow Jones Industrial Average rose 18.7%, and the Nasdaq composite jumped 21.4% in 2021.
Now that founder Jeff Bezos is gone, having turned over the reins at Amazon to new CEO Andy Jassy, it's a new day at Amazon, and perhaps investors have a right to be a little skeptical.
But there are plenty of analysts who have a strong belief that Amazon will have a strong year. They still have faith in AMZN stock. Maybe you should, too.
AMZN Stock at a Glance
In late October, Amazon reported third-quarter earnings that were a disappointment.
Revenue was $110.81 billion, versus analysts' expectations of $111.6 billion. Earnings of $6.12 per share were much lower than analysts' expectations of $8.92 per share.
On top of that, CFO Brian Olsavsky cautioned investors that the company will take a $4 billion charge in the fourth quarter from increased labor costs, productivity losses and inflation. The company planned to hire 150,000 seasonal workers just to get through the holiday season.
Amazon is expecting operating profit between zero to $3 billion in the fourth quarter. A year ago, Amazon posted a profit of $6.9 billion in Q4.
But there are some reasons for optimism. By several accounts, Amazon had a decent holiday season with its biggest-ever sales over the Thanksgiving weekend.
And it's important to remember that Amazon just isn't a retail company. The third quarter was the first time in Amazon's history that its Amazon services division posted more revenue that its retail division.
The retail side made $54.9 billion in the third quarter. But revenue from Amazon Prime subscriptions, advertising and its cloud component Amazon Web Services made $55.9 billion.
In fact, if it wasn't for Amazon Web Services' $4.88 billion in revenue for the quarter, the company would have lost money in the period. AWS revenue rose 39% in the quarter.
The Analyst Sentiment
At this writing, Amazon stock is hovering around $2,900. That means it needs to gain about 38% to hit the $4,000 mark.
Is that a pipe dream? Not at all, according to analyst sentiment.
For instance, Morgan Stanley's Brian Nowak just raised his firm's price target from $4,000 to $4,200. He has an interesting take: He notes that Amazon is badly lagging behind the other top tech stocks like Alphabet (NASDAQ:GOOG, GOOGL), Meta (NASDAQ:FB), Apple (NASDAQ:AAPL) and Microsoft (NASDAQ:MSFT).
Nowak said there's a correlation between companies that improve their disclosure practices and the price that investors are willing to pay for stock. Amazon needs to give investors more insight about how it spends its money, he wrote in a note to clients.
"Better visibility into Amazon's estimated ~$19 billion spent on engineers per year (excluding AWS) and emerging 'other bets' projects could help investors better understand the health of its core retail business."
At JPMorgan, analyst Doug Anmuth said investors expect U.S. internet stocks to outperform the market this year. And Amazon is by far the "strong favorite as best performing FANG" stock for 2022, he says. Anmuth has a price target of $4,350 for AMZN stock.
The Bottom Line on AMZN Stock
Fifty analysts currently cover AMZN stock, and 49 of them rank it as a "buy" or a "strong buy."
Despite coming off a rough 2021 – and a rough start to this year – Amazon can't be ignored. It's the unquestioned leader in e-commerce stocks. And with its Amazon Web Services, Amazon is a growing power in cloud services. It's that division that will give Amazon its greatest profits in 2022.
If you want a 30% return in 2020, Amazon seems to be a great place to find it.
On the date of publication, Patrick Sanders did not have (either directly or indirectly) any positions in the securities mentioned in this article. The opinions expressed in this article are those of the writer, subject to the InvestorPlace.com Publishing Guidelines.
Patrick Sanders is a freelance writer and editor in Maryland, and from 2015 to 2019 was head of the investment advice section at U.S. News & World Report. Follow him on Twitter at @1patricksanders.
More From InvestorPlace
The post If You Want a 30% Return This Year, Look to Amazon appeared first on InvestorPlace.
Visualizing the Evolution of the Global Meat Market
The global meat market will be worth $1.8 trillion by 2040, but how much of that will plant-based alternatives and cultured meat command?
The post Visualizing…
>>Click here to learn more about CULT Food Science (CSE: CULT)
The Evolution of the Global Meat Market
In the last decade, there has been an undeniable shift in consumers' preferences when it comes to eating meat.
This is partly due to the wide availability of meat replacement options combined with growing awareness of their health benefits and lower impact on the environment compared to conventional meat.
In this infographic from CULT Food Science (CSE: CULT), we examine how meat consumption is expected to evolve over the next two decades. Let's dive in.
Taking a Bite out of Meat's Market Share
The COVID-19 pandemic triggered a massive turning point for the meat industry, and it will continue to evolve dramatically over the next 20 years. Taking inflation into account, the global meat market is expected to grow overall by roughly 3% by 2040 as a result of population growth.
However, as consumption shifts, conventional meat supply is expected to decline by more than 33% according to Kearney. These products will be replaced by innovative meat alternatives, some of which have yet to hit the mass market.
Novel vegan meat replacement: These are meat alternatives products made from plants that resemble the taste and texture of meat.
Cultured meat: Also referred to as clean, cultivated, or lab grown meats, cultured meat is a genuine meat product that is produced by cultivating animal cells in a controlled environment without the need to harm animals.
Aside from new meat replacements, biotech will also transform adjacent industries like dairy, eggs, and fish.
The Future of Food?
Meat replacements and cultured meat could overtake the conventional meat market, with cultured meats reigning supreme overall with a 41% annual growth rate (CAGR) between 2025 and 2040.
New technologies for cultivating non-animal based protein will provide one-third of the global meat supply due to an increase in commercial competitiveness and consumers becoming more accepting of these kinds of products.
Meanwhile, conventional meat will make up just 40% of all global meat supply by 2040, compared to 90% in 2025. For this very reason, conventional meat producers are investing a significant amount of capital in meat alternative companies so they can avoid disruption.
Invest in the Revolution
The changing tides in the industry have sparked a variety of undeniable opportunities:
Regulatory approvals: Singapore is the first country to legalize cultured meat for consumers, and many more will no doubt follow behind in the coming years.
Lower production costs: Cultured meat and dairy have made quantum leaps in reducing production costs.
Changing consumer ethics: Consumers are demanding a more ethical approach to factory farming and cultured and plant-based alternative products are becoming a more accepted solution.
CULT Food Science (CSE: CULT) is a cutting edge investment platform advancing the future of food. The first-of-its-kind in North America, CULT aims to provide unprecedented exposure to the most innovative start-up, private or early stage lab grown food companies around the world.
Will you be part of the revolution?
The post Visualizing the Evolution of the Global Meat Market appeared first on Visual Capitalist.
JPMorgan Models War Between Russia And Ukraine: Sees Oil Soaring To $150, Global Growth Crashing
JPMorgan Models War Between Russia And Ukraine: Sees Oil Soaring To $150, Global Growth Crashing
With Morgan Stanley joining Goldman and calling…
JPMorgan Models War Between Russia And Ukraine: Sees Oil Soaring To $150, Global Growth Crashing
With Morgan Stanley joining Goldman and calling for $100 oil, and Bank of America's commodity strategist Francisco Blanch one-upping both, and today laying out the case for $120 oil…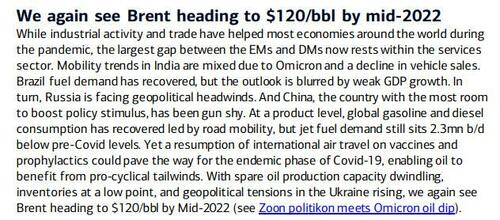 … on Friday afternoon JPMorgan trumped all of its banking peers with a report that is especially troubling if not so much for the implications from its "theoretical" modeling, but for the fact that Wall Street is now actively assessing what may be the start of World War 3.
In a note from the bank's economists Joseph Lupton and Bruce Kasman (available to pro subs) which picks up where our article "Shades Of 2008 As Oil Decouples From Everything" left off, JPM writes that oil shocks have a long history of driving cyclical downturns, with US recessions often associated with oil price spikes…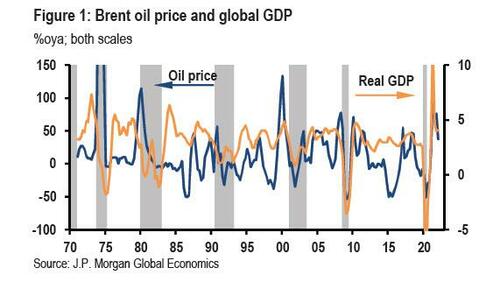 … most recently of course the surge in oil to all time highs in 2008, which some say sealed the fate of the global financial crisis.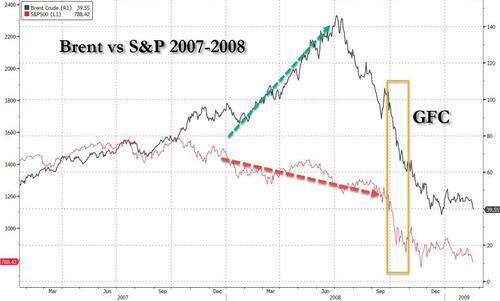 So looking at the latest geopolitical tensions between Russia and Ukraine, JPM warns that "these raise the risk of a material spike this quarter." That this comes on the back of already elevated inflation and a global economy that is being buffeted by yet another wave of the COVID-19 pandemic, JPMorgan sees the risk of a kinetic war breaking out as adding "to the near-term fragility of what is otherwise a fundamentally strong recovery."
Drilling down, JPM considers a scenario in which an adverse geopolitical event between Russia and Ukraine materially disrupts the oil supply. This scenario envisions a sharp 2.3 million b/d contraction in oil output that boosts the oil price quickly to $150/bbl—a 100% rise from the average price in 4Q21.
Given that this would be solely a negative supply shock, the impact on output is to reduce global GDP by 1.6% the bank calculates based on its general equilibrium model. And with global GDP projected to expand at a robust 4.1%ar in 1H22, the economist due project that "this shock would damp annualized growth to 0.9% assuming the adjustment takes place over two quarters. Inflation would also spike
to 7.2%ar, an upward revision of 4%-pts annualized."
It gets worse: in addition to the drag from a sharp contraction in oil supply our models estimate, there are two other channels through which this shock could damage global growth.
The first relates to the repercussions of a Russian intervention in Ukraine. The US, coordinating with allies, would likely impose sanctions on Russia. While the possibilities vary widely in scope, they will likely impact negatively on sentiment and global financial conditions.
Second, JPM estimates incorporate the realized behavior of major central banks over the past two decades whereby oil price shocks associated with geopolitical turmoil have been perceived to pose a greater threat to growth than inflation.
Against the backdrop of a year of already elevated inflation and extremely accommodative policies, JPM warns that central banks may display less patience than normal—particularly in the EM, where rising global risk aversion may also place downward pressure on currency values.
To be sure, as with any Wall Street analysis that models war, JPM is quick to caveat its findings, noting that "it is important to recognize that the scenario of a jump in the oil price to $150/bbl is premised on a sharp and substantial shock to the oil supply. History has proven that such large and adverse shocks do material damage to the macroeconomy. In this regard, the results reported here should not be a surprise but seen as useful for quantifying the damage based on a carefully specified general equilibrium model using generally accepted elasticities."
Boilerplate language aside, what is notable is that for months we have been wondering what "latest and greatest" crisis will replace covid as the Greenlight that central banks and governments need to perpetuate not only QE and NIRP, but also the all important helicopter money. Now we know.
Tyler Durden
Fri, 01/21/2022 – 15:27
inflation
commodity