Hillary Clinton Warns Crypto Can 'Destabilize Nations' And 'Undermine Dollar As Reserve Currency'
Hillary Clinton Warns Crypto Can 'Destabilize Nations' And 'Undermine Dollar As Reserve Currency'
Nation destabilizer Hillary Clinton has…
Hillary Clinton Warns Crypto Can 'Destabilize Nations' And 'Undermine Dollar As Reserve Currency'
Nation destabilizer Hillary Clinton has warned that cryptocurrency has the potential to destabilize nations, and is undermining the role of the US dollar as the global reserve currency.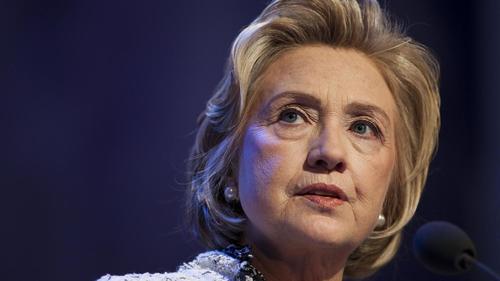 During a panel discussion at the Bloomberg New Economy Forum on Friday in Singapore, Clinton rattled off a list of technology-driven "asymmetric power centers" that threaten governments, including 'disinformation, artificial intelligence, and the rise of cryptocurrency,' according to Bloomberg.
"One more area that I hope nation-states start paying greater attention to is the rise of cryptocurrency — because what looks like a very interesting and somewhat exotic effort to literally mine new coins in order to trade with them has the potential for undermining currencies, for undermining the role of the dollar as the reserve currency, for destabilizing nations, perhaps starting with small ones but going much larger," she said.
As Bitcoin Magazine's Alex McShane notes:
In describing this rather vague threat to nations and multinational corporations Hillary betrayed the fact that she doesn't know the difference between Bitcoin and the separate asset class of cryptocurrencies. Many politicians don't. The terms should not be used interchangeably.
Bitcoin assures anyone with internet access a decentralized, permissionless right to property that cannot be confiscated or censored by any government. No one on the Bitcoin network is forced to choose between updating their software or risk losing their wealth, it is backwards compatible. Bitcoin is a geographically agnostic personal sovereign wealth fund. The other thousands of cryptocurrencies are centralized and largely unregulated assets whose protocol can be changed at any time, thus, in crypto the threat of property confiscation persists. Bitcoin and crypto are completely different asset classes.
Therefore, when Clinton casually throws crypto in with her laundry list of threats to her political and economic worldview, she is categorically wrong. Cryptocurrencies cannot undermine fiat currencies or nation states outright, because what they offer is fundamentally the same as fiat, which is an asset that can and is debased by governance.
*  *  *
Clinton also criticized Russian President Vladimir Putin for deploying "a very large stable of hackers and those who deal in disinformation and cyberwarfare."
In 2017, Clinton blamed Russian interference along with questionable decisions by the Federal Bureau of Investigation for her loss the year before to Republican Donald Trump in the U.S. presidential election. She highlighted Russia's role in hacking into her campaign's internal emails and later coordinating their release on WikiLeaks. -Bloomberg
"With his oligarchic coterie he has utilized many non-state actors to personal as well as nationalistic goals, and I think that's going to become a greater and greater threat," she said of the Russian leader, whose house Bill Clinton hung out at in 2010 right before the Uranium One deal – a trip during which the former President made a cool $500,000 speaking to a Russian bank.
Watch:
Tyler Durden
Fri, 11/19/2021 – 10:45
dollar
reserve
us dollar
reserve currency
We're All Talking about Inflation, but Deflation May Also Be on the Way
Most recent data continue to show a visible acceleration in "price inflation," with the yearly growth rate of the US Consumer Price Index (CPI) rising…
Most recent data continue to show a visible acceleration in "price inflation," with the yearly growth rate of the US Consumer Price Index (CPI) rising to 6.2 percent in October from 5.4 percent in September and 1.2 percent in October of last year—its highest level since December 1990.
Most experts seem to be surprised by the massive increase in the momentum of the CPI in October. Based on the definition of inflation as increases in the money supply and not increases in prices, the sharp increase in the yearly growth rate of the CPI is predominantly on account of past massive increases in money supply.
Note that the yearly growth rate of our monetary measure for the US stood at 79 percent in February 2021 against 6.5 percent in February 2020. Given the time lag between changes in money supply and changes in the CPI, it is quite possible that the yearly growth rate of the CPI will strengthen further.
However, on account of the sharp reversal in the momentum of money supply, the momentum of the CPI might also follow suit. A sharp decline in the yearly growth rate of the Austrian money supply (AMS) measure to 17.9 percent in September 2021 from 60 percent in September 2020 raises the likelihood that the momentum of the CPI will visibly weaken ahead. We suspect this outlook could emerge in the latter part of next year (see chart).
If this were to eventuate, then the likely decline in the yearly growth rate in the CPI ahead raises the likelihood that most commentators will start warning about deflation, i.e., a general decline in the prices and the threat that this will pose to the economy.
A general decline in the prices of goods and services is regarded as bad news since it is seen to be associated with major economic slumps such as the Great Depression of the 1930s.
In July 1932, during the Great Depression, the yearly growth rate of industrial production stood at –31 percent while the yearly growth rate of the CPI bottomed at –10.7 percent in September 1932 (see charts).
According to commentators the possibility of deflation is a major worry. That is because when prices fall it is harder for borrowers to pay down existing debts, leading to growing defaults, while banks become reluctant to extend credit. The logic runs that these two factors combined generate a downward spiral in credit creation and resultant economic activity. Furthermore, most experts regard a general fall in prices as always "bad news" because it slows down people's propensity to spend, which in turn undermines investment in plants and machinery. These factors are further argued to set in motion an economic slump. Moreover, as the slump further depresses the prices of goods, this intensifies the pace of economic decline.
It is for these reasons that most economists are of the view that it is the duty of the central bank, the Federal Reserve System, in the US, to prevent deflation. In his 2002 speech before the National Economists Club, in Washington, DC, on November 21, 2002, entitled "Deflation—Making Sure 'It' Doesn't Happen Here," Ben Bernanke, then a Fed governor, laid out measures that the central bank could use to combat deflation, such as buying longer-maturity Treasury debt. He also mentioned Milton Friedman's "helicopter money."
For most experts the key reason for the need to pump money into the economy is to boost the demand for goods and services. For them all that is required to fix things is to strengthen aggregate demand. Once this happens the supply of goods and services will follow suit. But why should an increase in demand result in an increase in supply? Without suitable production infrastructure, no amount of expansion in supply is going to result from an increase in demand.
Also, to suggest that consumers postpone their buying of goods because prices are expected to fall means that people have abandoned any desire to live in the present. However, without the maintenance of life in the present no future life is conceivable.
Furthermore, in a free market the rising purchasing power of money, i.e., declining prices, is the mechanism that makes a great variety of goods produced accessible to many people. On this Murray Rothbard wrote, "Improved standards of living come to the public from the fruits of capital investment. Increased productivity tends to lower prices (and costs) and thereby distribute the fruits of free enterprise to all the public, raising the standard of living of all consumers. Forcible propping up of the price level prevents this spread of higher living standards."
Even if it were accepted that declines in prices in response to an increase in the production of goods promote the well-being of individuals, what about the argument that a fall in prices is associated with a decline in economic activity? Surely, this type of deflation is bad news and must be countered.
Why Monetary Pumping Makes Things Much Worse
Whenever a central bank pumps money into the economy this benefits various individuals engaged in those activities which sprang up on the back of that loose monetary policy at the expense of wealth generators. Through loose monetary policy, the central bank gives rise to a class of people who unwittingly become consumers without the prerequisite of contributing to the pool of wealth. The consumption by these recipients of newly created money is made possible through the diversion of wealth from wealth producers. They only take from the pool of wealth without contributing anything in return.
Observe that both consumption and production are equally important in the fulfillment of people's ultimate goal, which is the maintenance of life and well-being. Consumption is dependent on production, while production is dependent on consumption. The loose monetary policy of the central bank breaks this relationship by creating an environment where it appears that it is possible to consume without producing.
Not only does the easy monetary policy push the prices of existing goods higher but the monetary pumping also gives rise to the production of goods or assets which are demanded by non–wealth producers.
As long as the pool of wealth is growing, however, the various goods and services that are patronized by non–wealth producers appear to be profitable to provide. But once the central bank reverses its loose monetary stance the diversion of wealth from wealth producers to non–wealth producers is arrested.
This in turn undermines the demand of non–wealth producers for various goods and services, thereby exerting downward pressure on their prices.
The tighter monetary stance that undermines the various activities that sprang up on the back of previous loose monetary policy halts the bleeding of wealth generators. The fall in the prices of various goods and services comes simply in response to the arrest of the impoverishment of wealth producers and hence signifies the beginning of economic healing. Obviously, to reverse the monetary stance in order to prevent decline in prices amounts to the renewal of the impoverishment of wealth generators.
As a rule, what the central bank tries to stabilize is the so-called price index. The "success" of this policy however, hinges on the state of the pool of wealth. As long as the pool of wealth is expanding, the reversal of the tighter stance creates the illusion that the loose monetary policy is the right remedy. This is because the loose monetary stance, which renews the flow of wealth to non–wealth producers, props up their demand for goods and services, thereby halting or even reversing the decline in prices.
Furthermore, since the pool of wealth is still growing, the pace of economic growth stays positive. Hence the mistaken belief that a loose monetary stance that reverses a fall in prices is the key in reviving economic activity.
The illusion that through monetary pumping it is possible to keep the economy going is shattered once the pool of wealth begins to decline. Once this happens, the economy begins its downward plunge. The most aggressive loosening of monetary policy will not reverse this plunge. The reversal of the tight monetary stance will further eat into the pool of wealth, thereby deepening the economic slump. Even if loose monetary policies were to succeed in lifting prices and inflationary expectations, they could not revive the economy while the pool of wealth is declining.
Conclusion
Contrary to the popular view, as a rule deflation is always good news for the economy. Thus when prices are declining in response to the expansion of wealth, this means that people's living standards are rising.
Even when prices decline because of the bursting of a financial bubble created by money creation, it is also good news for the economy, for it indicates that the impoverishment of wealth producers is finally being stopped.
inflation
deflation
monetary
reserve
policy
money supply
fed
central bank
bubble
monetary policy
inflationary
Why Omicron Is Exactly What Digital World Acquisition Needed
Easily one of the most controversial initial public offerings of 2021, the intended merger between Digital World Acquisition Corp (NASDAQ:DWAC) and Trump…
Easily one of the most controversial initial public offerings of 2021, the intended merger between Digital World Acquisition Corp (NASDAQ:DWAC) and Trump Media & Technology Group has generated nothing but buzz. Personally, I don't care about the political implications of DWAC stock. That people want to read opinion pieces about it is what gets me going.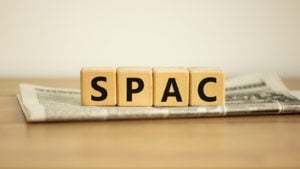 Source: Dmitry Demidovich/ShutterStock.com
However, if you did want to integrate DWAC stock into your portfolio, the attention surrounding the underlying special purpose acquisition company – which will basically bring the Truth Social platform to the public investing domain – is a clear asset. For one thing, when everybody's a day trader, there's no such thing as bad publicity.
Second, while the eyeballs on DWAC stock are not all friendly, public momentum appears to have shifted decisively toward right-leaning ideologies or perspectives. As the Associated Press pointed out, millions of Americans are openly insulting President Joe Biden through a not-so-secret code phrase.
To be fair, passionate public outcry is nothing new regarding presidential administrations. What makes this round different, though, is the novel coronavirus pandemic. Long story short, government mandates to mitigate the spread of Covid-19 fell on increasingly distant (and sometimes confrontational) ears.
As I mentioned in my interview with CGTN America, retail revenge has been a powerful force, not just for the economy but also societally as well. For instance, the desire to buy Halloween products in July and August indicated that people are ready to reclaim their lives.
However, this reclamation might take a backseat due to the omicron coronavirus variant, first detected in southern Africa. So far, the World Health Organization labels it a variant of concern. But experts fear it could cause havoc.
While that's bad news near term for DWAC stock, it could be the longer-term prescription the doctor ordered.
DWAC Stock Is in Prime Position to Troll
Many years ago, I mentioned that shares of this one particular company had been trending negatively since its first closing price. However, a random internet commenter criticized my lack of research, noting that the IPO price was much lower.
Well, of course the two prices are different! We're talking apples and oranges. Yet by the time a clarification that the commenter misunderstood my words could be issued, the damage was done. The hive mentality of the internet took over, with many others chiming in on this factual "inaccuracy."
Unfortunately under such an ecosystem, facts don't matter as much as what people perceive to be facts. Indeed, first closing price and IPO price sound similar, which is where the commenter above got tripped up. This is another way of saying that in football (and in other sports), it's hard to play defense.
But when you're on offense, why, you can troll the heck out of the opposition. That's why the omicron variant is a fortuitous tailwind for DWAC stock. It adds yet another point of criticism against the Biden administration, which is reeling from a series of disastrous events.
The tumultuous pullout from Afghanistan. Soaring energy prices. Burgeoning inflation. Worsening geopolitical relations. And now we have the omicron variant, which might necessitate government mandates if experts' worst fears are realized. With mask mandates and vaccination protocols already deeply unpopular, the potentially worsening pandemic will only pour gasoline on the forest fire.
About the only people that are smiling are possibly stakeholders of DWAC stock. The more unrest that we see in our society and the rest of the world, the more critics can blame Biden – even if he's not necessarily at fault.
Again, the truth doesn't matter, only what sounds like it can be true.
TMTG Feeds the Reptilian Brain
To be clear about the above – along with any of my prior mentions about DWAC stock – I'm not necessarily supporting those who will join and participate in Truth Social, the anti-big tech of social media platforms. Frankly, I'm exhausted with politics. What people will do to each other for the exclusive entertainment of the global aristocracy is mindboggling.
My point is that DWAC stock will probably be successful in my opinion because it caters to base-level needs. There's a reason why football is the most popular sport in America. The reptilian part of our brain enjoys watching combat sports.
And that's exactly what the underlying platform of DWAC stock is, the combat sport of internet dialogue. Like throwing scantily clad women to sell, well, pretty much anything, Truth Social is crude and crass. But most importantly, it works. And that's really the bottom line.
On the date of publication, Josh Enomoto did not have (either directly or indirectly) any positions in the securities mentioned in this article. The opinions expressed in this article are those of the writer, subject to the InvestorPlace.com Publishing Guidelines.
A former senior business analyst for Sony Electronics, Josh Enomoto has helped broker major contracts with Fortune Global 500 companies. Over the past several years, he has delivered unique, critical insights for the investment markets, as well as various other industries including legal, construction management, and healthcare.
More From InvestorPlace
The post Why Omicron Is Exactly What Digital World Acquisition Needed appeared first on InvestorPlace.
Buy Amazon Before It Gets More Expensive
Amazon (NASDAQ:AMZN) stock looks well positioned to have a great year in 2022.
Source: Eric Broder Van Dyke / Shutterstock.com
While the Seattle-based…
Amazon (NASDAQ:AMZN) stock looks well positioned to have a great year in 2022.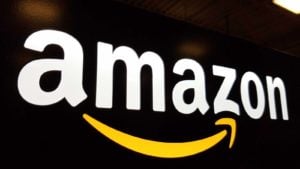 Source: Eric Broder Van Dyke / Shutterstock.com
While the Seattle-based online retail colossus has trailed other mega-cap technology stocks throughout this year and underperformed the broader stock market, that poor performance is expected to end in the New Year with AMZN stock poised for a big run higher.
In fact, Goldman Sachs just named Amazon its top technology stock for 2022, saying that the company's growth trajectory should accelerate throughout the next year as supply chains improve, inflation eases, and labor pressures subside.
Goldman's endorsement is just the latest in a series of bullish reports on the near-term prospects for Amazon stock.
Bullish Outlook
In a note to clients, Goldman Sachs analyst Eric Sheridan wrote that Amazon should benefit in coming months from resurgent growth in a range of markets such as e-commerce, cloud computing and advertising. "We see Amazon as a top pick on a 12-month view with an increasingly positive skew in its risk/reward after a pronounced period (16+ months) of share underperformance," Sheridan wrote.
The report from Goldman Sachs was welcome news to Amazon shareholders who have had to watch as the company's stock largely traded sideways throughout the past year.
Amazon's shares have gained only about 10% in 2021 as it grappled with rising labor costs, high inflation and global supply chain disruptions. AMZN stock has been the worst-performing of the so called "FAANG" stocks that also includes Google parent company Alphabet (NASDAQ:GOOG, NASDAQ:GOOGL), Apple (NASDAQ:AAPL), Meta Platforms (NASDAQ:FB) and Netflix (NASDAQ:NFLX). Amazon's share price has also trailed the benchmark S&P 500 index, which is up 25% year to date. Goldman Sachs' current $4,100 price target on Amazon stock implies a potential gain of 15% from its current price.
Goldman isn't alone in its positive outlook for AMZN stock. Among the 41 professional analysts who cover Amazon, every one of them has a "buy" rating on the company's stock with a median price target of $4,000, which would be 12% higher than where the share price sits currently. The high estimate on the stock is $5,000.
Regaining Momentum
The fact that Amazon's stock is up at all this year is a bit surprising considering that the company missed Wall Street expectations in its last two quarters and provided weak forward guidance for the current fourth quarter when the company typically gets a boost from holiday shopping and Black Friday/Cyber Monday sales events. Amazon's third quarter earnings per share (EPS) came in at $6.12 compared to $8.92 per share that had been expected. The company's Q3 revenue totaled $110.81 billion versus $111.6 billion that had been forecast.
For the fourth quarter, Amazon forecast sales between $130 billion and $140 billion, representing growth of between 4% and 12%. Analysts surveyed by FactSet had expected Q4 revenue to rise 13% year-over-year to $142.1 billion. Yet despite the subpar quarterly results and gloomy forward guidance, AMZN stock only fell about 4% initially on the report before quickly recovering.
Since the beginning of October, Amazon's share price has actually gained 12%. Compare this result to other major companies such as Disney (NYSE:DIS) and Roku (NASDAQ:ROKU) whose stocks have been crushed like tin cans after delivering disappointing earnings results.
That AMZN stock has remained resilient is a testament to both its market leading position and the faith investors have in the company to turn things around in short order. Key to Amazon regaining its momentum will be its ongoing diversification. While online retail sales continue to provide the bulk of the company's revenue, it is also growing other business segments such as cloud computing, where third quarter revenue from Amazon Web Services rose 36% year-over-year, and its advertising business, which saw a Q3 annualized gain of 70%.
Building on these other business segments will only strengthen Amazon and help the company fulfill its own projections of earnings per share growth of 36% annually over the next five years.
Buy AMZN Stock Before It Gets More Expensive
Amazon has been a laggard over the last 11 months compared to its peers. But all indications are that the company and its stock are set up for a big reversal in coming months. As such, investors should view Amazon stock as being on sale right now and should take a position before it becomes more expensive to do so.
With positive sentiment and favorable economic conditions supporting it, as well as a competent management team and increasing diversification of its operations, Amazon is in a strong position to outperform in the year ahead. Investors looking for a reliable bet in 2022 should consider the e-commerce giant.
AMZN stock is a buy.
On the date of publication, Joel Baglole held long positions in GOOGL and DIS. The opinions expressed in this article are those of the writer, subject to the InvestorPlace.com Publishing Guidelines.
More From InvestorPlace
The post Buy Amazon Before It Gets More Expensive appeared first on InvestorPlace.