History Suggests That Stocks Won't Like Inflation
History Suggests That Stocks Won't Like Inflation
Authored by Lance Roberts via RealInvestmentAdvice.com,
Several articles published lately…
History Suggests That Stocks Won't Like Inflation
Authored by Lance Roberts via RealInvestmentAdvice.com,
Several articles published lately suggest that stocks perform well in higher inflation environments. That may be the case when inflation rises due to more robust rates of sustainable economic growth. However, history suggests sharply rising inflation not only negatively impacts economic growth but triggers adverse market environments.
Let's start with the "bullish spin" from Dimensional Advisors. To wit:
"A look at equity performance in the past three decades does not show any reliable connection between periods of high (or low) inflation and US stock returns.

Since 1991, one-year returns on US stocks have fluctuated widely. Yet weak returns occurred when inflation was low in some periods, and 23 of the past 30 years saw positive returns even after adjusting for the impact of inflation. That was the case in the first six months of 2021, too (see Exhibit 1)."
Since 1991, the period they chose to represent the market, the S&P 500 posted an average annualized return of 8.5% after adjusting for inflation. However, even going back to 1926, the annualized inflation-adjusted return on stocks was 7.3%.
As Dimensional Fund Advisors suggest, investors should not worry about inflation as stocks outpace inflation over time.
The problem with the analysis is the "cherry-picking" of starting points.
Average And Required Returns Aren't The Same
The problem with AVERAGE returns, as noted by Dimensional, is there is a vast difference between "average" returns over a given period and "required" returns to meet financial goals. As we discussed in the "Best Way To Invest:"
"There is a massive difference between AVERAGE and ACTUAL returns on invested capital. Thus, in any given year, the impact of losses destroys the annualized "compounding" effect of money.

The chart below shows the difference between 'actual' investment returns and 'average' returns over time. See the problem? The purple shaded area and the market price graph show 'average' returns of 7% annually. However, the return gap in 'actual returns,' due to periods of capital destruction, is quite significant."
There are two other problems with Dimensional's analysis.
Since 1990, the first data point used for the "bullish" case, inflation has steadily fallen. Such gave a significant boost to equities as input costs fell, increasing corporate profitability. More importantly, however, returns were heavily front and back-end loaded, masking the nearly 13-year period of ZERO returns for investors.
The second problem stems from their use of 1926 to the present time frame. While using such a time frame certainly paints a very bullish picture of 8% annualized returns, the reality is that you died somewhere around the early 1950s. Such sounds great until you realize you barely got back to even following the crash of 1929 and the "Great Depression."
As noted, there is a massive difference between an "average rate of return" and what actually happens to your money when "bear markets" destroy the "compounding effect" of your investment capital.
History Of Inflation & Markets
However, the long-term view of inflation helps determine its impact on the economy and market over time.
Not surprisingly, as shown below, spikes in inflation have been coincident with crisis events throughout history. From banking crisis to economic recessions, to devastating bear markets, inflation spikes triggered revulsions.
The current spike in inflation is still minor relative to historical triggers but is worth watching closely. Earlier this year, the primary belief by the Federal Reserve was that inflation was "transient" and would quickly resolve itself. However, as Michael Lebowitz noted recently, that outlook is changing for the worse.
"The Fed is starting to acknowledge this bout of inflation may last longer than a "transitory" period. Per Atlanta Fed President Raphael Bostic, 'U.S. inflation is broadening, not transitory.' His statement is the first recognition from a Fed member that higher inflation may no longer be transitory."
As he notes, the big problem, when it comes to the stock market, is "margin compression."
"In six of the seven inflationary periods, including both episodes in the 1970s, corporations experienced margin compression. The era of moderate inflation, following the 2008/09 recession, was the only period where margins improved.

Profit margins are now at their highest levels since at least 1947. If inflation continues higher and margins decline, profits will suffer. If earnings decline due to declining margins and valuations fall to levels in line with prior periods of inflation, stocks could easily fall by 40-50%. Even more significant declines would not be abnormal." 
The biggest problem is the Fed won't be able to bail investors out.
The Fed Will Be Trapped By Inflation
Over the last decade, two primary supports significantly elevated asset prices; 1) share repurchases, as shown below, and 2) the Fed's monetary policy.
The problem for the Fed is inflation. In July 2020, we pinned our concerns about an inflationary surge:
"The 'unlimited QE' bazooka is dependent on the Fed needing to monetize the deficit to support economic growth. However, if the goals of full employment and economic growth quickly come to fruition, the Fed will face an 'inflationary surge.'"
As we suggested then, should such an outcome occur, it will trap the Fed. The surge in inflation will limit the ability to continue "unlimited QE" without further exacerbating inflation. Furthermore, the Fed will have to hike rates, further tightening monetary policy, to counter inflation.
"It will be increasingly hard for Powell to claim the economy needs to make 'substantial further progress' toward achieving maximum employment before the Fed starts talking about tapering. Powell has repeatedly said the Fed is awaiting substantial further progress in the economy before terminating its stimulus. Given the performance of the economy, it is reasonable to expect they will start to taper before the end of the year, and a few months later they will start to raise the federal funds rate." – Ed Yardeni
However, when they do that, asset prices fall, a recession starts, and the Fed gets trapped between fighting inflation and bailing out markets.
It's a no-win situation for the Fed.
Conclusion
The issue of rising borrowing costs spreads through the entire financial ecosystem like a virus. The rise and fall of stock prices have very little to do with the average American and their participation in the domestic economy. Interest rates are an entirely different matter.
Since interest rates affect "payments," increases in rates quickly negatively impact consumption, housing, and investment ultimately deters economic growth. 
Given the current demographic, debt, pension, and valuation headwinds, the future growth rates will be low over the next couple of decades. Even the Fed's own "long-run" economic growth rates currently run below 2%.
Notably, inflation driven by artificial infusions of capital, supply chain disruptions, and rising wages will eventually crush economic growth and corporate profit margins.
Unfortunately, the Federal Reserve, and the Administration, will have to face hard choices to deal with the current "liquidity trap." The only question is do you bail out the stock market, or fix what is broken in the economy?
The problem for the Fed is they can't do both.
Tyler Durden
Sat, 11/06/2021 – 10:30
inflation
monetary
markets
reserve
policy
interest rates
fed
monetary policy
inflationary
crash
Eric Fry: Beware of Fake News
Soren Kierkegaard, the Danish existentialist philosopher once remarked, "Geniuses are like thunderstorms. They go against the wind, terrify people, clean…
Soren Kierkegaard, the Danish existentialist philosopher once remarked, "Geniuses are like thunderstorms. They go against the wind, terrify people, clean the air."
Source: ADragan / Shutterstock.com
Short-sellers often perform a similar function. Although they certainly are not all geniuses, their incisive analyses can swirl through the financial markets and terrify investors for a spell, while cleansing the air of misinformation and/or fraudulent behavior.
Because these financial thunderstorms can strike an individual stock like a thunderbolt, they usually singe every investor who happens to be in the vicinity.
Not surprisingly, therefore, short-sellers are about as welcome on Wall Street as a thunderstorm at a garden wedding. To put it bluntly, most folks hate short-sellers.
I don't. I hate the misinformation and/or deception that causes investors to make ill-informed decisions…
Steel Yourself Against the Misinformation
Generally speaking, short-sellers are a fringy community of forensic analysts and truth-seekers. As a group, they expose the sort of misinformation that deceives investors. That's a public service to all of us investors.
But sometimes, short-sellers themselves, are a source of misinformation — fonts of fake news.
In other words, not all short-sellers are created equal… neither are any other sources of investment information and "analysis" equally reliable.
This fact has never been timelier and more relevant than it is today, when social media sites funnel most of the minute-by-minute investment narrative that we consume.
Because of social media's scope and dominance, deceptions can magnify quickly and "go viral," often with mind-numbing speed and destructive power.
In such circumstances, getting to the truth can be challenging.
But a couple of simple steps can facilitate the process of fact-finding. Both of these steps are so ancient (and timeless) that they predate the internet itself:
Consider the source. Whenever you encounter a story that seems implausible or that conflicts with widespread opinion, check the source. Find the source of that story from the original source documents, if possible. Once you locate that source, check its history for honesty and accuracy. For example, a scientific observation from a Johns Hopkins University study is probably more reliable than one from National Enquirer.
Look for signs of intellectual honesty. Does the source of the story thoughtfully consider the "other side"? For example, does the source solicit information from third parties to corroborate its findings? Does the source present its findings matter-of-factly, while acknowledging portions that may be inconclusive or incomplete?
These two simple steps, by themselves, can usually help investors navigate deception and/or discover truth… like they did during the last two weeks when a short-selling firm attacked Standard Lithium (NYSEAMERICAN:SLI), a stock I have recommended in my investment services.
On November 18, a short-selling outfit called Blue Orca Capital issued a negative report about the company.
BREAKING: Investing Icons to Hold Emergency Stock Briefing 
The report's most damaging assertion was that Standard Lithium's direct extraction technology could recover only 13% of the lithium that is contained in the brines it is processing — not the 90% recovery rate the company had been reporting.
The stock plummeted 35% after Blue Orca's report crossed the wires.
But I issued an alert to my subscribers that stated the following:
"If that assertion is true, it would be a truly damaging data point, perhaps even fatal to Standard Lithium. However, as recently as November 12, Standard Lithium submitted a detailed filing with the SEC that stated the following:
"The final product lithium recovery is about 90%.
"In other words, six days ago, the company informed a federal agency that its lithium extraction process recovers 90% of the lithium contained in the Arkansas brine it is processing.
"Not 13%.
"If the actual number is 13%, as Blue Orca Capital asserts, then the entire management team of Standard Lithium and its Board of Directors has committed a large-scale fraud…
"A conspiracy and fraud of this scale and complexity seems unlikely…
"More likely is that an ill-intentioned, or ill-informed, short seller has conspired to hammer the share price of a stock its firm has sold short."
In other words, I considered the source of the surprising story and deemed it to be untrustworthy. Furthermore, previous reports by Blue Orca about other companies revealed a consistent pattern of unreliable, one-sided analysis.
Louis Navellier Issues New 2022 Warning to ALL Readers…
Hours later, Standard Lithium issued a rebuttal to Blue Orca that confirmed my assumptions. You can view the entire release here: Standard Lithium Response.
But the most important detail from the company's response was that its direct extraction technology does, in fact, recover about 90% of the lithium that's contained in the brine it is processing.
The company stated flatly:
"Blue Orca Capital's interpretation of lithium recovery rates is incorrect and underestimates lithium extraction efficiencies."
Despite this comprehensive rebuttal, Blue Orca did not issue a mea culpa or concede defeat in any way. Instead, it simply doubled down on the identical claims Standard Lithium had debunked.
The new attack from Blue Orca triggered another wave of selling that pushed the stock lower again on Nov. 22. But the selling pressure abruptly reversed on the day before Thanksgiving.
That's when the company announced a $100 million investment by Koch Strategic Platforms (KSP), a subsidiary of Koch Investment Group.
Importantly, the press release that announced this investment included the following line:
"[KSP's] Direct Investment follows extensive due diligence into Standard Lithium's LiSTR DLE technology, Demonstration Plant and project objectives…"
Presumably, therefore, KSP possesses a more intimate and sophisticated understanding of Standard Lithium's extraction technology than do the short-sellers at Blue Orca.
The stock has been rallying ever since.
An Early Warning
To be sure, the short-seller's attack on Standard Lithium was a frightening event. But ultimately, misinformation lost this battle.
Furthermore, the company has emerged from that attack with its credibility intact and its investment potential greatly enhanced by a major new investment from what could become a major strategic partner.
The stock remains what it was when I first recommended it to my subscribers: a speculative, unproven play on a "home-grown" battery-metals supply chain. But the stock has become somewhat less speculative in the wake of KSP's $100 million buy-in.
Now, before I let you go…
2022 is on our heels, and we're perhaps facing more apprehension than ever.
With the new Omicron variant of the Covid-19 virus potentially bringing about city-, state- and country-wide restrictions, economic uncertainty, inflation and more, the end of 2021 is starting to feel quite a bit like the end of 2020.
As such, it is critical that you hear what my colleagues, Louis Navellier and Luke Lango, and I see for the next year.
And on Tuesday, December 7, at 7:00 p.m. EST, the three of us will give you our investing game plan for 2022.
Click here now to reserve your spot — I'll tell you more about it this week.
Regards,
Eric Fry
P.S. Louis Navellier, Luke Lango and I will reveal the major events that will rock the markets in 2022. Will your money be safe? Sign up here for the 2022 Early Warning Summit and find out.
On the date of publication, Eric Fry did not have (either directly or indirectly) any positions in the securities mentioned in this article.
Eric Fry is an award-winning stock picker with numerous "10-bagger" calls — in good markets AND bad. How? By finding potent global megatrends… before they take off. In fact, Eric has recommended 41 different 1,000%+ stock market winners in his career. Plus, he beat 650 of the world's most famous investors (including Bill Ackman and David Einhorn) in a contest. And today he's revealing his next potential 1,000% winner for free, right here.
More From InvestorPlace
The post Beware of Fake News appeared first on InvestorPlace.
Are These The Charts That Spooked Jerome Powell?
#CKStrong Fed Chair, Jerome Powell finally admitted today there is too much stimulus demand (in the macro context) in the global economy and the Fed will…
Fed Chair, Jerome Powell finally admitted today there is too much stimulus demand (in the macro context) in the global economy and the Fed will have to accelerate its tapering.
The following charts clearly illustrate the U.S. economy is overheating and a major contributing factor to inflation. Nominal retail sales and core capital good shipments remain 15 percent above and years ahead of their pre-COVID trend. Think of the trend line as the supply curve.
In hindsight, it is easy to say the global policymakers overshot with their stimulus, but it is certainly better than the alternative and a deep recession/depression.  Just as you and I, policymakers make decisions with imperfect information.  Counterfactuals don't go a long way in the political arena.
We think it is about time the FOMC finally starts to focus on the problems caused by the "monetary supply chain," rather than blaming the economic imbalances on "supply chain issues," and it appears they have. If demand were not so strong, the supply chain issues would have worked themselves long ago, and the Port of Los Angeles and Long Beach wouldn't look the 405 freeway during rush hour.   
As reflected in the charts below, the supply chain broke early during the pandemic as upstream suppliers were "bullwhipped" by the massive volatility in point-of-sale or end demand.
We believe the next inflection point, where the Fed keeps tapering and then tightening until something breaks, which leads to reversal and a new monetary regimes, is a long way off.
Stay tuned.
Financial Markets and Omicron and Powell
Five year inflation breakeven (unadjusted) down, 10yr-3mo term spread down, VIX and EPU up, and S&P 500 down. Figure 1: Five year inflation breakeven…
Five year inflation breakeven (unadjusted) down, 10yr-3mo term spread down, VIX and EPU up, and S&P 500 down.
Figure 1: Five year inflation breakeven (blue), ten year – three month Treasury spread (red), both %. Source: Treasury via FRED, and author's calculations.
Ignoring adjustments for inflation risk term and liquidity premia, implied expected 5 year inflation is down to 2.8%, while growth prospects also revert back to September levels.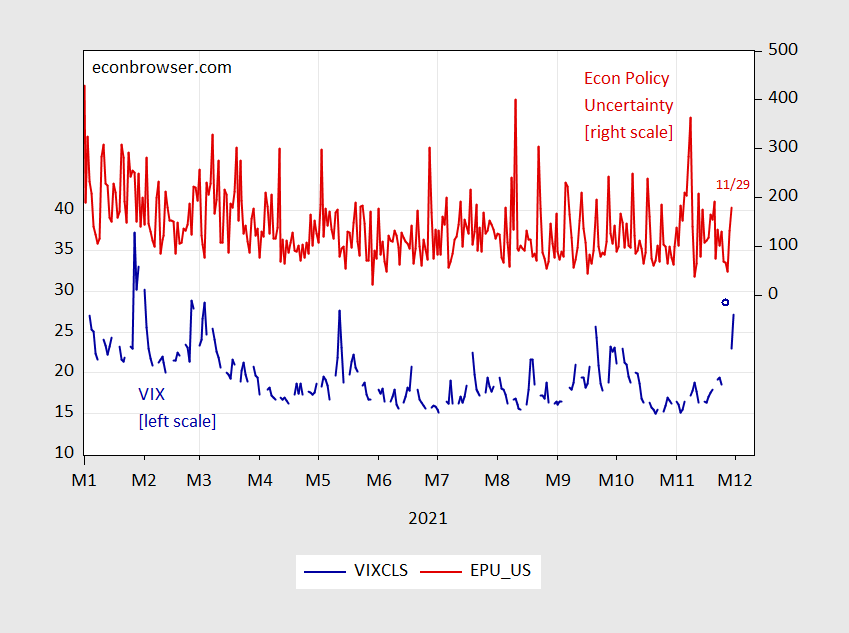 Figure 2: VIX (blue, left scale), and Economic Policy Uncertainty index (red, right scale).  Source: CBOE via FRED, policyuncertainty.com.
Risk and policy uncertainty are also at recent highs, but still are dwarfed by Trump era highs (83 for VIX at 27.2; 862 for EPU at 180 on 11/29).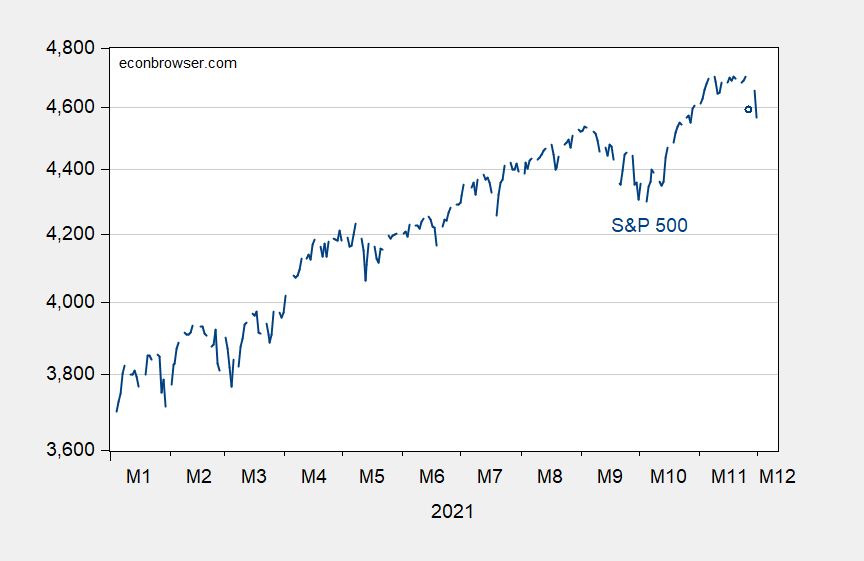 Figure 3: S&P 500 index (blue, log scale). Source: S&P via FRED. 
Given this backdrop (lower expectations for growth and presumably profits, due to Omicron, and higher interest rates from Powell's statement re: inflation persistence), it's not surprising to see a drop in stock indices.