Homeownership Is The Least Affordable Since 2008 With Shelter Inflation About To Explode
Homeownership Is The Least Affordable Since 2008 With Shelter Inflation About To Explode
Yesterday we asked a rhetorical question: how can…
Homeownership Is The Least Affordable Since 2008 With Shelter Inflation About To Explode
Yesterday we asked a rhetorical question: how can (record high) home prices be rising so fast that housing is both unaffordable and booming at the same time? While a rational answer has yet to emerge, today the WSJ picks up on the former and writes that the record growth in home prices has made owning a home less affordable than at any point since the financial crisis.
Citing data from the Atlanta Fed, the Journal writes that the median American household would need just under a third, or 32.1% of its income, to cover mortgage payments on a median-priced home. Even though mortgage rates are at all time lows, that's the most since November 2008, when the same outlays would eat up 34.2% of income. One can only imagine what will happen when prices continue to rise or when mortgage rates spike.
The advent of the latest housing bubble means that supercharged home prices in markets across the country, which in August rose by a record 20% across the top 20 MSA, are canceling the impact of modestly higher incomes and historically low interest rates, two factors that typically make owning a home more affordable. Higher prices require buyers to take out larger loans, essentially signing them up to make larger mortgage payments each month for years.
The Atlanta Fed calculates affordability using a three-month average of median home prices from CoreLogic and median household incomes based on census data. In July, the latest month in the Atlanta Fed's calculations, median home prices were $342,350, up 23% from the year before. Median incomes were $67,031, up a tiny 3%, less than the current rate of inflation.
Citing economists, the WSJ said that declining affordability will have the biggest impact on buyers shopping for their first homes, who will have to sign up for larger monthly payments, buy less desirable homes or step back from the market altogether. It's also why Democrats recently proposed a subsidized 20-year mortgage for first-gen homebuyers, a gimmick that will only lead to even more taxpayer-funded market imbalances and an even greater bubble.
"It's a lot more difficult for people to get their foot in the door of the housing market," said Ralph McLaughlin, chief economist at Haus, a home-finance startup. "The question is whether it is an insurmountable hurdle or is it just that these households have to spend more of their monthly income on the mortgage."
The current situation is unique: in 2008 the dynamics were different, even if the effect — complete disarray in the housing market — was the same. Home prices were falling, and many Americans owed more on their homes than the homes were worth. Furthermore, widespread job losses weighed on household income for years.
Christopher Ferreris and his wife, Danielle Ferreris, have been hoping to purchase a home in the Tampa, Fla., area for close to two years. They can afford about $1,600 in monthly payments, but every house they have seen requires monthly payments about 25% bigger than that. As a result, they are stuck renting, where the double whammy of soaring rent prices is also hammering their disposable income.
"It's almost like we've gotten into a holding pattern because of how difficult it is," Mr. Ferreris said.
The typical value of a home in Tampa was $331,000 in August, up from $265,000 at the same time last year, according to Zillow.
The Ferreris are doing everything they can think of to save money, and Christopher started a side business last year buying and selling sports cards. He now counts on it for about $500 each month.
Of course, during the early months of the pandemic, homes became more affordable while interest rates fell. However, following trillions in fiscal and monetary stimulus, the dynamic reversed rapidly as many families, after sitting on the sidelines for a few months, raced to buy homes, eager for more space or to move out of crowded cities. The fierce competition sent home prices soaring. Affordability began to decline.
According to the Atlanta Fed, at the start of 2021, Americans needed about 29% of their income to cover a mortgage. That has since risen to about 32% by July. The Atlanta Fed includes principal, interest, taxes, insurance and related costs in mortgage payments.
"Any affordability that mortgage rates lended has pretty much been erased at this point," said Daryl Fairweather, chief economist at real-estate brokerage Redfin.
Home buyers have noticed. About 63% of consumers surveyed in August believed it was a bad time to buy a house, according to Fannie Mae. That was up from 35% at the same time last year.
The punchline: while the Fed pretends none of this is happening, Goldman's shelter inflation tracker just surged to the highest level on record, rising 4.6% Y/Y, a print which suggests that PCE Shelter Index, which lags by about 6 months, is about to go through the roof.
How and whether the Fed responds to a surge in housing inflation it will no longer be able to ignore remains to be seen.
Tyler Durden
Mon, 10/04/2021 – 20:40
inflation
monetary
markets
interest rates
fed
bubble
US markets scale fresh highs on upbeat earnings, housing data
S P 500 and Dow Jones closed at record highs for the second consecutive day on Tuesday October 26 while Nasdaq rallied as quarterly results kept the…
S&P 500 and Dow Jones closed at record highs for the second consecutive day on Tuesday, October 26, while Nasdaq rallied as quarterly results kept the markets in high spirits.
The S&P was up 0.18% to 4,574.79. The Dow Jones Industrial Average rose 0.04% to 35,756.88. The NASDAQ Composite Index gained 0.06% to 15,235.71, and the small-cap Russell 2000 was down 0.72% to 2,296.08.
Traders were further encouraged by the Commerce Department's positive economic data, which showed new home sales jumped 14% to 800,000 units in September, the highest level since March. However, higher home prices still remained a major worry.
Energy and utility stocks led gains on the S&P 500 index, while industrials and communication services stocks were the bottom movers. Nine of the 11 sectors of the index stayed in the positive territory.
General Electric Company (GE) stock rose 2.19% in intraday trading after reporting its third-quarter earnings. Its adjusted profits were 57 cents per share, above the analysts' estimates of 43 cents a share. However, its revenue fell by 1% YoY to US$18.4 billion in the quarter.
Shares of United Parcel Service, Inc. (UPS) were up 7.38% after reporting better-than-expected results. Its revenue increased by 9.2% YoY to US$23.2 billion in Q3, FY21.
Lockheed Martin Corporation (LMT) stock tumbled 12.48% after it trimmed its revenue forecast. Its net sales fell to US$16.02 billion in Q3 from US$16.49 billion in the year-ago quarter. In addition, it lowered its revenue forecast for FY2021 due to supply woes.
In the energy sector, Exxon Mobil Corporation (XOM) surged 2.30%, EOG Resources, Inc. (EOG) rose 1.39%, and Occidental Petroleum Corporation (OXY) gained 1.28%. Devon Energy Corporation (DVN) and Baker Hughes Company (BKR) rose 2.37% and 2.88%, respectively.
In utility stocks, NextEra Energy, Inc. (NEE) increased by 1.57%, Southern Company (SO) jumped 1.03%, and Exelon Corporation (EXC) rose 1.10%. DBA Sempra (SRE) and AES Corporation (AES) advanced 1.24% and 1.59%, respectively.
In the communication sector, Alphabet Inc. (GOOGL) rose 1.33%, Facebook, Inc. (FB) fell 4.52%, and Twitter Inc. (TWTR) declined 1.27%. Match Group, Inc. (MTCH) and News Corporation (NWS) plummeted 2.51% and1.17%, respectively.
Also Read: General Electric Co (GE) revises guidance upward after Q3 profits
Also Read: Raytheon (RTX) raises sales guidance, 3M (MMM) narrows EPS outlook
Also Read: Eli Lilly (LLY), Novartis (NVS) profits up on robust sales growth
Futures & Commodities
Gold futures were down 0.70% to US$1,794.10 per ounce. Silver decreased by 1.55% to US$24.212 per ounce, while copper fell 0.71% to US$4.4958.
Brent oil futures traded flat at US$85.44 per barrel and WTI crude was up 0.85% to US$84.47.
Bond Market
The 30-year Treasury bond yields were down 2.06% to 2.042, while the 10-year bond yields fell 1.55% to 1.610.
US Dollar Futures Index increased by 0.15% to US$93.953.
Failure To Bury "Transitory" Inflation Narrative Risks Sparking Biggest Fed Error In Decades: El-Erian Warns
Failure To Bury "Transitory" Inflation Narrative Risks Sparking Biggest Fed Error In Decades: El-Erian Warns
Authored by Tom Ozimek via The…
Failure To Bury "Transitory" Inflation Narrative Risks Sparking Biggest Fed Error In Decades: El-Erian Warns
Authored by Tom Ozimek via The Epoch Times,
Failure on the part of the Fed to toss its stubbornly-held "transitory" inflation narrative and act more decisively to rein in persistently high price pressures raises the likelihood the central bank will need to slam on the brakes of easy money policies much more forcefully down the road, risking avoidably severe disruption to domestic and global markets, according to Queen's College President and economist Mohamed El-Erian.
"In stark contrast with the mindset of corporate leaders who are dealing daily with the reality of higher and persistent inflationary pressures, the transitory concept has managed to retain an almost mystical hold on the thinking of many policy makers," El-Erian wrote in an Oct. 25 op-ed in Bloomberg.

"The longer this persists, the greater the risk of a historic policy error whose negative implications could last for years and extend well beyond the U.S.," he argued.
Consumer price inflation is running at around a 30-year high and well beyond the Fed's 2 percent target, to the consternation of central bank policymakers who face increasing pressure to roll back stimulus, even as they express concern that the labor market hasn't fully rebounded from pandemic lows.
The total number of unemployed persons in the United States now stands at 7.7 million, and while that's considerably lower than the pandemic-era high, it remains elevated compared to the 5.7 million just prior to the outbreak. The unemployment rate, at 4.8 percent, also remains above pre-pandemic levels.
At the same time, other labor market indicators, such as the near record-high number of job openings and an all-time-high quits rate—which reflects worker confidence in being able to find a better job—suggest the labor market is catching up fast. Businesses continue to report hiring difficulties and have been boosting wages to attract and retain workers. Over the past six months, wages have averaged a gain of 0.5 percent per month, around twice the pace prior to the pandemic, the most recent jobs report showed.
Besides measures of inflation running hot, consumer expectations for future levels of inflation have hit record highs, threatening a de-anchoring of expectations and raising the specter of the kind of wage-price spiral that bedeviled the economy in the 1970s. A recent Federal Reserve Bank of New York monthly Survey of Consumer Expectations showed that U.S. households anticipate inflation to be 5.3 percent next year and 4.2 percent in the next three years, the highest readings in the history of the series, which dates back to 2013.
El-Erian, in the op-ed, argued that the Fed has "fallen hostage" to the framing that the current bout of inflation is temporary and will abate once pandemic-related supply chain dislocations will abate.
"It is a framing that is pleasing to the ears, not only to those of policy makers but also those of the financial markets, but becoming harder to change," he wrote.

"Indeed, the almost dogmatic adherence to a strict transitory line has given way in some places to notions of 'extended transitory,' 'persistently transitory,' and 'rolling transitory'—compromise formulations that, unfortunately, lack analytical rigor given that the whole point of a transitory process is that it doesn't last long enough to change behaviors," he wrote.
El-Erian said he fears that Fed officials will double down on the transitory narrative rather than cast it aside, raising the probability of the central bank "having to slam on the monetary policy brakes down the road—the 'handbrake turn.'"
"A delayed and partial response initially, followed by big catch-up tightening—would constitute the biggest monetary policy mistake in more than 40 years," El-Erian argued, adding that it would "unnecessarily undermine America's economic and financial well-being" while also sending "avoidable waves of instability throughout the global economy."
His warning comes as the Federal Open Market Committee (FOMC)—the Fed's policy-setting body—will hold its next two-day meeting on November 2 and 3.
The FOMC has signaled it would raise interest rates sometime in 2023 and begin tapering the Fed's $120-billion-a-month pandemic-era stimulus and relief efforts as early as November.
Some Fed officials have said that, if inflation stays high, this supports the case for an earlier rate hike. Fed Governor Christopher Waller recently suggested that the central bank might need to introduce "a more aggressive policy response" than just tapering "if monthly prints of inflation continue to run high through the remainder of this year."
"If inflation were to continue at 5 [percent] into 2022, you'll start seeing everybody potentially – well, I can't speak for anybody else, just myself, but – you would see people pulling their 'dots' forward and having potentially more than one hike in 2022," he said in prepared remarks to Stanford Institute for Economic Policy Research.
The Fed's dot plot (pdf), which shows policymakers' rate-hike forecasts, indicates half of the FOMC's members anticipate a rate increase by the end of 2022 and the other half predict the beginning of rate increases by the end of 2023.
For now the market is pricing in a more hawkish Fed response in 2022
Tyler Durden
Tue, 10/26/2021 – 16:49
inflation
monetary
markets
reserve
policy
interest rates
fed
central bank
monetary policy
inflationary
Kimberly-Clark Forecasts Price Increases as Inflationary Pressures Accelerate, Supply Chain Disruptions Worsen
In yet another sign that inflation pressures are proving to be a lot more than just transitory, Kimberly-Clark (NYSE: KMB)
The post Kimberly-Clark Forecasts…
In yet another sign that inflation pressures are proving to be a lot more than just transitory, Kimberly-Clark (NYSE: KMB) — the maker of staple household goods such as Kleenex tissues, Huggies diapers, tampons, and toilet paper— has sounded the alarm over impacts of rapidly accelerating prices and supply chain headaches.
Shares of Kimberly-Clark tanked to a six-month low after the company cut its annual forecast due to rising inflation and supply chain disruptions. Third quarter net income stood at around $469 million, which equates to approximately $1.39 per share, against the $472 million— or $1.38 per share reported during the same period one year ago. The company reported an adjusted earnings per share of $1.62, which failed to meet consensus estimates calling for $1.65.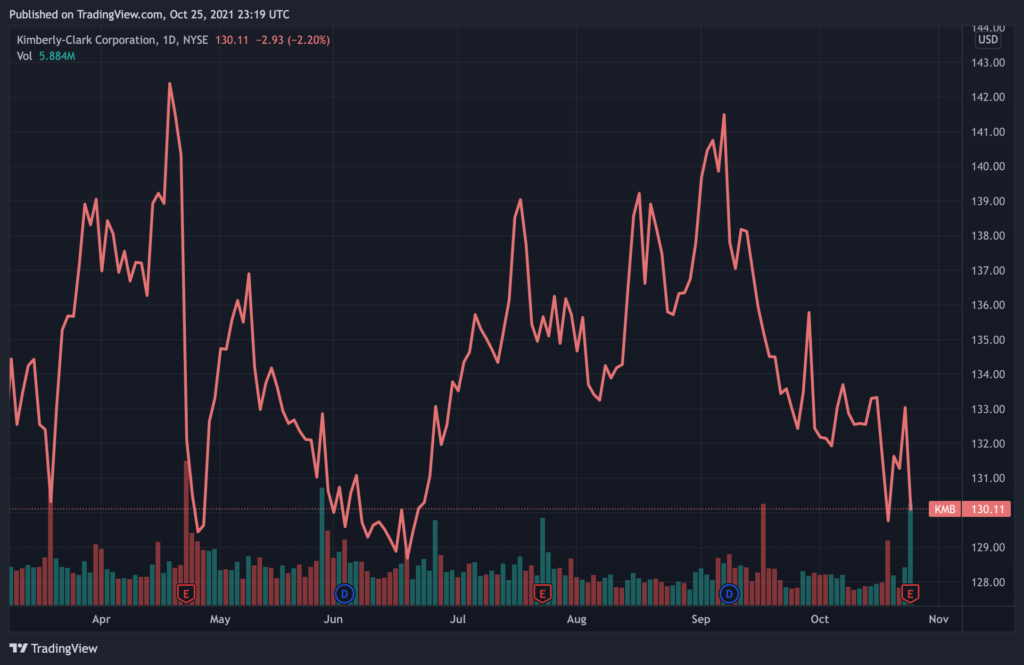 "Our earnings were negatively impacted by significant inflation and supply-chain disruptions that increased our costs beyond what we anticipated," said Kimberly-Clark CEO Mike Hsu. As a result, Hsu warned that the company will be implementing price increases across a variety of goods in an effort to offset implications of supply chain woes and subsequent acceleration in commodity costs. "We are taking further action, including additional pricing and enhanced cost management, to mitigate these headwinds as it is becoming clear they are not likely to be resolved quickly," he added.
However, Kimberly-Clark is far from being the only households goods company to sound the alarm over the effects of global supply chain disruptions and a persistent inflationary macroeconomic environment. Recall, General Mills, P&G, among others, have all issued warnings about impending cost-push inflation, as companies contend with margin compression that is further exasperated by ongoing labour shortages.
---
Information for this briefing was found via Kimberly-Clark. The author has no securities or affiliations related to this organization. Not a recommendation to buy or sell. Always do additional research and consult a professional before purchasing a security. The author holds no licenses.
The post Kimberly-Clark Forecasts Price Increases as Inflationary Pressures Accelerate, Supply Chain Disruptions Worsen appeared first on the deep dive.