How Long Will It Take To 'Normalize'… And What Will 'Normal' Look Like?
How Long Will It Take To 'Normalize'… And What Will 'Normal' Look Like?
Authored by Bill Blain via MorningPorridge.com,
"Don't waste…
How Long Will It Take To 'Normalize'… And What Will 'Normal' Look Like?
Authored by Bill Blain via MorningPorridge.com,
"Don't waste October sun…"
Christmas is cancelled as supply chains crumble, stagflation mounts and jobs are lost… How long will it last, will there be a buying opportunity, and what will a new normal economy look like?  
Opening with a line from a China analyst report this morning: "Boosting domestic thermal coal production is critical, the sources said."
Nephews, nieces, god-children and the two not-quite-as-young-as-they-think adults masquerading as our kids have already been warned there is unlikely to be much Christmas this year… If they are lucky they might score an Amazon gift card, but that's not quite as satisfying as a new cuddly toy or x-box game. Turkey? I hear the queues have already started, next to the ones for petrol.
Pretty dismal reading in the financial press over the weekend – supply chain crunches, and "stagflationary headwinds" of rising labour costs, transport failure and missing deliveries being the latest way to describe the post-pandemic consumer recovery that's been stopped in its tracks.
Much of the crisis apparently stems from China – where the globe's manufacturing centre seems to have closed. This is too simplistic. Naturally its more complex; for a good explanation of the multiple points of friction can be found in the Saturday Thunderer: "Tidal wave of chaos engulfs global supply chains." It examines months of delays in the delivery of Standup Paddleboards to a shop in Devon which  will finally arrive this week – assuming they can find a lorry and driver to pick up the container from the other side of the UK – just as the late autumn storms settle in.
For want of a nail the shoe was lost and all that kind of stuff.
But… the current dislocation is probably temporary. How to price the risks during a period of uncertain transition is the critical thing. Over the coming months the supply chains will repair themselves, shortages will be rebalanced and worked around, equilibrium will be restored – a favourite economist response to any exogenous supply-side shock. The questions include:
How long will it take?

What are the consequences of ongoing delay?

Will there be a buying opportunity if the global economy stumbles into a recessionsary/stagflationary puddle?

Will there still be a surge in repressed consumer demand to drive growth?
How long… is a piece of string?
When the UK's petrol crisis started over a week ago everyone assumed it would correct itself in days. Its not happening. Consumer fears remain elevated as drivers continue to keep their tanks full. My Rangey is still sitting on the drive with 30 miles in it… but She-Who-Is-Mrs-Blain is intending to go hunting diesel later today…
Some companies are doing better than others. Despite the shortages which have crushed other automakers (who are mothballing plants around the globe), Tesla managed to increase production and deliveries through Q3 – 241k cars were above the most optimistic expectations. It has struggled with delays, but coped and even found ways to retrofit components as and when they become available.
Further good news for Tesla is a Pew research survey suggesting nearly 40% of Americans will now "seriously" consider an electric vehicle.   Rising fuel costs will also help boost adoption, but more and more competitors are getting into the EV space – where Tesla clearly has first mover and pioneer status.. (Regular readers will be shocked I am saying nice things about Tesla…)
(As an aside from this morning's theme of supply chains….

Some analysts suggest Tesla is due a spectacular price gain – Piper Sandler are on the wires saying 50% up to $1200! If it's such a rosy outlook why has Cathie Wood's ARK dumped Tesla? (Well, sold about 10% of her position.) I don't know – ask her, but I suspect it's the realisation the value of Tesla has never been its leadership in innovating and selling EVs (a simple margins game which Tesla is still struggling with), but the perception it was about the deliver autonomous driving – which remains, (like nuclear fusion) a tomorrow and tomorrow project – which will never happen.

Tesla has a bright future as a leader in the EV autospace, and should be priced accordingly as a leading auto manufacturer with a premium price relative to others – inferring about a 80% downward correction in its current stock price.

And, that's me being nice about Tesla…)
Meanwhile, the supply chain crisis is not a static force on markets.
There is a general rising sense of tension and uncertainty. As the Chinese airforce buzzed Taiwan in force this weekend – and decried a rather elderly British frigate for its "evil intent" in traversing the straights – one can't but help if the Chinese are looking to distract their people from the unfolding Evergrande delinquency.
The rising tension means every missed delivery has magnified consequences when reacting to other economic forces.  This month we will get interesting employment data from the UK – despite the skills shortages across logistics, transport and hospitality, but how many of the 1 million workers who were still on furlough at the end of September will have jobs to go back to?
The longer supply chains remain in turmoil the higher inflation will go – rising demand and falling supply has only one possible outcome: higher prices. You can imagine an economy where central banks are forced to hike rates even as unemployment rises – not everyone can retrain to drive a truck.. (That said one of my mates who got his HGV licence years ago got a very nice letter from the government last week offering him attractive gainful employment in freight haulage… hmm.. hedge fund manager or trucker? That's a tough one…)
Is there likely to be a buying opportunity ahead of normalising supply chains? That rather depends on how the market prices in the rising inflationary threat relative to holding low yielding bonds. The complex and non-intuitive maths of bonds means rising interest rates will actually force many bond buyers to buy more bonds to match duration and liabilities! And central banks know an inflationary spike in interest rates could trigger a market meltdown, a crisis in the investment management industry and a hit to voter pension savings, causing  governments to demand they step back in to back markets… Personally – if a crunch comes, I will be a selective buyer!
So… let's assume the global economy gets through the broken supply chains, and price inflation/stagflation, and in about a year or so's time we reach a new equilibrium? Will consumers be back in the demand driving seat?
Maybe not. Inflation looks very real. Companies are not minded to pay more for staff as trading conditions deteriorate. The only groups of workers getting pay rises are the strongly unionised ones – by-in-large in the public sector. Their pay – financed by increasing taxes on private workers – is rising. Their guaranteed state final salary pension schemes will be pumped up to cover any losses – again financed by rising taxes on private workers.
All of which means that in a few months time most of us will be living on greatly reduced real incomes with struggling pension pots, and the only workers able to consume will be on those working for public bodies… Dang… I should have stayed in the Civil Service (my first job on leaving University) instead of joining the City…
Ouch..
Tyler Durden
Mon, 10/04/2021 – 08:05
inflation
stagflation
markets
interest rates
inflationary
US markets scale fresh highs on upbeat earnings, housing data
S P 500 and Dow Jones closed at record highs for the second consecutive day on Tuesday October 26 while Nasdaq rallied as quarterly results kept the…
S&P 500 and Dow Jones closed at record highs for the second consecutive day on Tuesday, October 26, while Nasdaq rallied as quarterly results kept the markets in high spirits.
The S&P was up 0.18% to 4,574.79. The Dow Jones Industrial Average rose 0.04% to 35,756.88. The NASDAQ Composite Index gained 0.06% to 15,235.71, and the small-cap Russell 2000 was down 0.72% to 2,296.08.
Traders were further encouraged by the Commerce Department's positive economic data, which showed new home sales jumped 14% to 800,000 units in September, the highest level since March. However, higher home prices still remained a major worry.
Energy and utility stocks led gains on the S&P 500 index, while industrials and communication services stocks were the bottom movers. Nine of the 11 sectors of the index stayed in the positive territory.
General Electric Company (GE) stock rose 2.19% in intraday trading after reporting its third-quarter earnings. Its adjusted profits were 57 cents per share, above the analysts' estimates of 43 cents a share. However, its revenue fell by 1% YoY to US$18.4 billion in the quarter.
Shares of United Parcel Service, Inc. (UPS) were up 7.38% after reporting better-than-expected results. Its revenue increased by 9.2% YoY to US$23.2 billion in Q3, FY21.
Lockheed Martin Corporation (LMT) stock tumbled 12.48% after it trimmed its revenue forecast. Its net sales fell to US$16.02 billion in Q3 from US$16.49 billion in the year-ago quarter. In addition, it lowered its revenue forecast for FY2021 due to supply woes.
In the energy sector, Exxon Mobil Corporation (XOM) surged 2.30%, EOG Resources, Inc. (EOG) rose 1.39%, and Occidental Petroleum Corporation (OXY) gained 1.28%. Devon Energy Corporation (DVN) and Baker Hughes Company (BKR) rose 2.37% and 2.88%, respectively.
In utility stocks, NextEra Energy, Inc. (NEE) increased by 1.57%, Southern Company (SO) jumped 1.03%, and Exelon Corporation (EXC) rose 1.10%. DBA Sempra (SRE) and AES Corporation (AES) advanced 1.24% and 1.59%, respectively.
In the communication sector, Alphabet Inc. (GOOGL) rose 1.33%, Facebook, Inc. (FB) fell 4.52%, and Twitter Inc. (TWTR) declined 1.27%. Match Group, Inc. (MTCH) and News Corporation (NWS) plummeted 2.51% and1.17%, respectively.
Also Read: General Electric Co (GE) revises guidance upward after Q3 profits
Also Read: Raytheon (RTX) raises sales guidance, 3M (MMM) narrows EPS outlook
Also Read: Eli Lilly (LLY), Novartis (NVS) profits up on robust sales growth
Futures & Commodities
Gold futures were down 0.70% to US$1,794.10 per ounce. Silver decreased by 1.55% to US$24.212 per ounce, while copper fell 0.71% to US$4.4958.
Brent oil futures traded flat at US$85.44 per barrel and WTI crude was up 0.85% to US$84.47.
Bond Market
The 30-year Treasury bond yields were down 2.06% to 2.042, while the 10-year bond yields fell 1.55% to 1.610.
US Dollar Futures Index increased by 0.15% to US$93.953.
Failure To Bury "Transitory" Inflation Narrative Risks Sparking Biggest Fed Error In Decades: El-Erian Warns
Failure To Bury "Transitory" Inflation Narrative Risks Sparking Biggest Fed Error In Decades: El-Erian Warns
Authored by Tom Ozimek via The…
Failure To Bury "Transitory" Inflation Narrative Risks Sparking Biggest Fed Error In Decades: El-Erian Warns
Authored by Tom Ozimek via The Epoch Times,
Failure on the part of the Fed to toss its stubbornly-held "transitory" inflation narrative and act more decisively to rein in persistently high price pressures raises the likelihood the central bank will need to slam on the brakes of easy money policies much more forcefully down the road, risking avoidably severe disruption to domestic and global markets, according to Queen's College President and economist Mohamed El-Erian.
"In stark contrast with the mindset of corporate leaders who are dealing daily with the reality of higher and persistent inflationary pressures, the transitory concept has managed to retain an almost mystical hold on the thinking of many policy makers," El-Erian wrote in an Oct. 25 op-ed in Bloomberg.

"The longer this persists, the greater the risk of a historic policy error whose negative implications could last for years and extend well beyond the U.S.," he argued.
Consumer price inflation is running at around a 30-year high and well beyond the Fed's 2 percent target, to the consternation of central bank policymakers who face increasing pressure to roll back stimulus, even as they express concern that the labor market hasn't fully rebounded from pandemic lows.
The total number of unemployed persons in the United States now stands at 7.7 million, and while that's considerably lower than the pandemic-era high, it remains elevated compared to the 5.7 million just prior to the outbreak. The unemployment rate, at 4.8 percent, also remains above pre-pandemic levels.
At the same time, other labor market indicators, such as the near record-high number of job openings and an all-time-high quits rate—which reflects worker confidence in being able to find a better job—suggest the labor market is catching up fast. Businesses continue to report hiring difficulties and have been boosting wages to attract and retain workers. Over the past six months, wages have averaged a gain of 0.5 percent per month, around twice the pace prior to the pandemic, the most recent jobs report showed.
Besides measures of inflation running hot, consumer expectations for future levels of inflation have hit record highs, threatening a de-anchoring of expectations and raising the specter of the kind of wage-price spiral that bedeviled the economy in the 1970s. A recent Federal Reserve Bank of New York monthly Survey of Consumer Expectations showed that U.S. households anticipate inflation to be 5.3 percent next year and 4.2 percent in the next three years, the highest readings in the history of the series, which dates back to 2013.
El-Erian, in the op-ed, argued that the Fed has "fallen hostage" to the framing that the current bout of inflation is temporary and will abate once pandemic-related supply chain dislocations will abate.
"It is a framing that is pleasing to the ears, not only to those of policy makers but also those of the financial markets, but becoming harder to change," he wrote.

"Indeed, the almost dogmatic adherence to a strict transitory line has given way in some places to notions of 'extended transitory,' 'persistently transitory,' and 'rolling transitory'—compromise formulations that, unfortunately, lack analytical rigor given that the whole point of a transitory process is that it doesn't last long enough to change behaviors," he wrote.
El-Erian said he fears that Fed officials will double down on the transitory narrative rather than cast it aside, raising the probability of the central bank "having to slam on the monetary policy brakes down the road—the 'handbrake turn.'"
"A delayed and partial response initially, followed by big catch-up tightening—would constitute the biggest monetary policy mistake in more than 40 years," El-Erian argued, adding that it would "unnecessarily undermine America's economic and financial well-being" while also sending "avoidable waves of instability throughout the global economy."
His warning comes as the Federal Open Market Committee (FOMC)—the Fed's policy-setting body—will hold its next two-day meeting on November 2 and 3.
The FOMC has signaled it would raise interest rates sometime in 2023 and begin tapering the Fed's $120-billion-a-month pandemic-era stimulus and relief efforts as early as November.
Some Fed officials have said that, if inflation stays high, this supports the case for an earlier rate hike. Fed Governor Christopher Waller recently suggested that the central bank might need to introduce "a more aggressive policy response" than just tapering "if monthly prints of inflation continue to run high through the remainder of this year."
"If inflation were to continue at 5 [percent] into 2022, you'll start seeing everybody potentially – well, I can't speak for anybody else, just myself, but – you would see people pulling their 'dots' forward and having potentially more than one hike in 2022," he said in prepared remarks to Stanford Institute for Economic Policy Research.
The Fed's dot plot (pdf), which shows policymakers' rate-hike forecasts, indicates half of the FOMC's members anticipate a rate increase by the end of 2022 and the other half predict the beginning of rate increases by the end of 2023.
For now the market is pricing in a more hawkish Fed response in 2022
Tyler Durden
Tue, 10/26/2021 – 16:49
inflation
monetary
markets
reserve
policy
interest rates
fed
central bank
monetary policy
inflationary
Kimberly-Clark Forecasts Price Increases as Inflationary Pressures Accelerate, Supply Chain Disruptions Worsen
In yet another sign that inflation pressures are proving to be a lot more than just transitory, Kimberly-Clark (NYSE: KMB)
The post Kimberly-Clark Forecasts…
In yet another sign that inflation pressures are proving to be a lot more than just transitory, Kimberly-Clark (NYSE: KMB) — the maker of staple household goods such as Kleenex tissues, Huggies diapers, tampons, and toilet paper— has sounded the alarm over impacts of rapidly accelerating prices and supply chain headaches.
Shares of Kimberly-Clark tanked to a six-month low after the company cut its annual forecast due to rising inflation and supply chain disruptions. Third quarter net income stood at around $469 million, which equates to approximately $1.39 per share, against the $472 million— or $1.38 per share reported during the same period one year ago. The company reported an adjusted earnings per share of $1.62, which failed to meet consensus estimates calling for $1.65.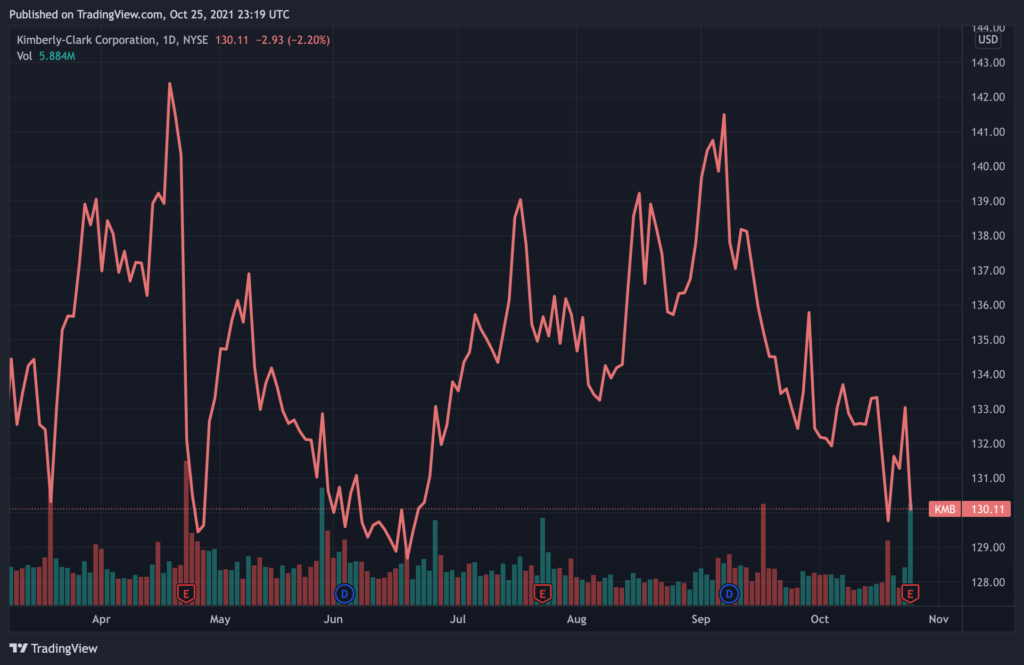 "Our earnings were negatively impacted by significant inflation and supply-chain disruptions that increased our costs beyond what we anticipated," said Kimberly-Clark CEO Mike Hsu. As a result, Hsu warned that the company will be implementing price increases across a variety of goods in an effort to offset implications of supply chain woes and subsequent acceleration in commodity costs. "We are taking further action, including additional pricing and enhanced cost management, to mitigate these headwinds as it is becoming clear they are not likely to be resolved quickly," he added.
However, Kimberly-Clark is far from being the only households goods company to sound the alarm over the effects of global supply chain disruptions and a persistent inflationary macroeconomic environment. Recall, General Mills, P&G, among others, have all issued warnings about impending cost-push inflation, as companies contend with margin compression that is further exasperated by ongoing labour shortages.
---
Information for this briefing was found via Kimberly-Clark. The author has no securities or affiliations related to this organization. Not a recommendation to buy or sell. Always do additional research and consult a professional before purchasing a security. The author holds no licenses.
The post Kimberly-Clark Forecasts Price Increases as Inflationary Pressures Accelerate, Supply Chain Disruptions Worsen appeared first on the deep dive.