Jerome Powell's Big Adventure, Part II
Jerome Powell emerged victorious in the political war that threatened to derail his re-nomination to lead the Federal Reserve for a second term. Winning…
Jerome Powell emerged victorious in the political war that threatened to derail his re-nomination to lead the Federal Reserve for a second term. Winning the economic war that awaits, however, will likely be a much tougher battle.
In choosing Powell to head the Fed for another four-year term, President Biden "chose the status quo for monetary policy and financial regulation," says Mark Zandi, chief economist at Moody's Analytics. "The Fed's going to slowly but steadily take its foot off the monetary accelerator."
The question that will come increasingly into sharper focus: Is the status quo up to the task that awaits?
The critical variable for answering intelligently is closely linked to how inflation evolves in the months ahead. Unfortunately, the future's uncertain as ever. The fact that so many economists didn't anticipate the recent surge should give everyone pause about assuming the future has suddenly become clearer on this front.
Uncertainty or not, the stakes are rising for making informed decisions on monetary policy. A careful review of central banking history reminds failure is always lurking. Think Jean-Claude Trichet at the European Central Bank a decade ago and his ill-informed decision to start tightening too early, which probably derailed the currency bloc's nascent recovery. On the flip side, there's the troubled tenure of Arthur Burns at the Fed's helm in the 1970s, when he let inflation run amuck.
The challenge for today's Fed is arguably the toughest in a generation, in part because it requires high confidence about where inflation's headed in 2022. For a summary of the challenge, consider the chart below, which regresses core US consumer inflation against the 10-year Treasury yield since 1958. The red dot marks the last regression data point (Oct. 2021) with core inflation at 4.6% and the 10-year rate at 1.58%. (Note: the 10-year yield has moved up slightly in November, reaching 1.63% yesterday (Nov. 22)).
The current mix of yield and inflation suggests that the 10-year rate is well below a "normal" rate, given the history of the two time series. The question is how will the disequilibrium normalize? There are two paths. One is that inflation eases, fulfilling the forecast of some who say inflation is transitory. The alternative path: the 10-year rate will rise and adjust to the changing economic conditions unleashed by higher inflation.
A similar profile emerges if we replace the 10-year yield with the Fed's target rate, which remains pinned to a near-zero-percent level.
The Fed has signaled that it will only start raising interest rates after it's finished tapering its bond-purchasing program. Depending on your forecast, that leaves a wide range of forecasts for when rate hikes could start: from early in 2022 to sometime in 2023.
Fed funds futures see the probability of a rate hike rising above 50% (just barely) starting in May 2022.   
Meanwhile, all eyes are on incoming inflation data. For a naïve profile of how the inflation pressure is evolving for November, let's turn to our Inflation Trend Index (ITI), which seeks to offer a degree of forward guidance on the directional bias of pricing activity in real time. Keep in mind that ITI is NOT a proxy for estimating the government's consumer price index, which will be officially updated for November in a few weeks.
Meantime, ITI's current profile suggests that this month's pricing pressure is holding steady, albeit at an elevated level. Even if you're inclined to agree, inflation appears unlikely to fade substantially in November. It seems that Mr. Powell has his work cut out for him as tries to navigate an increasingly risky path for monetary policy in the months ahead.
---
Learn To Use R For Portfolio Analysis
Quantitative Investment Portfolio Analytics In R:
An Introduction To R For Modeling Portfolio Risk and Return

By James Picerno
---
inflation
monetary
reserve
policy
interest rates
fed
central bank
monetary policy
Fisker Is One to Buy, But Not Quite Yet
It's stalled, but can it motor higher? The stock in question is Fisker (NYSE:FSR) and its in-tow FSR stock.
Source: T. Schneider / Shutterstock.com
And…
It's stalled, but can it motor higher? The stock in question is Fisker (NYSE:FSR) and its in-tow FSR stock.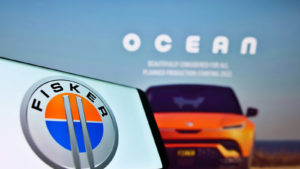 Source: T. Schneider / Shutterstock.com
And based on what's happening off and on the FSR price chart, the best course of action is to use those optionable safety features sometimes forgotten to avoid being a crash test dummy. Let me explain.
Sell the news? It could be that simple in shares of FSR. But you never know either, well until it's too late.
Three weeks ago Fisker investors got a first glimpse of the company's luxury Fisker Ocean electric vehicle (EV). And sell they did, with only gratuitous hindsight making it appear that selling the news was the singular course of action to take.
The fact today is FSR stock has managed to shed nearly 20% since unveiling its inaugural EV at the LA Auto show, despite receiving accolades for the vehicle.
Fisker's Awarded With Profit Taking
The EV "asset-light" auto designer took home a prized ZEVAS Award for zero-emission vehicles in the category of "best crossover vehicle" priced under $50,000. Nice, right? I like to think so.
Still, in walking the aisle alongside FSR's hefty bearish population of nearly 28% and investors caught taking profits, shares were up a near picture perfect 80% in just two months leading into the auto event.
So there's that, right? I suppose.
As well and for FSR investors yearning for additional reasons driving the stock's price contraction, fingers can be pointed at inflation fears, Fed-speak and most recently, the covid-19 Omicron varient in recent days.
It's fair enough to say and see that many other EV plays such as QuantumScape (NYSE:QS) or Lucid Motors (NASDAQ:LCID), as well as other higher multiple growth plays have been hit by those macro irritants, putting them in the same miserable boat as FSR stock investors.
But it's likely just a bump in the road when it comes to Fisker.
The thing is if you're going to make a play on the next Tesla (NASDAQ:TSLA), investors would be hard-pressed to do much better than FSR stock, within the framework of an EV startup that's yet to put the rubber to the road.
And I'm not alone in thinking that about Fisker shares.
InvestorPlace contributor Will Ashworth notes Fisker's Ocean series has what I'll just call the goods under the hood once production commences next November.
And with sales pegged at $2.2 billion for 2023, FSR's forward price-to-sales ratio near 3x appears to an attractive value proposition for a growth stock of Fisker's caliber.
FSR Stock Weekly Price Chart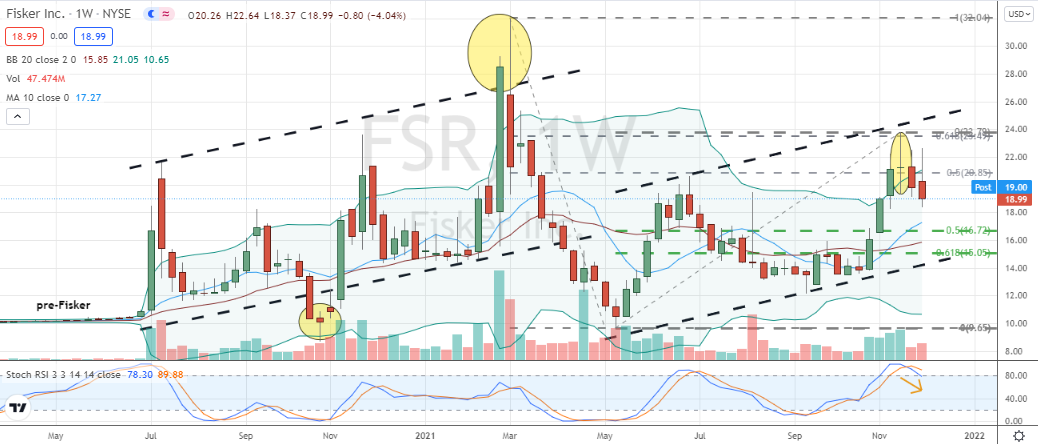 Click to EnlargeSource: Charts by TradingView
When it comes to owning FSR, I see a couple different ways to position for vastly-reduced risk and an eye on holding for a few years.
First, if shares can continue to retreat towards $15 – $16.75, purchasing FSR stock on weakness makes sense. This area has channel and Fibonacci support to back up the buy decision.
As well, a currently bearishly-crossed and overbought stochastics should, at a minimum, be in neutral territory. It could also be more opportunistically flattening or even generating a bullish buy signal, if shares were to decline into the support zone.
Like Will, I don't anticipate FSR will see $10 again given its valuation and sales forecast. And if it did, it could mean some serious missteps by the company and more of a trap for buyers than of actual value.
That being said, I'd attach any potential purchases with a stop loss. Based on today's channel, but also appreciating trader missteps have happened in the past like last October's, $12.50 – $13 looks about right.
Alternatively, a fully-hedged bullish vertical or collar strategy rather than exiting on a technical failure might be considered.
Lastly, and given the reality that charts can sometimes turn on a dime, I'd simply watch for a stochastics crossover. A momentum move higher is always possible in a name like FSR.
Should that occur, placing an intermediate-term collar whose strike structure mimics an out-of-the-money bull call spread and adjusting the position over time is one way to avoid becoming a crash test dummy and hopefully enjoy some future vroom, vroom in FSR stock.
On the date of publication, Chris Tyler did not have (either directly or indirectly) any positions in the securities mentioned in this article. The opinions expressed in this article are those of the writer, subject to the InvestorPlace.com Publishing Guidelines.
Chris Tyler is a former floor-based, derivatives market maker on the American and Pacific exchanges. For additional market insights and related musings, follow Chris on Twitter @Options_CAT and StockTwits.
More From InvestorPlace
The post Fisker Is One to Buy, But Not Quite Yet appeared first on InvestorPlace.
Unemployment Falls to 4.2 Percent in November as Economy Adds 210,000 Jobs
The rise in the index of aggregate hours would be equivalent to more than 630,000 jobs with no changes in workweeks.
The post Unemployment Falls to 4.2…
The rise in the index of aggregate hours would be equivalent to more than 630,000 jobs with no changes in workweeks.
The unemployment rate fell 0.4 percentage points in November, even though the economy added just 210,000 jobs. The drop in the unemployment rate went along with an increase in the employment-to-population ratio (EPOP) of 0.4 percentage points, corresponding to a rise in employment of more than 1.1 million in the household survey. The unemployment rate had not fallen this low following the Great Recession until September 2017.
The 210,000 job growth in the establishment survey is slower than generally expected, but it is important to note that it went along with an increase in the average workweek. The index of aggregate hours in the private sector increased by 0.5 percent in November. This would be the equivalent of more than 630,000 new jobs, with no change in the workweek.
This fits a story where employers are increasing hours since they are unable to hire new workers. We are seeing a reshuffling of the labor market where workers are looking for better jobs and employers are competing to attract workers, especially in lower paying sectors.
Declines in Unemployment Largest for Disadvantaged Groups
Nearly every demographic group saw a drop in unemployment in November, but the falls were largest for the groups that face labor market discrimination. The unemployment rate for Blacks fell by 1.2 percentage points to 6.7 percent, a level not reached following the Great Recession until March 2018 and never prior to that time. For Hispanics, the decline was 0.7 percentage points to 5.2 percent.
The unemployment rate for workers without a high school degree fell by 1.7 percentage points to 5.7 percent. By contrast, the unemployment rate for college grads fell by just 0.1 percentage points to 2.3 percent, 0.4 percentage points above its pre-pandemic low. The 5.7 percent rate for workers without a high school degree is 0.7 percentage points above the pre-pandemic low, although the monthly data are highly erratic.
The unemployment rate for people with a disability fell by 1.4 percentage points to 7.7 percent, while the EPOP rose by 1.1 percentage points to 21.5 percent. The latter figure is almost 2.0 percentage points above pre-pandemic peaks, indicating that the pandemic may have created new opportunities for people with a disability.
Share of Long-Term Unemployment Edges Up
The share of workers reporting they have been unemployed more than 26 weeks edged up slightly to 32.1 percent. It had been falling rapidly from a peak of 43.4 percent in March. It was under 20.0 percent before the pandemic hit. On the plus side, the share of unemployment due to voluntary quits increased by 1.0 percentage points to 12.5 percent. This share is still low for a 4.2 percent unemployment rate, but the high share of long-term unemployed depresses the share attributable to quits.
Wage Growth Still Strong for Lower Paid Workers
The average hourly pay of production workers is up 5.9 percent year-over-year. It has risen at a 6.6 percent annual rate comparing the last three months (September to November) with the prior three months (June to August). For restaurant workers the gains have been even larger, with the average hourly wage for production workers up 13.4 percent year-over-year, although the annual rate of growth slowed to 5.7 percent comparing the last three months with prior three months. Wages for the lowest paid workers are far outpacing inflation.
Manufacturing and Construction Both Add 31,000 Jobs in November
This continues a pattern of strong job growth in these sectors. Employment in construction is now down 1.5 percent from pre-pandemic levels, while manufacturing employment is down 2.0 percent.
Employment Lagging in Hard Hit Sectors
By contrast, employment is still lagging in the hardest hit sectors. The motion picture industry shed 3,400 jobs in November. It is now down 21.9 percent from pre-pandemic level.
Low-wage sectors are clearly having trouble attracting workers. Nursing and residential care facilities shed 11,000 jobs in November. Employment is now down 423,700 jobs (12.5 percent) from pre-recession level, accounting for most of the drop in health care employment. Childcare lost 2,100 in November, while home health care lost 300 jobs.
Retail lost 20,400 jobs in November. Employment in the sector is now down 1.1 percent from pre-pandemic levels; although the index of aggregate hours is up 1.1 percent.
Restaurants added just 11,000 workers, while hotels added 6,600. However, the index of aggregate hours for the leisure and hospitality sector (which comprises the two industries) rose 0.6 percent. This corresponds to a gain of almost 800,000 jobs with no change in the length of the workweek.
State and Local Governments Shed Another 27,000 Jobs
State and local government employment is now down 951,000, or 4.8 percent from pre-pandemic levels. This is almost certainly a supply side story, where these governments cannot easily raise pay to compete with the private sector in attracting workers.
Overwhelmingly Positive Report
This is another overwhelmingly positive report. The unemployment rate is more than a full percentage point lower than what CBO had projected before the passage of the American Recovery Plan. The most disadvantaged workers are seeing the greatest benefits in pay and employment opportunities. The economy looks to be very strong as long as another surge in the pandemic doesn't derail it.
CEPR produces same-day analyses of government data on employment, inflation, GDP and other topics.
Follow @DeanBaker13 on Twitter to get his quick-take analysis of government data immediately upon release.
If you want to get Dean Baker's same-day analysis of economic indicators by email, sign up here for CEPR's Data Bytes.
The post Unemployment Falls to 4.2 Percent in November as Economy Adds 210,000 Jobs appeared first on Center for Economic and Policy Research.
NFP React: Stocks lower after soft NFP report and Omicron jitters, No one named an FX manipulator
US stocks declined after a soft employment report and as traders remain on edge over the uncertainty with the Omicron variant. The next couple of weeks…
US stocks declined after a soft employment report and as traders remain on edge over the uncertainty with the Omicron variant. The next couple of weeks will remain volatile as the focus falls on the latest inflation report, the December 15th FOMC meeting, and further clarity on the impact with the Omicron variant. 
A record ISM Services reading did not excite traders, perhaps they focused more so on the supplier deliver delays, wage increases, and labor shortages. Technology stocks are getting hit hard as Facebook, Microsoft, and Square sell-off.  Didi shares fell on delisting plans and that raised the risk that other Chinese companies would follow.  
NFP
The US economy is adding jobs at a slower pace as employers are starting to have success luring people back to the labor force. If wages continue to rise, that will be the key for companies to reach their hiring targets. 
The November employment report showed US employers added 210,000 jobs, a miss of the 550,000 consensus estimate and well below the upwardly revised prior reading of 546,000 jobs. A headline miss with the nonfarm payroll report, may be mostly attributed to seasonal factors. The underlying components make this labor market report not so bad as people are coming back to the labor force, with the participation rate improving from 61.6% to 61.8%.
Wage pressures may be slowing as average hourly earnings dipped in November from 0.4% to 0.3%, but some of that could be attributed to the weakness in lower paying hospitality jobs. 
The Fed may view this as a positive employment report as minority unemployment improved significantly and the participation rate is now only 1.5 percentage points lower than in February 2020. Fed rate hike expectations are settling around two rate hikes next year. The headline jobs miss takes away momentum from an accelerated tapering but allows them to increase the taper pace by $5-10billion to the monthly pace. 
FX
The Treasury has placed 12 countries on a foreign exchange watchlist, bringing back China to the list, while adding Japan, Switzerland, and Germany.  The Treasury refrained from calling any country a currency manipulator, but both Vietnam and Taiwan will get enhanced analysis.