Let's Talk TIPS
Real yields have moved higher, surging, actually, to start this year (up until more recently, that is). The 5-year TIPS rate has gone from ungodly ugly…
Real yields have moved higher, surging, actually, to start this year (up until more recently, that is). The 5-year TIPS rate has gone from ungodly ugly mid-November, sunk down to -191 bps, to a still-awful but much less so -130 bps as of today. That's a 61 bps move in less than two months, thirty of those coming since the end of December.
Good news? Something else?
No sense in dragging this out, spoiler alert, the answer is quite clearly something else. Unless you take the Fed's rate hikes for good news. Given recent history, as I'll go through briefly, there's simply no reason to.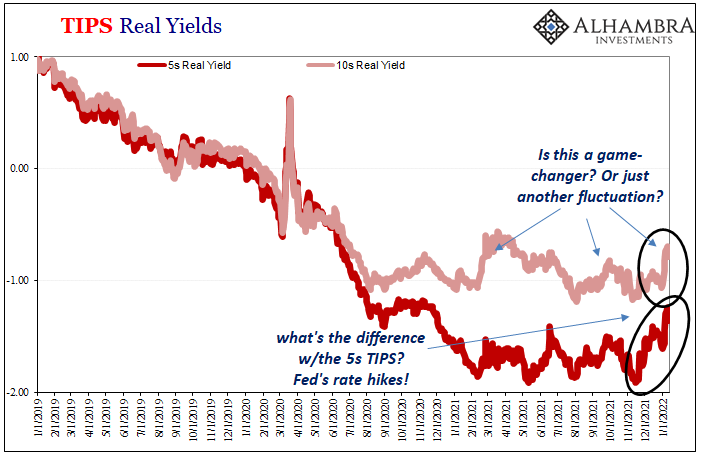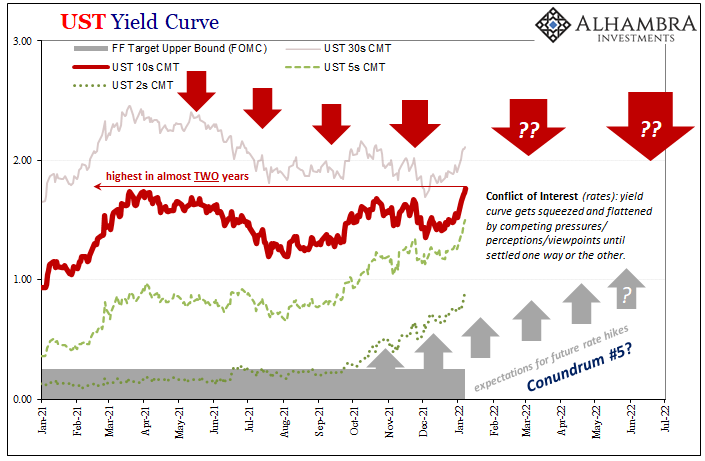 The FOMC's rate hikes – both in action as well as perceived upcoming action – influences curve dynamics nominally, as noted previously, but also TIPS, too. This non-economic interference is sharpest at the front, because of all the reasons I spelled out for the nominal yield curve.
Over the same recent timeframe as the 5s TIPS, the 10s have added significantly less while the 30s even less still; far more buoyant only up front. Just like flattening on the nominal curve, the FOMC is pushing down the prices of inflation-protected securities for reasons that have nothing to do with inflation protection; or real growth prospects.
Real yields certainly weren't rising at the same time as omicron fears were reaching their peak. Hawkishness from November on, however.
Again, quick review of history shows this is the established pattern and what anyone should come to expect. Back during "globally synchronized growth" of 2017, the 5s real yields moved much more than either the 10s or 30s, eventually colliding in 2018. Was that the market really saying growth expectations were materially improving…in 2018?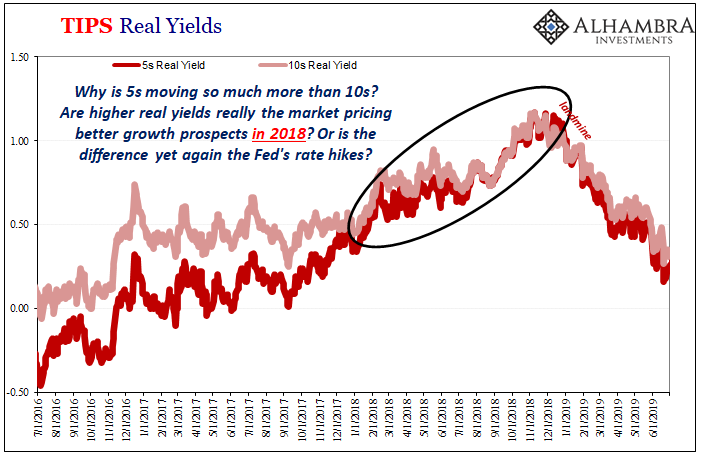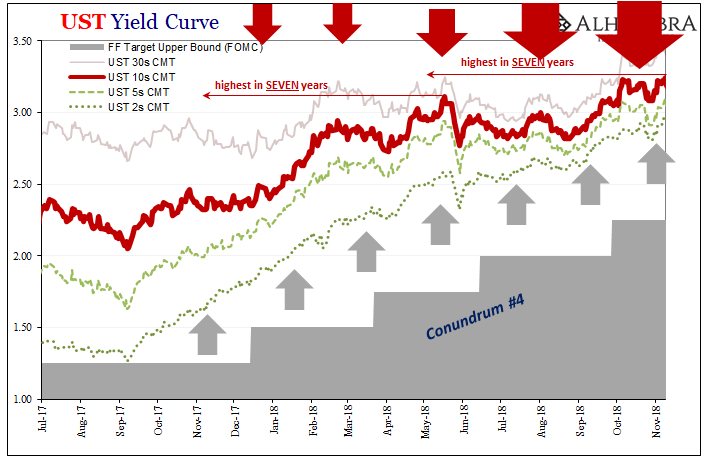 Obviously not, this was instead the bottom-up influence of rate hikes – until even those were overcome during that year's landmine.
What about the previous rate hike cycle? No surprise, it worked out in exactly the same style.
The 5s TIPS go up more than the 10s (or 30s), eventually they collide and both rise but not because of rising growth prospects only non-economic policy interference. Had the TIPS market been pricing a far better forward real economic growth picture…in 2006? The answer like in 2018 was a solid, "no."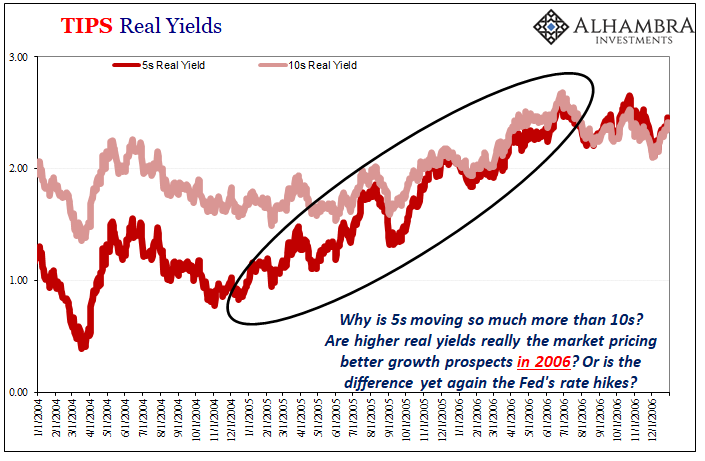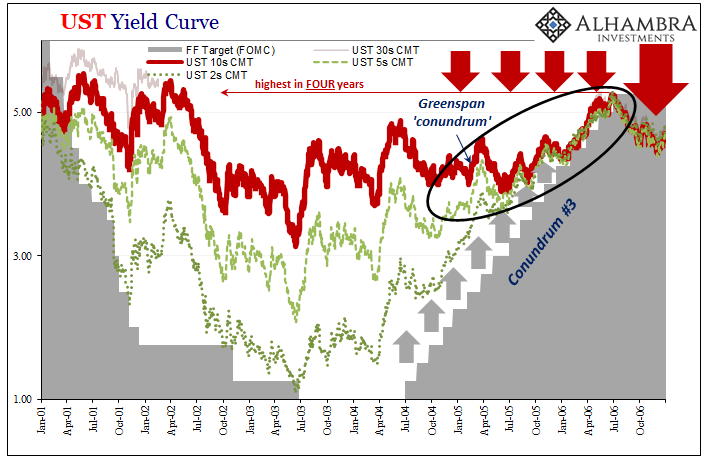 It should be repeatedly pointed out how in both of those cases the nominal yield curve had relentlessly flattened in the same way as TIPS.
Honestly, the most powerful big picture message delivered by the less-influenced 10-year real yield is this one: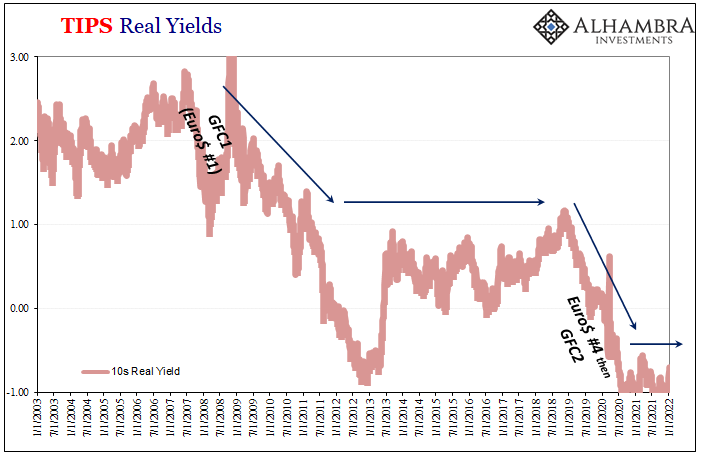 Profound change in real yields? Oh yes, just not anything recent.
What we're seeing in all facets of the Treasury markets is just commonplace to rate hike cycles. I write about the deep history (dating back to the American Revolution!) behind inflation-indexed securities in more detail elsewhere, but arrive at this same conclusion anyway:
Was real growth potential that much better during the middle 2000's, the very mania of the housing bubble? No. What had changed was Alan Greenspan's and then Ben Bernanke's series of seventeen 25-bps rate hikes. These had altered the nominal frame of reference for the short end of the whole Treasury curve which anchors the choices made by TIPS buyers and holders.
Jay Powell's Fed is about to do the same thing, and for him for a second time. He just doesn't learn. The fact that neither inflation breakevens have budged (see: below) along with similar facts of how the TIPS real yields behave leave us with a useful process of elimination which is the same for each of these previous times in history.
Are real yields signaling some profound change? Only if you consider rate hikes profound; merely a non-economic frame of reference (and, to be perfectly clear, what I mean here is all about interpreting these prices, rates, and signals in the context of macro; obviously, there are vastly different considerations when it comes to investing and investments). As far as the real economy, either inflation or growth, not at all.
Neither growth nor inflation, the Fed's gonna Fed. What's changed at the start of 2022 is as omicron fears fade fast the path forward for rate hikes has cleared. Chairman Powell himself has said multiple times the pandemic is the only thing which would change his and the FOMC's collective mind. At least until the real pressures on the real economy reasserts themselves yet again.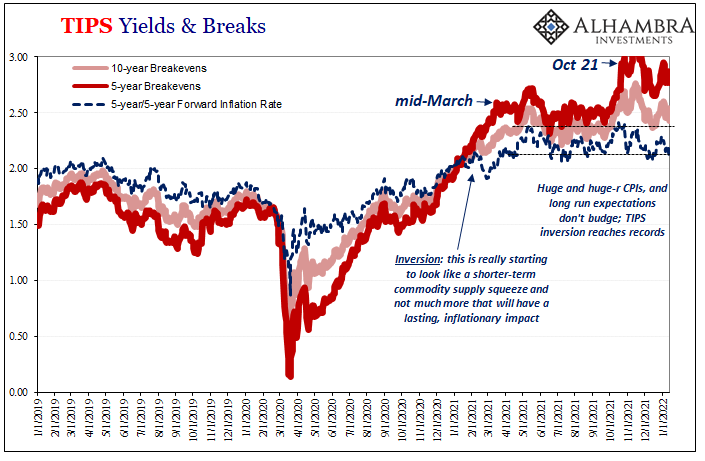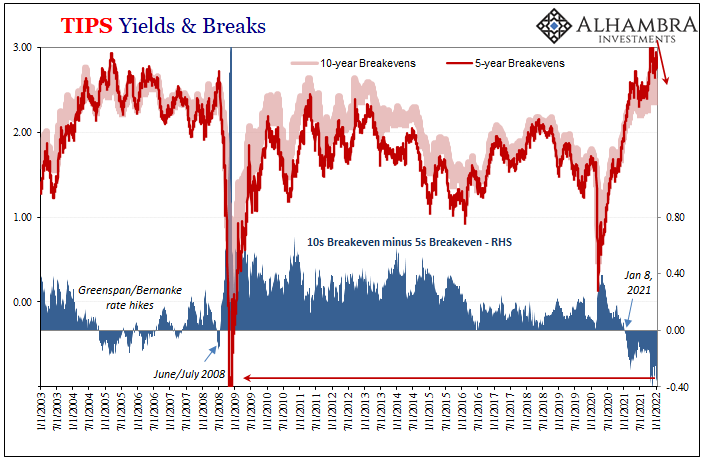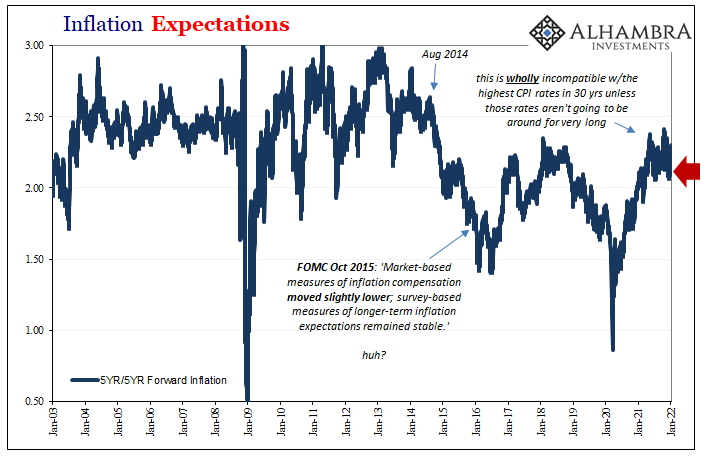 MSTR Stock Sees Setbacks From the Bitcoin Crash and the SEC
Cryptocurrencies themselves aren't the only assets suffering at the hands of the market crash. Relevant crypto stocks are also bearing the punishment,…
Cryptocurrencies themselves aren't the only assets suffering at the hands of the market crash. Relevant crypto stocks are also bearing the punishment, from crypto-mining stocks to the exchange-traded funds (ETFs) that have launched in the last year around crypto. MicroStrategy (NASDAQ:MSTR) is one such company suffering from the market's rampant volatility. Combine this with the U.S. Securities and Exchange Commission's (SEC's) recent blow to the company's accounting, and the MSTR stock losses make sense.
Source: Shutterstock
MicroStrategy doesn't necessarily seem tied to crypto in any way at first glance. After all, the company deals mainly in business software and cloud-based computing. But, if one knows the company's CEO, Michael Saylor, they'd immediately understand the connection. Saylor is a massive Bitcoin (CCC:BTC-USD) bull, using his Twitter profile to constantly promote the currency.
With Saylor at its helm, MicroStrategy has become increasingly entrenched in crypto. In fact, Bitcoin holdings account for a significant portion of the company's capital allocation strategy. As of late December, the company is in possession of over 124,000 BTC, worth over $4 billion at its current value of around $34,000.
MSTR Stock Hits Rough Patch After SEC Ruling, Crypto Crash
Of course, with the massive BTC holdings that MicroStrategy possesses, the recent crash in Bitcoin prices is also affecting MSTR stock prices. As Bitcoin dipped below $33,000 early this afternoon, MSTR stock was down nearly 9%. But there's another reason for MSTR's downturn, and it's thanks to the SEC.
Late on Thursday, the SEC responded to MicroStrategy's unorthodox method of accounting for its Bitcoin holdings. Indeed, MicroStrategy has been using non-Generally Accepted Accounting Principles (GAAP) methods of reporting information related to its stock of Bitcoin. Previously, the company had been tweaking its data in order to exclude what it calls "cumulative impairment losses." The company says that it is doing this in order to present investors with a consistent performance across reporting periods.
GAAP practices were not created with cryptocurrency in mind. Still, the SEC is not accepting MicroStrategy's methods of reporting this data. The governing body is objecting to MicroStrategy's practices and ordering the company to refrain from reporting its data in these ways going forward.
As the afternoon continues onward, Bitcoin is showing signs of life, trading up by about 3%. MSTR stock, meanwhile, continues to lose. The stock is currently down about 5%. Over 1.2 million shares of the stock are trading hands, against a daily average of just 487,000.
On the date of publication, Brenden Rearick did not have (either directly or indirectly) any positions in the securities mentioned in this article. The opinions expressed in this article are those of the writer, subject to the InvestorPlace.com Publishing Guidelines.
More From InvestorPlace
The post MSTR Stock Sees Setbacks From the Bitcoin Crash and the SEC appeared first on InvestorPlace.
New Zealand's bipartisan housing reforms offer a model to other countries
Over the past decade, many cities around the world have experienced a significant rise in housing costs, and the large cities of New Zealand are no exception….
By Ryan Greenaway-McGrevy
Over the past decade, many cities around the world have experienced a significant rise in housing costs, and the large cities of New Zealand are no exception. The small nation's median house price rose by approximately 130% between 2011 and 2021, far outpacing household income growth and eroding housing affordability. 
Undersupply has contributed to these rising housing costs. Census data reveals that New Zealand's population increased by 10.8% between 2013 and 2018, but the stock of occupied dwellings only increased by 6.6% over the same period—indicating that there are chronic shortages of housing in the locations where people want to live. 
In response, the New Zealand government recently passed sweeping zoning reform legislation to permit medium-density housing in all of the country's major cities. This policy builds on the earlier success of upzoning in the country's largest city, Auckland, to redress housing shortages by encouraging higher-density housing. The reform is also part of a broader policy shift to encourage housing construction by allowing cities to build up. 
New Zealand's past zoning restrictions have led to increased housing costs and decreased homeownership rates
In October 2021, New Zealand's center-left Labour government announced the zoning reform to stimulate housing construction through redevelopment. The so-called "Medium Density Residential Standard" will require the country's most populous cities to permit up to three stories and three dwellings on all existing residential parcels of land. The policy would allow a parcel with a detached single-family dwelling to be redeveloped into row houses or a small apartment block.
The reforms represent a significant reversal in the nation's approach to urban planning and development. Since the 1980s, New Zealand has adopted land use policies that encouraged low-density housing in residential areas, entrenching detached single-family housing in its suburbs. Consequently, construction of high-rise apartment buildings has been limited to central business districts and areas zoned for commercial use. Construction of medium-density housing, such as the rowhouses that are commonly found in the cities on the East Coast of the United States, has been missing from the mix. 
Although local governments are responsible for the design and implementation of zoning regulations, the prevalence of low-density housing was underpinned by national-level legislation governing land use. The 1991 Resource Management Act restricted urban development and has been repeatedly criticized for insufficient recognition of housing and infrastructure in its purpose and guiding principles. The act not only presented an impediment to building vertically, but it also hampered the ability of cities to grow horizontally. A long series of official inquiries has identified its shortcomings.  
The Resource Management Act restrained housing supply and attendant infrastructure during a period of significant population growth. Between 1991 and 2018, New Zealand's population grew by approximately two-thirds. Over the same period, the social impacts of increasing housing costs have become more acute. Housing costs for low-income New Zealanders have doubled as a proportion of their income since the 1980s, and homeownership rates have fallen while household debt has increased substantially.  
Encouraging redevelopment is a bipartisan issue
Over the past decade, both center-left and center-right governments have deployed policies intended to rein in runaway house prices. These include both demand- and supply-side policies, such as a capital gains tax targeted at housing speculation, a ban on foreign investment in residential housing, fast-tracked inclusive housing developments, and state-subsidized housing development projects.  
The effect of monetary and macro-prudential policy on house prices has also increasingly been put under the spotlight. Upon the onset of the COVID-19 pandemic, the country's central bank dropped interest rates to all-time lows and removed macro-prudential restrictions on mortgage credit, fueling a further 20% to 40% increase in house prices in different regions across the country. The government reacted by pushing for the central bank to consider house prices when setting interest rates, raising concerns that the long-held independence of the central bank was being undermined.  
Typically, a political party's housing policies are criticized by the opposing party. However, the original announcement of the Medium Density Residential Standard in October was notable for being bipartisan. The minister for housing, Dr. Megan Woods, shared the podium with members of the opposition National Party when making the announcement, who made their own statements voicing their support. The bill was subsequently passed in December with bipartisan support. 
Bipartisanship lends the zoning reform credibility. Policies to promote redevelopment and densification are often unpopular with local residents, which raises the possibility that the policy will be overturned after the next election. But the opposition party's public support for the bill indicates that the law will remain in place even if it wins the next election in 2023. A bipartisan commitment removes political uncertainty and encourages developers and homebuyers to incorporate the policy changes into their decision making.  
Construction in New Zealand's largest city is booming
This is not the first time New Zealand has turned to zoning reforms to encourage housing construction. In 2016, the nation's largest city, Auckland, upzoned approximately three-quarters of its residential land area under the Auckland Unitary Plan (AUP). Auckland houses about a third of the nation's 5 million people, and is also the country's commercial capital, accounting for 38% of the gross domestic product. 
Although motivated by a variety of factors, the undersupply of housing and erosion of housing affordability were the prominent justifications for the zoning reforms introduced under the AUP. The municipal government for the entire metropolitan area, the Auckland Council, estimated that the plan tripled the dwelling capacity of the city. 
My work with Peter Phillips shows that the AUP has enabled a construction boom. New housing units permitted have increased every year since the policy was enacted, with all of these increases occurring in the city's upzoned areas. 
Immediately prior to the plan, new housing units permitted peaked at about 6,000 in 2015. By 2020, that figure had climbed to over 14,300.  
The policy also shifted residential construction into attached multifamily housing. Immediately prior to the plan, new dwelling permits for attached housing peaked at 1,300 in 2015; by 2020, that figure had climbed to 8,100. This means that most of the 14,300 new dwelling permits issued in 2020 were for attached housing. The policy also stimulated an increase in detached housing, but the increase is not nearly as great. Prior to the policy, detached permits peaked at about 4,700 in 2015; by 2019, that figure had risen to just under 6,200.   
Upzoning also encouraged a more compact city by stimulating construction in Auckland's inner suburban areas, which span a radius of approximately 20 to 25 kilometers from the central business district. In 2015, about two in three housing permits issued were in the inner suburbs. By 2020, six out of every seven permits issued were for construction of a home in the inner suburbs.
The success of upzoning in Auckland provided the blueprint for more recent national zoning reforms, with the business case for the policy change based on construction activity and outcomes in the city's medium-density zones. 
Transit-oriented housing development further encourages more compact cities
The Medium Density Residential Standard comes on the heels of another national policy directive to encourage housing densification along public transit corridors. In 2020, the Labour government issued the National Policy Statement on Urban Development, which requires large cities to zone for residential structures of up to six stories within walking distance of rapid transit stations (approximately 800 meters, at the minimum recommendation).  
In addition to redressing the housing shortages that have accumulated over the past three decades, transit-oriented housing development is intended to lower energy consumption through shorter commutes and increased patronage of public transit, assisting the country to meet its carbon neutrality goals. 
New Zealand's reforms have increased housing construction, but home prices are still high
New Zealand's three zoning reform policies enacted over the past five years—the Auckland Unitary Plan, the National Policy Statement on Urban Development, and the Medium Density Residential Standard—add up to a shift to encourage more housing construction through a more compact form of urban development.  
The results from Auckland to date indicate that these reforms can enable housing construction and redevelopment. This is important, as rezoning reforms do not always achieve their anticipated goals. Understanding and identifying the catalysts that enabled construction in Auckland can help policymakers in the design and implementation of zoning reforms in the future.  
What remains to be seen is the extent to which zoning reforms can enhance affordability. If the increase in housing supply in Auckland and other cities can bring down house prices in the years to come, New Zealand's reforms can be a model for other countries struggling with housing affordability to follow.
Why the Stock Market Is Tanking, and What Investors Should Do Now
"Stay focused on where you might be a year from now rather where you might be a month from now."
This is a scary moment for stock market investors.
The S&P 500, a common benchmark used to measure how the stock market is doing overall, fell into correction territory Monday following its worst week since March 2020. (A market correction is a decline of between 10% and 20% from its most recent high.) The news comes after a rough start to the year for investors overall, with tech stocks and cryptocurrency suffering particularly bad price dips.
Swings in the stock market are hard to stomach, especially for investors who have gotten used to strong returns.
Here's what experts say is going on with stocks right now — and what you should do about it.
Why is the stock market down?
There are several factors impacting the stock market right now, including the Omicron variant of COVID-19 slowing economic growth and recent disappointing earnings results.
But the most important factor impacting stocks is the notion that the Federal Reserve is going to raise interest rates and remove liquidity from the market, says Jack Ablin, chief investment officer and founding partner at Cresset Capital. (Liquidity refers to how easily assets can be bought and sold.)
The market was also long overdue for a correction, says Jim Paulsen, chief investment strategist at The Leuthold Group. And now that prices have started to fall, investors are fearful.
"The reason it's trading like it's trading at the moment is just purely emotions," Paulsen adds. "You're not going to be too worried about fundamental reports — like economic reports or earnings reports even — until this market just technically finds some stability for a few days."
Investors are trying to "get out of the way" right now as markets fall, Paulsen says, driving the sell-off to continue. We've seen this before: In March of 2020, investors yanked $326 billion out of mutual funds and exchange-traded funds, which was more than triple the fund outflows seen in October 2008, the previous record, according to Morningstar.
"How low can this go? No one knows and until it shows some bounce and some stability for a period, I think emotions are going to be the primary thing that's pushing the market," Paulsen says.
What should investors do now?
So, should you panic? No, Paulsen says, adding that underlying fundamentals of the economy remain pretty solid.
"Stay focused on where you might be a year from now rather where you might be a month from now," he adds.
But there may be ways to better position your portfolio right now. The willingness of the Fed to keep interest rates low for so long has led to a risk-taking environment where the most volatile assets often did the best, Ablin says. Yet as the liquidity profile starts to tighten and getting access to capital becomes incrementally more difficult for investors, it's going to be the most speculative assets in the market that will feel the impact most.
So if you're invested in highly speculative assets, it might be time to consider taking some of that risk off the table, Ablin says. Cryptocurrency is one example of these highly speculative assets, and their prices are plummeting lately.
This could also be a buying opportunity. There are areas of the market that are pretty favorably valued and should do fine even if liquidity is removed from the market, Ablin says. Those include international stocks and small-cap growth stocks, which really didn't benefit from a lot of the central bank's liquidity and didn't rally with big tech stocks.
"Not only do they have more of a downside cushion but they may actually rise," Ablin says.
Frank Panayotou, managing director, UBS Private Wealth Management, said via email his firm is positioning client portfolios to favor the winners from global growth, including energy and financials, and that the global healthcare sector provides an appealing mix of defensive and growth characteristics. (Defensive stocks tend to be more stable even when the overall stock market is volatile, and growth stocks are those expected to grow at a higher rate than the overall market.)
Overall, the key to weathering market storms like we're seeing right now is to maintain a diversified portfolio — with a mix of large, small, domestic and international stocks as well as bonds, if that makes sense for you — and rebalance it regularly. (Rebalancing is when investors sell investments that have increased in value and replenish investments that have decreased in value to get their portfolio back to holding its target weights.)
You might also consider a safe hedge against inflation, by parking some of your money in Series I Savings Bonds ("I bonds" for short) or high-yield savings accounts, if you're worried.
---
Money Classic
To celebrate our 50th anniversary, we've combed through decades of our print magazines to find hidden gems, fascinating stories and vintage personal finance tips that have withstood the test of time. Dive into the archives with us.
---
More from Money:
Why Tech Stocks, Meme Stocks and Cryptocurrencies Are All off to a Rough Start This Year
What Crypto Investors Need to Know as Bitcoin's Price Plummets
'They Shouldn't Feel Alone': Many Investors Struggle With the Emotional Rollercoaster of Market Volatility