Lira Crashes To Record Low After Turkey's Erdogan Fires Three More Central Bankers
Lira Crashes To Record Low After Turkey's Erdogan Fires Three More Central Bankers
At this point, we've lost count of how many central bankers…
Lira Crashes To Record Low After Turkey's Erdogan Fires Three More Central Bankers
At this point, we've lost count of how many central bankers Turkey's authoritarian head Erdogan has fired, so a quick stroll down memory lane helped us remember:
One look at the headlines above reveals that Erdogan, who himself is technically the head of the central bank as he can replace any current central bank governor that does not do his bidding and swap in some figurehead, tends to have a short fuse when it comes to heads of TCMB when they don't follow the crackpot economic "theory" known as Erdoganomics according to which cutting interest rates is the way to lower inflation, not vice versa. It's also why back in June when the Turkish central bank kept rates unchanged despite Erdogan's prodding for a rate cut (even as Turkish inflation was well in the double digits), we predicted – jokingly – that Erdogan was about to fire everyone.
Turkish Central Bank Keeps Benchmark Rate Unchanged at 19%

Erdogan is about to fire everyone

— zerohedge (@zerohedge) June 17, 2021
Well, he didn't "fire everyone", but he definitely sent a message and back in September, the central bank shocked the market when it cut rates by 100bps to 18% with consensus again expecting an unchanged decision. The move sent the lira plunging to an all time low.
Alas, it turns out that the pace of cuts was not to Erdogan's liking and earlier today when we noted a Bloomberg headline that Erdogan was meeting with his central bank puppet, Kavcioglu, we said it was "game over" as more heads were about to roll.
*TURKISH PRESIDENT ERDOGAN MEETS CENBANK GOVERNOR: PRESIDENCY

And… game over

— zerohedge (@zerohedge) October 13, 2021
This time we were correct, and late on Wednesday evening, President Erdogan fired three members of the central bank's interest-rate setting committee in a midnight decree after meeting with Governor Sahap Kavcioglu who was appointed by Erdogan to lead the central bank in March, replacing his hawkish predecessor Naci Agbal.
Erdogan removed deputy governors Semih Tumen and Ugur Namik Kucuk, along with Monetary Policy Committee member Abdullah Yavas, according to the decree. He appointed Taha Cakmak as deputy governor and Yusuf Tuna as an MPC member.
According to Bloomberg, the changes followed a meeting between Erdogan and Kavcioglu on Wednesday evening, where the two discussed changes to the committee. Kucuk was the only member of the committee who voted against Kavcioglu's interest-rate cut last month, thus committing professional career suicide. Yavas didn't vote because he had contracted Covid-19 in the U.S., where he lives, but that was enough to prompt Erdogan's ire and to get him sacked.
Erdogan probably wanted to fire the head as well, but just last week, Erdogan's office refuted a Reuters report that said Erdogan is "cooling" on Kavcioglu in the job even though the central banker had cut rates just over a month ago – a move sure to make Erdogan happy – despite explosive inflation crushing Turkey's economy. The inflation rate was 19.6% in September, when Kavcioglu lowered the benchmark interest rate by 100 basis points to 18%.
Predictably, the lira – which has been hitting new all time lows almost daily – dropped to a record low against the dollar, and extended its losses to nearly 5% against the dollar since the governor delivered his surprise interest-rate cut on Sept. 23.
The Turkish presidency posted a picture of the two men together on Twitter after the meeting, and Erdogan's office described the conversation as "positive." The presidency also said the two men discussed the general economic situation.
Cumhurbaşkanı @RTErdogan, Türkiye Cumhuriyet Merkez Bankası (TCMB) Başkanı Şahap Kavcıoğlu'nu Çankaya Köşkü'nde kabul etti. pic.twitter.com/zpjiEkcnVv

— T.C. Cumhurbaşkanlığı (@tcbestepe) October 13, 2021
The lira fell 1% to a fresh record low of 9.1883 per dollar…
… and by now it should have become clear to even the most die-hard EM fanatic desperate for carry that any long position in the lira is career suicide. Which is why very soon we may see a wholesale capital flight out of Turkey which leads to total economic catastrophe, not to mention hyperinflation, for the NATO member state.
Tyler Durden
Wed, 10/13/2021 – 20:05
dollar
inflation
monetary
policy
interest rates
central bank
monetary policy
Visualizing The World's Biggest Real Estate Bubbles In 2021
Visualizing The World's Biggest Real Estate Bubbles In 2021
Identifying real estate bubbles is a tricky business. After all, as Visual Capitalist's…
Visualizing The World's Biggest Real Estate Bubbles In 2021
Identifying real estate bubbles is a tricky business. After all, as Visual Capitalist's Nick Routley notes, even though many of us "know a bubble when we see it", we don't have tangible proof of a bubble until it actually bursts.
And by then, it's too late.
The map above, based on data from the Real Estate Bubble Index by UBS, serves as an early warning system, evaluating 25 global cities and scoring them based on their bubble risk.
Reading the Signs
Bubbles are hard to distinguish in real-time as investors must judge whether a market's pricing accurately reflects what will happen in the future. Even so, there are some signs to watch out for.
As one example, a decoupling of prices from local incomes and rents is a common red flag. As well, imbalances in the real economy, such as excessive construction activity and lending can signal a bubble in the making.
With this in mind, which global markets are exhibiting the most bubble risk?
The Geography of Real Estate Bubbles
Europe is home to a number of cities that have extreme bubble risk, with Frankfurt topping the list this year. Germany's financial hub has seen real home prices rise by 10% per year on average since 2016—the highest rate of all cities evaluated.
Two Canadian cities also find themselves in bubble territory: Toronto and Vancouver. In the former, nearly 30% of purchases in 2021 went to buyers with multiple properties, showing that real estate investment is alive and well. Despite efforts to cool down these hot urban markets, Canadian markets have rebounded and continued their march upward. In fact, over the past three decades, residential home prices in Canada grew at the fastest rates in the G7.
Despite civil unrest and unease over new policies, Hong Kong still has the second highest score in this index. Meanwhile, Dubai is listed as "undervalued" and is the only city in the index with a negative score. Residential prices have trended down for the past six years and are now down nearly 40% from 2014 levels.
Note: The Real Estate Bubble Index does not currently include cities in Mainland China.
Trending Ever Upward
Overheated markets are nothing new, though the COVID-19 pandemic has changed the dynamic of real estate markets.
For years, house price appreciation in city centers was all but guaranteed as construction boomed and people were eager to live an urban lifestyle. Remote work options and office downsizing is changing the value equation for many, and as a result, housing prices in non-urban areas increased faster than in cities for the first time since the 1990s.
Even so, these changing priorities haven't deflated the real estate market in the world's global cities. Below are growth rates for 2021 so far, and how that compares to the last five years.
Overall, prices have been trending upward almost everywhere. All but four of the cities above—Milan, Paris, New York, and San Francisco—have had positive growth year-on-year.
Even as real estate bubbles continue to grow, there is an element of uncertainty. Debt-to-income ratios continue to rise, and lending standards, which were relaxed during the pandemic, are tightening once again. Add in the societal shifts occurring right now, and predicting the future of these markets becomes more difficult.
In the short term, we may see what UBS calls "the era of urban outperformance" come to an end.
Tyler Durden
Sat, 10/23/2021 – 22:00
markets
bubble
JPMorgan Turns Positive On Crypto, Sees "A Bullish Outlook For Bitcoin Into Year-End"
JPMorgan Turns Positive On Crypto, Sees "A Bullish Outlook For Bitcoin Into Year-End"
The launch of the first Bitcoin ETF, BITO, even if based…
JPMorgan Turns Positive On Crypto, Sees "A Bullish Outlook For Bitcoin Into Year-End"
The launch of the first Bitcoin ETF, BITO, even if based on futures, was the culmination of seven years of anticipation for bitcoin bulls and it certainly did not disappoint: the leaks and the actual news propelled the cryptocurrency to a new all time high above $66,000 (with some profit-taking to follow).
Yet despite the clear impact on the price of bitcoin, which has more than doubled from its July lows, not everyone is uniformly bullish on the impact of the first bitcoin ETF. As JPM's Nick Panigirtzoglou writes in his latest widely-read Flows and Liquidity note, "the bulls are seeing this ETF as a new investment vehicle that would open the avenue for fresh capital to enter bitcoin markets" while the bears "are seeing the new ETF as only incremental addition to an already crowded space of bitcoin investment vehicles including GBTC in the US, ETFs listed in Canada since last February which have been already accessible to US investors, regulated (CME) and unregulated (offshore) futures, and plenty of direct investment options using digital wallets via Coinbase, Square, Paypal, Robinhood etc."
For its part, JPM – not surprisingly – falls into the skeptics' camp (we say not surprisingly because for much of 2021, the largest US bank has been publishing bearish note after note, as we have repeatedly detailed, urging clients to ignore the largest cryptocurrency and if anything, to take profits. In retrospect, this has been a catastrophic recommendation for anyone who followed it). 
According to the JPMorgan quant, the launch of BITO by itself will not bring significantly more fresh capital into bitcoin due to "the multitude of investment choices bitcoin investors already have. If the launch of the Purpose Bitcoin ETF (BTCC) last February is a guide, as seen in Figure 1, the initial hype with BITO could fade after a week."
Here, once again, JPM's superficial "analytical" approach shines through and we are confident that Panigirtzoglou, who has been dead wrong about bitcoin for the past year, will once again be wrong in his take on BITO. Instead, for a much more nuanced – and accurate – view of the daily happenings in bitcoin ETF land we recommend Bloomberg's inhouse ETF expert, Eric Balchunas who points to what is clearly an unprecedented, and rising demand for crypto ETF exposure (one can only imagine what will happen when Gensler greenlights an ETF based on the actual product not spread-draining and self-cannibalizing futures). Indeed, as Balchunas pointed out on Thursday, BITO – which is "maybe too popular for its own good", has already "used up 2/3 of its total bitcoin futures position limits, only about 1,700 contracts ($600m) left bf it hits 5k total. Could hit in next day or two."
$BITO has already used up 2/3 of its total bitcoin futures position limits, only about 1,700 contracts ($600m) left bf it hits 5k total. Could hit in next day or two. Great story on this from @kgreifeld https://t.co/xcVkw7Nbyl

— Eric Balchunas (@EricBalchunas) October 21, 2021
But what about the ramp in bitcoin prices in recent weeks? Surely the anticipation of the ETF launch was the main catalyst? Well, according to JPM the answer is again no, and instead the JPM strategist writes that "while we accept that bitcoin momentum has shifted steeply upwards since the end of September, we are not convinced the anticipation of BITO's launch was the main reason."
Instead, as the Greek quant explained before (see "JPMorgan: Institutions Are Rotating Out Of Gold Into Bitcoin As A Better Inflation Hedge") he believes that rising inflation concerns among investors "has renewed interest in inflation hedges in general, including the use of bitcoin as such a hedge."
As he further explains, "Bitcoin's allure as an inflation hedge has been strengthened by the failure of gold to respond in recent weeks to heightened concerns over inflation, behaving more as a real rate proxy rather than inflation hedge." This is actually correct, and as we have shown previously gold indeed correlates much more closely to real rates that nominals, although in recent months, even real rates suggest that gold prices should be notably higher, perhaps confirming ongoing precious metal price suppression of the kind we have previously documented to be emanating from the BIS.
In any case, JPM also updates a chart we showed previously, the shift away from gold ETFs into bitcoin funds, which was very intense  uring most of Q4 2020 and the beginning of 2021, has gathered pace in recent weeks.
In turn, by putting upward pressure on bitcoin prices, JPM argues that this shift away from gold ETFs into bitcoin funds likely triggered mean reversion  across bitcoin futures investors which had reached very oversold conditions by the end of September. This is shown in Figure 3 via the bank's position proxy based on CME ethereum futures. Looking at Figure 3, JPMorgan now claims that "there had been a steep decline in our bitcoin futures position proxy" which pointed to oversold conditions towards the end of September triggering a bitcoin rebound. This rebound appears to have accelerated over the past days ahead of BITO's launch with the blue line in Figure 1 fully recapturing all the previous months' unwinding. In other words, the price ramp into the bitcoin ETF launch was just a coincidence. Yeah right, whatever.
Where JPM is however right, is in its assumption that a significant component of bitcoin futures positioning encompasses momentum traders such as CTAs and quantitative crypto funds. Previously, the bank had argued that the failure of bitcoin to break above the $60k threshold would see momentum signals turn mechanically more bearish and induce further position unwinds; it also claims this has likely been a significant factor in the correction last May in pushing CTAs and other momentum-based investors towards cutting positions. At the end of July, these momentum signals approached oversold territory at the end of July and have been rising since then in reversal to last May-July dynamics. The shor-tterm momentum signal has exceeded 1.5x stdevs, a z-score that we would typically characterize as overbought for other asset classes but still below the exuberant momentum levels of January 2021.
So with both With Figure 3 and Figure 4 pointing to exhaustion of short covering and more crowded bitcoin positioning in futures, Panigirtzoglou sees bitcoin relying more on other flows outside futures to sustain its upswing. To him, this elevates the importance of monitoring Figure 2, i.e. the importance for the current shift away from gold ETFs into bitcoin funds to continue for the current bitcoin upswing to be sustained.
In our opinion, the main problem for bitcoin over the previous two quarters had been the absence of significantly more fresh capital as shown in Figure 5 and Figure 6. Figure 5 shows our estimate of retail and institutional flows into bitcoin with an overall downshift in Q2 and Q3 of this year. Similarly, Figure 6 shows that the previous steepening in the pace of unique bitcoin wallet creation has largely normalized returning to pre-Q4 2020 norms, again implying an absence of significantly more fresh capital entering bitcoin.
And yet, despite this latest (erroneous) attempt to downplay the impact of the bitcoin ETF, which JPMorgan says "is unlikely to trigger a new phase of significantly more fresh capital entering bitcoin", by now too many JPM clients are invested in the crypto asset as Jamie Dimon (whose opinions on bitcoin have been an absolute disaster for anyone who traded on them) recently admitted, and so while tactically staying bearish on the impact of BITO, not even JPM's house crypto "expert" can objective stay bearish in general, and as he concludes, "istead, we believe the perception of bitcoin as a better inflation hedge than gold is the main reason for the current upswing, triggering a shift away from gold ETFs into bitcoin funds since September."
So with Bitcoin now perceived as the best inflation hedge among non-traditional assets, Pnaigirtzoglou concludes that this gold to bitcoin flow shift "remains intact supporting a bullish outlook for bitcoin into year-end."
Tyler Durden
Sat, 10/23/2021 – 19:10
gold
inflation
markets
Different CPIs
A recent exchange [1] on Econbrowser regarding forecasts of CPI reminded me that — even among the official series — there's more than one CPI. Figure…
A recent exchange [1] on Econbrowser regarding forecasts of CPI reminded me that — even among the official series — there's more than one CPI.
Figure 1: CPI-all urban (blue), and CPI-wage earners and clerical workers (red), s.a., in logs 2020M02=0. NBER defined recession dates shaded gray. Source: BLS, NBER and authors calculations.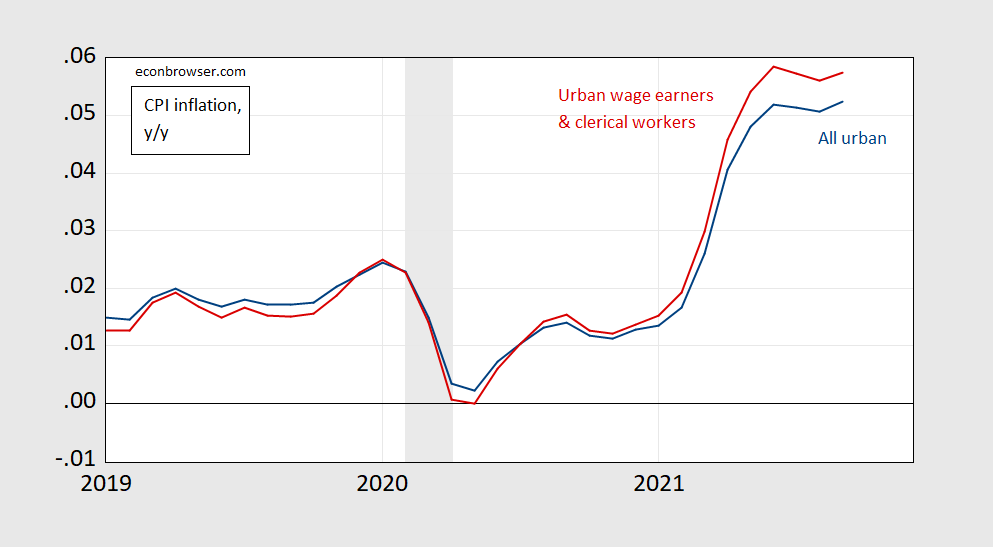 Figure 2: Year-on-year inflation rates for CPI-all urban (blue), and CPI-wage earners and clerical workers (red), s.a., calculated as log-differences. NBER defined recession dates shaded gray. Source: BLS, NBER and authors calculations.
Inflation for the bundle that wage earners/clerical workers has outpaced that for all-urban, by about 0.6 ppts by September.
Interestingly, the weights for the two CPI bundles indicate that wage earners/clerical workers have a higher weight on food, food away from home, and private transportation, and less weight on housing, than all urban consumers. As elevated housing costs feed into the CPI housing components, the places might switch.