Market weekly – US stocks pause after winning streak (read or listen)
The S&P 500 stock index ended September down by 4.8%, its first monthly drop since January and the largest fall since March 2020. Vincent Nichols,…
The S&P 500 stock
index ended September down by 4.8%, its first monthly drop since January and
the largest fall since March 2020. Vincent Nichols, investment specialist for
US equities, reviews recent events and the outlook for US stocks.   
Read the article or listen to the podcast with investment
specialist Vincent Nichols on US stocks.
What prompted the recent change in sentiment on US equities?
The S&P 500 Index ended a seven-month winning streak in
September. In seeking an explanation, the first thing that comes to mind – and
probably the most common or obvious answer that you hear for various
disappointments either at the company or macro level – is of course the rapid
spread of the Delta variant of Covid-19. It is only now that we are seeing
markets roll over, just as we are also seeing the Covid backdrop improve.  There are many variables at play, some
perhaps interrelated to the Covid resurgence.
US GDP seems to have peaked and it may now decelerate faster
than previously expected.  Many
economists have drastically slashed their estimates for third quarter US
growth.  Some of this is surely related
to consumers being more reluctant to get out of the house and spend on various
leisure activities. Many of the durable goods US consumers would rather spend
their money on face a myriad of supply chain disruptions.
The good news is that consumers still have the desire and
capacity to spend more, but current circumstances are pushing this spending a
little further down the road. If this does prove to be the main culprit for
recent weakness in stocks, then logically it would seem that now is yet another
great opportunity for investors to buy the dip.
The party is coming to an end
The other variable that may be more concerning is that we
are now getting into the late hours of the monetary and fiscal stimulus
parties. Revellers are a bit weary and thinking about the sobering-up that lies
ahead after the excesses.
Tapering of asset purchases by the US Federal Reserve is
likely to begin before the end of the year. Although the Fed will continue to
purchases substantial volumes of securities, prudent investors will be
discounting future expectations. They will note that the Fed's playbook is
looking increasingly hawkish.
A pay cut for many
The US emergency pandemic unemployment benefits ended in
September. As a result, around seven million Americans have just experienced
what amounts to a significant pay cut. This may ultimately prove to be a
healthy development from the corporate perspective. It should help to alleviate
supply and demand mismatches in the labour market. This in turn would relieve
upward pressure on wages, particularly among the lower skilled workers.
Overall, however, this seems to be having a negative impact on sentiment at the
moment.
Of course, the resurgence of the Delta variant has had a
direct impact on employment. We saw disappointing US job growth in August, with
particular weakness in Covid-sensitive industries. Initial unemployment claims
have also jumped in recent weeks.
Supply chain disruptions and the impact on inflation
A rise in inflationary pressures is certainly another factor
playing a role in market behaviour. Inflation at the wholesale level rose by
8.3% in August compared to August 2020. That is the largest annual gain since
the US Labor department began calculating the 12-month number in 2010.
Supply chain bottlenecks and a shortage of workers have
pushed prices higher. Sharp increases to input costs and wage hikes will
ultimately squeeze corporate profits, at least in the short term.
Companies with pricing power and resilient business models
and low, or at least stable, variable costs should have an advantage if such an
environment is sustained for an extended period.
Price rises for many raw materials should abate as the
Covid-related disruptions ease. We saw this earlier in the year with lumber
prices and are now seeing it, albeit in a less volatile manner, with iron ore
and steel prices.
Rising costs and margin pressure are one thing, but an
inability even to supply products or services to meet consumer demand is
another related challenge. This is already having an impact on the top line for
many companies, whether consumer durables or consumer services, but this is
likely more temporary.
The bigger concern is probably on the wage front, where
costs could prove to be stickier. The expiration of emergency unemployment
benefits should help slow further increases, but we are unlikely to experience
a significant reversal, if any. Companies with a larger proportion of
low-skilled workers could be the most at risk of margin compression.
Consumers in good shape
The consumer sector had a tremendous year last year,
particularly in the market rebound after the first quarter of 2020, so it is
not too surprising to see some relatively modest underperformance so far this
year, given these circumstances. If most of these issues do prove to be transitory, the financial buzzword of
2021, then there may be a good opportunity to allocate to the consumer sector
in near the future.
Meanwhile, even if government handouts do decline sharply,
consumer savings are still quite robust. And if the third wave of Covid
continues to subside in the US, the job market will also improve. All of this
should feed into healthier, more sustainable economic conditions, rather than
the economic climate being dependent on government stimulus.
The challenge now is timing. What does transitory really mean? We gain comfort from the fact that buying
quality businesses at reasonable prices should more often than not prove
profitable. More importantly, companies at the cutting edge of innovation that
are disrupting their industries and gaining share, have the opportunity to
outperform in any market environment. The pandemic has only accelerated many of
these market evolutions, so investment strategies that favour such investments
at the expense of those being left behind, should benefit disproportionately.
Outlook for US small caps  
After strong outperformance following news of the vaccine
rollouts last year and early this year, US small caps ran far ahead the rest of
the US stock market, but have since given up their lead. US small cap stocks
have come a long way. They are more sensitive to economic conditions, so the
fact that US growth forecasts have fallen significantly for the third quarter
after a likely peak in the second quarter is not supportive of stocks lower down the market cap
spectrum.
We should remind ourselves that in the six months between 24
September 2020 and 15 March 2021 the small-capitalisation S&P 600 Index
rose by 69%. That was more than triple the gain of the large-cap S&P 500.
Subsequently, however, valuations of small caps tailed off while prices of
large-company shares maintained a brisk rising pace. The Russell 2000, a
standard benchmark for US small caps, has significantly underperformed the
S&P 500 this year. Since July, for example, the index has fallen by nearly
4% compared with the S&P 500′s gain of almost 4%.
This underperformance has not coincided with fundamentals,
though. US small cap earnings expectations for 2021 have improved nearly every
month this year – and more rapidly than those of their large cap peers. This
leaves relative valuations looking very attractive, in my view. Small caps are
trading at a steep discount to large caps whereas historically they trade at a
modest premium.
Small caps have other merits too. The S&P 500  is increasingly driven by the information
technology and communication services sectors. Together these account for 39%
of the total index. Those high-tech sectors amount to only 16% of the small-cap
S&P 600. Over the longer term, the small-cap indices have the advantage of
being broadly diversified.
---
Any views expressed
here are those of the author as of the date of publication, are based on
available information, and are subject to change without notice. Individual
portfolio management teams may hold different views and may take different
investment decisions for different clients. This document does not constitute
investment advice.
The value of
investments and the income they generate may go down as well as up and it is
possible that investors will not recover their initial outlay. Past performance
is no guarantee for future returns. 
Investing in emerging markets, or specialised or restricted sectors is likely to be subject to a higher than average volatility due to a high degree of concentration, greater uncertainty because less information is available, there is less liquidity, or due to greater sensitivity to changes in market conditions (social, political and economic conditions). For this reason, services for portfolio transactions, liquidation and conservation on behalf of funds invested in emerging markets may carry greater risk.
Writen by Investment Insights Centre. The post Market weekly – US stocks pause after winning streak (read or listen) appeared first on Investors' Corner – The official blog of BNP Paribas Asset Management, the sustainable investor for a changing world.
UK Faces 'Plan B' Peril: COVID Multiplies The Economic Threat
UK Faces 'Plan B' Peril: COVID Multiplies The Economic Threat
Authored by Bill Blain via MorningPorridge.com,
"T'was the best of times,…
UK Faces 'Plan B' Peril: COVID Multiplies The Economic Threat
Authored by Bill Blain via MorningPorridge.com,
"T'was the best of times, t'was the worst of times …"
The risks of Plan B and a further Covid Lockdown are multiplying. It will clearly impact markets, but the real economic effects of Covid combined with energy costs, supply chains and bleak company earnings forecasts may be pushing us towards stagflation anyway.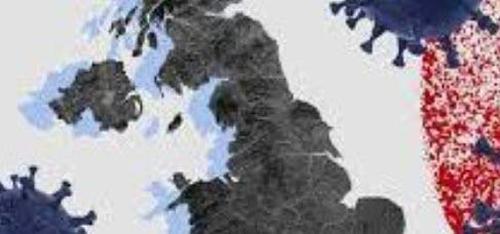 "How to address the biggest economic shock in 300 years?" asked UK Chancellor Rishi Sunak while doing his pre-budget politicking last week. Whatever you believe or don't believe about Covid, Sunak is quite right to consider it at the centre of the on-going economic crisis. Markets should factor that reality accordingly – which boils down to a very simple question: how much will Covid force Central Banks and Governments to act to stabilise the global economy?
This week pay attention to the UK Budget on Wednesday on how Chancellor Sunak addresses the ongoing critical-care needs of the UK by stepping away from his previous "policy-mistake" sounding mention of austerity spending cuts and tax-rises to make noises about increased "levelling out" spending. Hanging over everything will be the question – how much more economic pain could Covid inflict?
It's a tough question.  A new lockdown would be economic suicide. The UK government plans to ride it out – but the history of the last 19 months says they won't hesitate to make a U-Turn and institute Plan B if they think their credibility is on the line if the numbers of infections surge and the health service looks swamped. That's a potential trade: should you sell UK stocks now on the likelihood the government will panic? (And buy-them back almost immediately as the Bank of England stops the noise about a rate cut and QE taper.)
But… another question is how much will rising infection numbers cause the economy to contract anyway? How much has confidence already been dented?
Here in Blighty, It's a tale of two headlines:
Daily Mirror: Fears of new lockdown Christmas as scientists warn tougher Covid measures needed NOW.
Daily Telegraph: Coronavirus cases to slump this winter, say scientists.
The papers looks like it boils down to a political split – which may reflect the UK's national pride in our venerable National Health Service. How much we are prepared to sacrifice to protect the sacred cow of the NHS has become a badge. The left-leaning, Labour supporting Daily Mirror is peddling one set of scientific views, while the daily journal of the Conservative Party, the Torygraph, finds another set of white-coats to quote.
What does the threat of Plan B or further lockdowns mean for the UK economy? A quick glance round the motorway service stations we stopped in yesterday shows many more people wearing masks, and I'll be interested in how many people start working from again as the perceived threat level rises.
I wonder how rationally people consider the pandemic. The vector for the rise in infections is schoolchildren being children – their interactions will diminish this week due to mid-term holidays. Back in September, a British Medical Journal report (How is vaccination affecting hospital admissions and deaths?) said 84% of hospital admissions before July had not been vaccinated, although rates of vaccinated infections were rising – their conclusion was simple: unvaccinated people are 3 times as likely to go to hospital and 3 times more likely to die. There is a broad consensus the efficacy of vaccines wanes after 5-6 months – hence booster shots.
Maybe the best way to move forward is the Swedish solution of taking personal responsibility to rising infection numbers? However, research in the Guardian earlier this year suggests that strict-lockdown Denmark and easy-going Sweden experienced similar levels of economic dislocation, but Sweden suffered a death rate 5 times higher than Denmark! It's down to behaviour – Sweden kept the schools, offices, shops and pubs open, but people got careful, stopped going out and kept the kids at home anyway.
As the supply chain crisis continues, and energy prices go through the roof, we already know it's going to be a tough holiday season – retailers warning of toy shortages and price hikes on scarce Turkeys. It impacts consumer behaviour – we all want to spend, but if we can't because of rising prices and falling incomes, and it feels dangerous to do so – then what effect does that have on spending patterns? It's got to be negative.
We're seeing the supply chain effects beginning to hit corporate results – an increasing number of firms have been giving lacklustre holiday earnings guidance. Intel took a spanking last week on the back of expectations of a downbeat outlook. Snap got pummelled on the back of a disappointing Q3 number. This week is big for Big Tech earnings – and names from Apple to Amazon could be pummelled by supply chain shortages and the problems these cause meeting holiday demand.
Headlines about a downbeat Apple sales forecast have consequences – not just in making global consumers a little more depressed about the future.
The very first thing junior economists learn about is multiplier effects – on consequences as lay-people call them. A company finds it can't get it full allocation of Christmas units to sell so it cuts advertising, cuts stuff overtime and starts planning to cut investment in new plants, warehouses and future spending. Repeat over the whole economy, and with everyone with less in their pockets… as "transitory" inflation feels increasingly permanent, and you've got a perfect recipe for stagflation.
I often get accused of being a misery-guts and far too negative about the state of the global economy. My own market mantras include the classic: "Things are never as bad as you fear, but never as good as you hope".
Think about that for a moment. Covid caused the greatest economic downspike in 300 years, but the actions of swift government interventions to prop up commerce and fuel consumer spending kept the global economy functional, but wobbly. The markets quickly began to anticipate recovery and upside – yet these remain vulnerable to the news and perceptions around this Coronavirus.
Covid fears are multiplying again. Renewed Covid instability on the back of lockdown news from China, Europe, Australasia, wherever, will continue to roil markets. Supply chains remain fractured and the consequences of the virus effects on the global economy will continue.
Get used to it…
Tyler Durden
Tue, 10/26/2021 – 03:30

inflation
stagflation
markets
policy
The Gaslighting Of America
The Gaslighting Of America
Authored by Bob Weir via AmericanThinker.com,
I remember a comedy skit several years ago in which a woman comes…
The Gaslighting Of America
Authored by Bob Weir via AmericanThinker.com,
I remember a comedy skit several years ago in which a woman comes home unexpectedly and finds her husband in bed with another woman.  Shocked, she demands to know who the woman is and why her husband is doing this.  The couple get out of bed and start getting dressed as the man says to his wife, "Honey, what are you talking about?" The wife, perplexed at the question, says, "I'm talking about that woman!"  Meanwhile, the other woman, now fully dressed, heads for the door.  The husband says, "What woman?  Honey, are you feeling okay?  There's no woman here."  Feeling dazed and confused, the wife begins to question her own sanity.
That's a pretty good example of what the Biden administration is pulling on the psyche of the American people.  
What they're doing is not merely "spin," which has become SOP whenever a political party does a clever sales job on the public in order to keep certain facts from them.  No, this is much more than shrewd marketing; this is blatantly lying in the public's face and telling them they're crazy if they believe their own eyes.  
When we look at videos showing thousands of migrants coming across our southern border with impunity, while Biden and his cohorts tell us they have the situation under control, we're being gaslighted.
When thousands of Americans and Afghan allies are abandoned to be tortured and killed by Taliban terrorists, while Biden's press secretary, Jen Psaki, tells us the war ended successfully, we're being told not to believe what we're seeing.  
President Trump made our country energy independent, only to have his success overturned by Biden on day one of Biden's presidency.  That forced our country to once again be dependent on foreign oil.  Biden said his action would help protect the environment.  We scratch our heads and wonder how it makes sense to ship millions of barrels of oil on cargo ships from thousands of miles away, only to be used the same way it was used when it was processed here.  
Does foreign oil have less environmental effect than American oil?
When Biden proposes a $3.5-billion "infrastructure bill" that is heavily weighted toward social engineering and radical "Green New Deal" initiatives, we're told that everything is infrastructure.  
We're also told that the massive spending bill will cost "zero dollars" because the new taxes will be assessed only on the wealthy.  
Then, to add more consternation to a public getting groggy trying to keep up with twelve-digit numbers, Biden and his accomplices want another $80 billion for the IRS so its agents can check into every bank account that has transfers of $600 or more.  As if the IRS weren't already a liberty-crushing organization, Biden wants to provide it with more ammo to use against those who oppose him.  Nevertheless, we're told it's going after only tax cheats.  Why would these people need $80 billion more to do what they've always done?  Don't ask, lest you get audited for questions they don't want asked.
When the supply chain of cargo ships, carrying about a half-million shipping containers filled with goods from all around the globe, are stalled in the waters outside major American port cities, we're told by White House chief of staff Ron Klain that it's just "high-class problems."  
In other words, only the wealthy are waiting for the goods to arrive at stores.  Moreover, Jen Psaki mocks it as the "tragedy of the treadmill that's delayed" — another elitist poking fun at the reasonable expectations coming from the working class.
The list of gaslighting incidents is growing longer than Pinocchio's nose. 
Each time we are faced with another destructive lie, our attention is diverted to the latest Trump investigation or the probe of one of his supporters.  Keeping the January 6 imbroglio alive is one of those diversions.  The radical left has come to power by a sinister display of distractions from reality.  A major part of that distraction is using accusations of racism to muzzle opposition.  Most people will cower in fear of such labeling, even when they know in their hearts it's not true.  That's precisely what makes the accusations so useful to those who seek power through intimidation and distortion of reality.  
President Trump called out situations for what they are, without the odious and murky filtration of political correctness.  That's why the entrenched powers of Deep State corruption despised him.  
Now we're stuck with a president who says "what inflation?" as we pay higher prices than ever at the gas pump and the supermarket.  I seriously doubt that shoppers are questioning that reality.
Tyler Durden
Mon, 10/25/2021 – 21:10
inflation
The U.S. Budget Deficit
#CKStrong The U.S. Treasury findly released their monthly statement on Friday, which closed the books on the government's 2021 fiscal year (October to…
The U.S. Treasury findly released their monthly statement on Friday, which closed the books on the government's 2021 fiscal year (October to September).  The deficit came in at $2.8 trillion (12.0 percent of GDP, based on our Q3 GDP estimate) , a bit lower than FY 2020's $3.1 trillion (14.8 percent of GDP).  Those are some massive deficits, folks. 
U.S. Deficit Larger Than 95 Percent Of Global Economies
In fact, the FY 2021 deficit was larger than Italy and Canada's economy, bigger than 185 of the 192 country economies in the lastest IMF database.  Take a look at the peak 12-month deficit of $4.1 trillion in March.  The March deficit would have made the G5. 
Financing The COVID Deficit
How can the U.S. Treasury finance $5 trillion in borrowing over the past 18-months without spiking global interest rates, crowding out investment and other asset markets, and tanking asset prices?   They can't.  
The table below breaks down the financing in several different measures.  Check it out.
The bottom line is that 23 percent of the COVID deficit borrowing has been financed by an increase in Treasury bill issuance, easy given the mass excess liquidty on the short-end where the Fed is soaking up over a trillion with overnight reverse repos in order to keep short-term rates postives.  Most of that liquidity, by the way, was created from QE.   
Of the remaining $4.1 trillion of non T-Bill debt issuance, 75 percent was taken down by the Fed, albeit indirectly.   
No Judgement
There you have have it, folks, T-Bills and the Fed have financed the bulk of the COVID deficit and debt buildup.   No judgment, but policymakers are now going to have engineer a soft landing in the economy and asset markets as we approach a fiscal cliff to normalize the budget deficit and tighten up monetary policy. 
We are not throwing stones as they saved the world from a global economic castasophe.
We do criticize their continued irresponsible policies as inflation rages and stagflation sets in.  It's not wise, in our experience, to try and monetize supply shocks.  We learned that hard and painful lesson by doing so with the OPEC oil shocks.  
Narrow window for a soft landing.  Stay tuned. 
Email us or comment if you have questions.  
inflation
stagflation
monetary
markets
policy
interest rates
fed
monetary policy