One Bank Predicts $3 Trillion In Quantitative Tightening Coming
One Bank Predicts $3 Trillion In Quantitative Tightening Coming
Wall Street has officially jumped the shark: with the economy set to slow…
One Bank Predicts $3 Trillion In Quantitative Tightening Coming
Wall Street has officially jumped the shark: with the economy set to slow this year – even as supply-driven inflation refuses to relent – consensus now expects 3-4 rate hikes this year (with Jamie Dimon predicting as many as "6 or 7") – some are going so far as to predict how much shrinkage the Fed's balance sheet will see in the coming years once it begins any time between March and June.
Enter Deutsche Bank, which forecasts that once QT begins, the Fed's balance sheet will shrink from $9 trillion currently to $6 trillion.
As DB's Jim Reid notes overnight, citing the bank's economist Matt Luzzetti and rate strategist Steven Zeng, project that the Fed balance sheet would peak just under $9tn after QE completes in March, before falling back to eventually approach 20% of GDP from over 35% today, and around a third smaller than this peak, at which point it will be around $6 trillion.
That, according to Kostin, is a level more consistent with the pre-covid experience and a potential target highlighted by Governor Waller. Under this projection, the balance sheet would reduce by $560bn this year and $1tn in 2023, and the balance in outer years.
As an aside, there zero chance of that happening as by then the US will be in a recession and the Fed will be scrambling to ease as even the market now expects, projecting the next rate cut will take place between 2 and 3 years from today.
There is another reason why this will never happen: the market will implode long before the $3 trillion in QT is completed.
For context, Reid notes that between October 2017 and August 2019, QT reduced the balance sheet by around $700bn from c.$4.47tn to $3.76tn, at which point banks realized they dont have nearly enough reserves and we had the infamous repo crisis which ushered in "NOT QE."
The DB report approximates that a $650-700bn drawdown equates to around a 25bps hike so out to end 2023 they think the reduction will be equal to c.2.5 hikes.
Of course, this is all purely theoretical, and as even Reid notes, his personal view is that "the balance sheet will have to grow substantially again in the years ahead as the authorities are forced to use financial repression in order to make the growing public debt burden sustainable." We agree with this 100%. The only question is what crisis will catalyze the next explosion of the Fed's balance sheet.
Even so, the Fed is increasingly trapped because while it may have no choice but to pivot dovish soon, in 2018 the Fed had the luxury of a dovish pivot as inflation trended back down towards and below 2%. Or as Reid concludes, "will they have the option to be as flexible this time?"
Well, of course: all the Fed needs to do is inspire another global crash a la Lehman and reset the inflationary score. And this time a global pandemic won't cut it.
Tyler Durden
Fri, 01/14/2022 – 14:10
inflation
fed
inflationary
crash
Gold Continues Descent Following Powell's Hawkish Stance
Gold prices continued their downward slide on Thursday, after plummeting by the most in over two months following the Fed's
The post Gold Continues Descent…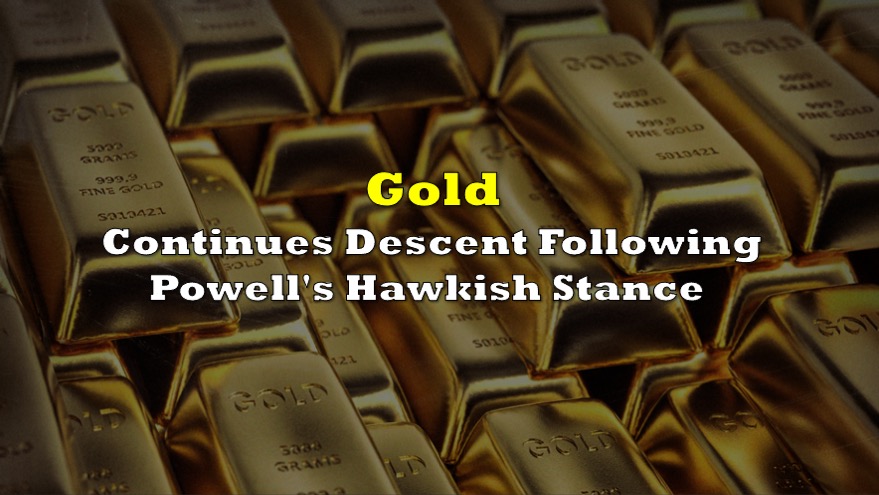 Gold prices continued their downward slide on Thursday, after plummeting by the most in over two months following the Fed's hawkish comments on taming inflation.
Spot gold fell below $1,800 per ounce at the time of writing, continuing its sharp descent from Wednesday's FOMC meeting, which heeded an unexpectedly more aggressive stance on raising borrowing costs. A rebound in the US dollar was largely responsible for the market's pressure on the bullion, after Fed Chair Jerome Powell announced the possibility of raising rates at each consecutive meeting starting in March.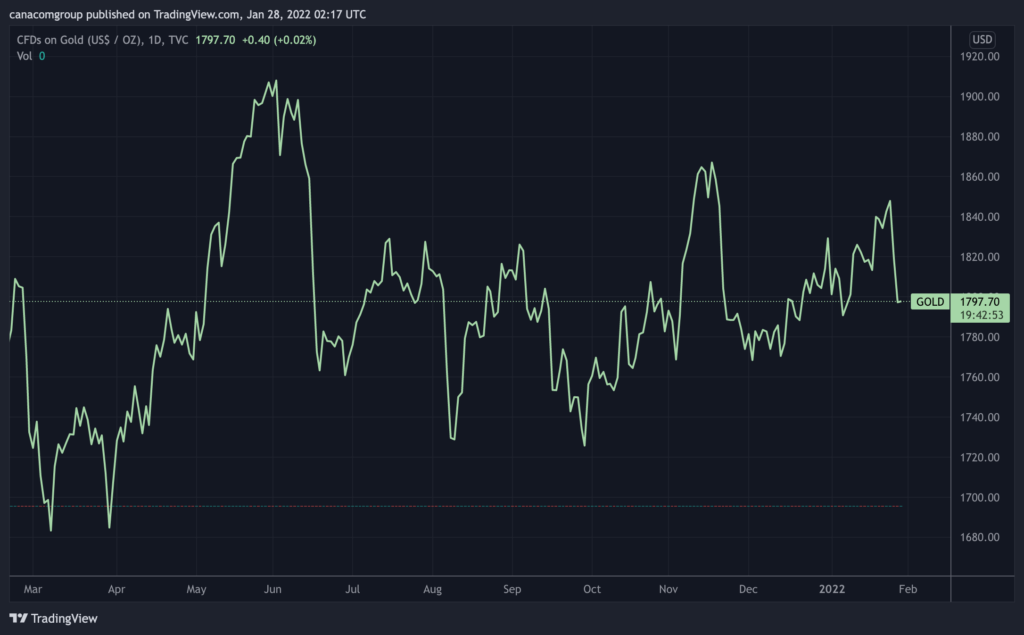 The latest slump in gold prices wiped out all gains accumulated since the beginning of the year, many of which were initially driven by the market's anticipation of price pressures surpassing bond yields, even amid a rate-tightening environment. However, Powell's latest hawkish comments decimated such expectations, with the 10-year bond yield soaring to the highest in nearly 19 months on Wednesday.
This prompted Goldman Sachs to revisit its 12-month gold price forecasts, upgrading the bullion's price from $2,000 to $2,150 per ounce following Powell's speech.
---
Information for this briefing was found via Reuters. The author has no securities or affiliations related to this organization. Not a recommendation to buy or sell. Always do additional research and consult a professional before purchasing a security. The author holds no licenses.
The post Gold Continues Descent Following Powell's Hawkish Stance appeared first on the deep dive.
The SPDR S&P 500 ETF's Simplicity Makes It a Timeless Buy
Imagine buying the whole market with a single stock purchase The SPDR S&P 500 ETF Trust (NYSEARCA:SPY) was built on this exact premise. The fund invests…
Imagine buying the whole market with a single stock purchase The SPDR S&P 500 ETF Trust (NYSEARCA:SPY) was built on this exact premise. The fund invests in diversified, publicly listed equities in the U.S. across all 11 sectors. SPY replicates the S&P 500 index (SPX) and aims to generate returns that corresponds to the performance of the companies in the SPX. And SPY stock has achieved remarkable success since it launched almost 30 years ago, in January 1993.
Source: Shutterstock
What's an index? An index is a basket of securities bundled together for the purpose of tracking a snapshot of a specific segment of the economy. For example, the S&P 500 Index is composed of 500 leading publicly traded corporations in the U.S., and it is weighted using market capitalization methodology. That means the bigger a company's market cap, the more of the index it makes up.
Investors often use SPX and other indices as a tool to measure economic health.
Unfortunately, an index is not a tradable instrument. However exchange-traded funds (ETFs) that track indices can be traded in the financial markets.
SPY Stock Overview and Performance
The SPDR S&P 500 ETF is the first ETF to ever be created, and it's the largest one by assets under management (AUM) — currently AUM exceeds $400 billion. Volume levels are around 84 million. The fund sits at an impressive 10.6% annualized return since its inception and boasts a 1.2% 12-month yield and 0.0945% gross expense ratio (GER). Meanwhile its Net Asset Value (NAV) currently trades around $430.
If someone had invested $10,000 into the SPY 10 years ago, today that person would have hold approximately $42,000. If someone had invested $10,000 around inception in 1993, the investor would now hold circa $170,500 (assuming dividend reinvestment). That's the power of compound interest, a long-term view and low-cost funds.
It's important to also remember that during the past 30 years, there have been three major global recessions: the early 2000's dotcom bubble, the 2008 global financial crisis and the 2020 Covid-19 pandemic crisis. Nevertheless, history shows that the fund still managed to generate solid returns despite global financial turbulence.
The chart below shows the SPY performance compared to other mainstream ETFs, including the Invesco NASDAQ 100 ETF (NASDAQ:QQQM), the Invesco QQQ Trust (NASADQ:QQQ), the iShares JPX-Nikkei 400 ETF (NYSEARCA:JPXN) and the Global X DAX Germany ETF (NASDAQ:DAX):
Source: Charts by TradingView
With these numbers, one could argue that SPY surpasses the long-term performance of numerous Wall Street hedge fund giants. Hedge funds boast excessive financial performance in return for higher fees. Fees are often as high as 2% for management and 20% from profits.
But about those returns. Between January 2021 and November 2021, hedge funds averaged 8.7% returns, yet the S&P 500 index returned 24% during the same period. In fact, a recent report shows that HF haven't beaten the market since at least 2015.
The Benefits of SPY stock
The fund is listed on multiple trading venues, thus international investors have access at almost any time. The ETF trades with the same straightforwardness as a stock, making the transaction process simple and safe.
Investing in the ETF provides instant diversification and exposure to prime large-cap corporations in the U.S.  The fund is fully transparent and regulated. Its massive trade volumes feed investors with ample liquidity.
The only tool an investor is required to have for buying the ETF is a brokerage account. Once you're set there, you can buy or sell SPY within seconds. The fund trades under the SPY ticker and can be traded via mobile apps, neobrokers and robo-advisors as well as established legacy brokers.
Investors can follow a simple yet effective investing strategies such as dollar cost average (DCA). DCA is the process of consistently investing in an asset across a time period. The philosophy of DCA implies that by investing regularly over time, investors can spread out volatility and avoid the risk of buying all at once at a market peak.
Despite SPY's minimalism, there are a number of prolific investors who are advocates of the index fund. Warren Buffett has famously stated that "… that the best thing to do is buy 90% in S&P 500 index fund."
Similar ETFs to SPY are Vanguard S&P 500 ETF (NYSEARCA:VOO), Vanguard Value ETF (NYSEARCA:VTV) and iShares Core S&P 500 ETF (NYSEARCA:IVV). All of them aim to track the renowned SPX benchmark.
Holdings and Risk Return
As of January 2022, the IT sector makes up 27.9% of the SPY, followed by Healthcare at 13.3% and consumer discretionary at 11.8%. Highest-weight companies include FAANGs like Apple (NASDAQ:AAPL), Microsoft (NASDAQ:MSFT) and Amazon (NASDAQ:AMZN). All three are currently over a $1 trillion valuation with exceptional fundamentals and product innovations. SPY is classified by Morningstar as having average risk and above-average returns when compared to the large-blend investment category.
Bottom Line on SPY Stock
SPY stock is a low-cost alternative to actively managed ETFs, hedge funds, private equity, alternative investments and individual stock-picking strategies. It requires little to no ongoing upkeep, hence its popularity amongst retail and institutional investors. And it has proven to be a bulletproof vanilla investment vehicle over the long term. For those reasons, I recommend SPY stock to anyone with a long investment horizon.
On the date of publication, Jonathan Tang did not have (either directly or indirectly) any positions in the securities mentioned in this article. The opinions expressed in this article are those of the writer, subject to the InvestorPlace.com Publishing Guidelines.
Jonathan Tang has gained extensive experience in the financial services industry in London. He has completed valuable projects for companies such as Bloomberg, London Stock Exchange Group and FactSet. He holds a master's degree in Investment & Risk Finance and has completed an MBA course at the London School of Economics. Jonathan has a passion for fintechs that democratize investing, stock market and public equities, ETFs, start-ups and real estate. 
More From InvestorPlace
The post The SPDR S&P 500 ETF's Simplicity Makes It a Timeless Buy appeared first on InvestorPlace.
Commodities and Cryptos: Crude's great week, Gold extends losses, Bitcoin rebounds
Oil Crude prices have been on fire, rising for a sixth straight week as the demand outlook improves and over geopolitical fears could lead to severe production…
Oil
Crude prices have been on fire, rising for a sixth straight week as the demand outlook improves and over geopolitical fears could lead to severe production disruptions. The supply side continues to support a tight market as OPEC+ is expected to stick to their plan of increasing output by 400,000 bpd in March, even though their compliance last month only hit 60% of plan.
Now that $90 oil is here, it won't take much to get prices to $100 and that will just intensify the global energy crisis.  News of an Omicron subvariant have not rattled markets as boosters appear to still be getting the job done.
WTI crude settled near session lows after the weekly Baker Hughes rig count data rose by 4 rigs to a total of 495.
Gold
Gold's pain may last a little longer until the Fed's aggressive pivot with tackling inflation is fully priced in.  The $1,800 level was a key support level for gold, so momentum selling has the potential to make this an interesting trade.  If it gets ugly quick and $1760 breaks, gold may not see much support until $1720.
Bitcoin
Bitcoin is embracing Wall Street's risk-on mood as it continues to form a base.  The all-clear signal has not been given, but crypto traders are embracing the relative calm that is being seen with the top cryptos.  Bitcoin may form a broadening formation between $34,000 and $40,000 next week.