Over 7 Million Lose Unemployment Benefits As Pandemic Programs Expire Today
Over 7 Million Lose Unemployment Benefits As Pandemic Programs Expire Today
While the labor picture in America has greatly improved since…
Over 7 Million Lose Unemployment Benefits As Pandemic Programs Expire Today
While the labor picture in America has greatly improved since the American Rescue Plan was passed in March, over seven million people will lose unemployment benefits today after the expiration of federal programs meant to bolster the economy during the pandemic (and which disincentivized millions from seeking work while inflation seeped into just about every facet of life).
As we noted last week, when the ARP was passed, extending pandemic-related unemployment until today, nearly 14 million Americans depended on the programs, while job openings continued to soar.
According to the Century Foundation, 7.5 million workers receiving two federal unemployment assistance programs will be cut off from aid, Axios reports. Additionally, nearly 3 million people will lose a $300 weekly boost to their state unemployment benefits.
Overall, the US Department of Labor reported last week that 12.19 million Americans still received unemployment benefits in the week ended August 14. As we reported at the time, while the number of people receiving help through regular state programs has fallen to 2.8 million, from a peak of more than 22 million in May 2020, more than 9 million Americans still relied on aid provided through either of the two aforementioned programs, as many who lost their job during the first wave of the pandemic have exhausted their regular unemployment insurance benefits or never qualified in the first place.
According to the US Treasury, the US government has spent over $830 billion of taxpayer funds on unemployment insurance between the beginning of the pandemic through Sept. 1. 
Bloomberg on Sunday noted that jobless Americans aren't only hurting, they're 'stranded in a bureaucratic nightmare, still waiting for benefits they are owed.'
Laura Ulrich, 59, was laid off in January from her job managing the distribution of coins in the Baltimore area for an armored car company. She spent the past week hoping that a summer of contacting officials in Maryland was going to bear fruit and more than $14,000 in unemployment insurance would finally land.

"It's becoming so frustrating. It's wearing on me. It's wearing on my blood pressure. I can just feel it," Ulrich said.

On Saturday, after Bloomberg News raised her case with the office of Maryland Governor Larry Hogan, $11,200 finally landed in her bank account.

Ulrich's happy moment came after months of frustrating encounters with a vital but occasionally cruel pillar of the economic safety net, experiences shared by many of the 8.4 million Americans who remained unemployed in August. Their ordeal highlights how the debate over whether supplemental benefits have kept people home and held back the job-market recovery often misses just how difficult securing aid in the first place can be for applicants.
In a nutshell - state agencies which handle payments are overwhelmed, and suffer from 'antiquated systems and a chronic lack of staffing," according to Bloomberg. A flood of new recipients during the pandemic, along with massive allegations of fraud, caused states to freeze numerous claims - including Ulrich's.
According to the Department of Labor, just 58% of claims resulted in a first payment within the required 21-day period YTD through June 30. Since then, "I'm not seeing a lot of states meeting that benchmark yet," according to senior Labor Department adviser, Michele Evermore.
In Florida, meanwhile, 58,000 accounts were frozen during a summer data breach. As of Sept. 1, there was still a backlog of 47,288 claims. In Maryland, just 41% of claims were paid within the mandated 21-day period.
The Unemployed Workers Union, the group leading the lawsuit, has collected more than 5,000 complaints from people caught in the backlog, according to Sharon Black, one of the organizers. A spokesman for Governor Hogan, Michael Ricci, said 20,795 unemployment claims were still "pending" as of this week. He blamed delays on the state's strict procedures to verify applications. 

In Georgia, the median age of appeals filed by claimants was 322 days, or more than 11 months, at the end of June, according to researchers at the Southern Poverty Law Center. The state Department of Labor is working seven days a week processing appeals, but it will likely take months to clear the backlog, said spokeswoman Kersha Cartwright. -Bloomberg
Ulrich, frustrated from months of no traction from Maryland, started sending them emails.
"What is the update? I will kill myself and make it very public. I want my earned money now!" Ulrich emailed July 1.

"Is this a scam?" she asked July 12.

"Why am I not able to get a response or my monies due me?" she said July 20. "I hope no one you know is forced into poverty by their government."
What's more, states are now re-examining unemployment claims approved early into the pandemic, and are reversing decisions - including sending out bills to people for "overpayments" - a bureaucratic mess that will take at least a year to clear out nationally, according to Century Foundation senior fellow Andrew Stettner, who likened the situation to an assembly line.
"If you put too many things on it, the whole thing breaks."
And so, while millions of Americans are losing their unemployment benefits today, an untold number are still waiting for states to process them.
Tyler Durden
Mon, 09/06/2021 - 14:10
inflation
This Has To Be A Mistake
This Has To Be A Mistake
While we were digging through the data for today's household net worth report we stumbled upon something that seem…
This Has To Be A Mistake
While we were digging through the data for today's household net worth report we stumbled upon something that seem beyond ridiculous: the ratio of Household Net Worth to Disposable Net Income. At 786% in the latest quarter, the chart at first appears to be a mistake but we triple checked it, and... well, here it is.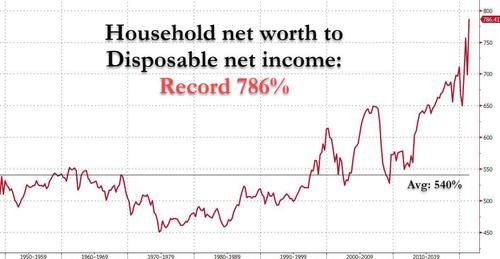 The latest, all-time high print is an increase from 698% in Q1 and also represents the biggest quarterly increase in history!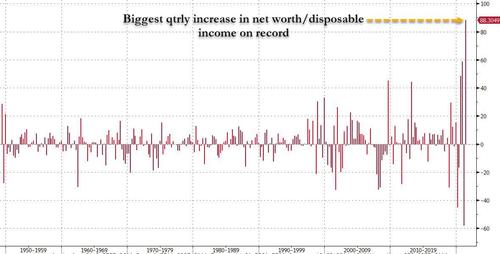 This number is so ridiculous, it is almost 50% higher than the long-term average of 540%. More importantly, it means that the total net worth number we reported earlier today, which in Q2 hit a record high of $142 trillion, is massively inflated on the back of what is obviously the biggest asset bubble on record.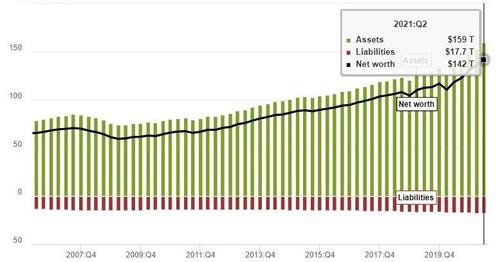 It also means that if one were to strip away the asset bubble, and net worth was purely a reasonable function of disposable income, then total net worth worth be haircut by 31%, or some $43 trillion, which incidentally, is equivalent to the net worth of the top 1% of US society...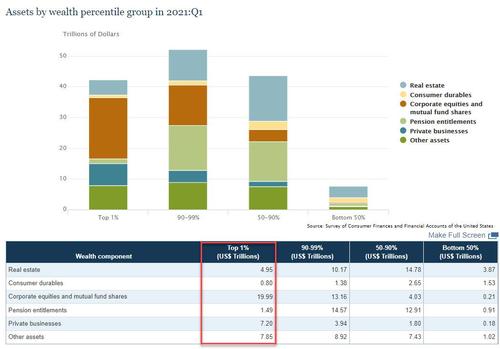 ... and which as we showed earlier today is a record 32% of total household net worth.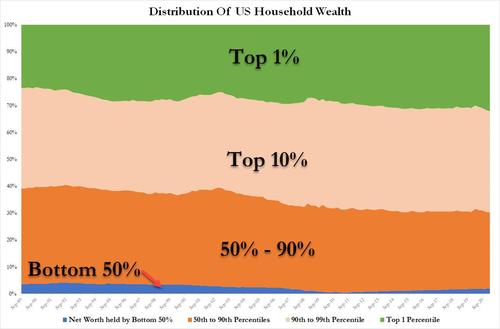 As an aside, the fact that the top 1% have gained $10 trillion in wealth since the covid pandemic outbreak, is probably just a coincidence, and yet...
Covid has been the best thing ever to happen to the wealthy and powerful. No wonder they don't want it to end

— Hipster (@Hipster_Trader) September 23, 2021
As for the chart which clearly has to be a mistake, we are sad to report that it isn't, and as politicians of both the Democrat and Republican party pretend to fight for the common man, all they are doing is enabling and accelerating the greatest wealth transfer in the world but not for nothing: they too want to be in the top 1%.
Tyler Durden
Thu, 09/23/2021 - 22:00
bubble
"Culture As An Asset"
#CKStrong Stunning. Hedge funds hoovering up trading cards as an "alternative to equities" with the same passion Brooks Robinson hoovered up ground…
Stunning. Hedge funds hoovering up trading cards as an "alternative to equities" with the same passion Brooks Robinson hoovered up ground balls.
This is usually a sign of the endgame for markets, i.e,, the precursor to a bear market. Think the "Great Beanie Baby Bubble" of 1999.
In general, there are two types of assets,
They can be rare—gold bars, diamonds, houses on Victoria Peak, bottles of 1982 Pétrus, Van Gogh paintings, stamps, beanie babies, or baseball cards or
They can generate cash flows over time  – GaveKal
Creating An Illusion Of Scarcity
Scarcity relative to the money stock is what its all about now, folks. 
It probably won't be long before the Fed has to bailout the baseball card market, no?
Full disclosure,  I do own a Mike Trout rookie card. 
Given the extreme valuations of all most all asset classes, coupled with the massive amount of money in the global financial system, markets are now really stretching, looking for, and actually attempting to create scarcity as a useful delusion to justify, rationalize, and drive speculation. 

Maybe I will start collecting poop as an "anthropological asset," put it the blockchain and super charge the price ramp by snapping a few pictures of each sample, converting them to NFTs to load up to the internet.
Then again, maybe all this is signaling the start of a big, big inflation cycle and the markets are looking to get out of cash and protect their purchasing power.   But that's too rational.  
Can you believe what markets have become, folks?   It is hard to see clearly when everybody is making money. 
gold
inflation
markets
fed
bubble
US Meat Prices To Remain Elevated Amid Depleted Reserves
US Meat Prices To Remain Elevated Amid Depleted Reserves
Beef, pork, and chicken in US cold storage warehouses have yet to recover from pandemic…
US Meat Prices To Remain Elevated Amid Depleted Reserves
Beef, pork, and chicken in US cold storage warehouses have yet to recover from pandemic lows and could continue to support higher prices. 
New United States Department of Agriculture (USDA) data shows beef reserves dropped 7.7% from a year ago in August, poultry supplies fell 20%, and pork plunged 44% to their lowest levels since 2017, according to Bloomberg. 
Jim Sullivan, commercial director for Stable USA, said low meat inventories would suggest meat prices will stay elevated. 
"Prices remain very elevated compared to seasonal expectations," Sullivan said. 
Soaring supermarket prices have been on the radar of the Biden administration as working-poor families allocate a high percentage of their incomes to basic and essential items. Higher food inflation eats away their wages and is why Biden recently increased SNAP benefits by a quarter. 
Earlier this month, the Biden administration finally addressed inflation as a concern but didn't blame the trillions of dollars in fiscal and monetary policies and labor shortages on increased food inflation but instead placed responsibility on meatpackers. 
White House National Economic Council Director Brian Deese said "pandemic profiteering" food companies are driving up supermarket costs for Americans. This is nothing more than a blame game and failed government policies that have not just increased food prices but have left supply chains reeling due to stimulus checks that disincentivized workers from working. 
New data of low meat supply at US cold storage facility is more bad news for the Biden administration, who will have to develop a new narrative about why meat prices aren't going down. If food inflation remains elevated into early next year, Americans might vote with their wallets during next year's midterms. 
Tyler Durden
Thu, 09/23/2021 - 20:00
inflation
monetary