Peeling The Economic Onion Will Bring On The Tears
Peeling The Economic Onion Will Bring On The Tears
Authored by Bruce Wilds via Advancing Time blog,
Unless you have the fortitude of a Greek…
Peeling The Economic Onion Will Bring On The Tears
Authored by Bruce Wilds via Advancing Time blog,
Unless you have the fortitude of a Greek God, peeling back the layers of our current "economic onion" will very likely bring you to tears. Looking back over the last several years could make a person argue that massive stupidity has been a huge factor in keeping the economy afloat. In short, those pulling the strings have constructed a false economy that is unsustainable and will at some point implode.
In most situations that I research it seems that as the investigation takes me deeper and deeper into the numbers I come upon some rather ugly realities that are difficult to face. In the metaphoric sense, the term peeling peel back the onion is an act someone undertakes in order to understand what lurks below. To expose the various layers of something investigators often find they have to peel away falsehoods and misconceptions to discover just how corrupt the message we are told truly is.
The area where most people seldom venture is protected by myths and half-truths. An example of this can be seen in America's relationship with China. For decades China exported deflation as it gladly traded cheap goods for jobs. That has come to an end, no longer is China's labor market the cheapest in the world. This is now beginning to show up in the cost China charges those buying its products.
The illusion of a robust economy has been propelled forward by the sheer "quantity" of financial growth and deficit spending rather than anything resembling quality. Poorly crafted and shockingly large spending bills have created a situation encouraging government agencies to spend like drunken sailors. It seems that again Federal agencies as well as state and local governments are flush with cash as the result of another stimulus package. 
While most politicians would shy away from describing the infrastructure bill as stimulus spending that is exactly what it is. The bill is designed more as a way to create jobs and push the economy forward than improve the country's infrastructure. Now, state and local governments must rapidly appropriate and assign that money as they find they are now facing a "use it or lose it" situation. Such rapid spending generally does not utilize or allocate money in a way that maximizes results.
The Above Chart From Northmantrader.com Indicates, This Is Not "Normal"
A lot of things or issues are contained in the layers of our "economic onion." Things such as, How a huge amount of our so-called economic growth or GDP during the last decade has been in the healthcare sector. All the expensive new hospitals and buildings that line America's interstates sporting names such as UnitedHealthOne, Aetna, Humana, and Anthem stand as monuments to Obamacare. To be clear, that is not a good thing, all this has not drastically improved healthcare, it has simply driven the cost through the roof. 
Then we have inflation which recently reached a 31 year high and appears to be heading higher. It is difficult to argue that wage inflation is on a rampage, at least in some sectors of the economy. When you see someone just out of high school with little or no training being offered north of $15 to take a low-level job that two years ago paid around $8 it is clear. Soaring food and energy prices are also adding to the mix.
Both of these issues dovetail with a massive growth in online retailing driven by companies being forced to compete with Amazon. America has yet to deal with the negative ramifications Amazon is showering upon it as it destroys small businesses in our communities. Yes, these are the same businesses that provide jobs for your neighbors, support local sports teams, and pay property taxes. Of course, Jeff Bezos did not do this alone, he had the help of politicians, our government, and the United States postal service, all of which joined in throwing brick and mortar retailers under the bus.
Another thing I wish to address here is how miss-leading claims of growing retail sales have squashed concerns the economy is in real trouble. Why would they not be higher, the recession caused by Covid-19 was the first in our history where even while millions of people were not working incomes rose. It should be noted much of the meager 1.7% rise in retail sales was due to inflation people, Yes, we are paying more for less, in some cases, a lot more. 
Only Over Many Years Do We Gain True Perspective
Throw in the soaring national debt, the soaring trade deficit, soaring inequality, underfunded pensions, and a few other ugly issues, and tears should be streaming down the faces of all who want to leave the world better off for future generations. The distorted nature of our current market becomes apparent when you look closer at the society we are becoming as people walk along with their eyes glued to their cell phones.
In our rapidly changing world, decades of economic perspective are badly needed to understand today's financial markets. As a person who cares about and is concerned about the economy, I find it very disturbing that so many people have forgotten or never taken the time to learn recent financial history. By recent, I'm referring to the last fifty to one hundred years.
The further we look back in history, it could be argued that the relevance and lessons we have learned weaken because the economy and financial landscape of today is considerably different from that of our predecessors. Still, those without a long-term view or outlook of the economy wander about with what might be called "blind spots." This means, they may be unable to imagine or may miss possible scenarios as to how the world might react to unfolding events. I always marvel when I hear some young expert telling people how to invest by cranking out the wisdom they picked up in school only last year. Remember, if you decide they have all the answers, you may find yourself generating a fresh batch of tears.
Tyler Durden
Thu, 11/25/2021 – 15:35
inflation
deflation
markets
Here Are Goldman's Four Market-Moving Omicron Scenarios
Here Are Goldman's Four Market-Moving Omicron Scenarios
Goldman Sachs is out with a comprehensive look at four scenarios for the new Covid-19…
Here Are Goldman's Four Market-Moving Omicron Scenarios
Goldman Sachs is out with a comprehensive look at four scenarios for the new Covid-19 'Omicron' strain, which at present appears to be less severe, yet possibly more virulent than previous strains.
On Friday, the World Health Organization declared Omicron as a 'variant of concern' after several confirmed cases in South Africa and elsewhere, causing markets to panic into the weekend. The new variant has approximately 30 mutations to the spike protein over the Alpha strain, making its effects, and spread, difficult to predict at this point.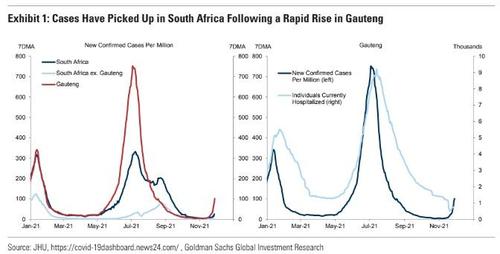 As Goldman notes, "The transmissibility, degree of protection from vaccines and prior infections, and disease severity of Omicron will shape its potential economic impact…"
To that end, analyst Daan Syruyven and team have come up with four scenarios for OMicron and the global economy.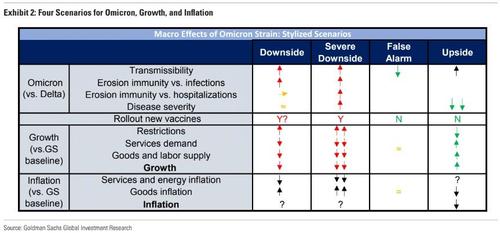 1. Downside scenario: Omicron transmits more quickly than Delta, and evades immunity from vaccines and prior infections. In this case, Omicron unseats Delta as the dominant strain, as well as "evades immunity against hospitalizations only slightly more than Delta, and causes similarly severe disease." As far as economic impact, it would result in another large Q1 infection wave across various economies, resulting in a global growth slowdown to a 2% q/q annual rate – 2.5pp below Goldman's current forecast.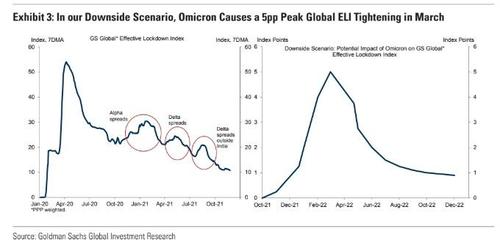 2. 'Severe downside' scenario: This less likely scenario would see both disease severity and immunity against hospitalizations substantially worse than with Delta, and would have a worse economic impact than the 1st scenario. The economic impact would of course be worse, while "The net overall inflation impact is again ambiguous although the moves in energy and services inflation(down) and in goods inflation (up) are larger."
3. False alarm scenario: Omicron is a nothingburger – and spreads more slowly than Delta. It has no significant effects on global growth and inflation.
In this scenario, the sharp rise in reported Omicron cases in Gauteng may reflect skewed sequencing, other data issues, or superspreading events. Finally, any ability of Omicron to outcompete Delta in South Africa does not necessarily carry over to other geographies with higher vaccination/lower prior infection rates
4. Upside scenario: Here, Omicron is slightly more transmissible than Delta but causes much less severe disease. This speculative 'normalization' scenario would result in a net reduction in disease burden on various systems, leaving growth higher than in Goldman's baseline. In this scenario, inflation is likely to decline more quickly than the baseline scenario because of a rebalancing of demand from goods to services, along with an accelerated recovery in goods and labor supply. 
In Conclusion, Goldman notes that Omicron 'could have sizeable growth effects,' however the range of medical and economic outcomes remains unusually wide. Because of this, "we are not making Omicron-related changes to our growth,inflation, and monetary policy forecasts until the likelihood of these scenarios has become somewhat clearer."
Tyler Durden
Mon, 11/29/2021 – 11:20
inflation
monetary
markets
policy
monetary policy
Ford Deal Back-Out Isn't the End of the Road for Rivian
Is seems like there's a constant influx of new electric vehicle (EV) start-ups, doesn't it? Among the most interesting contenders is Rivian Automotive (NASDAQ:RIVN),…
Is seems like there's a constant influx of new electric vehicle (EV) start-ups, doesn't it? Among the most interesting contenders is Rivian Automotive (NASDAQ:RIVN), and there's no shortage of buzz on social media about RIVN stock lately.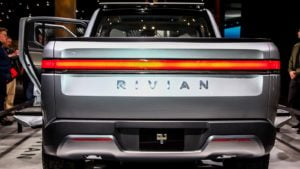 Source: Miro Vrlik Photography / Shutterstock.com
In case you didn't get the memo, Rivian specializes in big vehicles, especially trucks and SUVs. There's a no-cruelty focus here, as the interiors of Rivian's vehicles are made from 100% animal-free materials.
That's not the only feature that sets the audacious automaker apart. Specifically, Rivian's battery packs are designed to be easily removed from the vehicles, and can either be recycled or used in "second-life" applications such as stationary storage.
A collaboration with an automotive-industry icon also provides a unique advantage to Rivian – yet, this appears to be partnership in flux, and possibly in a state of dissolution. It's something for prospective investors to consider, though it actually might not be a deal breaker.
A Closer Look at RIVN Stock
RIVN stock started off with a winning streak, rising for five consecutive trading days after Rivian's initial public offering (IPO).
That's a great start, though as the old saying goes, stocks don't just grow straight to the heavens. In other words, no stock is destined to go up without any retracements.
This harsh lesson was learned on Nov. 17, when RIVN stock tumbled by as much as 18% in a single trading session.
Even on that day, however, the share price was still comparatively high as it settled into the $140s. Bear in mind, the Rivian IPO was priced at $78.
The chatter surrounding RIVN stock has been bearish lately, as the share price pulled back to $118 in the days leading up to Thanksgiving.
Cautious traders might choose to wait for the selling pressure to subside before taking a position.
If your long-term view on Rivian is still optimistic, though, then it could be fine to pick up a few shares at the current price.
An Alliance Is Formed
It's typically a good thing when a newer start-up has a big-money backer. This is especially true when that backer is an iconic business with extensive resources.
Thus, it was certainly a positive development when Ford (NYSE:F) took a 14.4% stake in Rivian.
Sure, Rivian has other big-name backers. These include Amazon (NASDAQ:AMZN) with a 22.4% stake, and T.Rowe Price (NASDAQ:TROW) with 18.8%.
But of course, there's something special about the connection between Ford and Rivian. After all, they're in the same industry, and have similar visions of producing clean-energy vehicles.
Heck, there was even an agreement between the two automakers that extended far beyond taking a stake in Rivian's shares.
Reportedly, in 2019 the two companies planned to work together to create an "all-new, next-generation battery electric vehicle" using Rivian's development platform.
High Hopes, Harsh Reality
At that time, there was no reason to believe that this collaboration would fall apart.
"As we continue in our transformation of Ford with new forms of intelligent vehicles and propulsion, this partnership with Rivian brings a fresh approach to both," former Ford CEO Jim Hackett assured.
A funny thing can happen when companies change their CEOs, though. Priorities can change, and partnerships formed under previous CEOs can fall through.
With current CEO James Farley at the helm, Ford has strongly focused on its own line of EVs.
So, perhaps a break in relations was inevitable.
"We respect Rivian and have had extensive exploratory discussions with them, however, both sides have agreed not to pursue any kind of joint vehicle development or platform sharing," Ford revealed not long ago.
The ties between the two companies isn't completely broken, though. Ford is still a major investor in Rivian.
Furthermore, Rivian took in billions of dollars in proceeds from the IPO. That, undoubtedly, will help the company stay afloat as Rivian develops and markets its tough but eco-friendly EVs.
The Bottom Line
The loosening of ties between Rivian and Ford may be a tough pill for some investors to swallow.
Still, Ford still has a stake in Rivian. Plus, there are other big-name backers in the mix.
So, RIVN stock isn't dead in the water. Setbacks are part of the business world, and sometimes they provide opportunities for audacious EV-market investors.
On the date of publication, David Moadel did not have (either directly or indirectly) any positions in the securities mentioned in this article. The opinions expressed in this article are those of the writer, subject to the InvestorPlace.com Publishing Guidelines.
More From InvestorPlace
The post Ford Deal Back-Out Isn't the End of the Road for Rivian appeared first on InvestorPlace.
Will the Anointed Experts Get It Wrong Again?
The emergence of the new Omicron coronavirus strain is roiling financial and precious metals markets. Investors fear government health officials will order…
The emergence of the new Omicron coronavirus strain is roiling financial and precious metals markets. Investors fear government health officials will order new lockdowns to try to contain it.
Never mind that previous lockdowns don't appear to have worked. Some of the most draconian were imposed by Michigan governor Gretchen Whitmer. Her state now records the nation's highest seven-day rate of infections.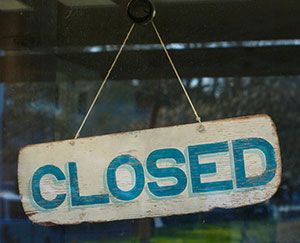 The so-called experts who craft official guidance, such as Dr. Anthony Fauci, have been wrong at every turn.
The list of things they have gotten wrong about COVID-19 would be too extensive to document here. But their credibility on everything from the origins of the virus to the effectiveness of masks, social distancing, and vaccines has been shot.
All the while, the virus seems to defy all attempts to predict its upturns, downturns, and breakout variants.
Back in the summer of 2020, when public health authorities were ordering churches and schools closed, and weddings and funeral services cancelled, they inexplicably endorsed mass civil unrest by Black Lives Matter protestors.
The extent to which the riots helped spread the virus is unknown, but they helped unleash a record-breaking surge in violent crime that is still ongoing.
Now the experts are worried that a recent wave of organized looting sprees…is being called looting.
According to San Francisco's ABC7, "Experts caution use of 'looting' in describing rash of Bay Area smash and grabs."
Much of what gets pushed by the mainstream media as expert opinion is not grounded in sound science at all. The good news is that because the bias has become so blatant, more people are seeing through it.
More people are becoming skeptical of official pronouncements – be they from government health bureaucrats or central bankers.
The Federal Reserve has certainly lost credibility on inflation being transitory. The White House has lost credibility on the economy being strong. And Wall Street may lose credibility with investors if artificially high valuations do prove to be transitory.
Markets are inherently unpredictable.
Holding gold and silver bullion is a great antidote to many of the threats currently facing financial markets. However, prudent investors should be skeptical even of experts who tout precious metals. (Including us!)
If you're stacking gold and silver coins based solely on the price forecast of some guru, then you may be doing the right thing for the wrong reasons.
If the guru changes his forecast, will you suddenly change your investment strategy (perhaps at the exact wrong time)?
While there may be a place in your portfolio for trading and speculation, the purpose of a core precious metals holding is to protect against unpredictable events at all times.
The case for having such a holding is based on the very modest proposition that you don't know what will happen next – and neither does any expert.
gold
silver
inflation
markets
reserve
metals
precious metals