Rabobank: The NecronOmicron Has Been Opened, And The Results Will Be Terrible
Rabobank: The NecronOmicron Has Been Opened, And The Results Will Be Terrible
By Michael Every of Rabobank
Put and Call of Cthulhu options…
Rabobank: The NecronOmicron Has Been Opened, And The Results Will Be Terrible
By Michael Every of Rabobank
Put and Call of Cthulhu options
"Nor is it to be thought…that man is either the oldest or the last of earth's masters, or that the common bulk of life and substances walks alone. The Old Ones were, the Old Ones are, and the Old Ones shall be. Not in the spaces we know, but between them….Their hand is at your throats, yet ye see Them not; and Their habitation is even one with your guarded threshold….Man rules now where They ruled once; They shall soon rule where man rules now. After summer is winter, and after winter summer. They wait patient and potent, for here shall They reign again." – H.P. Lovecraft, The Dulwich Horror
Yesterday was a terrifying day. Even market mania could not compete with the evil spirits that gripped them. US stocks started up but closed down, the S&P sitting at a key moving average; so did key bond yields, with a pronounced curve flattening, US 2s down 6bp peak to trough and US 10s down 10bp to 1.40%; so did energy; and so did basically everything. The Russell up 2%+ intraday but finished the day down over 2%, only the 9th time in history it has done that.
The ostensible reason for the terror was the new Covid variant, Omicron, being found in the US. Despite the fact this was inevitable given the recent pick up in global travel and cases elsewhere, the NecronOmicron was taken as being as evil a portent as the horror book 'The Necronomicon' created by H.P. Lovecraft a century ago.
Which is odd, because while there are genuine reasons to be deeply fearful of a virus variant that could underline what some sceptics have been warning about since day one —that, in a worst case, mutations might outrun vaccines, keeping us trapped in our present insanity forever— there is also a possibility Omicron is highly transmissible AND mild, which is exactly what one would *want* to see in order to defeat this biological foe. The scientific jury is still out on that one, but for once there is at least some logical reason to travel in hope.
Yet there was reason to fear other Old Ones: inflation and central-bank policy errors. Indeed, as The Hill states, 'Powell, Yellen say they underestimated inflation and supply snarls' in testimony to Congress. Of course, the message from Yellen was still that fiscal stimulus must proceed anyway, and was only a small driver of inflationary pressures, and all the proposed fiscal spending was inflation neutral(!) because it was revenue neutral(!)…because there are no differences in marginal propensities to consumer between rich and poor(?!); but Powell did not walk back the hawkishness he showed earlier this week when given the opportunity to do so. The horror!
Yes, Omicron could complicate re-opening the US economy, and is already disrupting supply chains in Asia again. It will of course be used as an argument for more stimulus ahead if so – on top of the same fractured supply chains that helped drive inflation so high in the first place. So, while markets might like the idea of said stimulus, they won't like the inflation that will come with it. After all, even the Beige Book just noted: "Prices rose at a moderate to robust pace, with price hikes widespread across sectors of the economy," without saying "But lumber! But used cars!"
Trust me, neither Powell nor Yellen truly understand this issue yet even after their limited mea culpas yesterday (as long-term shipping rates move higher, and The Federal Trade Commission ordered nine major retailers, including Amazon, Kroger, and Walmart, to release company information on ongoing supply chain issues to help better understand them). If they did, then just like hapless characters in Lovecraft novels, they would have been driven mad by the knowledge of their true powerlessness in the face of far greater forces.
Yet in that ignorance, if Omicron is just a shadow and not a monster, the Fed has little excuse not to press ahead with what the market is screaming will be a huge policy error. On which note, horror fans know the Necronomicon gained a second lease of 'life' in 'The Evil Dead' movie of 1981. You want to scare markets? Look where Fed Funds and 10-year Treasuries were then, if you dare: "Groovy", as Ash from the Evil Dead likes to say? I think not. Yet that is what happens when you push up demand in response to supply-side shocks that shift the economic paradigm in ways arrogant mortals don't understand – and, after the inevitable blood and tears, an adult with a shotgun and chainsaw hand has to sort things out. (As well as going all neoliberal, moving supply chains offshore, and so setting us up for the inevitable horror sequel we are now deep into.)
True, the collapse in energy prices we have just seen is deflationary – and indeed, the real fear for many is a surge in supply-side inflation, and then a Fed policy error, and then a deflationary monster on the other side. Which would (un)naturally release all kinds of ancient evils of its own on the policy front, no doubt. Volatility is something we can expect: things will go bump in the night – and intra-day too. What put and Call of Cthulhu options does that suggest?
And there are other Old Ones markets are opting to remain deliberately ignorant of. Escalation between Russia and Ukraine continues: Moscow claims Kyiv is stoking tensions along the border, alleging 125,000 Ukrainian troops, half its total, have been moved to the hotspot Donbass region; Belarus's Lukashenko gave a TV interview in which he stressed "Ukraine is ours," and he would support Russia if required (as if there was any doubt); US Secretary of State Blinken stated Russia is "laying the groundwork for an invasion"; and NATO argues Russia has no right to declare Ukraine can never join, which has always been a red line for Moscow.
To some, this is all taking place 'At the Mountains of Madness'. Yet things are starting to edge towards the territory where either someone blinks –meaning either the US or Russia gives enormous geopolitical ground on Ukraine and relative global power– or the growing tail risk is both sides create an inexorable dynamic towards another kind of terrible policy error. It would also flow through to supply chains globally in ways we cannot grasp – and comes on top of former Japanese PM Abe stating that if China were to move on Taiwan, it would be "economic suicide," prompting diplomatic complaints from Beijing.
Frankly, all we can be sure of now is volatility, and that if the Necronomicon is opened, the results will always be terrible. Worry about that more than Omicron?
Tyler Durden
Thu, 12/02/2021 – 10:32
inflation
markets
policy
fed
inflationary
deflationary
This Isn't the Time to Buy Shiba Inu
It's not been the easiest couple of months for cryptocurrency. The major cryptos have slumped in price as investor sentiment has waned. Meanwhile, it's…
It's not been the easiest couple of months for cryptocurrency. The major cryptos have slumped in price as investor sentiment has waned. Meanwhile, it's a bloodbath in smaller altcoins. Shiba Inu (CCC:SHIB-USD), for example, has slumped from a peak of 0.000080 last summer to just 0.000025 now.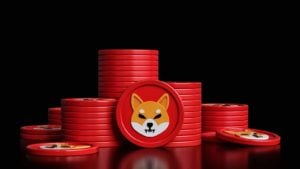 Source: Shutterstock
That represents a more than 60% decline for Shiba Inu holders since the peak back in October. Shiba's decline is hardly extraordinary. Other animal-themed cryptos such as Dogecoin (CCC:DOGE-USD) have suffered painful losses as well.
A general sense of apathy is starting to set in across the crypto ecosystem. El Salvador's highly-anticipated Bitcoin experiment appears to be struggling. Rating agency Moody's just downgraded that country's debt, citing rising risk from its Bitcoin experiment.
This will likely slow adoption by other foreign governments. For another, prominent crypto exchange Crypto.com just got hit with a major hack, and lost $15 million of funds. Those are just two of the various headwinds affecting the crypto market right now.
A Rough Time for Bitcoin and Crypto
Bitcoin has lost roughly 40% of its value since its recent peak. And the carnage is much worse in most of the smaller cryptocurrencies and tokens. Liquidity is drying up across many non-fungible token (NFT) and other such new projects and ecosystems.
This seems to be coming in part due to the huge drop in speculative growth and technology assets. The Federal Reserve has indicated that it will be rapidly tightening monetary policy and is leaning toward imminent rate hikes as well. This should serve as a deflationary force to counteract last year's rapid climb in both asset and consumer product prices.
In times of diminishing market liquidity, risky assets with minimal profits and cash flows tend to fall the most quickly. Cryptocurrency, inherently, generates very little in economic profit. Much of the interest in crypto, by contrast, is to hedge again runaway inflation and out-of-control central bankers.
With the Fed slamming the breaks on inflation and speculative assets, however, crypto has fallen into a major slump. This slide has spread into crypto-related equities as well. Names such as Microstrategy (NASDAQ:MSTR) and crypto bank Silvergate Capital (NYSE:SI) have plummeted in recent weeks.
During Bear Markets, Stick to Quality
There's a well-known pattern in investing. During rising bull markets, you see a dispersion across various assets. The concentration of funds in leading assets declines. People sell some of their larger more stable holdings to take a chance on smaller, newer, or riskier plays. As it pertains to stocks, this would be people selling down their FAANG holdings to buy an exciting new electric vehicle or quantum computing kind of stock.
Within crypto, you can see this concentration by looking at the portion of funds in major coins. During good times, the dominance — or market share — of Bitcoin (CCC:BTC-USD), Ethereum (CCC:ETH-USD) and other leaders will fall. People sell some of their BTC and buy hot new emerging projects. Or perhaps even meme tokens.
During bear markets, such as what crypto faces now, however, people return to the safe havens. Anything with a shaky or uncertain future is sold, and the funds are moved back into more secure plays such as Bitcoin or Stablecoins tied to the value of the U.S. Dollar. While Bitcoin is down 40% from its peak, many smaller cryptos are off 70%, 80%, or even more over the same stretch.
A big part of quality, as it pertains to crypto, is utility. Does the coin or token accomplish much actual function for users? Bitcoin is a store of value and has the biggest brand. Ethereum has the most well-known decentralized finance "DeFi" platform with lots of lending applications on it. Solana (CCC:SOL-USD) has emerged as a low-cost alternative for new crypto projects such as NFT collections. But what is Shiba Inu useful for? As of now, there's almost no utility to the Shiba Inu token.
Bottom Line
Cryptocurrency is in a difficult place right now. Liquidity is down. The Federal Reserve is reining in excessive speculation in financial markets. Hackers have hit crypto in recent days. And the list goes on. This is not an easy time to be allocating funds to the cryptocurrency marketplace.
Given that backdrop, traders should stick to high-quality cryptos for the time being. If and when the quality names find their footing, then it might be time to start diving deeper into the lower-tier altcoins. For now, though, tokens such as Shiba Inu that have little value beyond their memetic appeal will remain in the doghouse.
On the date of publication, Ian Bezek did not have (either directly or indirectly) any positions in the securities mentioned in this article. The opinions expressed in this article are those of the writer, subject to the InvestorPlace.com Publishing Guidelines.
Ian Bezek has written more than 1,000 articles for InvestorPlace.com and Seeking Alpha. He also worked as a Junior Analyst for Kerrisdale Capital, a sizable New York City-based hedge fund. You can reach him on Twitter at @irbezek.
More From InvestorPlace
The post This Isn't the Time to Buy Shiba Inu appeared first on InvestorPlace.
dollar
inflation
monetary
markets
reserve
policy
fed
monetary policy
deflationary
store of value
Commodities: Oil rally pauses, Gold lower, Bitcoin breaks $40k
Oil Energy traders were not surprised to see the oil price rally slow down.  WTI crude fell after a surprise build with US stockpiles and following a…
Oil
Energy traders were not surprised to see the oil price rally slow down.  WTI crude fell after a surprise build with US stockpiles and following a bloodbath on Wall Street that sent risky assets into freefall. Crude prices may not have a one-way ticket to $100 oil, but the supply-side fundamentals certainly support that could happen by the summer.  The next few trading sessions could be difficult for energy traders as oil prices may move more so on investor positioning ahead of Wednesday's FOMC policy decision and over a handful of brewing geopolitical risks, that include Russia-Ukraine tensions, Iran nuclear talks, and developments with global handling over North Korea. 
The crude demand outlook is also providing steadily positive support for oil prices throughout the rest of the year.  Schlumberger CEO Olivier Le Peuch, noted, "Absent any further COVID-related disruption, oil demand is expected to exceed pre-pandemic levels before the end of the year and to further strengthen in 2023." The oil market should remain very tight and if we have any disruptions to productions, that should easily send prices much higher. 
Gold
Gold prices edged lower as commodities got punished after Wall Street entered into a major de-risking mode.  Normally gold performs well when Treasury yields drop, but today was all about going back to cash. Earnings have underwhelmed and fears of how the economy will handle higher interest rates has many investors concerned that risky assets could continue to slide further next week. 
Given that large parts of the economy will still perform well this year despite higher borrowing costs, gold will eventually find the right balance of becoming both a safe-haven and inflation hedge.  Gold most likely won't be vulnerable to an excessive panic-selling market selloff given how strong the economy is positioned, so if prices can break past the $1850 barrier post-Fed, the path to $1900 should be there. 
Bitcoin
Bitcoin has quickly gone from a consolidation pattern to the house of pain.  The world's largest crypto plunged as crypto traders de-risk portfolios following the bloodbath in stocks and in advance of next week's FOMC policy meeting. Risky assets did not stand a chance today and momentum selling accelerated after Bitcoin broke below $40,000 level. Bitcoin remains in the danger zone and if $37,000 breaks, there is not much support until the $30,000 level.   
US Close: Market jitters ahead of Fed and massive earnings week, Netflix tanks
Wall Street has gone from debating how aggressive one should rotate out of tech into cyclicals, to sell it all. US stocks have been on a rollercoaster…
Wall Street has gone from debating how aggressive one should rotate out of tech into cyclicals, to sell it all. US stocks have been on a rollercoaster ride after abysmal results from Netflix. Investors have two big worries:  it seems every day traders are reminded inflationary pressures are not going away anytime soon and could prompt the Fed into becoming overly aggressive in tightening monetary policy. The other concern is that profit growth expectations may have been too optimistic and underpriced in the ballooning labor costs. Geopolitical risks are also adding fuel to the selling pressure.
Next week will be massive for tech earnings as Apple, Microsoft, Tesla, and Samsung report. Netflix shocked and if the other mega-cap giants hugely disappoint, the Nasdaq will be in trouble.
Netflix
Netflix shares collapsed over 20% after delivering disappointing subscriber guidance for the first quarter.  The streaming giant acknowledged that the competition has intensified and the impact to COVID disruptions is still being felt. The company is still posting strong revenue numbers and has a strong revenue outlook and has growth potential outside of North America.
It comes as no surprise that after today's plunge, at least nine firms lowered their ratings for Netflix.  Netflix is still the king of content and while this is the first heavyweight to post a rather disappointing outlook, it really isn't that bad.  The mega-cap stock's overall subscriber growth for the past few quarters was solid, and it could easily be expected that the first quarter would be soft as many people will be returning to pre-COVID behavior.