Real frustration: The surprising fall in real yields
The decline in US real (inflation-adjusted) yields over the last five months has frustrated many investors who had counted on a rise; instead, yields have…
The decline in US real (inflation-adjusted) yields over the last five months has frustrated many investors who had counted on a rise; instead, yields have touched new lows.   
US real yields plunged in 2020 with the imposition of lockdowns across the country and additional quantitative easing from the Federal Reserve, falling below the previous historic low from December 2012 hit during the eurozone debt crisis (see Exhibit 1).
With the discovery of effective coronavirus vaccines late last year, many investors anticipated a sell-off in real yields. This initially occurred, albeit modestly, aided by Democratic victories in Senate elections in Georgia, which raised market expectations for large-scale fiscal stimulus and above-average growth.
What is happening with real yields?
The surprise has been the subsequent rally in yields that took the 10-year yield to new lows, frustrating many investors who had been betting on the opposite.
Yields rebounded by 17bp in August as comparatively high vaccination rates appeared to slow the spread of the Delta coronavirus variant, and the Fed signalled it was moving closer to tapering its monthly USD 120 billion in asset purchases. Yields, however, have remained near the bottom end of the range they have been in since the summer of 2020.
Those investors who believed yields would stay low and held onto their Treasury Inflation-Protected Securities (TIPS) did well over the summer. Monthly inflation data came in much higher than expected, which boosted TIPS prices.
In addition, both real and nominal yields fell on the back of the spreading Delta variant, which paused the economy's reopening. Nonetheless, we believe there are reasons to expect a move higher in real yields.
Real yields should be higher
Our fair-value model suggests that real yields should be 50 to 60bp above current levels. Two of the key drivers for nominal yields falling over the summer (moderating GDP growth expectations and the Delta wave) should fade (see Exhibit 2).
We expect Covid infection rates to peak in the near future as vaccination rates rise and the wave naturally crests (as has been the pattern in Europe). Several months of economic data coming in below expectations means that it is now more likely that upcoming data will beat forecasts.
The recent statement from Fed chair Jay Powell supported the market's view that the central bank intends to announce the start of tapering at the November Federal Open Market Committee meeting, with purchases slowing from December through to the summer of 2022.
Tapering purchases should lead to higher yields as the Fed buys less, but the Treasury will also likely be reducing its bond issuance, meaning the net effect on yields could be neutral. An increase in the fed funds rate looks unlikely until the second half of next year. Lacking a strong, short-term monetary impulse, we see only a modest increase in real yields ahead.
Reading the labour market signals
A key driver of taper timing is the speed of recovery in the US labour market. After more than one million jobs were created in July, August disappointed with just 235 000. We nonetheless expect job growth to recover. As exceptional unemployment benefits end and the services sector recovers alongside falling Covid infections, we could yet see strong payroll growth in the months ahead.
Tellingly, 10-year Treasury yields rose slightly on the day of the latest payrolls announcement. This suggests the market believes the drag from the Delta variant on leisure and hospitality jobs will be temporary; at the same time, in August, job growth in industries less affected by Covid was close to previous months.
There is also the view that FOMC policymakers are reluctant to delay the QE taper. The recent increase in Treasury yields may imply that market positioning is now more neutral after having been short real yields (i.e., positioned for yields to rise) over the past few months.
Beyond the stand-alone merits of a short US real yield trade, the position can also act as a hedge for a multi-asset portfolio tilted towards risk, particularly equities. Valuations on US stock markets may be vulnerable to an increase in the discount rate applied to future earnings. A short (real) yield position could help to offset any equity price decline.
---
Any views expressed here are those of the author as of the date of publication, are based on available information, and are subject to change without notice. Individual portfolio management teams may hold different views and may take different investment decisions for different clients. This document does not constitute investment advice.
The value of investments and the income they generate may go down as well as up and it is possible that investors will not recover their initial outlay. Past performance is no guarantee for future returns.
Investing in emerging markets, or specialised or restricted sectors is likely to be subject to a higher-than-average volatility due to a high degree of concentration, greater uncertainty because less information is available, there is less liquidity or due to greater sensitivity to changes in market conditions (social, political and economic conditions).
Some emerging markets offer less security than the majority of international developed markets. For this reason, services for portfolio transactions, liquidation and conservation on behalf of funds invested in emerging markets may carry greater risk.
Writen by Daniel Morris. The post Real frustration: The surprising fall in real yields appeared first on Investors' Corner - The official blog of BNP Paribas Asset Management, the sustainable investor for a changing world.
inflation
monetary
markets
reserve
fed
central bank
Hong Kong Stocks Crash, Futures Slide As Markets Finally Freak Out About Evergrande Default Contagion
Hong Kong Stocks Crash, Futures Slide As Markets Finally Freak Out About Evergrande Default Contagion
Well, as we warned, the Evergrande contagion…
Hong Kong Stocks Crash, Futures Slide As Markets Finally Freak Out About Evergrande Default Contagion
Well, as we warned, the Evergrande contagion has finally arrived and with China closed for holiday traders are getting out while they can and where they can, and on Monday morning in Asia that means Hong Kong, where Evergrande - which is about to default - has crashed by another 13% this morning and is on track to close at its lowest market cap ever (to be expected ahead of a bankruptcy that will wipe out the equity)...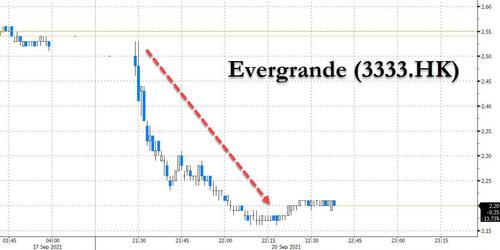 ... and with Evergrande property development peers such as New World Development & Sun Kung Kai Properties both down over 8%, and Sunac China and CK Asset plunging over 7%, the Hang Seng property index has crashed more than 6%, its biggest drop since 2020 to the lowest level since 2016...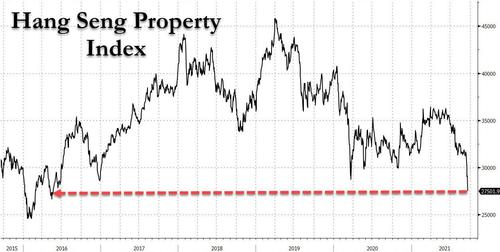 ... and the broader Hang Seng index is down 3.5% in early trading, to the lowest level since November 2020.
And with traders on edge about the rapidly spreading contagion (as we described earlier) even sectors supposedly immune to China's property woes, such as the Hang Seng Tech Index are plunging, sliding as much as 2.7%.
And speaking of Evergrande's imminent default, we noted earlier that while the company is scheduled to pay $83.5 million of interest on Sept. 23 for its offshore March 2022 bond, and then has another $47.5 million interest payment due on Sept. 29 for March 2024, the day of reckoning may come as soon as Tuesday: that's because Evergrande is scheduled to pay interest on bank loans Monday, with a one-day grace period. In other words, should it fail to arrange an extension, it could be in technical default as soon as Tuesday (for a much more detailed analysis of next steps please see "This Is How Contagion From Evergrande's Default Will Spread To The Rest Of The World".) Spoiler alert: a default is coming because Chinese authorities have already told major lenders not to expect repayment.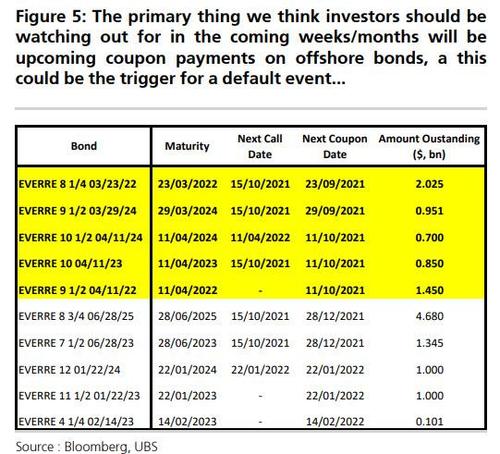 Incidentally, as Bloomberg's Mark Cranfield notes, Hong Kong stocks can't blame low liquidity for the meltdown as "trading volumes on the Hang Seng and H shares indexes are running well above the 10-day average on Monday as both drop by ~4%."
There's more: junk-rated Chinese dollar bonds slid by as much as 2 cents, according to credit traders, pushing their yield to just shy of 15%, the highest since 2011.
Other sectors are also getting hammered, such as Ping An Insurance, China's largest insurer by market value, which plunged 7.3% in Hong Kong.
"Investors may be concerned about highly-geared names and don't care about valuation nowadays," said Philip Tse, head of Hong Kong & China Property Research at Bocom International Holdings Co Ltd. "There will be further downside" unless the government gives a clear signal on Evergrande or eases up on its clampdown on the real estate sector, Tse said.
Meanwhile, pouring gasoline on the fire, Goldman's China anlyst Hui Shan published a note (available for professional subs in the usual place) on Sunday in which it discussed the rising risks from the property market, writing that even without the Evergrande debacle "housing activity fell sharply in July and weakened further in August" largely in response to China's structural reforms in the property sector (such as the "3 Red Lines"). At the same time, "concerns over Evergrande are rising and signs of financing difficulties spreading to other developers are emerging."
In the note, Goldman also estimates the potential impact of the coming property market crash on Chinese growth under different scenarios, which can be described as bad, worse, and terrible, with the bank expecting a GDP hit anywhere from just over 1% to as much as 4.0%. Needless to say, such an outcome would be devastating not only for China but for the world.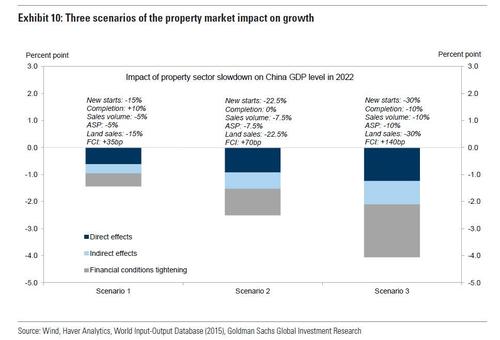 Looking ahead, Goldman notes that while for now, its baseline remains that any potential default or restructuring of Evergrande would be carefully managed by the government with limited contagion effect in both financial and property markets "this would require a clear message from the government soon to shore up confidence and to stop the spillover effect, the absence of which we think poses notable downside risk to growth in Q4 and next year."
In short, as we explained previously, it all depends on Beijing whether the current selloff accelerates, or if we see a furious surge as Beijing directly or indirectly injects another cool trillion or 10.
Meanwhile, as Bloomberg's bloggers write echoing what we said yesterday while traders may have been hoping there would be some clarity on the road ahead for the company, given it has bond payments due this week, "the complexity of the case may be the reason for a lack of communication from the authorities. That compounds the uncertainty for investors, and with China on holiday, the momentum for lower Hong Kong stocks are picking up pace."
So while contagion is clearly hammering Hong Kong in lieu of the shuttered China, it is also spreading to Australia where the Aussie dollar is  mining stocks have slumped as iron ore prices continue to collapse, with the industry group falling 4%. Among the biggest movers, Champion Iron fell as much as 12.5% in early trade Monday, continuing a four-day losing streak while Fortescue Metals dipped as much as 7%, falling to the lowest price since July last year.
Contagion has also moved beyond merely stocks, with US equity futures trading as low as 4380..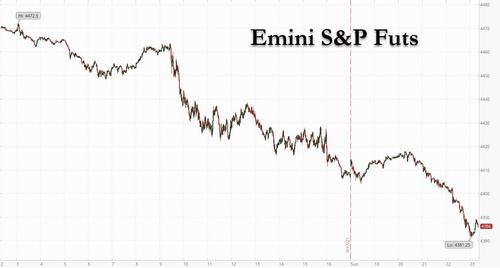 ... and is starting to impact FX, with the dismal mood lifting USD/HKD to the highest for September, and while USD/CNH is firmer, but for now, that is in line with broad dollar strength. Should EUR/CNH start trending higher, Bloomberg notes, "that would be a signal traders have become anxious about the health of the yuan amid the equities slump."
Should the silence out of Beijing persist, it's only a matter of time before the anxiety hits levels not seen since Sept 2008 as an outcome most traders thought impossible becomes all too probably.
Tyler Durden
Sun, 09/19/2021 - 23:24
dollar
markets
metals
mining
crash
iron
The Fed Has Liquidated Its Entire Corporate Bond Portfolio
The Fed Has Liquidated Its Entire Corporate Bond Portfolio
Last March capital markets as we once knew them ceased to exist: that's when the…
The Fed Has Liquidated Its Entire Corporate Bond Portfolio
Last March capital markets as we once knew them ceased to exist: that's when the Powell Fed crossed a Rubicon even Ben Bernanke dared not breach and announced that it would start buying single-name corporate bonds and ETFs under its Secondary Market Corporate Credit Facility (SMCCF) with both IG and HY names eligible for purchases in the process effectively nationalizing the corporate bond market.
Purchases under this facility, which were meant to reassure and stabilize the corporate bond market continued until December, at which point - with stocks at new all time highs - the Fed announced the cessation of its corporate bond purchases and entered the beginning stages of fully winding down the Secondary Market Corporate Credit Facility (SMCCF).
At the time, some market participants worried this might translate into a reduction in liquidity, but with purchases amounting to less than $500 million per week since July 2020 ...
... and an overall portfolio holding of just $14 billion, it was unlikely that any material deterioration in market microstructure would take place.
And after all, the Fed's purchases were merely symbolic: the Fed never wanted to become as BOJ-like whale in the corporate bond market, but merely to signal to the world that it would not allow bonds to drop further and would, if required, buy more. Of course, it was not required as the mere guaranteed backstop by the Fed was sufficient to the get dip buyers out in force.
And sure enough, fast forward to the first week of September, when the Federal Reserve has now been able to sell-off the entirety of its corporate bond portfolio with no effect on the market's microstructure; curiously this also comes at a time when the latest TIC report showed that in Julye foreign investors were net sellers of corporate bonds for the first time this year.
Yet while the SMCCF has now been closed, we continue to think its legacy will live on as a part of the Fed's policy toolkit with investors forever expecting its reactivation when another macro shock occurs and sends large gyrations throughout corporate credit markets. Or rather "markets" because a world where corporate bonds have no downside is just as centrally-planned as anything China could come up with, and while stonks continue to ramp up for now, there will come a time when everything will crash again and the Fed will once again remind us just how fake price discovery is in a world where the only thing that matters is the Fed's balance sheet as Citi's Matt King put it so elquqently in his latest report:
Some of the most interesting research of recent months concerns the "price inelasticity" of markets. Interesting, that is, to academic economists and monetary policymakers. For anyone who's actually tried trading in markets over the past decade, the idea that prices might be determined more by flows and liquidity and certain large, price-insensitive buyers than by a rational discounting of fundamentals sounds less like a revolutionary insight and more like a statement of the blindingly obvious

As one investor put it to us recently, central bankers seem to be the only market participants left who fail to appreciate the stranglehold their policies have over asset prices: everyone else gave up looking at fundamental value in favour of obsessing over the minutiae of central bank balance sheet line items a long time ago.
While we are currently on autopilot, we expect to be reminded quite soon just how critical the Fed's liquidity injections are for a binary world where the alternatives are simple: either the Fed prints hundreds of billions every quarter bringing the fiat system ever closer to its death, or we crash.
Tyler Durden
Sun, 09/19/2021 - 19:30
monetary
markets
reserve
policy
fed
central bank
crash
Former Lehman Trader On "China's Lehman Moment"
Former Lehman Trader On "China's Lehman Moment"
By Larry McDonald, former trader at Lehman Brothers, author of "A Colossal Failure of Common…
Former Lehman Trader On "China's Lehman Moment"
By Larry McDonald, former trader at Lehman Brothers, author of "A Colossal Failure of Common Sense" and publisher of the Bear Traps Report
My name is Larry McDonald, that is the UK cover above. In the years before the failure of Lehman Brothers, I ran a successful distressed credit business at what was the 4th largest investment bank in the U.S. – becoming one of the most consistently profitable traders in the fixed income division. In late 2008, early 2009 – with Patrick Robinson, we penned "A Colossal Failure of Common Sense" – the Lehman Brothers inside story. At least once a month, I tell my wife while wearing a hopeful smile —"if we sell a million books — we´ll break even on our Lehman stock." On September 15, 2008 – it all came crashing down in the largest bankruptcy in U.S. history. Known as, "the week that changed the world," a very painful experience indeed. I was down on the mat looking up at the referee as he delivered the count. It was one of those fateful moments most of us face. Staring into the abyss, drenched in blood-curdling uncertainty, there are times in life when we must get up. Even when it looks like all is lost in a valley of no hope.  Ultimately, the lucky ones learn there are valuable lessons in re-invention. The last 13 years have been a breath of fresh air. 
Life's Lessons
One of the important lessons in our book comes down to how to use leading credit risk indicators? In the 2007-2010 period, the global credit risk epicenter was obviously inside the US. In the 2011-2013 period, Europe´s banks were the focus during the Grexit panic. In recent years, Asia has become far more interesting, a new epicenter has been formed.
As far back as the spring of 2007, U.S. banks began to underperform financial institutions in Asia. By now, everyone knows most of the subprime mortgage credit risk was inside the USA with domestic banks more exposed than other banks around the world. Notice above, Goldman Sachs (purple above) 5 year CDS (the cost of default protection on the bank), began to meaningfully divergence from Standard Chartered. Standard Chartered PLC is an international banking group operating principally in Asia, Africa, and the Middle East. The company has far more credit risk exposure to China – Asia than U.S. banks. It is clear above, more than 12 months prior to Lehman´s failure, banks in the USA were dramatically underperforming from a credit risk perspective. In other words, in 2007 – the cost of purchasing credit default protection on Goldman Sachs was far more expensive than the bank's Asian peers. Indeed, elephants leave footprints – when large hedge funds see credit risk – they start placing bets months if NOT years before a credit event. The credit market sniffed out Lehman´s demise months BEFORE equity investors got the joke.
Now, let us think of Asia in the summer of 2015. The Fed was attempting "liftoff" – their first rate hike since 2004. Finally, in December of 2015, the Fed hiked rates 25bps for the first time in eleven years. In the process, as the central bank prepared the world for the now-infamous rate hike. In just six months the dollar ripped from 80 (July 2014) to 100 (March 2015). Emerging markets were in flames, the Fed had triggered a global dollar crisis. More than $1T left China (the country´s fx reserves were on the run). The world was in a real currency devaluation panic, with Asia wearing the epicenter title this time around.
Credit Risk, the Asia Epicenter 2015-2021
During 2015, the China currency devaluation crisis picked up steam in September and came to risk climax in Q3. But months before, the cost of default protection on Asia´s Standard Chartered began to sharply diverge from Goldman Sachs in the U.S. Once again, credit risk was screaming "there is a problem" in May 2015, by September the S&P 500 lost 16%. In 2007, Goldman's credit risk was so telling. Then, eight years later – banks in Asia would wear the credit risk epicenter title. Fast forward to 2021, Evergrande headlines are all the media rage, especially with the Lehman, the lucky 13th anniversary this week.
But, what are credit markets telling us this time? As you can see above – far right. Credit risk is calm on Asia banks with exposure to China, no difference to speak of. Central bank liquidity is so abundant, there is NO way Lehman would have failed today. Free markets no more. Adam Smith has one (invisible) hand tied behind his back. We have unintended consequences as far as the eye can see with Uncle Sam's fingerprints on every street corner.
The Trillion Dollar a Day Gravy Train
The flood of cash in U.S. interest-rate markets pushed the amount of money that investors are parking at a major central bank facility to yet another all-time high – every day a new high indeed. In recent weeks, every day more than Eighty participants have been lining up for nearly $1.2 trillion at the Federal Reserve's overnight reverse repurchase agreement facility. Large counterparties like money-market funds can place cash with the central bank. This easy money gravy train is hiding the next Lehman Brothers, all embraced in deception. In terms of bond yields, let's look around the planet. In the U.S., close to 90% of the junk bond market is trading below CPI inflation of 5.3% (highest since the early 90s).
Over the last 50 years, the highest this number ever reached was 7%. China's high yield credit market is just 8-10% away from its March 2020 lows in bond prices – highs in yields. All of which begs the question – How can the U.S.-centric JNK Junk Bond ETF yield 4.4% while China´s junk bonds are offering 10-12% cash flows?! Always with an important lens – our friend, Jens Nordvig reminds us – "foreign involvement is small in China. It is true that the high-yield bond market has a sizable USD component (mostly foreign). But relative to the US, where subprime exposure was sold around the world, it is a much more local (controllable) system." It has been clear for months, there is Evergrande credit contagion – it's just inside China at the moment (as for how Evergrande contagion could spread to the rest of the world, read "This Is How Contagion From Evergrande's Default Will Spread To The Rest Of The World").
An Unsustainable Reach for Yield Comes with a Price – It is NOT FREE
Each year that goes by while central banks force investors to reach for yield – any paltry plus return on capital will do these days – complacency builds over time to an extreme – dangerous level.  Mark my words – there were dozens of Bernie Madoffs, Al Dunlaps, and Jeff Skillings sipping mint juleps in the Hamptons and the beaches of the south of France this summer. Central bankers are these guys' best friends, that is the reality no one wants to admit. As long as central banks do NOT allow the cleansing process of the business cycle to function over longer and longer periods of time – credit risk will continue to build under the surface. Each month, week, and year we allow this charade to move forth – the corners capital flows into are deeper and deeper soaked with moral hazard toxicity. Today´s players on the field make "Dick Fuld" – former Lehman CEO –  look like a choir boy walking out of Sunday mass. The coming event will dwarf what was – "A Colossal Failure of Common Sense."
Tyler Durden
Sun, 09/19/2021 - 19:00
dollar
inflation
markets
reserve
fed
central bank