Really Black Friday – Five Serious Developments
Rabobank: Really Black Friday
By Michael Every of Rabobank
Welcome to Black Friday, where the emphasis is sadly on the darker interpretation…
Rabobank: Really Black Friday
By Michael Every of Rabobank
Welcome to Black Friday, where the emphasis is sadly on the darker interpretation of that title. I wish I could be referring to the classic South Park trilogy about the zombie-like surge of US consumption the day entails, but five far more serious developments are underway.  
#1. Key US banks scrambling to revise their rates views in the wake of the Fed's minutes. One headline is the Fed now seen accelerating tapering to $30bn a month, ending it by mid-2022, and hiking in June, September, and December, then twice in 2023, taking Fed Funds up 125bp. That would either see US 10-year yields move significantly higher, or the US curve threaten to invert. Are markets and the economy set up to handle that pace of hiking? Are emerging markets? What do they say about tech – "Move fast and break things"…well, the shoe may soon be on the other foot. (And note the Wall Street Journal suddenly grasping rents are about to lift US CPI sharply: it is not just used cars, folks.) Presuming Powell and Brainard get approved by the Senate ahead, would both back that course of action over time?
#2. The B1.1.529 Covid variant suddenly surging across Southern Africa has mutations that could potentially mean higher transmissibility and the ability to evade vaccine defenses. Scientists and the financial press are worried in equal measure, and are talking about it as potentially the 'next Delta'. There are already fresh travel restrictions from six African countries to the UK. Using plain language to not be 'Ivermectine-d' or 'Nordea-d', despite the market's focus on the ever-increasing vaccination threshold level that means 'Covid freedom', science always said a non-sterilizing vaccine and a mutating coronavirus were not a combination guaranteed to see Covid disappear like Smallpox. Rather, it could keep adapting to move ahead of vaccines. This is not to be anti-vaccine, but to stress that in a 'war' against a coronavirus, both sides can and do change strategy.
#3. The Russian build-up vs. Ukraine has military experts as concerned as Covid scientists:
The UK is sending its armoured division back to Germany again, whose new government promises a "less naïve" foreign policy towards Russia and China, and higher defence spending;
Rochan Consulting says the emptying of Russian storage facilities is a very ominous sign, as is logistics (sub)units being activated, while there has also been a sharp increase in anti-Ukraine and anti-NATO rhetoric coming from Moscow;
The CNA Director of Russian Studies underlines Russia has moved its red lines from Ukraine never joining NATO to NATO defence cooperation (e.g., arms transfers, use of territory, etc.) – which is already underway on the ground; and
The Director of @RiddleRussia talks of an imposed choice between Finlandization and war.
Suggestions are that were war to occur, Russia could at least destroy the dam in Ukraine stopping the flow of water to Crimea, and seize the key Black Sea port of Mariupol, but may grab land up to the border of Moldova. In direct terms for markets, the potentially impacted areas account for 32% of Ukraine's wheat production and 43% of barley; but a border-changing Russia-Ukraine conflict could up-end the world order in ways markets aren't willing or able to price for.
#4. Bloomberg says 'China's Property-Led Economic Slowdown Shows No Signs of Ending', as car and home sales dropped again in November according to their leading indicators. They also say only export orders are doing well and domestic demand remains in the doldrums. Perhaps that's why the China Securities Journal reports 'relatively high mortgage interest rates in some Chinese cities may be lowered in the future.' Via lower bank profits or targeted rate cuts, and is this not a retreat from the retreat from asset-bubble based growth? Caixin global reports trust firms are pulling back from property, cutting off funding for developers and bubblicious income for households. The state *might* fill the lending gap for developers, but who fills the gap for households relying on trust returns to save/consume? Many questions: few answers – and slower Chinese growth – and for Tencent, given it is again in regulators' crosshairs, it seems. By the way, if you want to see consumption, try Australia, where retail sales just leaped 4.9% m/m vs. 2.2% expected. The problem is that the RBA now have even more reason to be nervous: if you think the Chinese economy has problems dealing with a property bubble…
#5. The US is threatening to confront Iran at the International Atomic Energy Agency (IAEA) next month if it does not cooperate more with the nuclear watchdog, which could undermine the foot-dragging, I mean talks, about reviving the 2015 deal. Iran still insists the US has to walk back all sanctions first, and promise to never renege on the deal again, which is undeliverable by any president. Some observers say the US, with an eye on Russia and China, is not willing to act regardless of what Iran does. However, Israel has made its own position clear: its defence minister hopes a better nuclear deal will come out of upcoming talks, but is hedging his bets and building up military capabilities; and the prime minister says he will not be bound to the deal regardless.
Overall, therefore risk is off so far (albeit in Asian time, as the US still rubs its belly full of Turkey). US 2-year yields are down 3bp to 0.61% and 10s down 4bp to 1.60%, while USD/JPY is back under 115. And, as a reminder of how much wilder things can always get in markets, the Wall Street Journal reports 'Turks Abandon the Lira for Dollars as Currency Crisis Deepens'. Let's hope for the best, but imagine how the five risk points flagged above could conflate for both developed and emerging markets in a worst-case scenario.
Happy really Black Friday.
Tyler Durden Fri, 11/26/2021 – 11:00 markets policy interest rates fed bubble
JPMorgan Models War Between Russia And Ukraine: Sees Oil Soaring To $150, Global Growth Crashing
JPMorgan Models War Between Russia And Ukraine: Sees Oil Soaring To $150, Global Growth Crashing
With Morgan Stanley joining Goldman and calling…
JPMorgan Models War Between Russia And Ukraine: Sees Oil Soaring To $150, Global Growth Crashing
With Morgan Stanley joining Goldman and calling for $100 oil, and Bank of America's commodity strategist Francisco Blanch one-upping both, and today laying out the case for $120 oil…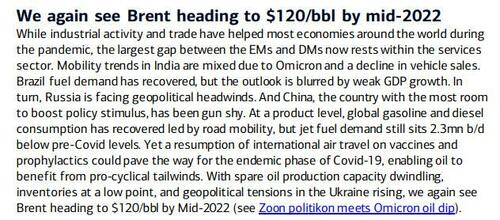 … on Friday afternoon JPMorgan trumped all of its banking peers with a report that is especially troubling if not so much for the implications from its "theoretical" modeling, but for the fact that Wall Street is now actively assessing what may be the start of World War 3.
In a note from the bank's economists Joseph Lupton and Bruce Kasman (available to pro subs) which picks up where our article "Shades Of 2008 As Oil Decouples From Everything" left off, JPM writes that oil shocks have a long history of driving cyclical downturns, with US recessions often associated with oil price spikes…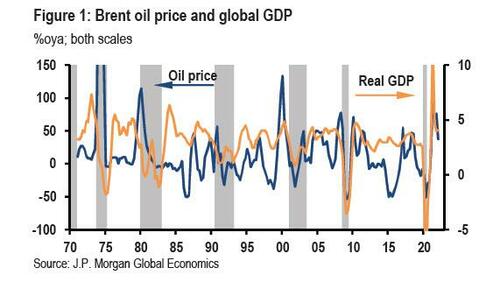 … most recently of course the surge in oil to all time highs in 2008, which some say sealed the fate of the global financial crisis.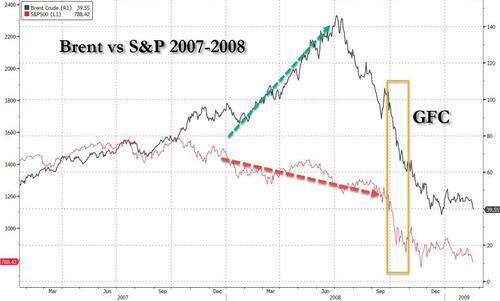 So looking at the latest geopolitical tensions between Russia and Ukraine, JPM warns that "these raise the risk of a material spike this quarter." That this comes on the back of already elevated inflation and a global economy that is being buffeted by yet another wave of the COVID-19 pandemic, JPMorgan sees the risk of a kinetic war breaking out as adding "to the near-term fragility of what is otherwise a fundamentally strong recovery."
Drilling down, JPM considers a scenario in which an adverse geopolitical event between Russia and Ukraine materially disrupts the oil supply. This scenario envisions a sharp 2.3 million b/d contraction in oil output that boosts the oil price quickly to $150/bbl—a 100% rise from the average price in 4Q21.
Given that this would be solely a negative supply shock, the impact on output is to reduce global GDP by 1.6% the bank calculates based on its general equilibrium model. And with global GDP projected to expand at a robust 4.1%ar in 1H22, the economist due project that "this shock would damp annualized growth to 0.9% assuming the adjustment takes place over two quarters. Inflation would also spike
to 7.2%ar, an upward revision of 4%-pts annualized."
It gets worse: in addition to the drag from a sharp contraction in oil supply our models estimate, there are two other channels through which this shock could damage global growth.
The first relates to the repercussions of a Russian intervention in Ukraine. The US, coordinating with allies, would likely impose sanctions on Russia. While the possibilities vary widely in scope, they will likely impact negatively on sentiment and global financial conditions.
Second, JPM estimates incorporate the realized behavior of major central banks over the past two decades whereby oil price shocks associated with geopolitical turmoil have been perceived to pose a greater threat to growth than inflation.
Against the backdrop of a year of already elevated inflation and extremely accommodative policies, JPM warns that central banks may display less patience than normal—particularly in the EM, where rising global risk aversion may also place downward pressure on currency values.
To be sure, as with any Wall Street analysis that models war, JPM is quick to caveat its findings, noting that "it is important to recognize that the scenario of a jump in the oil price to $150/bbl is premised on a sharp and substantial shock to the oil supply. History has proven that such large and adverse shocks do material damage to the macroeconomy. In this regard, the results reported here should not be a surprise but seen as useful for quantifying the damage based on a carefully specified general equilibrium model using generally accepted elasticities."
Boilerplate language aside, what is notable is that for months we have been wondering what "latest and greatest" crisis will replace covid as the Greenlight that central banks and governments need to perpetuate not only QE and NIRP, but also the all important helicopter money. Now we know.
Tyler Durden
Fri, 01/21/2022 – 15:27
inflation
commodity
Rent Prices Skyrocketed 14% Over the Past Year, Far Outpacing Inflation
As would-be buyers abandon their homeownership dreams, renting gets more expensive.
With inflation hovering around 7%, just about everything costs more than it used to, from groceries to heating oil to cars. Even worse, one of the biggest monthly expenses for millions of people — rent — has seen price increases that far outpace regular inflation.
According to new data from Redfin, the average monthly rent in the United States climbed 14.1% last month compared to a year earlier — the biggest jump in two years. The increase brings the average monthly rent payment in the United States to $1,877 as of December 2021, compared to $1,645 at the end of 2020.
East Coast cities including New York, Miami and Jacksonville have seen especially big spikes (up 30% or more year over year), while Austin, Texas, has been hit the hardest with rent price growth of nearly 40%.
Unfortunately, owning a home doesn't protect you from the soaring cost of housing: Mortgage payments are rising even faster than rent prices. The median national mortgage payment for homebuyers with a 5% down payment surged 21.6% on a yearly basis in December to $1,553, according to Redfin.
"The growth in mortgage payments has been driven by both climbing prices and climbing mortgage rates," Redfin Chief Economist Daryl Fairweather said in a statement. "And those rising mortgage costs push more potential homebuyers into renting instead, which pushes up demand and prices for rentals."
That's especially true for millennials, many of whom are entering their peak homebuying years but are choosing to rent instead thanks to an extremely competitive housing market. A recent study from RentCafe, a rental listing and research company, found that the share of millennial rental applications earning more than $50,000 per year rose to 43% in 2021 — a huge jump from 28% in 2017.
Which cities have the highest rent increases?
While rent prices are rising nationwide, some cities have seen especially big spikes. Here are the 10 cities where rent is rising the fastest, according to Redfin.
Austin, Texas: 40%
Nassau County, New York: 35%
New York, New York: 35%
Newark, New Jersey: 35%
New Brunswick, New Jersey: 35%
Miami, Florida: 34%
West Palm Beach, Florida: 34%
Fort Lauderdale, Florida: 34%
Jacksonville, Florida: 31%
Portland, Oregon: 29%
The average rent payment in Austin, which tops the list, is $2,290. Austin has one of the hottest housing markets in the country. The median home price in Austin rose nearly 19% on a yearly basis to $567,000 last month, according to Redfin. Mortgage payments in Austin rose 37.5% over the course of the last year, according to the new report. (Round Rock, Texas — located just outside of Austin — was featured on Money's 2021 list of the Best Places to Live thanks in part to its booming job market.)
Only one city included in the Redfin study saw rent prices come down in December compared to the year before: Kansas City, Missouri, where rent fell 0.8%.
---
Money Moves
Every Saturday, Money real estate editor Sam Sharf dives deep into the world of real estate, offering a fresh take on the latest housing news for homeowners, buyers and daydreamers alike.
---
More from Money:
Frustrated House Hunters Are Giving up on Buying Only to Face an Expensive Rental Market
The Math Is Changing on Whether It's Better to Buy or Rent a Home
8 Signs It's Time to Stop Renting and Buy
5 Reasons 'Cathie Wood Stocks' Could Double in 2022
Many of you are familiar with Cathie Wood, the famed stock-picker and founder of ARK Invest who focuses on investing in disruptive tech stocks with enormous…
Many of you are familiar with Cathie Wood, the famed stock-picker and founder of ARK Invest who focuses on investing in disruptive tech stocks with enormous upside potential. Indeed, she's so famous that the stocks she buys in her funds are often labeled as "Cathie Wood stocks" — stocks like Tesla (NASDAQ:TSLA), Coinbase (NASDAQ:COIN), Teladoc (NYSE:TDOC), Square (NYSE:SQ) and Roku (NASDAQ:ROKU).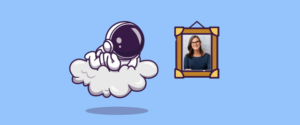 Source: Catalyst Labs / Shutterstock
You might also be familiar with how those Cathie Wood stocks have gone from Wall Street's biggest winners to its biggest losers over the past few years.
During the pandemic, her stocks absolutely soared on the backs of consumers embracing disruptive new technologies and the Fed providing a wall of liquidity to incentivize risk-taking behavior in markets. Cathie's signature fund, the ARK Innovation ETF (NYSEARCA:ARKK), skyrocketed an amazing 157% higher in 2020.
It was an absolutely jaw-dropping performance.
But stocks don't go up forever. And, in 2021, Cathie Wood stocks stopped going up as consumers decreased usage of new technology platforms last year and red-hot inflation threatened valuations. By the end of the year, the ARK Innovation exchange-traded fund (ETF) — the same ETF that rose 157% in 2020 — dropped 24% in 2021.
It was an enormous reversal.
And now my team and I think that so-called Cathie Wood stocks are due for another, even-bigger reversal in 2022 because the thing about stocks is that while they don't go up forever, they also don't go down forever — and Cathie Wood stocks have fallen too far, too fast to oversold and undervalued levels with some major turnaround catalysts on the horizon.
2022 Rebound
Our thinking here breaks down into five components:
The economy will slow in 2022. Driven by plunging consumer confidence, a sharp drop in the household savings rate, rising interest rates driving up borrowing costs and the end of stimulus payments, consumer spending will fall flat in 2022. Consumer spending drives 70% of the U.S. economy. A consumer spending slowdown will naturally produce an economic slowdown, the likes of which will make healthy corporate earnings growth relatively scarce in the market. Investors will re-concentrate their investment dollars into companies that can continue to produce strong growth — i.e. Cathie Wood stocks. Growth stocks will rise. Value stocks will struggle.
Inflation is going to meaningfully decelerate this year. Inflation was the bane of Cathie Wood stocks in 2021. But inflation rates will dramatically cool in 2022 as consumer spending slows, supply chain bottlenecks improve and the year-over-year comps get much harder. Throughout the year, inflation rates will fall from 7% to 5% to 3% and will likely end 2022 around 2%. Accelerating inflation killed Cathie Wood stocks in 2021. Decelerating inflation will boost Cathie Wood stocks in 2022.
The Fed will be forced to take a dovish pivot by the summer. This is a data-driven Fed that has a history of only being hawkish when it is absolutely required. A hawkish policy stance will not be required by the summer. Inflation will be decelerating rapidly. Economic expansion will be slowing. And the labor market will likely continue to struggle with shortage concerns. In the face of that data, the Fed will revert to a dovish policy stance — which, of course, will be a bullish development for growth stocks.
Consumer usage of technology platforms will reaccelerate throughout the year. Consumers didn't stop using tech platforms in abundance in 2021 because those platforms weren't useful. They were just sick and tired of using nothing but those platforms for a full year in 2020. But we are now about a year into the economic reopening, and all those pent-up consumer demands have been exhausted. We fully expect consumer behavior to normalize in 2022. And in this day and age, "normal" means accelerated adoption of tech platforms. Such accelerated adoption will help tech companies re-accelerate their growth trajectories in 2022, especially as the year-over-year comps get easier.
Hypergrowth tech stocks are very cheap relative to long-term estimates. And many Cathie Wood stocks get a bad rap for being very expensive. But they're only expensive if you look at 2022 estimates. If you look at 2025-plus estimates, the story becomes much different. Square is trading at just 1.6X its 2025 sales estimates, while Spotify (NYSE:SPOT) is trading at 2X its 2025 sales estimates. Roku is at 3.4X 2025 sales estimates. Zoom (NYSE:ZM) and DocuSign (NYSE:DOCU) are both around 6X. For comparison, McDonald's (NYSE:MCD) is trading at 6.6X its 2025 sales estimates, and Coca-Cola (NYSE:KO) is trading at 5.4X 2025 sales estimates. So in other words, hypergrowth tech stocks have corrected low enough that, based on 2025 estimates, many feature equivalent valuations as blue-chip, zero-growth stocks. That makes no sense — and provides compelling rationale for a move higher in tech stocks.
Overall then, we believe that while Cathie Wood stocks were crushed in 2021 and have continued to sell off in 2022, they're going to rebound enormously over the next 12 months.
We're not alone in that thinking…
Take a look at the consensus 12-month-forward analyst price targets for some of the top Cathie Wood stocks. Coinbase — 91% upside potential. Square — 105% upside potential. Roku — 107% upside potential. Zoom — 78% upside potential. Teladoc — 98% upside potential. UiPath (NYSE:PATH) — 82% upside potential.
The folks who run the numbers on these stocks think they're way undervalued. We've run the numbers on them too — and we agree.
Mark our words. 2022 will be a huge rebound year for hypergrowth tech stocks.
To find out which stocks you should be buying right now for triple-digit returns over the next 12 months, click here.
On the date of publication, Luke Lango did not have (either directly or indirectly) any positions in the securities mentioned in this article.
The post 5 Reasons 'Cathie Wood Stocks' Could Double in 2022 appeared first on InvestorPlace.