Retail And Food Sales: If It's Not Inflation, And It's Not, Then What Is It?
OK, so we went through the ways and reasons consumer price increases are not inflation, cannot be inflation, are nowhere near actual inflation, and what…
OK, so we went through the ways and reasons consumer price increases are not inflation, cannot be inflation, are nowhere near actual inflation, and what all that really means. The rate they've gone up hasn't been due to an overactive Federal Reserve, so it has to be something else. This is why, though the bulge has been painful, it's already beginning to normalize. Without a persistent monetary component (in reality, not what's in the media) the economy will adjust eventually.
It already has. Several times, and that's part of the problem.
If not money, and it's not, then what is behind the camel humps? No surprise, Uncle Sam's ill-timed drops along with reasonable rigidities in the supply chain.
An Economist might call this an accordion effect. One recently did:
The closures and reopenings of different industries, coupled with the surges and lags in consumer purchasing during the pandemic, have caused an "accordion effect," says Shelby Swain Myers, an economist for American Farm Bureau Federation, with lots of industries playing catch-up even as they see higher consumer demand.
Not just surges and lags, but structural changes that have been forced onto the supply chain from them. With the Census Bureau reporting US retail sales today, no better time than now and no better place than food sales to illustrate the non-economics responsible for the current "inflation" problem.
When governments panicked in early 2020, they shut down without thinking any farther than "two weeks to slow the spread." This is, after all, any government's modus operandi; unintended consequences is what they do.
The food supply chain had for decades been increasingly adapted to meeting the needs of two very different methods of distributing food products; X amount of capacity was dedicated to the at-home grocery model, while Y had been set up for the growing penchant for eating out (among the increasingly fewer able to afford it). Essentially, two separate supply chains which don't easily mix; if at all.
Not only that, food distributors can't simply switch from one to the other. And even if they could, the costs of doing so, and the anticipated payback when undertaking this, were and are massive considerations. McKinsey calculated these trade-offs in the middle of last year, sobering hurdles for an already stretched situation back then:
Moreover, many food-service producers have already invested in equipment and facilities to produce and package food in large multi-serving formats for complex prepared-, processed-, frozen-, canned-, and packaged-food value chains. It would be highly inefficient to reconfigure those investments to single service sizes.
And if anyone had reconfigured or would because they felt this economic shift might be more permanent:
For food-service producers, the dilemma is around the two- to five-year payback period of new packaging lines. Reinvesting and rebalancing a food-service network for retail is not a straightforward decision. Companies making new investments would be facing a 40 percent or more decline in revenue. And any number of issues could extend the payback period or make investments unrecoverable. Forecasts are uncertain, for example, about the duration of pandemic-related demand shifts, the recovery of the food-service economy, and the timeline of returning to full employment.
So, for some the accordion of shuttered restaurants squeezed food distributors far more toward the grocery and take-home way of doing their food businesses. And it may have seemed like a great bet, or less disastrous, as "two weeks to slow the spread" morphed to other always-shifting government mandates which appeared to make these non-economics of the pandemic a permanent impress.
More grocery, less dining. Forever after.
In one famous example, Heinz Ketchup responded to what some called the Great Ketchup/Catsup? Shortage by rearranging eight, yes, eight production lines to spit out their tomato paste in individual servings rather than bottles. CEO Miguel Patricio told Time Magazine back in June (2021) there hadn't actually been any shortage of product, just the wrong packaging for it:
It's not that we don't have ketchup. We have ketchup, but in different packages. The strain on demand started when people stopped going to restaurants and they were ordering takeout and home delivery. There would be a lot of packets in the takeout orders. So we have bottles; we don't have enough pouches. There were pouches being sold on eBay.
But then…vaccines. Suddenly, after over a year of the above, by April 2021 the doors were flung back open, stir-crazy Americans flew back to their local pubs and establishments (see: below) and within months, according to retail sales, it was almost back to normal again. Meaning pre-COVID.
The accordion had expanded back out but how much of the food services supply chain had been converted to serve the eat-at-home way which many companies had understandably been led to believe was going to be a lasting transformation?
Do they undertake even more costly and wasted investments to go back? Maybe they resist, just shipping what they have even if not fully suited in the way it had been before all this began.
Does Heinz spend the money to reconfigure those same eight production lines so as to revert to producing their ketchup in bottles? Almost certainly, but equally certain they're going to take their sweet time doing it; milking every last ounce of efficiency – limiting their losses, really – they can out of what may prove to have been a bad decision (again, you can't really fault Mr. Patricio for being unable to predict pandemic politics).
Rancher Greg Newhall of Windy N Ranch in Washington likewise told NPR that he has the animals, beef, pork, lamb, chicken, goat, but distributors are caught in the accordion (Newhall didn't use that term):
NEWHALL: People don't understand how unstable and insecure the supply chain is. That isn't to say that people are going to starve, but they may be eating alternate meats or peanut butter rather than ground beef.

GARCIA-NAVARRO: Newhall says he hasn't had any issues raising his animals. It's the processing and shipping that's the bottleneck, as the industry's biggest players pay top dollar to secure their own supply chains.
The usual credentialed Economist NPR asked for comment first tried to blame LABOR SHORTAGE!!! issues, including those the mainstream had associated with the pandemic (closed schools forcing parents to stay home, or workers somehow deathly afraid of working in close proximity with others) before then admitting:
CHRIS BARRETT: And there's also the readjustment of the manufacturing process. As restaurants are quickly opening back up, the food manufacturers and processors have to retool to begin to supply again the bulk-packaged products that are being used by institutional food service providers.
With US retail sales continuing at an elevated rate, the pressures on the goods sector are going to remain intense.

Because, however, this is not inflation – there's no monetary reasons behind the price gouge – the economy given enough time will adjust. And it has adjusted in some ways, very painful ways.
Painful in the sense beyond just hyped-up food prices and what we pay for gasoline lately, the services sector has instead born the brunt of this ongoing adjustment. Consumers have bought up goods (in retail sales) at the expense of what they aren't buying in services (not in retail sales); better pricing for sparsely available goods stuck in supply chains, seeming never-ending recession for service providers.
According to the BEA's last figures, overall services spending remains substantially lower than when the recession began last year. And it shows in services prices which had been temporarily boosted by Uncle Sam's helicopter only to quickly, far more speedily and noticeably fall back in line with the prior, pre-existing disinflationary trend following a much smaller second camel hump.
Once the supply and other non-economic issues get sorted out, we would expect the same thing in goods, too. It is already shaping up this way, though bottlenecks and inefficiencies are sure to remain impediments and drags well into next year.
Those include other factors beyond food or domestic logistical nightmares. Port problems, foreign sourcing, etc. The accordion has played the entire global economy, and in one sense it has created the illusion of recovery and inflation out of a situation which in reality is nothing like either.
That's the literal downside of transitory. We can see what the price bulge(s) had really been, and therefore what it never was.
Didi, Alibaba, Evergrande Crush Traders: What To Watch In China
Didi, Alibaba, Evergrande Crush Traders: What To Watch In China
By Sofia Horta e Costa, Bloomberg analyst and reporter
For traders, all the…
Didi, Alibaba, Evergrande Crush Traders: What To Watch In China
By Sofia Horta e Costa, Bloomberg analyst and reporter
For traders, all the bad China news is hitting at once — just as concern over U.S. tapering deflates the most speculative investments globally.
Beijing's demand that Didi delist its U.S. shares helped trigger the biggest plunge in the Nasdaq Golden Dragon China Index since 2008 on Friday. Alibaba, whose mysterious slump last week was already drawing attention, sank to its lowest level since 2017. The same day, Evergrande said it plans to "actively engage" with offshore creditors on a restructuring plan, suggesting it can no longer keep up with debt payments. That's as stress returns to China's dollar junk bond market, with yields above 22%. Evergrande bonds trade near 20 cents on the dollar.
The developments highlight the risks in betting that Chinese assets have already priced in negative news. HSBC, Nomura and UBS all turned positive on the nation's stocks in October, citing reasons including cheap valuations and receding fear of regulation from Beijing. T. Rowe Price Group and Allianz Global Investors were among money managers taking advantage of the recent turmoil to add Chinese developer bonds.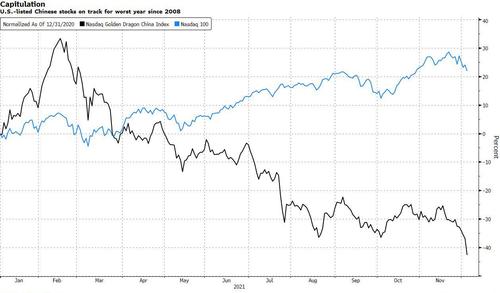 A lack of transparency is adding to nervousness. Didi's delisting notice comprised just 127 words. There were no details of how and when a move to Hong Kong would work. Evergrande's statement was barely longer, and made no mention of whether the embattled developer would meet upcoming debts, including two interest payments due Monday. The Economic Daily said Premier Li Keqiang's comments about a potential reserve ratio cut doesn't indicate China will ease monetary policy.
There's no shortage of symbolism. Alibaba, the largest-ever Chinese listing in the U.S. and the country's most valuable company less than 14 months ago, has lost about $555 billion in value since its 2020 record. Its ADRs trade at record low valuations. (The company just replaced its CFO.) Didi, which was China's second-largest U.S. listing — is being yanked at the request of the government. That comes as regulators in both countries put pressure on Chinese firms listed in the U.S.
December is shaping up to be a testing time, just as traders around the world look to book profits after a frenzied year. Along with the plunge in Chinese equities and concern over what's next for Evergrande, another developer Kaisa is on course for default this week unless it can reach a last-minute agreement with creditors to delay payment. The firm has $11.6 billion in outstanding dollar debt, making it the nation's third-largest issuer of such notes among property firms.
Tyler Durden
Sun, 12/05/2021 – 22:37
dollar
monetary
reserve
policy
monetary policy
Bull market over? Crypto traders turn fearful after Saturday's flash crash
The overall crypto market remains at its lowest level in two months following Saturday's flash crash, while by one measure … Read More
The post Bull…
The overall crypto market remains at its lowest level in two months following Saturday's flash crash, while by one measure the market is more fearful than any time in the past four and a half months.
The Crypto Fear and Greed Index was at 16, meaning "extreme fear," its lowest level since late July.
You survived the -84.5% #BTC Bear Market

You survived the -63% $BTC crash in March 2020

You survived the -53% BTC crash in May 2021

You'll survive this crash as well#Crypto #Bitcoin

— Rekt Capital (@rektcapital) December 5, 2021
The total crypto market stood at US$2.25 trillion this morning, down 1.4 per cent from yesterday and its lowest level since October 6, excluding the last two days.
Two months of sideways action?
Aussie crypto-trader Kyle Stagoll, the administrator of the Crypto Paradox Facebook group, told Stockhead that he thought where the market headed next depended a lot on the US Federal Reserve and its chairman Jerome Powell and his talk of tapering the monetary stimulus measures.
"Crypto and Bitcoin is a risk asset and is affected by the macro cycle which atm (at the moment) is fairly uncertain," he said in a message.
"My trading plan atm is expecting a full 60-day cycle going sideways in accumulation similar to the action we had in June and July this year."
"Strong chance of a sweep of the lows of 42k which would create a lot of panic and perfect chance for funds and bigger fish to scoop up retail panic sells. Then we could see a rally around the start of February."
Bitcoin breaking out above $60,000 would invalidate this scenario, Stagoll warned, and there's also "the potential we have already entered a bear market."
Weekend sell-off
On Saturday, the market fell from $2.59 trillion at 1am AEDT to $2.35 trillion at 3.25pm – and then plunged all the way down to $1.92 trillion in the space of 45 minutes.
Hundreds of thousands of overleveraged traders were rekt, with $2.09 billion in positions liquidated, according to Coinglass.
Over $2.5B (417,646 traders) were liquidated on Saturday. Imho leverage trading in the volatile, unpredictable crypto market is fucking stupid & just asking to get rekt.

— Aleksandra Huk (@HukAleksandra) December 5, 2021
At 11.50am AEDT on Monday, Bitcoin was trading at US$48,607, down 0.8 per cent from 24 hours ago and down 15.7 per cent from seven days go. It fell from US$56,000 on Friday to as low as $42,000 on Binance during the flash-crash.
Ethereum was changing hands at US$4,119, up 0.3 per cent from yesterday and 5.0 per cent from a week ago.
'Pretty ugly'
Perth-based Thinks Markets analyst Carl Capolingua told Ausbiz TV this morning that it was difficult to pinpoint a reason for the selloff, naming as possibilities everything from Evergrande's restructuring to fears of the Omicron variant to the Federal Reserve taking a more hawkish stance.
"The bottom line is what we see on the screen, which is pretty ugly," he said.
The sell-off really damaged the trend-line for Bitcoin, Capolingua said, while the bounce for Ethereum was "so much better. I mean, so much better than Bitcoin. And that trend is still pretty much intact."
Ethereum was trading for 0.085 BTC, its highest level since May 2018.
Most coins in red
Over 80 of the top 100 coins were in the red, compared to where they were Sunday.
Cosmos (ATOM) had been the biggest loser among the top 100 coins in the past 24 hours, falling 14.0 per cent to US$23.59.
Immutable X, Fantom, The Sandbox, Qtum, Gala Games, Harmony and IoTeX were all down by between 12.8 and 11.5 per cent.
Most top 100 coins were also in the red for the week, with notable exceptions including Terra (LUNA), up 28.7 per cent; Polygon (MATIC), up 18.0 per cent, and Stacks, 13.4 per cent.
Ankr had been the biggest loser among top 100 coins for the past seven days, falling 37.0 per cent. Kadena, Loopring, Qtum, Harmony, Immutable X, Thorchain and Gala Games had all dropped by more than a third.
The post Bull market over? Crypto traders turn fearful after Saturday's flash crash appeared first on Stockhead.
Bitcoin: Welcome To The Big Leagues
Bitcoin: Welcome To The Big Leagues
Submitted by bithedge
If there was still anyone left shouting that Bitcoin is an uncorrelated asset they…
Bitcoin: Welcome To The Big Leagues
Submitted by bithedge
If there was still anyone left shouting that Bitcoin is an uncorrelated asset they were put to rest in recent days. And what was once confined to obscure corners of the internet has obviously left them a long time ago, but it truly feels like this was the week that cranked things to 100…
In moments of major stress Bitcoin has followed risk assets for years – hardly much of a 'digital gold' but crisis is crisis, and recall during the March 2020 puke that even the precious metal was dumped indiscriminately alongside bonds and everything else as confused traders and algos were either forced or scared into dumping it all for cash. There is a saying that in real volatility "all correlations go to 1."
What is more concerning is the strengthening connection between Bitcoin (and thus Ethereum, and thus altcoins) and greater financial assets when equities are 3% off all time highs. This speaks to either 1) a greater integration of Bitcoin into the wider risk-on/risk-off framework that both traders and computers are programmed to buy or sell out of depending on mostly whether or not rate hike expectations are up that day, 2) a market that is under increasing stress despite being just off all time highs and up 23% YTD, or 3) both…
Of course nothing is really as simple as just risk-on or risk-off, and Bitcoin, on top of being long beta / long momentum, is a great beneficiary of inflation both realized and expected. 
That's certainly one of the reasons why it's up 160% over the past year (at this point anyone with an internet connection knows that no doubt about it – this is the highest inflation the U.S. has seen in 50 years). Even Powell ditched 'transitory'…
AND a third factor in Bitcoin's favor may be establishment distrust, which is obviously higher following two years of Americans being told their lives are now vastly different because the bat coronavirus that first emerged blocks away from an NIH-funded lab that studied bat coronaviruses actually was just an unfortunate development in a cave somewhere. BofA has dubbed it an "anarchy hedge" – record wealth inequality and soaring inflation seem to set the stage for taking out some insurance.
So since the three things that drive bond yields higher are conveniently risk-on, higher inflation expectations, and higher credit risk, it's no surprise that Bitcoin trades even tighter alongside the 10 year: 
Which begs the question of why not just go short the 10 year in size and avoid the regulatory and custody risks that come with holding crypto? If this trend holds for another year, that'll be a question many are hoping you don't ask. But for the average person buying Bitcoin is easier than short selling bonds – and in a market where passive > active flows and retail is a prominent force that may be all it takes for the coin to remain in fashion. 
Recent developments are undoubtedly a thorn in the side of the once-isolated crypto trading community, filled with many who after spending years mastering their specific market are now essentially in competition with firms backed by billions in capex and decades of experience. Because unless it's also a coincidence that Tesla and Bitcoin have hit their high or low for the month on the same day 8 out of the last 15 months, it really appears that Bitcoin trades only as a composite of long 'the next big thing' FOMO and short U.S debt. There's nothing wrong with that – the trade has done well. But it's a slap in the face to the uncorrelated/digital gold/reserve asset narrative. And it's a major blow to those who were looking for an 'alternative' investment. Increasing correlation with bonds and equities is the biggest threat to Bitcoin right now. 
It's possible and maybe even likely that this is temporary – but whatever needs to happen for Bitcoin to again decouple from greater markets hasn't happened yet. In light of the past two weeks, can anybody seriously say right now that they think Bitcoin will end the year higher than where it is currently if the S&P 500 doesn't?
But to be fair, long term hodlers really don't have anything to worry about since if the world post-GFC is any guide, the current pullback in equities will bottom out soon and if it doesn't – the Fed will just announce a pause in their tapering plans and at that point everyone should go even more all in because rest assured it will give way to new all time highs for the Nasdaq, home prices, inequality, and the newest member of the liquidity-firehose winners club, Bitcoin. 
Tyler Durden
Sun, 12/05/2021 – 21:30
gold
inflation
markets
reserve
fed
correlation
nasdaq