Retail Sales Preview: A Drop To End The Year, And It's All Downhill From Here
Retail Sales Preview: A Drop To End The Year, And It's All Downhill From Here
Now that even Blackrock is echoing our warning that central…
Retail Sales Preview: A Drop To End The Year, And It's All Downhill From Here
Now that even Blackrock is echoing our warning that central banks – powerless to fight supply-driven inflation – could hike right into a recession and beyond, the next question is what is the best leading or coincident indicator showing the state of the US economy. A good place to start is spending of the US consumer, responsible for 70% of US GDP, and a good indicator of that is retail sales, the same retail sales that have been running some 22% above trend from pre-covid levels even as payrolls remain dismally lower.
Conveniently we get the next retail sales report tomorrow morning, where consensus expects to see sequential growth if modestly slowing, with the December print up just 0.1% down from a 0.3% increase in the previous month , and a 0.3% increase in core retail sales.
Unfortunately for the Fed, and all those expecting the current burst of artificial, stimmy-driven growth to continue, the latest credit and debit card spending data from Bank of America suggest a far bigger slowdown in December retail sales: as summarized in the chart below, actual data shows a -1.3% drop in retail sales, a -1.6% drop in retail sales ex autos, and a -2.0% drop in retail sales ex-autos and gas.
Another way of visualizing BofA card spending data overlaid with the Census Bureau's retail sales.
Here is how BofA economist Anna Zhou described the latest retail sales dynamics: December sales were weighed down by the pulled forward holiday shopping, which was then negatively impacted in the SA process due to the large seasonal factors. Indeed, as shown in the chart below, December has the highest seasonal adjustment factor, meaning that while unadjusted data is likely to show a big drop, the final number will be all about what adjustment factor is used by the Census Bureau.
Taking a step back, BofA writes that total card spending, measured by aggregated BAC credit and debit cards, increased an average of 19.5% on a 2-yr basis over the 8-weeks ending Jan 1st, in keeping with the top chart.
Naturally, rising omicron cases continue to weigh on services spending. On a 2-yr basis, airlines spending dropped to -32%, the lowest since mid-Sep 2021. This was driven by a steep slowdown in spending at US carriers. Entertainment services spending also slipped further although restaurants spending rebounded slightly on a 2-yr basis.
Meanwhile, although the pulled forward holiday shopping lowered the 2-yr %change of total card spending toward year end (15.0% for the 7-days ending Jan 1), the BofA economist notes that consumers likely "remained robust during the season finale of a strong year of spending."
And indeed, while spending on goods remains solid, consumers are pulling back on services spending due to the surge in COVID cases. To wit, total airline spending contracted by 23% on a 2-yr basis for the 7-days ending Jan 1, the lowest reading since Oct 5 '21. BofA also saw a big pick up in refunds from US carriers during the last week of Dec, which likely reflects significant flight cancellations due to COVID-related staff shortages and severe weather.
Broken down by major category on a sequential basis, we find the biggest increase in gas and lodging spending, offset by a sharp drop in spending on furniture, clothing and airlines. On a 2-year basis, big increases were observed in furniture spending (which however has tempered in recent months), gas and general merchandise, while declines in airlines and department store spending persist.
A regional snapshot shows a relatively uniform distribution of spending across the US.
Total spending broken down by major MSA also shows generally consistent patterns with the exception of Seattle where spending appears to have hit a brick wall into the new year.
Interestingly, international spending seems to be less impacted as the share of brick and mortar retail spending done abroad surged to 1.3% during the last week of Dec, just shy of the 1.5% in 2019.
Lastly, the BAC Holiday Sales Measure showed that holiday sales grew 11.7% yoy for the month of Nov and Dec combined, a far more muted pace of spending compared to mid and late-November
In other words, while December spending will likely see a sequential slowdown largely due to Omicron, outsized seasonal adjustment factors may mitigate the decline. The bigger question is when will we start seeing a secular decline in spending, especially among the lower-income group. And indeed, this may already be the case: as the next chart shows, spending by the low income group (
And, as we observed last week, while spending on debit is declining at a modest pace, spending funded with credit cards has collapsed, perhaps as a result of the record surge in credit card usage in November…
… which means that US consumers now have far less dry powder to fund future spending.
Tyler Durden
Thu, 01/13/2022 – 22:00
inflation
fed
S&P Suffers Worst Start To A Year Since 1939 As Yield Curve Yells 'Recession'
S&P Suffers Worst Start To A Year Since 1939 As Yield Curve Yells 'Recession'
Before we start, let's make this clear right from the start…
S&P Suffers Worst Start To A Year Since 1939 As Yield Curve Yells 'Recession'
Before we start, let's make this clear right from the start – despite today's panic-buying, this is the worst start to a year for the S&P 500 since 1939 (and on course for its worst January ever)…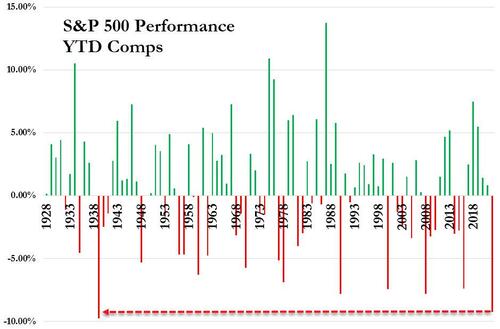 Nasdaq is down 5 straight weeks (16% from its highs) – the longest losing streak since 2012 – while Small Caps are down 22% from their highs (in a bear market)…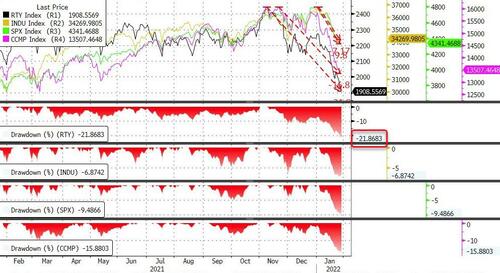 Source: Bloomberg
Everything was going so well too… "smooth sailing" they said! "Fed Put" they said! "Transitory inflation" they said…
Today was just a little bit turbo as it seems ugly sentiment data (10 year lows) and plunging growth expectations (Q1 GDP forecasts collapsed), was the 'bad news' the dip-buyers needed to reassure themselves that uber-hawkish Powell wouldn't execte on his plan to crush inflation into a recessionary environment. We have one word for them – stagflation, and it leave Powell in an ugly box.
Atlanta Fed GDP expectations crashed to zero for Q1…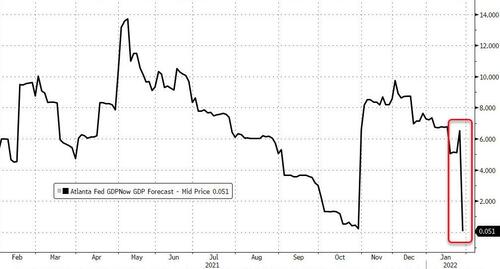 Source: Bloomberg
And as that happened, rate-hike expectations shifted dovishly lower (modestly at the time)…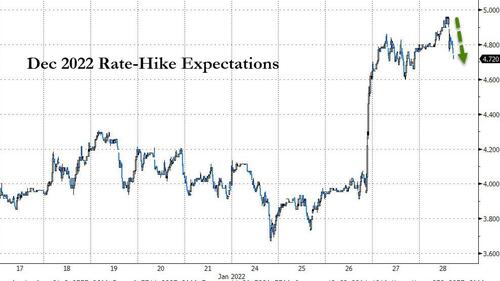 Source: Bloomberg
Which helped send stocks soaring (particularly hyper-growth, long duration stocks). But that all came to an abrupt end at 1400ET today (for no obvious reason)… which was immediately met with a wall of dip-buyers amid the total lack of liquidity. Then all the majors just went vertical into the last 10 minutes as a significant buy-imbalance appeared (all helped by AAPL's explosive gains today). Nasdaq was up a shocking 3% today (from down 1% pre-open). The S&P was up 2.5% today (from down 1% pre-open). Russell 2000 closed up almost 2% today from down 2% pre-open…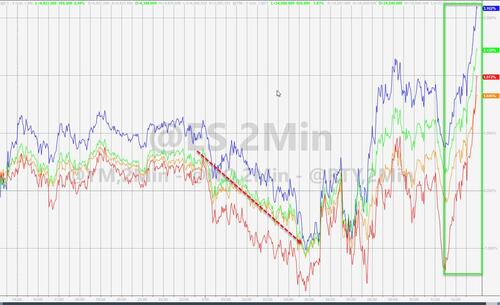 As one veteran trader noted, "today was a shitshow, no liquidity, gamma-driven gappy jumps everywhere… it was all algos and no average joes."
Well that idiotic rampage managed to get the Dow, S&P, and Nasdaq unchanged on the week (which appears to be all that mattered to the machines)…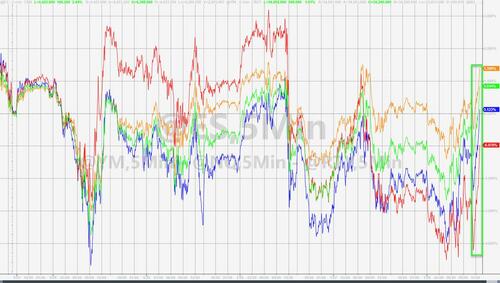 Just look at the volatility (but Monday's puke lows held… and so did Wednesday's pre-Fed highs).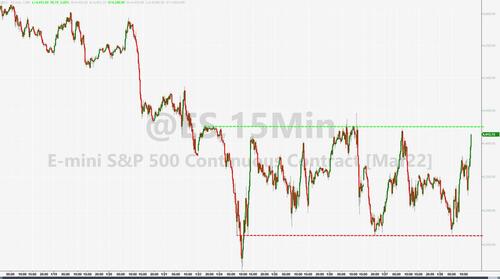 Growth stocks were flat on the week as Value was bid (mostly benefitting on Thursday)…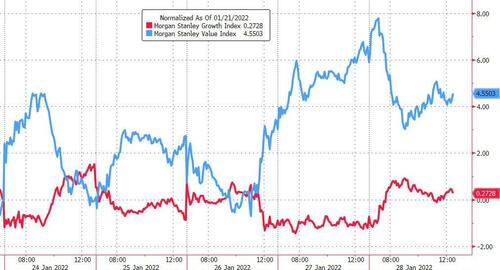 Source: Bloomberg
Both Defensive and Cyclical stocks were hammered equally this week (while obviously cyclicals were more volatile)…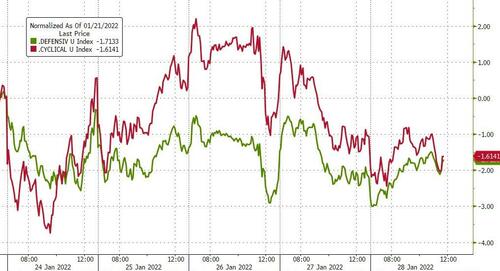 Source: Bloomberg
Today's bounce was not really triggered by a short-squeeze as the size of the swing higher is very modest and unsustained…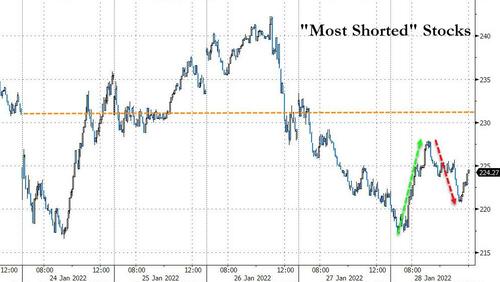 Source: Bloomberg
The energy sector is the only one up in January while Tech and Consumer Discretionary are down hard MTD…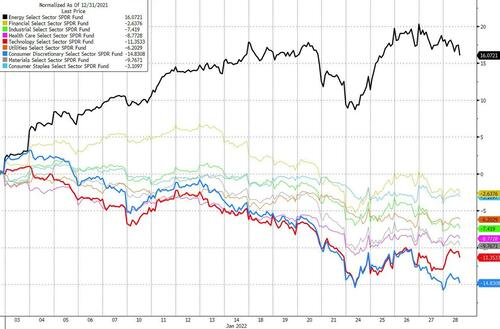 Source: Bloomberg
Real yields continue to rise (to their highest since June 2020 – but still negative), and have recoupled with gold…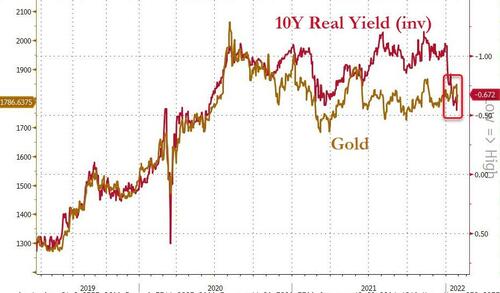 Source: Bloomberg
…but have completely decoupled from stocks (Nasdaq should be significantly lower relative to Russell 2000)…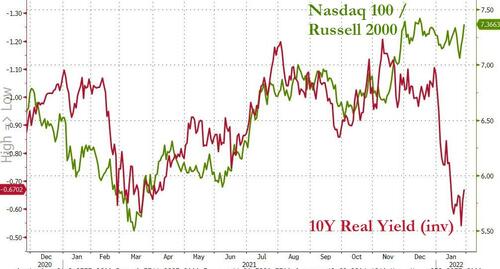 Source: Bloomberg
Notably, if real yields keep rising, then valuations are going to come under significant pressure…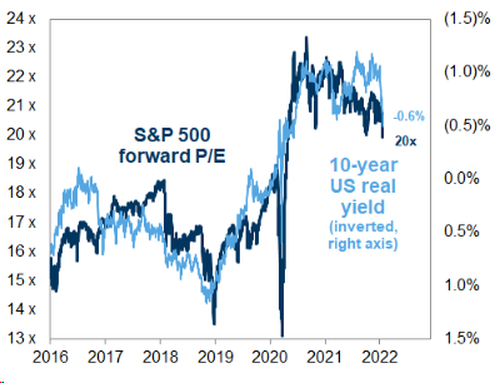 Credit markets saw very little of the chaotic chop in stocks this week as they just fell with HYG (HY Corporate Bond ETF) at its lowest since Nov 2020…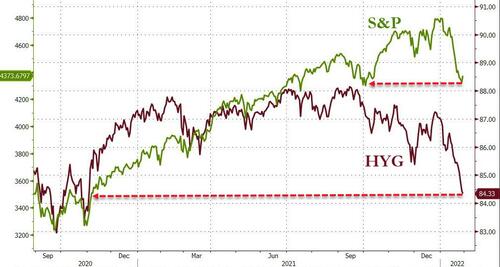 Source: Bloomberg
Treasury yields were extremely mixed on the week with the short-end exploding higher and long-end actually coming all the way back to unchanged…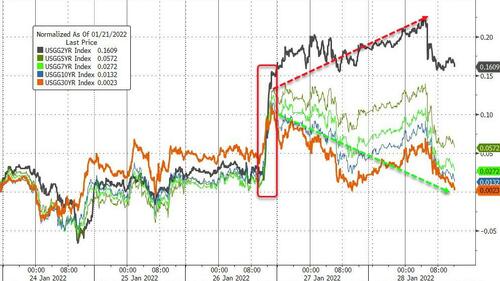 Source: Bloomberg
This week saw 2Y yields jump most since Oct 2019 (up for the 6th week in a row to the highest since Feb 2020).
Source: Bloomberg
The yield curve was crushed this week, triggered by The Fed's hawkish tilt…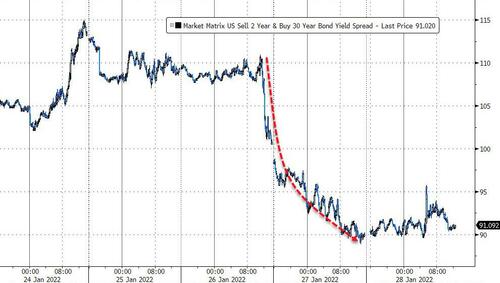 Source: Bloomberg
…with 7s10s at almost record flats, 20s30s still inverted, and 2s30s at its flattest since March 2020… all screaming The Fed is about to make a big mistake and hinting strongly at recessionary risks rising fast…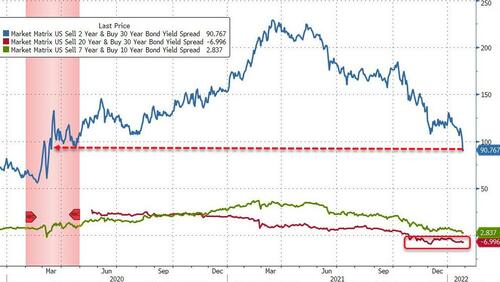 Source: Bloomberg
Short-term markets are now fully pricing in 5 rate-hikes by year-end (and a 25% chance of 50bps hike in March)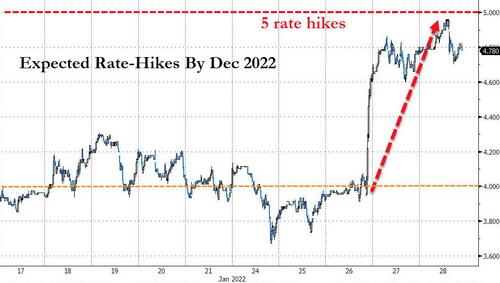 Source: Bloomberg
Perhaps even more notably, the forward OIS market is pricing in rate-cuts between 2024 and 2025…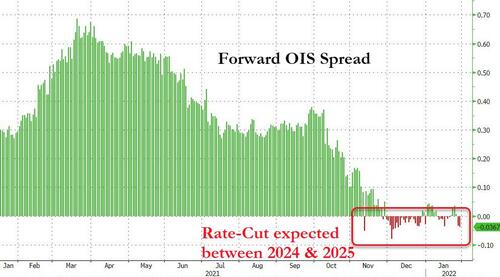 Source: Bloomberg
The dollar soared higher for the 5th straight week (best week since June 2021), closing at its highest since July 2020. NOTE, the dollar took out the December USD spike highs and faded…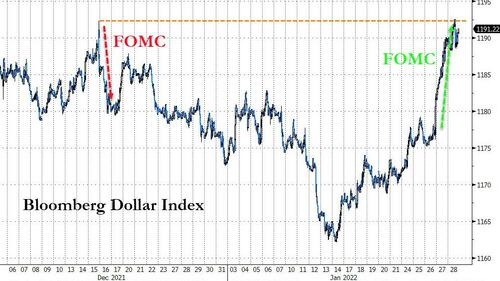 Source: Bloomberg
Cryptos had a nasty drop on Monday, along with stocks, and another puke after The Fed, but bitcoin ended the week modestly higher, while Ether was down around 5%…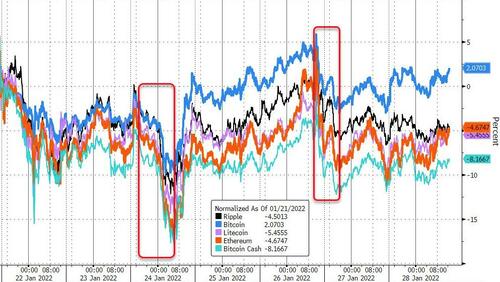 Source: Bloomberg
Commodities were very mixed this week with most lower by hawkish tilts (Silver slammed 8% on the week) while crude rallied on geopolitical tensions…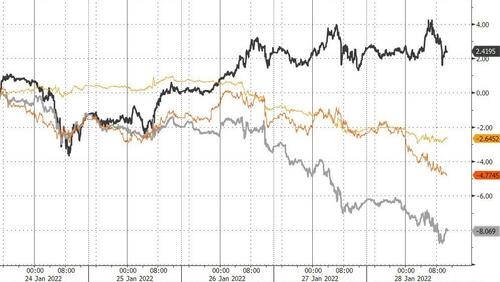 Source: Bloomberg
Silver dropped back below $23…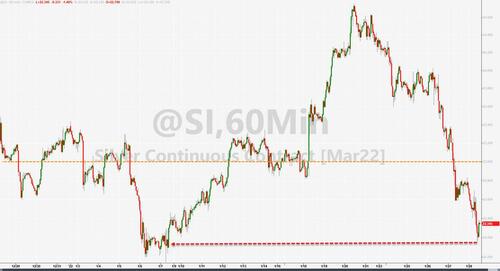 WTI came very close to $89 intraday during the week, its highest since Oct 2014 (up for the 6th straight week in a row)…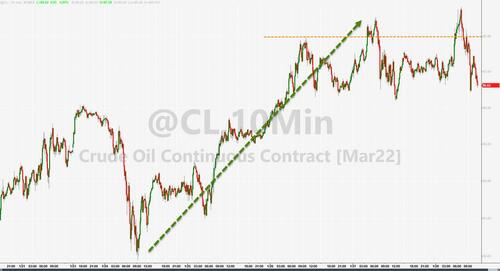 NatGas went supersonic this week amid chaotic settlement and a new cold front, breaking above the early Jan highs (and up 19%, its best week since Aug 2020)…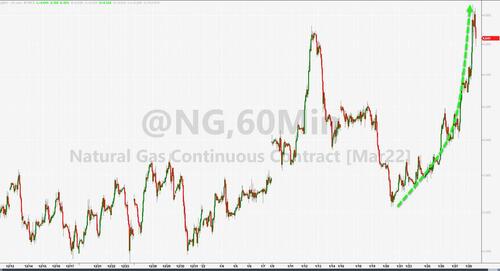 Finally, just in case you think the market can handle all this vol, think again – liquidity in the most-liquid global equity futures contract (ES) is at its lowest since the COVID crash in 2020…

Simply put, a moderate-sized order moves ES 10 ticks so how do you think it's going to handle all the fintwit/tiktokkers "paper hands" puking out of their Robinhood accounts?
The good news is that US COVID cases are following the same trajectories at UK and South Africa and tumbling…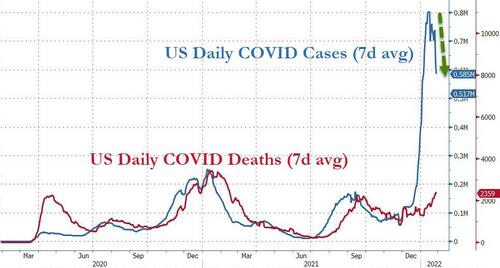 Source: Bloomberg
Nevertheless, as we noted above, GDP in Q1 could well print contractionary.
Tyler Durden
Fri, 01/28/2022 – 16:02
dollar
gold
silver
inflation
stagflation
commodities
markets
fed
crash
nasdaq
3 Stocks to Buy Now That Are Winning on Earnings
I'm always on the lookout for stocks to buy after earnings. And nothing beckons like a company's share price gapping higher as investors cheer the…
I'm always on the lookout for stocks to buy after earnings. And nothing beckons like a company's share price gapping higher as investors cheer the numbers.
Unfortunately, positive responses have been a rarity during this earnings season. The twin troubles of high inflation and a hawkish Fed have thrown a wet blanket on asset prices. And it's overshadowing most of the reports getting released.
That said, there have been a few bright spots. Given the sea of red greeting stock watchers each session, they've been easy to find. Sort your watchlist by percentage change, and the big winners will rise to the top. I noticed three standouts that both delivered great numbers and saw their share prices respond positively.
If you're willing to ignore the messy indexes, these are three of the best stocks to buy.
Stocks to Buy: Apple (AAPL)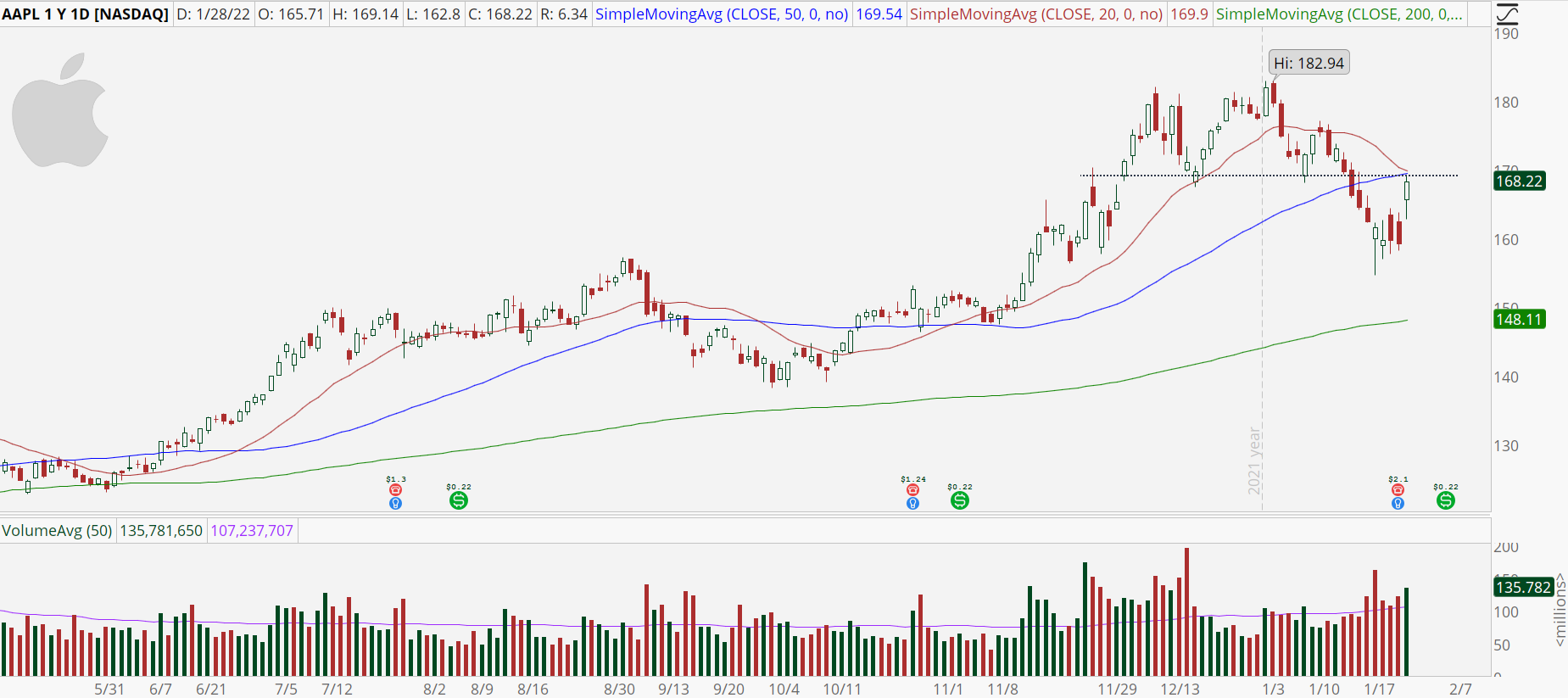 Source: The thinkorswim® platform from TD Ameritrade
The market was desperate for its leader to wow the crowd and bring buyers back in. Fortunately, Apple did just that by reporting its largest quarter of revenue ever. For the previous three months, the maker of all i-things saw its sales grow 11% year-over-year to $123.9 billion. That was good enough to boost earnings per share by 25% to $2.10.
The only product category that didn't top analyst estimates was iPads. Buyers swarmed following the release, sending shares higher after hours Thursday. Importantly, AAPL stock has held onto the overnight gains in Friday's session. The stock is testing its 50-day and 20-day moving averages and overhead resistance near $170. To fully turn the trend and give the green light to buyers, AAPL needs to break through them all.
Use that as the trigger for today's idea.
The Trade: Buy the March $170/$180 bull call spread for around $4.
You're risking $4 to make $6 if the stock tops $180 by expiration.
Microsoft (MSFT)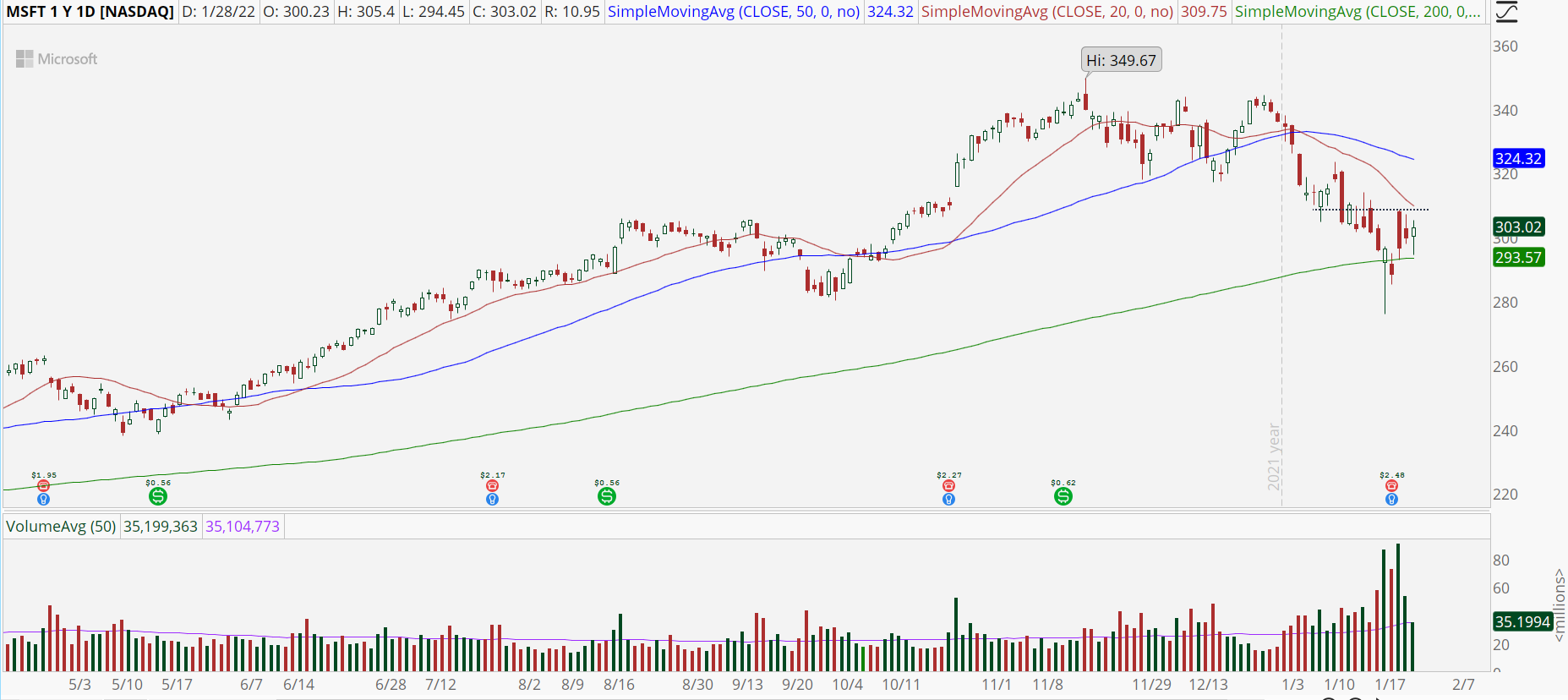 Source: The thinkorswim® platform from TD Ameritrade
As the second-largest company in the S&P 500 and one whose share price entered the earnings report 17.5% off the highs, Microsoft also needed to deliver. And it did. The software giant raked in $2.48 per share on $51.73 billion in revenue, topping analyst forecasts. As a result, MSFT stock leaped higher after hours, but the up gap on Wednesday was aggressively sold into.
Fortunately, shares have stabilized, and we're now forming a sideways base. Much work remains, though. The falling 20-day moving average needs to be breached to signal a more significant turnaround is afoot. I suggest using that as the trigger for today's trade idea.
You could go with another bull call like AAPL, but I'm going to mix it up to provide a higher probability alternative.
The Trade: Sell the March $275/$270 bull put spread for 90 cents.
Consider it a bet that MSFT stock stays above $275 for the next six weeks. If it does, you'll capture the max gain of 90 cents. Conversely, the max loss is $4.10.
Stocks to Buy: Visa (V)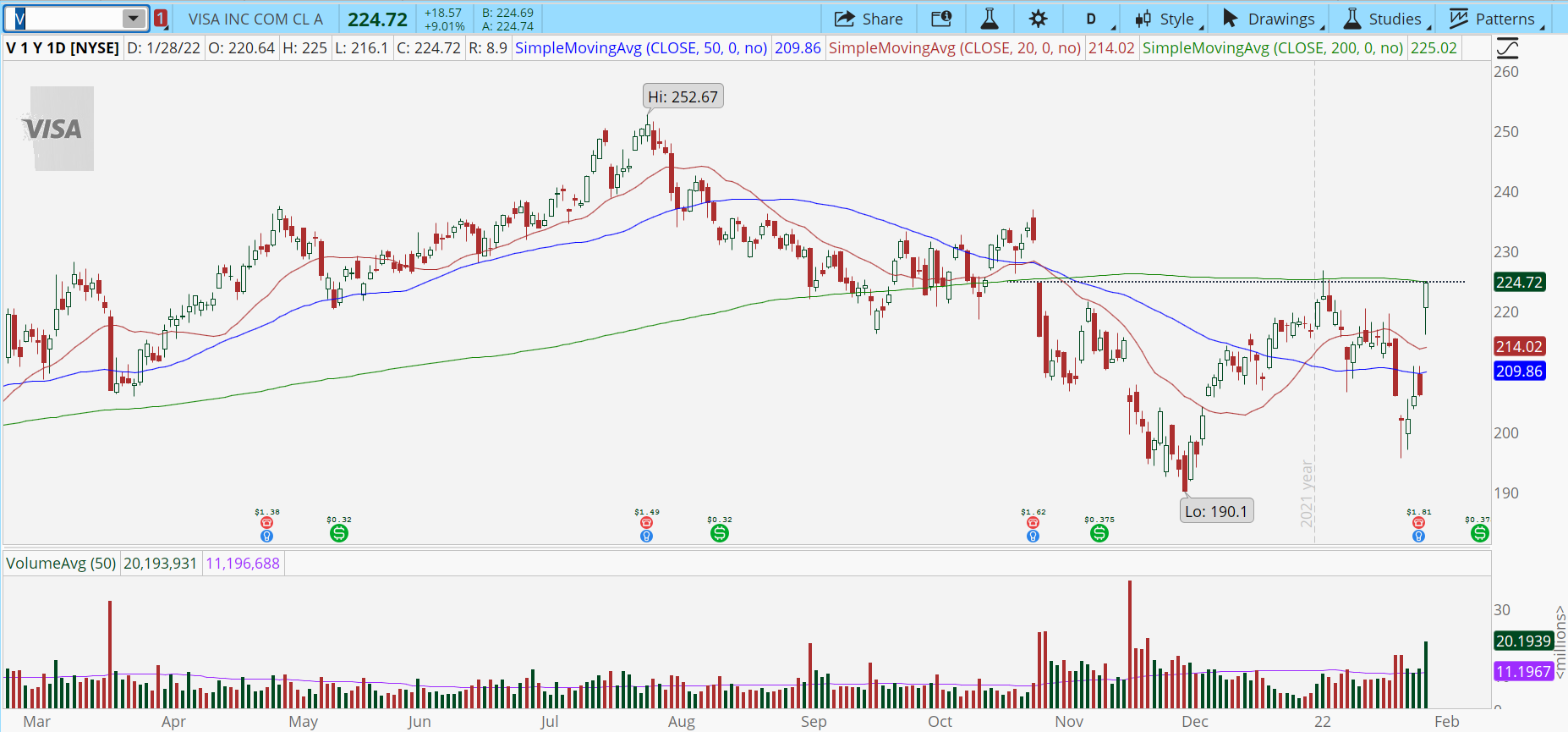 Source: The thinkorswim® platform from TD Ameritrade
The final idea for today's stocks to buy is Visa. Shares of the financial company are surging after reporting rosy numbers. Its quarterly revenue surpassed $7 billion for the first time, helping Visa capture $1.83 per share. Both metrics topped analyst estimates. With V stock submerged beneath all moving averages, it entered Thursday's event in desperate need of a boost.
Now, with Friday's pop, we're nearly above them all. And there's also an unfilled gap overhead that could quickly suck prices higher.
The Trade: Buy the March $230/$240 bull call spread for $3.50.
You're risking $3.50 to make $6.50 if Visa rises beyond $240.
On the date of publication, Tyler Craig did not have (either directly or indirectly) any positions in the securities mentioned in this article. The opinions expressed in this article are those of the writer, subject to the InvestorPlace.com Publishing Guidelines.
For a free trial to the best trading community on the planet and Tyler's current home, click here!
More From InvestorPlace
The post 3 Stocks to Buy Now That Are Winning on Earnings appeared first on InvestorPlace.
Week Ahead – RBA, BOE, ECB, OPEC+, and NFP in focus
After a rollercoaster January, Wall Street is now expecting the Fed to aggressively raise interest rates over the course of the year as they scramble to…
After a rollercoaster January, Wall Street is now expecting the Fed to aggressively raise interest rates over the course of the year as they scramble to control inflation. The US dollar is once again king as most economists are now expecting the Fed to deliver anywhere between 3-7 rate hikes this year.
The upcoming week is filled with a few big rate decisions from the RBA, BOE, and ECB. The RBA may end its bond purchase program and could bring forward rate hike expectations, given the stronger-than-expected acceleration in inflation.  The BOE is expected to deliver a follow-up rate increase and possibly signal a couple more are coming. The ECB will try to stick to the script that it is unlikely they will hike in 2022, which surprisingly has not been tested despite eurozone inflation increasing at a record pace.  Financial markets don't expect the ECB to move until September 2023, but that could shift as all the major central banks enter tightening mode.
After a sixth straight weekly gain, oil traders will pay close attention to the upcoming OPEC+ meeting that should not disrupt how tight this energy market has become.  Crude demand is outpacing whatever supply is coming from OPEC+ as they have been falling well short of their commitments.  Expectations are for the cartel to rubber stamp the 400,000 bpd increase in March, but no one expects them to actually reach those levels.
On Friday, the January US nonfarm payroll report will show that labor market recovery took a hit from omicron, while average hourly earnings continue to rise.  Wage pressures are not going away and that should support optimism for the outlook for the US consumer.
US hiring expected to moderate due to Omicron
Can crude rally for a 7th straight week?
Hot inflation may be public enemy No.1 for triggering the Fed's hawkish turn, but investors are still keeping a close eye on the whether slower job growth could complicate the Fed's aggressive tightening strategy. The January nonfarm payroll report will show the labor market recovery continues to moderate as the Omicron variant disrupted hiring.  The consensus estimate for jobs created in January is 178,000, which would be a decrease from the 199,000 gain in December. Labor supply is still very tight and that may continue to be the driver behind average hourly earnings increases.
On Monday, Qatar's emir will meet President Biden to discuss several issues, primarily focusing on the global energy crisis and security.  Thursday is a big day for Biden's Fed nominees as Raskin, Cook, and Jefferson as they will appear before the Senate.  If confirmed, this will represent a landmark demographic overhaul of the Fed.
Wall Street will also pay close attention to a busy earnings season week as several European banks, technology, car manufacturers and industrials will report results.
 
EU
A lot of economic data to come from Europe next week, with every day offering a selection of important readings that could influence the currency markets.
But there's no doubt what the headlines will be, with flash CPI readings coming a day before the ECB meeting. The central bank is one of the few remaining in camp transitory and they are expected to persist, something that will be helped by a softer inflation number the day before.
Markets are ahead of the curve once more with at least one 10 basis point hike priced in by October and maybe another by the end of the year. Christine Lagarde pushed back to no avail last time, a similar outcome could be on the cards if the CPI data isn't kind to them.
Developments in Ukraine appeared to hit European markets harder than the US on Monday so we could see similar sensitivity should the situation continue to deteriorate.
Next week is all about the BoE meeting, with markets pricing in a more than 90% chance of a second consecutive rate hike, taking the base rate to 0.5%. With up to three more priced in this year, there is scope for the central bank to follow the Fed in leading investors further down the hawkish path.
An unusual side note, the Prime Minister's job looks far from safe as the Sue Gray investigation has turned into a full blown police inquiry into numerous alleged parties during lockdown. Boris can survive the embarrassment but will he survive an inquiry? The timing of the Sue Gray report remains unknown but could make life very difficult for the PM. Perhaps the oddest thing is how little markets seem to care (for now).
Russia
The ruble has had a rough time the last couple of weeks as tensions between Russia and the West have intensified. It's down around 5% since the start of the year after a recovery on Thursday, with a diplomatic response still being sought, despite the wide gap that still seemingly exists. There remains the risk of invasion which could punish the ruble as the country gets hit with sanctions.
South Africa
The SARB raised interest rates for the second consecutive meeting, taking the repo rate to 4%. This comes as inflation was running at the upper end of its 3-6% target range and despite growth falling short of previous expectations last year. Growth is still expected to be 1.7% this year, with inflation at 4.9%, up from 4.3% previously.
No major events next week.
Turkey
The quarterly inflation report showed little sign of a change of course for the CBRT, with the central bank remaining bullish on the direction of the economy despite dramatically raising inflation forecasts for 2022 to 23.2%; driven by the lira, food prices, labour costs, and administered prices.
Next week we'll get PPI and CPI data on Thursday which will offer some more insight into price pressures. Not that it will have an impact on the direction of travel for the enemy of interest rates. The lira remains stable, as it has for most of the year so far but when it comes to the currency, you can never expect it to last.
China
The trading week kicks off early in the weekend with China Manufacturing and Services PMIs for January. The PMIs are expected to show that China's economy slowed down slightly at the start of the year and that manufacturing and services showed no growth in January.
Manufacturing had to deal with seasonal factors and the services sector was dragged down due to the government's zero-Covid policy, which has meant strict lockdowns. China will likely continue to increase spending to support the economy.
Chinese markets will be closed for most of the week due to the Lunar New Year holiday.
A big focal point will be the start of the Winter Olympics in Beijing on February 4th.  President Xi is expected to meet President Putin at the opening ceremony.
India
India will continue to try to foster a recovery with modest fiscal consolidation in the annual budget for FY 2022-2023 on Tuesday. The country has been hit hard by Covid-19 and the recovery remains fragile. Tax revenues in FY 2021-2022 were higher than expected and the government is expected to use the windfall to fund Covid-19 programmes as well as reduce the ballooning deficit so as to cut borrowing costs.
Australia
The RBA policy meeting on Tuesday could be significant, as the central bank is expected to announce the winding up of its asset purchase program. Governor Philip Lowe has stated repeatedly that he will not raise rates before wages rise to 3%, so a rate hike is not happening until much later in the year. However, if the RBA announces that it is bringing forward the timing on eventual hikes, the Australian dollar could receive a boost.
New Zealand
New Zealand releases Q4 2021 employment data on Wednesday. The economy continues to improve despite the Omicron wave, and there are expectations for a slight increase in employment. The unemployment rate fell to a 14-year low in Q3 to 3.4%, and is expected to remain unchanged. The labour market remains tight, which could lead to acceleration in wage growth.
 
Japan
A decent amount of economic releases will include industrial production, labor, and housing data, but nothing that should move the needle for the Bank of Japan.
Markets
Natural gas prices have been a rollercoaster ride after a short squeeze on Thursday, and now a major snowstorm for the East Coast could pump up prices again. The Ukraine situation may see a short period of calm as diplomacy is entertained.
Crude prices have been on fire, rising for a sixth straight week as the demand outlook improves and over geopolitical fears could lead to severe disruptions. The supply side continues to support a tight market as OPEC+ is expected to stick to their plan of increasing output by 400,000 bpd in March, even though their compliance last month only hit 60% of plan.
Gold
Gold's pain may last a little longer until the Fed's aggressive pivot with tackling inflation is fully priced in.  The $1,800 level was a key support level for gold, so momentum selling has the potential to make this an interesting trade.  If it gets ugly quick and $1760 breaks, gold may not see much support until $1720.
Bitcoin
Bitcoin looks like it is stabilizing but many investors are still concerned about a crypto winter which could mean the current rebound might not last.  The biggest risk right now is if Bitcoin mining continues to lose key hubs as more countries battle surging energy costs.
The cryptoverse is eagerly waiting for President Biden's executive action that will begin regulation of cryptocurrencies as a matter of national security.  This could be done in the coming weeks and could have an impact on stablecoins, NFTs and cryptos.
Key Economic Events
Sunday, Jan. 30
Portugal holds an early general election after PM Costa's 4-year term ended early
Economic Data/Events:
China Jan Manufacturing PMI: 50.0e v 50.3 prior; non-manufacturing PMI: 51.0e v 52.7 prior, Caixin manufacturing PMI: 50.0e v 50.9 prior
Monday, Jan. 31
Economic Data/Events:
Qatari Emir Sheikh Tamim bin Hamad Al Thani meets with US President Biden to discuss global energy crisis.
Informal meeting of EU ministers for industry and for the Internet market in Lens, France.
Germany CPI
Eurozone GDP
Italy GDP
Mexico GDP
Poland GDP
India GDP
South Africa Trade data
Turkey Trade data
Japan Unemployment Rate
Australia inflation gauge, private sector credit
Singapore money supply
Thailand capacity utilization, BoP
India fiscal deficit, eight infrastructure industries
Japan industrial production, retail sales, housing starts, consumer confidence index
Norway credit indicator, foreign exchange purchases
Tuesday, Feb. 1
Economic Data/Events:
US construction spending, ISM Manufacturing, light vehicle sales
UK Nationwide house prices, mortgage approvals
RBA Rate Decision: Expected to keep Cash Rate unchanged at 0.10%
Australia retail sales, house prices, home loans, consumer confidence
Hungary PM Orban meets Russian President Putin in Moscow as his government stresses the importance of maintaining close economic ties, even amid the tensions of the Ukraine crisis.
Sweden Financial stability hearing with Riksbank, FSA in Parliament.
India budget presentation
Euro zone Manufacturing PMI, Unemployment
Germany Manufacturing PMI, Unemployment
India Manufacturing PMI
UK Manufacturing PMI
Australia Manufacturing PMI
Thailand Manufacturing PMI
Switzerland Manufacturing PMI
New Zealand Trade, Unemployment, house prices
Czech Republic GDP
Japan jobless, PMI, vehicle sales
Thailand business sentiment index
Mexico international reserves
Switzerland consumer confidence, retail sales
South Africa PMI
Wednesday, Feb. 2
Economic Data/Events:
OPEC+ meeting on output
Eurozone CPI
RBA Governor Lowe addresses the National Press Club.
New Zealand unemployment
Japan monetary base
Russia industrial production
Denmark foreign reserves
EIA Crude Oil Inventory Report
Thursday, Feb. 3
Economic Data/Events:
US factory orders, initial jobless claims, durable goods
Fed Board of Governors confirmation hearing
ECB Rate decision: No changes expected on rates, but Lagarde could provide guidance on when rate hikes could happen
BOE Rate decision: Expected to raise Bank Rate by 25bps to 0.50%
Eurozone Services PMI, PPI
German Services PMI
UK Services PMI
Australia Services PMI
India Services PMI
Turkey PPI
Turkey CPI
Singapore PMI, electronics sector index
Australia trade balance, building approvals, private sector houses, business confidence
Switzerland total sight deposits, UBS real estate bubble index
Amazon reports earnings reports after the close
Friday, Feb. 4
Economic Data/Events:
US Jan Change in Nonfarm payrolls: 178Ke v 199K prior; Unemployment Rate: 3.9%e v 3.9% prior
President Putin meets President Xi at Beijing Winter Olympics opening ceremony
Canada Employment Report
France industrial production, manufacturing production, wages
Germany factory orders
Switzerland CPI
UK new car registrations
Eurozone ECB survey of professional forecasters, Retail Sales
Singapore Retail sales
New Zealand building permits
Thailand CPI, forward contracts, foreign reserves, consumer confidence
Turkey effective exchange rate
Sovereign Rating Updates:
Norway (Fitch)
EFSF (S&P)
ESM (S&P)
Sweden (S&P)
Russia (Moody's)
Czech Republic (Moody's)
Sweden (DBRS)
dollar
gold
inflation
monetary
markets
policy
money supply
mining
interest rates
fed
central bank
bubble
us dollar
ax