Seven Possible Causes Of The Next Financial Crisis
Seven Possible Causes Of The Next Financial Crisis
Authored by Alex Pollock via LawLiberty.org,
The great financial historian, Charles Kindleberger,…
Seven Possible Causes Of The Next Financial Crisis
Authored by Alex Pollock via LawLiberty.org,
The great financial historian, Charles Kindleberger, pointed out in the 1970s that over several centuries, history showed there was a financial crisis about once every ten years.
His observation still holds.
In every decade since his classic Manias, Panics and Crashes of 1978, such crises have indeed continued to erupt in their turn, in the 1980s, 1990s, 2000s, 2010s, and again in 2020.
What could cause the next crisis in this long, recurring series?
I suggest seven possibilities:
1. What Nobody Sees Coming
A notable headline from 2017 was "Yellen: I Don't See a Financial Crisis Coming in Our Lifetimes." The then-head of the Federal Reserve was right that she didn't see it coming; nonetheless, well within her and our lifetimes, a new financial crisis arrived in 2020, from unexpected causes.
It has been well said that "The riskiest stuff is what you don't see coming." Especially risky is what you don't think is possible, but happens anyway.
About the Global Financial Crisis of 2007-09, a former Vice Chairman of the Federal Reserve candidly observed: "Not only didn't we see it coming," but in the midst of it, "had trouble understanding what was happening." Similarly, "Central banks and regulators failed to see the bust coming, just as they failed to anticipate its potential magnitude," as another top central banking expert wrote.
The next financial crisis could be the same—we may take another blindside hit for a big financial sack.
In his memoir of the 2007-09 crisis, former Secretary of the Treasury Henry Paulson wrote, "We had no choice but to fly by the seat of our pants, making it up as we went along." If the next financial crisis is again triggered by what we don't see coming, the government reactions will once again be flying by the seat of their pants, making it up as they go along.
2. A Purely Malicious Macro-Hack of the Financial System
We keep learning about how vulnerable to hacking, especially by state-sponsored hackers, even the most "secure" systems are. Here I am not considering a hack to make money or collect blackmail, or a hack for spying, but a purely malicious hack with the sole goal of creating destruction and panic, to cripple the United States by bringing down our amazingly complex and totally computer-dependent financial information systems.
Imagine macro-hackers attacking with the same destructive motivation as the 9/11 terrorists. Suppose when they strike, trading and payments systems can't clear, there are no market prices, no one can find out the balances in their accounts or the value of their risk positions, and no one knows who is broke or solvent. That is my second next crisis scenario.
3. All the Central Banks Get It Wrong Together
We know that the major central banks operate as a tight international club. Their decisions are subject to vast uncertainty, and as a result, they display significant cognitive and behavioral herding.
I read somewhere the colorful line, "Central banks have become slaves of the bubbles they blow." Whether or not we think that, there is no question that the principal central banks have all together managed to create a gigantic global asset price inflation.
Suppose they have also managed to set off a disastrous, runaway general price inflation. Then ultimately interest rates must rise, and asset prices fall. This will be in a setting of stretched asset prices and high debt. As asset prices fall, speculative leverage will be punished. "Every great crisis reveals the excessive speculations of many houses which no one before suspected," as Walter Bagehot said. The Everything Bubble of our time would then implode and the crisis would be upon us. Huge government bailouts would ensue.
4. A Housing Collapse Again
A particularly notable asset price inflation is, once again, that in the price of houses, which are the biggest investment most households have and are the mortgage collateral for the biggest loan market in the world. House prices are now rising in the U.S. at the unsustainable rate of more than 18% a year, but this is also global problem. Many countries, about 20 by one reckoning, face extreme house price inflation. Said one financial commentator, "This is now a global property bubble of epic proportions, never before seen by man or beast, and it has entrapped more central banks than just the Fed."
House prices depend on high leverage and are, as is well known, very interest rate sensitive. What would an actual market-determined mortgage rate look like, instead of the Federal Reserve-manipulated 3% mortgage rate the U.S. has now? A reasonable estimate would begin with a 3% general inflation, and therefore a 4.5% 10-year Treasury note. The long-term mortgage rate would be 1.5% over that, or 6%. That would more or less double the monthly payment for the same-sized mortgage, house prices would fall steeply, and our world record house price bubble implode. Faced with that possibility, so far the Federal Reserve's choice has been to keep pumping up the bubble.
Overpriced, leveraged real estate is a frequent culprit in financial crises. Maybe once again.
5. An Electricity System Failure
Imagine a failure, similar to our financial system macro-hack scenario, resulting from an attack maliciously carried out to bring down the national electricity system, or from a huge solar flare, bigger than the one that took down the electric system of Quebec in 1989.
Physically speaking, the financial system, including of course all forms of electronic payments, is an electronic system, utterly dependent upon the supply of electricity. Should that fail, it would certainly be good to have some paper currency in your wallet, or actual gold coins. Bank accounts and cryptocurrencies will not be working so well.
6. The Next Pandemic
It feels like we have survived the Covid pandemic and the crisis is passing. Even with the ongoing problem of the Delta variant, we are certainly more relaxed than at the peak of the intense fear and the lockdowns of 2020. Instead of financial markets being in free fall as they were, they are booming.
But what about the next pandemic? We have discovered that to combat a pandemic, governments can close down economies and cause massive unemployment and economic disruption. Would they do that again—or something else?
How soon could a new pandemic happen? We don't know.
Might that new pandemic be much more deadly than Covid? Consider Professor Adam Tooze: "One thing 2020 forces us to come to terms with is that this wasn't a black swan [an unknown possibility]. This kind of pandemic was widely and insistently and repeatedly predicted." What wasn't predicted was the political response and the financial panic. "In fact," Tooze continues, "what people had predicted was worse than the coronavirus."
If the prediction of an even worse and more deadly new pandemic becomes right, perhaps sooner than we might think, that might trigger our next financial crisis.
7. A Major War
By far the most important financial events of all are big wars.
A sobering talk I heard a few years ago described China as "Germany in 1913."
This of course brings our mind to 1914. The incredible destruction then unleashed included a financial panic, and the war created huge, intractable financial problems which lasted up to the numerous sovereign defaults of the 1930s.
What if a big war happened again in the 21st century? If you think that is not possible, recall the once-famous book, Norman Angel's The Great Illusion, which argued that a 20th-century war among European powers would be so economically costly that it would not happen. In the event, it was unimaginably costly, but nonetheless happened.
One distinguished scholar, Graham Allison of Harvard, has written: "A disastrous war between the United States and China in the decades ahead is not just possible, but much more likely than most of us are willing to allow." A particular point of tension is the Chinese claim to sovereignty over Taiwan.  Might a Chinese decision to end Taiwan's freedom by force be the equivalent of the German invasion of Belgium in 1914?
Would anyone be crazy enough to start a war between China and the United States? We all certainly hope not, but we should remember that such a war did already occur: most of the Korean War consisted of battles between the Chinese and American armies. In his history of the Korean War, David Halberstam wrote, "The Chinese viewed Korea as a great success," and that Mao "had shrewdly understood the domestic benefits of having his county at war with the Americans."
If it happened again it would be a terrific crisis, needless to say, with perhaps a global financial panic thrown in.
*  *  *
Overall, we can say there is plenty of risk and uncertainty to provide the possibility of the next financial crisis.
Tyler Durden
Tue, 09/14/2021 - 06:30
gold
inflation
markets
reserve
interest rates
fed
bubble
bailouts
Where Do Monetarists Think PCE Price Level Is Going To?
From an email from Tim Congdon, at the International Institute for Monetary Research (9/20): I suggest that a more plausible figure for end-year PCE annual…
From an email from Tim Congdon, at the International Institute for Monetary Research (9/20):
I suggest that a more plausible figure for end-year PCE annual inflation is between 5½% and 6%. (The consumer price index – up by 4.5% in the first seven months of 2021 – may finish the year with a rise somewhere in the 6½% – 7½% area.)
The conclusion is based on the following reasoning:
In the background here is the huge overhang of excess money balances. In the year to mid-May 2021 the M3 measure of broad money increased by 35%. The evidence over many decades is that – in the medium term – the growth rates of money, broadly-defined, and nominal gross domestic product are similar. So – unless that 35% number is now followed by a big contraction in the quantity of money – the US economy will continue to be affected by two conditions, specifically,

• 'too much money chasing too few assets', and
• 'too much money chasing too few goods and services'.

Of course the two conditions are interrelated and also interact with each other. Our research emphasized last year that rapid money growth was likely to boost asset prices first, and that has been right. (Incidentally, to attribute the behaviour of the prices of US tech stocks to bottlenecks and supply shortages would be daft. Does one have to say these things?)
What's the implied path of the PCE deflator, relative to nowcasts and forecasts? See Figure 1, where I've used the mid-point of Congdon's forecast (5.75% December y/y), shown as the red square.
Figure 1: Personal Consumption Expenditure deflator (black), Congdon midpoint forecast (red square), Cleveland Fed nowcast as of 9/23 (sky blue +), Survey of Professional Forecasters August median forecast (green line), FOMC 9/22 projections (blue square). Source: BEA, Cleveland Fed, Philadelphia Fed/SPF, Federal Reserve, and author's calculations.
The FOMC median forecast is surprisingly similar to the Survey of Professional Forecasters' median forecast from the preceding month (mid-August). The FOMC members then still perceive a deceleration in inflation in the last half of 2021.
Congdon's forecast looks plausible given the August PCE deflator nowcast (and even more using the September). However, it's far outside of the range projected by the FOMC, as shown in Figure 2, which includes the high/low inflation forecasts.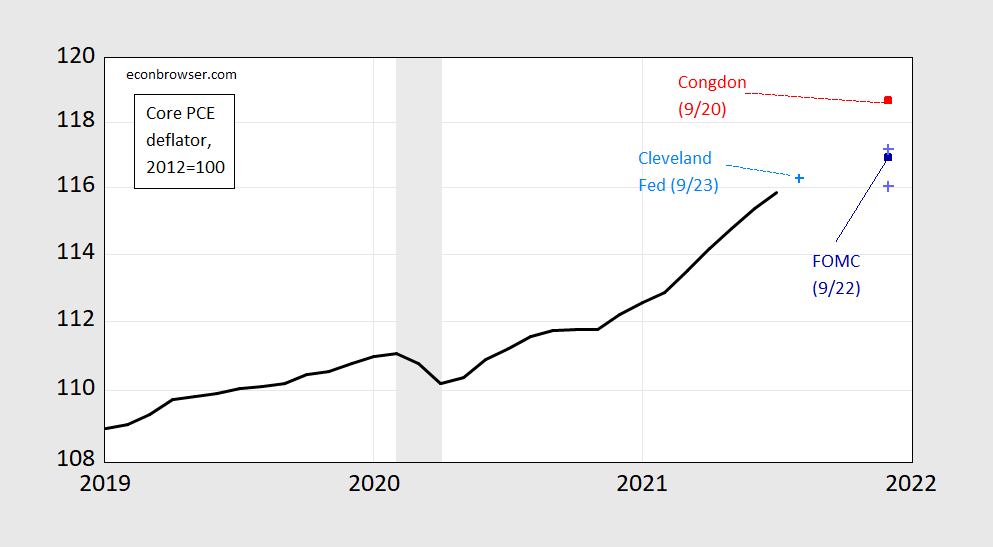 Figure 2: Personal Consumption Expenditure deflator (black), Congdon midpoint forecast (red square), Cleveland Fed nowcast as of 9/23 (sky blue +), FOMC 9/22 projections (blue square), high and low forecasts (dark blue +). Source: BEA, Cleveland Fed, Federal Reserve, and author's calculations.
In other words, the monetarist view (if I can use Congdon's view as a proxy) differs from both a mixed bag of mainly mainstream economists (proxied by the Survey of Professional Forecasters) and policymakers (the FOMC).
inflation
monetary
reserve
fed
These Factors 'Could Drive Gold and Silver Prices Much Higher'
Source: Crescat Capital for Streetwise Reports   09/22/2021
In a Sept. 10, 2021 Crescat Capital broadcast from the Precious Metals Summit in…
Source: Crescat Capital for Streetwise Reports   09/22/2021
In a Sept. 10, 2021 Crescat Capital broadcast from the Precious Metals Summit in Beaver Creek, the firm's Portfolio Manager, Tavi Costa, and its Chief Investment Officer, Kevin Smith, talked about the current macroeconomic environment and highlighted the opportunity in gold and silver mining equities.
Portfolio Manager, Tavi Costa, noted that his funds firm, Crescat Capital, believes we are in a secular bull market for gold and silver and because we are now amid a pullback, the time is right to be taking advantage of stocks in the space over time. He showed a slide of silver's weekly candles and noted that the precious metal looks technically sound for taking advantage of.
"Cryptocurrency is getting a lot of attention these days, but Crescat Capital likes precious metals."
Looking forward, Costa added, "I think there are a lot of fundamentals behind what could drive gold and silver prices much higher and perhaps really benefit the explorers and a lot of the companies we have in our portfolio," he added.
Costa purported that we could be on the cusp of a new phase of mergers and acquisitions given the high level of liquidity among the mining majors. They have generated free cash flow at a pace never seen before and have lots of net cash available.
"I truly believe that tangible assets continue to be something very important for investors to own in their portfolios," Costa said.The portfolio manager said platinum is also at a good entry point and showed a slide of the metal's quarterly candles.
"Gold, we believe, has intrinsic value."
Also in the broadcast, he presented three slides depicting how various economic metrics are trending. The first metric was the Taylor Rule to the Fed funds rate Spread, and it showed that the spread today is the largest it has been since about 1975. Costa said the spread indicates interest rates should be at around 6 percent, but obviously they are not.
"It's a good reminder of how trapped the Federal Reserve is," he added.
Second, the cost of ride sharing with Uber and Lyft increased 92 percent between January 2018 and July 2021, Costa said. However, the intercity transportation component of the Consumer Price Index (CPI) that takes into account taxi, Uber and Lyft fares is up only 5 percent during the same period.
"This is example of how the CPI is massively understated in regards to the real inflation in the system," added Costa.
Third, the Duke survey of chief financial officers showed that internal company optimism about wages and sales is at a record high.
"The cost of living rising started to create a demand for higher wages and salaries, and we're seeing this in a lot of fronts," Costa said.
Next, Kevin Smith briefly summarized today's economic macroenvironment and with that as the backdrop today, what parts of the market Crescat Capital favors.
Smith reiterated that inflation is rising, growth is slowing and the stock market is in a bubble. Real interest rates are negative, and money printing continues. Deficits are the highest they have ever been.
Thus, cryptocurrency is getting a lot of attention these days, Smith said, but Crescat Capital likes precious metals.
"Cryptocurrencies, they're faith-based currencies," he said. "Gold, we believe, has intrinsic value, and the junior mining industry has been through essentially a 10-year bear market."
Read more about the companies Quinton Hennigh, Crescat's Geologic and Technical Director, discusses in part two of the Sept. 10 briefing.
Sign up for our FREE newsletter at: www.streetwisereports.com/get-news
Streetwise Reports Disclosures:
1) This is contributed content from Crescat Capital compiled by Doresa Banning for Streetwise Reports LLC. Doresa Banning provides services to Streetwise Reports as an independent contractor. She or members of her household own securities of the following companies mentioned in the article: None. She or members of her household are paid by the following companies mentioned in this article: None. Her company has a financial relationship with the following companies referred to in this article: None.
2) The information provided above is for informational purposes only and is not a recommendation to buy or sell any security.
3) The article does not constitute investment advice. Each reader is encouraged to consult with his or her individual financial professional and any action a reader takes as a result of information presented here is his or her own responsibility. By opening this page, each reader accepts and agrees to Streetwise Reports' terms of use and full legal disclaimer. This article is not a solicitation for investment. Streetwise Reports does not render general or specific investment advice and the information on Streetwise Reports should not be considered a recommendation to buy or sell any security. Streetwise Reports does not endorse or recommend the business, products, services or securities of any company mentioned on Streetwise Reports.
4) From time to time, Streetwise Reports LLC and its directors, officers, employees or members of their families, as well as persons interviewed for articles and interviews on the site, may have a long or short position in any securities mentioned. Directors, officers, employees or members of their immediate families are prohibited from making purchases and/or sales of those securities in the open market or otherwise from the time of the decision to publish an article until three business days after the publication of the article. The foregoing prohibition does not apply to articles that in substance only restate previously published company releases. 
Important Crescat Disclosures Provided by Crescat Capital 
Please read Crescat's important disclosures.
Nothing herein should be construed as personalized investment advice or a recommendation that you buy, sell, or hold any security or other investment or that you pursue any investment style or strategy.
Case studies are included for informational purposes only and are provided as a general overview of Crescat's general investment process, and not as indicative of any investment experience. There is no guarantee that the case studies discussed here are completely representative of Crescat's strategies or of the entirety of its investments.
Crescat has compiled its research in good faith and while it uses reasonable efforts to include accurate and up-to-date information, it is provided on an "as is" basis with no warranties of any kind. Crescat does not warrant that the information on this site is accurate, reliable, up to date or correct. In no event will Crescat be responsible or liable for the correctness of any such research or for any damage or lost opportunities resulting from use of its data.
You should assume that as of the publication date, Crescat has a position in the securities discussed and therefore stands to realize significant gains in the event the price of security moves. Following the publication date, Crescat intends to continue transacting in the securities, and may be long, short, or neutral at any time.
gold
silver
inflation
reserve
metals
mining
interest rates
fed
bubble
money printing
precious metals
Household Net Worth Hits Record $142 Trillion, Up $31 Trillion Since COVID, But There Is A Catch…
Household Net Worth Hits Record $142 Trillion, Up $31 Trillion Since COVID, But There Is A Catch…
Another quarter, another record high in…
Household Net Worth Hits Record $142 Trillion, Up $31 Trillion Since COVID, But There Is A Catch...
Another quarter, another record high in (1%er) household net worth.
The Fed's latest Flow of Funds report released at noon today showed the latest snapshot of the US "household" sector as of June 30 2021, which confirmed that one year after the biggest drop in household net worth on record when $8 trillion was wiped out in Q1, 2020, in the 2nd quarter of 2021 the net worth of US households soared by another $5.85 trillion, or 4.3%, rising to a new all time high of $141.7 trillion.
As has traditionally been the case, real estate ($34.9 trillion) and directly and indirectly held corporate equities ($47.0 trillion) were the largest components of household net worth. Meanwhile, household debt (seasonally adjusted) was $17.3 trillion.
This means that over the past 12 months, US household net worth has increased by:
Q2 2020: $7.92TN
Q3 2020: $4.26TN
Q4 2020: $7.9TN
Q1 2021: $5.1TN
Q2 2021: $5.85TN
... a grand total of $31 trillion. And since the bulk of this wealth goes to a fraction of the wealthiest 1% (see chart at the bottom), it means that the covid pandemic has been the biggest wealth transfer in history, making America's richest even richer.
Looking at the composition of the wealth change, $3.54 trillion came from a gain in stocks, $1.2 trillion was from an increase in real estate values - the biggest quarterly increase in housing values on record -  and another $1.1 trillion coming from "other sources."
And visually:
It wasn't just housing and real-estate: net private savings grew at an annualized pace of almost $2.9 trillion in the second quarter after a $4.8 trillion surge in the prior quarter -- which while still a high number, suggests that almost $2 trillion in excess savings have already been spent. Excess savings have been a key driver of consumer spending, including last quarter, where consumer outlays jumped at one of the fastest paces on record.
Of course, in addition to assets, liabilities also grew, and in Q2 2021 household debt grew at a 7.9% SAAR, a more rapid pace than in previous quarters as home mortgages surged by 8.0%, spurred by rising home prices and sale activity as well as by the Fed keeping borrowing costs near zero. That's led to record-low mortgage rates, which have bolstered demand for homes. The median selling price for previously owned homes is at a record high. Homeowners' real estate holdings minus the change in mortgage debt rose $879.7 billion (a positive value indicates that the value of real estate is growing at a faster pace than household mortgage debt).
Meanwhile, nonmortgage consumer credit increased by 8.6%, as credit cards, auto loans, and student debt all increased.
Nonfinancial business debt grew at a rate of 1.4%, reflecting continuing growth in commercial mortagages, nonbank loans, and corporate bonds and a decline in nonmortgage depository loans. Federal debt rose 9.6%. State and local debt increased 3.1%. As GDP continued to grow, the ratio of nonfinancial debt to GDP edged down a bit further. In the second quarter of 2020, the ratio had spiked, driven by the drop in GDP and the expansion in federal debt related to the fiscal stimulus.
Looking at the various components of nonfinancial business debt, nonmortgage depository loans to nonfinancial business decreased $143 billion in the first quarter. Contributing to the decline was the forgiveness of many loans extended under the Paycheck Protection Program (PPP), which more than offset the extension of new PPP loans. However, nonmortgage depository loans declined even excluding PPP loans. More than 400 billion of PPP loans were on the lenders' balance sheet at the end of the second quarter and thus are still included in our measure of nonfinancial business debt. However, a large fraction of them is expected to be forgiven.
In contrast to nonmortgage depository loans, commercial mortgages and nonbank loans continued to increase. Corporate bonds also increased, though at a slower pace than in the first quarter.
Overall, outstanding nonfinancial corporate debt was $11.2 trillion. Corporate bonds, at roughly $6.6 trillion, accounted for 59% of the total. Nonmortgage depository loans were about $1.0 trillion. Other types of debt include loans from nonbank institutions, loans from the federal government, and commercial paper.
The nonfinancial noncorporate business sector consists mostly of smaller businesses, which are typically not incorporated. Nonfinancial noncorporate business debt was $6.7 trillion, of which $4.7 trillion were mortgage loans and $1.6 trillion were nonmortgage depository loans.
And while it would be great if this wealth increase was spread across most Americans, there is - as usual - a catch as unfortunately, most Americans aren't benefiting from recent gains in wealth, and while the pandemic has led to a surge in savings and opportunities for many to buy a home or invest while pushing up the financial assets of the "top 10%" to record highs, the downturn has disproportionately impacted low-income workers, many of whom rent and don't participate in the stock market.
Indeed, the latest data as of Q1 shows that the top 1% accounts for over $41.5 trillion of total household net worth, with the number rising to over $90 trillion for just the top 10%. Meanwhile, the bottom half of the US population has virtually no assets at all. On a percentage basis, just the Top 1% now own a record 32.1% share of total US net worth, or $45.6 trillion. In other words, the richest Americans have never owned a greater share of US household income than they do, largely thanks to the Fed. Meanwhile, the bottom 50% own just 2% of all net worth, or a paltry $2.8 trillion. They do own most of the debt though...
A closer look at the percentile breakdown:
And the saddest chart of all: the wealth of the bottom 50% is virtually unchanged since 2006, while the net worth of the Top 1% has risen by 132% from $17.9 trillion to $41.5 trillion.
Bottom line: the data underscore how the government's fiscal scramble to speed up the "economic recovery" paired with the Fed's continued ultra easy monetary policy have helped to protect and grow the wealth of the richest Americans: those who own assets, and who have seen their net worth hit an all time high... unlike the bottom 50% of Americans who mostly "own" debt. 
Tyler Durden
Thu, 09/23/2021 - 13:13
monetary
policy
fed
monetary policy