Snyder: Are Gasoline Prices Being Pushed Higher On Purpose?
Snyder: Are Gasoline Prices Being Pushed Higher On Purpose?
Authored by Michael Snyder via The Economic Collapse blog,
Is it just a "coincidence"…
Snyder: Are Gasoline Prices Being Pushed Higher On Purpose?
Authored by Michael Snyder via The Economic Collapse blog,
Is it just a "coincidence" that gasoline prices have absolutely exploded since Joe Biden took office? 
The hatred that many on the left have for traditional forms of energy is well known.  Many of them are entirely convinced that the changes that are happening to our climate can be reversed if we can just transition away from traditional forms of energy. 
So on the left there is a lot of interest in finding ways to create incentives for people to use "cleaner" forms of energy instead of "dirtier" forms of energy.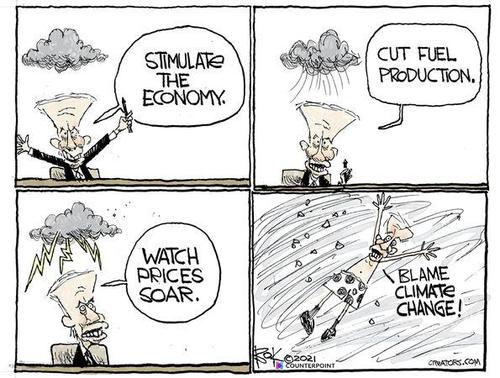 For example, the left would love to see all of us driving around in electric vehicles, and one way to accelerate that transition would be to dramatically raise the price of gasoline.  Interestingly, that is precisely what is happening right now.  In fact, the average price of a gallon of gasoline just hit another all-time high in California…
Gas prices in California reached an all-time high Monday as the average price of a regular gallon soared to $4.682, according to the American Automobile Assn.

It was the state's second record-breaking day in a row. Monday's price for regular unleaded was six-tenths of a cent higher than the Sunday average reported by AAA, which broke the previous state record of $4.671 set in October 2012.
And things are even worse in the San Francisco area.  For those living there, the average price of a gallon of gasoline has almost reached five dollars…
Drivers in the San Francisco Bay Area are paying more at the pump than anywhere else in the country – with a gallon of gas hitting a near record level of $4.84 as the nation remains in the grip of an inflation crisis.
On November 30th of last year, the average price of a gallon of gasoline in the United States was just $2.21.
So what changed?
I think that it is pretty obvious.  Last year we had a Republican in the White House and now we have a Democrat.
The Biden regime has been publicly expressing concern about gas prices, but at the same time the administration just keeps making moves that they know will make the energy crisis even worse.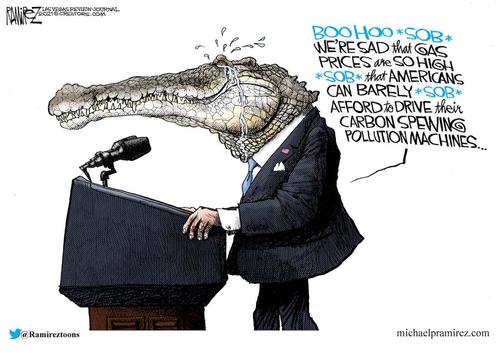 When Breitbart News recently interviewed Senator Tom Cotton, he actually accused the administration of pumping up gasoline prices on purpose…
Cotton, who campaigned last week for Republicans in Iowa ahead of the 2022 midterm elections, told Breitbart News in a phone interview between events that he believes the high gas prices are on purpose.

"Most notably, more and more people tell me that they're not even able to fill their pickup truck tank up for the entire week," Cotton said.

"They've got to fill up half a tank and hope that the price comes down by the end of the week. That, in particular, is the intended effect of Joe Biden's energy policy. It's not unintended or some accident. They want gas to cost $4 a gallon because they want all of us to get out of pickup trucks and SUVs and get into small electric compacts or bicycles or scooters or whatever else Pete Buttigieg takes to work."
So is Senator Cotton correct about this?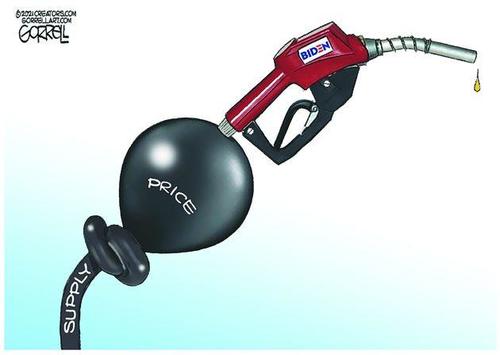 If he is, it wouldn't surprise me one bit.
Meanwhile, we just learned that over the past year home prices have been rising much, much faster than paychecks have been…
For Americans seeking to buy a home, this year has likely brought much frustration. A nexus of several natural and man-made factors culminated in the tightest residential real estate markets in recent memory.

While median wages increased by 4.3 percent October-to-October this year vs last, typical mortgage payment (30-year fixed rate with 10 percent down payment) increased nearly 17 percent, according to the National Association of Realtors (pdf). That means an average American worker earning about $4,300 a month would need to spend nearly $1,400 a month on a typical mortgage payment. And that's before income taxes, social security taxes, Medicare taxes, property taxes, home insurance, and utility bills.
Our standard of living is being absolutely eviscerated, and the middle class is shrinking a little bit more with each passing day.
But the Democrats keep coming up with new ways to gum up the economy.  For example, they are now pushing the Biden regime to implement a new mandate which will make business travel by air a complete and utter nightmare…
Democratic lawmakers are urging President Joe Biden to require that all airline passengers either show proof of full vaccination against the coronavirus or a negative COVID-19 test before boarding a domestic flight.

The request was made in a letter, signed by more than 30 Democrats that was sent to Biden November 11.
If such a mandate is put into place, it may be many years before it is finally removed.
You would think that the Democrats would have figured out that the American people absolutely hate mandates by now.  Their poll numbers just keep sinking, and if the midterm elections were held right now they would clearly lose control of Congress…
As things stand, if the midterm elections were today, 51% of registered voters say they'd support the Republican candidate in their congressional district, 41% say the Democrat. That's the biggest lead for Republicans in the 110 ABC/Post polls that have asked this question since November 1981. Indeed, it's only the second time the GOP has held a statistically significant advantage (the other was +7 points in January 2002) and the ninth time it's held any numerical edge at all.
But I don't expect the Democrats to back down.
It's not in their nature.
I have said it before, and I will say it again.  I think that the Democrats are creating the sort of political environment that could result in a new major third party rising before we get to the 2024 elections.
But for now, the Democrats are in control in Washington, and they have put us on a path that leads to national ruin.
All over the western world, there is a major push to discourage traditional forms of energy, and this is creating an unprecedented supply squeeze.
We desperately need to do a whole lot more drilling, but that isn't going to happen.
So this new energy crisis is going to continue to escalate, and gasoline prices will eventually reach levels that were once completely unimaginable.
*  *  *
It is finally here! Michael's new book entitled "7 Year Apocalypse" is now available in paperback and for the Kindle on Amazon.
Tyler Durden
Thu, 11/18/2021 – 14:26
inflation
markets
policy
These 29 Analysts See Silver Going Up Dramatically This Decade
More and more analysts are forecasting a significant increase in the price of silver over the balance of the decade and below are their projections.
The…
More and more analysts are forecasting a significant increase in the price of silver over the balance of the decade and below are their projections.
An original article by Lorimer Wilson, Managing Editor of munKNEE.com – Your KEY To Making Money!
1. Goldrunner: $800 to $1,200 by 2025; $5,300 by 2030/32
"My fractal analysis chart work on Silver points to a potential price for Silver of something like $800 to $1,200 a bit later than 2025 and $5,300 by the end of this decade or early in the next based on Gold reaching Jim Sinclair's forecast of $80,500 and using a 1 to 16 ratio of Silver to Gold." (personal email)
2. Keith Neumeyer: $300 to $1,000
"Silver is an extremely critical metal – a strategic metal – and the investment community will figure it out eventually" and, when they do, he believes the white metal could reach the $130 level and, if gold were to hit $10,000, he could see silver at $1,000. Source
3. Hubert Moolman: +$675
"The 70s pattern is very similar to the pattern that currently exists. Therefore, I do not think it is wishful thinking that silver will reach the target of $675 as a minimum." Continue reading…
4. Egon von Greyerz: $600 to $1,000
"If we assume $10,000 for gold and a gold:silver ratio decline to the historical average of 15, we would see a silver price of $666…If we look at silver adjusted for real inflation based on ShadowStatistics, the $50 high in 1980 would equal to $950 today so silver at between $600 and $1,000 is not an unrealistic target. Continue reading…
5. Satori Traders: $50 by 2023; $1,350 by 2028
"My long-term forecast for Silver is $600 per ounce." Source
6. Gary Christenson: $100 to $500 in 5-7 years; +$500 by 2030
"Silver prices for the next decade are dependent upon many unknowns but a 'more of the same' financial world suggests silver prices will rise toward $100 in the next 5 – 7 years. A more aggressive chart interpretation shows prices for silver rallying toward $200 – $300. Indeed, if the powers-that-be create or can't stop hyper-inflation of the dollar, $500 silver will look inexpensive by the end of the decade."   Continue reading…
7. Peter Krauth: $300+
'I think silver's ultimate peak could be $300, and I won't rule out possibly even higher." Source
8. David Smith: $166 to $250
"[If my forecast of $10,000 gold is realized, as I think it will then] you could see $166 silver, and if…[the gold:silver ratio] drops down to 40:1, which is not out of the question, [you could easily see] $250 silver." Source
9. Mike Maloney: $100 to $200 in 5 years
"Investment demand for silver bullion has risen sharply and, with the silver market being so tiny, it doesn't take much investment to have an out-sized impact on its price. Silver is dramatically undervalued and represents a very compelling investment opportunity. My prediction for silver 5 years out is $100-$200." Source 
10. Jason Hamlin: $169 by end of 2025
"The silver bull has awakened and when silver finally breaks out, the move tends to be very explosive! I think we could see silver climb to $169…by the end of 2025.″ Source 
11. Nick Giambruno: +160 
"Once the dollar starts to lose its value in earnest…people will panic into precious metals just like they did in the '70s and '80s, and much of that money will make its way into the tiny silver market (roughly 1/10th the size of the gold market). This will cause the price to spike above $160. It's a predictable pattern. Bottom line, the stars are aligned for a silver price spike for the record books and now is the perfect time to get in." Continue reading…
12. Chris Vermeulen: $90 to $550
"We believe silver will soon…move up to well above $85 per troy ounce. Ultimately, we estimate it will likely top somewhere between $90 and $550." Continue reading…
13. CoinPriceForecast.com: $84.81 by end of 2020; $100.12 by the end of 2032
"Silver price will hit $30 by the end of 2021 and then $40 by the end of 2023. Silver will rise to $50 within the year of 2024, $60 in 2026, $70 in 2027,   $75 in 2028, $80 in 2029, $90 in 2031 and $100 in 2032." Source
14. Jeff Clark: $30 in 2021 to +$100 in 5 years
"My most confident prediction is that over the next five years, the silver price is going to increase a minimum of $100." Source
15. Metals Focus: +$100
"See silver prices pushing "well above" $30 an ounce.
16. Paul Mladjenovic: +$100
"Triple-digit silver—$100 or more—is a possibility in the near future." Source
17. David Morgan: $100
"Assuming a $4,000 gold price target in two to three years' time, which is roughly a 100% increase from current levels, and assuming a normalization of the gold-silver ratio to 40-1, then silver should be trading at $100 by the time gold doubles in value." Source
18. Gov Capital: $70 to $95 in 5 years
"Based on our custom algorithm we predict that silver will range between $70 and $95 in 5 years time." Source
19. Mark O'Byrne: $50 to $100
"It is important investors focus on gold and silver's value as hedging and safe haven assets rather than their nominal price highs in dollars." That being said he believes silver could rise to between $50 and $100. Source
20. Dumb Money: $62
"History does serve as a guide for what's normal and, based on the simple historical average, the price of silver should be about $62." Source
21. Andrew Hecht: +$50
"Silver's consolidation period and tightening price ranges could be the prelude to a new record high above the 1980 $50.36 peak in the COMEX futures market." Source
22. CPM Group: +$50
"We fully expect silver to hit a new all-time high above $50."
23. Lorimer Wilson: $40 to $60 by 2025
Every time the gold:silver ratio has reached at least 82:1, it has led to major rallies in the silver market. For example, in mid-2003 the gold:silver ratio peaked at 82:1 and over the next 5 years, silver went up 320%; at the end of 2008 the gold:silver ratio again peaked above 82:1 and, over the next 2 years, silver went up 453%. In early 2020 the gold:silver ratio again topped 82:1 and silver has already gone up by 124% since then so, based on history, silver could easily advance to somewhere between $40 and $60 per troy ounce.
24. Eric Fry: +$50
"When this ballgame ends…silver will be topping $35 and an extra-inning affair would not surprise me, lifting…the silver price to a new all-time high above $50." Source
25. Bank of America: $35 in 2021; $50 in medium term
"$35 silver is feasible next year, but…could rally to $50 in the medium-term." Source
26. Tom Fitzpatrick: $50
"A move back once more towards the $50 area is a very realistic target for Silver – and not necessarily something that will take years to materialize." Source
27. Jim Willie: $50
"A quick march to the $35 mark, then to $50 in….a few months, not a couple of years." Source
28. Don Durrett: $50
"Once we get over $30, we will run to $35 for one final pause. Then it will be off and running to $50 and an ATH. Get ready. It's coming." Source
29. Lawrence Williams: +$35
"While I still think $50 silver is perhaps just about out of sight, the metal can certainly move up to perhaps $35 or more given the current momentum." Source
The post These 29 Analysts See Silver Going Up Dramatically This Decade appeared first on munKNEE.com.
The Good, The Bad, & The Ugly
The Good, The Bad, & The Ugly
Authored by Sven Henrich via NorthmanTrader.com,
"Sometimes I wonder if the world is being run by smart…
The Good, The Bad, & The Ugly
Authored by Sven Henrich via NorthmanTrader.com,
"Sometimes I wonder if the world is being run by smart people who are putting us on or by imbeciles who really mean it"

– Laurence Peter
After months and months of sticking to a transitory narrative despite ever rising inflation data Jay Powell finally caved yesterday and retired the word transitory. What a colossal embarrassing blunder. Once again a Fed Chair being in total denial about reality. Like Ben Bernanke in 2007 declaring subprime contained and not a threat to the economy, persistent inflation is suddenly a risk to the economy when it supposedly wasn't all year long while the data clearly kept saying that it was.
The Fed not only got inflation wrong but by extension they got policy completely wrong and I find myself very much validated here: They've totally overdone it on the liquidity front as they kept printing like mad men into an inflationary environment that they denied existed. And it's not only the Fed. Combined with the ECB both central banks have added a combined $3 trillion in liquidity just in 2021 into an inflationary environment no less. Mad. Which means they exacerbated a massive asset bubble exacerbating wealth inequality when the right policy should have been to taper sooner. And now they may be forced to slam the foot on the breaks, a point I made on CNBC today:
Glad to join @CNBCTechCheck today.
Here's part of the clip.
We never got to the charts, but I'll aim to post some additional commentary which will include some charts. https://t.co/SUOdfk3wLM

— Sven Henrich (@NorthmanTrader) December 1, 2021
What's this all mean for markets in the here and now? Since I promised some charts let me give you the good, the bad, and the ugly.
Let's start with the good:
Let's recap key technical developments as the context of the market action in oh so important. In late October I highlighted the case for "Make Bears Cry" the infamous broken trend and then new highs to retest the broken trend which was first identified in late September. Bears did indeed cry as everything broke out to new highs including aggressive rallies in small caps, the $NYSE, $DJIA and $SPX and $NDX of course.
On November 16th in the NorthCast I outlined an inverse pattern on $SPX with the technical target of 4740. This target not only got hit rather precisely but it served as a key reversal pivot again off of the trend line we've been watching all year long:
Note how stubborn and persistently $SPX keep tagging the trend line from the underside with the final highs coming on a very pronounced negative divergence.
As the sell off ensued I highlighted in MarketWatch the September highs, i.e. the 4550 zone, as a key price zone bulls must hold to continue to be constructive for year end. This level was almost reached yesterday and has so far held as support. But watch this price zone closely in the days and weeks ahead, for should bulls lose this zone things may get a lot uglier still.
Note the same applies to $NDX:
Whereas $SPX has broken its trend in September, the $NDX trend remains intact and the index has remained incredibly resilient. As long as the trend remains intact tech is in a good position to set up for a year end rally. $NDX also remains above the September highs and as long as these previous highs hold as support the price action can be constructive as a back test. Note also how precise the trend has remained both on the resistance as well as the support side in the past year:
Now to the bad:
Note in the chart above the $VXN, the underlying volatility index, has broken out and in the lead up to the November highs it kept warning with rising volatility prices, that's the same event we saw leading up to the February 2020 top.
We can observe a similar even more pronounced breakout in $VIX a pattern that held its uptrend throughout 2021 which I again highlighted in "Make Bears Cry":
While bulls can hope to compress the $VIX again for a backtest into late December the genie looks very much to be out of the bottle.
Another big issue is that ever more highs in $NDX this year have come on an ever weakening cumulative advance/decline picture and in recent days in particular that indicator has completely fallen off the cliff:
This again speaks to the narrowing of leadership of a few stocks that are holding up the index. Note the advance/decline was falling off the cliff even as $NDX made new all time highs on November 22. Indeed the intermittent peak was in early November way before Omicron was even identified. To highlight the extent of the damage beneath: The average Nasdaq component has experienced a 41% drawdown in 2021, 19% on the $SPX. So while we all get the impression of a massive bull market the underlying picture is not so pretty. The everything rally which sees many stocks getting hammered.
Which brings me to the ugly.
In the lead up to the November 22 highs on $SPX and $NDX many other indices did not follow suit as tech was leading driven by a few stocks. This is precisely the same development we saw in January 2020 going into February 2020.
Indeed, the September high backtest support I mentioned in $NDX has already broken in many indices, such as the $DJIA the broader $NYSE and also small caps which just got pounded dropping 12% in just 3 weeks one of the most aggressive drops from all time highs in history:
Indeed 2 out of the 3 previous similar sizable sell offs of this magnitude from all time highs came in March 2020 and in August 2007 just as the asset bubbles began to crack.
The key issue: Trapped supply above as many traders chased the breakout and are now finding themselves under water. Note $IWM is back at February levels.
And this same trapped supply issue with failed breakouts can be observed in the $DJIA and the broader $NYSE:
What all of these charts highlight is that there has been tremendous corrective damage inflicted in individual stocks far beyond what the main indices indicate.
And unless everybody owns only $SPX and $NDX index funds and only the winning stocks it appears people have gotten hammered hard somewhere in individual stock holdings. A question arises. If everybody has piled into stocks like never before:
Why are so many unhappy?
Consumer sentiment per University of Michigan shows levels commensurate with the March 2020 crash lows. Both can't be true. So there's something big time amiss here. And unless all the inflows are in the winning stocks only there is pain out there that is masked by the indices.
Unhappy consumers are not happy voters and this has to be a concern for Democrats going into mid term elections next year.
And it is consumers that have been hit the hardest by rising inflation exacerbated by the Fed's reckless printing:
Powell retiring transitory today is an admission that the Fed has been running the wrong monetary policy since at least the spring & the bottom 50% have been paying the price while the Fed has continued to bloat up the net worth of the top 1%.

And this deserves a renomination ????‍♂️

— Sven Henrich (@NorthmanTrader) November 30, 2021
None of this does not preclude a Santa rally from oversold conditions still, but as we saw in early 2020, massive divergences in index performances leading up to new highs are a major warning sign, and the underlying volatility components in all of these charts, including the $VIX, show breakouts suggesting the genie is out of the bottle and will make for a much more volatile 2022.
Indeed I could even point to similar monthly candle in November as we saw in January 2020:
Back then the initial news of a new virus was very much ignored and $SPX and $NDX went onto new highs while financials and small caps did not. Sound familiar?
I'm not making a crash call here, but it may serve to remind the the S&P 500, despite the recent pullback, remains above its quarterly Bollinger band and remains far disconnected from even a basic quarterly 5 EMA reconnect:
Periods of excessive printing have seen such disconnects before, but the reconnect is coming, either this quarter or likely during the next quarter.
While in all of history this Bollinger band was resistance, the liquidity excess of 2020 and 2021 has turned this Bollinger band into support. How long this historical aberration continues very much depends on artificial liquidity injections continuing. The short term good news for bulls may be also this historical fact: Since 20009 all major corrections did not manifest themselves until QE programs were ended and corrections were ended with more liquidity coming in. In this sense it may be argued that the first larger correction will not come until the Fed actually ends QE.
But then we've never seen such a price and valuation disconnect from the underlying economy in history while we see the Fed's credibility suddenly very much shaken. After all it's all about confidence.
*  *  *
For the latest public analysis please visit NorthmanTrader and the NorthCast. To subscribe to our directional market analysis please visit Services.
Tyler Durden
Wed, 12/01/2021 – 17:01
inflation
monetary
markets
policy
fed
bubble
monetary policy
inflationary
crash
Commodities and Cryptos: Oil pares gains post OPEC meeting/EIA report, Gold rebounds, Bitcoin higher post Gensler
Oil Crude prices pared gains after the EIA reported a small headline draw with crude inventories, but more importantly showed a massive build with gasoline…
Oil
Crude prices pared gains after the EIA reported a small headline draw with crude inventories, but more importantly showed a massive build with gasoline and diesel stockpiles, a 100,000 bpd increase with US production, and a minimal rebound with exports. Nothing to really get excited from the EIA report, so WTI crude should consolidate here until tomorrow's OPEC+ decision on output.
WTI crude returned to session lows after CDC identified its first Omicron case in the US. It was inevitable that Omicron would make it to the US, but when you combine how quickly it appears to be spreading across South Africa, energy traders are getting more concerned about the short-term crude demand outlook. With just under 30% of the US population being unvaccinated, nervousness about large parts of the country entering lockdown mode could grow if Omicron is proven to be much more transmissible than delta. 
Crude prices may get a boost from OPEC+ delay in delivering an increase in output, but the Omicron variant will likely wreak havoc over the short-term demand outlook.
Gold
Gold is struggling here as Wall Street can't agree on a clear path for the dollar following Fed Chair Powell's hawkish pivot and mounting fears Omicron might disrupt growth over the short-term. Fed rate hike expectations are constantly moving as traders grapple with the question, can the Fed really signal rate hikes are imminent as the economy potentially faces another COVID wave?
Gold prices are facing plenty of technical resistance from the three key (200-, 100- and 50-day) SMAs and the psychological $1800 level.  Real yields are rising today and that is another reason why gold can't really benefit from the risk-off Omicron environment. Gold will likely consolidate here until the dollar takes a clear path.  
Cryptos
Bitcoin is bouncing back alongside risky assets as crypto traders grow optimistic regulators will soon form crypto-banking guidelines that could help deliver the next wave of investment. Bitcoin extended gains after SEC reiterated calls for cryptocurrency exchanges to register with the SEC. 
The cryptoverse is stuck in wait-and-see mode over what inflation will force the Fed to do and with how the regulatory environment will look. Cryptos are the top performing asset class again heading into year end, so any fears that the Fed may have to accelerate their rate hiking plans could prove to be short-term negative for Bitcoin and Ethereum.