Steel Stocks X, CLF and MT Are in Focus as U.S. Steel Falls
For investors in steel stocks, some recent updates from U.S. Steel (NYSE:X) point toward a bright future. Throughout the year, commodity demand has kept…
For investors in steel stocks, some recent updates from U.S. Steel (NYSE:X) point toward a bright future. Throughout the year, commodity demand has kept steel prices elevated and the companies that dominate the industry have made it clear that they see ample reason for these trends to continue. These sustained price predictions have led industry leader U.S. Steel to announce an ambitious expansion.
Source: Shutterstock
What's Happening With Steel Stocks?
The aforementioned project is the construction of a new steel mill, the actual building of which is slated to commence in 2022 with operational use beginning no later than 2024. According to the Wall Street Journal, this edition to the company's Pittsburg, Pennsylvania facilities would increase production capability by 3 million tons of sheet steel on an annual basis and will cost the company roughly $3 billion to build.
Although the initial announcement seemed to help X stock rally, this trend did not prove sustainable. Since markets opened today, shares have declined steadily and considerably, closing down 8%. The past week has been fairly volatile, with the stock rising steadily on Sept. 15 and only declining slightly until today.
Things haven't been much better for U.S. Steel's competitors. Shares for ArcelorMittal (NYSE:MT) and Cleveland-Cliffs (NYSE:CLF) closed down 4.4% and 5.2%, respectively.
Why It Matters
Despite a day in the red for most major steel producers, the industry's outlook should have investors feeling optimistic.
As the U.S. manufacturing sector has gradually rebounded from the effects of the Covid-19 pandemic, demand has risen. Prior to the pandemic, regulations that spawned from the U.S.-China trade war caused manufacturers to either reduce their workforce or shut down entirely. This certainly applied to the steel industry, but for the companies left standing, it has meant an increase in demand and less competition, naturally leading prices to rise.
This announcement from U.S. Steel should have investors feeling very confident, particularly those with X stock. It serves as an indicator not only that demand will stop prices from receding to pre-pandemic levels but that the company is confident that demand will still allow it to outpace competitors who may also explore expansion efforts.
What's Next for Steel Stocks
It may take some time for steel stocks to retain momentum, but it is clear that both the demand and prices that they have enjoyed this year are here to stay. For a company to invest billions to expand facilities that will not be operational for almost two years signals that it is confident that it will come back in spades in both the short and long term.
If there were ever a time to bet big on steel stocks, this is it. The trade war may not have helped smaller companies, but it is definitely helping their larger competitors. This in turn will help shareholders as the infrastructure boom continues.
On the date of publication, Samuel O'Brient did not have (either directly or indirectly) any positions in the securities mentioned in this article. The opinions expressed in this article are those of the writer, subject to the InvestorPlace.com Publishing Guidelines.
More From InvestorPlace
The post Steel Stocks X, CLF and MT Are in Focus as U.S. Steel Falls appeared first on InvestorPlace.
Weekly Market Pulse: Inflation Scare!
The S&P 500 and Dow Jones Industrial stock averages made new all time highs last week as bonds sold off, the 10 year Treasury note yield briefly breaking…
The S&P 500 and Dow Jones Industrial stock averages made new all time highs last week as bonds sold off, the 10 year Treasury note yield briefly breaking above 1.7% before a pretty good sized rally Friday brought the yield back to 1.65%. And thus we're right back where we were at the end of March when the 10 year yield hit its high for the year. Or are we? Well, yes, the 10 year is back where it was but that doesn't mean everything else is and, as you've probably guessed, they aren't. In the early part of this year, the 10 year yield was rising as anticipation built for a surge in post vaccination economic growth. The 10 year yield rose about 85 basis points from the beginning of the year to the peak in late March. 10 year TIPS yields, meanwhile, were also rising, a little more than 50 basis points. There was agreement between the two that growth expectations were improving, inflation expectations rising a bit more than real growth expectations. The 10 year Treasury ended March right about where it was last Thursday, 1.7%. But there is considerably less agreement between the two markets now with the 10 year TIPS yield still 35 basis points lower (more negative) than the March peak.
So, no, things are not back where they were. The recent rise in nominal bond yields is much more about inflation fears than growth hopes. Markets provide us with a wealth of information that allows us, to some degree, to get inside the heads of investors. The changes in the bond markets recently show that investors have a very specific and nuanced view about the economy. They are certainly concerned about inflation and doing what people do when they are scared – trying to protect themselves. TIPS have been very popular of late for exactly that reason, as the inflation narrative gets louder and louder. But what is interesting is that, in a way, investors are taking the Fed at its word, that the inflation is transitory. The 5 year breakeven inflation rate hit 2.91% last week while the 10 year rose to 2.64%. But the 5 year, 5 year forward rate (5 year inflation expectations starting 5 years hence), has fallen over the last week to 2.37%. Investors think inflation will average nearly 3% over the next 5 years but less than 2.4% over the following 5. So investors do see inflation as transitory even if their definition of the term seems quite a bit different than the Fed's.
Another big difference between now and March is the steepness of the yield curve. The 2 year note yield has been on a steep rise of late, up 140% since the beginning of September, with most of that coming in October. The 2 year rate roughly doubled in the early part of the year too but the absolute change was small because rates started so low. The recent change in the 2 year has been more rapid than the 10 and is being driven by expectations for Fed policy changes. The 10/2 curve was 1.58% at the end of March but just 1.18% today. The short term trend is still toward steeper but the climb has stalled a bit:
I interpret these changes in the obvious way. Nominal growth expectations are rising with most of the recent change focused on inflation but with some pickup in real growth expectations too. In addition, investors do not seem willing to believe yet that inflation is a long term problem. Given the high profile of the inflation narrative and the lack of much concrete evidence of a growth pickup, these changes seem perfectly rational and reasonable. I think it is important to note too that these changes in inflation expectations are small but also rapid. The 10 year breakeven rate is up about 65 basis points this year but over half of that has happened in the last month. The same is true for the 5 year breakeven rate. As for the change in real growth expectations I'd just say that it isn't very impressive regardless of the rate of change. Unfortunately, that makes sense too since, as I discussed last week, we haven't done anything to change the trajectory of either workforce or productivity growth. My long term expectation for growth hasn't changed much since the first few months of COVID. We came into it with growth averaging roughly 2.2% over the previous decade. After adding a lot of debt to that economy during the pandemic my assumption is that, when things finally settle out from the virus and the response to it, economic growth will be lower. How much? I don't know of any way to quantify that.
But that long term expectation is just that, long term. It doesn't say anything about growth over the near term, the next 6 to 12 months. We'll get a report on Q3 GDP next week and all indications are that it will be a pretty big fall off from the first half of the year. But anyone who's been paying the slightest bit of attention knows that so it really won't matter. Investors will be focused on the current quarter and the one after that. Will there be a reacceleration in growth as the delta variant fades? Will businesses be able to get goods for Christmas or will America get a lump of coal in its stocking? Or are we out of coal too? I don't know but I do think we need to be careful about getting too negative about, at least, the immediate future. Inflation expectations can change rapidly while growth expectations take more time so TIPS and nominal yields are often on different songs, even if in the same hymnal.
I don't generally put much emphasis on the PMIs or regional Fed surveys. They are basically sentiment surveys and rely on people's anecdotal observations which, as we know, can be skewed for a whole host of reasons. But they can be interesting at turning points, inflection points, where sentiment does have a bearing on actions and ultimately the economy. While I don't think we're near a negative inflection point, the Philly Fed survey and the Markit PMIs do seem to point to a more positive near term outlook. The Philly Fed survey itself was down considerably from September but it is still higher than 3 months ago and the details hint at a near term pickup. The new orders index rose to 30.8 from 15.9, employment to 30.7 from 26.3. They also asked a special question about capital spending plans that showed expectations for increased spending in 5 of 6 categories for next year:
Of course, those expectations could change dramatically if Q4 turns out to be a bust but it is, for now, a positive indication for future growth.
The Markit PMIs also offered some near term optimism as the overall measure rose to 57.3 from 55 in September. That's the best in 3 months with a sharp rise in service sector activity and a 3rd consecutive month of slowing in manufacturing activity (which is still at a high level). New orders in services rose at the fastest pace in 3 months. Job creation was the highest since June although companies still report having a hard time finding workers. All of this is perfectly consistent with the expectations for a growth resurgence post delta. Will those expectations be met? I don't know obviously but if these expectations start to be met, we should see a response in the bond market with better balance between TIPS and nominal bonds.
There was also some potentially good news in the Census Bureau's weekly household pulse survey which showed a big drop in people reporting not working.
Again, I don't think we should put a lot of emphasis on these surveys. I'm always more interested in what people are doing rather than what they say they're doing and especially what they say they intend to do. But these seem to be more significant changes than we'd normally see month to month.
We're going through a bit of an inflation scare right now and we can see the changes in markets. They are fairly small changes though and they can, probably will, change again in coming weeks. Growth and inflation expectations are always changing as new information enters the market. Millions of investors speculate about how the future will look and their bets on that future move markets as new consensus expectations emerge. And the market changes that come from these new expectations also affect the economy in an ongoing feedback loop that changes expectations and markets again in a never ending search for equilibrium. The ebb and flow of the markets and the economy are intertwined, one influencing the other to produce the best prediction of the future we'll ever get. Just don't get too attached to that future because it can – and often does – change quickly.
————————————————————————————————————————————————————————————————————————————————————————————————————————-
The economic environment is unchanged.
The trend in the nominal 10 year rate is obviously up
But we're interested mostly in real growth expectations and TIPS yields are not in an uptrend yet:
The dollar remains in a short term uptrend but we are at a pretty obvious resistance point. In addition, the futures market shows a pretty strong preference by speculators for the long side of the dollar trade. So the short term trend may be running into some trouble and with real rates still flailing at low levels, I think that makes a lot of sense. The real long term trend of the dollar is no trend at all, still stuck in the middle of a 10% trading range that has prevailed for now 7 years:
———————————————————————————————————————————————————————————————————————————————————————————————————————
Despite my comments above about the Philly Fed survey and the Markit PMIs (not shown here), the economic data wasn't that encouraging last week. Industrial production was down for the second straight month but there were a lot of caveats. Hurricane Ida is alleged to have taken 0.6% off the total and the auto industry is still flagging due to the chip shortage. Mining output (shale) was down, shocking exactly no one except maybe Joe Biden. On a more positive note, IP rose at a 4.3% annual rate in Q3, the fifth consecutive quarterly gain over 4%.
The Housing Market Index rose in September with single family especially strong. But the news on the new home front otherwise was not that great with starts and permits both down. Existing home sales did have a big rise but that was probably driven by rising mortgage rates.
A lot of data releases next week with GDP the highlight for most observers. The more important items will be the CFNAI to get an idea of how much we've slowed overall, durable goods orders and especially core capital goods orders, personal income and consumption and consumer sentiment.
We were reminded last week that US markets are still under the spell of speculators when a SPAC announced a deal with an entity associated with Donald Trump. Digital World Acquisition Corp. rose from $10 to, at one point, over $170 in two days of trading last week before settling the week up a mere 9 fold to $94.20. SPACs are Special Purpose Acquisition Corps or more commonly blank check companies. The fact that these companies with no business plan beyond a vague notion to purchase an operating company are so popular, is an indication by itself, of the speculative nature of these markets. But when a blank check company with no business plan acquires a shell company that consists of a powerpoint presentation and the stock has to come down to be up 9 fold in a couple of days, well, I think we've entered something beyond speculation. This is the post-modern economy where value is socially determined, reality is anything but objective, "where there are no hard distinctions between what is real and and what is unreal, nor between what is true and what is false". It is an absurd world where the value of Donald Trump's future social media empire is determined through the interactions of speculators on existing social media.
Back in the real world, stocks were up last week with the US continuing to outperform. Growth had a good week and the value/growth debate YTD now amounts to a draw. China rebounded last week as Evergrande made an interest payment and you may see a rebound in Chinese markets as people get comfortable with the heavier hand of the communist party. I'm going to have to miss that if it happens as I am decidedly not comfortable with China. There are other places in Asia that look a lot more attractive in my opinion, Japan prominent among them.
Real estate has recovered quickly and led last week but financials continue to perform well too. Healthcare had a good week after lagging recently.
With stocks near or at all time highs, it is easy to assume that means something about future economic growth. But stocks move based on expectations about future EPS growth which isn't even close to the same thing. Last week's move up in stock prices was more likely a consequence of the death of the corporate tax hike as the Biden economic plan continues to get pared down to something more manageable. The economy just isn't the focus of stock investors right now but that could change if growth doesn't pick up soon from the big Q3 slowdown. There is little evidence of that yet beyond the surveys I mentioned above so we won't guess at the outcome. If real rates join nominal rates and start to rise more decisively, that will be a sign that we can be more optimistic. But we aren't there yet.
Joe Calhoun
Port Congestion Could Be Worse Than "Lehman Crash", Flexport CEO Warns 
Port Congestion Could Be Worse Than "Lehman Crash", Flexport CEO Warns 
"The ports shutting down is worse than Lehman Brothers failing….
Port Congestion Could Be Worse Than "Lehman Crash", Flexport CEO Warns 
"The ports shutting down is worse than Lehman Brothers failing. Both can lead to catastrophic failures of all counterparties depending on them. But with Lehman, the government could just print tons of money to flood the banks with liquidity," Ryan Petersen, chief executive officer of logistics company Flexport, warned Friday after touring logjammed U.S. West Coast ports. 
Petersen said his firm hired a boat captain to tour Los Angeles and Long Beach ports, which account for 40% of all shipping containers entering the U.S. He said during the three-hour loop through the ports, passing every single terminal, "we saw less than a dozen containers get unloaded." 
He said the twin ports have hundreds of cranes but only "seven were even operating and those that were seemed to be going pretty slow." He said the bottleneck that everyone now agrees on is "yard space" and that "terminals are simply overflowing with containers, which means they no longer have space to take in new containers either from ships or land. It's a true traffic jam."
"The bottleneck right now is not the cranes. It's yard space at the container terminals. And it's empty chassis to come clear those containers out," he said.
The twin ports appear to be at a standstill even though President Biden issued a directive last week to keep them operating on a 24/7 basis. But that seems to be not enough because the president has weighed the use of the National Guard to alleviate constraints. 
Petersen suggested a "simple plan" for the state and federal government to partner with ports, truckers, and everyone else in the chain to create temporary container yards that stack empty ones up to six high instead of the limit of two. This would "free up tens of thousands of chassis that right now are just storing containers on wheels. Those chassis can immediately be taken to the ports to haul away the containers."
He said it was necessary to correct this bottleneck because it's a "negative feedback loop that is rapidly cycling out of control that will destroy the global economy if it continues unabated."
Goldman Sachs' Jordan Alliger agreed and told clients to monitor the ports. He said, "the most notable congestion indicator is the number of container ships anchored waiting to offload their freight returned to 70 ships anchored on October 18 after hitting a record of 73 on September 19, compared to their pre-pandemic average of 0-1 ships."
Petersen is right. The monetary wonks at the Federal Reserve are way over their heads. They can't print their way out of this shipping crisis they helped sparked by unleashing unprecedented monetary injections into capital markets over the last 19 months. The circulatory system of the global economy risks breaking as port congested worsens. 
Tyler Durden
Sun, 10/24/2021 – 14:00
monetary
markets
reserve
crash
The Price of Bitcoin
Over seven and a half years ago, Jim remarked about Bitcoin: Hard to know where this is all going to lead. But one thing is clear– we have added a very…
Over seven and a half years ago, Jim remarked about Bitcoin:
Hard to know where this is all going to lead. But one thing is clear– we have added a very interesting new chapter in the history of money.
In my course on the financial system, I've had to update the material to include cryptocurrencies and central bank digital currencies (CBDC). Here's some pictures of cryptocurrencies.
Figure 1: Price of bitcoin (blue), ethereum (brown), litecoin (green), in USD, in logs, 2017M01=0. NBER defined recession dates shaded gray. Source: FRED, NBER.
These three particular cryptocurrencies have experienced proportionately enormous appreciations. Taking bitcoin as an example, it's clear cryptocurrency returns have been enormous compared to even the S&P 500.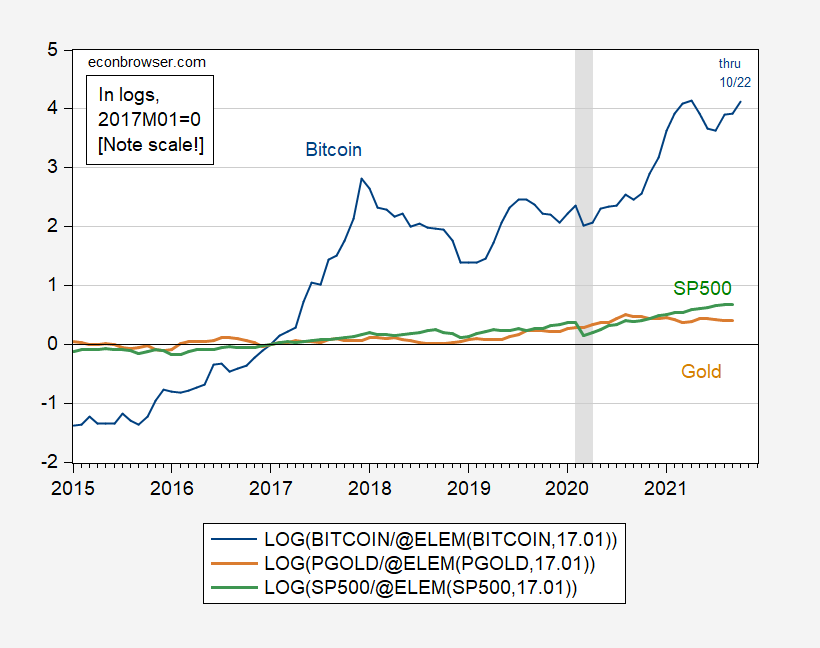 Figure 2: Price of bitcoin in USD (blue), London 3pm price of gold in USD/oz. (brown), S&P 500 index (green), in logs, 2017M01=0. NBER defined recession dates shaded gray. Source: FRED, NBER.
However, the month-on-month volatility of bitcoin is enormous, even dwarfing that of gold, as shown in Figure 3.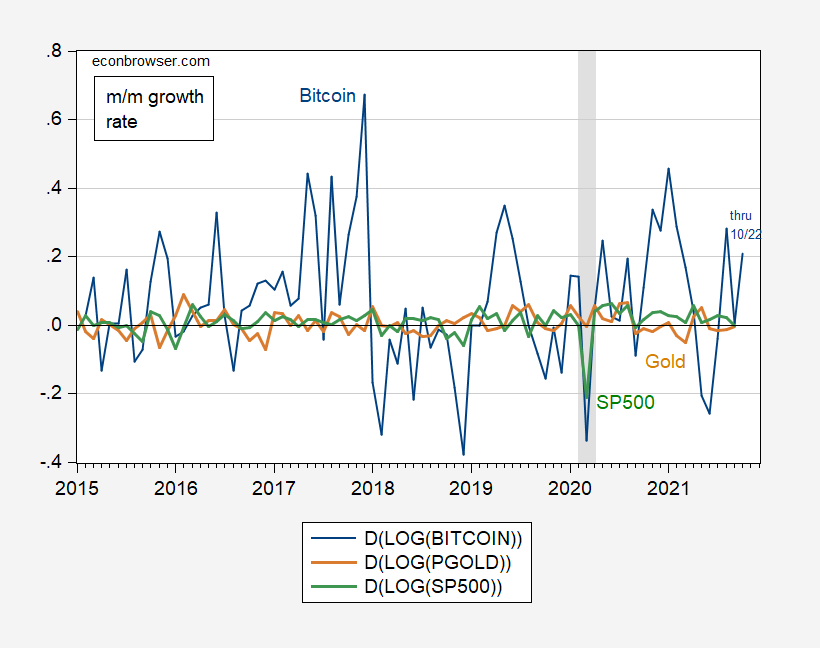 Figure 3: Month-on-month growth rate of the price of bitcoin in USD (blue), of London 3pm price of gold in USD/oz. (brown), of S&P 500 index (green), all calculated as log-differences. NBER defined recession dates shaded gray. Source: FRED, NBER.
The standard deviation of month-on-month (not annualized) changes was 2.8% and 3.9% for gold and S&P 500 respectively. For bitcoin, it's 21.6% monthly. That means that bitcoin does not fulfill the third function of money, namely a store of value, very well.
Given this volatility, one has to wonder why one would want to hold bitcoin. In his post, Jim asks:
Why does the stuff have value in the first place? The answer is that it would be very helpful to many buyers and sellers of real goods and services if they were able to pay for transactions in this way. We can think of any form of money as an asset that provides liquidity services, which refers to the tangible benefit to its holder coming from the ability of the asset to facilitate certain transactions. The value of money, that is, the value of real stuff you'd be willing to give up to hold money, can be thought of as the present value of the stream of these future liquidity services.

Bitcoin has two potential advantages over credit cards for providing such liquidity services. First, the supporting network only needs to verify that the private code is valid, which is less costly than verifying that you are indeed the rightful owner of a credit card and are ultimately going to deliver good funds. …

Second, Bitcoins are relatively more anonymous than credit cards. In this respect, they enjoy some of the same advantages as cash….
One can formalize this argument by referring to the equation for pricing assets:
D stands for dividends when P refers to a stock price. In our context, D is the liquidity services provided by bitcoin (which can be small for those who don't need to evade restrictions), P the price of bitcoin. If one can rule out bubbles, then a bitcoin price is equal to the present discounted value of liquidity services. However, there's no reason to impose this assumption.
Then the price of bitcoin is moved primarily by new information that changes the information set used for forecasting the future price — in other words, the speculative motive is central.
The expected future price is in this interpretation driven by new information about the liquidity services provided by bitcoin. New regulatory measures — either tightening or loosening — should be associated with bitcoin price movements. Figure 4 highlights the role of such regulatory events, as well as the discount rate.
Figure 4: Price of bitcoin in USD (blue, left log scale), TIPS 5 year yield, in % (brown, right scale). NBER defined recession dates shaded gray. Source: FRED, NBER.
Chinese measures to rein in the use of bitcoin negatively impacted prices. On the other hand increasing acceptance of the use of bitcoin — as in the establishment of a bitcoin futures ETF — enhanced the liquidity services provided by bitcoin.
What does the future herald for the price of bitcoin? It depends on the balance between increasing regulations that limit the desirability of bitcoin as a pseudonymous means of transactions and the increasing usefulness of bitcoin as an asset class. The establishment of central bank digital currencies (CBDCs) will also certainly alter the relative desirability of cryptocurrencies.
For more, see Charles Engel's paper on the subject. Eswar Prasad devotes considerable discussion of cryptocurrencies in his new, comprehensive assessment of the digital revolution in finance, The Future of Money.