Strength of Swiss Franc Signals About Worsening Sentiment
Markets started Thursday's trading session in a positive mood. The Swiss franc, being considered a safer currency, was soft as a result of that. But currently, the Swissie has managed to gain against almost all of its most-traded peers. It…
Markets started Thursday's trading session in a positive mood. The Swiss franc, being considered a safer currency, was soft as a result of that. But currently, the Swissie has managed to gain against almost all of its most-traded peers. It also erased losses versus the Australian dollar, which had been the strongest currency on the Forex market during the early Thursday trading.
Among the possible reasons for the markets' positive sentiment was the meeting between the US and Chinese officials next week. Analysts speculated that hopes for improving relations between the world's two biggest economies made market participants more optimistic and willing to risk. Such hopes resulted in a rally of global stocks, with Dow Jones reaching a new record high yesterday, which also contributed to the investors' good mood. Why the mood worsened, as the rally of the Swiss franc suggests, is hard to tell at present.
As for news in Switzerland itself, the State Secretariat for Economic Affairs released an updated economic forecast. The forecast for growth of the gross domestic product, adjusted for sports events, this year remained unchanged from the December projection, staying at 3.0%. The outlook for GDP growth in 2022 got a positive revision from 3.1% to 3.3%. The outlook for consumer inflation got a revision from 0.1% to 0.4% in 2021 and from 0.3% to 0.4% in 2022. The report said:
The Expert Group largely confirms its previous assessment. GDP is set to de-crease in the first quarter of this year, but the easing of coronavirus measures should subsequently lead to a rapid recovery. Uncertainty remains extremely high.
USD/CHF dropped from 0.9295 to 0.9246 as of 11:52 GMT today after rising to the session high of 0.9309 earlier. EUR/CHF declined from 1.1089 to 1.1066. AUD/CHF was up from 0.7188 to 0.7224 intraday but retreated to trade near the opening level later.
---
© NewsInspector for Forex News, 2021. |
Permalink |
No comment |
Add to
del.icio.us

Post tags: AUD/CHF, Economic Forecast, EUR/CAD, Franc, Market Sentiment, State Secretariat for Economic Affairs, Switzerland, USD/CHF

Feed enhanced by Better Feed from Ozh
To address climate change, we need to address social inequality
Two of the largest challenges society faces today – climate change and social inequality – can benefit from a joint approach, particularly as investors…
Two of the largest challenges society faces today – climate change and social inequality – can benefit from a joint approach, particularly as investors may have to navigate enhanced regulation in both areas, says Alex Bernhardt, global head of sustainability research.
Climate change and inequality related to gender, race/ethnicity, age and ability are inextricably linked. Globalisation has acted to change the dynamics of both climate change and social inequality.
Over the past roughly 40 years, the latest phase of globalisation has acted generally to increase inequality – as measured by wealth and income metrics – globally and within many nations. Alongside this social impact, increasingly globalised trade has driven up carbon emissions, deforestation and the exploitation of resources, all of which are steady contributors to the severity of climate change.
In turn, the tangible effects of climate change have exacerbated inequalities due to their disproportionate impact on disadvantaged, vulnerable groups. This has created a negative feedback loop in which the poorest portions of the population are being excluded from economic growth and left without the financial resources to navigate the growing climate crisis (see Exhibit 1).
Joined-up responses
In response to climate change, governments around the world have examined a host of mechanisms to reduce emissions, with varying effects on vulnerable social groups.
One prominent example, putting a price on carbon, is viewed by many economists as one of the most effective means of cutting emissions. However, when not properly implemented, carbon-pricing schemes can have negative repercussions on low-income families/individuals and may face strong opposition as was the case with the 'gilets jaunes' in France. More broadly, some see dwindling political support for carbon taxes in key jurisdictions.
An alternative could be a carbon 'fee and dividend' policy such as proposed under the US Energy Innovation and Carbon Dividend Act. This mandates a gradually rising carbon fee on fossil fuel emissions with carbon dividends or rebates circulated to households. Such an approach would go some way to addressing the regressive nature of more blunt carbon tax instruments.
Policies to address social inequalities can also be one of the most effective ways to reduce emissions.
For example, Project Drawdown, a non-profit organisation, ranks climate solutions by their effectiveness. It suggests initiatives targeting women's health and the education of girls can be some of the most effective emissions reduction strategies available to reach 2050 climate targets as they have the effect of slowing population growth (a key emissions driver), while improving family resilience to climate change.
These interventions also produce many 'co-benefits' which are not directly climate-related including improved health and lower incidences of disease and maternal and child mortality.
For all the above reasons, we believe climate justice – including a just transition to a low carbon economy – is not only desirable, but also necessary.
A social Inevitable Policy Response?
BNP Paribas Asset Management supports the Inevitable Policy Response (IPR) initiative, which postulates that markets have not yet priced in (an inevitable) forceful policy response to climate change.[1]
The IPR initiative is premised on the idea that governments will be forced to act more decisively to address climate change than they have done so far, exposing investor portfolios to significant risk. The longer this policy response is delayed, the more abrupt, disorderly, and disruptive it will be.
While IPR's scenarios seek to forecast climate policies with a just transition lens, it's plausible that a concurrent social Inevitable Policy Response could emerge given the historically high level of inequality in markets such as the US where the income and wealth gap between the country's richest and poorest has risen sharply since the 1980s.
Inequality can only increase so much before policy change occurs – due to pressure at the ballot box or by means that are more dramatic. Analysis from academics at Otto-Friedrich-Universität Bamberg, Germany and Australian National University's Centre for Applied Macroeconomic Analysis counts income inequality as a direct factor in political polarisation. This effect is seen most clearly in the deterioration in the economic position of the poorest fractions of the population.
A balanced approach
Many climate policies have been designed with an environment-first approach. However, it seems increasingly likely that policy change may be spurred by rising social pressure.
In part, this is due to the tangible nature of social inequality, which can be felt more pervasively than the disparate and acute impacts of extreme weather and climate disasters. The Covid-19 pandemic, which has exacerbated and laid bare the unequal effects experienced by disadvantaged groups, will also play a significant role.
For these reasons, it may be wise for those looking to spur climate action to hitch their wagon to social movements looking to address inequality. Nonetheless, not all policies designed to relieve social inequality will have a positive effect on climate mitigation.
For example, increasing minimum wages may alleviate income equality for workers, but it may also increase consumption, waste and emissions as a result of individuals having more disposable income.
We believe this is not a reason to abandon efforts to raise minimum wages; to the contrary, such policies may be essential to address wage stagnation and inequality. Instead, minimum wage increases could be coupled with environmental policies to reduce the potential negative environmental impacts of increased consumption such as carbon pricing.
Work to do for policymakers and investors
Overall, policymakers should seek to coordinate policies to address both environmental and social issues simultaneously as they are simply too interconnected and urgent to address separately.
In their engagement[2] and investment strategies, investors may wish to consider both climate and social regulation that is not yet reflected in today's markets.
In addition to managing regulatory risk, investors may want to target investments in companies contributing to or responsibly addressing the transition to a low carbon economy via their stakeholders.
---
[1] The Inevitable Policy Response aims to prepare institutional investors for the portfolio risks and opportunities associated with a forecast acceleration of policy responses to climate change. The IPR contends that governments will be forced to act more decisively than they have to date, exposing financial portfolios to significant transition risk. See No more decades for dithering: It is crunch time to push climate policy – Investors' Corner (bnpparibas-am.com)
[2] BNP Paribas Asset Management regards active stewardship as an essential part of its role as a 'Future Maker' and a sustainable asset manager for a changing world, engaging with companies on issues ranging from environmental degradation and social inequality to opaque governance. See Sustainability – Investors must be stewards – Investors' Corner (bnpparibas-am.com)
---
Writen by Alex Bernhardt. The post To address climate change, we need to address social inequality appeared first on Investors' Corner – The official blog of BNP Paribas Asset Management, the sustainable investor for a changing world.
Dip-Buyers Beware Ahead Of The Fed
Dip-Buyers Beware Ahead Of The Fed
This week has seen carnage at the surface and below the index level in US equity markets, capped off by…
Dip-Buyers Beware Ahead Of The Fed
This week has seen carnage at the surface and below the index level in US equity markets, capped off by the chaos around the open today and the start of a $3.1 trillion options expiration, that we have detailed previously.
An ugly week…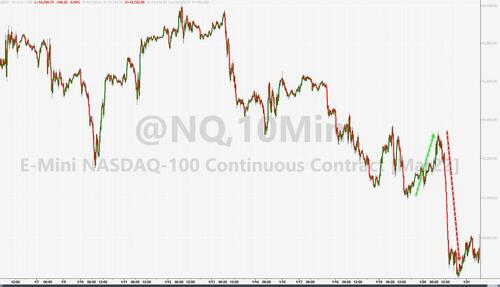 And a chaotic open…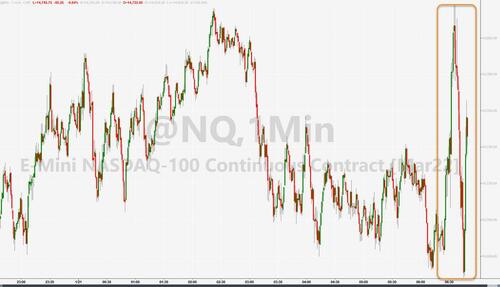 However, what really matters is what happens next? Is it time to buy-the-f**king-dip? Or is Fed fear too much to overcome in the short-term?
First things first, in order to judge what happens next, we need some color on WTF happened yesterday as markets puked with barely a bid. Nomura's Charlie McElligott lays out exactly how things happened…
The PTON shock headline was important to "get the ball rolling"—it had been a "Growth Darling" on the public equities side (+498% from 2019 IPO into early 2021 highs), and for many funds, was once a private-side holding–which optically and sentiment-wise VERY MUCH MATTERS right now, as those "unicorn" books are finally getting an MTM "come to jesus" which is crushing performance now for many funds, instead of previously carrying it—so there was fear of cascade into other "legacy" growth names with stupid valuations

So shortly thereafter (about 15-20 minutes), when the critical 100dma in ES of 4570 I mentioned in the morning note couldn't hold, that was first "ruh roh"…bc up to that point, the Dealer Delta covering HAD been a rocket ship

At this point, our internal Equities Futures "pressure" / imbalance monitors began showing that same heavy ongoing "vwap-style" de-risking seen in prior days, hitting bids, particularly in 'large lots'—meaning big institutional / asset-manager –type size

We then saw some really really big cash "sell" baskets which started going off at 2:30pm and escalated into the close, with TICK (proxy for large notional "program" flows from customers across single-name equities) hitting -1850 a few times in waves, and actually printed -1875 at the peak, which is largest "downtick over uptick" impulse across NYSE Equities since 9/20/21

From there, the kill-shot from the FLOW-perspective was when we began approaching the CTA "sell trigger" in S&P at 4507 I wrote about in the morning, when stating that it "had to hold"…..i had about 50 bberg chats pop-up once we moved down below 4520, as Traders were clearly "keying" on it / front-running it

And we absolutely BLEW through the flip level (4507 to the cash close of 4474 in about 20 minutes), which by our estimates meant $25B of Spooz to go from CTA Trend

This flow then took-out the 4500 strike with ease (notably the largest $Gamma strike)—where at that spot level also saw us near yesterday's point of Dealer "max short Gamma," in the area of ~ -$22B per 1%

And of course, the coup de grace was the NFLX outlook whiff after the cash Equities close, where this (former?) "General" of the FANGMAN / mega-cap Growth -era was slaughtered like a Microcap Lamb, -20% after-hours—which then further spiraled fears 'liquidation cascade" fears across the Fund universe, where so many "thrivers / survivors" of the past decade simply overweighted 5-10 of these names and watched their "returns vs benchmark" drive asset growth
So now we know how we got down here, we should remember that into today's Op-Ex, the set-up is as follows: massively short $Gamma and vs spot…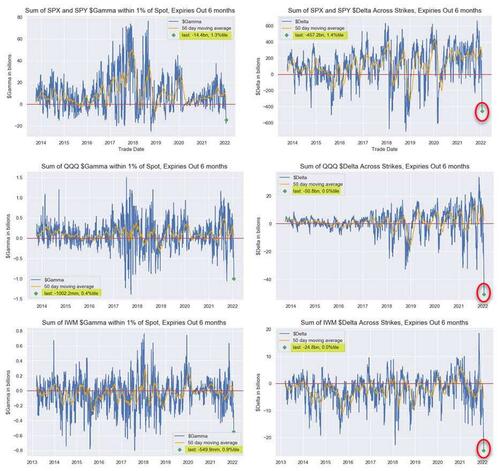 …but with a huge percentage of $Gamma set to roll-off thereafter, which means potential for Delta relief next week.
The majority of the (negative) Gamma set to roll-off today is in client downside / Puts, meaning that Dealers will have MUCH less Delta exposure to hedge / sell futures against come next week…i.e. if we are now closer to the end of client de-risking and there is "less hedging required on smaller underlying books = downside not rolled-out," Dealers will be buying-back their "short futures" hedges.
As SpotGamma highlights, yesterday certainly felt like some forced liquidations, which fed into large negative gamma and an accelerated drop. 4500 is the major gamma strike currently on the board, but all strikes are very put-dominated. As such we think today's flows will be hyper sensitive to shifts in implied volatility (vanna) and decay (charm).
We show >=33% of total S&P + QQQ gamma expiring today, which will lead to put covering. We therefore anticipate some relief rally today (or an attempt at one).
Its likely that a lot of put flow is rolled out due to the FOMC (+ volatility & other general risks), and still feel that a meaningful, multi-session rally cannot take place until after Wednesdays Fed.
In other words respect the magnitude of possible rallies today, but we advise not to consider them stable.
SpotGamma concludes then that the clearing of puts is supportive of markets, and may spark a short cover rally. However, because of the FOMC we do not think implied volatility will be offered in large supply as traders hedge the event risk. While we do give an edge to "pre-Fed" S&P lows being in, but anticipate large directional swings into Wednesday.
This is very risky, fragile market with lots of large flows that can shift price rapidly.
But, McElligott notes that CTA shorts are now in-place for US and could act as further "fuel for a squeeze" on spot stabilization / client monetization…as for now, "buy to cover" triggers in S&P, Nasdaq and Russell 2k futures are far more proximate than next "sell triggers"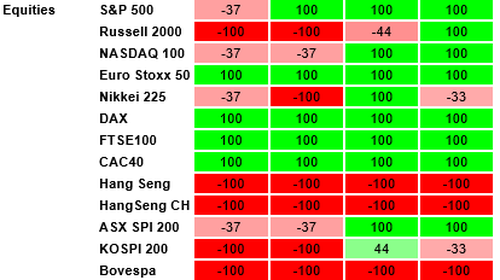 …the case for at least a short-term "mechanical" rally (meaning not one really built on bullish sentiment improving, per se) following Op-Ex and out-of the Fed next week still largely stands.
But the Nomura strategist concludes with a warning not to get too excited:
"Bigger picture however, the above is just providing a temporary "mechanical relief" and little more…because there is undoubtedly a sense we are in a new-regime from the Vol-sense"
We are forcibly transitioning to a world that requires "tightening" of still-too-easy financial conditions which requires simultaneously policy hiking and balance-sheet unwind
And that's why all I keep hearing about from clients is a resumption of the "4Q18 Playback," as the scar-tissue from that QT + hikes experiment is the backtest people are drawing on…
…but this time, with just so much more extensive speculative & valuation excess as a starting point…
…but this time, due to the inflation issue, a "Fed Put" which is now struck much lower below spot…
…meaning no "dovish pivot" relief unless things get much, much worse from the markets-side.
Tyler Durden
Fri, 01/21/2022 – 10:45
inflation
markets
policy
fed
Roku Investments At These Levels Make Sense
A few years ago I was a skeptic about the exuberance over Roku (NASDAQ:ROKU) stock. However, in the past two years I changed my mind because of the improvements…
A few years ago I was a skeptic about the exuberance over Roku (NASDAQ:ROKU) stock. However, in the past two years I changed my mind because of the improvements in the financial fundamentals. Therefore, today I am speaking as a proponent of buying the dip in ROKU stock.
Source: JHVEPhoto/Shutterstock.com
This week, equities are under pressure as investor sentiment has soured. This makes for touching trading conditions. For example, yesterday stocks fell out of bed mid morning and for no reason. The bulls had a clear win on their hand, and they chose to lose the game on purpose.
The lasting bad effect from that is that in the process they triggered bearish patterns. Almost all mega cap stocks are now below neckline that can carry prices much lower. Apple (NASDAQ:AAPL) for example triggered a bearish head and shoulders pattern that could target $156 per share.
The bulls can still save it, however now they are on their back feet peddling upstream. Similar scenarios are in the Nasdaq and the S&P 500 charts too. Amazon (NASDAQ:AMZN) has already started its breakdown from higher levels. And Netflix (NASDAQ:NFLX) just finished its target and then some.
ROKU Stock Is in Good Hands

Click to EnlargeSource: Charts by TradingView
This brings us to ROKU stock, which has already been in pain for months. There was good news yesterday because among the rubble, it managed to close positive on the day. Sadly, it fell overnight in sympathy to the reaction to Netflix's recent earnings report. Investors completely rejected the message from Netflix and sold the stock down 20%. This dragged Roku down after hours erasing whatever good news transpired during the day.
My selling point today is more about technicals than fundamentals. However, it is good to know that the company is executing on plans very well. Otherwise they wouldn't have delivered a tenfold increase in gross profit since 2016 and a six-fold increase in revenues. Clearly they know what they're doing, so investors should give them the benefit of the doubt.
The growth rate is not showing signs of deceleration. Therefore I can assume that this swoon in ROKU stock price will pass. Statistically this is not an expensive stock with a price-to-sales under 10. This puts it in the range of Apple, Microsoft (NASDAQ:MSFT) and Facebook (NASDAQ:FB).
If there are no fundamental problems, then the chart would be the second opinion I need. In this case Roku has already shed 70% of its value since its all time high. Moreover, it reached the level that was a massive failure in 2019, and the breakout after the pandemic. When stocks fall into such pivotal zones, they tend to find support. I bet that there are buyers lurking below these current prices.
Guard Against Outside Factors
Since I noted the technical bearish triggers in the indices I must leave room for error. Investors looking to initiate positions in Roku should only do partial size at first. The idea is to average in, not average down. Wall Street is having a crisis of sentiment in anticipation of the Federal Reserve monetary policy change. My gut says that our imagination is being more bearish than it needs to be.
Hopefully soon Federal Reserve Chair Jerome Powell sheds some light over their plans. Until then investors will be preparing for the worst. Those already long the stock may have missed the opportunity to panic out of it. The easy fall has already happened, and the bears from here will need hard work to do more damage.
On the date of publication, Nicolas Chahine did not have (either directly or indirectly) any positions in the securities mentioned in this article. The opinions expressed in this article are those of the writer, subject to the InvestorPlace.com Publishing Guidelines.
Nicolas Chahine is the managing director of SellSpreads.com. 
More From InvestorPlace
The post Roku Investments At These Levels Make Sense appeared first on InvestorPlace.