Success despite the odds: South Sudan and Bangladesh
We enter 2022 with trepidation. The COVID-19 pandemic is having another surge, thanks to the omicron variant, setting record-high infection rates. Civil…
By Shanta Devarajan
We enter 2022 with trepidation. The COVID-19 pandemic is having another surge, thanks to the omicron variant, setting record-high infection rates. Civil wars and conflict have broken out in the Horn of Africa, in addition to long-standing wars in the Middle East and North Africa. Economies are facing supply chain bottlenecks, incipient inflation, and, in some countries, slow recovery from the recession of 2020. Agreements and rhetoric notwithstanding, carbon emissions, which fell for the first time in 2020, are rebounding rapidly.
Amid all this pessimism, I share two cases of success despite the odds. One happened last year. The other represents a perspective on long-term development that demonstrates the triumph of the human spirit over seemingly insurmountable obstacles.
1. South Sudan
In 2021, South Sudan was heading into a perfect storm. The COVID-19 pandemic was spreading in this resource-constrained country (as one observer put it, "We have more vice presidents than ventilators"). Climate change induced floods were devastating the agricultural parts of the country. While there was a peace agreement to resolve the major conflict between the Dinkas and Nuer, violence was breaking out between smaller groups throughout the country. The economy was declining. Foreign exchange was scarce but the government kept the exchange rate fixed to avoid an inflationary spiral. Not surprisingly, a parallel market emerged. Whereas the official exchange rate was 186 South Sudanese pounds to the U.S. dollar, the parallel market rate was 610. The government was insisting on having all official development assistance (ODA) come in at official exchange rates, which meant this assistance too would soon dry up.
To shore up the foreign assistance without immediately devaluing the currency, the government, with the assistance of the International Monetary Fund (IMF), set up an auction where, every week, a small amount of donor assistance would be sold. Banks and other financial institutions would bid on these dollars and the exchange rate would be that which cleared the market. The experiment worked. In less than four months, the auction rate converged to the parallel market rate and the two rates have been unified since (Figure 1). The lesson? Even in a perfect storm, economic principles apply—and actually work.
2. Bangladesh
Because of its high and steady growth (its per-capita income today is higher than India's) in the face of high levels of corruption, Bangladesh is often described as a "paradox." In fact, there are five paradoxes about Bangladesh. First, is growth-with-corruption. Second, Bangladesh has good human development outcomes with relatively little government intervention. Secondary education is provided almost entirely by the nonstate sector. BRAC and other NGOs are also prominent in primary education. The health sector has a strong NGO presence.
Third, Bangladesh's industrial policy has been characterized by the supremacy of "deals" rather than rules and a fair amount of elite capture. Yet the country's ready-made garment (RMG) industry has grown exponentially, employing millions of women. Fourth, Bangladesh's tax-to-GDP ratio is at a very low 9 percent, but the country has maintained macroeconomic stability throughout its history. Fifth, the banking sector has high levels of nonperforming loans and other signs of fragility. But this is the same country that developed a successful microfinance industry that has spread around the world.
The explanations for these paradoxes lie in geography and history. Bangladesh has a densely packed, relatively homogeneous population. As a result, ideas and innovations spread like wildfire. A few NGOs introduced contraception in the 1970s and soon the whole country was practicing family planning. When Muhammed Yunus introduced microfinance, it took off throughout the country—before the government could regulate this instrument, which may explain its success in Bangladesh relative to India, say. When the Liberation War ended, Bangladesh's health and education systems were in disarray. International NGOs started delivering these essential human services. They were so successful that, when the government of the new country began engaging in these sectors, they found that it was better to have the nonstate sector continue to provide the services. To get around the high import tariffs that were protecting connected individuals, the government introduced bonded warehouses, where firms could import goods duty-free for producing exports. Before long, everybody had access to cheap imports of yarn and the RMG sector took off. Finally, the government maintains macroeconomic stability despite low tax revenues because of skepticism about advice from external partners, which inevitably accompanies a program with the IMF.
The common feature of these explanations is that the private sector in Bangladesh performs relatively well in the face of a dysfunctional government. We call this a paradox because it runs counter to our standard view of government being supportive of the different aspects of development, such as job creation, credit, health, and education. But if the government cannot be supportive, and, for reasons of geography and history, the private sector is delivering these services effectively, perhaps they should continue to grow in this way. In short, Bangladesh is not a paradox; it is a unique model of development.
China's Property Sector Is Crashing Again And This Time It Has Reached The Country's Biggest Developer
China's Property Sector Is Crashing Again And This Time It Has Reached The Country's Biggest Developer
The crisis engulfing China's property…
China's Property Sector Is Crashing Again And This Time It Has Reached The Country's Biggest Developer
The crisis engulfing China's property sector – which has prompted Beijing to capitulate on its tightening ambitions yet again, and forced China to launch an increasingly more aggressive easing campaign, which so far culminated in the first rate cut in Chinese official rates in almost two years – has impacted the country's biggest developer, sending the shares and bonds of Country Garden Holdings – which is even bigger than Evergrande – plunging amid fears that a reportedly failed fundraising effort may be a harbinger of waning confidence.
Country Garden is one of the few remaining large, (arguably) better-quality private developers that had been largely unscathed by the liquidity crunch, even as peers such as Shimao Group Holdings – a recently investment grade developer whose collapse in December was viewed as "more devastating than debt crises at Evergrande and Kaisa" – dramatic reversals in their credit ratings.
At least until now… and now that Shimao has imploded, Country Garden remains perhaps the final and most visible bellwether for contagion risk, as unprecedented levels of stress in the offshore credit market threaten to drag good credits down with bad.
Since taking the top spot from China Evergrande Group in 2017, Country Garden has remained the nation's largest developer in China by contracted sales. It employs more than 200,000 people.
Headquartered in the southern city of Foshan in Guangdong province, the firm – like China Evergrande Group – has focused in recent years on building housing developments in lower-tier cities. 
And, like Evergrande, Country Garden has also relied heavily on access to funding in the offshore credit market; actually not just Evegrande but virtually all developer peers that binged on debt to fuel growth in the past decade only to see the window slam shut now. According to Bloomberg, it has the largest pool of outstanding US dollar bonds among China's biggest property firms, excluding defaulters, with some US$11.7 billion outstanding, Bloomberg-compiled data showed.
Founding chairman Yeung Kwok Keung transferred his controlling stake to his daughter Yang Huiyan in 2005. She is now the firm's vice-chairman and is the richest woman in China, according to the Bloomberg Billionaire Index.
Or at least she was, because on some of Country Garden's US dollar notes plunged to record lows in the wake of a report that the firm failed to win sufficient investor support for a possible convertible bond deal. Longer-dated bonds were trading as low as 69 cents on the dollar as of late Friday.
This is notable because China's developer was relatively resilient in the face of the liquidity crisis sparked by a government crackdown on excessive borrowing by builders and housing market speculation, and had been unscathed by the crisis at industry giant Evergrande. But just as we warned back in September, China's slow-motion real estate crisis which revolves around what Goldman calculated last year was the world's largest asset which absent significant stimulus from Beijing, is facing a very painful derating.
According to Bloomberg, while Country Garden is not facing imminent repayment pressure – it has US$1.1 billion of dollar bonds due this year and had 186 billion yuan (S$39.5 billion) of available cash as of June last year – risks may emerge if it is seen to have limited access to funding. Any sign of doubt in the firm's capacity to weather liquidity stress risks may prompt a widespread repricing of other higher-quality developers. With more than 3,000 housing projects located in almost every province in China, Country Garden's financial health has immense economic and social consequences, far greater than Evergrande.
Worse, if the firm starts showing signs of stress, it will severely damage already fragile investor and homebuyer confidence, posing threats to China's economy and even social stability. And that's when China's Lehman moment will truly emerge.
Where it gets challenging is that similar to Evergrande, more than 60% of Country Garden's contracted sales in mainland China came from the third- and fourth-tier cities, said its 2021 interim report. Demand in lower-tier areas may significantly weaken in 2022, said a forecast by Fitch analysts. Being a "pure developer", it is less flexible when it comes to raising cash by selling assets, said Bloomberg Intelligence analyst Andrew Chan.
Country Garden's strategy is to manage its current assets effectively, in addition to expanding its business, the told Bloomberg News, although it clearly did not anticipate the recent meltdown in its bonds. "The firm is experiencing less volatility than the overall market" amid a broader market downturn, it said. The developer sold bonds and asset-backed securities in the local market in December, reflecting support from both investors and regulators, and maintained its ratings at all 3 major rating firms last year, said the comments.
Country Garden holds both investment-grade and high-yield credit ratings from the 3 major risk assessors, making it a so-called crossover name that could be vulnerable to becoming a 'fallen angel'. That could in turn raise its borrowing costs and eliminate yet another builder from the dwindling pool of higher-rated developers that investors can turn to during the credit squeeze.
It has the equivalent of an investment-grade triple B rating at both Moody's Investor Services and Fitch Ratings, and the highest possible speculative-grade rating at S&P Global Ratings. Still, the borrower is likely to "strengthen its financial resilience by controlling debt growth and maintaining disciplined land acquisitions", S&P analysts wrote in a September report that reaffirmed its rating.
Still, the builder may find it difficult to revive sales in 2022 with weakening market sentiment in lower-tier cities, where 77 per cent of its land bank is located, said Bloomberg Intelligence analyst Kristy Hung. The firm's sizeable amount of newly acquired land continues to be located in such areas, raising further concern about cash collection, she wrote.
Meanwhile, in the latest wave of selling, investors are now scrutinizing Country Garden's capacity to raise funding from a variety of channels, particularly as the offshore credit market remains effectively closed to most developers. It needs to repay or refinance some US$1.3 billion on bonds this year, the majority of which are dollar notes. Its next maturity is a US$425 million bond due Jan 27.
The selling in Country Garden's bond accelerated last week after the company struggled to tap the market for fresh funds, reportedly pulling a $300 million convertible bond issue due to weak demand. At the same time, Sunac's shares sank a record 23% after it sold new equity. Focus has also turned to the spillover effects of Country Garden's falling bond prices on the notes of other stronger developers as fears of contagion risks remain elevated.
Just to shore up confidence that it won't be the next Evergradnde, a statement on the Hong Kong stock exchange late Monday said  that Country Garden bought back an aggregate principal amount of $5m of 4.75% notes due July 2022 and $5m of 7.25% notes due April 2026. And even though the company added that it would monitor market conditions and "may make further repurchase of its bonds", we are concerned that this tiny, theatrical $10MM buyback will do little to restore investor confidence.
And as investors nervously eye the fate of China's largest developer, fresh turmoil rocked Chinese property bonds on Monday on concern over the true scale of the industry's hidden debts according to Bloomberg, deepening a selloff among higher-rated firms.
The latest selloff was catalyzed by a Debtwire report according to which Logan Group could be on the hook for $812 million of guarantees on outstanding obligations due through 2023. The news hammered Logan's note due 2023 which sank 14.1 cents to a record low 62.9 while Country Garden's shorter-dated bond due 2024 tumbled 12.9 cents to 67.7 cents, extending last week's selloff for the country's biggest developer.
According to Bloomberg, the selling in Property stocks is morphing from one catalyzed by specific event to one sparked by mounting concerns about the transparency of China's better developers, and is forcing bondholders to question the liquidity of firms whose finances appear sound. More debt would mean more creditors, some of whom could demand early repayment. There's also the risk that hidden liabilities like trust loans, private bonds or high-yield consumer products receive preferential treatment over money owed to offshore creditors. China Evergrande Group, Kaisa Group Holdings Ltd. and Shimao Group Holdings Ltd. have all faced such obligations.
While Logan, whose bonds traded at close to par as recently as last month, and which rated the equivalent of a BB rating at all three major credit risk assessors, denied both the report and market speculation the company has privately sold debt, that did little to ease the puke in its bonds which quickly spilled over to the rest of the property segment.
Already fragile investor confidence has taken a battering this year, effectively keeping the dollar bond market shut for developers. That's left the sector with limited refinancing options, increasing the risk of companies failing to pay debt on time.
"Risks across the Chinese property sector are rising, evident from difficult refinancing conditions for even the most well-regarded firms," said Wei Liang Chang, a macro strategist at DBS Bank Ltd. Greater clarity on the disclosure of liabilities as well as asset sales are crucial to shore up confidence, he added.
Real estate financing received by developers plunged about 19% in December from a year earlier, the sharpest decline in more than seven years, according to Bloomberg calculations based on full-year government figures released Monday. Home sales by value declined 19.6% in December from a year earlier, a sixth consecutive monthly drop, while property investment shrank 14%.
According to Bloomberg calculations, at least seven developers have defaulted on dollar bonds since October. That includes Evergrande, whose crisis has ensnared lender China Minsheng Banking, the world's worst-performing bank stock. Guangzhou R&F Properties Co. was downgraded to restricted default by Fitch Ratings last week due to what the ratings firm called a distressed debt exchange.
As if that wasn't enough, there remains the problem of the frozen bond market. With bond yields of property developers at stratospheric levels, Chinese property firms need to repay or refinance some $99 billion of local and offshore bonds this year. Just under half of that is outstanding dollar debt, Bloomberg-compiled data show.
Bottom line: as much as Beijing wants to, it will have to step in and bailout not just the property developers but the entire housing markets, where transactions have cratered and confidence has evaporated. And to do that, China will have to ease financial conditions much more aggressively than it has done so far – yes, overnight Beijing cut rates for the first time since 2020, but that step is nowhere near enough. To avoid an all out depression, Beijing will have to do much, much more… and not just Chine but the rest of the world's central banks too.  Which is why anyone who believes that the current tightening euphoria will last more than a few months, well we have a bridge in Wuhan  we'd like to sell you.
Tyler Durden
Mon, 01/17/2022 – 21:05
dollar
markets
us dollar
Weekly Market Pulse: A Very Contrarian View
What is the consensus about the economy today? Will 2022 growth be better or worse than 2021? Actually, that probably isn't the right question because…
What is the consensus about the economy today? Will 2022 growth be better or worse than 2021? Actually, that probably isn't the right question because the economy slowed significantly in the second half of 2021. The real question is whether growth will improve from that reduced pace. The Atlanta Fed GDPNow tracker now has Q4 growth all the way down to 5% from the 6.8% rate expected just a week ago (a result of a less than expected retail sales report). That's still a pretty good rate of growth if it holds up but my guess is that the final number will be somewhat less than that as the omicron wave took some juice out of the reacceleration from the end of Delta. I think a decent estimate of second half 2021 GDP growth would be 3.5 to 4%%. Interestingly, consensus for 2022 seems to be just about that range. Morningstar's estimate is 3.9%, S&P 3.9%, Kiplinger 4%, Conference Board 3.5%, Morgan Stanley 4.6%, Bank of America 4% and Goldman Sachs 3.4%. So, the consensus, not surprisingly I think, is for more of the same. Most of Wall Street forecasting is just about this imaginative by the way.
What about inflation? We just got the December report on CPI last week and the year over year change was 7.1%, a yearly rate not seen since 1982. The PCE deflator, the Fed's favorite inflation gauge, was up 4.3% through Q3 2021 and will likely end the year around 5%. The Fed believes this measure of inflation will fall to 2.6% by year end 2022, which if true means either that their expected rate hikes really kill inflation or they won't be hiking rates anywhere near 4 times this year. Morningstar has recently raised their estimate of 2022 inflation to 3.8%. Goldman Sachs is in line with the Fed with regard to PCE inflation. The general consensus seems to be that inflation will fall significantly in 2022.
Markets are busy validating this consensus right now. Interest rates, nominal and real, have risen over the first two weeks of the year, an indication that growth expectations have risen slightly. And, yes, I'm aware others say that isn't what it means, that rates are only up because of the expected change in Fed policy. Those same economic bears were happy to tell you how smart the bond market was when rates were going down and confirming their views. I don't think the bond market has gotten any dumber in the last few months. There is the matter of the yield curve and it is certainly not as steep as one bullish on the economy might like, but that game is far from over. Whether it steepens or flattens from here depends on future changes in growth and inflation expectations as well as the impact of both on future Fed policy. And inflation expectations have been falling since mid-November with 5 year breakevens now at 2.79%, 10 year at 2.44% and the 5 year/5 year forward at 2.09%.
If we assume the current consensus will be wrong – and it rarely stays the same throughout the year – it would be nice to know how it might be wrong. Could growth be better than the expected 3.5 to 4% rate? There are some interesting items that could be pointing in that direction. For one, bank lending is finally turning up and looks a lot like what has happened in past cycles. Commercial and industrial loans are rising at an annualized rate of 26.8%, a rate higher than any this century except right around recessions. C&I loans have risen in the last two recessions as corporations drew down credit lines to bolster liquidity. Loan balances fell after each of the last three recessions and then resumed their previous trend  higher. That appears to be what is happening now – unless you think we're near recession right now.

Total loans and leases are also rising at a good pace, although moderating a tad last month:

If it is credit that has been missing from the expansion so far, that appears to be coming to an end.
Another, underappreciated positive is that US exports have recovered to a new all time high. There has been a lot of attention on China recently and it is certainly an important economy. But China's losses – many self-inflicted – may well turn out to be the gains of other emerging markets as manufacturing is shifted away from China. Stock markets in Taiwan, Vietnam, India and Mexico – all potential beneficiaries as other countries pull back from China – produced double digit returns in 2021. Meanwhile, EU growth was similar to the US in 2021 and is expected to rise by 4% in 2022. Japan grew about 3% in 2021 but its success in containing COVID has them recently upgrading their outlook for 2022 to 3.2%.
The global recovery so far has been somewhat uneven with the US recovery the more robust. But that may be changing as the rest of the world plays catchup. Any domestic slowdown could be easily offset by better growth internationally.
What about inflation? How might it vary from the consensus? With consensus that inflation will moderate in 2022 the surprise may be that it doesn't moderate very much or at all. Everyone expects the supply chain issues to start being resolved this year and assuming less interference from the virus, that could be true. But the supply chain issues aren't just about crimpled supply from COVID slowdowns/shutdowns. Supply chain issues are just as much about excess demand, consumption that continues well above the pre-COVID trend. I don't think we can assume that will change; it could well be the new normal with more spending on goods and less on services a more permanent feature of our economy, especially if the virus continues to limit in person events. Household and corporate balance sheets are in very good shape and consumption/investment could be funded from savings or increased borrowing, no new stimulus required. An easing of supply problems this year may well be a bad assumption.
There is also the potential for another big spending bill out of Congress. Senator Manchin has gotten a lot of attention for stopping the Build Back Better bill and rightfully so, but he hasn't said he won't support increased spending. He just won't agree to the level requested by the Biden administration. There is certainly the possibility that some kind of increased spending passes Congress this year. In fact, in an election year it seems more likely than not. The Biden administration is going to want a "win" going into the midterms. If that happens, the budget deficit, expected to shrink again this year without a bill, may well expand. That could negatively impact inflation in two ways. It could continue to fund a higher than normal level of consumption and it could lead to a weaker dollar. A growing budget deficit leads to a growing current account deficit which is associated with a weaker dollar. And a weaker dollar is generally associated with higher rates of inflation.
I am not saying this is how 2022 will turn out. As I've said many times, I cannot predict the future and neither can anyone else. But with the Fed and Wall Street's track record on forecasting being what it is – lousy – it seems prudent to think about how they might be wrong. It would have been easy to lay out a scenario where growth comes up short but that is not a view that lacks promoters or fans. After a decade of poor growth, bearish economic views are not outliers anymore. But better than expected growth in 2022 would certainly surprise a lot of people and move markets.
———————————————————————————————————————————————————————————————————————————————————————————————————————————————
I'm shifting the economic environment again this week and frankly I should have done it a few weeks ago. We are now in a rising growth, falling dollar environment. It is a short term downtrend and could end at any time but it is a downtrend and it has to be acknowledged. I suppose to make it simpler we could just say rising rate, falling dollar environment but to me those are one and the same. The flattish yield curve is, at best, a minor negative. In the 90s expansion, the yield curve hit its current level in November 1994, seven years before the recession of 2001. In the 2000s expansion the yield curve first hit its current level in February 2005, 3 years before the onset of recession. In the 2010s expansion the curve hit its current level in July 2016, nearly four years before the recession. Yes, a steeper curve would signal better future growth but where it is now doesn't mean all that much. And by the way, my scenario above isn't the most optimistic I could come up with. That would be one where growth is better than expected and inflation does indeed moderate. In that case, the most likely outcome for the yield curve would be, you guessed it, a steepening. I'll keep monitoring it obviously, but it isn't a concern right now.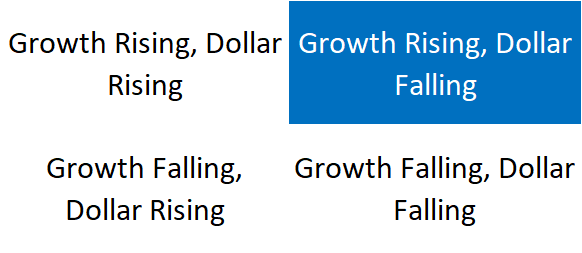 The economic data last week was mixed. The inflation reports got most of the headlines, and rightfully so I guess with headline CPI up 7.1% year over year. But I would also note that the month to month change in CPI did moderate for the third straight month. It isn't much and I'm not saying all is healed but it is encouraging. Import and export prices also both fell last month.
Retail sales were a lot less than expected which I think means a whole lot less than everyone seems to believe. The culprit is non-store retail sales (internet sales) which have fallen in each of the last 4 Decembers (2018 -9.6%, 2019 -0.3%, 2020 -9.2%, 2021 -8.7%). Call me crazy but that is starting to look a lot like a trend, a seasonal factor, one might call it. The tradition of running around to stores to buy Christmas presents at the last minute is officially dead. Besides, retail sales are still trending at a rate much higher than pre-COVID. I would expect that trend to continue to fall back closer to the pre-COVID trend but to be honest, I have no idea. Things change and COVID may have changed things more permanently than we now think. I'd suggest not making any big predictions about how your fellow humans are going to behave in the future; they might surprise you.

Industrial production was also down in December and this is a more worrisome series. While it has largely recovered from the COVID shock (not completely) it is today no higher than it was on the precipice of the 2008 crisis:

Secular stagnation anyone?
Finally, a word on consumer sentiment. The preliminary University of Michigan survey reading for January was released last week and showed a drop from December's already weak showing. I do not believe this survey is a reliable guide to the state of the economy any longer and hasn't been for quite some time. The partisan political divide of this survey has become extreme in recent years. There has always been a divergence in views about the economy based on political party (and who occupies the White House) but it became extreme after the election of Donald Trump. The change is most significant among Republicans whose overall rating of the economy today stands at just 48.4, a mere tenth of a percent better than March of 2009. There's a lot not to like about today's economy but it isn't that bad. Democrats obviously see things as better with a reading of 87.2 (vs 64.5 in March 2009 with a Democratic President). This survey has become nothing more than a function of the political make up of the people polled.
Politics should not play a major role in your investment decision making. I have believed for a long time that from an economic perspective, politics doesn't matter nearly as much as we think. Presidents don't really have that much power to influence economic policy except in superficial ways. Congress is more important but even then I think we probably pay more attention to them than necessary.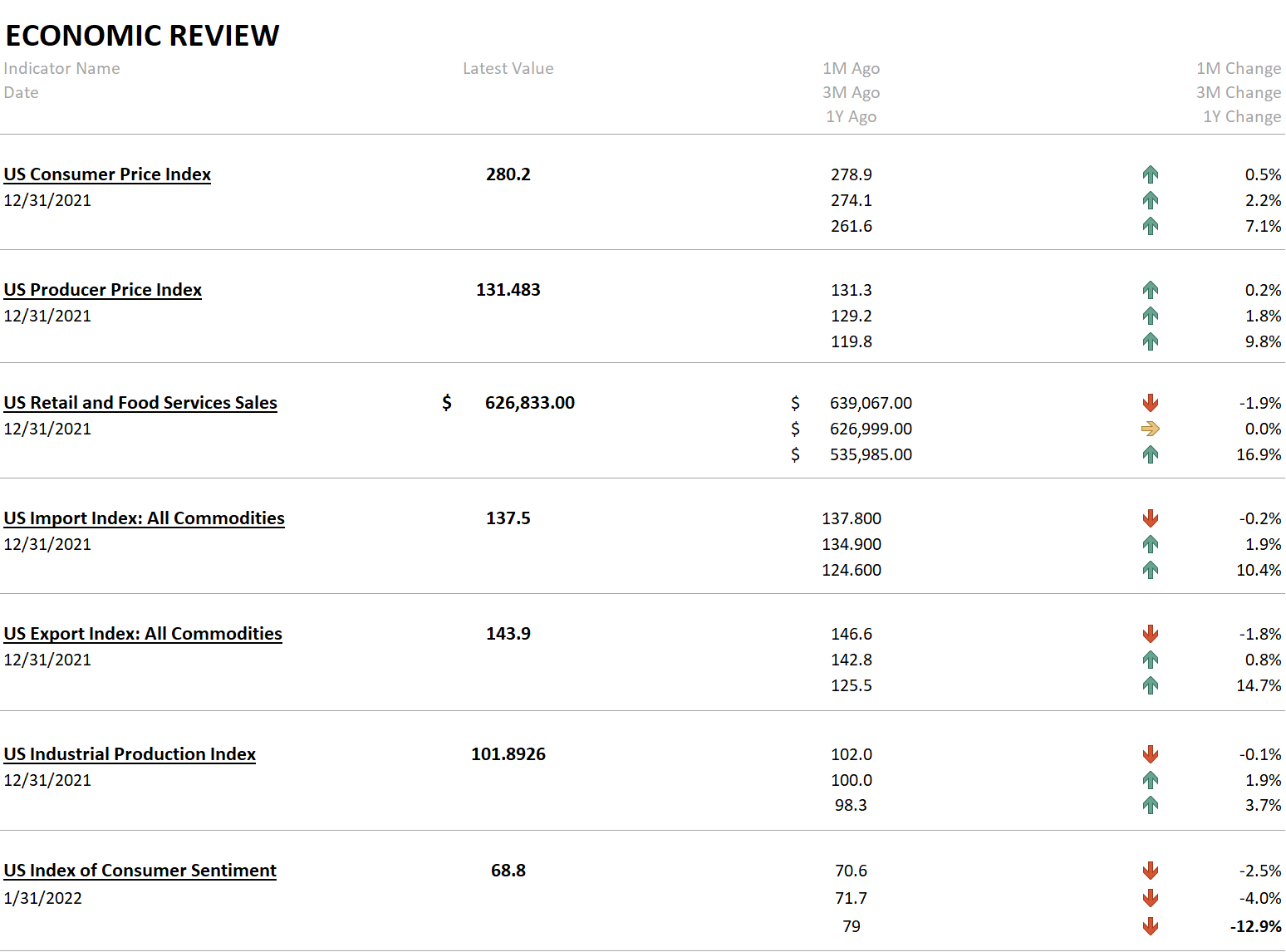 We get information on the housing market this week along with a couple of regional Fed surveys. With rates ticking higher it'll be interesting to see how home buyers responded. Higher rates may increase a sense of urgency by buyers but they may also be stymied by low inventories.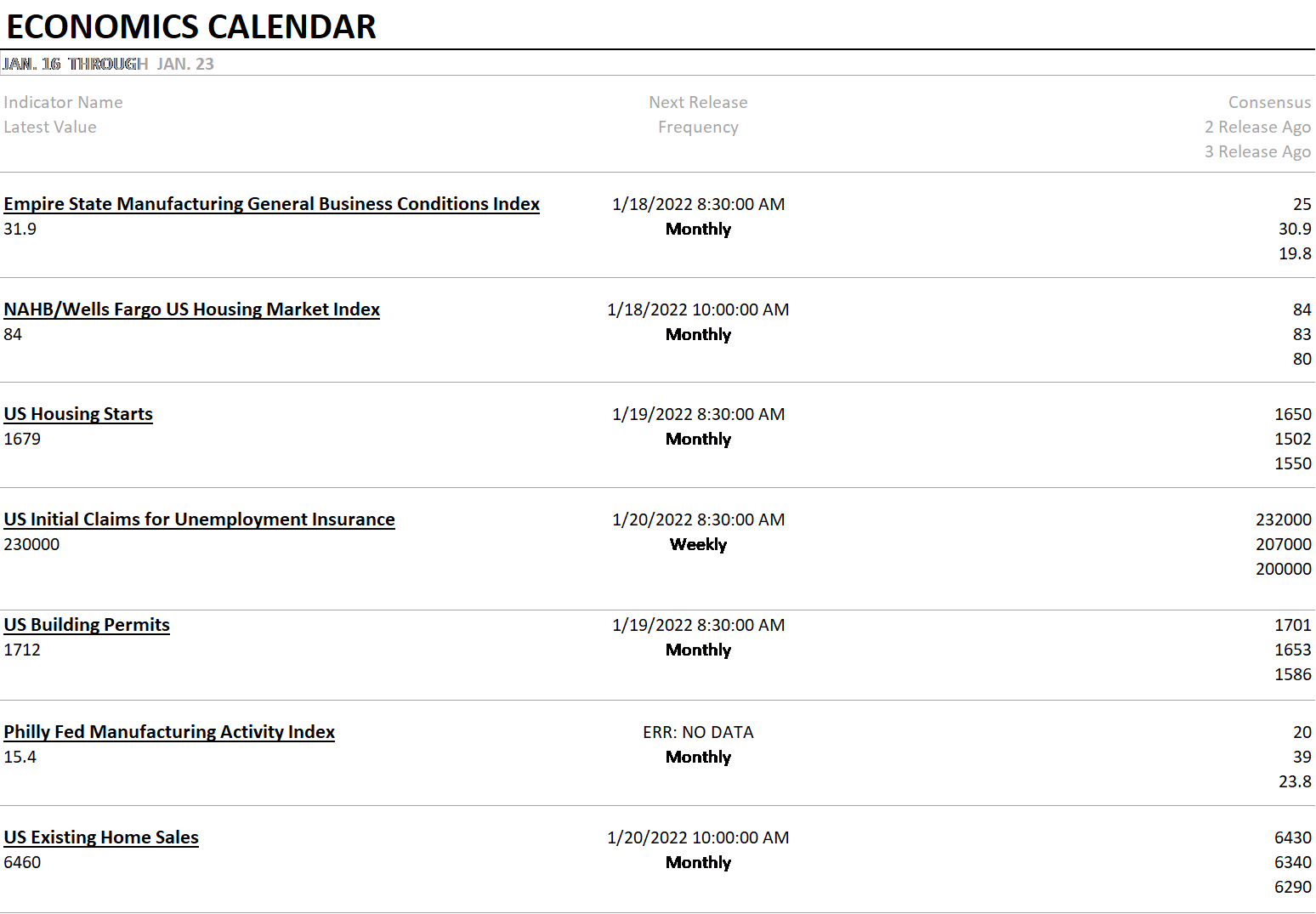 Stocks were down again last week with growth stocks once again the laggards. Mid-cap and small cap growth are in full blown corrections down 10.4% and 10.1% over the last 3 months. Not exactly surprising with absurdly high valuations and rising rates.
With the dollar in a short term downtrend, foreign stocks are leading the way so far this year with emerging markets up a little over 2%.
Commodities continue to lead the asset class scorecard as crude oil (+11.5% ytd) and natural gas (+14.3% ytd) have surged in the new year. With interest rates up, real estate is lagging.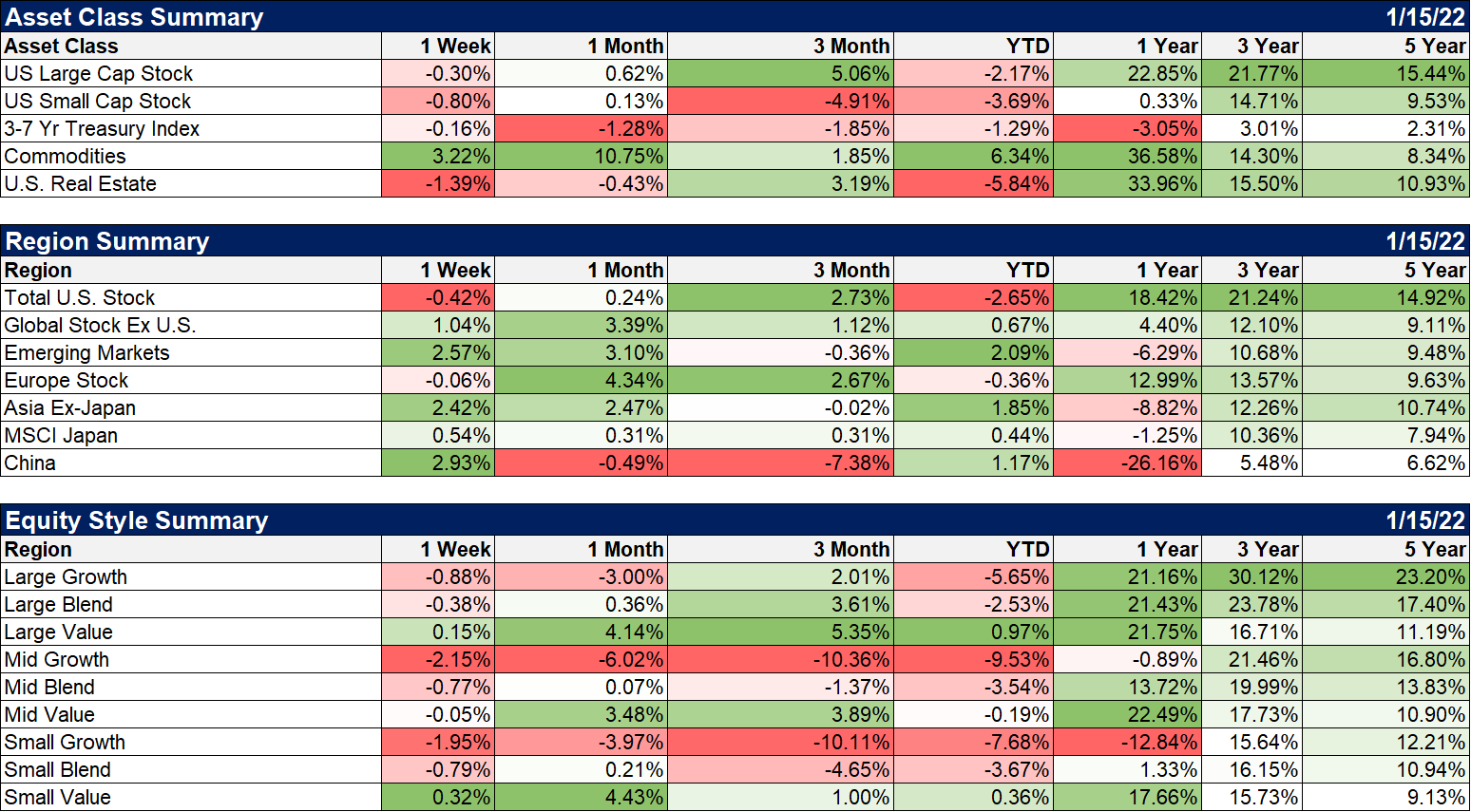 The big losers last week were cyclicals and interest sensitive real estate and utilities.
The economy in 2022 could well surprise everyone to the upside but the first quarter could be a low point. Omicron has definitely slowed things somewhat but the extent right now is hard to judge. The optimist in me wants to believe this will pass fairly quickly but that too is a consensus view. I would not be surprised if we continue to see weak data from the end of last year in the next couple of weeks so a bond market rally right now would not be a big surprise nor would a further pull back in risk assets. But the trend for interest rates is still up and the shift to rising growth assets is well underway. Stay positive.
Joe Calhoun
dollar
inflation
commodities
markets
policy
interest rates
fed
stagnation
The inflation peak is in the rear-view mirror
[This blog post is a brief excerpt from a TSI commentary published last week] It was reported on Wednesday 12th January that the year-over-year growth…
[This blog post is a brief excerpt from a TSI commentary published last week]
It was reported on Wednesday 12th January that the year-over-year growth rate of the US CPI hit a new post-1982 high of 7% in December-2021. However, garnering less attention was the fact that the month-over-month CPI growth rate peaked in June-2021, made a slightly lower high in October-2021 and in December-2021 was not far from its low of the past 12 months. The first of the following charts shows the month-over-month change in the US CPI. Of greater importance for financial market participants, the second of the following charts shows that inflation expectations (the rate of CPI growth factored into the Treasury Inflation Protected Securities market) is well down from its November-2021 peak and actually fell on Wednesday 12th January in the wake of the horrific headline CPI news.
We were very bullish on "inflation" back in April of 2020 when deflation fear was rampant; not because we were being contrary for the sake of being contrary but because central bank and government actions pretty much guaranteed that the CPI would be much higher within 12 months. Now, with inflation fear rampant, we expect to see increasingly obvious signs over the quarters ahead that the inflation threat has abated, not because we are being contrary for the sake of being contrary but because the monetary and fiscal situations stopped being pro-inflation many months ago.
It's likely that the next round of accelerating inflation will emerge during 2023-2024.