Swiss Franc Sinks Despite Positive Macros
The Swiss franc sank today, declining against all of its most-traded rivals. The reason for such a poor performance was unclear, considering that domestic macroeconomic indicators released on Monday were extremely good, beating expectations by a wide…
The Swiss franc sank today, declining against all of its most-traded rivals. The reason for such a poor performance was unclear, considering that domestic macroeconomic indicators released on Monday were extremely good, beating expectations by a wide margin. Some market analysts theorized that the slump of the Swiss currency was a result of outflows into the US dollar, which was very strong on Monday.
Switzerland's Federal Statistical Office reported that retail sales climbed by 4.9% in December from a year ago, adjusted for sales days and holidays. That is a sharp acceleration from the previous month's 1.8% rate of growth. Economists were expecting a deceleration to 1.5%. Month-on-month, sales increased by 2.6%. That proves the sector remained resilient even in the wake of another wave of the COVID-19 pandemic.
Switzerland's manufacturing Purchasing Managers' Index reported by Procure demonstrated an increase to 59.4 in January from 58.0 in December. That is completely opposite to market expectations of a decline to 56.5. Economist Claude Maurer at Credit Suisse commented on the result:
While seasonal adjustment factors at the start of the year skewed comparisons slightly, not only is the rally in manufacturing continuing, it has actually broadened further-despite the second wave of COVID-19 and the tightening of restrictions to contain the virus.
Despite the supporting fundamentals, the Swissie was performing extremely poorly on the first trading day of February. One of the possible reasons for that was the fact that the market sentiment was positive, as was proven by the broad-based rally of stocks in Asia, Europe, and America. The franc, being considered a safe currency, usually fares poorly in an environment of optimism and risk appetite. But that makes the rally of the greenback even more puzzling.
USD/CHF surged from 0.8889 to 0.8968 as of 20:16 GMT today. EUR/CHF rallied from 1.0786 to 1.0822. GBP/CHF gained from 1.2101 to 1.2255, reaching the high of 1.2294 intraday.
---
© NewsInspector for Forex News, 2021. | Permalink | No comment | Add to del.icio.us
Post tags: EUR/CHF, Federal Statistical Office, Franc, GBP/CHF, Manufacturing, Market Sentiment, PMI, Procure, Retail Sales, Switzerland, USD/CHF

Feed enhanced by Better Feed from Ozh
us dollar
Non-fungible Friday: Jungle Freaks, Metasaurs, Party Degenerates and other upcoming NFT mints
Non-fungible token (NFT) projects continue to keep the Twitter-based cryptoverse frothing with FOMO, despite speculation it could all be a … Read More
The…
Non-fungible token (NFT) projects continue to keep the Twitter-based cryptoverse frothing with FOMO, despite speculation it could all be a bubble very much due for a pop. Here, we look at some upcoming mints catching our eye.
While the NFT boom has undoubtedly been exciting to observe, it's also pretty confusing and challenging to keep on top of. There are more new NFT projects created and minted every week than you can poke a pixellated, Minecraft-like stick at.
This ultimately means that overall demand might end up being outstripped by the exponentially rising supply of NFTs in circulation – particularly the randomly generated 5-10K "avatar" or PfP (profile pic) variety, such as CryptoPunks, Bored Ape Yacht Club, Pudgy Penguins, etc etc. (Never mind the hundreds of shameless imitations.)
But, in the meantime, how to sort the wheat from the absolute chaff crap? One tip is to follow NFT heads with large followings on Crypto Twitter (for example, this bloke: @beaniemaxi, or even Snoop Dogg himself: @CozomoMedici), and look at who they're following, too.
Or… you can just watch this space as we occasionally post articles and lists like this one…
(Note, these are all Ethereum-based NFT projects.)
Feel Good
What: "A randomly generated collection whereby every piece of artwork has been designed and created by a world-renowned artist from the traditional art world." Artists include: Maxim, Dan Pearce and Opake, who may (or may not) be worth collecting as first NFTs. It's always tricky to tell with art, as it's obviously highly subjective. 
When: Minting right now, but it's either flying under the radar, or just isn't generating much interest at this point. We're not sure which. At the time of writing, 1259 NFTs had been minted, with 7629 to go.
Where: feelgoodnft.com; Twitter; Discord
Party Degenerates
What: A "10K NFT" generative offering with focused on distributing high-quality digital art. Apart from looking cool (subject to taste, of course) the NFTs also provides access to exclusive experiences, merchandise and networking opportunities.
Numerous reputable figures in the NFT space have helped establish this one, which is essentially an NFT art club. There's some strong hype surrounding Party Degenerates, so it could be difficult to pick up at mint.
That said, there may still be decent opportunities on these when they hit the secondary markets, such as OpenSea.
When: October 18, 7am AEDT for the public sale – (October 17, 8pm UTC).
Where: partydegenerates.com; Twitter; Discord
Huxley
What:  An extremely cool-looking collection of post-apocalyptic-themed NFTS. Comic-book artist Ben Mauro is the creator, who has also designed for top AAA games Halo and Call of Duty, as well as films including The Hobbit, Chappie and Elysium.
"Huxley is the culmination of my life's work, my magnum opus," says Mauro. "Taking all the skills learned from an acclaimed career building universes and IPs for others, and creating one of my own."
Heads up, this will also be popular, and perhaps hard to nab initially. It's minting very soon, in fact, so you may miss that event by the time this is read, but it's still worth mentioning for possible secondary market pick-ups.
When: October 16, 1am, AEDT for the public mint (October 15, 2pm UTC).
Where: huxleysaga.com; Twitter; Discord
Metasaurs
What:  Another hyped project minting today. These are 9,999 randomly generated, unique "Metasaur" NFTs, created by an artist known as Dr. DMT, who has some connection to the highly successful Bored Ape Yacht Club (although he is not officially part of Yuga Labs). Judging by its Discord channel, the community looks very active with this one…
When: October 16, 6am AEDT (October 15, 7pm UTC)
Where: metasaurs.com; Twitter; Discord
Jungle Freaks
What: A 10K collection of randomly generated "100 per cent hand-drawn freaks" by the renowned Hustler mag cartoonist George Trosley.
This one is giving us serious "blue chip" NFT vibes, judging by the buzz it's been receiving on Twitter. Again, a possibly tricky pick-up at mint, but also possibly worth a go, and well worth a secondary-listings watch on OpenSea.
When: October 16, 8am AEDT (October 15, 9pm UTC)
Where: junglefreaks.io; Twitter
Dreamers
What:  Pure, 8-bit, pixelated fun. Created by Bitlectro Labs, which also developed Dreamloops (current floor price: 0.078 ETH), these are generative audiovisual NFTs, some of which are apparently redeemable for accompanying physical media on vinyl and cassette. Yep, it's back to the future past with this one.
When: October 17 – exact time TBA.
Where: More info at bitlectrolabs.com and @bitlectro on Twitter. Discord: discord.gg/bitlectro
More to come…
The post Non-fungible Friday: Jungle Freaks, Metasaurs, Party Degenerates and other upcoming NFT mints appeared first on Stockhead.
markets
bubble
US (Nominal) Retail Sales Unexpectedly Surge In September
US (Nominal) Retail Sales Unexpectedly Surge In September
Given the flip-flopping nature of the last 5 months, US retail sales are expected…
US (Nominal) Retail Sales Unexpectedly Surge In September
Given the flip-flopping nature of the last 5 months, US retail sales are expected to decline modestly in September (and if BofA's excellent predictive track record continues, the drop in retail sales could be a lot worse). However, for once, BofA was way off as Retail Sales surged 0.7% MoM in September (far better than the -0.2% expected) and August's data was revised higher from +0.7% to +0.9% MoM.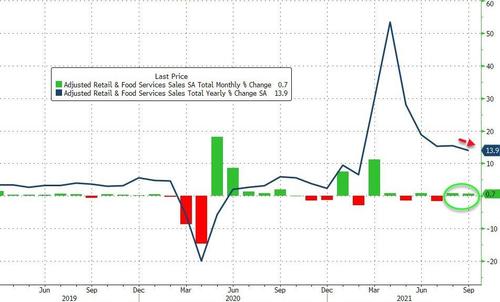 Source: Bloomberg
Core retail sales also beat expectations, rising 0.8% MoM versus +0.5% expected (and saw higher revisions).
It appears that surging COVID infections in August and September curbed demand for services such as travel and entertainment and leading Americans to shift their spending toward goods.
Under the hoods, Health and personal store sales and Electronics saw declines in September while Sporting Goods soared and gas station spending rose as receipts at restaurants and bars, the only services-spending category in the report, rose 0.3% in September after a 0.2% increase in the prior month.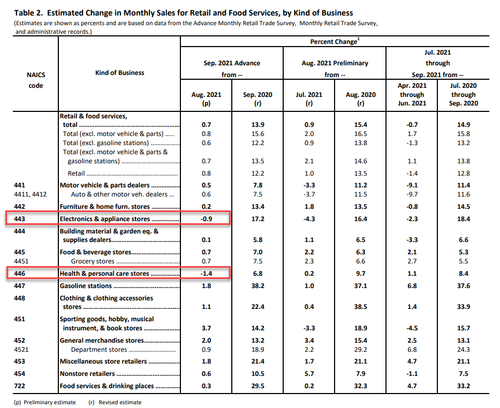 The total retail sales rose back near record highs and remains dramatically dislocated from the previous trend...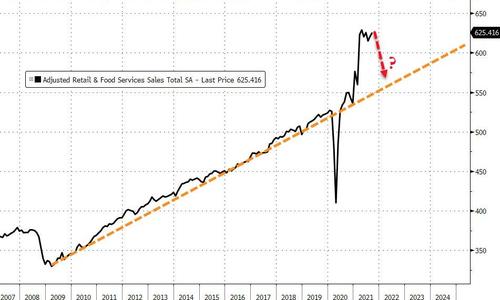 So after an abysmal payrolls print (stagflation on), the better than expected claims data and a CPI print that was slightly lower than expected (but still high) offset the stagflation worries and today's retail sales print confirms that 'stagflation off' narrative. However, bear in mind that today's retail sales print is 'nominal' and so perhaps reflects more on soaring inflation than consumers' willingness to spend more.
Tyler Durden
Fri, 10/15/2021 - 08:38
inflation
stagflation
S&P's Line-In-The-Sand For Today's OpEx
S&P's Line-In-The-Sand For Today's OpEx
The last few days have seen US equity markets explode higher on a relief rally that perhaps, just…
S&P's Line-In-The-Sand For Today's OpEx
The last few days have seen US equity markets explode higher on a relief rally that perhaps, just perhaps, stagflation is not in the near future (despite The Fed's imminent taper and rate-hike trajectory looming). The real driver has been short-covering and gamma-squeeze but today's options expirations suggests a shift in that move is imminent.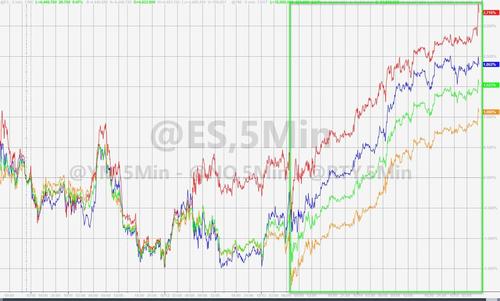 SpotGamma points out that its clear that intraday options volumes were heavily involved in this rally.
The vanna models from yesterday (bottom, left) showed a left skew which implied high volatility, and that has not flipped (bottom, right).

Today's chart holds a right skew which implies dealers have a heavy amount of futures to short on rallies providing resistance in the 4450-4500 level.
To frame the options positioning in a slightly different light, we have posted the Combo (SPX + SPY) gamma profile below.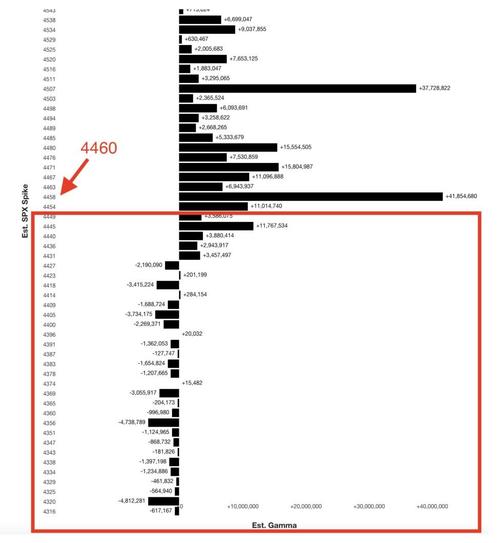 Note how Further we note the Vol Trigger (ie where gamma flips from positive to negative) now sits at 4400, which we consider critical support for this market.
Away from the indices, $703bn of single stock options will expire today (15-Oct), the 3rd highest notional for a non-January expiration.
Goldman Sachs notes that expiration-related trades may cause trading activity to pick up for stocks with a significant amount of ATM open interest. We identify possible focus stocks with large ATM open interest expiring today, and compare to the average daily volume of the underlying stocks. Large market cap names include UPS, VMW, C, TGT and AMZN. Expiration-related activity is likely to have more of an impact if the open interest represents a significant percentage of the stock's volume.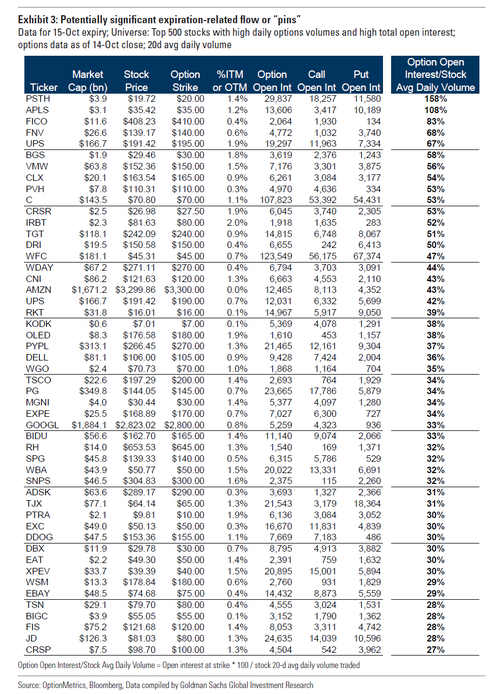 As SpotGamma concludes: If the S&P closes >4460 today it should have decent support into Monday.
The S&P is also hovering right at its 50DMA...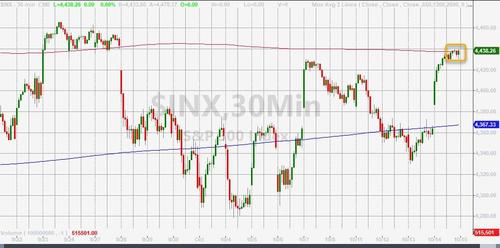 A close under that line places the market at risk of entering the air pocket that this expiration has created (recall many puts expire today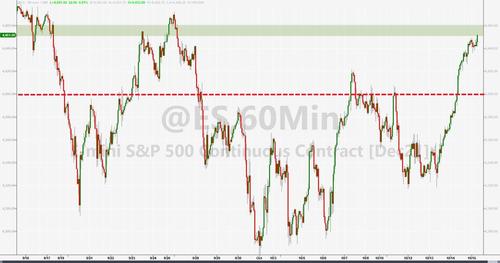 Historically we look for volatility to increase in the week after OPEX, and due to the large amount of gamma expiring today (>30%) we see ample reason for caution into Monday.
Tyler Durden
Fri, 10/15/2021 - 09:20
stagflation
markets
fed