The Bed, Bath & Beyond Bubble has Burst After an Earnings Disappointment
Bed, Bath & Beyond (NASDAQ:BBBY) shares dropped dramatically after a disappointing earnings report. The retailer lost $73 million, or 92 cents per…
Bed, Bath & Beyond (NASDAQ:BBBY) shares dropped dramatically after a disappointing earnings report. The retailer lost $73 million, or 92 cents per share. Sales fell 26% to $1.98 billion for the three months ending in August. The company blamed supply chain issues and inflation. Investors blamed management. BBBY stock plunged 22% in a day.
Source: Jonathan Weiss / Shutterstock.com
Bed, Bath & Beyond has been undergoing a makeover under CEO Mark Tritton, a former chief merchandising officer at Target (NYSE:TGT). If that strategy is wrong, or if it has gone off the rails, the selloff makes sense.
If not, BBBY stock today is a bargain.
The Story So Far for BBBY Stock
I have been following BBBY closely both with my work and my money, pounding the table for almost two years on behalf of Tritton. His plan is to transform the stores from a jumble of brand name off-price merchandise into a curated collection of higher-end offerings.
The revamp was stalled by the Covid-19 pandemic, but is now back on track.  I panicked at the start of the pandemic, taking a loss, but got back in last fall.
Then, as BBBY became a "meme stock," spiking under the charms of retail traders on Reddit, I sold again, this time at a profit. Overall, I've broken even. The meme frenzy made no sense to me — or to others, for that matter.
As for the company itself, Tritton has a long-term plan built around new store brands, more attractive shops and a new website. Gone are the kitchen gadgets piled to the ceiling. In are new store brands like Our Table kitchenware, Nestwell bedding and Haven bath essentials. If they catch on, these new items can be very profitable.
The big problem in the second quarter was the delta variant. Tritton said the variant cut foot traffic in large markets like Texas. He added that supply chain problems were also much greater than expected.
The New Bed, Bath & Beyond
The old Bed, Bath & Beyond made its name in suburban strip malls. The new Bed, Bath & Beyond is displayed in a New York "flagship" store that opened in July.
The two-story, 92,000 square foot outlet is built around experiences. There are interactive displays that allow customers to touch the merchandise. There are whole sections devoted to specific brands like Casper Sleep (NASDAQ:CSPR), Kris Jenner's Safely cleaning products and PepsiCo's (NASDAQ:PEP) Sodastream.
Additionally, there are dedicated pick-up areas for online orders, self-checkout stations and the ability to pay with its app while in the store, bypassing checkers entirely.
Tritton hired a raft of new executives after taking over, and one is already out. Cindy Davis, who had been chief brand officer and head of Decorist, a design service, was replaced by chief digital officer Rafeh Masood in September. It's possible the company went too up-market, too quickly, and Tritton had to re-adjust.
The Bottom Line on BBBY Stock
It's very hard to transform a brand, especially in retail. But Target managed it. I believe Bed, Bath & Beyond can, too. But I always warned it would take time.
At its price of nearly $16 per share, BBBY stock is selling for one-fifth its estimated 2021 sales. If the second quarter is a new normal, it's selling for about one-fourth of its sales. The price is about 30 times the last year's earnings, a time when Tritton was getting ramped-up and the pandemic was raging.
The price of BBBY stock is dirt cheap compared with other retailers. Warby Parker (NYSE:WRBY) just came to market selling at 10 times its sales. Target sells at a discount to its sales, but a modest one.
Even a valuation of half Bed, Bath & Beyond's sales would, if profitable, represent a 150% gain. Just don't play BBBY stock as a meme. Buy it like you mean it.
On the date of publication, Dana Blankenhorn held no positions in companies mentioned in this article. The opinions expressed in this article are those of the writer, subject to the InvestorPlace.com Publishing Guidelines.
Dana Blankenhorn has been a financial journalist since 1978. His latest book is Technology's Big Bang: Yesterday, Today and Tomorrow with Moore's Law, essays on technology available at the Amazon Kindle store. Follow him on Twitter at @danablankenhorn. 
More From InvestorPlace
The post The Bed, Bath & Beyond Bubble has Burst After an Earnings Disappointment appeared first on InvestorPlace.
UST Yield Curve Tumbles To 18-Month Lows Amid Policy Error Panic
UST Yield Curve Tumbles To 18-Month Lows Amid Policy Error Panic
"In stark contrast with the mindset of corporate leaders who are dealing…
UST Yield Curve Tumbles To 18-Month Lows Amid Policy Error Panic
"In stark contrast with the mindset of corporate leaders who are dealing daily with the reality of higher and persistent inflationary pressures, the transitory concept has managed to retain an almost mystical hold on the thinking of many policy makers," El-Erian wrote in an Oct. 25 op-ed in Bloomberg.

"The longer this persists, the greater the risk of a historic policy error whose negative implications could last for years and extend well beyond the U.S.," he argued.
It would appear from the accelerating flattening of the yield curve, that the market is believing El-Erian's narrative.
Expectations for rate-hikes are being pulled forward by the market…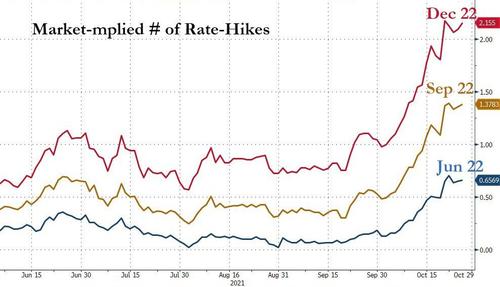 Pushing 2Y Yields above 50bps for the first time since March 2020…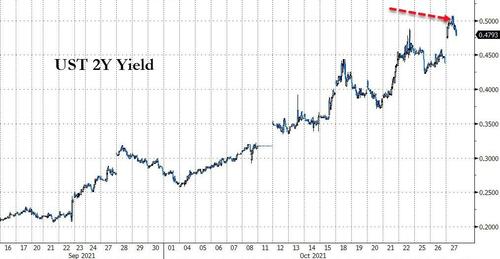 And as rate-hikes are increasingly priced in, the long-end of the curve is tumbling…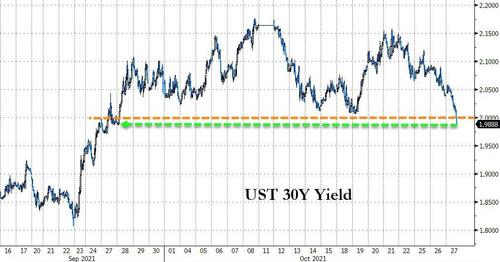 Crushing the yield curve to its flattest in 18 months…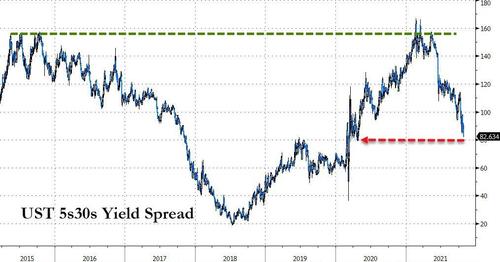 We give the last word to El-Erian, who said he fears that Fed officials will double down on the transitory narrative rather than cast it aside, raising the probability of the central bank "having to slam on the monetary policy brakes down the road—the 'handbrake turn.'"
"A delayed and partial response initially, followed by big catch-up tightening—would constitute the biggest monetary policy mistake in more than 40 years," El-Erian argued, adding that it would "unnecessarily undermine America's economic and financial well-being" while also sending "avoidable waves of instability throughout the global economy."
His warning comes as the Federal Open Market Committee (FOMC) – the Fed's policy-setting body – will hold its next two-day meeting on November 2 and 3.
Tyler Durden
Wed, 10/27/2021 – 09:25

monetary
policy
fed
central bank
monetary policy
inflationary
CAD treading lightly ahead of BOC
The Canadian dollar has traded quietly so far this week as the economic calendar has been light. The remainder of the week is busy, with the Bank of Canada…
The Canadian dollar has traded quietly so far this week as the economic calendar has been light. The remainder of the week is busy, with the Bank of Canada policy meeting later today and the September GDP report on Friday. USD/CAD is currently trading at 1.2419, up 0.24% on the day.
Will Bank of Canada taper?
The BoC has shown the markets that it is serious about tightening policy as the economic recovery finds its footing. The BoC was the first major central bank to trim bond purchases and is widely expected to trim again, reducing bond purchases from CAD 2 billion to CAD 1 billion.
The Canadian dollar has soared in October, with several drivers for the upswing. Domestic data, such as the falling unemployment rate, a rise in retail sales and high inflation. Investor risk appetite has been moving higher, and the jump in oil prices has been boosted the loonie, as Canada is a major oil producer.
The BoC could end its bond purchase scheme before the end of the year, but it remains unclear what bank policy makers plan to do about rate policy. No change is expected to the current rate of 0.25%, but will today's meeting hint at a rate hike sometime next year? If so, USD/CAD could test some multi-month lows. Conversely, if the BoC is silent about rates, that could generate some disappointment and send USD/CAD higher. Investors will also be interested in what the bank has to say about the surge in inflation. September CPI hit 4.4% (YoY), much higher than the bank's inflation target of 2%. Like the Federal Reserve, the BoC continues to insist that inflation, which is running way above the bank's target of 2%, is transitory, but that stance is increasingly being questioned, with no signs that inflation will ease up anytime soon.
.
 USD/CAD Technical
USD/CAD is testing resistance at 1.2422. Above, there is support at 1.2475
There is support at 1.2302, followed by 1.2235
7 A-Rated Energy Stocks to Buy Before Winter Strikes
The fact that the Federal Reserve is contemplating shifting its easy money policies as early as mid-November shows that inflation isn't as transitory…
The fact that the Federal Reserve is contemplating shifting its easy money policies as early as mid-November shows that inflation isn't as transitory as thought a couple months ago. And that's great news for energy stocks.
When inflation rises, the dollar weakens as interest rates rise. That means it takes more dollars to buy commodities like oil, for example. Certainly, the supply chain problems have something to do with this but it's also a lack of supply that started during the pandemic last year.
Now, demand bounces back — until the delta variant slowed things down again — but it's tough to ramp up production in a quarter or two. It's certainly a unique situation.
But that doesn't mean you have to wait until things get better before stepping into the market. Energy stocks like the ones below can be a great addition now, as we see that energy prices will remain high for some time to come. Another noteworthy aspect of these stocks is that each has an A-rating in my Portfolio Grader.
Energy Stocks to Buy: Continental Resources (CLR)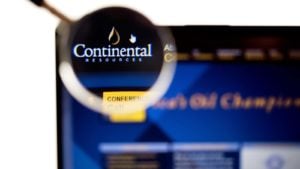 Source: Maksym Vynohradov / Shutterstock.com
Exploration and production (E&P) companies are also called upstream energy companies. That means they're the ones finding oil and natural gas and then selling it downstream.
CLR is an E&P player that primarily works out of the Bakken Shale in North Dakota and Montana. Its energy leans more toward oil than natural gas but it produces both. And both are in great demand, especially in global markets.
Since extraction costs are more or less fixed for E&P companies, the higher the price of oil and gas means the bigger the margins. And that's precisely why CLR stock is up 203% year-to-date. But even after that run, its current price-to-earnings ratio is 48x. That's a little high, but there's a good chance earnings will be rolling in to justify it.
ConocoPhillips (COP)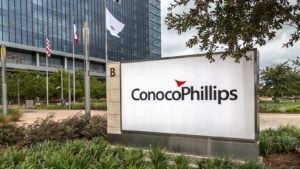 Source: JHVEPhoto / Shutterstock.com
COP is a global E&P player with a nearly $100 billion market cap that also operates some midstream (pipelines, transportation) services to move production to demand markets.
This is a good time for COP since natural gas is in high demand in Europe and Japan, and oil is in demand in China. With a global E&P and distribution operation, COP can supply them with what they need efficiently. And COP can realize expanding profit margins.
The stock has risen 95% YTD and is richly valued. But this is the way the energy markets work — big swings in either direction — and we're in an multi-year uptrend now. Earnings will catch up.
COP also still has a 2.5% dividend, which isn't beating inflation, but it's a nice kicker.
Energy Stocks to Buy: Diamondback Energy (FANG)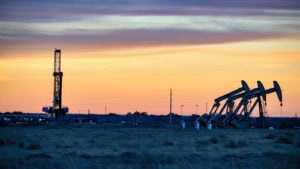 Source: FreezeFrames / Shutterstock.com
FANG is a land-based U.S. E&P that has operations primarily in the Permian Basin, an energy-rich area in West Texas and Southeast New Mexico. The company has numerous properties in the basin and uses unconventional drilling methods — fracking and horizontal drilling — to access the reserves.
About 60% of its production is oil, another 20 is natural gas and the remaining 20% in natural gas liquids (NGLs). All these products are in high demand.
The trouble is, FANG has been struggling to keep its earnings in positive territory recently unlike other energy stocks. This shouldn't be a problem moving forward, now that global energy demand has kicked into gear.
FANG stock has gained almost 130% YTD and has a 1.6% dividend. There's still plenty of upside left.
Marathon Oil (MRO)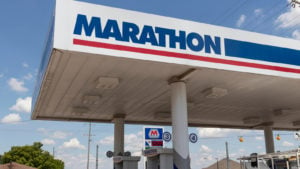 Source: Jonathan Weiss/shutterstock.com
Like other E&P plays, earnings haven't been great for MRO as we slowly emerge from the pandemic and the delta variant wave. But now we're in recovery mode and demand it rising in all sectors, including energy stocks.
That's great news for MRO, which has been drilling for black gold since 1887. And with that kind of legacy, today's markets aren't anything new to this company. It has seen a few things just as crazy since Grover Cleveland was president.
MRO stock is up 146% YTD and has a sub-1% dividend. But we're not concerned about dividends now. This is about energy demand growth, and MRO will be a beneficiary.
Energy Stocks to Buy: HollyFrontier (HFC)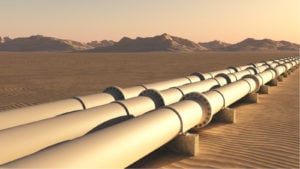 Source: bht2000 / Shutterstock.com
Once you get the black stuff out of the ground and ship it along a pipeline, the business of turning it into viable products begins at the refinery. And that's where HFC comes in. It operates about a half dozen oil refineries and three asphalt terminals.
In energy parlance, refineries are part of downstream operations, along with distribution and marketing to retailers and wholesalers. This is a key part of the process since getting the oil out of the ground doesn't mean much if it can't be refined in a timely manner.
HFC is one of the smaller refiners in the U.S. — it has a $6 billion market cap — which means its gains will amplify in current markets. The stock is up 43% YTD and still trades at a decent current P/E around 31x.
ONEOK (OKE)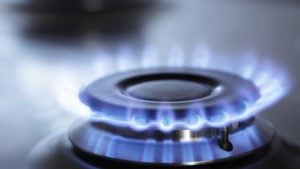 Source: Shutterstock
Founded in 1906 as the Oklahoma Natural Gas Company, OKE is a leading natural gas and NGL marketer in the U.S. NGLs are derivatives found in raw natural gas that are then used in various industrial processes or for fuel.
The most common are ethane (plastic bags, anti-freeze), propane (fuel), butane (synthetic rubber, lighter fuel), isobutane (refrigerant, aerosols), pentane (gasoline) and pentanes plus (gasoline, ethanol).
The U.S. is like the Saudi Arabia of natural gas supplies. Even as prices have risen domestically, overseas prices are triple or are higher than they are here, which makes for great export opportunities.
This is a very good time for natural gas companies regardless of where they sit in the supply chain. And OKE is a sure beneficiary of the current demand but also a growing transition to cleaner burning (more efficient) fuels, which also boosts its interest with ESG investors.
OKE stock is up 75% YTD yet it only has a current P/E of 22x and offers an inflation-pacing 5.8% dividend.
Energy Stocks to Buy: Royal Dutch Shell (RDS.A)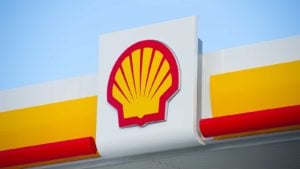 Source: JuliusKielaitis / Shutterstock.com
As measured by revenue, Shell is among the largest companies in the world. That's some rarified air. But if you can recall a few years ago, when energy prices were headed in the opposite direction as they are today, RDS.A wasn't very attractive. It had cut its dividend and was tightening operations, shuttering wells … the whole nine yards.
But in good times, the big integrated oil companies are like the desert blooming after a rain. Big energy stocks can grow their margins upstream, midstream and downstream. And just a little growth in margins is huge when you're talking about the scale of RDS.A.
Plus, Shell is actively looking to establish itself in renewable and alternative energy markets as well. For example, it can convert some of its natural gas into "blue" hydrogen and then begin to use its filling station networks as distribution points.
The stock has risen 35% YTD and it has a P/E of 34x. It also has a 2.6% dividend that's unspectacular but dependable.
On the date of publication, Louis Navellier has a position in COP in this article. Louis Navellier did not have (either directly or indirectly) any other positions in the securities mentioned in this article. The InvestorPlace Research Staff member primarily responsible for this article did not hold (either directly or indirectly) any positions in the securities mentioned in this article.
The opinions expressed in this article are those of the writer, subject to the InvestorPlace.com Publishing Guidelines.
Louis Navellier, who has been called "one of the most important money managers of our time," has broken the silence in this shocking "tell all" video… exposing one of the most shocking events in our country's history… and the one move every American needs to make today.
More From InvestorPlace
The post 7 A-Rated Energy Stocks to Buy Before Winter Strikes appeared first on InvestorPlace.
dollar
gold
inflation
derivatives
commodities
markets
reserve
interest rates