The Gaslighting Of America
The Gaslighting Of America
Authored by Bob Weir via AmericanThinker.com,
I remember a comedy skit several years ago in which a woman comes…
The Gaslighting Of America
Authored by Bob Weir via AmericanThinker.com,
I remember a comedy skit several years ago in which a woman comes home unexpectedly and finds her husband in bed with another woman.  Shocked, she demands to know who the woman is and why her husband is doing this.  The couple get out of bed and start getting dressed as the man says to his wife, "Honey, what are you talking about?" The wife, perplexed at the question, says, "I'm talking about that woman!"  Meanwhile, the other woman, now fully dressed, heads for the door.  The husband says, "What woman?  Honey, are you feeling okay?  There's no woman here."  Feeling dazed and confused, the wife begins to question her own sanity.
That's a pretty good example of what the Biden administration is pulling on the psyche of the American people.  
What they're doing is not merely "spin," which has become SOP whenever a political party does a clever sales job on the public in order to keep certain facts from them.  No, this is much more than shrewd marketing; this is blatantly lying in the public's face and telling them they're crazy if they believe their own eyes.  
When we look at videos showing thousands of migrants coming across our southern border with impunity, while Biden and his cohorts tell us they have the situation under control, we're being gaslighted.
When thousands of Americans and Afghan allies are abandoned to be tortured and killed by Taliban terrorists, while Biden's press secretary, Jen Psaki, tells us the war ended successfully, we're being told not to believe what we're seeing.  
President Trump made our country energy independent, only to have his success overturned by Biden on day one of Biden's presidency.  That forced our country to once again be dependent on foreign oil.  Biden said his action would help protect the environment.  We scratch our heads and wonder how it makes sense to ship millions of barrels of oil on cargo ships from thousands of miles away, only to be used the same way it was used when it was processed here.  
Does foreign oil have less environmental effect than American oil?
When Biden proposes a $3.5-billion "infrastructure bill" that is heavily weighted toward social engineering and radical "Green New Deal" initiatives, we're told that everything is infrastructure.  
We're also told that the massive spending bill will cost "zero dollars" because the new taxes will be assessed only on the wealthy.  
Then, to add more consternation to a public getting groggy trying to keep up with twelve-digit numbers, Biden and his accomplices want another $80 billion for the IRS so its agents can check into every bank account that has transfers of $600 or more.  As if the IRS weren't already a liberty-crushing organization, Biden wants to provide it with more ammo to use against those who oppose him.  Nevertheless, we're told it's going after only tax cheats.  Why would these people need $80 billion more to do what they've always done?  Don't ask, lest you get audited for questions they don't want asked.
When the supply chain of cargo ships, carrying about a half-million shipping containers filled with goods from all around the globe, are stalled in the waters outside major American port cities, we're told by White House chief of staff Ron Klain that it's just "high-class problems."  
In other words, only the wealthy are waiting for the goods to arrive at stores.  Moreover, Jen Psaki mocks it as the "tragedy of the treadmill that's delayed" — another elitist poking fun at the reasonable expectations coming from the working class.
The list of gaslighting incidents is growing longer than Pinocchio's nose. 
Each time we are faced with another destructive lie, our attention is diverted to the latest Trump investigation or the probe of one of his supporters.  Keeping the January 6 imbroglio alive is one of those diversions.  The radical left has come to power by a sinister display of distractions from reality.  A major part of that distraction is using accusations of racism to muzzle opposition.  Most people will cower in fear of such labeling, even when they know in their hearts it's not true.  That's precisely what makes the accusations so useful to those who seek power through intimidation and distortion of reality.  
President Trump called out situations for what they are, without the odious and murky filtration of political correctness.  That's why the entrenched powers of Deep State corruption despised him.  
Now we're stuck with a president who says "what inflation?" as we pay higher prices than ever at the gas pump and the supermarket.  I seriously doubt that shoppers are questioning that reality.
Tyler Durden
Mon, 10/25/2021 – 21:10
inflation
Waning Term Premiums And The Riddle Of Surging Inflation
Waning Term Premiums And The Riddle Of Surging Inflation
By Ven Ram, Bloomberg macro commentator and reporter
If you asked your bank manager…
Waning Term Premiums And The Riddle Of Surging Inflation
By Ven Ram, Bloomberg macro commentator and reporter
If you asked your bank manager for a loan, the rate you will be offered will vary proportionally with not only how much you borrow, but also how long you borrow for. That, of course, is a no-brainer since the longer the bank is willing to lend to an individual, the greater the risk of something going wrong. Mainly, they encompass credit and inflation risks, and in the case of institutional investments, liquidity as well.
Yet, in the market for Treasuries and several other major developed markets, investors have recently become indifferent to the risk surrounding the longevity of their loans to governments. In other words, they are essentially saying, there is no more inflation risk in lending to Uncle Sam over, say, 10 years than there is when lending for a far shorter period. That is a massive irony against a backdrop where inflation is Le probleme du jour.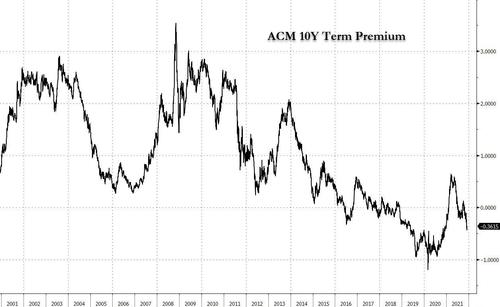 Shrinking term premiums is one major reason why Treasury long-dated yields have fallen after the brisk first quarter that, back then, resembled a juggernaut on the move. (The issue isn't peculiar to the U.S. by any stretch: investors are willing to loan the U.K. for a 30-year period for well less than 1%, but will readily settle for even less — at around 50 basis points — if the Chancellor of the Exchequer will agree to keep the sum in his state's coffers for 50 years, thank you. Sure, there are reasons such as demand for ultra-long debt from pension funds, but that's a discussion for another day.)
Why is it that investors couldn't seem to care less about earning a decent term premium?
A combination of liquidity, declining natural rates of interest and unbridled expansion of balance sheets — and that's not an exhaustive list — have got us to where we are now. Getting out of it, though, isn't going to be easy. Getting into quicksand takes a trice, but last I checked no one had found a way yet to come out of it in one swift ascent.
Tyler Durden
Thu, 12/09/2021 – 08:20
inflation
markets
3 Growth Stocks to Buy Before The End of the Year
Recently, the market has experienced increased volatility, with a major factor being the Federal Reserve's hawkish pivot. The Fed seems to be more focused…
Recently, the market has experienced increased volatility, with a major factor being the Federal Reserve's hawkish pivot. The Fed seems to be more focused on combating inflation, and the market is now expecting at least two rate hikes next year. As a result, the yield on the two-year Treasury Note has moved up from 0.15% in June to 0.65%. Rising short-term rates are a headwind for growth stocks, which perform their best in environments where rates are declining. 
So, it's not surprising that growth stocks led the market to the downside last week. A good example is the ARK Innovation ETF (NYSEARCA:ARKK) which is down more than 19% in just the past month. In contrast, the S&P 500 and Nasdaq are down 0.64% and 2.25%, respectively. 
However, I believe this pullback in growth stocks offers investors an opportunity.  The rise in short-term rates may soon be over, as forward-looking inflation measures are moderating at a rapid pace. Further, after the recent steep pullback, many growth stocks have reached more attractive valuation levels. Therefore, investors should consider buying the dip in these three top growth stocks:
Growth Stocks to Buy: Alphabet (GOOGL)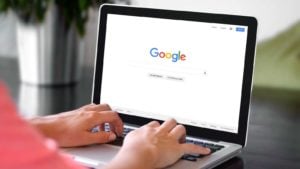 Source: Castleski / Shutterstock.com
Alphabet recently became the third-most-valuable company in the world with a market capitalization of over $1.9 trillion. The company's primary source of revenue and income remains Search which is very profitable and maintains a dominant market share. Over the years, GOOGL has expanded into other areas like Google Cloud, Android, Chrome, Google Docs, YouTube, and its venture bets like autonomous driving venture Waymo. 
GOOGL stock was initially an underperformer during the pandemic as ad spending decreased. Further, ads from travel companies were put on hold, and those comprise a meaningful chunk of revenue. However, ad rates and ad spending are now well above pre-pandemic levels as the economy reopens and gradually normalizes. 
The company's momentum is evident in its results for Q3. Revenue increased by 41% to $65.1 billion, while operating income increased by 32% to $21 billion. For the full year, analysts project EPS growth of 85% and 39% revenue growth. Not surprisingly, GOOGL's stock is up more than 60% year to date and the company has shown impressive relative strength during this period of market stress. 
GOOGL's POWR Ratings reflect this promising outlook. The stock has an overall B rating, which equates to a "Buy" in our proprietary rating system. B-rated stocks have posted an average annual performance of 19.7% which compares favorably to the S&P 500's annual return of 7.1%. To see more information about GOOGL's POWR Ratings, click here.
Workday (WDAY)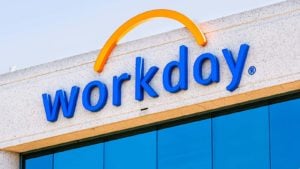 Source: Sundry Photography / Shutterstock.com
Workday provides enterprise cloud applications with offerings that include financial management applications, cloud spending management solutions, and Workday applications for planning. YTD, WDAY's stock is up 17%, and that number surges to almost 500% since its IPO in 2013.
Cloud and enterprise software stocks have been among the best performers of the last decade. It's not surprising when considering that companies are increasing spending on their IT systems, software and cloud systems at a strong rate which is expected to continue over the next decade.
For investors, these companies are fantastic, because they tend to have high margins and recurring revenue. Once companies choose a software or cloud provider, they are unlikely to change often given the cost and complexity of changing systems. Further, once companies have people on their platforms, they are able to unlock more opportunities for monetization. 
Despite the stock's recent underperformance, the business continues to gain momentum. Its last earnings report showed a 20% increase in revenue to $1.3 billion with over 90% of revenue coming from recurring subscriptions. It also made a new milestone in terms of EPS going from a loss of 10 cents per share last year to a profit of 17 cents per share this year's Q3.
WDAY has an overall B rating, which equates to a "Buy" in our POWR Rating system. The POWR Ratings also evaluate stocks by various components to give more insight. In terms of its component grades, the stock has an A grade for Growth and a B grade for Sentiment and Quality. Click here to see the complete POWR Ratings for WDAY. 
Growth Stocks to Buy: Expedia (EXPE)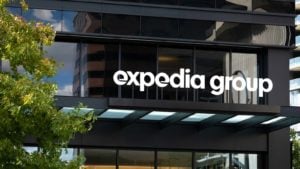 Source: VDB Photos / Shutterstock.com
Expedia is an online travel company that operates through multiple segments. Some of its most well-known brands include Expedia, Vrbo, Hotels.com, Orbitz, Travelocity and Wotif. In addition, it offers a range of travel and non-travel verticals, including corporate travel management, airlines, travel agents, online retailers, and financial institutions.
EXPE's business took a big hit during the pandemic for obvious reasons. However, travel volumes are increasing and during the Thanksgiving holiday were at 90% of 2019 levels. It's very possible that the recent rise in coronavirus cases and the emergence of the omicron strain could have a short-term impact. However, in the longer-term, vaccination rates and effective therapeutics are signs that the pandemic is close to an end.
The company's recent earnings report also confirms the recovery in travel. The company topped expectations with revenue increasing by 97% to $3 billion. In total, it had $553 million in net income, a big turnaround from last year's $31 million loss.  For Q4, analysts are projecting $2.3 billion, a 148%increase and a big jump in EPS to $6.89 per share.
EXPE's strong fundamentals are reflected in its POWR Ratings. The stock has an overall C rating, which equates to a "Neutral" rating in our proprietary rating system. The POWR Ratings are calculated by considering 118 distinct factors, with each factor weighted to an optimal degree. 
EXPE has a B grade for Growth and Quality which isn't surprising considering its Q3 results and status as one of the top online travel companies. To see EXPE's complete POWR Ratings, click here.
On the date of publication, Jaimini Desai did not have (either directly or indirectly) positions in any of the securities mentioned in this article. The opinions expressed in this article are those of the writer, subject to the InvestorPlace.com Publishing Guidelines.
Jaimini Desai has been a financial writer and reporter for nearly a decade. He has helped countless investors take profitable rides on some of the hottest growth trends. His previous experience includes writing for Investopedia, Seeking Alpha, and MT Newswires. He is the Chief Growth Strategist for StockNews.com and the editor of the POWR Growth and POWR Stocks Under $10 newsletters.
More From InvestorPlace
The post 3 Growth Stocks to Buy Before The End of the Year appeared first on InvestorPlace.
US Economy Remains On Track For Strong Rebound in Q4
With the end of the year in sight, the US economy continues to show signs of a sharp pickup in growth in the fourth quarter, based on several nowcasts….
With the end of the year in sight, the US economy continues to show signs of a sharp pickup in growth in the fourth quarter, based on several nowcasts.
The US Bureau of Economic Analysis is expected to report in late-January that output rose 5.4% (annualized real rate) in Q4, via the median of several nowcasts compiled by CapitalSpectator.com. The estimate marks a dramatic upside reversal from the slowdown in Q3 that cut growth to a modest 2.1%.
Although roughly a third of the fourth quarter's economic data has not yet been published, the available numbers to date suggest that the final quarter of 2021 will deliver upbeat news for the US. The fact that recent nowcast revisions have been relatively steady at the 5%-plus level strengthens the outlook that output has accelerated. Today's revised median 5.6% nowcast is up from 5.0% in the Nov. 16 update.
Recent survey data aligns with the firmer expectations for Q4 economic activity. "The US economy continues to run hot," observed Chris Williamson, chief business economist at IHS Markit, on Nov. 23, citing the consultancy's US Composite Output Index, a GDP proxy. "Despite a slower rate of expansion of business activity in November, growth remains above the survey's long-run pre-pandemic average as companies continue to focus on boosting capacity to meet rising demand."
Supply-chain and worker-shortage issues continue to create headwinds, but a rebound in economic activity overall appears increasingly likely when the government publishes its initial Q4 GDP estimate next month.
The main question is whether the rebound proves fleeting? Looking ahead to 2022 suggests that economic activity could slow in the new year due to potential blowback from the omicron variant of the coronavirus, higher inflation and other factors.
Goldman Sachs, an investment bank, recently cut its forecast for US growth in the new year. "While many questions remain unanswered, we now think a moderate downside scenario where the virus spreads more quickly but immunity against severe disease is only slightly weakened is most likely," says Joseph Briggs, an economist at the firm.
This week's update of the UCLA Anderson Forecast has also trimmed the outlook for early next year, revising its Q1 2022 growth estimate down substantially to a 2.6% gain from the 4.2% predicted in September. The key assumption: the omicron variant "might be disruptive, while acknowledging that its effects cannot be predicted."
Perhaps, but the good news is that economic momentum looks set to deliver a strong tailwind going into 2022.  
---
How is recession risk evolving? Monitor the outlook with a subscription to:
The US Business Cycle Risk Report
---